Edinburgh is an ideal quick weekend break from London, especially as the city is such an easy flight or train from the capital. This gorgeous Scottish city is walk-able, friendly and you can easily visit most, if not all, of the main attractions with 2 days in Edinburgh. If you have more time to explore Edinburgh, you could most certainly use it as a base for day trips to the surrounding Lothians – where you can go hiking, cycling, play golf, go fishing or enjoy watersports in some of the many country parks.
Or perhaps spend even a full week here for the city's world-famous celebration of performing arts, Fringe Festival, that takes place in the month of August each year. But book your accommodation well ahead of time!
Edinburgh is marked as Europe's first literary capital and is a UNESCO World Heritage site – consisting of the Old and New Tow, two adjacent areas that are easy to explore in one weekend. If you arrive by the train, the moment you step out of Waverley station you can see straight away why its a UNESCO Heritage Site.
You can even find a dreamy luxury castle to stay in near Edinburgh. I decided to stay at the Dalhousie Castle Hotel which was pretty special – see my review on this beautiful hotel here.
Anyway, here is my suggested itinerary for 2 days in Edinburgh, including where to eat, where to stay and which attractions to see. Read on and start planning your own weekend in Edinburgh.
Best things to do in Edinburgh
Edinburgh Castle
A must-visit on any trip to this historic city is Edinburgh Castle. Located at the top end of the Royal Mile, this medieval fortress is perched mightily atop an extinct volcano and beams down across Edinburgh.
Unfortunately, there's often a queue for tickets but it doesn't normally take more than 10 or so minutes.
As of January 2020, tickets are £18.50 for adults and £11.50 for children. It's worth noting that most student/ISIC cards don't provide a discount (I did try!)
You can however, pre-book your tickets online in advance through Get Your Guide which will guarantee your entry:
You could easily spend an hour and two (or more) wandering through the castle and all the rooms – there is SO much to explore.
I imagine we could have lost around 3 hours there if we weren't racing the setting sun!
I've been a few times and Edinburgh Castle is is definitely one of my favourite castles in the UK.  Its views over the city are epic too.
Palace of Holyrood House
From Edinburgh castle, walk directly straight down the hill and enjoy the stroll down the entire length of the Royal Mile. This leads towards the Palace of Holyrood House, but also passes by the famous Baked Potato Shop on the way – highly recommended for a warming Jackie P!
The Palace of Holyrood House sits just near the foot of Arthur's Seat.
Arthur's Seat
This climb up the extinct volcano is definitely one of the best free attractions in Edinburgh!
It's a bit of a climb to the top of Arthur's Seat and whilst it is quite rocky, it's not too challenging and the view is just incredible. In one direction, you look out over the city and over to Edinburgh castle. In the other direction, the view stretches endlessly out to the sea and on a clear day, you can even see islands on the horizon!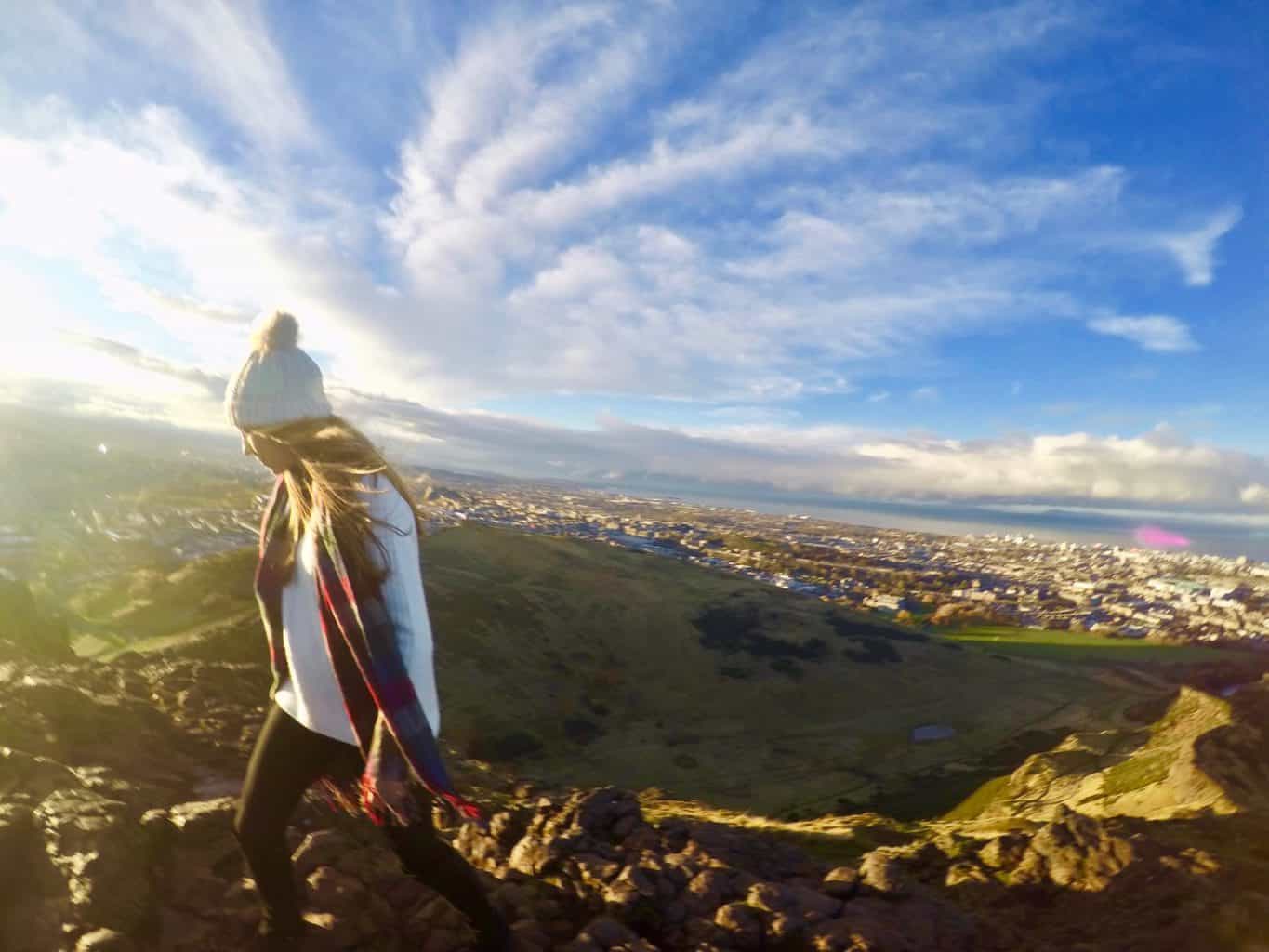 Most Edinburgh visitor guides seem to estimate 2 to 2.5 hours to climb to the top of Arthur's Seat and then down again. However, I think it is possible in around 1.5 hours and that's with lots of photo stops. I visited in November and found the cold evening air kept us moving at a reasonable pace.
Another brilliant Edinburgh viewpoint is Carlton Hill – located atop the third extinct volcano in the city. This scenic spots offers the best sunsets in Edinburgh and draws a crowd every evening. Here, you'll find the National Monument and the City Observatory – so definitely one to visit in the daytime too.
Ghost and history tours in Edinburgh
Make sure to visit the 400 year old underground street in the Old Town, Real Mary King's Close
There are also magical Harry Potter themed walking tours in Edinburgh, which I highly recommend. See the locations that inspired JK Rowling.
Literature and the arts
Edinburgh is not short on world class attractions covering these fields. As the world's first UNESCO City of Literature, an impressive list of authors and writers have called Edinburgh home over the past few centuries. Make sure to visit the Writer's Museum in Lady Stair's Close (and watch out for ghosts!) to celebrate the works of iconic writers, including of course, Robert Burns. Or perhaps visit the cafe where JK Rowling is rumoured to have drafted the first few Harry Potter books.
Some of the world's great art collections are also on offer in Edinburgh – make sure to visit the Scottish National Gallery, the Scottish National Portrait Gallery and the Scottish National Gallery of Modern Art. Oh why not spend an evening at the Scottish Opera, or see what is on at the National Theatre of Scotland or the Edinburgh Playhouse.
Stockbridge
Sunday is a great day for exploring this beautiful and affluent suburb of the city. And I consider this a complete must visit area, even with just 2 days in Edinburgh.
Stockbridge is within easy walking distance of the city centre but feels completely different to Edinburgh city centre. Stockbridge is charming, atmospheric and on Sundays, the area hosts a lively farmer's market.
I really love this pocket of Edinburgh. It's not too far from the city centre but feels miles away from the tourists, with loads of lovely delis, independent coffee shops and cute insta-worthy corners! The architecture is so grand, and the streets blend so seamlessly with each other. Make sure to visit during your two day visit to Edinburgh.
Just along from Stockbridge starts a beautiful walk along the Water of Leith to Dean Village. This area is so quiet and serene – perfect for a slow Sunday morning.
New Town
New Town is the other major area in Edinburgh's city centre that is worth visiting. This neighbourhood consists of stunning neoclassical architecture and is particularly good for shopping and luxury hotels.
The Royal Mile
Back to the most well-known area of Edinburgh. The Royal Mile is a special and unique place. You could really spend hours losing yourself in the tiny laneways, hidden staircases and secret passages. It's a real labyrinth and one that's definitely worth getting lost in. Soak up the history!
We enjoyed a really fantastic ghost tour and would highly recommend this as a must-see attraction in Edinburgh. You can find local tour guides and pre-book online here:
Distilleries
There are quite a number of these now in Edinburgh, with new ones popping up all the time. One of the best is the Holyrood Distillery, where you can learn how malt whisky and gin are produced.
Best places to eat in Edinburgh
Breakfast in Edinburgh
First things first, is breakfast of course. An essential start to any day of exploring. There are plenty of great cafes and brunch spots across Edinburgh. Some of my favourite spots are:
Dinner in Edinburgh
There are plenty of brilliant restaurants and places to eat in Edinburgh. However, one of the best restaurants in Edinburgh for traditional fare is Deacon Brodie's Tavern on the Royal Mile. This famous pub is named after a local who was a 'respectable citizen by day' and a crook at night, which eventually led to his hanging!
The food is traditional pub grub and the atmosphere is lively filled with friendly Edinburgh locals, making it a fun evening every time.
Some other excellent places include:
Tattu – for a contemporary, unique dining experience
Hemingway's – for ever changing seasonal small plates
Hawksmoors – for excellent steak
El Cartel – for the city's best Mexican
Bars and nightlife in Edinburgh
I love both of these bars and highly recommend:
Where to stay in Edinburgh
Stay in a luxury castle hotel near Edinburgh! We stayed at the brilliant Dalhousie Castle here, and you can read my full review of this luxury Scottish castle stay here.
You can check rates on booking.com here.
If you want to stay more centrally in the city, there are plenty of hotels to stay in Edinburgh.
A few affordable accommodation options in Edinburgh include:
On the luxury end of the scale, some of the best options in Edinburgh include:
Edinburgh 2 Day Itinerary
2 days in Edinburgh makes for a wonderful and pleasant weekend break. The city is fun, cosmopolitan and compact enough to be explored in just a couple of days. From exploring its cafes, bars and coffee shops to soaking up the history at Edinburgh Castle or on a ghost tour, it has a lot to offer families, couples and groups of friends, and plenty more ideas off the beaten track.

Do you have plans to go to Edinburgh soon? I hope this post on a suggested itinerary for 2 days in Edinburgh helps in planning your future trips here or at least inspires you to visit this beautiful city!
If you've already visited, let me know in the comments if you have any more top tips or any feedback! I'd love to hear from you 🙂 x
If you've enjoyed this post, feel free to share using the below links!
Wanna see more? Check my Instagram here, my Facebook here or my Twitter here!
Disclaimer: This visit to Edinburgh was entirely paid for by myself and there was no involvement from the local tourist board. This is an independent guide.
Enjoyed my Edinburgh weekend itinerary? Pin it!