Here's my guide to the best beach towns in Sri Lanka, one of the best countries I have ever been to. On my recent visit, I could not decide where to go and how long to spend in each beach town. I really had no clue and couldn't find the answers I needed online. So I thought I'd write a detailed guide on my experience in each beach town, and what I learnt about other towns I didn't manage to visit.
If you're looking for a holiday destination which offers beautiful tropical scenery, stunning beaches, interesting wildlife and incredibly well-maintained historical colonial towns, Sri Lanka needs to feature on your bucket list. In this post, I've put together my Sri Lanka itinerary, as well as advice on how to pick which beach towns in Sri Lanka to visit.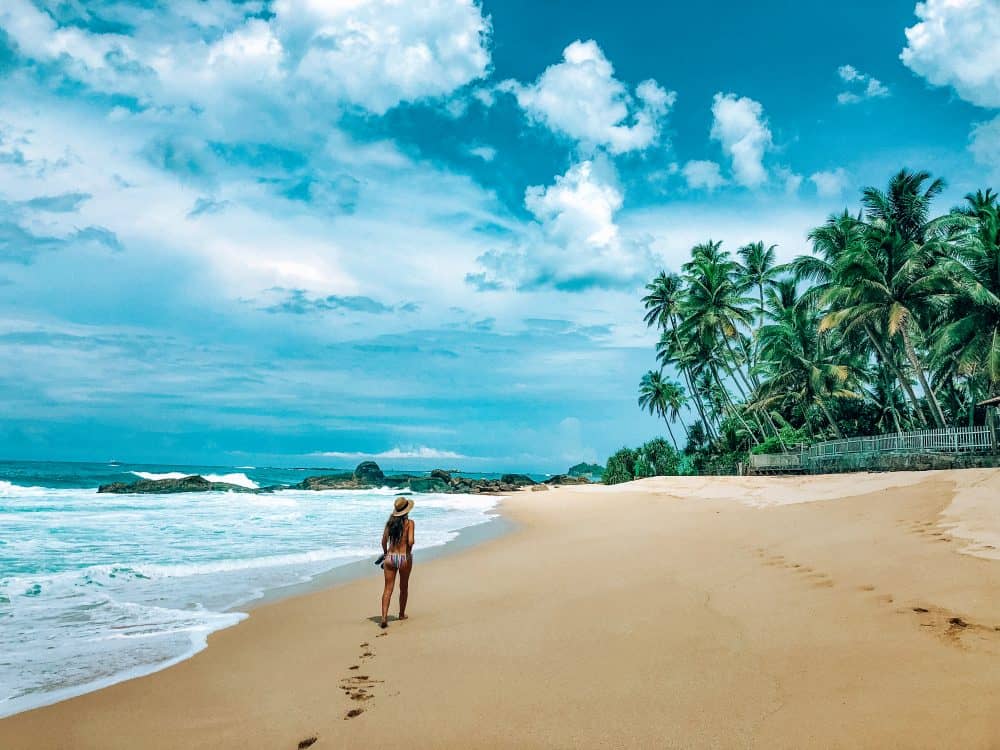 Best Beach Towns in Sri Lanka – Practical Information
When to go to Sri Lanka
Sri Lanka is unique in that it really is a year-round tropical and warm destination. The climate in Sri Lanka is influenced by several monsoon seasons throughout the year. This means that half the island will be dry whilst the other half is experiencing heavy rains.
December – April is the best time to visit the South and West Coasts, as well as the Hill Country. I went at the end of April and the rainy weather was just starting to creep in, with a torrential rain storm every few days in the afternoon. May onwards, this area is heavily affected by the south western monsoon.
May – Sept is the best time to visit the stunning but lesser visited beaches of the East Coast. We didn't visit these beaches (such as Trincomalee and Arugam Bay) so these are not included in this feature.
Is it safe to go to Sri Lanka?
Beautiful Sri Lanka was the victim of terrible terrorist attacks in April 2019., is desperate for its recently-thriving tourism industry to bounce back. I was actually in Sri Lanka during the terror attacks of April 2019 with my boyfriend. But fortunately, we were approximately 2-3 hours away from the areas of Negombo and Colombo.
The impact was almost immediate on the tourism industry. Everyone was feeling the effects of the attacks and foreign governments were advising against travel. We did meet some travellers who chose to head home and were re-arranging flights. But we met many others, who like us, felt we would be just fine.
Tourism is well up on the up again in Sri Lank. Fortunately, the feeling of fear did not last too long. Sri Lanka is general is a very safe destination to visit.
Currency
In Sri Lanka, the local currency is the Sri Lankan rupee, which is often referred to as LKR. At the time of writing, £1 = about 220 LKR, so often looked at 500 LKR as around £2.40. To put into local context, this is the average cost of a 15 minute Tuk Tuk ride, for example between Unawatuna and Galle.
Cuisine
Sri Lankan food is heavenly. Less spicy and hot than its neighbour India, Sri Lanka dishes ooze flavour but are unlikely to destroy your palette. Street food is also great in Sri Lanka and hygiene is generally really good. My favourite street food or dish to order in a restaurant was called Kottu. This dish is a mixture of ripped up roti, mixed with chicken or seafood, vegetables and a sauce. Absolutely delicious in every place that we had it!
Travelling between beach towns
The train service in Sri Lanka along the South Coast only runs as far as Matara. So one option is to hop along beach towns by the coastal train. The train stops in Hikkaduwa, Galle, Unawatuna and Mirissa. After the larger town of Matara (located just after Mirissa), public transport becomes a little trickier. To travel onwards to Hiriketiya, Dikwella, Tangalle or further to Hambantota, you will need to use Tuk Tuks or taxis.
Deciding which beaches to visit in Sri Lanka
Whilst planning our itinerary, we felt completely overwhelmed with the number of beach towns to pick from in Sri Lanka. There just seemed to be so many interesting and exciting places to visit across the whole island.
After taking into account the weather at the time of your visit, the second thing to factor is the amount of time you have. Naturally, the more time you have, the more beach towns you can visit in Sri Lanka. With two weeks in Sri Lanka, you'd really most likely to have to pick between the South/West Coasts, and the lesser-visited East Coast.
Sri Lanka is a small island, but it has a huge number of things to do and cultural places to visit. So if you plan on combining beaches with these, you do need to choose just a few beach towns.
If you have the luxury of time, I'd recommend sparing three to four weeks to really explore Sri Lanka and soak up its enchanting atmosphere.
Choosing how to spend two weeks in Sri Lanka really comes down to what you enjoy most, and for us, we love the beach. We spent around 9 days visiting the South Coast beach towns, before visiting Yala National Park and heading up to Ella.
In two weeks, we would have had to really rush through the beach towns and the Hill Country in order to make it the North of Sri Lanka for its famous Cultural Triangle. We'd really recommend just picking one half of the island and doing it really well, if you only have two weeks to spend in Sri Lanka.
Our two week itinerary for Sri Lanka
Coming from our busy London jobs, we really wanted to prioritise beach time in Sri Lanka. We spent about 10 days beach hopping, before spending two days in Yala and two days in Ella, in the Hill Country.
Colomba and Hikkaduwa – Days 1-2: Landing at Colombo airport (located in Negombo) at around 6pm. From here, we took a taxi for the 2hr drive to Hikkaduwa.
We chose not to spend the first night in Colombo and instead, travelled on through to the beach towns.
Galle and Unawatuna – Days 3-5: After two days in Hikkaduwa, which is actually on the West Coast, we travelled further down the South Coast towns. We spent three beautiful days between Galle and Unawatuna.
Mirissa – Days 6-8: We travelled to Mirissa for another two days before spending one night in the up-and-coming surf town of Hiritekiya.
Tangalle – Days 9-12: We then moved onto Tangalle for two nights, known for its untouched beaches before visiting Hambantota for a night, where stayed at the Shangri-La Hambantota.
Yala – Days 12-13: Next stop was a magical night at Chena Huts by Uga Escapes located in Yala National Park.
Ella – Day 13-15: Following this, we drove up to the Hill Country to spend two days in Ella. Our final leg of the trip was from Ella, all the way back to Colombo airport – about a six hour drive.
Would I have done any of this Sri Lanka itinerary differently?
If I'd had an extra week, I would have definitely either travelled up to the Cultural Triangle in the North. Here, you can visit Kandy, Anuradhapura and Polonaruwa. These places are home to fascinating temples, ancient kingdoms and other religious structures. As we were in Sri Lanka during the time of the Easter Bombings, we did alter our itinerary for a few extra beach days rather than going to Kandy by train.
If I'd had had the time for a month in Sri Lanka, I would definitely visit the East Coast of Sri Lanka. This excellent 10 day Sri Lanka itinerary here covers a completely different route, featuring several more of the cultural and religious sites further inland.
The Best Beach Towns in Sri Lanka
Hikkaduwa
This beach town was our first stop on our itinerary. Hikkaduwa's beach is a long stretch of soft white sand is best known for the friendly turtles that grace its shallow waters every day. Hikkaduwa is known as one of the original beach towns in Sri Lanka and still has a slight sense of its once hippie-hangout past.
Personally, I couldn't really see the appeal with Hikkaduwa. It wasn't particularly bad in any way, but I found it one of the busier beaches and I didn't really find any great foodie places to try. The main highway between Colombo and Matara runs right behind the beach. It's too narrow for the amount of traffic that passes through and makes for a less enjoyable walk around the town.
The beach at Hikkaduwa itself can be quite crowded but the sea here was excellent for swimming and was some of the nicest sea-swimming we experienced in Sri Lanka. Surfing at Hikkaduwa is also a popular activity to do here.
There are plenty of touts around selling their wares – they do approach you on the beach but, as with all Sri Lankans, they are gentle and not forceful when trying to sell you items. Hikkaduwa did have the most touts and beach sellers we experienced of any beach in Sri Lanka.
Where to find the turtles at Hikkaduwa?
As mentioned, one of the biggest draws to Hikkaduwa are the sea turtles that frequent this area. You can find the turtles in Hikkaduwa directly in front of the Hikka Tranz hotel, which is the large hotel structure towards the far left of the beach, if you're facing the sea. The crowds gather very quickly once a turtle is spotted, and it's far from a relaxing or serene one-on-one experience with the turtles. But, if you want to swim with them and get pretty close, Hikkaduwa is a great place for this.
Other things to do in Hikkaduwa
Snorkelling is a popular activity in Hikkaduwa, and plenty of local Sri Lanka boat owners will approach you inviting you on a snorkel tour. We chose not to do this, but met some other travellers at our accommodation who said they highly rated the snorkelling in Hikkaduwa.
Where to stay in Hikkaduwa
Looking online before we arrived in Hikkaduwa, I was pretty unenthused about the accommodation on offer in the town. Hikka Tranz (mentioned above) is by far the biggest hotel around. There aren't any other chain or branded hotels around, but lots of guesthouses and small beach hotels.
I found the incredible Manthally Cabanas online on booking.com and as soon as I had read the reviews, I knew we had to stay there.
Manthally Cabanas is a set of four beautifully built wooden cabins nestled into the Sri Lankan jungle. Not only do they feel really sturdy and safe to sleep in (definitely not blowing in the wind), they each had big balconies/porches at the front. We relaxed here in the evenings as the tropical rain hammered down around us.
Manthally Cabanas are located about a 20-30 minute walk to the beach, or a 5 minute tuk tuk ride. It was quite a decision to stay so far away from the action in Hikkaduwa, but once I saw the town, I really didn't mind. I would recommend staying away from the main Hikkaduwa beach if you aren't there to party in the evening, as I understand it can be quite lively!
At night, we fell asleep to the birdsong of the jungle and you really feel close to nature. We saw huge lizards and snakes too whilst staying at Manthally Cabanas, but don't worry, they weren't too close.
Manthally Cabanas also has a delightful plunge pool, nestled amongst the tropical trees and bamboo palms. The perfect pool to cool off in – you definitely won't be doing laps, but it's great to kick back with a beer in.
There is also a large open-air restaurant and bar area, and the team have a varied and interesting menu to pick from. They're happy to adapt the meals too, if you need it to be less spicy! Overall, this was a magical jungle stay on our Sri Lanka itinerary. Check rates for Manthally Cabanas here.
Galle Fort
Galle Fort is not exactly a beach town, but a fascinating colonial UNESCO World Heritage site that is an absolute must-visit on any Sri Lanka itinerary. History fans should definitely spend a few days here, but if you can only spare one day, that's enough time to walk and explore the Galle Fort area. I personally would have loved more time here, in fact – I'd have loved to have stayed in one of the historical hotels within the Galle Fort area.
Located between Hikkaduwa and Unawatuna, Galle Fort is easily accessible by train from Colombo. The Fort was first built by the Portuguese in 1588, before being fortified by the Dutch during the 17th century. Many of the buildings in Galle Fort are more recognisable for their Dutch style and are also named after them, such as the shopping building in the old Dutch Hospital.
The town oozes charm and historical appeal. With few motorised vehicles inside, Galle is a delight to walk around and you'll find yourself admiring the traditional colonial architectural style around every corner. Fortunately, as a UNESCO World Heritage site, Galle Fort has been brilliantly preserved too, with many old colonial buildings having been re-purposed into small stylish shops or luxurious hotels.
Although I mentioned that Galle Fort is not a beach town, it does actually have a few small beaches that line the Fort walls. The one in front of the Lighthouse is probably the best one and the water is delightful to swim in!
Where to stay in Galle
If you can do so, I would highly recommend spending at least one night in Galle Fort itself. Sleeping amongst the history isn't something you can do all of the time!
There are some really excellent hotels in Galle Fort, here are a selection of some of the best:
Where to eat in Galle
There are lots of cafes and restaurants in Galle that come highly recommended. Some of the best places to eat in Galle Fort are located in the Dutch Hospital shopping area. Here's my pick of the best:
Isle of Gelato – well this isn't food but it's easy the best ice cream shop in possibly the whole of Sri Lanka, and the air conditioning feels like a dream!
Hoppa – excellent Sri Lankan food and also from the same team who owned our fantastic hotel in Unawatuna (more below)
A Minute by Tuk Tuk – brilliant waterfront dining, with a varied menu offering up fresh dishes
The Tuna & The Crab – Arguably the best sushi in Sri Lanka
Pedlars Cafe – an awesome colonial building, with a very cool antique car outside and an excellent coffee menu, probably the best place for coffee in Galle!
Unawatuna
The delightful little beach town is tucked away from the main road, around a 10-15 minute drive from Galle. I'd heard before I arrived that Unawatuna was one of the more touristy beach towns in Sri Lanka but I didn't find it to be too bad at all.
In fact, Unawatuna ended up being one of my favourite beach towns in Sri Lanka for two reasons. The fact that the main coastal road is actually about a 10 minute walk away from the main beach area (the Japanese Pagoda end), and this absence of traffic was really notable. And also because the sea in Unawatuna was really lovely and safe to swim in, which is definitely an issue in other beach towns in Sri Lanka.
Unawatuna itself offered some great beachside cafes and bars, and has a lovely relaxed vibe to it. It felt similar to a lot of chilled out backpacking towns in South East Asia, for example.
What to do in Unawatuna
Relaxing is top order of the day! But you might have heard of a pretty Instagram famous rope swing nearby…
This iconic palm tree rope swing is located on Dalawella beach. You can walk to here from Unawatuna beach in about 30 minutes. Simply walk along Unawatuna beach, so that the Japanese pagoda is behind you. When you get to the far end, you'll see a small pool of water and some wooden boats, this is as far as you can go along the beach. You'll spot the road though just behind the beach, where you continue along for about 10-15 minutes and you'll find yourself on Dalawella beach. The swing is located directly in front of Dream Cabanas, which you can see on Google Maps here.
I've heard of queues for this rope swing, but at the time of visiting, there was no queue at all. We paid 500 rupees for three goes on the rope swing. It was actually far more exhilarating than I expected, and I was initially a bit reluctant to do something that was such an Instagram sensation. But it was really fun and swinging out over the azure sea was pretty cool.
The beach at Dalawella is not that easy to swim at, and it's quite rocky. But just a little further along, past a rather beautiful boulder, is Wijaya beach. This stunning stretch of sand has a couple of cool beach bars on, but it's the water here that's the real winner. A coral reef forms a big crystal clear lagoon here, where the water is completely calm and absolutely amazing to swim in. I could have bathed in this water for hours.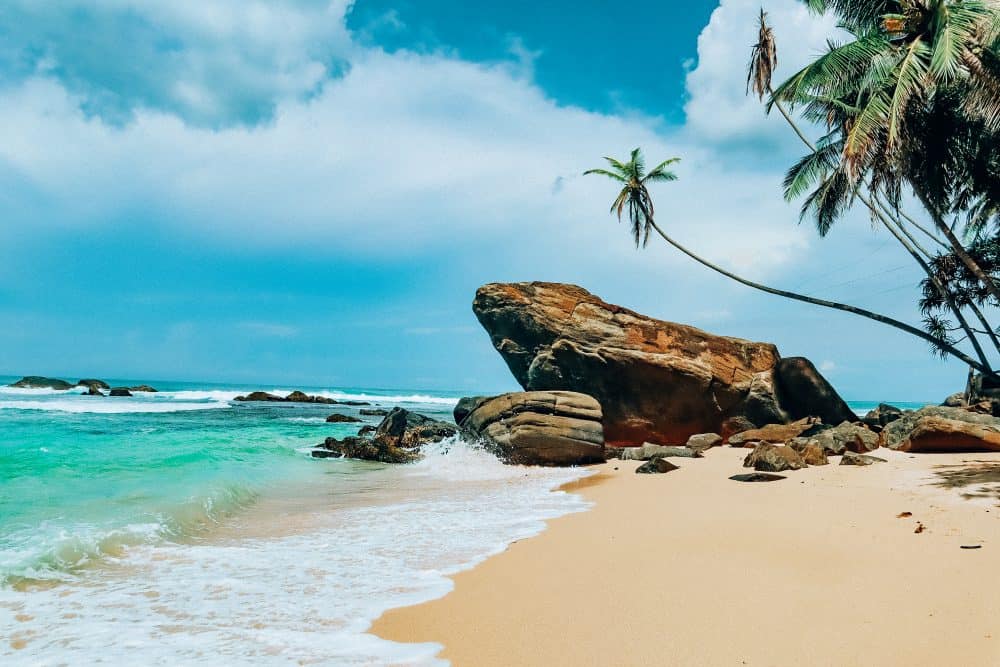 If you're travelling with children in Sri Lanka, then Wijaya beach was the best beach for children that I came across.
Where to stay in Unawatuna
Unawatuna has a really good range of hotels, from budget to luxury. Some of the best places to stay include SHORE by Hoppa. This hotel is part of the same group that own the popular Hoppa cafe in Galle.
Not only did their restaurant serve up some of the best food in Unawatuna, but it had one of the coolest, vibey beach bar areas in the whole town. The hotel itself is quite small, but its top floor bedroom is worth the extra cost. We had a stunning view across the whole bay and a huge balcony to enjoy cocktails on as the sun set. We loved the clean style and nautical theming of our room. Highly recommend and it's definitely one of the best hotels in Unawatuna.
Check rates for the fantastic SHORE by Hoppa here.
Other options of places to brilliant places to stay in Unawatuna include:
Where to eat in Unawatuna
One of the best places to eat in Unawatuna, is without a doubt, the fantastic Skinny Tom's Deli. Fortunately, it was located right by SHORE by Hoppa, and before we knew it, we were popping in for breakfast, lunch and for drinks. I loved hoppers breakfast was fantastic, and the iced drinks were some of the best we had in Sri Lanka.
Mirissa
I'd heard such mixed reviews about this Sri Lankan beach town, so I was excited to get there. Mirissa is another original backpacking towns on the island and supposedly quite commercialised. However, I was pleasantly surprised upon arriving in the town. We ended up really enjoying our few days in Mirissa.
As with Hikkaduwa, the only thing I was not too keen on was the fact the main coastal highway ran so close to the beach again. I understand this road was built long before these beach towns really started thriving. But the road was quite noisy and hard to ignore in Mirissa.
The beach in Mirissa is 2km long, punctuated in the middle by Parrot Rock. The sea was quite rough whilst we were here, and occasional waves would break and land right up by the top of beach.
What to do in Mirissa
Like the rope swing in Dalawella beach by Unawatuna, it's Coconut Tree Hill that has become one of the big draws in Mirissa. A lot of guides say it's a 5 minute tuk tuk ride away, but it's actually a really easy and pleasant walk from Mirissa's main beach, past Parrot Rock, along the adjacent beach and then you'll see the palm trees ahead.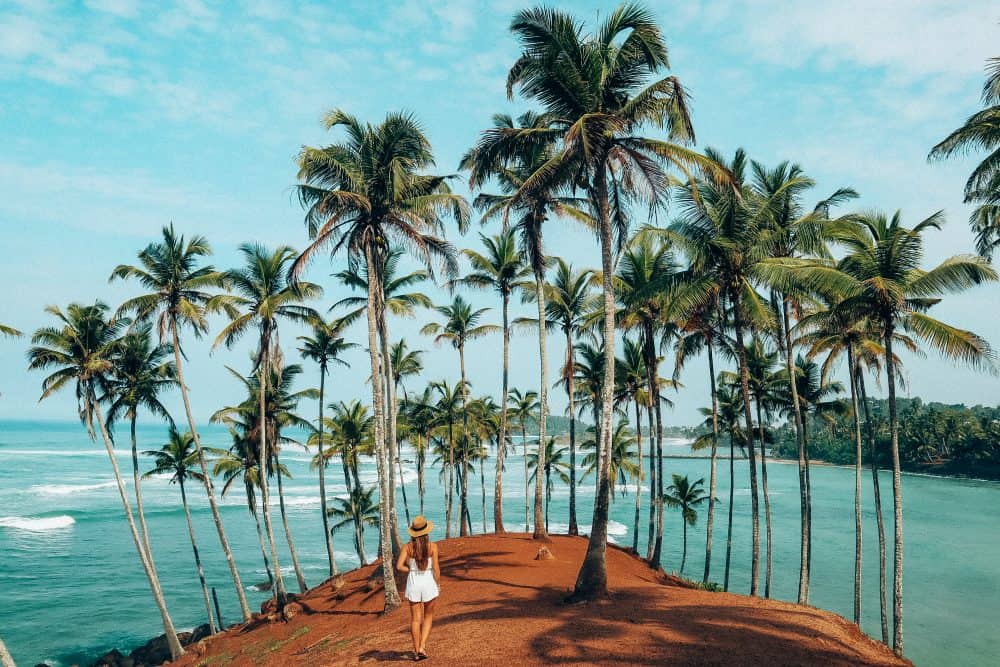 Whale watching is another of the top things to do in Mirissa. There are plenty of local boat companies offering tours to go and see the whales, and this area is famed for the variety of whales you can see off the shore.
The best time of year to see the whales in Mirissa is from November to April. Whale-watching tours vary in price, so I would ask around before committing to the first one.
Another of the best things to do in Mirissa is snorkelling, especially as there are many turtles around. But I warn you now – do not pay to do this as a tour. The beach they take you to is located next to Mirissa (and just before you get to Coconut Tree Hill). There is a local guy there with snorkels who you can rent from and he'll help you spot the turtles there.
Where to stay in Mirissa
The road splits the main beach town clearly in two. Most of the town's accommodation is behind the road, nestled into the hills. I'm sure there are some lovely places to stay in Mirissa, but my favourite thing was that our accommodation was so close to the beach. And I mean a 10 second walk from our beach cottage to the sea. We stayed Central Beach Inn which I can highly recommend. They were really affordable, and although quite simple – they were absolutely perfect for their location and value for money. Definitely one of the best places to stay in Mirissa.
Where to eat in Mirissa
I'm partial to a good smoothie bowl, and Shady Lane Mirissa is the best place to get this. Shady Lane is easily one of the best cafes in Mirissa. Tucked away on a little lane, Shady Lane offers up some of the best and freshest breakfasts. Some of the best restaurants in Mirissa for dinner are located on the beach. Every evening the whole beach stretch is lit up by little candles and fairy lights. Here you can enjoy happy hours and freshly grilled fish.
Hiriketiya
This little beach town, nestled in a bay near Dikwella, is becoming one of new cool beach places to visit during a Sri Lanka itinerary. Still for those 'in-the-know', it won't be much longer until tourism really builds up here. Hiriketiya is completely all about the surf, and it has easily some of the best surf towns in Sri Lanka. Days are spent lounging in one of cool hangouts such as Dots Cafe, or on the beach, where local vendors can whip up the freshest fruit juices on the spot. Hiriketiya is super chilled and I would highly recommend stopping by here on any length trip to Sri Lanka.
Where to stay
One of the best places to stay in Hiriketiya is Dots Bay House, home to the popular day and night Dots Cafe. It is also the closest accommodation to the beach in Hiriketiya.
Hiriketiya is also home to some other brilliant guesthouses, some of which are the coolest in Sri Lanka. For example, Salt House and Jasper House, both offer amazing hotel rooms and really lovely swimming pools.
Tangalle
Tangalle is picture-perfect paradise, and its distance from Colombo is likely to keep it that way. Hotels and guesthouses have been built further back from the beaches around here, so the Tangalle coastline is pretty pristine and lined just with sweeping palm trees. The main downside of Tangalle and the surrounding area is that the water is too rough to swim in, so I'd advise picking a hotel here with a great swimming pool to cool off in.
Where to stay in Tangalle
Unspoilt Tangalle is renowned for its stunning beaches. Its longer drive (6 hours or so from Colombo) helps keep the masses away from the area. Tangalle is home to the luxury Anantara Peace Haven Resort, where we ended up spending two nights.
This stunning hotel is a slice of paradise, on an island home to hundreds of beautiful and elegant hotels. This was my first stay in an Anantara hotel, and I was not disappointed. From the huge stylish rooms, to the beautiful grounds and unbelievable breakfast spread, it was a stay to remember. You can read my full guide to the stunning Anantara Peace Haven Tangalle Resort here.
The Anantara made for the perfect base to explore the beaches of Tangalle. Check rates for the fantastic Anantara hotel here.
Unfortunately, I couldn't tell you the best places to eat in Tangalle and the surrounding area. We treated ourselves to some fabulous meals at the Anantara instead!
Hambantota
Hambantota is not one of the best beaches in Sri Lanka, but the fantastic Shangri-La's Hambantota Golf Resort & Hotel here is worth a stay. Perfectly manicured grounds, Sri Lanka's only 18 hole golf course and an incredible trapeze swing, these are just some of the infinite number of activities on offer at this awesome 5* hotel in Sri Lanka. The Shangri-La Hambantota is a brilliant hotel for basically everyone – from families, couples and larger groups. We could have easily spent a full week here.
Check rates for this fantastic hotel here.
Hambantota is the last major beach town before Yala National Park, and Udawalawe National Park. This makess it a convenient place to stop before driving onto these. Also, if you're interested in birdwatching in Sri Lanka, then I'd definitely recommend staying in Hambantota. From the beach town it's very easy to access Bundala National Park, known for exciting birdwatching.
However, like Tangalle, the sea conditions here make swimming too dangerous. So as long as you're by the pools, you'll be fine!
Other beach towns to visit in Sri Lanka
If you visit Sri Lanka outside of the December-April period, you'll want to consider other beaches on the island where the weather is better. Or if you're looking for kinds of beaches, there will be something for you. As a paradise island in the stunning Indian Ocean, there is no shortage of other beaches to go.
Bentota
This beach is located much closer to Colombo on Sri Lanka's West Coast and is easily accessed by train. Bentota is lined with larger resort hotels, but the beach is lovely and spacious and well worth a visit. This beach is also well known for its great array of watersports on offer.
Negombo
Probably one of the most scenic beaches to be located so close to an airport anywhere in the world! You could enjoy a relaxing beach holiday right until the very last minute if you stay here before flying out of Sri Lanka.
Kalutara
Home to several luxury hotels, including The Plantation Villa Resort, this town is only 40km from Colombo and offers paradise beaches.
Weligama
This beach is known to be a particularly good place for beginners to learn to surf in Sri Lanka. It's a long wide and shallow bay, with plenty of surf lessons taking place.
Arugam Bay
On the southern end of Sri Lanka's east coast, the village of Arugam Bay is a popular destination for surfing and travellers who are keen to get off the beaten track. Its laid-back vibe is coupled with unspoilt beaches. Like Hiriketiya, no larger chain hotels have opened here, meaning this little surf village has kept its charm.
Trincomalee
This beach on Sri Lanka's east coast offers an enticing blend of cultural activities, as it is home to many ancient temples, as well as stunning white-sand beaches.
Colombo
You might be wondering why I have included the capital of Sri Lanka in a guide to beach towns. Well, Colombo actually has a pretty nice beach and fascinating culture to boot. In Colombo, you could spend the morning visiting sites such as The Red Mosque and Galle Face Green. Then for the afternoon, you could swing by the beaches of Negombo or Mt Lavinia Beach.
Best beach towns in Sri Lanka
And there you have it! My guide to the best beach towns in Sri Lanka, as well as the other essential information you need before planning your Sri Lanka itinerary. This paradise island is home to some wonderful beaches. There are also so many other incredible opportunities to immerse yourself in the local wildlife, culture history, and of course, sample the famous Sri Lankan cuisine.
Have you been to Sri Lanka? Do you have any other tips for visitors to this amazing island? I'd love to hear if so – drop a comment below!
If you've enjoyed this post, feel free to share using the below links!
Wanna see more? Check my Instagram here, my Facebook here or my Twitter here!
Disclaimer: This trip to Southern Sri Lanka was entirely paid for by myself. There was no involvement from the tourism board or any local companies. This is an independent guide.
Enjoyed my guide to visiting the best beaches in Sri Lanka? Pin it!