Marrakech, the beating heart of Morocco, is a brilliant destination for foodies. There are a huge number of excellent restaurants and cafes dotted around the city, all offering easily some of the best food in Morocco. The real challenge comes from deciding where to eat in Marrakech and which restaurant to go to in this vibrant city. I recently spent a week in the city, getting to know all the best places to eat in Marrakech so here's my guide to the top restaurants and cafes!
Best Places to Eat in Marrakech
Cafe Clock
Cafe Clock is one of my favourite places to eat in Marrakech, and a must-visit foodie stop for any visitor to the city. My love for Cafe Clock started to develop whilst spending a few days in Fes, where I devoured my way through their menu night after night. The second outpost of the Cafe Clock franchise opened in Marrakech a few years ago and has quickly become equally as popular as in Fes.
However, unlike the Cafe Clock in Fes, which is a maze of tucked away rooms and terraces, the Cafe Clock in Marrakech is actually located around a 20 min walk from the famous Jmaa el Fna Square in an area called Derb Chtouka.
The menu at both Cafe Clock venues is much the same. My favourite dishes on the menu include the tasty camel burger(!), the delectable date cheesecake as well as the delicious fig salad. Cafe Clock also serves up excellent coffees and smoothies too.
The average price of a main meal here at Cafe Clock ranges from between 55 Dirham (£4.30) to 95 Dirham (£7.50). You can check the menu for Cafe Clock here.
You can see the location of Cafe Clock in Marrakech here on Google Maps.

NOMAD
NOMAD Marrakech is the place to be seen. I would strongly recommend making a reservation in advance of your lunch or dinner as NOMAD gets really busy.
This beautiful restaurant is spread out over several floors, with a stunning roof terrace that offers stunning panoramic views across Marrakech. NOMAD is located in the heart of medina at Places des épices and I would recommend using your phone map to find it. You can see the location of NOMAD on Google Maps here.
This hedonistic hot-spot pumps out cool tunes all afternoon long and serves up some of the best drinks and cocktails to be found in Marrakech. You can check the menu for NOMAD here. I highly recommend the vegetarian pastilla! Mains at NOMAD range from 100 Dirham (£8) to 150 Dirham (£12)
This is known as one of the best restaurants in Marrakech so dress up and make an evening of it!
Le Jardin
Another of the best restaurants in Marrakech is Le Jardin, and for good reason.
Tucked away within the medina, Le Jardin is one of the most beautiful restaurants in Marrakech. Set in an idyllic courtyard garden, Le Jardin serves up the best pastillas in Marrakech. in fact – probably Morocco!
Le Jardin is probably the most romantic restaurant in Marrakech too. Its setting is perfect for romantic dates, just ask for a corner table. Its atmosphere is magical and the restaurant is a real retreat from the hustle of the city.
Unfortunately, I was too excited about the food to remember to take a photo! However, you can check the menu for Le Jardin here and its location on Google Maps here. Prices for a main meal here vary from 80 Dirham (£6.40) to 160 Dirham (£12.75).
Atay Cafe
We stumbled across Atay Cafe one day whilst looking for a coffee near Medersa Ben Youssef. This gorgeous spot is easily one of the best cafes in Marrakech. It offers several terraces with super soft seats, shaded areas and surely the best views in the whole city!
You can find the location of Atay Cafe on Google Maps.
Food tours in Marrakech
Another option to explore the best places to eat in Marrakech is to join a food tour around the city. GetYourGuide has some brilliant tours which I've popped below:
Places to Stay in Marrakech
If you're looking to be in the heart of the action, near many of the best places to eat in Marrakech, then I suggest any of the below:
Budget riads:
Mid-range riads:
Luxury riads:
Marrakech Foodie Guide
Have you been to Marrakech? Are there any other brilliant cafes in the city that should be included on this list of the best places to eat in Marrakech? Let me know, I'd love to hear from you!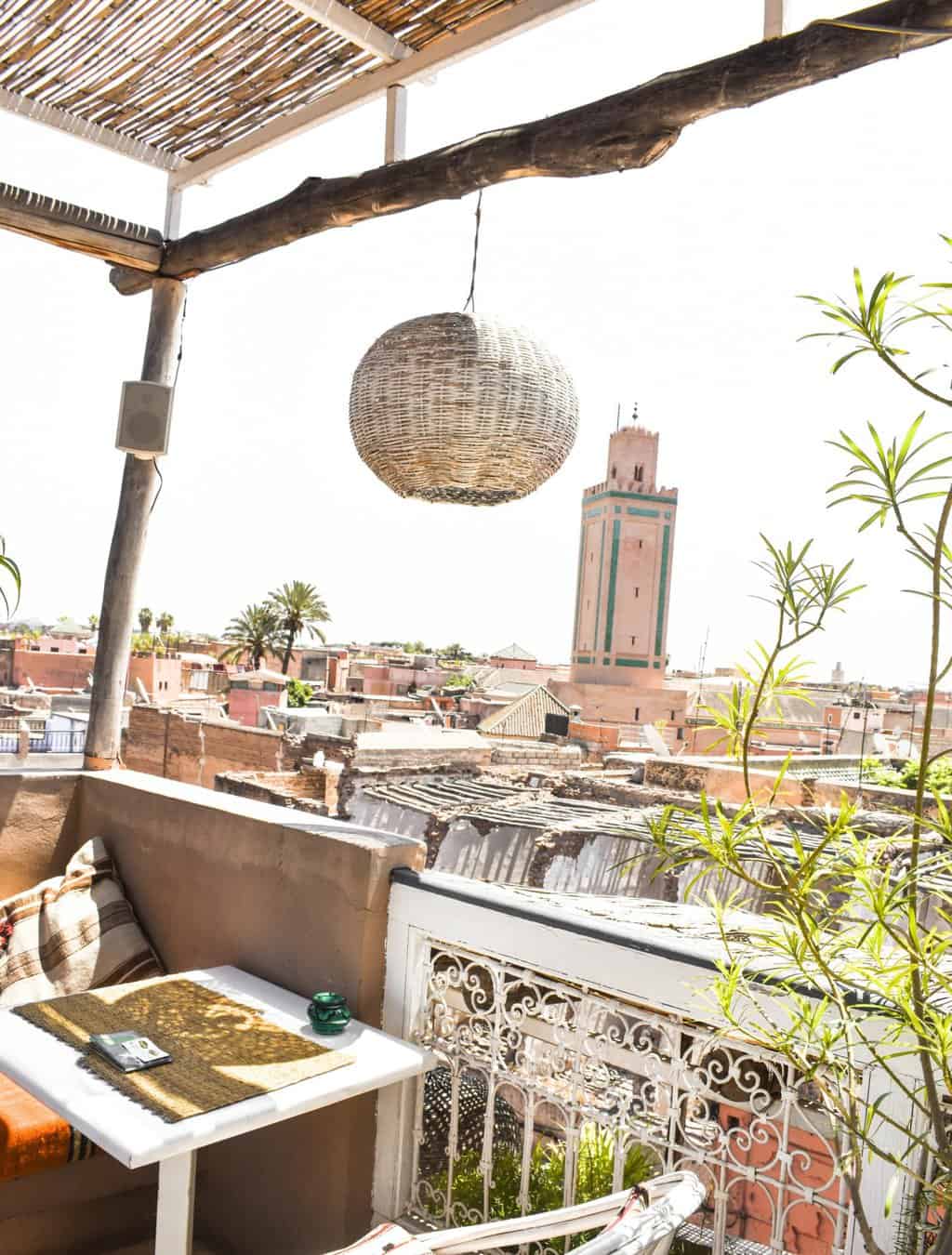 Marrakech is without a doubt, the best foodie city in Morocco. But if you are planning a longer trip around Morocco, you might find some of my other blog posts useful.
I've written detailed guides to Rabat, Chefchaouen, Essaouira, exploring the Sahara desert and enjoying a beach break in Taghazout and Paradise Valley. I've also written some more specific blog posts on hiking the Rif Mountains in Morocco, visiting La Mamounia in Marrakech as a day visitor, visiting Le Jardin Majorelle and spending 3 days in Marrakech

Wanna see more? Check my Instagram here, my Facebook here or my Twitter here!
Disclaimer: This visit to Marrakech in Morocco was entirely paid for by myself. There was no involvement from the restaurants included or the tourism board. This is an independent guide.
Enjoyed my guide to the best places to eat in Marrakech? Pin it!