Marrakech is a great city for foodies to explore. You can't really go too wrong – but with that comes the challenge of deciding where to eat!
I've put together my collection of the best cafes in Marrakech to make it easier but you're warned.. Some are so good you'll want to go twice!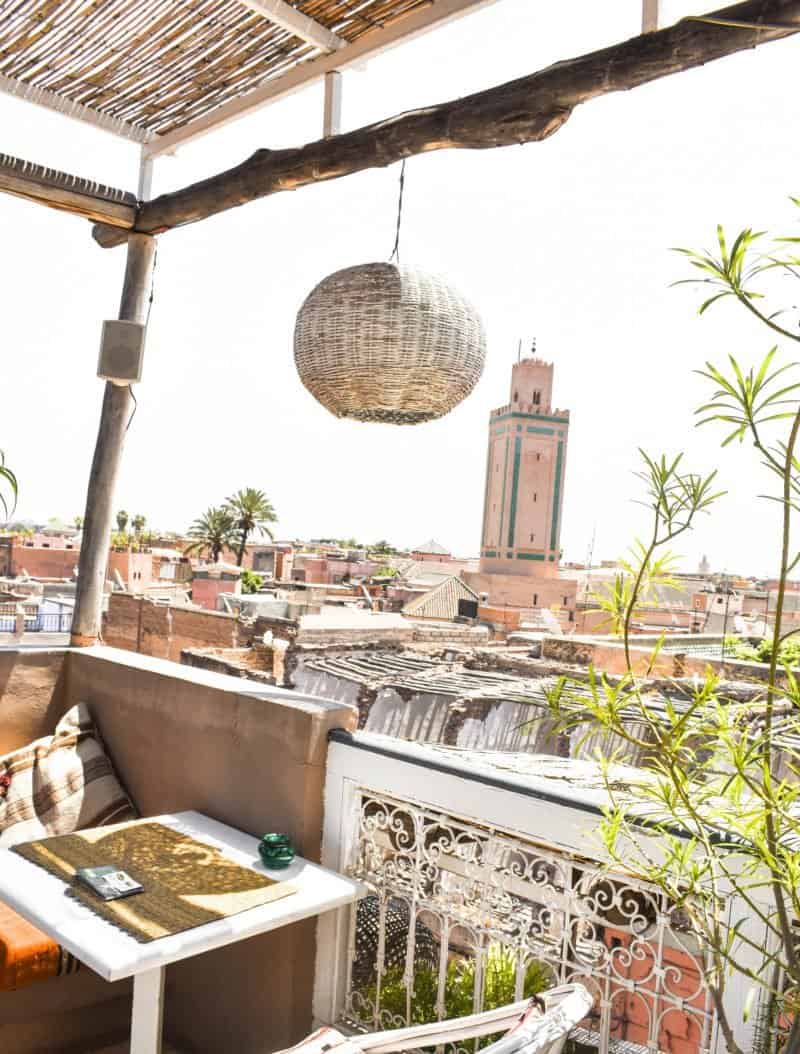 1. Cafe Clock
You may have read in my guide to Fes that I was a bit hooked on the delicious foodie offerings at Cafe Clock. The second outpost of the franchise opened in Marrakech a few years ago and has quickly become equally as popular here as in Fes.
However, unlike Fes's maze of rooms and hidden location, Marrakech's location is around a 20 min walk from the famous Jmaa el Fna Square in an area called Derb Chtouka.
The menu is much the same as Fes – camel burgers, date cheesecake, delicious fig salads, coffees, smoothies and more! It also offers cooking classes, music nights and a variety of workshops in local crafts. Definitely one of the best cafes in Marrakech!
2. NOMAD
Probably the coolest place to hang out in the city. Defintely either make a reservation or arrive early and opt for a seat outside.
Spread out over several floors, it emerges above the medina and offers cracking panoramic views. NOMAD IS Llocated in the heart of medina at Places des épices and I would recommend using your phone map to find it.
This hedonistic hotspot pumps out cool tunes, offers brilliant cocktails and is the place to be seen in the city. Dress up for an evening of great food, drinks and cool kid vibes.
3. Le Jardin
At the top of most foodie guides to Marrakech is Le Jardin, and for good reason. Tucked away, this beautiful restaurant is set in an idyllic courtyard garden (unsurprisingly) and offers one of the best pastillas in the city. Perfect for romantic dates (ask for a corner spot) or large groups, its atmosphere is pretty special and a real retreat from the hustle of the city.
Unfortunately, I was too excited eating to remember to take a photo!
4. Atay Cafe
We stumbled across Atay Cafe one day whilst looking for a coffee near Medersa Ben Youssef. This gorgeous cafe offers numerous terraces with super soft seats, shaded areas and surely the best views in the whole city!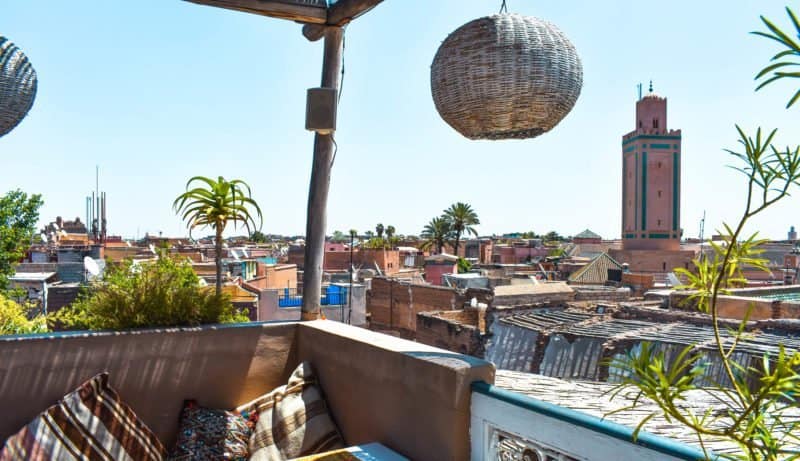 Best Cafes in Marrakech
Are you heading to Marrakech soon?
If so, you might find my guide to the city useful, as well as my guides to both Le Jardin Majorelle and La Mamounia.
Feel free to ask any further questions in the comments section below! If you've enjoyed this post on the best cafes in Marrakech, feel free to share using the below links 🙂
Wanna see more? Check my Instagram here, my Facebook here or my Twitter here!