Miami is one of the best destinations in the world for year-round sunshine and warmth. But it's also a vibrant, cosmopolitan city with so much to offer, and far more than just the party scene on South Beach. From the art in Wynwood to the tropical oasis of Coconut Grove, there are so many varied districts to visit in Miami. So this detailed guide will run through each of the areas, and help you decide which of the best neighbourhoods in Miami to visit.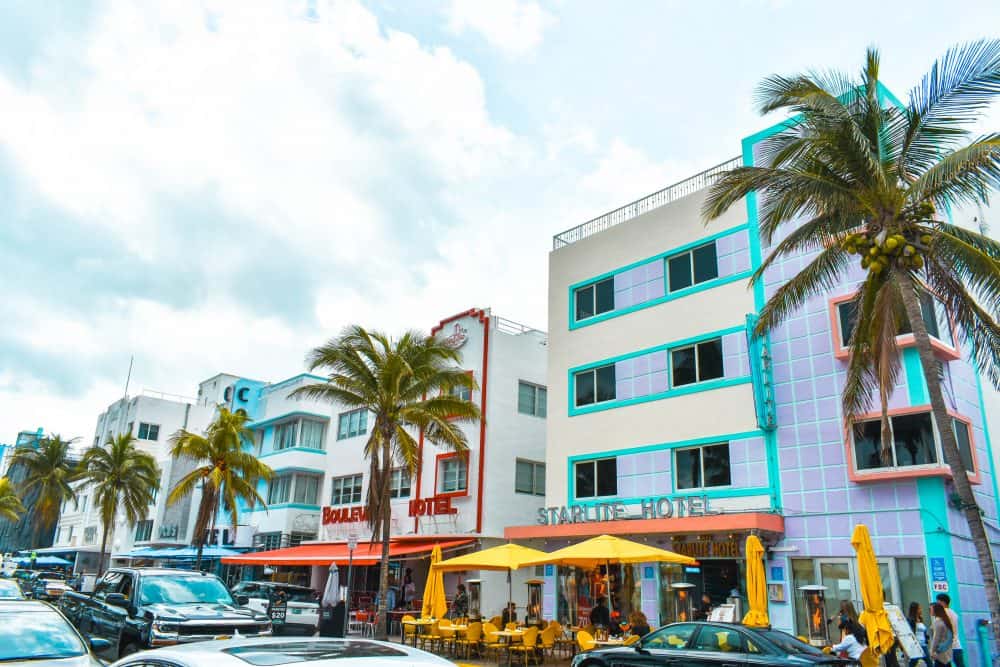 The Best Neighbourhoods in Miami
Easily the most famous (or perhaps infamous) area in Miami is South Beach. And visiting this area is a must on any trip to the city. But over the past decade, many districts in Miami have been transformed from disused areas of warehouses and industry, to hubs of cultural activity. One example of this is Wynwood Arts District, which is becoming a must-visit destination in its own right.
This guide will detail all of the best neighbourhoods in Miami. But, the first thing to know is that Miami Beach is a city itself. It is located on a barrier island stretching approximately 7 miles alongside the mainland. Within Miami Beach, the area is broken into South Beach, Mid-Beach and North Beach. So to avoid confusion, South Beach is the section of Miami Beach that runs from the southern tip to 26th street. For the other neighbourhoods in Miami, they are located on the mainland.
South Beach
For some people, South Beach represents the worst of Miami. From the men flexing their muscles at the outdoor gym, to the loud trashy tourists drinking as much as possible in the beach side bars. You've seen those Spring Break videos, right?
But fear not, South Beach is still so much more than this. Here are some of my favourite things to do:
The best things to do in South Beach
Take a relaxing stroll along South Pointe Park at the southern tip of South Beach. Here you can soak up views of the epic Miami skyline, and gain real perspective of this beautiful beachside city.
With miles of gorgeous sandy beaches to enjoy, Miami is brilliant to visit year-round. At South Beach, you can spend hours soaking up the rays and people watching. But make sure to also visit the colourful Art Deco lifeguard huts, which are great for photos. These are located every 50-100m or so along the beach, and are iconic in Miami.
Chill in the shade under the palms of Lummus Park, located behind South Beach and besides Ocean Drive. Watch locals play a lively game of volleyball or tanned girls and guys on rollerblades speeding by.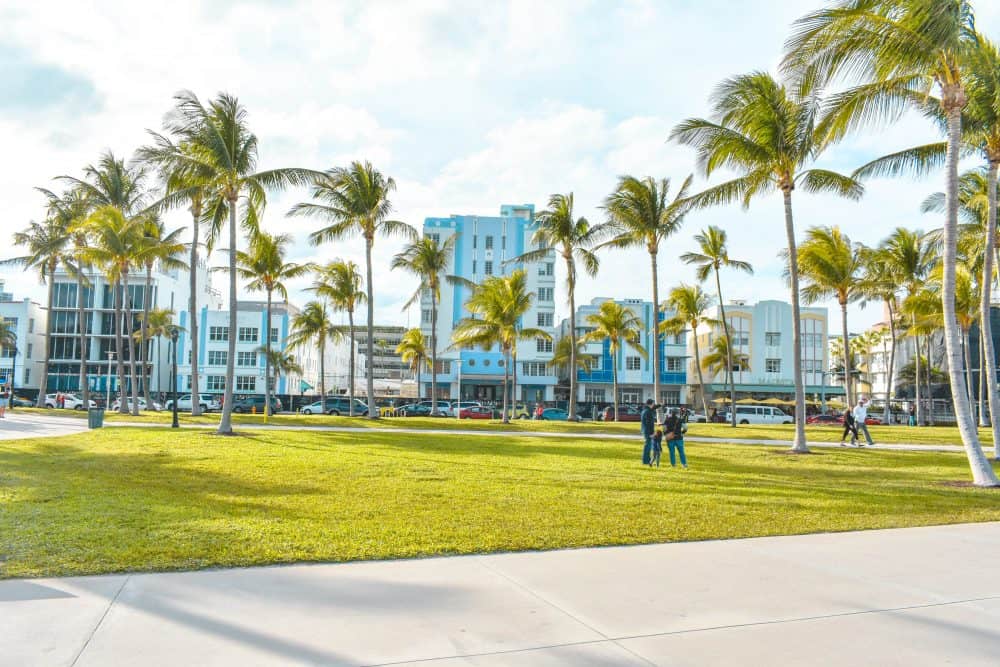 Take a walk down Lincoln Road Mall, a large pedestrianised shopping street to live as the locals do. Stop for a cocktail or peruse the brilliant boutique stores.
Enjoy a guided tour of the Art Deco District with a local from the Miami Design Preservation League (MDPL). The guides are local historians and architects who are passionate about conserving this unique architectural style. They've successfully fought to establish a protection act, meaning that none of the buildings can be demolished or modified. They'll share fascinating insights on the history of the area. You can also learn about other buildings built in the architectural design known as Mediterranean Revival or Miami Modern (MiMo). Or why not join a South Beach Art Deco Bike Tour?
Ocean Drive is the backdrop for South Beach and the world famous street on postcards sent around the world. Not only is Ocean Drive home to some truly iconic Art Deco hotels, but also some of the city's best nightlife. The infamous Cleveland hotel is a day to night pool party location – you won't miss it!
The best places to eat in South Beach
The stunning Hispanic area of Espanola Way. Here you can enjoy excellent tapas under the twinkling street lights, and flamenco dancing in the road. This fully pedestrianised area was re-opened in 2017 and is definitely worth a visit. Make sure to have dinner at Tapas y Tintos one night. It's definitely one of the best spots for traditional tapas in Miami, as well as paella and sangria, of course!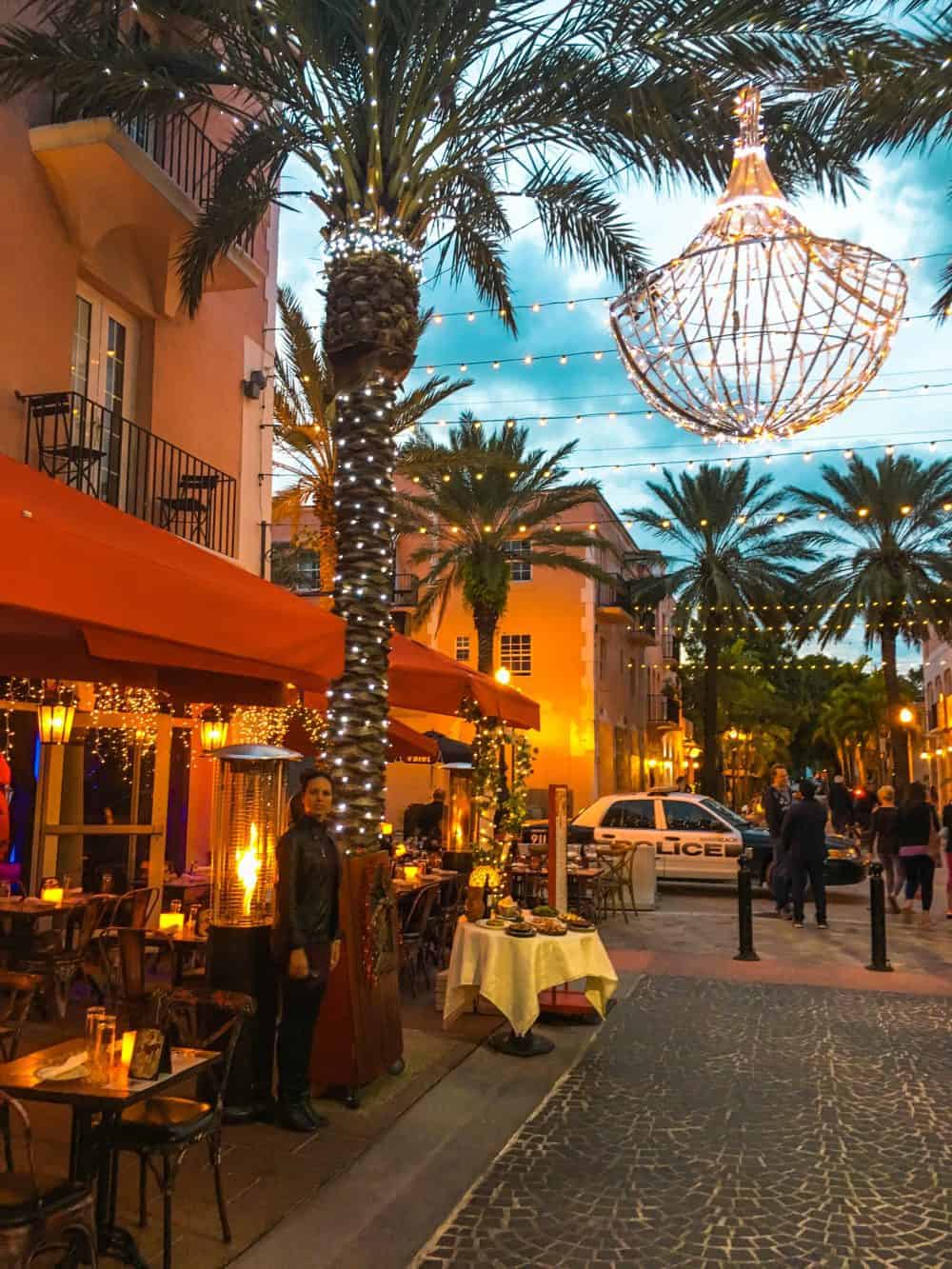 Another foodie hotspot in South Beach is the awesome Time Out Market. Sample cuisine from around the world in a lively and laid-back setting. Also nearby is the Lincoln Eatery, another food hall that is the perfect spot for a few light bites.
On Ocean Drive, make sure to visit News Cafe. This iconic spot serves up great food and is the perfect spot for people watching.
Joe's Stone Crab is one of the oldest and most historic restaurants in Miami Beach. Home to the some of the best seafood around, it is particularly known for its local stone crabs. The restaurant doesn't take reservations.
Nearer the southern tip of South Beach by the South Point Park is Nikki Beach. It's part of the same brand that is located in Dubai and Marbella, but the Miami outpost is more relaxed and chic. A day spent here is perfect, with private beach access too. Although, note there is no swimming pool at this Nikki Beach location.
La Sandwicherie is another well known spot on South Beach. This is the perfect place to grab a brilliant made-to-order sandwich for a day at the beach.
Juvia, one of the best fine dining restaurants in South Beach offers sweeping panoramic views across the ocean. The cuisine is an eclectic mix of Japanese and Peruvian, and the building itself is a stunning indoor-outdoor setup.
Malibu Farm is the perfect spot for a healthy, light lunch in South Beach. Located at the Eden Roc hotel, it's one of my favourite lunch spots in Miami.
Or why not join a locally run South Beach food tour to show you the best of the area? Book a fun foodie tour in South Beach directly here.
Where to stay in South Beach
South Beach is home to some of Miami's most iconic hotels. There are some seriously fantastic stays, and these are my pick of the best luxury hotels in South Beach:
Delano South Beach is an upscale Art Deco hotel and one of the most famous places to stay in South Beach
SLS South Beach is ultra chic, with one of the best pools in Miami and 1 Hotel South Beach is the perfect eco-luxe stay with one of the best rooftop bars in Miami
W South Beach is effortless cool and perfect for a girls's trip, as it's home to the famous Wall nightclub
There are also some great value stays in South Beach, many of which are located in beautiful art deco buildings. These are my favourites:
The Betsy South Beach, located at the quieter end of Ocean Drive is a beautiful hotel and very dog-friendly. The Plymouth is a smaller, luxury Art Deco boutique hotel with a fantastic central swimming pool.
My personal favourite hotel in South Beach is Loews Miami Beach. From its awesome pool area and the VIP SOAK cabanas and daybeds, to the amazing seafood at the Lure Fishbar, I love staying here. Plus, the rooms' decor is so soothing and the views across Miami Beach are unreal!
Check rates at the Loews Hotel Miami Beach here!
Mid-Beach
Although decidedly less-glitzy than its southern neighbour, Mid-Beach is a beautiful part of Miami beach to visit. A natural extension from South Beach, you can walk, run, rollerblade or cycle from South Beach to Mid-Beach along the boardwalk. The perfect way to combine sightseeing with some exercise in the sunshine!
Arrange your bike hire for Miami Beach in advance here.
The best things to do in Mid-Beach
Other than spending long, glorious days at the beach or in the turquoise waters, Mid-Beach is home to some of its own quirky attractions.
Take a wander around the eclectic Faena District, located within Mid-Beach from 32nd to 36th street. This rising cultural district is the creation of world-famous Argentinian hotelier and land developer, Alan Faena. At the heart of the Faena District is his masterpiece, the Faena Hotel, with exudes the glamour of the 1950s, combined with Instagram-worthy art from Damien Hirst. The most iconic of which is a huge gilded mammoth skeleton, displayed in a glass box with the ocean as a backdrop. There is also the Faena Bazaar, an experimental retail space, as well as an event space, an amphitheatre and luxury apartment blocks, all designed by Alan Faena.
The best places to eat in Mid-Beach
Most of the best places to eat around here are located in some of the excellent hotels, all of which are open for non-hotel guests to dine. For example, Nobu at the high-end Nobu Hotel Miami Beach serves up a delectable fusion of Japanese and Peruvian cuisine, with many celebrities dining here every evening.
At the Freehand Miami Hotel is 27, an eclectic dining room with favourites such as a grilled fish tacos. Make sure to visit the Broken Shaker bar too!
Where to stay in Mid-Beach
Well of course, the Faena Hotel – if your budget stretches to its nightly rate. A stay here can be spent between some of its excellent restaurant, including Pao by Paul Qui and the Living Room, but also the Faena Theatre and the excellent South American inspired spa, the Tierra Santa Healing House.
Check rates for a special stay at the Faena Hotel here.
There is also Casa Faena, a slightly lower-key hotel that crosses a stay at a Mediterranean villa with a private beach club experience.
Fontainebleau, one of Miami's most famous hotels is also home to LIV, one of the biggest and best nightspots in the city. There's also the Miami Beach EDITION. This is a seriously cool design hotel, with a basement level dedicated to fun, with a bowling alley, ice skating link and an epic nightclub.
Freehand Miami is a super hip hostel. It's also home to Broken Shaker, which regularly wins awards for being one of the best bars in the world!
Generator Hotel, this is a hostel with a difference. This seriously swish hotel has both private and shared rooms, plus a pool with a poolside bar.
Downtown and Brickell
Wow, this area has undergone a complete transformation from when I first started visiting Miami in around 2005. Downtown, the gateway to PortMIAMI (the city's cruise port), used to be a run-down area, with a homeless problem and huge blocks of unused areas.
Today, this area has been dramatically revitalised. Downtown and Brickell are now home to some of the best attractions in Miami.
Brickell, the financial district is modern, with towering business and residential blocks, with Downtown adjacent the cultural balance, mixing old and new.
Downtown is home to the Freedom Tower, which in 1959 was the entry point for Cuban refugees arriving in Miami. Directly opposite is the American Airlines Arena, home to one of the US' best basketball teams, Miami Heat. Adjacent to this is Bayfront Park, a beautiful green stretch that hosts the global house music festival Ultra every March. But today, these longer standing attractions have been joined by a number of world class museums, new shopping malls and a new vibrant arts scene.
The best things to do in Downtown Miami and Brickell
Stop by Brickell City Centre. This huge development has transformed Brickell, providing a mammoth new retail, dining and entertainment space. Spanning three blocks, it's home to premium shopping, as well as a cinema, bars and restaurants. It's also home to the EAST Hotel, the perfect place to stay in the area or for a pre or post cruise stay.
Explore Museum Park (aka. Maurice A, Ferre park), a magnificent new development on unused waste land at the edge of Biscayne Bay. It's home to the ultra-modern Frost Science Museum, also known as the Philipp and Patricia Frost Museum of Science. This ground-breaking new facility is home to a Planetarium and an Aquarium. Museum Park also houses PAMM (the Perez Art Museum Miami). Spread over 200,000 feet, this iconic building was designed by renowned architects, Herzog & de Meuron. This is a contemporary and modern art museum, showcasing works from around of the world.
Learn about some of Miami's fascinating background with a visit to HistoryMiami, located in the heart of Downtown on Flagler street. There are exhibitions and city tour options.
Wander around the Bayside Marketplace. Although this open air shopping mall has been in Downtown for a long time, it's still well worth a visit. This shopping complex is located by the water, with a harbour and some excellent restaurants.
Head out on the water on a boat ride. Many local boating and watersports companies are based in Downtown, with lots of these departing from Bayside Marketplace. This is a fantastic way to see Miami from the water. For example, Island Queen offers various tours such as Millionaire's Row Cruise and Thriller Miami provides high speed tours of Key Biscayne.
Book your high speed Thriller Miami online here or The Original Millionaire's Row Tour here.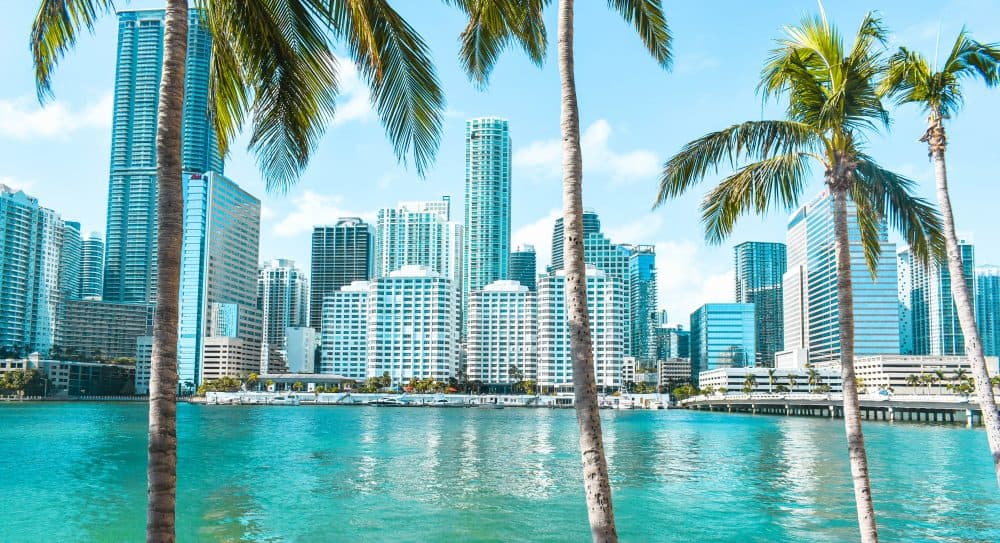 The best places to eat and drink in Downtown and Brickell
Sugar, located on the 40th floor of EAST Miami is a casual tiki-style bar, where you can try world class cocktails in its lush landscaping.
Museum Park, home to the Frost Museum and PAMM, is also home to Verde Café. This is an excellent spot for some locally-produced, healthy food, with a beautiful terrace offering views across Biscayne Bay. There's also a great coffee bar here, selling on-the-go coffees, pastries and other bits to eat.
Nearby, at the Kimpton EPIC, is Area 31, another excellent rooftop bar and restaurant in Miami. It also has a spectacular rooftop pool terrace, which is the perfect spot for happy hour cocktails.
El Tucan dinner show, which is my favourite nightlife experience in Miami. Just wow! El Tucan is a spectacular and glamorous cabaret show, featuring a variety of acts including jazz musicians, tango dancing, traditional cabaret and funky house DJs. There are two set dining options to pick from and the food is brought out throughout the show. I personally found that I struggle to focus on the food at El Tucan, as I just want to jump up and dance. The atmosphere is electric and I highly recommend.
Where to stay in Downtown and Brickell
One of my favourite hotels in Miami is located in Downtown, which is the InterContinental Miami. This hotel is really convenient for the cruise port, and delivers fantastic sweeping views across the whole of Biscayne Bay.
In Brickell, located on a small island called Brickell Key is the Mandarin Oriental, another of my favourite stays in Miami. It has a small private beach area, and some amazing dining, including La Mar by Gaston Acurio, serving up authentic Peruvian flavours.
Other places to stay include EAST Hotel, as mentioned earlier in Brickell City Centre, as well as the Four Seasons Miami, which has an epic weekend brunch offering.
Little Havana
The heart of Latin American Miami is in the district of Little Havana. I first visited this neighbourhood back in about 2005 and I was the only tourist around. Back then, absolutely nothing was geared towards visitors. There were no walking tours and it was hard to get to by bus (Uber was not a thing in 2005!)
Things have changed in this area significantly, and now Little Havana is one of the best places for tourists to visit in Miami. And despite its size, there's so much to do in Little Havana, you could spend a couple of nights here.
The best things to do in Little Havana
Calle Ocho is the main street in Little Havana and the epicentre of all activity. This should be the focal point of any visit to the neighbourhood, as it is packed with bars, bakeries, cafes, museums, shops and music venues.
The best way to explore Little Havana is with a locally run tour, such as with Urban Adventures. I learnt about the fascinating history of the area, and how thousands of Cubans came to Miami after the Revolution in 1959 to seek a better life. Today they are joined in Miami by dozens of other nationalities from other Central and South American nations.
Arrange your Little Havana tour in advance here!
Other than the below, a lot of the best things to do in Little Havana revolve around food and drink, and sampling the best of the Cuban cuisine!
Visit Maximo Gomez Park (aka. Domino Park), where you can see locals playing dominoes as they have done for decades. Families and veterans gather here daily to smoke a cigar and catch up.
Drop into a cigar shop, such as Havana Classic or El Titan de Bronze. Not only can you purchase hand-rolled cigars here, but you see them being rolled in person. You can learn how the tobacco leaves are prepared and stored, and the history behind the cigar.
The best places to eat and drink in Little Havana
Foodie spots not to miss while visiting Little Havana:
Los Pinarenos Fruteria in Little Havana is an iconic family-run cafe and tropical fruit store that has been running since the late 1960s. It's a bit like stepping back in time inside, with an eclectic array of homely items on show and a huge selection of fruit. Definitely try a freshly squeezed sugar cane juice here.
Ball & Chain is an iconic bar and live music venue, which I think is incredible. Inside is an atmospheric, lively bar and behind in the huge garden is a outdoors music venue with a huge pineapple stage. The mojitos at Ball & Chain are the best around too. Definitely come in the evening, but you can also enjoy cocktails in its garden during the afternoon too.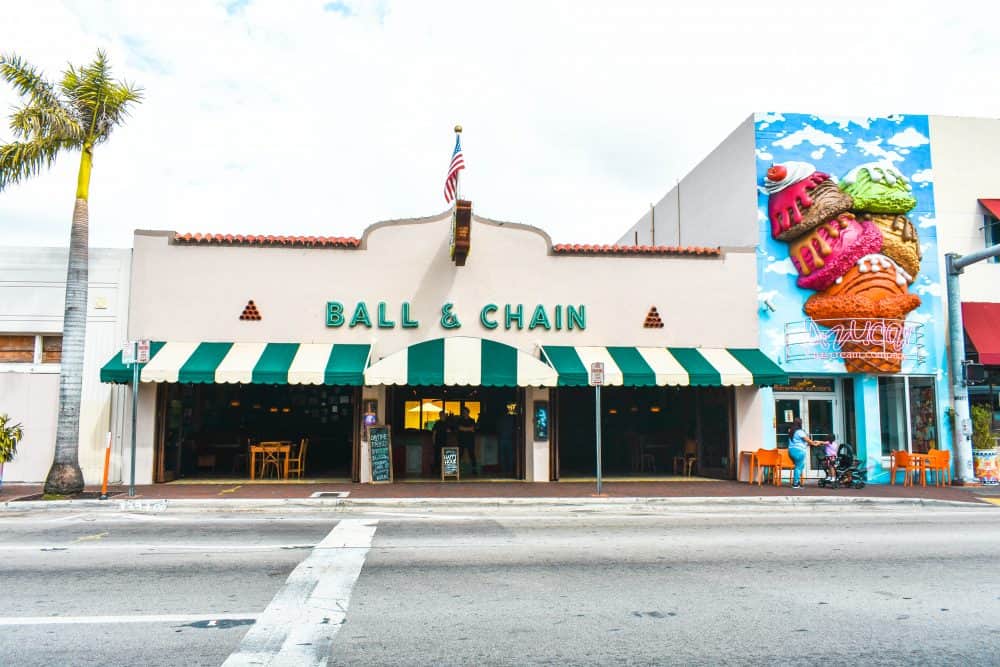 Azucar Ice Cream Company is the place to go for homemade Cuban cream! Make sure to try some of the more unusual flavours too.
Sample some traditional Cuban sweets and desserts at the Yisell Bakery, such as the delicious guava pastries.
Visit Versailles, billed as the world's most famous Cuban restaurants. A great place to try the Desayuno Tradicional (traditional Cuban breakfast) or a cafecito coffee.
Just a couple of blocks away from the heart of Calle Ocho is Latin Cafe 2000 on Le Jeune. It has some of the best Cuban coffee I have tasted, and I highly recommend dropping by here.
Wynwood
Wynwood is Miami's iconic arts district. Once a disused and rundown warehouse district, Wynwood has been transformed into one of the hippest places in the city. Keeping in touch with its industrial past, Wynwood has been transformed with a big splash of colour.
It started with local artists looking for somewhere new to work, but they quickly discovered a canvas at Wynwood like nowhere else. Today, it is an incredible destination for creatives, with colourful street art splashed across every wall.
The street art has transformed Wynwood, and dozens of art galleries, museums, restaurants and lively bars have opened here in Wynwood. One of the best ways to see the city is to join a street art walking or cycling tour to explore what is known as one of the world's largest outdoor art museums.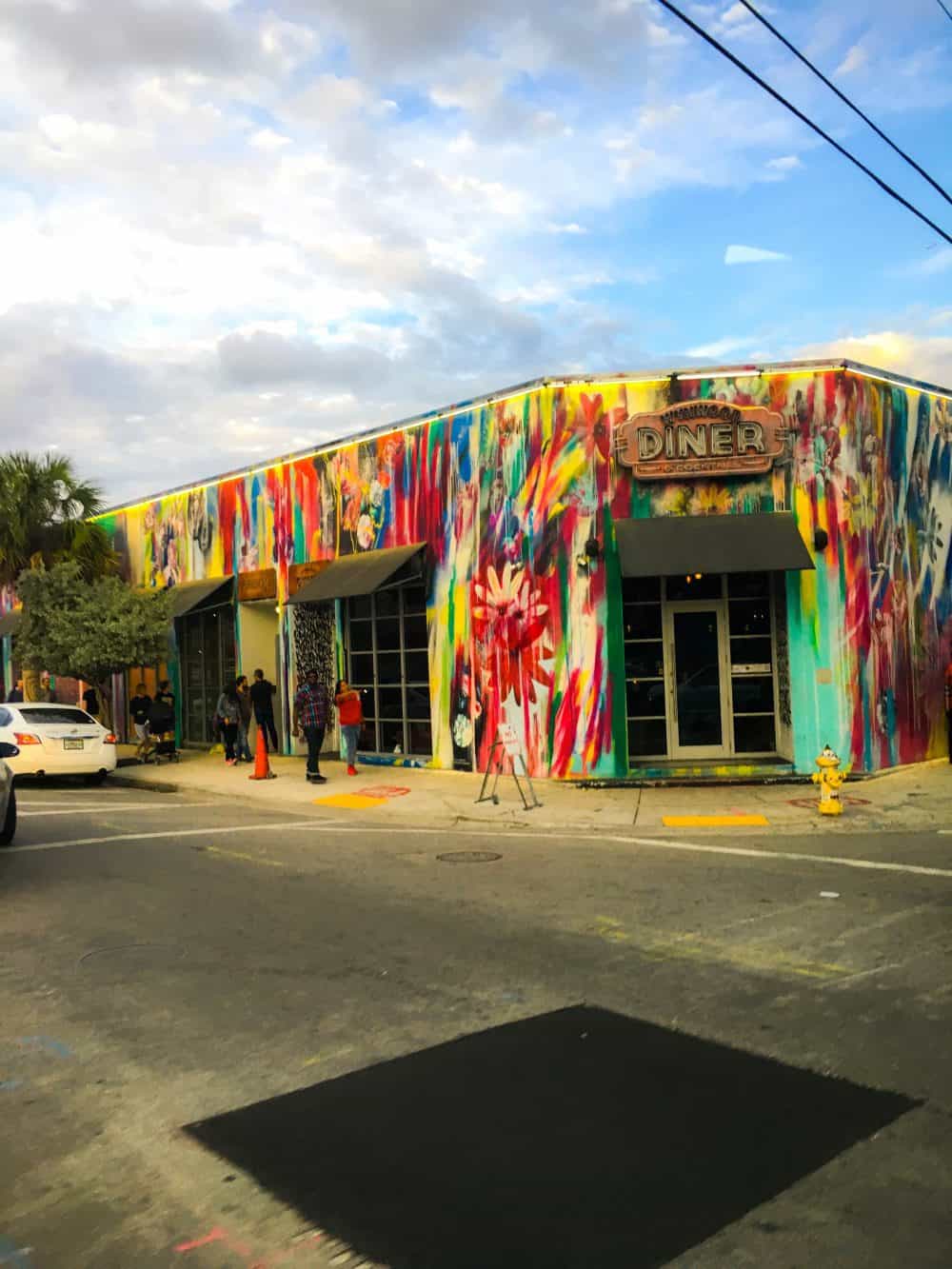 The best things to do in Wynwood
Naturally, the biggest attraction in Wynwood are the walls themselves. Hours can be spent walking or cycling around the walls, either on a tour or independently.
Visit Wynwood Walls. This area is the real heart of Wynwood Arts District and is a fully pedestrianised outdoor art gallery. The art in here is commissioned, so it's ever-changing.
Join a Wynwood Art Walk on the second Saturday of every month, which sees the entire Arts District turn into a late-night street party. There are food trucks, live music and late night art gallery viewings.
Drop into the Wynwood Walls Shop where you can buy curated gifts, books, prints and artwork, all inspired by the local artists in the area.
I've also listed a couple of great guided tour suggestions below for Wynwood:
The best places to eat and drink in Wynwood
Plenty of lively eating and drinking spots have popped up throughout Wynwood, making this neighbourhood worth visiting on this basis alone! Here are some of the best:
Wynwood Bar & Kitchen. This was one of the first places to open in the area and the menu is inspired by Latin America and Asia. Like an art gallery itself, this restaurant spills out into the Wynwood Walls courtyard.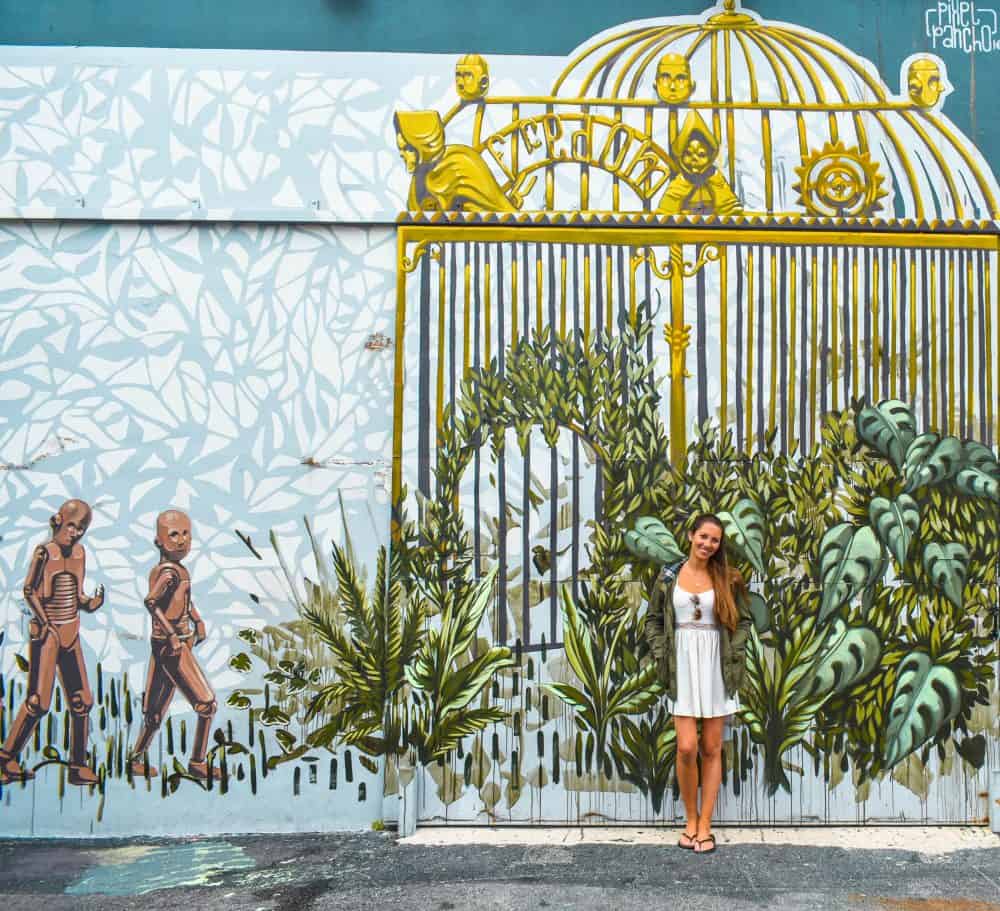 Coyo Taco for some of the best tacos in Miami, including my favourite – crispy duck tacos! There's even a speakeasy bar tucked away at the back of the restaurant, so you might end up staying much later than originally planned!
Join a Craft Beer Crawl – yes, you read that right! Wynwood Brewing Company opened in 2013, followed by several other craft breweries turning Wynwood into the new drinking hotspot in Miami beach.
1-800-Lucky is another foodie location that only opened in 2018. This vast indoor-outdoor Asian food hall is one of a kind, where you can find all kinds of delicious food from across Asia.
Salty Donut's delicious handmade donuts have a bit of a legendary status now in Miami. The team have devised a menu of some creative and delectable donuts, so definitely pop by.
Coral Gables
Far fewer tourists make it down to Coral Gables, in the southern part of Miami. Home to the University of Miami, Coral Gables is one of my favourite places in the city.
It's one of the oldest parts of Miami, dating all the back to the 1920s. George Merrick, a real estate developer designed and built the 'City of Coral Gables', often known as 'The City Beautiful'. Merrick was inspired by the Mediterranean architecture in Spain, so Coral Gables resembles an affluent neighbourhood from Europe. From tree-lined streets to palatial homes with terracotta tiling, it's most definitely one of the most beautiful places to visit in Miami. Coral Gables is also one of the most relaxed and laidback neighbourhoods.
The best things to do in Coral Gables
Coral Gables is known for a vibrant arts scene, as well as its historic buildings. Here are some of my favourite things to do in Coral Gables:
Visit the beautiful Venetian Pool. This public swimming pool is one of the best natural swimming pools anywhere. In 1924, a former rock quarry was turned into this pool using fresh water from a natural underground aquifer. Days can be spent here lazying under the palm trees, swimming in the coral rock caves and splashing under the waterfalls. You have to pay an entry fee as a non-resident of Coral Gables, which is $13 per adult and $8 per child.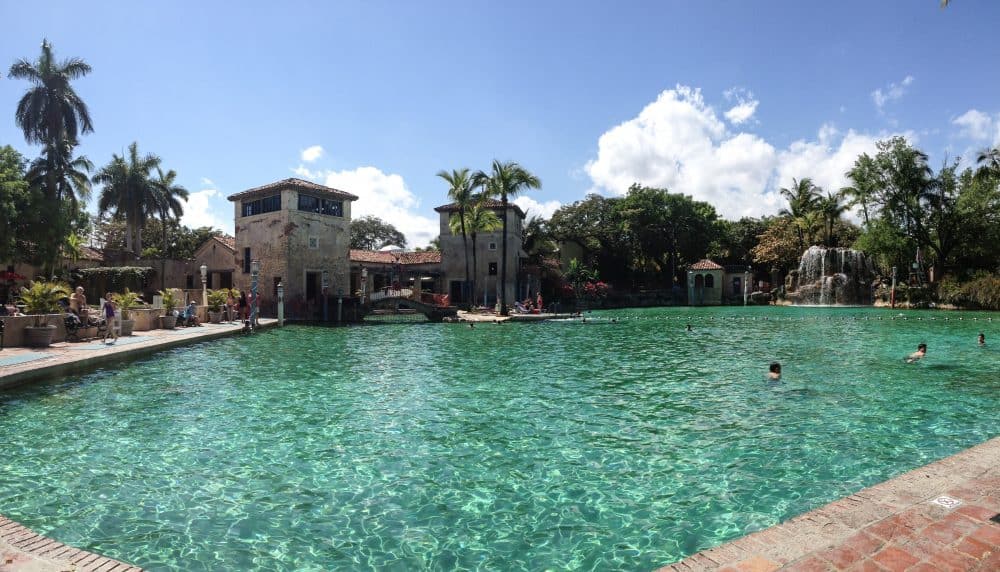 Wander down Miracle Mile, and explore the boutique stores or catch a show at the historic Actor's Playhouse at Miracle Theatre.
Play a round of golf at the ultra-luxurious Biltmore Hotel, or stop by for afternoon tea. This is one of America's most iconic hotels, and a visit here is well worth it, even if you don't stay here. You can enjoy a free tour of this gorgeous historical properly every Sunday with the Dade Heritage Trust.
Spend a relaxing afternoon at the Matheson Hammock Park, a beautiful manmade beach set at the edge of Biscayne Bay. Visitors can enjoy a number of watersports here such as kayaking and stand up paddle boarding, as well as wandering through the hiking trails in the surrounding woodlands.
Take a stroll around the beautifully landscaped palazzos and parks with their tree-lined avenues and Spanish Revival architecture. You definitely won't believe you're only a few miles from South Beach!
The best places to eat in Coral Gables
My very favourite place to eat in Coral Gables is Seasons 52 on Miracle Mile. I love their seasonal dishes and their fantastic cocktails.
Caffe Abbracci is an iconic Coral Gables restaurant, that's been serving the area's best Italian food for over 30 years and is the perfect spot for a romantic date.
Finally, Ortanique on the Mile, which is some of Miami's finest Caribbean cuisine. Enjoy dishes such as corn fritters, West Indian crab cakes and jerk chicken penne pasta!
Where to stay in Coral Gables
One of the most lavish hotels in Miami, and even the USA, a stay at The Biltmore will not disappoint. It's home to a world-class golf course, an opulent spa, an array of fine dining restaurants, as well as one of the world's largest swimming pools!
Another of Coral Gables' most beautiful hotels is Hotel Colonnade, an opulent Miami property built in 1926 and located on Miracle Mile.
Coconut Grove
Located just near Coral Gables is the waterside neighbourhood of Coconut Grove. Referred to as a waterside village, it's a relaxed, super laid back district that is very pedestrian and cyclist friendly. Coconut Grove, as the name suggests, has an abundance of trees, from palm trees to giant oaks, there's plenty of shade and lush, green walkways.
The neighbourhood dates back to the early 1800s, and you can see this in some of its charming streets and in particular, the historic Village West area. This district was the first settlement for a group of immigrants from the Bahamas, and as such, the Bahamian influence around here is strong. Some of the most interesting sites in Village West include the Missionary Baptist Church, the Odd Fellows Hall, which is the first Black library in the area and the Mariah Brown House. This residence is one of the oldest in the area, dating back to 1890 and was the home to one of the first Bahamian couples to move to Village West.
The best things to do in Coconut Grove
Learn about Bahamian culture in Village West, including visiting the unique peacock statue, a symbol of the community's Bahamian roots.
Head out on to the water on a beautiful sailing boat, departing directly from Coconut Grove, the 'sailing capital of Miami'. Known for a history in sailing and sailboat building, Coconut Grove is the best place to learn to sail, rent a boat or even join one of the world-class sailing regattas that take place throughout the season.
Peruse the shops along the village centre of Coconut Grove at CocoWalk, a hive of activity where the shops range from hippie stores to chic boutiques.
Tuck into one of the epic weekend brunches, for which Coconut Grove is known. From European style brunches, to Cuban feasts or Latin-inspired brunch with a Floridian twist, there's plenty of choice!
Stop by the Coconut Grove Farmer's Market every Saturday to soak up the distinctly bohemian vibe. There are plenty of vegan and organic products, as well as handcrafted goods from local artisans in the area.
Visit the beautiful Vizcaya Museum and Gardens, a waterside estate surrounded by beautiful manicured gardens. Built in the early 1900s, and taking inspiration by Italian Renaissance architecture, the villa is a sight to behold and definitely worth visiting for an afternoon.
The best places to eat in Coconut Grove
Lulu in the Grove is always one of my favourite spots for brunch at the weekend, with a menu offering creative dishes from around the world.
Another famed Coconut Grove hangout is the Peacock Garden Bistro, a beautiful cafe surrounded by lush foliage and colourful flowers. Embrace the sunny Miami lifestyle with a delicious brunch under the umbrellas on the garden patio.
For some of the best seafood in town, make sure to check out the excellent bayside location of Monty's Raw Bar. As well as having prime views across Biscayne Bay, it has an excellent happy hour and live music every weekday.
Where to stay in Coconut Grove
The best luxury hotel in Coconut Grove is undoubtedly The Ritz Carlton. Situated just a few minutes' walk from the waterfront and the area's bustling CocoWalk area, this is a fantastic hotel to stay in, especially if you plan on spending a few days in Coconut Grove.
Another excellent choice is the newer Mr. C Coconut Grove which is part of the Cipriani group. Offering a stylish stay with phenomenal views over Biscayne Bay, Mr. C is also home to the lively Bellini Restaurant & Bar on its rooftop, which provides a fine Italian dining concept.
Other neighbourhoods to visit in Miami
Design District
This new up-and-coming area of Miami is focused on high-end shopping, and like Wynwood, it has completely transformed a once disused part of town.
Today, there are over 130 art galleries here, as well we antique dealers, stylish eateries and premium bars. The stores in the Design District range from high end shopping, such as Prada, Burberry and Hermes, to fancy home decor stores.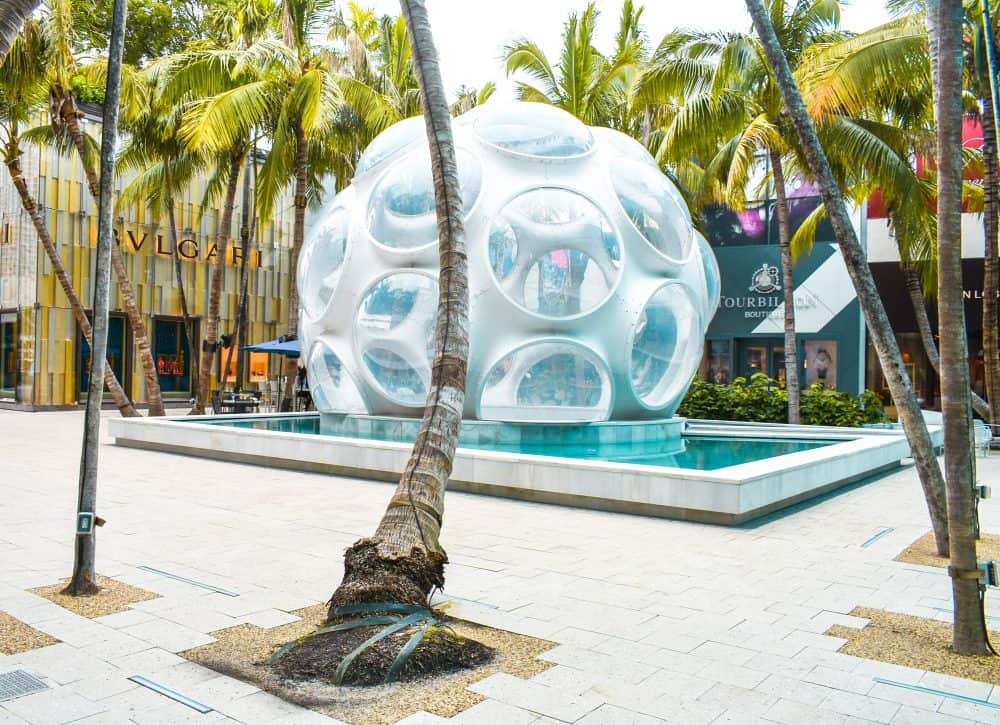 The Design District is also home to the Institute of Contemporary Art (the ICA), a recently opened museum and art exhibition, showcasing contemporary works by local and emerging artists.
Estefan Kitchen, in the heart of the Design District is another excellent place to eat in Miami. It's a brilliant place to sample traditional Cuban family recipes, such as the Palomilla, a thin-cut juicy steak or the ropa vieja, a Cuban beef stew. This restaurant is owned by Gloria and Emilio Estefan and is the perfect mix of Cuban family meals with a fine European twist. You can sit indoors and enjoy live music performances, or outside and see the world go by in the heart of the Design District.
Little Haiti
This exciting neighbourhood is the heart of the Haitian community in Miami. Haitian immigrants came to the city through the 1980s, and brought with them the vibrancy of the Caribbean. Today, this can be found in the shops, museums, galleries and community spaces of Little Haiti.
Not only is the neighbourhood home to one of the most vibrant art scenes in Miami, but it's a fantastic place to sample authentic Caribbean food at some of the family-owned restaurants, as well as enjoy live Haitian music in the streets.
The best way to see Little Haiti is to join a heritage neighbourhood tour with a local guide. For example, HistoryMiami offers an extensive range of tours, including the Little Haiti Culture Walk which takes in the best of the neighbourhood and provides an insight into the rich history and culture of the area.
Key Biscayne
Although not strictly a neighbourhood in the traditional sense, Key Biscayne is an area of Miami that should definitely be on your radar. From Downtown Miami, head over the scenic Rickenbacker Causeway to the island paradise of Key Biscayne. What was once a coconut plantation, is now a tropical oasis just minutes from the heart of Miami. There are quaint residential areas here, as well as a wealth of outdoor activities on offer. From cycling along the paths within Bill Baggs Cape Florida State Park at the southernmost tip of the island, to visiting the Miami Seaquarium or playing golf in Crandon Park, there's plenty of activities on Key Biscayne.
It's one of my favourite areas in Miami!
There are even beaches located off the Rickenbacker Cause en route to Key Biscayne. For example, the dog-friendly waters at Hobie Beach or the calm lapping waves at Virginia Key Beach Park, which is perfect for watersports.
Bal Harbour
This neighbourhood, in the north of Miami is a high-end village known as a playground for the ultra-rich. The beaches are pristine, and Bal Harbour is the perfect place to enjoy the finest dining in Miami, as well as luxury shops and high-end hotels.
The most lavish places to stay are The Ritz Carlton Bal Harbour and the St Regis Bal Harbour, both of which are two of the best hotels in Miami.
Visiting Miami: Essential information
When to Visit Miami
Beautiful Miami is an excellent destination to visit year-round.
The peak season to visit Miami is between November and March. This is when the rest of North America (and Europe) is experiencing cold winters and head south for warmer weather! This does however make this time the most expensive time to visit Miami. Hotel rates round Christmas and New Year especially can be very high.
April and May are also good months to visit Miami. However, from June to September, the hurricane season arrives Florida which can bring very heavy rains.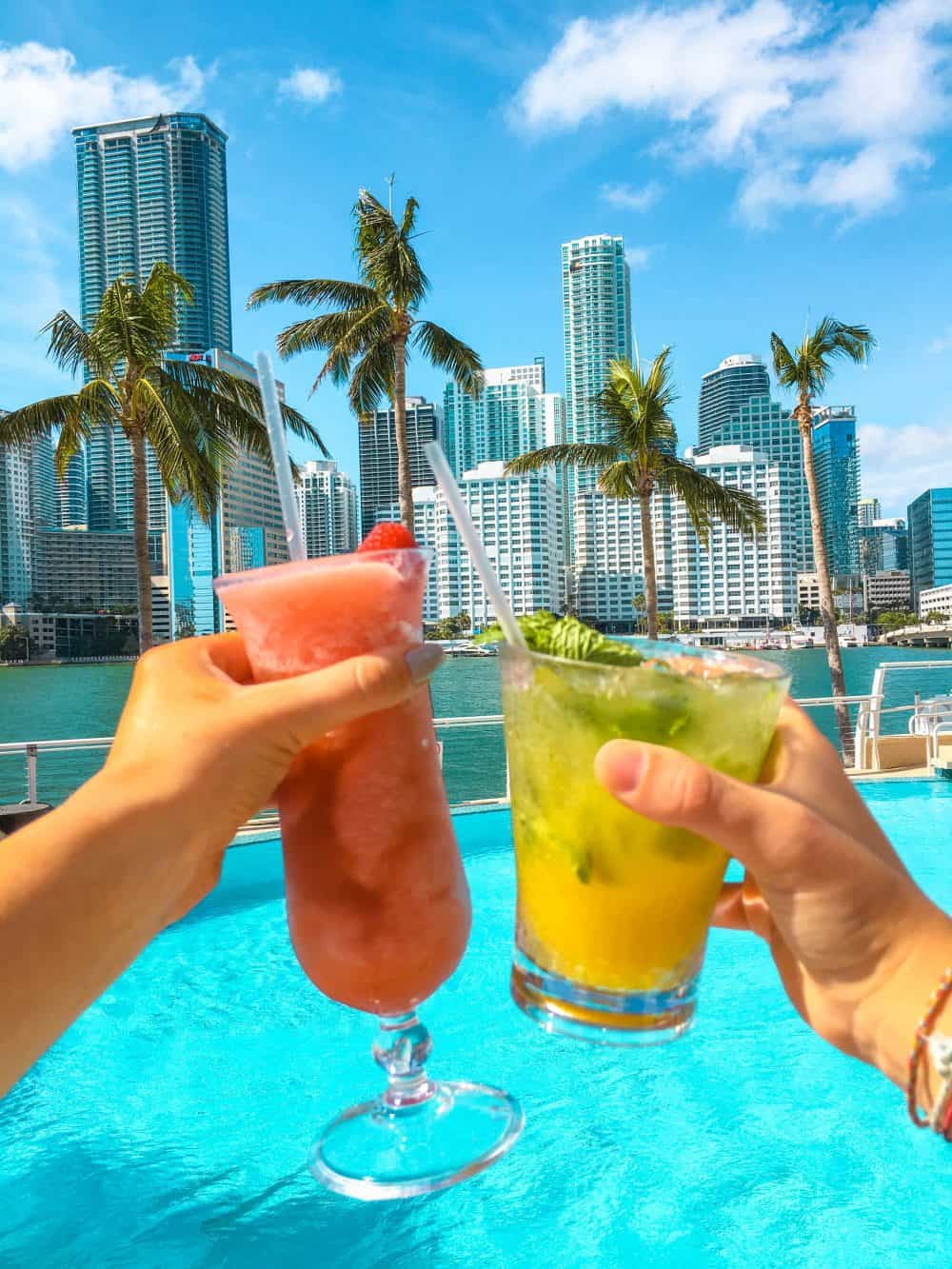 Getting Around Miami
Miami is surprisingly well-connected on public transport, particularly the bus network. This makes a car-free trip quite easy, together with the use of Ubers and traditional taxis. In Downtown and Brickell, the local train is free for both locals and visitors and is called the Metromover.
South Beach and Miami Beach are very pleasant to walk around, and going by foot is definitely the best way to explore. Alternatively, consider hiring roller skates or bikes and enjoy the boardwalk like a local!
Getting to areas such as Little Havana, Wynwood Arts District, Little Haiti or the Design District is quite straight forward via bus. But the buses can be a bit slow and tedious, so I'd perhaps recommend taking an Uber for speed and ease.
Miami is also a great place to cycle. Using the Citi Bike programme is an easy way to hike a bike. You can use a solar-powered bike at an hourly rate until your time runs out. Then just dock it, and grab another!
So that's the end of my guide to the best neighbourhoods in Miami. As you may have gathered, the city really is one of my favourite places in the world and I love to head over as often as I can. I love the beautiful beaches, the reliable sunny weather, the exciting cultural offerings, and of course, the amazing food. Miami is easily explored in a long weekend, but you could also easily spend as long as two weeks there.
Feel free to drop me a line if you would like any advice or further recommendations for planning a trip to Miami. I've also written guides to the most romantic things to do in Miami and the best day trips from Miami too. If you've enjoyed this guide to the best neighbourhoods in Miami, then please do share using the below links!
Wanna see more? Check my Instagram here, my Facebook here or my Twitter here!
Disclaimer: This guide is based on multiple visits to Miami. Most of these have been paid for by myself, and however the tourism board has supported one of these visits.
Enjoyed my guide to the best neighbourhoods in Miami? Pin it!