The beautiful Indonesian island of Bali has always been a trailblazer for vegan food and Instagrammable dishes. But over the last few years, new health food cafes have been opening at an unprecedented rate.
It is healthy food heaven – few places in the world can really compare. There are simply so many forward thinking & innovative health food spots and vegan cafes. Certainly nowhere draws as many people to come and try out the vegan food scene as here.
Canggu could be considered Bali's hotspot for vegan food, with the area providing a good mix of guiltier pleasures too. Ubud however is all about raw and healthy food.
Best Plant-based and Vegan Places to Eat in Bali
I've collaborated on this blog post with my good friend Anita, a talented graphic designer, yoga teacher and all round good egg. We are both London residents, but travel the world as often as we can. Anita could be considered a Bali vegan expert, having tried most of the cafes on the island.
So read on for all the best vegan and plant-based cafes to try in Bali, featuring hotspots in Canggu, Seminyak and Ubud!
Kynd Community, Seminyak
Located in Seminyak, Kynd Community is probably the most Instagrammable on this list.
From the colourful walls, to the unbelievably beautifully presented smoothie bowls – bloggers and tourists alike flock here. It opens early which is helpful ahead of a long day of exploring and we had no problems getting a seat outside.
This is a plant-based cafe, with a very fruity focus. Looking at the menu, I could easily eat everything on it. The berry tropical bowl is my favourite item on the menu – a delicious mix dragonfruit (best fruit ever) and granola, strawberry and banana. Kynd Community offers probably the most extensive variety of juices, smoothies and other plant-based drinks on the island.
Coffee Cartel, Seminyak
Another photo friendly spot, located not too far from the main road into Central Seminyak. The staff at Coffee Cartel are super friendly and it could definitely be an all-day work chill out spot too. I loved both the interiors and the terrace areas.
Their smoothie bowls are delicious, as are the iced coffees on offer but check their menu here to get a complete idea of what they have each day. It's a really diverse range and every dish has been so well thought through.
Cassava, Batu Bolong, Canggu (veggie & vegan)
Cassava is stunning. It's a massive, airy, Pinterest dream that comes with a pool. I came here four times and the food never let me down. The dishes vary from Sri Lankan, Indonesian, Western, Middle Eastern, Mexican and more – but they somehow nail all of them!
Peloton Supershop, Berawa, Canggu (100% vegan)
Their smoothie bowls and breakfast options are unparalleled (pancakes, breakfast burrito, hash stack, etc.) and so are their pulled jackfruit nachos and arancini balls (evenings only). Make sure to stop by Peloton Supershop at least once!
Shady Shack, Batu Bolong, Canggu (veggie & vegan)
Shady has the best smoothies, matcha lattes and salad bowls like the Nori Bowl and Tempeh Bowl. The Naked Falafel is another one of my favourites. Go back for dinner to try their sweet potato gnocchi with vegan parmesan.
Moksa, Ubud (100% vegan)
Incredible setting in a permaculture farm, the decor at Moksa Ubud is posh, clean cut, and the service reflects that too. The food is so flavourful and creative – it's as if a 5 star hotel chef became vegan and started his own thing. It's a bit of a trek out of central Ubud but worth it.
Wulan Vegetarian Cafe, Ubud (100% vegan)
I've found in Asia, restaurants that have the word 'vegetarian' in it are actually vegan. Wulan cafe veganises Indonesian dishes but honestly, they do it even better. The 7 veg special is incredible and I still crave it. It's a small business lovingly run by the owner – she's been there every time I have. They also do cookies and other sweet treats.
Sage, Ubud (100% vegan)
Very flavoursome food – the jackfruit tacos and burrito were seriously memorable – the 'sour cream' and salsa are delicious. Sage is a little out of main Ubud but again, worth it.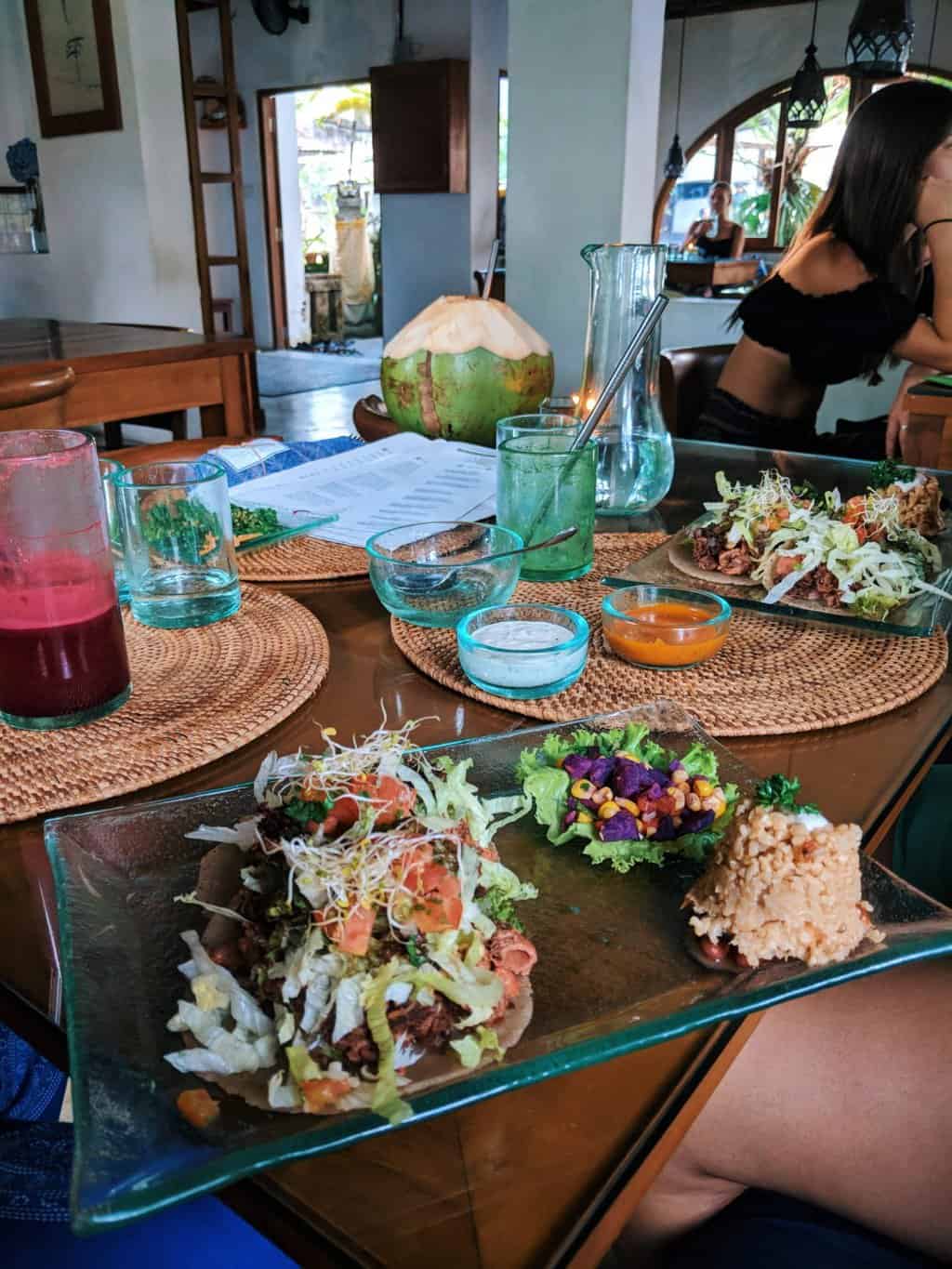 Roti Daal, Batu Bolong, Canggu (veggie & vegan)
A low-key joint that changes its dishes EVERY DAY. It's 95% vegan with the odd paneer dish. Roti Daal cheap and they let you try every dish before you choose the ones you want.
Mad Pops, Canggu & Seminyak (vegan ice cream)
You will see their lollipops in a LOT of restaurants and cafes. But visit the Mad Pops shop itself and try a few flavours. My favourites are the chocolate (tastes like a brownie) and salted caramel (can be sickeningly sweet). Get the chocolate sauce topping – it freezes over the ice cream!
The Best Vegan and Plant-Based Cafes To Try in Bali
I hope this post has been useful for anyone wondering which vegan and plant-based cafes to try in Bali. Feel free to reach out with any questions!
If you're looking for further guides in Bali, then make sure to check out my review of Kalapa Resort & Spa in Bali here. I've also written a guide to the best beach clubs in Bali, the best beaches in Uluwatu and the best temples to visit in Bali too.
If you've enjoyed this guide to best vegan and plant-based cafes in Bali feel free to share using the below links 🙂
Wanna see more? Check my Instagram here, my Facebook here or my Twitter here!
Disclaimer: We paid for our visits to these cafes in Bali. There was no involvement from the tourism board or a cafe. This is an independent guide.
Enjoyed my guide to the best plant-based and vegan cafes in Bali? Pin it!