Wedged in between Vietnam, Laos and Thailand, this small but beautiful country is a much-loved stop on most South East Asia itineraries. Once mostly popular with just backpackers, Cambodia and the surrounding countries now have plenty to offer all travellers. There has been a raft of new luxury hotel openings, more family-friendly activities and better flight paths into the country.
Cambodia is most famous for Angkor Wat, a mammoth temple complex near Siem Reap. Visiting here has long been the main draw for most visitors to the country. But as local roads and public transport has improved, dozens more historically and culturally important attractions have become easier to access. All of which are well worth including on any Cambodia itinerary.
So this Cambodia travel guide aims to cover all the key information to know before visiting.
To ensure this guide is comprehensive and covers all the best things to do in Cambodia, I've enlisted the help of some other travel bloggers. They've all shared their own contributions, so read on to find out more!
History of Cambodia
Cambodia has a dark past. There's no getting round it, and reminders of this are visible across the country. The country was torn apart by a brutal genocide in the late 1970s led by Pol Pot, the ruler of the Khmer Rouge. The genocide meant nearly 1.7 million Cambodians lost their lives over the course of 4 murderous years. Based on an ideology of creating an 'equal' or 'classless' society, the regime's goal was to torture, and kill anyone who had an education. The Khmer wanted all members of society to be rural farmers and agricultural workers, rather than educated living in the cities. The Khmer regime shut down schools, factories, hospitals and universities. They then sought to murder teachers, doctors, engineers and lawyers – and their families.
No visit to Cambodia can be undertaken without confronting this harrowing time in history. Any visit to Phnom Penh should include, at the very least, a visit to the killing fields at Choeung Ek, as well as the Tuol-Sleng S-21 prison.
My experience of visiting these places was challenging, but eye-opening. It beggars belief how this barbaric genocide went unnoticed by the rest of the world for so long. It explains why you see so few elderly Cambodians in the country. Every Cambodian you speak to will have had at least one person in their family murdered by Pol Pot's Khmer Rouge, and that alone requires some time to process.
I highly recommend reading further on the genocide before visiting, and this article here is a useful starting point.
Cambodia Travel Guide: Useful Information
How to get to Cambodia?
The two main airports in Cambodia are in Phnom Penh and Siem Reap. No long-haul international flights land directly in Cambodia, but you can fly in from other major destinations such as Hong Kong, Bangkok and Singapore.
There are also very efficient bus services from major cities in the surrounding countries, such as from Ho Chi Minh City and Bangkok. You can buy your tickets at any travel agents' stall in Phnom Penh, Siem Reap, Ho Chi Minh City or Bangkok.
Cambodia visas
Most nationalities need a visa for Cambodia, but fortunately, you can easily obtain these on arrival at both land borders and airports.
The visa lasts for 30 days and can only be paid for in cash, and you should have $30 USD in crisp notes. Some land borders ask for passport photos too, so I advise keeping these at hand.
There is also now the option to get an e-visa online before arriving. This costs the same but is subject to an $7 processing fee. You can apply for this here on the official website and you need to do this at least 5 working days before you travel. As in-person visas are straight-forward to obtain, I recommend doing this on arrival but following the global Coronavirus pandemic, I do advise checking your country's official website for the most up-to-date entry and visa requirements.
How to get around Cambodia?
Unlike Vietnam and Thailand, train travel isn't well established in Cambodia and the main way to get around is by bus. The buses ply dozens of routes and although slow, they can connect travellers across the country.
Departure times are listed, but buses rarely depart according to the schedules. Never leave short connection times, particularly if you're planning on heading to the airport. Leave as much time as possible. And if you travel around Cambodia in the rainy season, prepare for your bus journeys to be further delayed due to heavy rainfall. This can make many roads impassable!
Another option to going by road between Phnom Penh and Siem Reap is to go by river cruise. Although this is a long journey, it is a beautiful one and if time allows, one of the best ways. Arrange your full day cruise tickets here.
The north-east of the country is the least developed and the hardest to access, but if you head off the beaten track here, you'll meet some of the friendliest people and discover remote tribal villages.
For shorter trips within towns, tuk-tuks are by far the easiest way to get around and relatively inexpensive compared to taxis. However, if you want the comfort and convenience of a private taxi, you can certainly do so. For example, for Phnom Penh to Siem Reap it can be much faster to travel by private taxi. You can arrange a Phnom Penh to Siem Reap taxi here.
When is the best time to go to Cambodia?
The rainy season stretches from May to around October time, with July and August seeing the heavy rainfall. I've been to Cambodia in August, and experienced complete wash-out days. It wasn't just a heavy tropical rainfall in the evening like in Thailand. My beach days were spent undercover, ordering endless smoothies and watching the waves crashing under the heavy, unrelenting rain.
Cycling around Angkor Wat in torrential rain is an experience, to say the least. And I spent hours taking shelter inside the temples, hiding from the rain. Whilst it was still a brilliant visit, I think it could have been better in dry weather.
However, this did help to deter the crowds and it is certainly magical enjoying entire temples in Angkor Wat to yourself.
The best time to visit Cambodia is from November to March, with little rain and long, sunny days. The humidity is also far more manageable too. With the better weather, crowds will be bigger and hotels more expensive – but I recommend this over having a wash-out trip!
Currency
One of the most useful things to know is that Cambodia uses two currencies – the US dollar and the Khmer riel.
The Khmer Rouge banned money up until the late 1970s – the country didn't have any currency. So the US dollar was introduced in order to stabilise the economy in the early 90s, as the Khmer Route regime was brought down.
The US dollar is the main currency used by tourists for things such as accommodation, transport, local tours, most attractions, tourist-focused restaurants and tourist shops. You can easily withdraw US dollars at ATMs or change money up at local currency exchange stalls.
The main times you'd use the Khmer riel is at market stalls, street vendors and any other informal setting – but you can also pay in USD with no issues, especially as you are more likely to have this currency at hand.
It has been reported that crumpled USD notes have been rejected many places before, so try and keep your currency in good condition. At the Cambodia border and at the airport, you will need crisp USD to make sure to have these or you may not get in!
Budget
Cambodia is pretty cheap to visit, and noticeably cheaper than other destinations in South East Asia.
Accommodation
Expect to pay upwards of $30 USD (£23) for a room in a comfortable guesthouse, and $60 USD (£46) plus for a nice hotel room.
Dorm rooms in backpacker hostels can be as cheap as $4 USD (£3) per night, but if you're travelling as a pair, you can get a private room in a hostel for a little as $10 USD (£7.60).
Food
Food, especially from street food vendors, is inexpensive Cambodia. You can eat for as little as $1-2 USD (75p-£1.50) per meal, and simple meals in local restaurants are around $3-5 USD (£2.30-£3.80). At restaurants aimed at tourists, expect to pay a little more – around $5-15 USD (£3.80-£11.40) per person.
Transport
Using local public transport is the most budget-friendly way to get around. Tuk-tuks are easily to hail and very cheap, just make sure to confirm the price before you jump in. You can also rent a driver for the day or to wait for you at an attraction to take you back again.
Buses are a little more expensive as they connect larger towns or areas. As a guide, the bus from Phnom Penh to SIem Reap costs around USD $10 (£7.60) per person.
Attractions
Most attractions are reasonably priced, for example the Choeung Ek Killing Fields near Phnom Penh which costs just USD $5 (£3.80) to enter. However, Angkor Wat has pretty steep entry prices and you need to factor these in to your visit.
You can buy passes as either one day ($37/£28), three day ($62/£47) and seven day ($72/£55) tickets. They do not have to be used on consecutive days (but must be used within a given time frame). For example, the three day pass has to be used within 10 days.
Cambodia: The Best Places to Visit
Phnom Penh
Submitted by Samantha at intentionaldetours.com
After leaving southern Laos and crossing the border, one of the most interesting places you can visit in Cambodia is its capital, Phnom Penh.
Phnom Penh is rich in history, but its location alongside the Mekong gives it a sweet, riverside vibe.
When visiting the city, taking in the horrifying history at both the Tuol Sleng Genocide Museum and the Choeung Ek Killing Fields is essential to understanding Cambodia's harrowing past. These sites both tell a story that's sadly unknown to most of the world.
Arrange your tour to the S-21 prison and the Choeung Ek Killing Fields here.
The beautiful Royal Palace located near the city centre is also absolutely worth checking out while you wander throughout Phnom Penh. The beautiful grounds have been occupied by Kings of Cambodia since the 1860s.
Aside from its main tourist attractions, Phnom Penh is home to a number of markets where you can find everything from leggings to seafood to jewellery and everything in between. The Russian Market is great for all things shopping, while the Phnom Penh night market is a great place to pop into for some nighttime eats. The best way to get to both is via tuk-tuk, which is the city's most popular form of transportation. This tour here is a great option for combining the National Museum, the Russian Market and Wat Phnom Temple.
Phnom Penh is also well known for its numerous Happy Pizza parlours- which is your normal pizza with a bit of a "happy" topping twist. These shops tend to be situated near the riverwalk that stretches adjacent to the Mekong.
Where to stay in Phnom Penh
There's no shortage of great places to stay in the city. There are some amazing high-end hotels that have opened up in the city such as the Rosewood Phnom Penh (£167 per night), Raffles Hotel Le Royal (£165 per night) and the Sofitel Phnom Penh Phokeethra (£116 per night).
Some great mid-range options include the Hotel Emion (£66 per night) and the Pavilion Hotel (£31 per night).
But the quality of the hostels in Phnom Penh is surprisingly good, with Sla Boutique Hotel, Feliz Hostel and Bar and RS III Location Hostel being some of the most recommend. Mad Monkey is the hostel to go to for partying!
Choeung Ek Killing Fields
Submitted by Arabela from thespicytravelgirl.com
The Choeung Ek Killing Fields are another poignant reminder of Cambodia's very dark past under the rule of the Khmer Rouge from 1975 to 1979. Millions of Cambodians lost their lives to starvation, overwork, or systematic executions in Cambodia's infamous killing fields. One of the most well-known ones being the Choeung Ek Killing Fields just outside of the capital Phnom Penh.
You might be wondering why anyone would visit such a gruesome place where countless numbers of innocent men, women, and children were subjected to extreme torture and died agonising deaths. However, this chilling destination should be high on your list during any visit to Phnom Penh for a very concrete reason: history books may inform you about the horrors of the past but the only way to fully grasp their actual extent is to visit the place where it happened in person and listen to the victims' stories.
It certainly is an emotional experience but it is crucial to learn for the future and honour the victims' lives. Seeing all the skulls, mass graves, and sites of torture, accompanied by a very informative audio guide, will likely be one of your most eye-opening experiences ever.
Arrange your half-day guided tour to the Choeung Ek Killing Fields here.
Getting to the Choeung Ek Killing Fields from Phnom Penh is very easy. You can hire a tuk tuk for the 30-minute drive for a small fee and have your driver drop you off at the entrance. Be aware that you must follow a modest dress code out of respect for the victims. You should also keep in mind that the experience is very intense and is not recommended for children.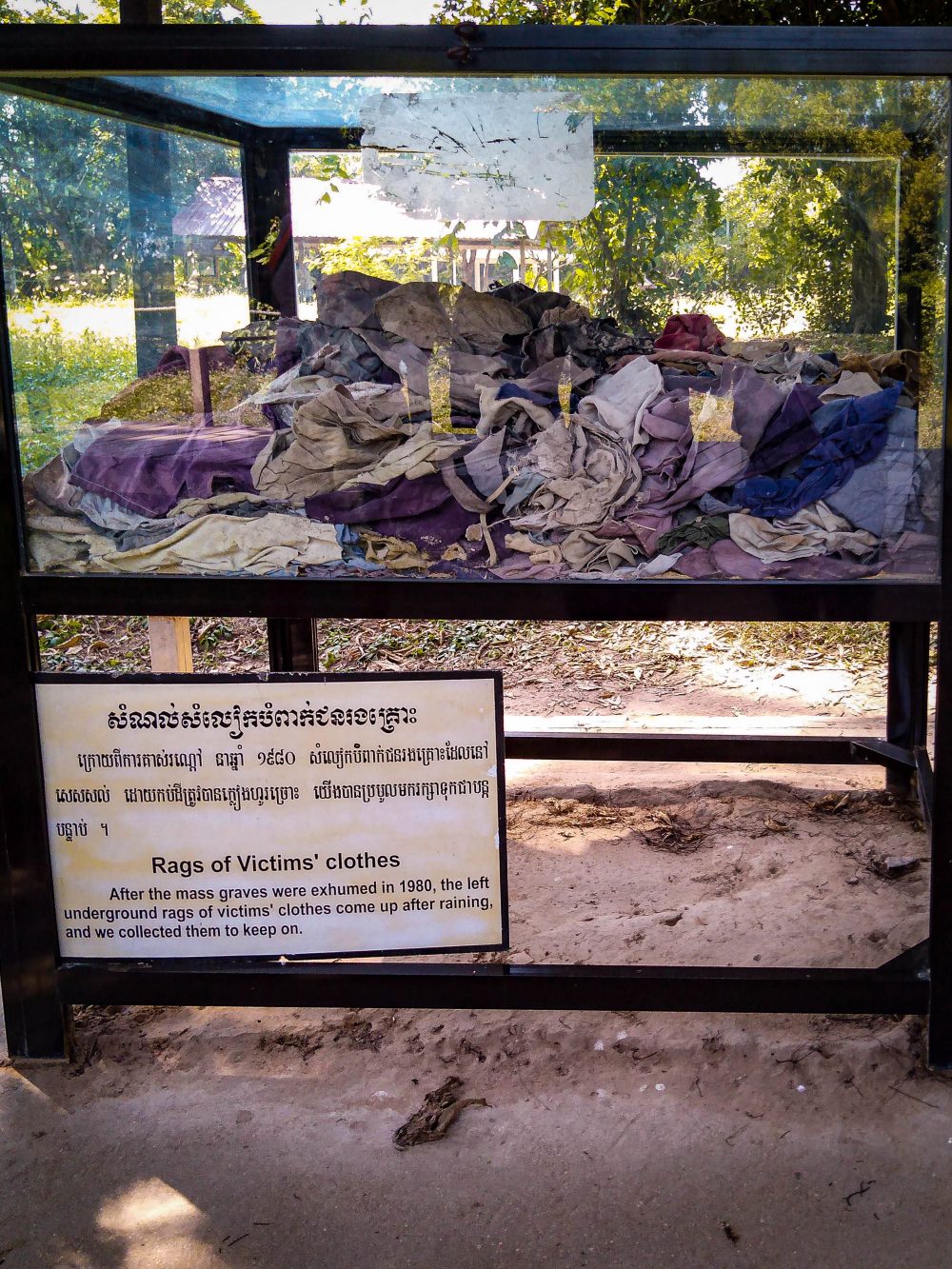 Siem Reap
No-one comes to Cambodia without visiting Siem Reap. Home to world-renowned temples, including of course Angkor Wat, Siem Reap is a popular stop on all South East Asia itineraries.
When you're not temple hopping, there are dozens of other attractions such as the Cambodian Land Mine Museum or the floating village of Kompong Phluk. Siem Reap itself is a beautiful town to spend a few days in, with pretty waterways criss-crossing the city. It's certainly far less frenetic than Phnom Penh.
The unimaginatively named Pub Street is the commercial epicentre of the city. At night, it has a Khao San vibe to it but during the day, there are plenty of excellent cafes for breakfast and lunch, often with pretty, sun-drenched terraces too. In the evening, make sure to stop at one of the excellent French restaurants or go to the Old Market to sample some of the local street food. Another up-and-coming area is Wat Bo Road, not too far from Pub Street which is home to a colourful mix of bars and restaurants.
Another idea is to get to grips with Cambodian cuisine, with a Khmer cooking class or purchase tickets to the Apsara Theatre to take in one of the local dances shows.
Arrange tickets to an Apsara dance show here!
Where to stay in Siem Reap
You're likely to be out and about for a lot of your time in Siem Reap, with some very early starts if you're planning on visiting Angkor Wat at sunrise.
That being said, with there being so much to do in Siem Reap from day to night, I recommend picking somewhere quite restful and comfortable. After longs of walking and sightseeing, you'll want somewhere to crash. I don't recommend a dorm room!
Some of the best luxury stays include the Park Hyatt Siem Reap (£77 per night), the Anantara Resort & Spa (£80 per night) or the Shinta Mani Shack (£153 per night). For an ultra-opulent stay, consider Belmond La Résidence d'Angkor (£148 per night).
For the best mid-range stays, Navutu Dreams Resort is a good pick (£48 per night) as is Templation (£68 per night).
On the other end of the scale, if you are looking for a lively hostel stay, make sure to consider One Stop Hostel on Pub Street. Or if you want an affordable oasis, then check out Bokre Angkor Hostel.
Temple-hopping
Angkor Wat
Submitted by Mal from rawmalroams.com
A trip to Cambodia would not be complete without a visit to Angkor Wat temple complex. Angkor Wat is the country's most important landmark, receiving more than half a million visitors per year.
Angkor Wat itself is the largest religious monument in the entire world, and covers a huge 400 acres of land. It was the centre of the powerful Khmer empire for several centuries. At the time, Angkor Wat was the most impressive, advanced city in the world, with as many as 750,000 people residing within the complex.
The temple dates back to the 12th century. In order to build Angkor Wat, the sandstone blocks were floated down the Siem Reap River on rafts, covering a distance of over 50km. It's estimated that around 6000 elephants and 300,00 works helped with the construction of the temple complex. and in the 90s it was designated a UNESCO World Heritage Site.
Angkor Wat was left abandoned (there are several theories why), and the surrounding jungle reclaimed the temple complex. It was later 're-discovered' by European explorers and has since become a highly popular attraction in South East Asia.
The main temple is the largest and most impressive, and is best to be enjoyed at sunrise or sunset when the spires reflect in the nearby lake creating a magical aura.
Angkor Wat is situated around 7km from Siem Reap where there is an excellent choice of accommodation choice. The best way to visit Angkor Wat is with a local guide who will give you more insight into the history and the importance of the temples, so you know what you're looking at!
As mentioned above in the budget section, the entry fee to the temple complex costs USD $37 (£28) for a one day pass. The park is open daily from 5am to 6pm.
Another way to visit Angkor Wat is to join a guided tour. There are dozens of different options, mostly small groups with a local, professional guide who can talk you through all of the different temples.
Some tour suggestions include:
Note: No tours include the Angkor Wat entry passes, and you'll need to buy these separately.
Ta Prohm
Submitted by Chris from aquariustraveller.com
Also located in Siem Reap, the Ta Prohm temple is another unique attraction well worth visiting. Built as a Buddhist monastery in the 13th century in the Bayon style, King Jayavarman VII dedicated it to his mother. Visiting it today is like a real adventure, with the ruins completely taken over by the jungle.
Ta Prohm has become a popular site for tourists to visit, as it is unusual in that its most distinctive feature are the trees growing out of the ruins. The temple also found global fame after being featured in Angelia Jolie's Tomb Raider movie back in 2001. In fact, this led to the temple receiving its western name, Tomb Raider Temple.
Within the temple, you can explore the closed courtyard, as well as the narrow corridors. Some of the pathways can't be passed or accessed as the trees roots have dislodged some of the stone blocks to restrict certain areas. Towering trees filter the sunlight, and together with the moss, creeping plants and shrub sprouts lining the walls of the temple, it's a mysterious and eerie place to visit.
Visits to Ta Prohm are included in the ticket pass to Angkor Wat, but there are also opportunities for private and small group tours, inclusive of transport from Siem Reap.
Bayon Temple at Angkor Thom
Submitted by Angela from whereangiewanders.com
Bayon is one of the many temples in the Angkor Thom complex and another of the best places to visit in Cambodia. It is easily recognisable by the huge smiling stone faces on its towers. Bayon Temple dates back to the late 13th century when Angkor was the centre of the Khmer Kingdom and it is widely considered that this was one of the most important of all the temples in the Angkor Thom complex.
From a distance, Bayon looks like a simple grey stone temple, but as you get closer the 216 faces appear clearer.
Some say the faces represent King Jayavarman Vll, adorned as a deity during his reign. Others say they are of Lokesvara, the Buddhist bodhisattva of Compassion. As you wander through Bayon's labyrinth of passageways, it feels as if the 4-metre-high faces on four sides of each tower gaze down at you from every angle.
Inside the temple, the crumbling interior, intricate stone carvings and smiling stone faces transport you back over 900 years. This was when this spectacular Buddhist temple sat at the centre of the walled city of Angkor Thom, now a World Heritage Site.
Today the lure of Angkor Thom's lost civilisation and abandoned ruins reclaimed by Mother Nature are why visitors flock to the area. Head out in the late afternoon as the sun is setting, and the crowds have left, and you may have Bayon all to yourself. It is then that you will realise why this temple is truly one of the most remarkable places to visit in Cambodia.
Banteay Srei
Submitted by Nicholas from ramblingfeet.net
Banteay Srei ('Citadel of Women' in Khmer) lies about 37 m from Siem Reap. Despite being further from the city than Angkor Wat, Banteay Srei receives a fair share of visitors. The ride takes about an hour or so in a tuk-tuk each way, so can easily be visited in a half-day trip. If you can, it's best to plan to arrive as soon as the temple entrance is open. Do note that an Angkor pass is needed for this trip and it will be punched if it is a brand new day.
The grounds are not very big but that means more time to explore the intricate statues and reliefs. The carvings go deeper than those you see elsewhere in Angkor. So those who named Banteay Srei believed only the delicate fingers of women could have created them. The doorframes and lintels of the inner shrines and the archways are full of such sculptures that retell Hindu epics. An hour is sufficient to explore the site; by then, the tour buses would have arrived to unload the masses.
The visit to Banteay Srei typically also includes a stop at the Cambodia Landmine Museum on the return leg. If you're peckish, ask your driver to stop at the Preah Dak junction for a bowl of num ban chok. This is a dish of rich noodles in mildly spicy gravy served with fresh herbs, chicken and blood curd. It's very tasty and nutritious!
This tour here is an excellent option for visiting Banteay Srei temple from Siem Reap.
Koh Ker
Submitted by Soumya from storiesbysoumya.com
The ancient city of Koh Ker, also known as Lingapura, is home to one of the oldest temple complexes in Cambodia. Hundreds of temples dedicated to the Hindu God, Shiva, were built here between the 9th and the 10th centuries. Today, they are empty. They barely see a handful of tourists each day, even though Koh Ker is only a couple of hours away from Angkor Wat.
Koh Ker is unique because it is the only place in the region that has a huge pyramid-shaped shrine. Somewhat similar to the lost Mayan pyramids of the Yucatan peninsula in Mexico. Prasat Thom in Koh Ker or the Pyramid Temple are very similar. Even today, you can climb up 180 stairs to get to the top of the temple for some stunning views of the Cambodian jungles.
Apart from Prasat Thom, there are more than 200 hundred other temples in Koh Ker, many in ruins. The Linga temples, Prasat Damrei, and Prasat Krahom are especially striking. Look out for intricately carved reliefs and ancient inscriptions in Sanskrit and Khmer language at these temples. Also, make sure to check out the beautiful Prasat Neang Khmau which is nicknamed the "Lady in Black". Tall, slender, and dark – this is one of the most photogenic temples in the entire Cambodia.
It's easiest to visit Koh Ker and the surrounding temples on a tour, such as this one.
Sambor Prei Kuk
Submitted by Ben from the sabbaticalguide.com
Sambor Prei Kuk is overshadowed by its big brothers 150km up the road. Although this is hardly a surprise if you're neighbour to one of the most famous places on Earth. But don't miss out just because of the distance. Anywhere else in the world, Sambor Prei Kuk would be visited by tourists far more often.
So why would you choose to make the journey here?
Sambor Prei Kuk was once capital city of the Chenla Kingdom. They were the rulers of this part of Southeast Asia just before the Khmer gained power. The temples here are different to those at Angkor. They occupy a different gap in Cambodia's history, making them well worth a visit in their own right.
After the horrific wars in Cambodia, Sambor Prei Kuk remained almost inaccessible. It wasn't until 2007 when the last of the landmines were cleared that visitors could finally go. Because of this its very different to the crowded tourists hotspot of Angkor. On a Saturday in the mid-season, you might only see just a handful of other tourists. Even in the high season, maybe only 100 people a day make the trip there.
However, the temples are being quickly restored, with money used from gaining UNESCO status. So its 'off-the-beaten track' status won't last long.
Visit Sambor Prei Kuk as soon as you can, and get your own Tomb Raider style adventure at an ancient capital city.
Book your tour to Sambor Prei Kuk here!
Other things to do and see in Siem Reap
Kompong Phluk Floating Village
Submitted by Arrianne from travelhabeat.com
Another interesting area to visit near Siem Reap is the Kompong Phluk Floating Village, built upon the floodplains of Tonle Sap Lake. During the rainy season (May to November), the village floats on stilts. There are three floating villages near Siem Reap, but Kompong Phluk is the easiest to get to.
If you visit during the rainy season, then you can jump on board a small boat with a local, and get a close-up glimpse of how the villagers uniquely live on stilts. You can see how the community carries on with life over the water, doing all their daily activities as usual.
Kompong Phluk also has a beautifully flooded mangrove forest you can explore with a short yet scenic canoe ride provided by the village's rowing boat cooperative. It is an encouraging adventure as the women of the village spearhead each ride.
Discovering Kompong Phluk with the mangrove forest only takes around a half day. There are a number of group tours available in the area and you can easily find one. Indeed, there is more to Cambodia than just temple run. And spending time at Kompong Phluk Floating Village will definitely give you an inspiring experience.
Arrange your tour to the floating villages of Tonle Sap here!
Cambodia Land Mine Museum
Submitted by Bec from wyldfamilytravel.com
Another interesting attraction to visit is the Cambodian Land Mine Museum. It is located just a short tuk-tuk ride out of Siem Reap.
The museum was originally started by Aki Ra who was a soldier for the Khmer Rouge. As part of his role, he laid land mines all over Cambodia.
Now as a sign of remorse, Aki chooses to spend much of his time defusing unexploded land mines.
He now considers this his life's work. In fact, many of the bombs and landmines at the museum are ones he has found. Dozens of Cambodians are still killed every year by unexploded landmines, so his work is crucial. Millions have been cleared, but sadly the country still remains one of the most heavily land-mined countries in the world.
This is a result of decades of conflict. From the brutal Khmer Rouge regime a civil war, the Vietnamese occupation and American bombings.
Wandering around the museum is an emotional experience. Although, not a big museum there is so much to learn here. There are a few rooms that hold information about the Khmer Rouge and the atrocities they committed in Cambodia. But mainly the focus is on the finding and defusing of the land mines. There's also an area with simulated Khmer Rouge soldiers and what they would have looked like.
Entry is USD $5 (£3.80) per adult and children under 10 are free. If you are visiting Siem Reap this is one experience you should not miss.
Battambang
The Bamboo Train
Submitted by Daniel and Ilona from toptravelsights.com
When planning a trip to Cambodia, most visitors will first think about Angkor Wat and Phnom Penh. However, this country offers a lot more places that are worth visiting.
If you want to experience a more rural and quiet side of Cambodia, you should head to Battambang. While the city itself has more than 100,000 inhabitants, it serves as an excellent base for exploring the surrounding countryside.
Riding a bamboo train through the rice fields is one of the most fun things to do in Battambang. This train consists of a bamboo platform, wheels and an engine. That's it. You will hop on, your driver will start, and then you'll race through the fields at up to 40 km/h.
The bamboo trains, also sometimes called norry, used to be popular with locals all over Cambodia who liked them due to their low prices. As they were slow and unreliable, operations eventually stopped, and these days, bamboo trains mostly operate for tourists.
After 7km, the bamboo train ride ends. You can now watch as your driver dismantles the train by taking off the engine and the platform. You'll get a 10 minutes break before going back again.
When visiting Battambang, make sure to go to the right bamboo train. You can find both the "original" bamboo train and a newer, far more touristy version. Find the original one for the unique experience of racing through the ricefields on nothing but a bamboo board.
Killing Caves in Battambang
Submitted by Mark from Travels in Gippslands
Riding in the tuk-tuk on the bumpy road out to the Killing Caves gives you time to contemplate your upcoming visit. Situated just outside of the town of Battambang are a small set of mountains called Phnom Sampov. It is here that members of the Khmer Rouge brought people, having torn them for them family, before brutally murdering them. It is truly gut-wrenching to consider the atrocities that took place at these caves.

To visit these caves, you'll be dropped at a small settlement at the base of the hills. From here, it is either around a 1 hour hike to the peak where the caves are located. Or you can jump in a 4×4 with a local driver to get to the top. This option takes just 15 minutes.
One of the mountains, Phnom Sampeau, has a series of caves that open into large caves further down the shaft. At the top, the victim was beaten or hit in the head and then pushed into the shaft falling into the cave. Some victims were just pushed down the shaft and left to die from the fall.
The larger of the caves is now a memorial to the victims of the Khmer regime. There is a memorial with skulls of some of the 10,000 victims from the cave.
Eastern Cambodia
Kratié
Submitted by Lauren from theplanetedit.com
Kratié is a town in eastern Cambodia, situated on the banks of the Mekong river. It's a whole 240km north of hectic Phnom Penh, making it a great place to enjoy rural Cambodia and unwind for a few days.
The biggest draw of Kratié is without a doubt the Irrawaddy dolphins. These are a species of river dolphin found in stretches of the Mekong across South Asia, particularly in Cambodia and Laos. They look a little like beluga whales, and have a flat, curved face and a mouth that seems to pull up into a smile. Because of this, they've earned the adorable nickname "the smiling face of The Mekong."
Just 11km north of Kratié, in a small village called Kampi, there is a pod of about 20 Irrawaddy dolphins who reside in the Mekong there, which makes Kratié an excellent launching pad to visit the dolphins.
I recommend hiring a bicycle or motorbike from Kratié and heading towards Kampi. As you come into Kampi, you should spot a group of yellow boats waiting by the bank. These are there waiting to escort tourists out onto the river, in search of the dolphins. The expert boatmen know exactly where the dolphins will be, so you're very likely to see them. However, early morning or late afternoon are the best times to go, as the dolphins tend to be more active. They only surface for a brief moment, so the biggest challenge is to try and get a photo!
Elephant Valley Project in Mondulkiri
Submitted by Lora from explorewithlora.com
The Elephant Valley Project in Cambodia is one of the most ethical elephant encounters in all of Southeast Asia. The project was started to rescue, rehabilitate, and return overworked and abused elephants to their natural environment.
EVP is a sanctuary setup, but deep in the jungle terrain of Cambodia. It's located in Sen Monorom, in the Mondulkiri Province. It's a long day of travel to get there, but absolutely worth it. This part of Cambodia is gorgeous and often overlooked by tourists.
The elephants who live there are in their natural environment, going about their daily lives as usual. As a visitor, you observe them from a safe distance. There is no handling, riding, washing, or feeding involved. While this might sound disappointing, these experiences don't have the elephant's best interest at heart. The goal of EVP is to give elephants back their independence, natural behaviour, and dignity.
If you're planning to visit EVP, you have a few different options. You can either visit the sanctuary on a half-day or full-day tour, or go as a volunteer and stay overnight or longer. As a volunteer, half the day is spent working on projects that support the elephant's conservation. The other half is spent watching the elephants in their natural environment. If you have the time, I recommend staying overnight. It's a wonderful experience waking up in the jungle to the sounds of the elephants.
Coastal, Riverside & Mountain Towns
Kep
Submitted by Lotte from phenomenalglobe.com
Kep is a village in the south of Cambodia, close to the Vietnam border. It's a lovely place to visit with a relaxed vibe, plenty of restaurants and accommodation options for all type of travelers. If your Cambodia itinerary allows, try to visit during the week instead of the weekend – Kep is also a popular weekend getaway from people living in Phnom Penh. During weekdays the beach is much quieter and accommodation prices are lower.
Being along the coastline, Kep serves up some great seafood, including pepper crab which is a local delicacy sold at the cafes at the Crab Market. Freshly caught crab is prepared in a pan with locally grown green peppercorn. Make sure to try some during your time in Kep! You can also visit a pepper plantation to see how pepper is grown that's used to cook the delicious pepper crab. There are several plantations that offer tours, Sothy's Pepper Farm is a good place to learn about pepper cultivation.
One of the other best things to do in Ker is to go hiking in Kep National Park. In this tropical forest you can follow a cool 8km jungle trail. This hiking route is well-maintained and well- signposted, and along the way you can enjoy lovely views and maybe even spot a few monkeys!
Another unusual attraction to see in Kep are the decaying French-style villas that are dotted around the town. They were built in the 1950s when Kep was Cambodia's party town, but today lie rotting. Most of the villas were abandoned during the horrible Khmer Rouge regime and haven't been inhabited since.
Kampot
Submitted by Emily from wander-lush.org
No trip to Cambodia is complete without spending a few nights in the peaceful riverside city of Kampot. A relaxing retreat from the capital, it's also a convenient place to break the journey between Phnom Penh and the beaches and islands in the south.
Sitting on the banks of the Preaek Tuek, Kampot moves at the same languid pace as the river. Chilling out in your rustic (or luxury) bungalow, taking a sunset cruise and trying watersports such as stand-up paddleboarding and kayaking are among the top things to do in Kampot.
Kampot boasts some beautiful French colonial architecture, art galleries that showcase local creatives, and one of the country's top café and restaurant scenes. Authentic Portuguese, Israeli and Italian offerings can be found alongside contemporary Khmer cuisine. Twenty Three Bistro and Café Espresso Roastery are both must-trys.
Other actives to do include hiring a bike to cycle through the salt pans and Kampot pepper plantations, join a cooking class, or perhaps go in search of the 'secret lake'. Or for something more relaxing, book a massage treatment at social enterprise Banteay Srey (ladies only!).
Kampot is located 150km south of Phnom Penh and takes around 3.5 hours to reach by minibus. I suggest travelling with Giant Ibis, which has a good road safety record. For accommodation, I highly recommend Hotel Old Cinema, which is located inside a refurbished movie house.
Bokor Mountain
Submitted by Marya from thebeautraveler.com
Bokor Mountain is located around 40km from Kampot. The area was initially constructed as a mountain luxury resort for French colonial residents in the early 1920s. In fact, the late Cambodian King Sihanouk still used his summer house, called The Black Palace, in Bokor until the late 1950s when he was forced to abandon it. However, there's more to it than just the late king's favourite summer destination.
Today, the ruins of The Black Palace (or Veang Khmao for the locals) offer a stunning views. While the building is no longer in use, some corners of the summer house are now painted with stunning graffitis by local artists.
Not far from the deserted palace, you can also visit the goddess statue that is believed to protect the forest and coastal provinces of Cambodia in peace, Lok Yeay Mao. The statue in Bokor is the largest statue of the goddess in Cambodia.
In addition, the highest Buddhist pagoda in Cambodia, Wat Sampov Prav is also located around the mountain. Make sure to also visit the famous Bokor Old Church. The church was entirely abandoned during the Khmer Rouge era due to the prohibition of showcasing faith and religious symbols under the communist government.
There are several options to go to the national park from either Kampot or Kep. The tour package start from as low as USD $15 (£11.40), and it's worth the day trip!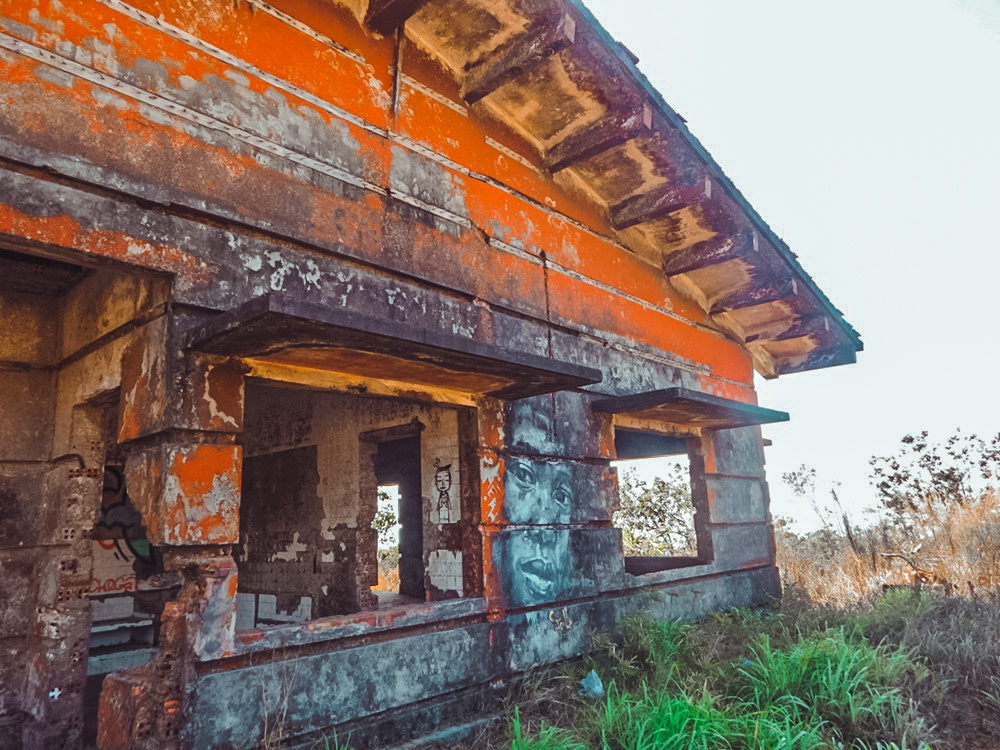 The Islands
Cambodia's islands are located off the southwest coast country, accessed through the gateway town of Sihanoukville.
The islands are still unaffected by mass tourism. Therefore offer the charming and understated experience you would have had on neighbouring Thailand's islands a few decades back. The main islands are Koh Rong, which is thd largest and most popular, as well as Koh Rong Samloem. There are also the tiny Koh Kong and Koh Ta Kiev island to visit too.
It's worth mentioning too that some of the most incredible hotels in Cambodia are located around these islands. One out-of-this-world stay is at the Song Saa Private Island although a villa with a private pool here will set you back £1,202 per night. Or consider the Six Senses Krabey Island (£1,170 per night), a beautiful tropical stay.
As mentioned, you have to travel to Sihanoukville first and from here, you can catch your ferry to the islands. Although Sihanoukville used to be one of the best party places in South East Asia around 10 years ago, today it is not a nice town. I don't recommend visiting, unless you need to spend a night before taking the ferry.
Over the past two years, investors from China have pumped billions into Sihanoukville. The main goal has been to transform the town into an attractive Chinese holiday destination, however much of the development has not been completed. Today the town is a mish-mash of half-built construction sites, unfinished roads and it has destroyed the local ecosystem.
It has also led to a huge degree of corruption and crime, with unknowing tourists being the main targets. On my most recent visit, I did not feel safe in Sihanoukville, and sadly couldn't wait to leave.
Koh Rong
Submitted by Bilyana from owlovertheworld.com
Koh Rong is a true paradise and a must-visit destination on any trip to SE Asia! Located just half an hour boat ride away from the coast of Sihanoukville, Koh Rong is the second-largest island of Cambodia.
There are 43km of white sandy beaches across the island, all perfect to watch one of the breathtaking sunsets each evening. The crystal-clear ocean water is warm year-round, making Koh Rong one of the best places to visit in Cambodia. Falling in love with the island is easy and often happens at first sight. The serene beauty of Koh Rong is welcoming all types of travellers: solo travelers, couples, families, groups, etc.
While the main tourist beach creates a vibrant party atmosphere, there are many peaceful and less-busier parts around the island. So whatever kind of trip you're looking for, you'll find something to suit in Koh Rong.
Snorkelling and scuba diving are among the best things to do on the island. Koh Rong is home to some of the most exquisite marine life. Other water activities that you can do include kayaking, windsurfing, and paddle boarding. Having the opportunity to choose between all of these guarantees that you won't get bored in Koh Rong.
But of course, there's more that Koh Rong has to offer. Another highlight is to join an island hopping tour that finishes with an opportunity to swim with the glowing plankton. Although you can see the plankton on the beaches in other areas in Cambodia, Koh Rong is one of the best places to see them away from light pollution.
Koh Rong Samloem
Submitted by Cecilie from wowiwalkers.com
Koh Rong Samloem is everything you imagine a tropical island to be. White sandy beaches, a clear turquoise ocean with nothing on the horizon, and fresh coconuts ready to be consumed.
Koh Rong Samloem is the sister island to popular Koh Rong. It's a small island with poor Wi-Fi. But this will finally give you the opportunity to go offline and enjoy that book you never got to finish. There are also no roads on the island, but you can go jungle hiking from beach to beach or grab a water taxi.
But there is more to this island than hanging in a hammock all day. In fact, there are plenty of things to do on Koh Rong Samloem. You can go jungle trekking, kayaking, diving and snorkeling, or see the bioluminescent plankton at night.
Book an afternoon snorkelling tour and see the bioluminescence plankton here!
If you do want to lay back and relax, then some of the bests beaches to visit are the popular white sandy beach at Saracen Bay, the quieter Sunset Beach or the local M'Pay Bay. There's something for everyone on this slice of island paradise!
But prepare yourself before your departure. Koh Rong Samloem doesn't have an ATM and you can't pay with a credit card. So book your hotel before arrive, and make sure to stock up on cash before you get to this beautiful paradise island in Cambodia.
Cambodia Travel Guide
So there's my guide to travelling around Cambodia. As you can see, there's so much more to the country than just Angkor Wat. In particular, other temples that are so worth visiting and don't have the crowds. From the stunning paradise islands, to the outdoor adventures in eastern Cambodia or the unusual bamboo train in Battambang. There's plenty to see and do in Camdodia!
I do hope this Cambodia guide has been helpful and inspires you to explore more of this beautiful South East Asian country. Please, as always, do let me know if you have any questions!
Cambodia works really well as a twin-centre trip with Thailand, Laos and Vietnam. Check out my other South East Asia blog posts here:
Disclaimer: This guide has no involvement from the local tourism board or a hotel.
Enjoyed my guide to the best things to do in Cambodia? Pin it!