Witnessing the sunrise in Cappadocia is one of those bucket list travel experiences.
Seeing the hot air balloons glide across the sky is one of the most magical moments I have ever had. I stepped out from my amazing cave hotel room at the Sultan Cave Suites into almost darkness at 5am to see the first balloons floating by, just above my head.
Cappadocia is something out of a fairytale. I've never been anywhere like it, is really is just one of those out-of-this-world places, even if more and more tourists are visiting these days.
Capturing an epic sunrise photo in Cappadocia is almost a right of passage for tourists visiting. Other bloggers are writing plenty of guides on the best photo locations in Cappadocia, but me, nowhere can beat the panoramic viewpoint at the Sultan Cave Suites.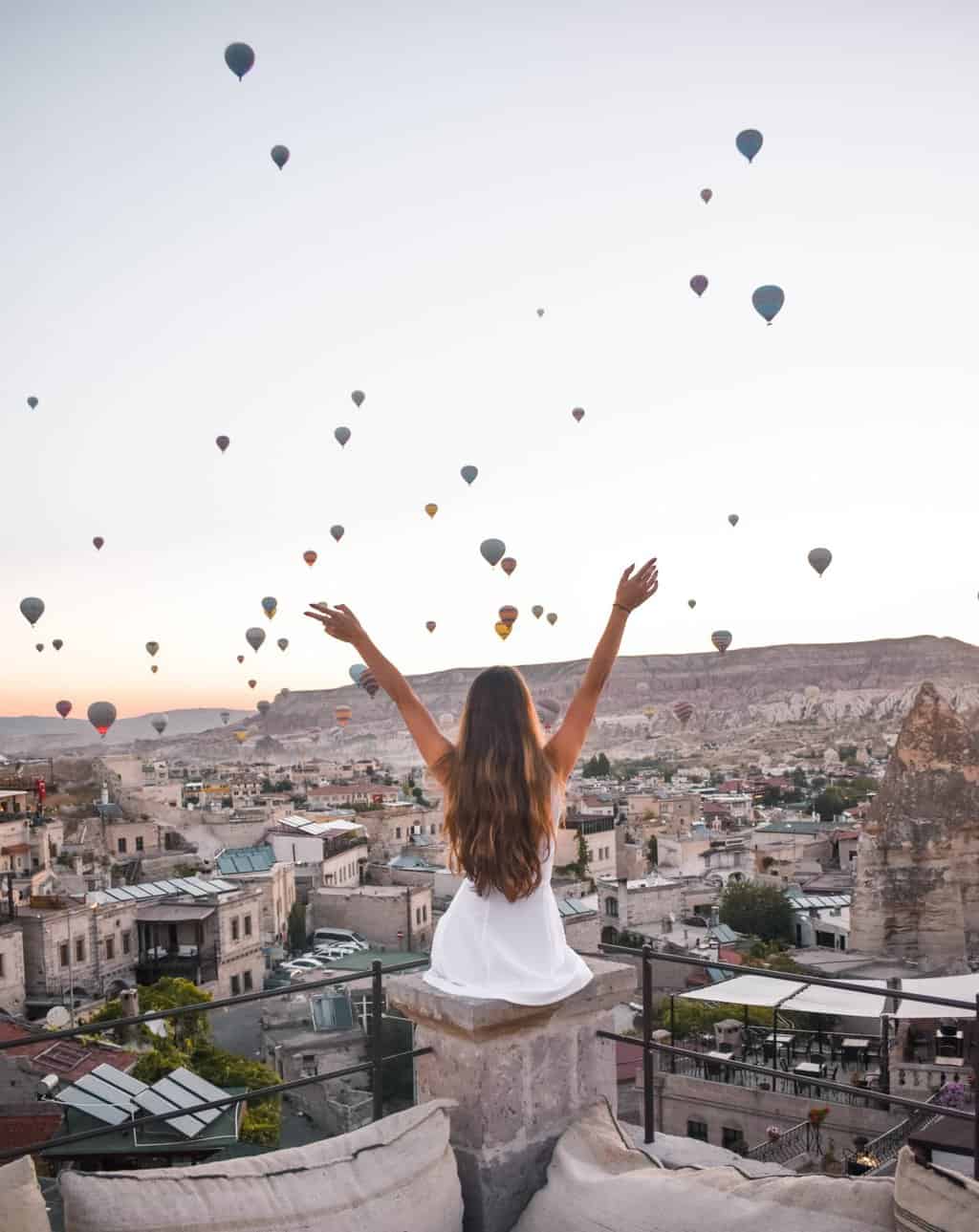 This amazing hotel has become one of those Insta-famous photo locations because of its incredible viewpoint. It is easily one of the most tagged hotels on Instagram. The hotel knows what it is doing too – from the cute pup, to the bowl of fruit and the Turkish rugs all laid out.
So the aim of this blog post is to show you how to get the best Instagram photo possible from the terrace at Sultan Cave Suites. This guide will explain everything you need to know and why this is the very best photo location to capture that iconic sunrise shot in Cappadocia.
Cappadocia Sunrise at Sultan Cave Suites – Essential things to know
You need to be a guest of the hotel
Yes, that's right. You most definitely cannot just walk in from the outside if you do not have a reservation at the hotel. We saw people being asked to leave several times. So first things first, you need to reserve a stay at Sultan Cave Suites. Luckily, it's an amazing hotel, as well as the best photo location in Cappadocia. It's also very well-priced. You can read my full guide to staying at Sultan Cave Suites here, and check rates online here.
You won't have the best photo location to yourself
This is definitely the only pitfall to the Sultan Cave Suites terrace. Because it is so renowned as the best photo location, all the guests tend to head up each morning to witness another spectacular sunrise.
I'm not sure what I was thinking, but for some reason, I thought I was going to have a peaceful and unique experience up on the terrace at Sultan Cave Suites.
No no no, not at all. Some people sit and pause to take in the spectacle, but for the most part, everyone is being a temporary social media star and having their own photo shoot for the morning.
10 followers or 1,000,000 million followers – it's hard to resist not wanting to capture a photo here to remember your time in Cappadocia. There was definitely some kind of adhoc queuing system in place, with girls and guys waiting their turn to sit in the best photo locations around the terrace. Beware that whilst you're having your photos taken, everyone is watching but you've just got to rock it. After all, they're all doing the same thing too.
I realised that I'd prefer the light slightly later in the morning so we took the time to sit and marvel at the sheer beauty of the sky.
Again, aside from capturing the photos, taking a moment to stop and just appreciate the sunrise in Cappadocia is incredible. There really is nowhere quite like it, with hundreds of balloons filling the sky against the fairy chimneys and otherworldly landscape.
The setup at the Sultan Cave Suites
You'll have noticed on Instagram that there is a fruit bowl and breakfast setup on a small table. This is put out on display every single morning, as are the big blankets. So the 'props' for the photos is something the hotel does for the guests. I did think this would be something I'd have to request but that's not the case. The breakfast props are set up around 5am and are left there until about 9am.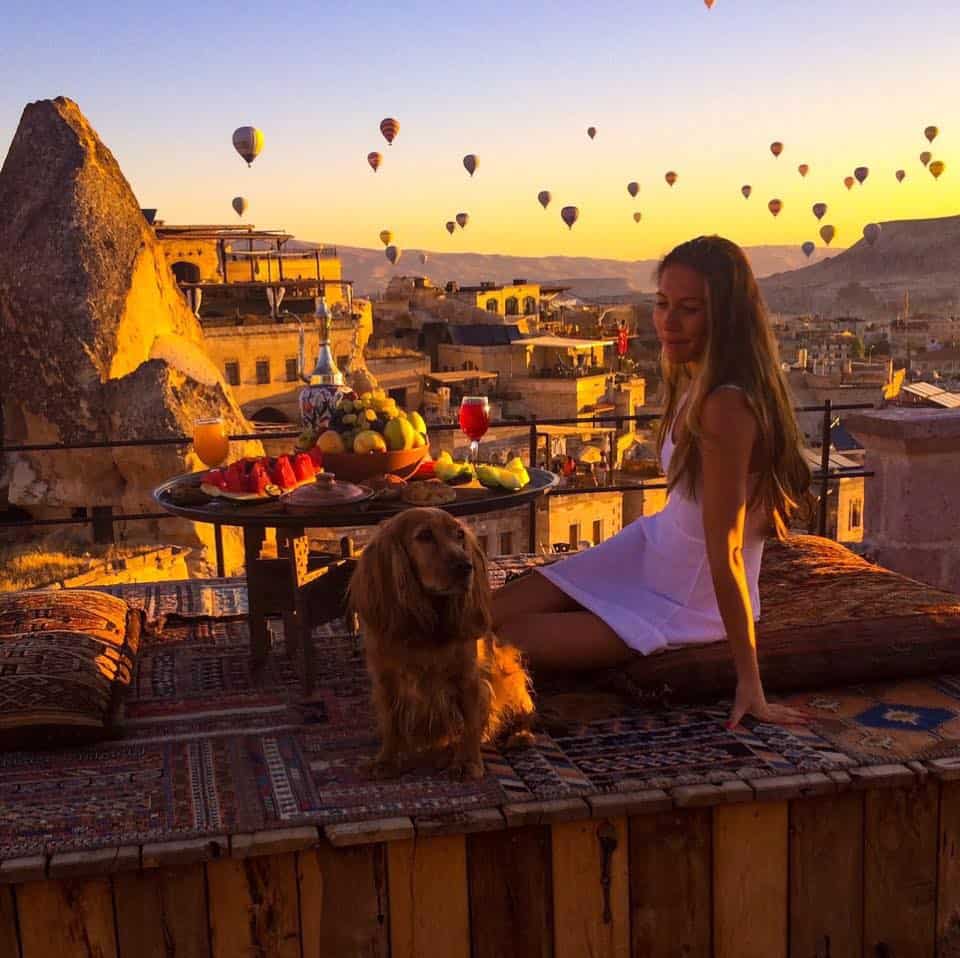 Izmir, the Instagram famous dog at Sultan Cave Suites
You know that gorgeous golden cocker spaniel in all the pictures? Well she belongs to the hotel too. She wanders freely around the hotel all day, but at sunrise, the staff entice her up to the terrace with treats.
To have Izmir in the right spot for the perfect Instagram photo is a mixture of luck and having the staff help you out. Izmir is a bit of a tricky sassy pup, and she can be a little temperamental!
The staff often help out by giving you bits of sausage to get her to come over for a photo. It's down to you to keep her happy after that whilst you capture your photos.
It's cold at sunrise
Don't be deceived. Even at the height of summer, it's cold at 5am. Luckily, it only takes one or two hours for it to warm up, but chances are, you'll be shivering whilst you capture that photo!
I recommend taking a blanket from your room up to the terrace whilst you watch the balloons.
Capturing that Instagram photo
Well, it is the best photo location in Cappadocia after all, and if you've managed to get a reservation to stay at the Sultan Cave Suites, then you might as well capture the sunrise.
Should I be embarrassed that I openly admit to wanting to get an amazing photo from my time in Cappadocia? I don't think so.
Visiting Cappadocia is such a once in a lifetime experience, and if I'm honest, it was pretty easy to get an amazing photo at sunrise. Nearly all of them came out well! Cappadocia is just one of those Instagrammable places where every photo is great.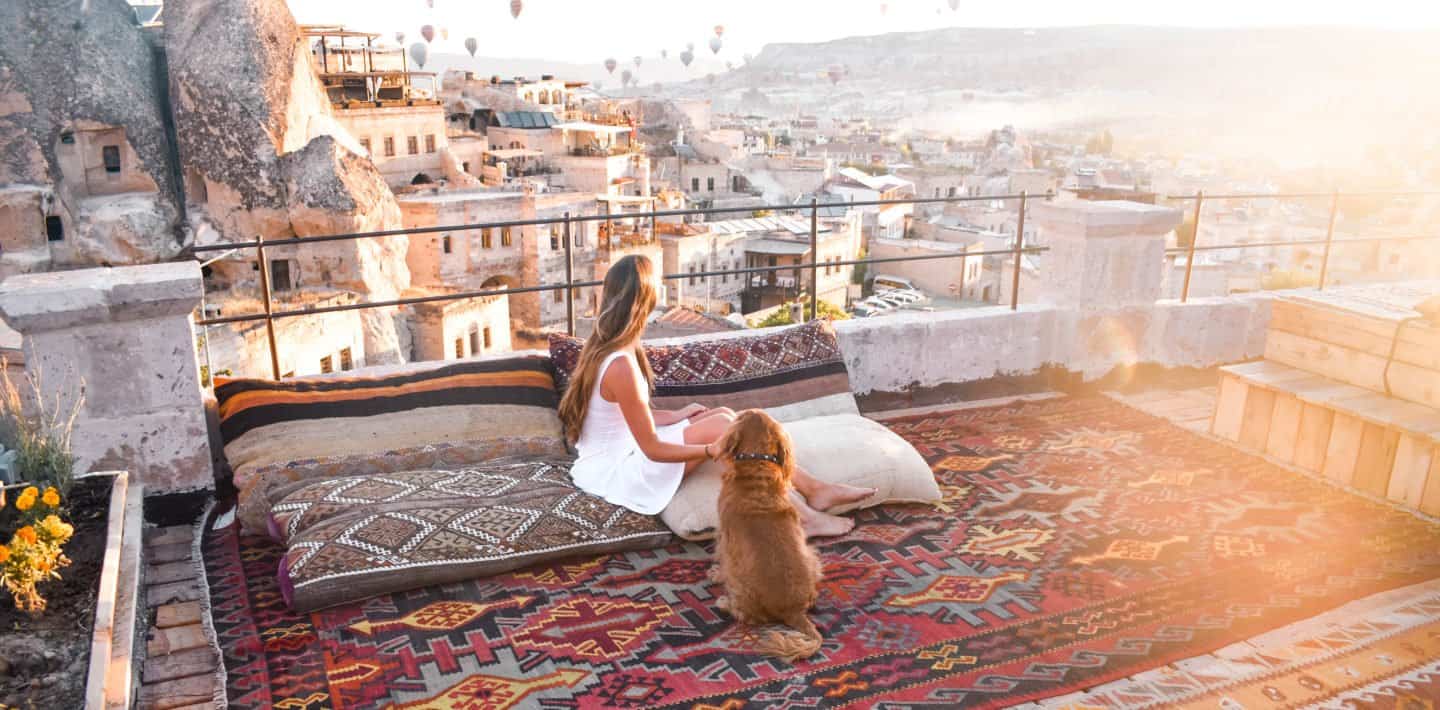 Did I travel to Cappadocia with the intention of getting this Instagram pic?
Honestly? No. My initials plans in my two-week Turkey itinerary were mostly focused on the coastline, until my research led me to Pamukkale and Cappadocia. These two places are so unlike anywhere I've seen before and I suddenly realise I needed to adjust my route around Turkey. It was also just potluck that the Sultan Cave Suites had one last cave room left over the days I was hoping to visit.
But naturally, when you're in a location that's as amazing as Cappadoccia, who wouldn't want to capture sunrise here.
I try to not let negative people put me down for getting that 'cliché' photo – I do what I want to do!
Some of my friends had never seen Cappadocia before, and I received SO many messages on my personal account about my stay at Sultan Cave Suites.
Other activities to do in Cappadocia
Don't worry, there's a lot more to see and do in Cappadocia than just capturing the sunrise.
I've written a long detailed blog post on all of the must see attractions in Cappadocia, but there's more than enough to do for a two to three night stay. The hotels are so unique in themselves too, that they warrant a longer stay alone! GetYourGuide is a great place to start planning day trips around Cappadocia:
Have you been to Cappadocia before? Did you enjoy the incredible balloons floating at sunrise or capture a similar style of photo? Do let me know! I would probably say that visiting Cappadocia was one of my favourite travel highlights throughout my entire life so far. The townwas just so enchanting and captivating.
I spent three days in Cappadocia, which was the perfect amount of time to do everything we wanted to do. I've written a full detailed guide on all of the best things to do in Cappadocia and a much more detailed review of staying at Sultan Cave Suites here.
If you have any questions, do feel free to pop them in the comments section below. Also, if you've enjoyed this post, feel free to share using the below links!
If you're considering a longer trip, you might find my two-week Turkey itinerary here useful. As well as my guides to Bodrum, Pamukkale, Ephesus, sailing the famous Turquoise Coast, and Istanbul here.
Wanna see more? Check my Instagram here, my Facebook here or my Twitter here!
Disclaimer: This visit to Cappadocia, Turkey was entirely paid for by myself. There was no involvement from the tourism board or the Sultan Cave Suites team. This is an independent guide
Enjoyed my guide to taking sunrise photos in Cappadocia, Turkey? Pin it!