Cappadocia Sunrise is one of those bucket list experiences. It's a sight to behold from any spot in the town, but there's a few locations where a Cappadocia sunrise is just a little more special and Sultan Cave Suites is one of those. The hotel knows it, and after all, it has become one of those Insta-famous locations because of it. From the cute pup, to the bowl of fruit and the Turkish rugs, it's sensational! So here I'm putting together a quick Instagram guide for those heading and looking to capture that picture.
What you need to know about a Cappadocia sunrise at the Sultan Cave Suites
One of the first things to know, is that you should be a hotel guest to go up to the terrace and take photos of a Cappadocia sunrise. The second thing to know, is that you won't be up there alone.
I'm not sure what I was thinking, but for some reason, I thought I was going to have a peaceful and unique experience up there alone with my family. No no no, the whole hotel rises at 5am and heads up there to watch the Cappadocia sunrise. Some do sit to stop and take it in, but nearly everyone is a temporary social media star having their own photo shoot for the morning. 10 followers to 1,000,000 million followers – it's hard to resist not wanting to capture a photo up there to remember your time.
I was definitely shocked that there was some kind of adhoc queuing system in place, with girls and guys waiting their turn to sit in the hotspots around the terrace. I realised that I'd prefer the light slightly later in the morning so we took the time to sit and marvel at the sheer beauty of the sky. Again, aside from the photos, taking a moment to stop and just look and enjoy the Cappadocia sunrise experience is incredible. There's nowhere quite like it, with hundreds of balloons filling the sky against the fairy chimneys and otherworldly landscape.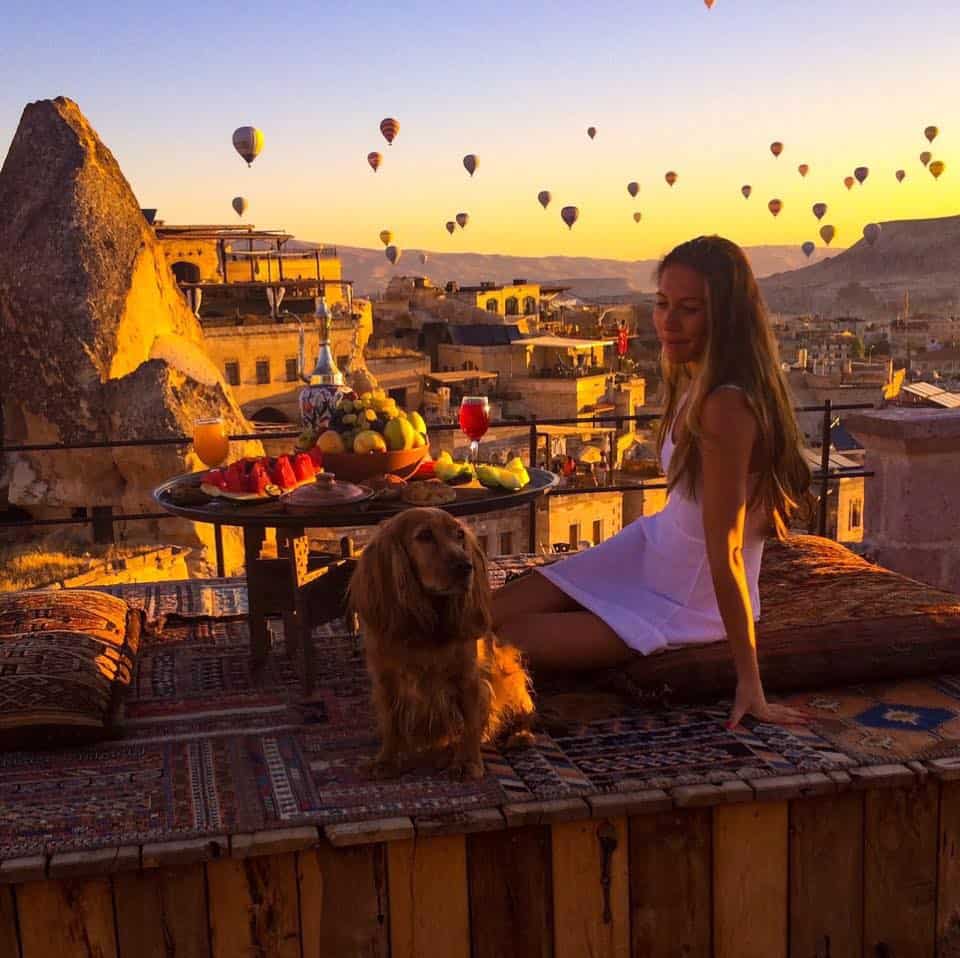 Also, it's cold at 5am, even in the height of summer. Give it one or two hours though and it warms up quickly. Take a blanket from your room up to the terrace whilst you watch the balloons!
The setup and Izmir
The fruit bowl and breakfast setup is put out every morning.. for those of you wondering. I thought it was something I'd have to request but that's not the case. It is set up around 5am and is left there until about 9am.
To have Izmir in the right spot is a mixture of luck and having the staff help you out. She's a bit of a tricky one and can be a little temperamental! The staff often help out by giving you bits of sausage to get her to come over and then to keep her happy whilst you can try and grab the photo.
Beware that whilst you're having your pic taken, everyone is watching but you've just got to rock it. After all, everyone's doing the same thing.
Instagram spam
Should I be embarrassed that I openly admit to wanting to get an amazing photo from my time in Cappadocia? I don't think so. It is once in a lifetime place, and really, relatively easy to get an amazing photo as every single one came out incredibly well. It's just one of those ultra photogenic places where you can't really do it wrong.
Did I travel there with the intention of getting this pic?
Of course not, I was enjoying an incredible two week backpacking journey around the incredible country of Turkey. My parents flew out for my birthday and we decided to spend it in Cappadoccia. When you're in a location that's as amazing as Cappadoccia, who wouldn't want to capture it. Don't let negative people put you down for getting that 'cliché' photo – I do what I want to do! Some of my non-travel blogger friends had never seen Cappadocia before, and I must have received SO many messages on my personal account about my stay here!
I hope this has been helpful if you're planning on heading to witness a Cappadocia sunrise. I've written a full detailed guide to this beautiful here, but feel free to ask any further questions in the comments section below!
If you're considering a longer Turkey adventure, you might find my itinerary here useful, as well as my guides to Bodrum, Pamukkale, Ephesus, sailing the famous Turquoise Coast, and Istanbul here.
If you've enjoyed this post, feel free to share using the below links!
Wanna see more? Check my Instagram here, my Facebook here or my Twitter here!