Kawasan Falls, located on the beautiful island of Cebu in the Philippines have become one of the most popular attractions in the entire country to visit. In many ways, this rise in popularity is thanks to Instagram. These twinkly turquoise waterfalls are showcased on nearly every Instagram page or travel blog of anyone who has been to the Philippines.
Therefore, having visited a couple of times, I thought I'd put together this detailed blog post on visiting Kawasan Falls. However, I also want to suggest the lesser visited but equally as interesting Mainit Hot Springs. Often missed out in favour of Kawasan Falls, I actually thought the Mainit Hot Springs were delightful and definitely worth including whilst in this area of Cebu.
So here's my guide to Kawasan Falls and Mainit Hot Springs, including all of the essential information you need ahead of visiting Cebu island. Read on and do let me know if you have any questions.
Visiting Kawasan Falls: Essential things to know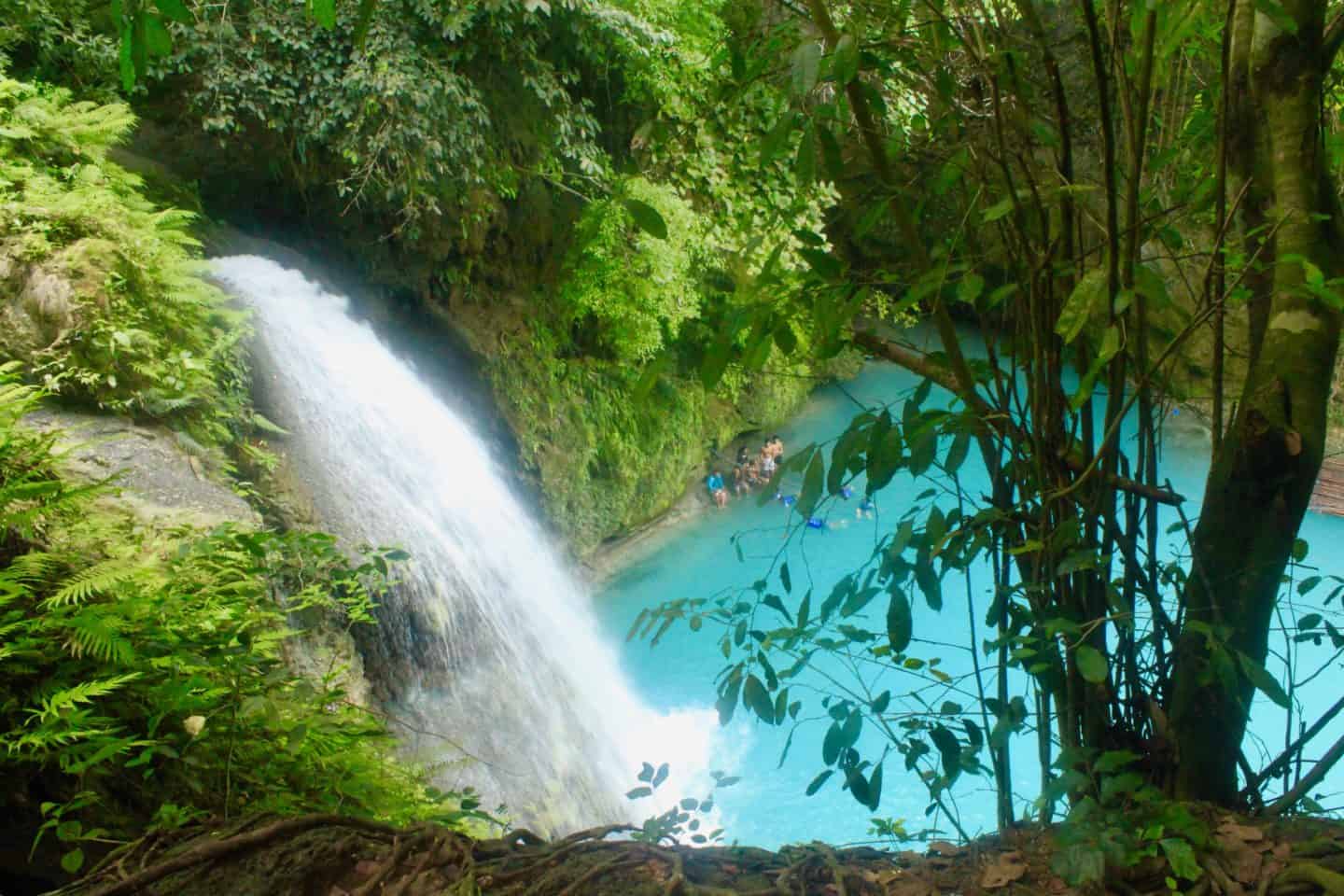 How to get to Kawasan Falls
Kawasan Falls are located in Badian, which is in the southern portion of Cebu Island.
To get here from Cebu City, jump on a bus from the South Bus Terminal where the end destination is Bato. It will either go via Oslob where you can swim with whale sharks or via Barili.
An alternative is to travel over by ferry from Dumaguete which will also arrive into Bato.
To get to Kawasan Falls from Bato, you need to hail a bus in the direction of Moalboal. And vice versa if you're coming from Moalboal.
Ask to stop at Kawasan Falls. All bus drivers will know where you mean, of course. You'll find the bus stop opposite the car park and church, where the path to the falls starts.
This area is worth spending a few nights in, but you can visit Kawasan Falls from Cebu in a day too.
Once you're here at the entrance, there's a long path through the jungle towards Kawasan Falls but it's fairly easy to walk on and you'll see lots of locals pushing along cooler boxes with picnics. This walk takes as long as 30 minutes though.
Best time of day to go to Kawasan Falls
Go to Kawasan Falls as early in the day as you can.
We made the terrible decision to go to Kawasan Falls at 2pm, but had to wait until gone 4/5pm to get the water to ourselves. I really couldn't believe how busy both the water was, and the surrounding picnic areas. It was completely packed and not very nice to spend the afternoon at.
The photos you see may look idyllic but the truth is, I waited for the split second when there would be no people.
Kawasan Falls have become a hugely popular spot with locals too, not just tourists. There are lots of kids playing about too, so if you're looking for peace and zen, you definitely won't find it at midday.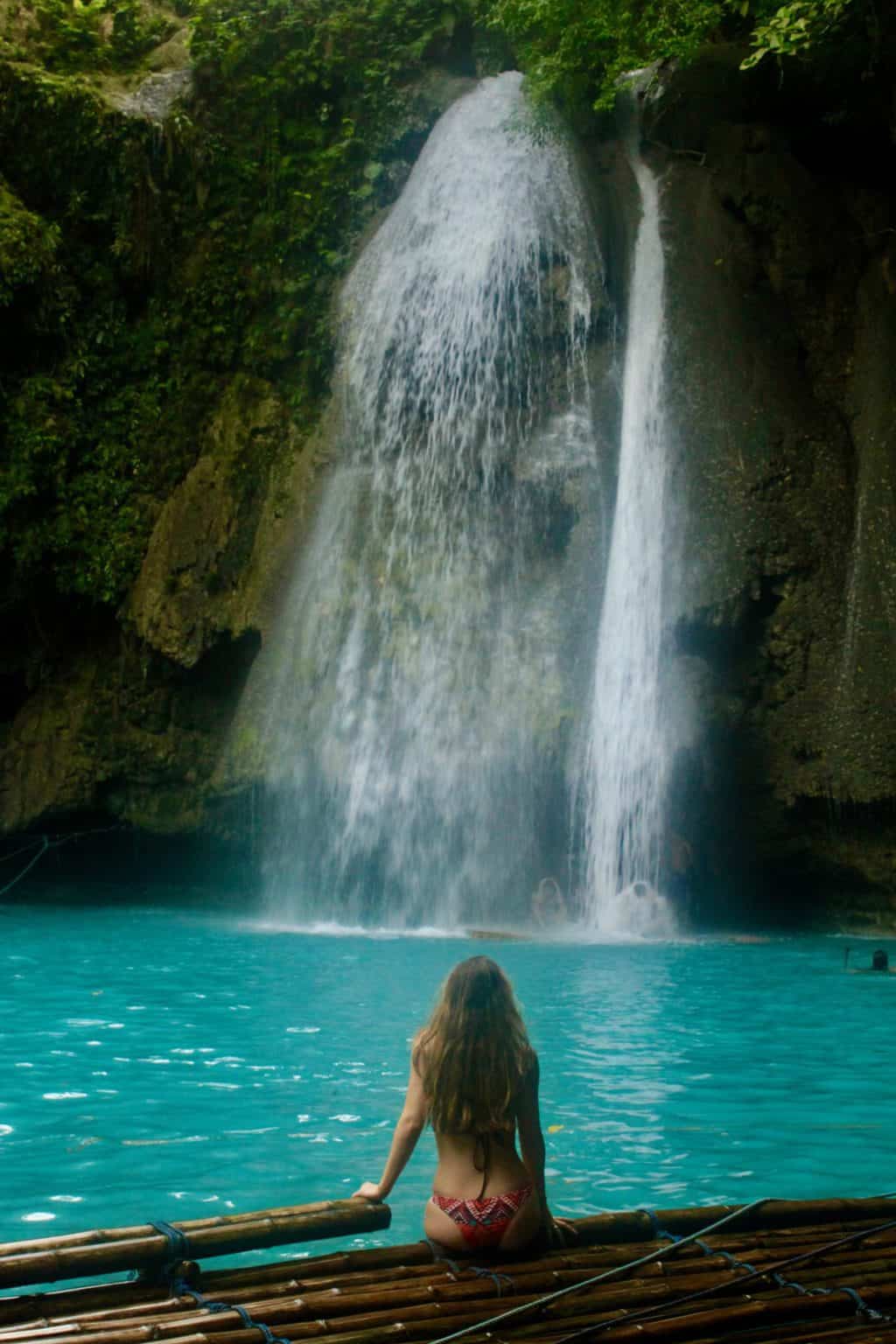 Canyoneering in Kawasan Falls
A very popular activity to do at Kawasan Falls is canyoneering. It costs around PHP1500 (£22) and you'll spend around 3 hours jumping in and out of the falls and the Matutinao river that flows through. This price covers you for all your equipment, a guide and a snack. To note, most tours start from 7.30am with the last entries accepted at around 3pm.
I've listed some great tour options for canyoneering at Kawasan Falls:
Entry fees and costs inside of Kawasan Falls
One of the most unexpected aspects to our experience at Kawasan Falls, other than the sheer number of people, was that everything cost.
The entrance fee to Kawasan Falls is only PHP45 (70p0. But inside, tables and chairs cost PHP500 (£7.50) to rent, a locker was PHP100 (£1.50) and to go out on the water in a raft, it cost PHP300 (£4.50).
Food was limited and expensive, and it looked like the kitchens were rather dirty too. I'd recommend bringing your own food and drinks like the locals do.
I hate money-grabbing places like this, so as to make a point, we didn't pay for any of it but instead found a rock and tried to relax there.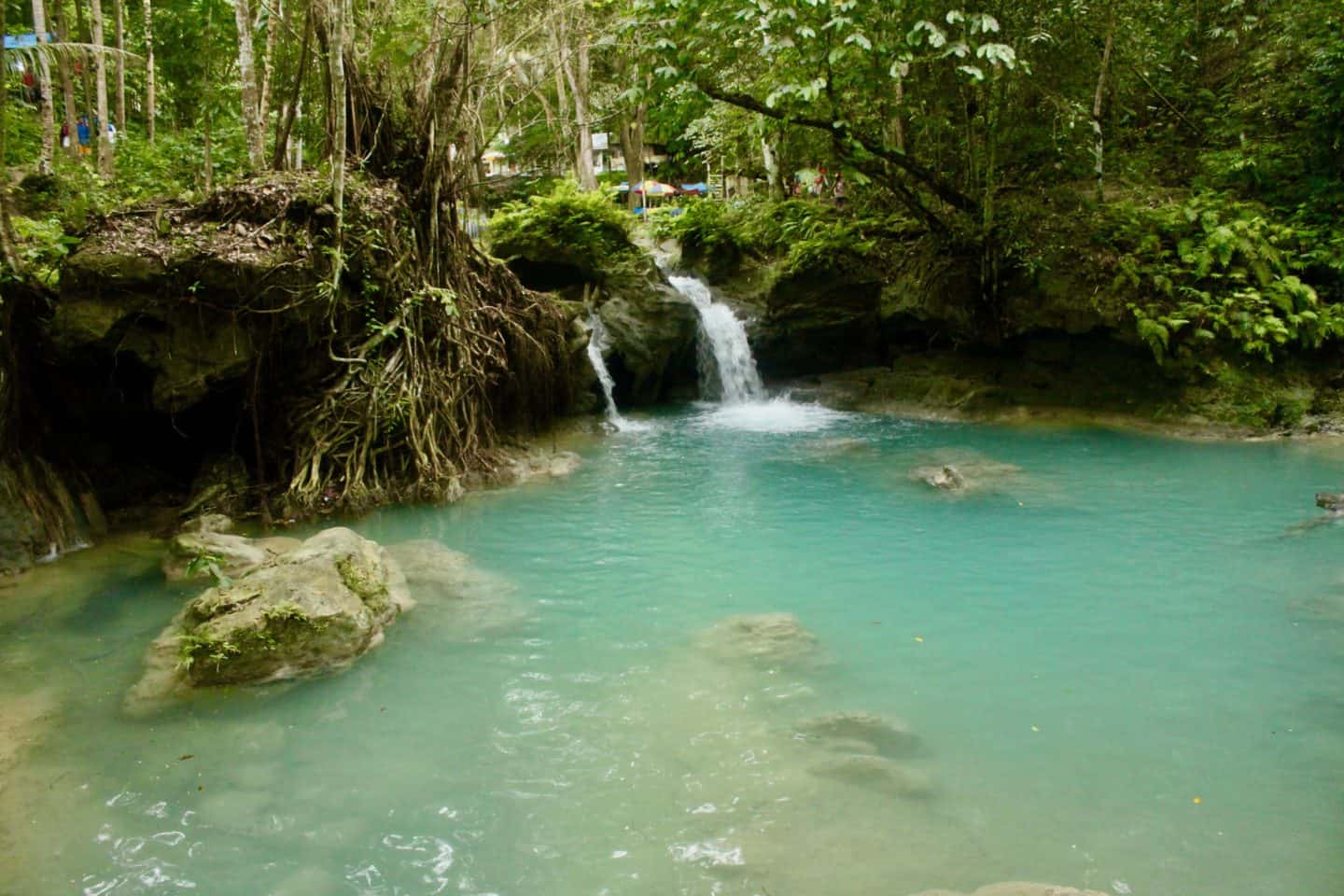 Exploring the other waterfalls at Kawasan
Don't just stay at the main falls at the bottom. It's the busiest area, and although it is probably the most beautiful to capture, there are other beautiful falls and pools to explore further up too.
If you take the path on the left hand side leading away from the main falls, it will lead you to a maze of other waterfalls and pools to bathe in – without the crowds and way more peaceful. I highly recommend doing this.
You can even climb right up into the jungle and have it all to yourself!
Mainit Hot Springs
Often missed out by tourists, this wonderful little spot is at the stop of Malabuyoc on the road leading to Kawasan Falls from Oslob.
Getting to Mainit Hot Springs
To get to the springs, it's a lovely, winding 1.5km walk from the main road stop. The path leads you up through peaceful villages and lush vegetation before you arrive at the hot springs. There are three pools to choose from, and there were only about 30 locals there relaxing. Some of them were fully submerged into the pools, one of which exceeds 40c!
Exploring the Springs
We continued on to climb up away from main area and found the most gorgeous (cool) pools to jump into and huge boulders to climb on. This was a really lovely spot with no other tourists and a peaceful atmosphere. Do not miss it.
Places to Stay Near Kawasan Falls and Mainit Hot Springs
The nearby town of Oslob (home to the local whale shark population) can work as a great base for exploring this area.
Here are a couple of suggestions in Oslob:
Exploring Kawasan Falls and Mainit Hot Springs on Cebu
I hope that this guide to visiting Kawasan Falls and the nearby Mainit Hot Springs is useful and informative for your visit to this part of Cebu.
Let me know what you think in the comments. I'd love to hear from you!
You might also find some of my other posts useful, including my 3 week itinerary for the Philippines and my top tips for travelling in the Philippines here.
If you've enjoyed this post, feel free to share using the below links!
Wanna see more? Check my Instagram here, my Facebook here or my Twitter here!
Disclaimer: This visit to Cebu was entirely paid for by myself and there was no involvement from the tourism board or a hotel. This is an independent guide.
Enjoyed my guide to visiting Kawasan Falls in Cebu? Pin it!