Recently, I had the pleasure of spending the most amazing day with Mandalao Elephant Conservation Centre with my Dad. I had been curious to find an ethical elephant experience in Luang Prabang, and I eventually stumbled upon Mandalao. This wonderful place offers guests the opportunity to enjoy an intimate and ethical experience with the elephants. I spent the morning with them and thought I'd write about my experience for others, so read on to find out more!
Ethical Elephant Experience in Luang Prabang at Mandalao
In this post, I'll share some key information on who founded Mandalao, the centre itself and of course, how our day was with the elephants.
Who started Mandalao?
The organisation was founded by two Americans, Michael Vogler and Kellen Johnson, whose previous trips to Laos had inspired them to create change. We didn't meet these guys but we did meet the Project Director, Prasop, who told us all about his work with elephants. He has previously set up an elephant conservation centre in Thailand as well as working with the WWF and the National Park Service. His love, knowledge and care for elephants is incredible. He has spent more than 27 years working with elephants, and is proud to share that there are now 1,000 more elephants in the wild in Thailand than 27 years ago. He told us he has no plans to retire until the numbers of elephants in Laos are growing too.
What did we learn?
Laos used to be known as the 'Land of a Million Elephants' however, Prasop told us that now there are less than 1,000 elephants in both captivity and in the wild in Laos. Elephants could be extinct in Laos in just 20 years' time.
He shared that his work revolves around three main principles and activities:
1) Promoting elephant welfare so that they can live happy and healthy
2) Ongoing volunteering and research programmes
3) Re-introduction programme
MandaLao currently has 9 elephants, most of whom have been rescued from the logging trade and from tourist activities, such as elephant riding.
Elephant riding is completely prohibited at Mandalao. When elephants are used for tourist rides in other locations in Laos, they often live in poor conditions too. Furthermore, the baskets that tourists sit in on top of the elephants are terrible for their backs and rib cages. Prasop told us that elephants are not as big and strong as they look, and the baskets cause huge pain and discomfort for them. If you want to understand more about this, then make sure to check out Barbara's excellent post on the debate surrounding riding elephants here.
Elephants, when left to freely roam, contribute positively to the local ecosystems. For example, we learnt that elephants help make soil fertile by pooing out the leaves they eat in the same day, whereas nature takes much longer to break down the same amount.
Elephants also graze on the creepers which hug the trees. Removing these helps trees grow taller which in turn brings more rain which is good for the environment.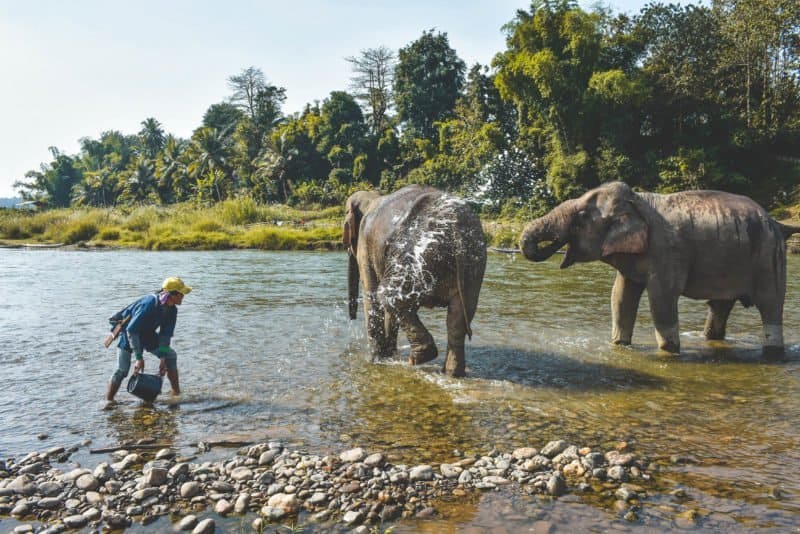 Our day with MandaLao
The team at Mandalao allow small groups of guests to come and see the elephants which helps with education and also contributes towards their conservation.
A half day at Mandalao cost $99 per person, including lunch. We booked onto the 'Therapeutic Trek' half day, and were picked up promptly at our guesthouse at 8.30am in a comfortable air-conditioned van. 30 minutes later we arrived at the Mandalao property. It is home to a lovely organic farm, a restaurant and offers beautiful views over the river Nam Khan.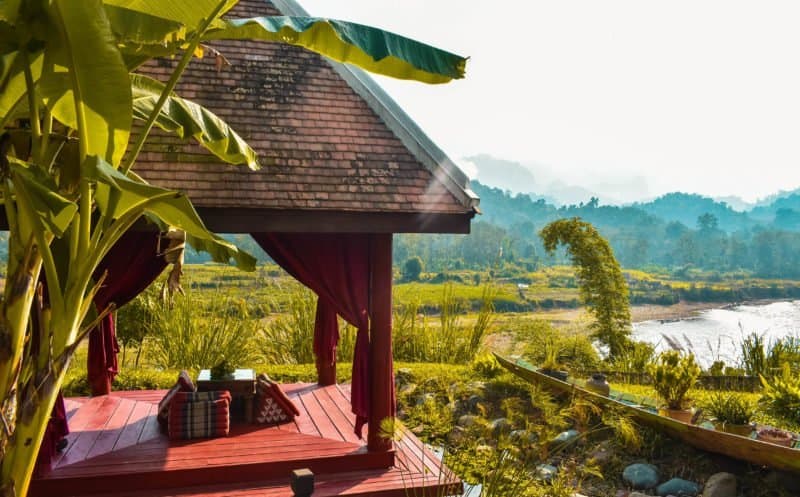 Briefing
After some light refreshments and an interesting and informative talk from Prasop, we popped into some fabric boots. The team provide these boots to keep your feet clean and to also protect against any bugs etc in the jungle and in the river. They also provide water bottles with locally made holders, rain coats if needed and bug spray/sun lotion.
Washing and feeding the elephants
When we were ready we headed down to the river. We clambered aboard a tiny little wooden boat to cross to the other side where three giant elephants greeted us. Huge baskets were provided full of food and we had plenty of time to talk to the elephants, feed them and take photos. Then we gave a bath to them, using buckets to splash them down. It was wonderful to watch the play with each other, and also the mahmouts.
Jungle Trek with the Elephants
After this, we headed into the jungle for a slow jungle trek alongside these giant beauties. Each elephant is guided gently by a local mahmout and they walk at their own pace. The elephants stopped when they wanted and played with trees and each as the pleased.
No hooks or aggression are used on the elephants. It is simply voice and if they want to stop and scratch or look at a tree, then no-one hurries them on. It was such a slow and pleasant morning, with so much time to wander with them and stroke them.
The elephants only do one walk a day.
The Guides and Mahmouts
Our guide, Tan, also regularly stopped to tell us about other animals we saw en route, or to share interesting facts about the local environment from the trees, to the birds and the bugs. The mahmouts each had such an evidently close relationship with the elephants, it was magical to watch. They only spoke local dialect.
At one moment, we happened to stop at a ledge where, to our surprise, Mandalao's little baby elephant Kit joined us too! So cute. The team are planning to introduce Kit to the wild in the next couple of years.
The time with the elephants felt so special. The jungle was completely silent and Manda;ao restricts the groups to just 6-8 people. This is so that that the elephants do not feel stressed and can spend plenty of free time socialising with each other.
After around 2 or so hours with the elephants, we finally headed back to the centre for some lunch. We enjoyed a delicious fish and rice dish with the rest of the group and the mahmouts.
So if you're considering a visit to South East Asia and looking for an ethical elephant experience in Luang Prabang, I couldn't recommend Mandalao more.
If you'd like to know more, visit their site at www.mandalaotours.com or drop the team a line at [email protected] Also, do feel free to ask any further questions in the comments section below.
If you're spending a few days in Luang Prabang, make sure to check out my guide to all the best things to do and see in Luang Prabang here.
Disclaimer: This visit to Mandalao and Luang Prabang was entirely paid for by myself. There was no involvement from the tourism board or a hotel. This is an independent guide.
Enjoyed my post on an ethical elephant experience in Luang Prabang? Pin it!