Marbella, in the south of Spain is a vibrant coastal town with a large number of sandy beaches, a charming Old Town and some exciting nightlife. It's easy to get to from all over Europe and further afield, so I thought I'd put together this Marbella Travel Guide. This should hopefully provide everything you need to know to plan a weekend visit or longer.
Together with golfing, watersports and the enticing history of several nearby towns, there really is something for everyone in Marbella. Even the Sierra Blanca mountains are close, providing the most stunning backdrop for the town.
It is of course, one of the most well known beach resorts in Spain, and particularly popular with British tourists. And although Marbella has been long associated with glitzy all day beach parties and glamorous jet setters, there's so much more to do in Marbella than just drink and party!
The beautiful beach resort is also located near to several other large towns, including Malaga, Cadiz and Seville – all offering a wealth of historical and cultural sites. It is also very close to the popular and affluent town of Puerto Banus, well worth a visit even if just to marvel at the cars and mega-yachts.
Having visited earlier this summer for the first time, I was pleasantly surprised at Marbella and can definitely see the draw for returning visitors who come back year after year. The Old Town of Marbella is stunning, the food is fantastic, the beaches are long and expansive. Plus, the weather is pretty damn good!
So if you're considering a weekend in Marbella (or longer), I can highly recommend. Read on for my Marbella Travel Guide covering how to get there, what to do and where to stay!
Marbella Travel Guide: Essential Information
Getting There
Located in the southern area of Spain called Andalusia, or the Costa del Sol, Marbella is pretty straight forward to get to. Although Marbella doesn't have its own airport, fortunately there are several airports nearby. The closest airport to Marbella is located in nearby Malaga.
Top tip: Don't land too late when public transport becomes limited. I landed at 10pm and my only option was a taxi. A taxi to Marbella costs around 70-80 euros, but onwards to Puerto Banus can be around 120-140 euros!
When to go to Marbella
Marbella's peak summer period is May to September, when the crowds flock to the beach town. Over these months, visitors will find long, hot and sunny days, with reliably warm temperatures and little rainy days.
The shoulder months are also a good time to go – for cheaper accommodation costs, small crowds and still, pretty good weather.
Where to Stay
Choosing where to stay in Marbella really comes down to budget.
There's a huge array of accommodation options in Marbella, with something to suit most tastes and budgets.
Check rates for accommodation in Marbella here.
We stayed in a small brand new hotel in the Old Town called Bohemia. It had only opened 3 days beforehand so there were a few teething problems, but on the whole, it was a great spot.
Otherwise, here's a pick of some of the best hotels in Marbella:
Luxury stays:
Good value hotels:
Things to do in and around Marbella
Every summer, the rich and famous descend on Marbella and Puerto Banus to enjoy the glitzy parties and spend their days on the fancy yachts. But don't worry, there's so much more to Marbella than this.
The Old Town
The Old Town of Marbella, also known as Casco Antiguo, is absolutely gorgeous, and so incredibly well maintained. It's a maze of tiny little laneways and tumbling bougainvillea. Many of the buildings are the Moorish style and much of the activity is entered around the Plaza de los Naranjos, a fifteenth century Castilian square. It's just so beautiful and we fell in love!
You can spend your afternoons and evenings in one of the square's charming cafes, shaded by fragrant orange trees, or perusing the stylist boutiques.
Why not enjoy a guided tour of Old Town Marbella on bikes?
Top top: Visit the square early in the morning but the locals are up to take photos and enjoy it without any crowds! The tiny laneways of Marbella's Old Town get busier as the days goes on – and by sunset, it is full of families and couples heading out for dinner and drinks.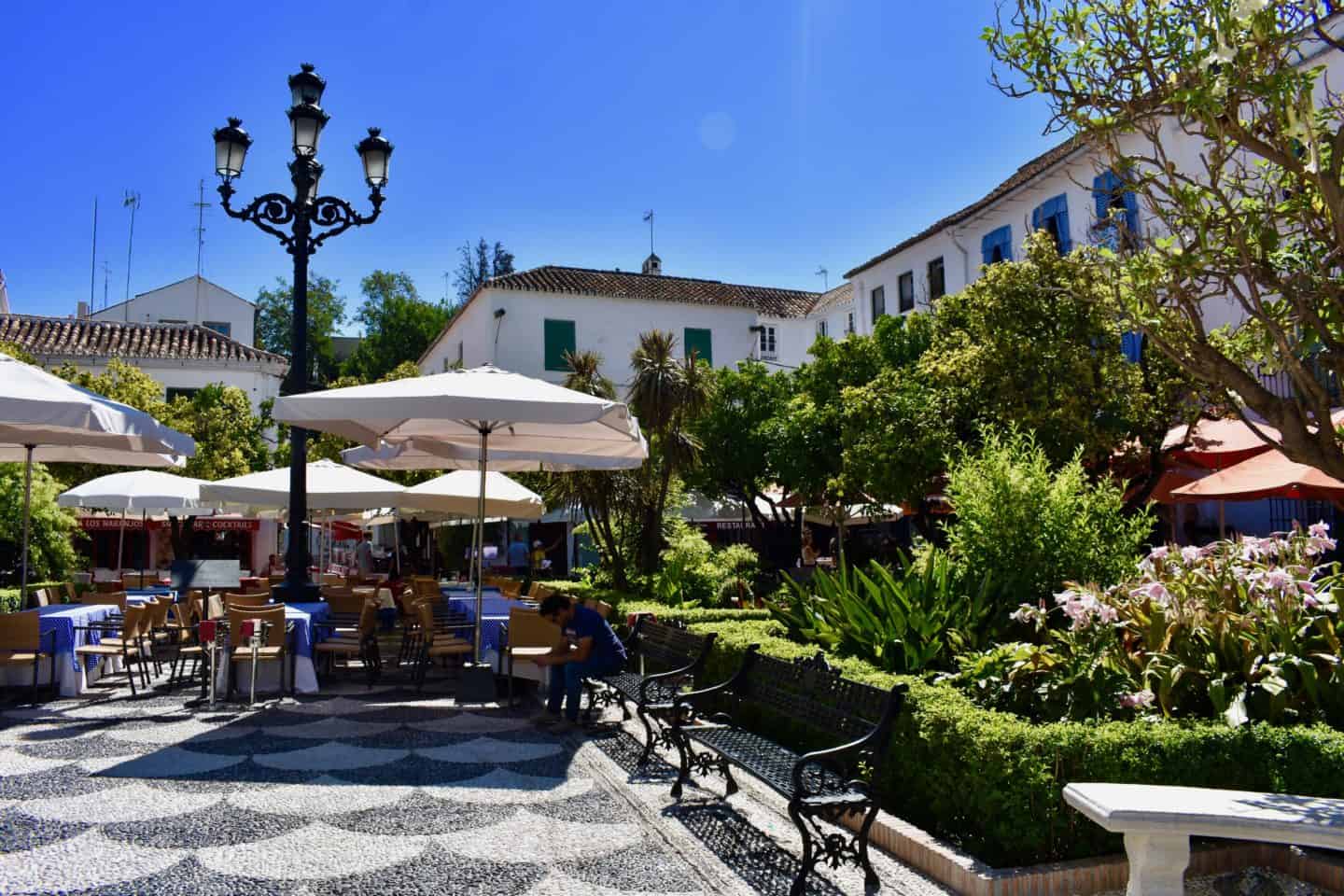 Credit also to the locals who keep the Old Town of Marbella spotlessly clean. There's not a drop of litter and the ground tiles are gleaming. It's so refreshing to see a local area so well kept.
Nearby to the Old Town and separately this area from the beach is Alameda Park. It is also beautifully kept, with marble walkways, beautiful fountains and benches tucked between the tropical foliage and offering necessary shade. In the evenings, find families playing here and local magicians.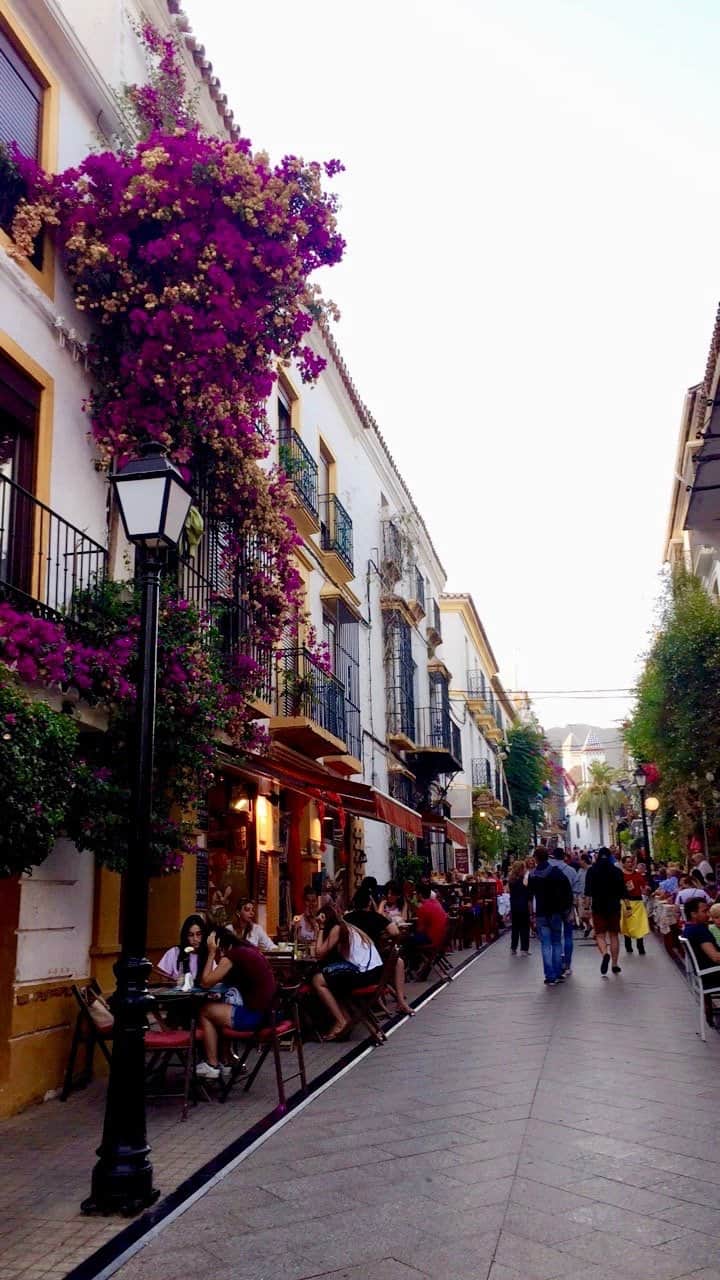 Cultural Attractions
Surprisingly, Marbella has a flourishing arts and culture scene. The town hosts its own Art and Film festivals, as well being home to several galleries. If this is your thing, then definitely stop by Casa Grande and Museum Ralli, the first has a large collection of Byzantine art and the latter has art work by several famous artists including Dali.
There's also the Bonsai Museum, a calming retreat in the Parque de la Represa, which houses one of the best collections of bonsai trees in Europe. There are even water features in the museum that have turtles swimming, which is definitely worth visiting.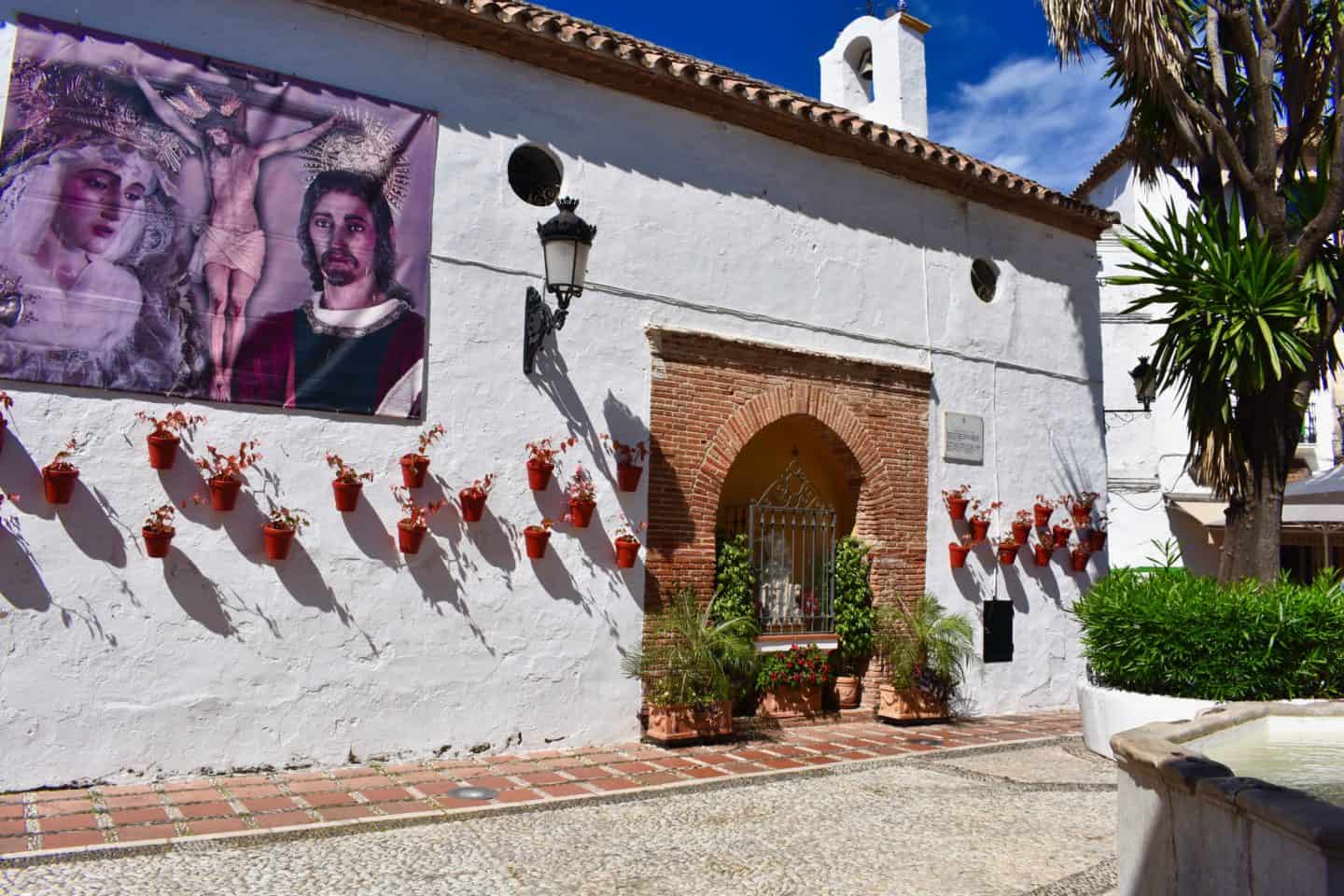 Beaches
Marbella's beaches run for miles along the length of the town and stretching onto nearby Puerto Banus. I would say that although some of the beaches had quite dark and rough sand, they were still beautiful. Some of the most popular beaches are Cabopino slightly to the east of Marbella and El Faro in the centre.
The summer months can be very busy, particularly at the beaches closest to the Old Town of Marbella.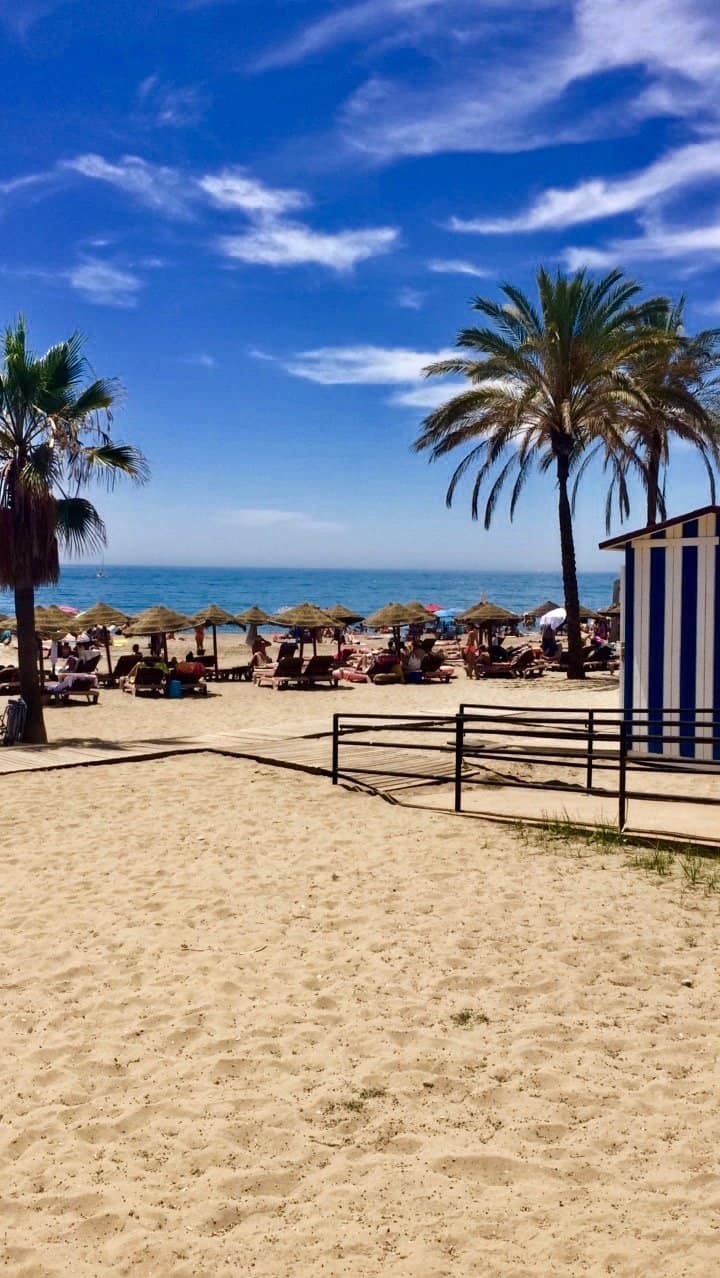 If you have a hire car, I would definitely head along the coast from Marbella and explore the quieter coves and beaches.
You'll also spot floating off the coastline a large inflatable water park – lots of fun. There's also one of these near Puerto Banus too.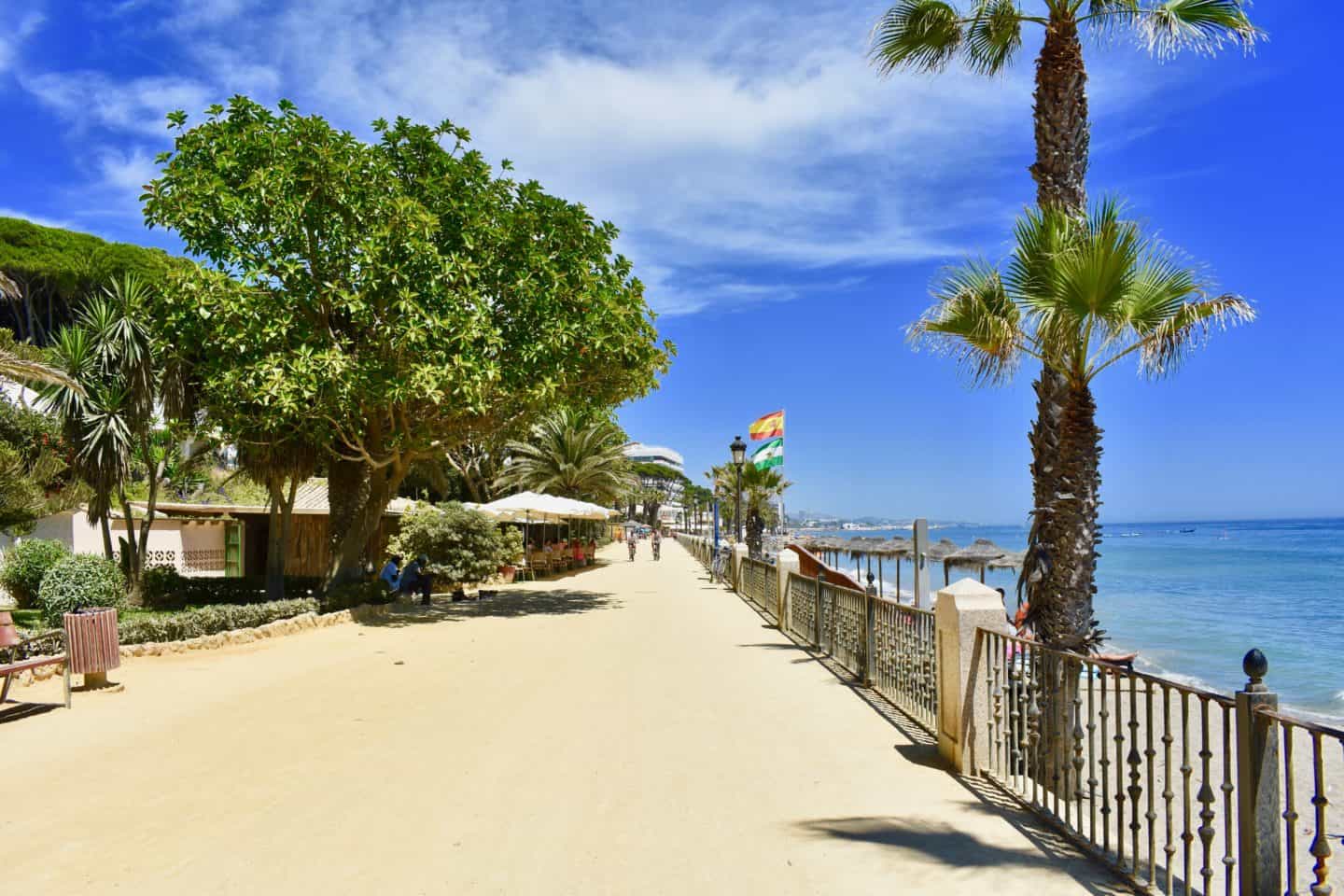 Beach Clubs
Marbella is renowned for its day to night party scene and is home to some of the most fashionable beach clubs in the world. Whilst you can completely skip this and have a relaxing break, many visitors do come to the beach clubs for all day partying. Some of the best include: Nikki Beach (part of the worldwide franchise), Puro Beach, Ocean Club and Sala Beach.
Golfing
Spain in general is a popular destination for golfing breaks, and Marbella is no exception. With mild weather year round and more than 30 top quality golf courses near Marbella, it's an excellent destination for a golfing holiday. In fact, it's one of Europe's top spots with some of the best golf courses being found at La Quinta Golf & Country Club, Los Naranjos Golf Club and Monte Paraiso.
Nightlife
As I mentioned, Marbella is known for day to night partying. There are plenty of excellent nightclubs and late night drinking spots to pick from. Many are located along the beach, and some are tucked away near to Plaza de los Naranjos, which transforms as the sun sets into a vibrant square of flamenco dancing and local music. About as typically Spanish as you can imagine!
No Marbella Travel Guide would be complete without suggesting a few places to go and Club Seven is definitely known as one of the best nightclubs in Marbella.
Visiting Puerto Banus from Marbella
The nearby port town of Puerto Banus is Marbella's even glitzier neighbour. Time in this town really gives you a glimpse of the playground of the ultra rich and famous. The super fashionable marina is all about being seen, and everything is high end – from the shopping, the restaurants and the exclusive nightlife, to the million pound yachts moored up and the supercars lining the port. It's certainly a flamboyant destination, drawing the world's ultra-rich and a true enclave of ultimate luxury.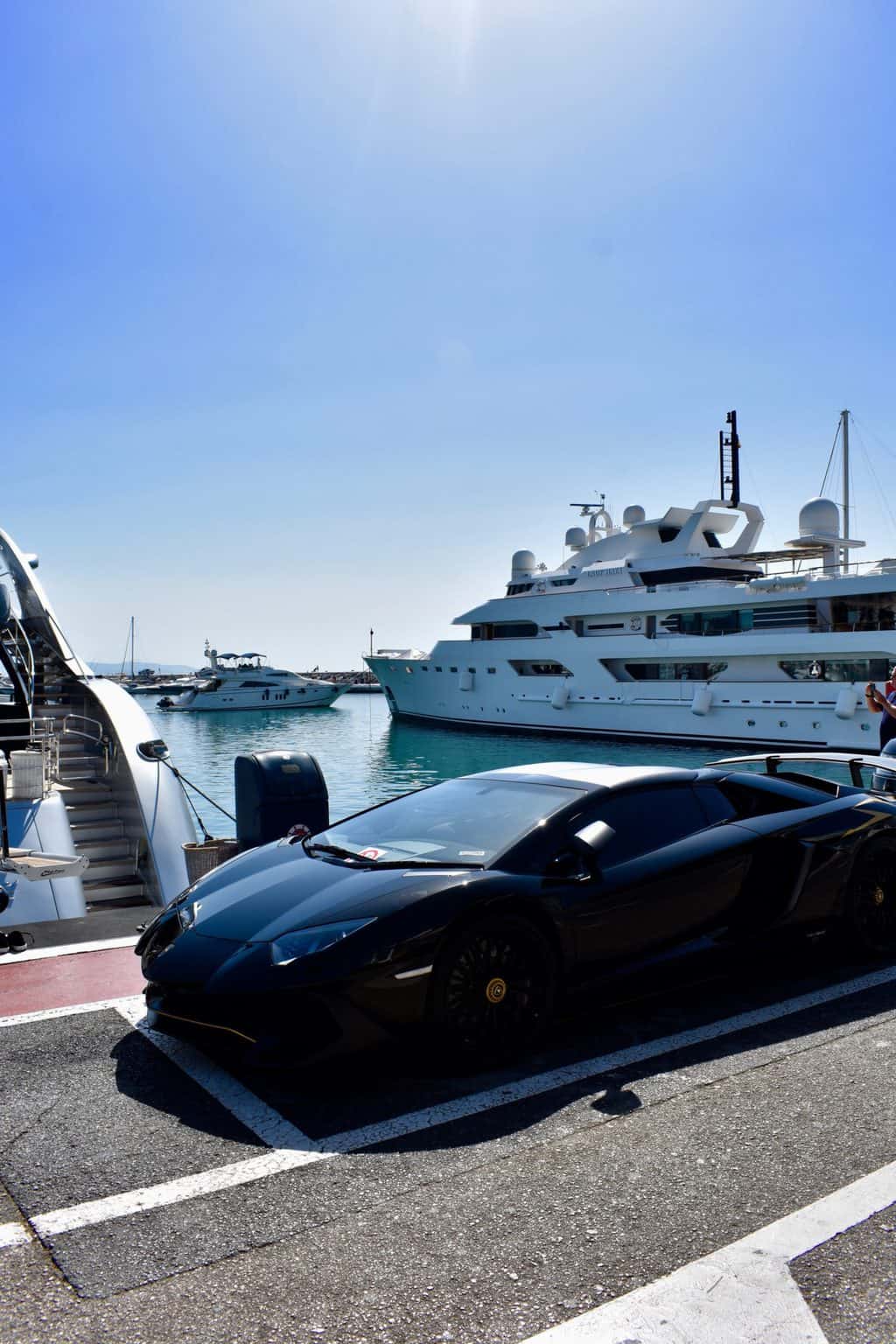 You can get a catamaran directly from the small marina in Marbella to Puerto Banus. We thought the boat journey was amazing and we even saw dolphins!
Another option is to rent your own speedboat for the day. Check prices for this here!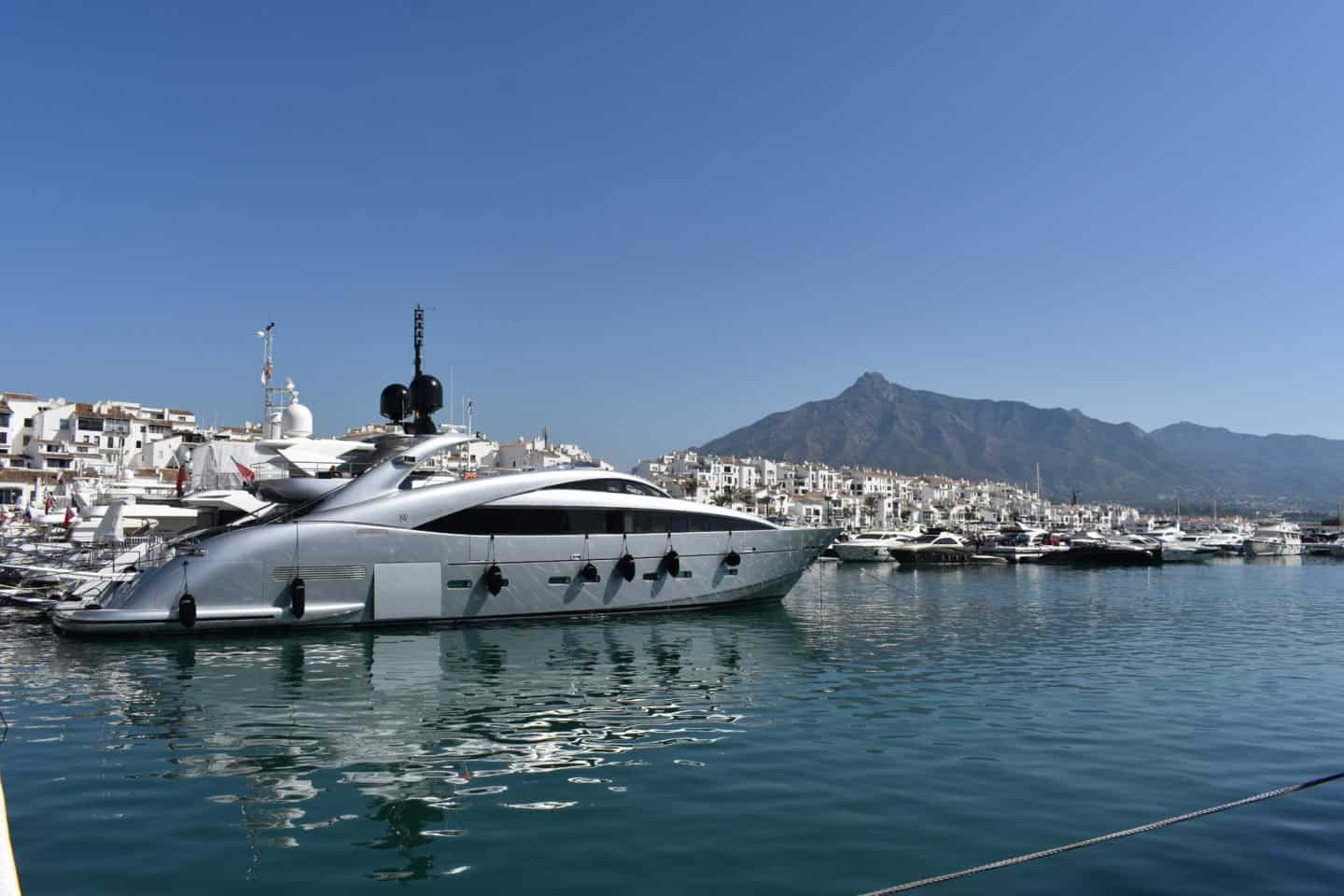 Eating and Drinking in Marbella
Marbella has some excellent restaurants. From quaint, traditional restaurants tucked away in the Old Town to fine dining by the waterfront, you're certainly spoilt for choice here.
From €1 tapas by the beach, to some of the best churros in town at Ramon Churreria – you'll eat well in Marbella. Ramon's is a gorgeous tucked away stand with a lovely seating area in Plaza de los Naranjos. Together with the freshest orange juice in town, the churros come as a huge wheel and for just €5 euros – we couldn't get enough of the food, OR the location!
Why not enjoy a foodie tour of Marbella, including wine and tapas with a local guide?
For fine dining, Paco Jiminez is considered one of the best restaurants in Marbella. Located in the heart of the Plaza de los Naranjos, it serves up excellent dishes in a fabulous setting. There also several Michelin starred restaurants around too, including Skina and El Lago.
We tried all the gelato in town, as well as tapas in the marina too. I think Saturday's dinner might have even stretched into a 4 location feast as the night went on.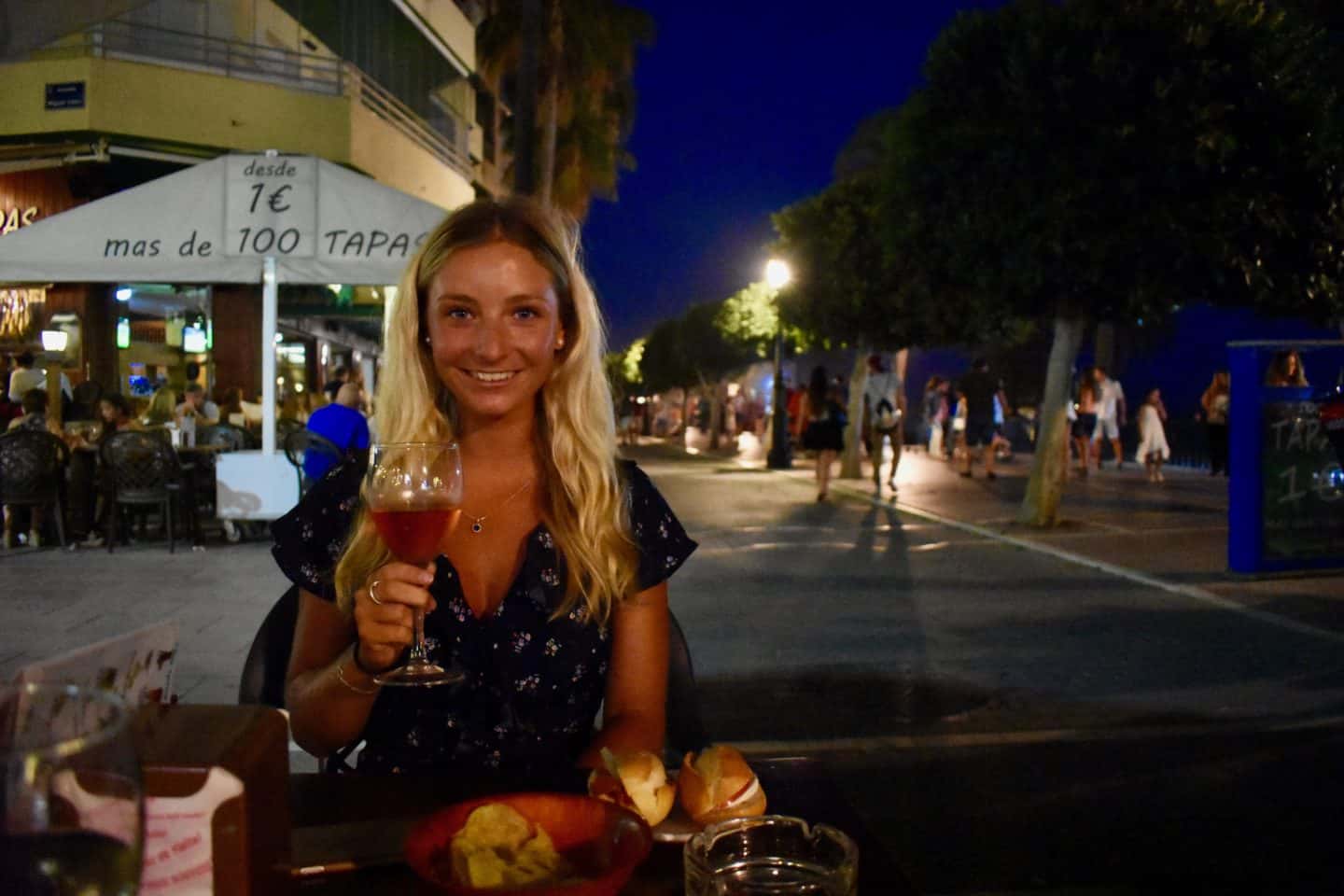 We enjoyed some fantastic seafood paella and local wine at the gorgeous Marbella Patio Restaurant. Not only is the food delectable, but its location tucked away in little side street on a hill was perfect.
Spending the Weekend in Marbella
So there's my Marbella Travel Guide! A wonderful Spanish destination to spend a weekend. Of of course, a longer break if you are able to. There are simply so many things to do in Marbella and so many restaurants to try!
Marbella is a charming and authentic corner of Andalusia, and makes a wonderful destination with something for everyone. However, if you're look for another warm weather destination that's just as charming and authentic, have you considered the islands of Santorini or Milos in Greece?
Or what about Lanzarote and Fuerteventura in the Canary Islands?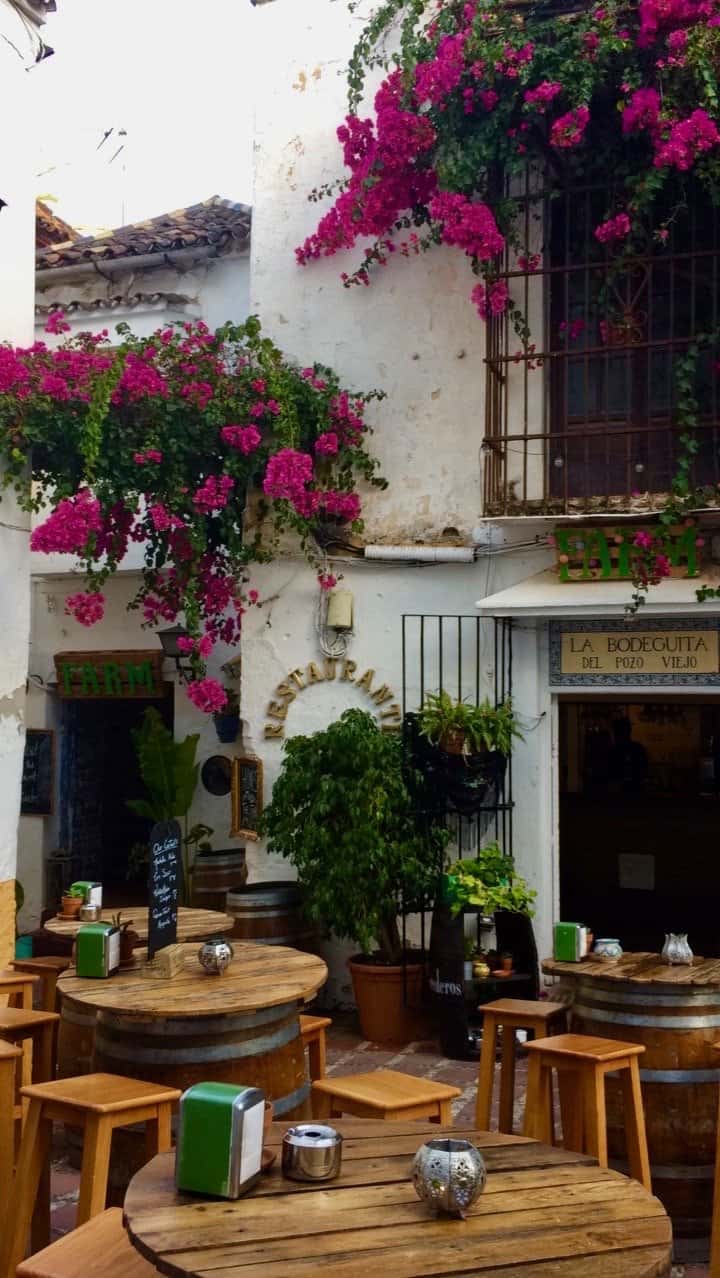 I hope my Marbella Travel Guide has been useful? Please do let me know if you have any more top tips or any feedback. I'd love to hear from you!
If you've enjoyed this post, feel free to share using the below links!
Wanna see more? Check my Instagram here, my Facebook here or my Twitter here!
Disclaimer: My time in Marbella was entirely paid for by myself and there was no involvement from the local tourism board or a hotel
Enjoyed my guide to a weekend in Marbella? Pin it!