If you're wondering where to go luxury glamping in Croatia, look no further. This paradise island is one of the most unique places to stay in Croatia. Whilst planning our recent road trip in Croatia, we knew we wanted to glamp or stay somewhere a little unusual. In our research prior to the trip, I came across Obonjan, a unique glamping experience on its own private island near to Šibenik.
I found some fairly negative reviews online from its opening year (2016), but then I read some more recent TripAdvisor reviews, and decided it didn't sound so bad. In fact, it sounded like Obonjan had ironed out the issues it struggled with in its first year. So we went ahead and booked a stay. For full disclosure, the team at Obonjan upgraded our camping tent from the standard to luxury glamping, but otherwise we paid for our full experience.
And Obonjan really is an experience. It's hard to adequately describe the island, which is part festival, part wellness experience and part glamping trip. The premise of Obonjan is a wellness festival like no other, set in the tranquil paradise of a private island in Croatia.
So if you're looking for unusual places to stay in Croatia or Europe, or you're looking for luxury glamping along Croatia's stunning Dalmation Coast, this is the place to stay. Read on for my complete guide to Obonjan, covering everything from the accommodation, the food, the bars, the island's facilities and the general vibe on the island.
Check rates for Obonjan island here!
Luxury Glamping in Croatia: Obonjan
The island of Obonjan
Interestingly, the island's previous use was as a permanent Scout camp. You can still see some of the facilities that they used around the island, and the main swimming pool is the same one the Scouts used (albeit slightly more lively with a bar and DJ). In the reception when you check-in, you can see some of the photos on the wall are black and white images of Scouts on camp. The island was left uninhabited from 1972 to 2008, after which then the team behind Obonjan bought the island a few years ago.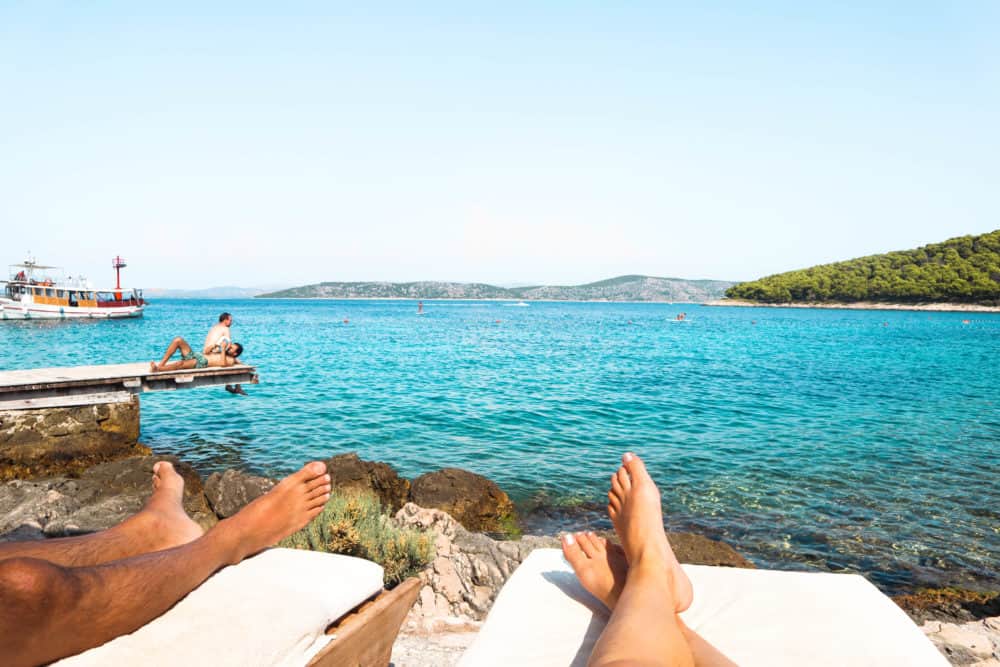 This stunning private island is surrounded by the Adriatic Sea, all sparkly under the strong Croatian sun and for the most part, covered by untamed dense pine forest.
How to get to Obonjan
The island is located around 6km away from the city of Šibenik and getting to Obonjan is quite straightforward. On arrival to the port area of Šibenik, find the clearly marked area from where the Obonjan ferry departs. To get to Šibenik, many bus services connect the town with other places in Croatia, and the nearest airport is in Split, around two hours away. If you're arriving by car (like we did), you can find plenty of great value parking adjacent to the port area.
The boat is organised by Obonjan and departs daily from Šibenik at 10am, 2pm and 5pm. A journey in each direction costs 100kn but since you're likely to return (!), you can buy a return ticket for 150kn.
When to go to Obonjan
Obonjan is only open during the summer months, from approximately June to September. It also closes for certain periods of time, such as to host music festivals, yoga festivals and other holistic activities.
Who is Obonjan for?
Obonjan is unique in that it is an adults-only island and children are not permitted. Although we're not necessarily yogis, or big on music festivals, we still found the island to be perfect as a luxury yet rustic experience on a paradise island. Obonjan can only host 500 people at any time, so it never felt overly packed or crowded.
We met people from all across the world. Some like us, had come primarily for the holiday vibes and luxury glamping. Others had come to partake in all the activities Obonjan had to offer. We even met a Belgian couple on honeymoon.
On reflection, we'd love to return with a big group of friends and hopefully we will!
How to Book Obonjan
I would definitely making a reservation for Obonjan before arriving at the boat port.
You can book a stay at Obonjan through Booking.com for a favourable rate here.
Accommodation
Let your Pinterest glamping dreams come true. Cream coloured glamping tents are dotted around the pine forest, each suitably distanced for privacy. It was my most chic camping experience thus far in life, and a stylish stay I would definitely like to repeat.
We loved our tent, called the 'Forest Lodge' on their site. It had a brilliant en suite bathroom, a full length mirror, air conditioning, decent wifi, and of course, proper beds. Pulling open our tent doors in the morning to the view and sounds of the lapping waters against the rocks was just magical!
The other main accommodation option is the equally as stylish bell tent, which is a lower cost and more basic choice. The inside looks fantastic, but the notable different is that it does not have an en suite and you must walk to shared bathroom facilities. I never used these so I cannot comment on their quality.
More recently, Obonjan has introduced 'Sun Lodges' for an even more comfortable experience, however for me these do not constitute real glamping! 🙂
Activities
Obonjan runs an exciting weekly programme of activities, mostly oriented around wellness and the arts. There were several yoga sessions included each day, in different locations around the island to capture the sunrise and the sunset. They also offered fitness classes, film screenings, star-gazing, meditation and sports like football.
Obonjan is a holistic wellbeing holiday, with a near all-inclusive programme, all designed to feed the 'mind, body and soul'.
Obonjan is apparently the first island location in Europe to be dedicated entirely to wellbeing, music and yoga.
There's even an island app which provides daily schedules and event notifications, as well as weather updates. Everyone is encouraged to download this on arrival, as it is regularly updated throughout the day.
There is a full line up of talks, classes, activities and live music every day. As we visited towards the end of the season (late August), this meant that there were less DJs and live music artists performing each evening. We didn't take part in too many activities as we were pretty content milling around ourselves. But guests could participate in several yoga classes a day, film screenings, listen to talks, stargaze with an expert or enjoy workshops focused on art and creativity. Nearly all of these activities are included in the price – very impressive.
At an extra cost, there's a watersports station where you can rent kayaks and SUPs, but we found the pricing pretty steep. Obonjan also has a wellness centre where you can arrange massages and meditation. You can check out the full spa menu here.
Our Time at Obonjan
For us, our days were spent in similar fashion. We'd wake up to the sound of the lapping ocean, before donning our gym gear and following a running trail around the island. We also jumped in the water by the helipad on the far north of the island – liberating in broad daylight!
We'd head on over to the tiny cafe near the yoga centre for a healthy green juice before showering. Our day from this point onwards was spent moving from one sun lounger to the other as the sun moved round. Plenty of swimming, reading and drinking all day long. Happy hour began each evening at 5pm where we'd enjoy a couple of cocktails before retreating to our beautiful tent to watch the sunset and play board games.
In the evenings, we'd wander the island, have dinner and chill on our tent's decking area.
Food and Drink
Unsurprisingly, food and drink on the island is steeper than on the mainland. The price point is targetting travellers in their mid-20s and older, and not 18 year olds travelling around Europe by train.
The bars are dotted throughout the island. There's the main bar at the beach area where happy hour takes place, another bar by the pool – perfect for pool parties, and a bar nestled in a magical forest setting.
Over the course of our three days, we enjoyed some delicious, beautifully presented dishes at Bok by the main beach area. We also sampled Sri Lankan curry and island pizza.
Atmosphere
We really enjoyed our time on Obonjan island. Everything was laid-back yet sophisticated. Even the Brits! Daytime to evening drinking was casual, with no-one getting too rowdy. The other guests on the island were relaxed and friendly. There were no obnoxious experiences or groups that ruined the atmosphere for others.
Luxury Glamping at Obonjan
If you're looking for somewhere unusual to stay in Croatia, then I strongly recommend staying at Obonjan. Luxury glamping in Croatia wasn't that easy to come across when doing my pre-trip research, but this completely hit the mark. We had a brilliant few days here and I'd definitely recommend visiting.
Why not check rates for Obonjan online here!
I hope this has been helpful for anyone considering luxury glamping in Croatia or staying on Obonjan island. I've also written a detailed one week Croatia road trip itinerary guide that might be useful. But otherwise, feel free to ask me any questions below if there's something I haven't covered here!
Wanna see more? Check my Instagram here, my Facebook here or my Twitter here!
Disclaimer: This visit to Obonjan in Croatia was paid for by myself, however, the hotel did upgrade our accommodation from the classic bell tent to the forest lodge that you see in the pictures above.
Enjoyed my feature on Obonjan Island, the best luxury glamping in Croatia? Pin It!