The picture-perfect Whitsunday Islands are one of the highlights of an East Coast Australia itinerary. And for good reason – these tropical paradise islands are truly magical. Whether you visit as a day trip from Airlie Beach, stay at an island resort or spend a couple of days sailing the Whitsunday Islands, you'll have an incredible visit.
This guide will detail the various options for visiting the Whitsunday Islands as well share all the essential things to know in advance. I've also shared my personal experience of sailing the Whitsunday Islands with Topdeck which might be useful too!
Whitsunday Islands: Essential things to know
The Whitsunday Islands are a collection of 74 paradise islands, dotted like glistening pearls in the Coral Sea. Many of the islands are inhabited, but some are home to eco-stays, golf resorts and ultra-luxury resorts. Whether or not you enjoy aquatic activities, there's plenty to do in the Whitsundays including excellent hiking, wildlife spotting, fishing and of course, relaxing under the palms!
When to visit the Whitsundays
One of the biggest factors to consider when deciding when to visit as 'stinger season' affects this area of Queensland. Stinger season is when box jellyfish are often present in the tropical waters. These can deliver a painful sting, which can sometimes be fatal. The season is from November to April, and if you visit during these months, you will need to wear a protective stinger suit which is provided by the local company. This prevents the jellyfish tentacles from touching the skin.
In terms of weather, the Australian summer (December to March) brings very tropical weather to the Whitsundays. This can mean monsoonal rains, exceptionally high humidity, and an increased risk of tropical cyclones.
The Australian winter months (June to August) can bring really pleasant, warm sunny days, but the water temperature can be a little cool. Therefore, the best time of year to visit the Whitsundays is in spring (September and October), and also autumn (April and May).
How long to spend in the Whitsundays
In an ideal world, I think three nights either onboard a sailing boat or at a resort is the best amount of time. However, of course this depends on the time you have available, and how deep your pockets are!
There are plenty of one day tours departing from Airlie Beach, so you can see still all the highlights in a day.
I've done day trips from Airlie Beach to the Whitsundays, and it was absolutely amazing. One was on a beautiful catamaran, and one was by ocean speedboat. I saw all the key highlights and loved every moment. I've also enjoyed a three night stay at a resort, and as someone who loves the beach and the ocean, I would say a resort stay is a once-in-a-lifetime opportunity.
How to visit the Whitsundays
The two most affordable options would be firstly to visit as a day trip from Airlie Beach, or to book a couple of nights at an affordable island resort. Sailing around the Whitsundays for a couple of days is pure magic, as is one of the incredible luxury resorts. So here's your quick guide to the various ways to visit the Whitsundays:
Day trip to the Whitsundays
In terms of day trips, you can wait to arrive in Airlie Beach to arrange this, but you may the boats being full, so I recommend booking a tour in advance. Here are a couple of great suggestions:
Or why not see the Whitsundays from a difference perspective entirely? This 1-hour scenic flight over the Whitsundays Island archipelago looks amazing! Or what about a tandem skydive over the Whitsundays?
Or you could totally splurge on a helicopter trip to the Whitsunday Islands that even lands on Whitehaven beach so you can explore at your own leisure!
Resort stay
The best value resort in the Whitsundays is the beautiful Daydream Island, where rates start from around £150 per night. Palm Bay Resort is also a beautiful choice, at around £160 per night.
If you fancy splurging a little more on a luxury resort in the Whitsundays, you won't regret it. The Intercontinental Hayman Island (formerly the One&Only) is widely considered the best resort in the Whitsundays. It regularly wins awards for being one of the best resorts in the world.
Other excellent luxury island resorts in the Whitsunday include:
For the ultimate Whitsundays holiday, why not consider sleeping under the stars on Reefsleep? This is a totally unique opportunity to sleep on a floating deck on the Great Barrier Reef – an expensive stay, but like nothing else! Rates start from £535 per night.
Sailing the Whitsundays
Finally, the other alternative is to join a multi-day sailing adventure which I've also done. This is a unique and incredible opportunity to live onboard a yacht and sail around the Whitsundays. I've done this with Topdeck which I've shared plenty of info below on, but other excellent companies include:
There are plenty of local sailing companies offering all kinds of trips to the Whitsundays. My advice would be to decide what is most important to you. Whether it's things like air conditioning in your cabin, or jacuzzis on board or ensuring you're travelling with similarly aged fellow sailors.
I did this trip a couple of years ago, and therefore wanted to sail with like-minded and fun travellers. So Topdeck, which is aimed at travellers aged 18-35 was the obvious choice and it didn't disappoint.
Sailing the Whitsundays with Topdeck
Topdeck is widely known as one of the best tour groups in the world, targeting those aged 18-35. Their tours are aimed at solo travellers, groups for friends and couples too. This tour was the Tropical Suntanner, which included sailing the Whitsundays, before continuing to Magnetic Island and Cairns. It includes a 1 night sailing Whitsundays segment.
The sailing boat used by Topdeck is beautiful and is very well equipped. Everything you could need is included on the boat (including flushing toilets) and it is surprisingly spacious.
Topdeck's crew are really fun, with the key aims of keeping everyone safe, well-fed and of course, having the time of their lives! Plus, if you're keen on practising your seafaring skills, the crew are more than happy to show you the ropes and get you stuck in!
One of the best things about sailing with Topdeck is the good food! And as part of the tour, three meals a day are included. We ate wonderful fresh salads, freshly caught fish and other meats on the grill. You're encouraged to get stuck in, but
Highlights
The tour departs early Airlie Beach on the beautiful East Coast. The group tends to waste no time getting to know each other and the tour guides do their best to ensure this.
One of the key ports of call is Whitehaven beach, and it was this destination that I most excited to see the first time. This is one of Australia's most photographed natural wonders, and like nowhere else in the world.
Whitehaven is a 7km stretch of the most dazzling white sand I have ever seen. The sand is some of the purest sand in the world at 98% pure silica, and even squeaks between your toes as you walk on it. It is probably the most sublime slice of paradise I have ever experienced.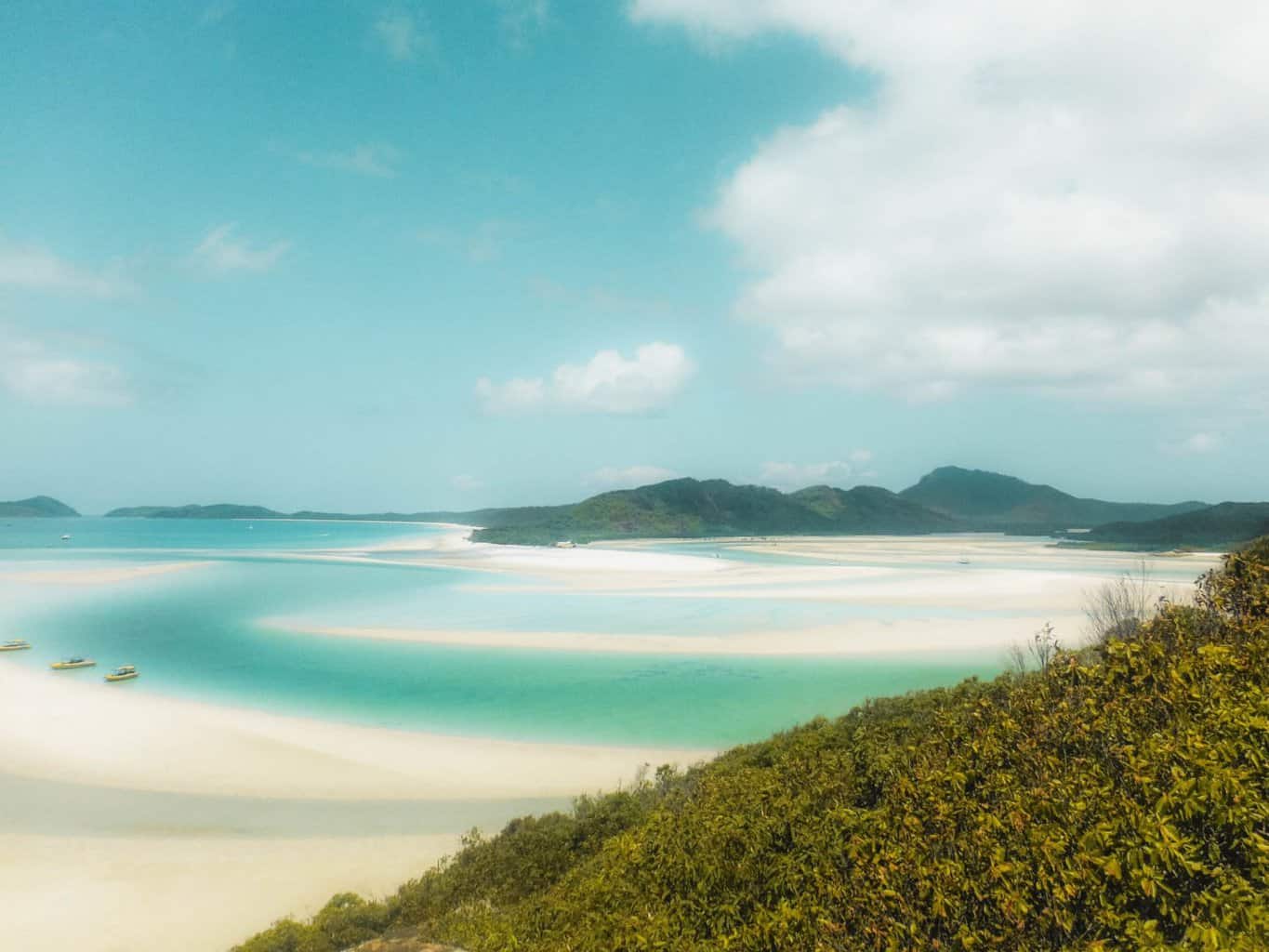 We spent the day frolicking in the water and playing games like rugby and cricket on the sand. Truly a life highlight!
Other highlights of the Whitsundays include the incredible underwater life that you can explore with a snorkel. The islands are actually part of the Great Barrier Reef which stretches down the East Coast of Australia. It's teeming with colourful fish and unusual coral.
Another awesome activity was to hike and explore the National Park. There are several routes to pick from, and we didn't see a single other person on the way!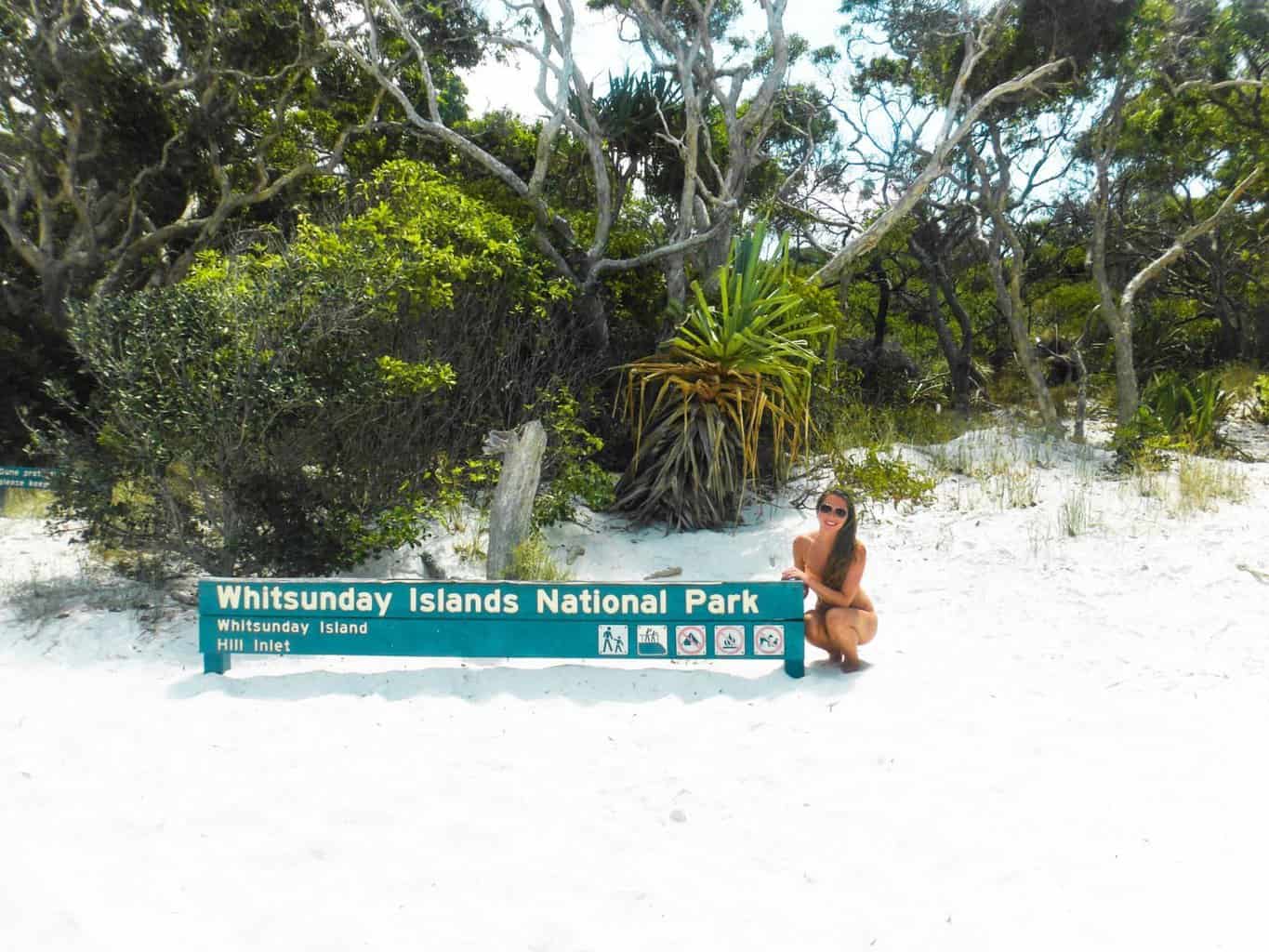 In the morning, you can head up to the deck to watch sunrise before leaping into the water to cool off after the sun has come up. After dinner in the evening, there's plenty of time to socialise and play games as the sun sets. Make sure to check the stars too – zero light pollution makes for unrivalled star gazing opportunities!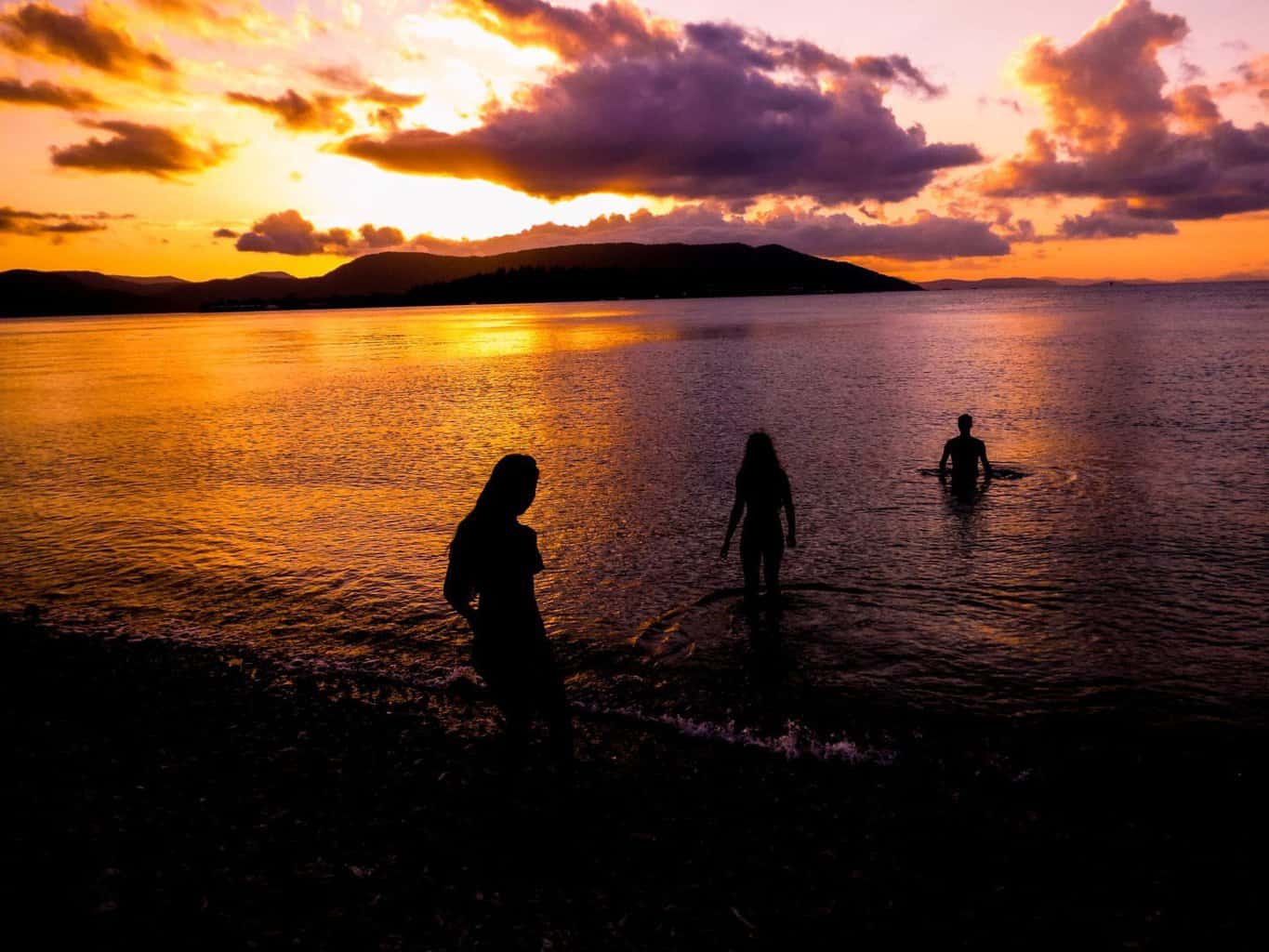 What to take on a Whitsundays sailing adventure
You leave your suitcase back in Airlie beach and you take a smaller overnight bag on-board with you. Topdeck keep it for you in a safe place for you, so all you really need is:
Swimwear
Sunscreen
A hat
2 days' worth of casual clothes for the evenings
Beach towel
Flip flops
Light jacket
Chargers
Camera (of course)
Essential toiletries
Motion sickness tablets if you're really prone to seasickness – but honestly, it's rarely rough sailing
So that's my guide on visiting the Whitsunday Islands, a real highlight of my entire East Coast Australia road trip.
Whether you visit on a day trip, stay on an island resort or join a sailing adventure with a company like Topdeck, you're bound to love the beautiful Whitsunday Islands.
I hope this post has been useful for anyone wondering how to visit the Whitsunday Islands and if sailing with Topdeck is the right tour for them. But do feel free to ask any further questions regarding the Whitsunday Islands in the comments section below.
If you've enjoyed this guide to visiting the Whitsundays then feel free to share using the below links!
Wanna see more? Check my Instagram here, my Facebook here or my Twitter here!
Disclaimer: This visit to the Whitsundays and tour with Topdeck was entirely paid for by myself, and there was no involvement from the tourism board or a hotel. However, I later received compensation from Topdeck for writing this guide.
Enjoyed my guide to sailing in the Whitsunday Islands? Pin it!