Spending the day at Sundays Beach Club is one of the best ways to chill out on this amazing island. From the gorgeous location and chilled out vibe to the excellent food, Sundays is the perfect place to spend the day. But we all know Bali has tons of beach clubs to pick from, so this guide aims to detail all you'd need to know to visit, so read on to find out more!
Sundays Beach Club, Bali
Sundays is located in Uluwatu, tucked into a beautiful bay at easily one of the best beaches in Bali. And you may have heard, but this beaches at Kuta and Seminyak, whilst popular, aren't that nice to spend the day at. But this beach in Uluwatu is what your tropical Indonesian dreams are made of!
Getting to Sundays Beach Club
Sundays Beach Club is located in Uluwatu, beneath the high end Ungasan Clifftop resort.
However, morning/midday traffic can make it quite a long drive from Seminyak or Canggu. This drive can even take an hour or longer. So if you're planning on spending the day at Sundays Beach Club Bali, I would recommend arriving as close as possible to the 9am opening time.
if you're planning to stay in Uluwatu during your Bali trip, then I'd definitely time your visit to Sundays Beach Club then.
Another option would be to stay at the sister hotel, Ungasan Clifftop resort. One of the best luxury hotels in Bali, a stay here is a sublime slice of paradise. Check rates for Ungasan Clifftop Resort here.
Arrival at Sundays
Once you arrive at the hotel, pass through its entrance to the back where you'll be greeting with the most stunning viewpoint. The incredible beach at Sundays Beach Club emerges before your eyes, and it's really quite spectacular.
Proceed down the stairs ahead, and after paying at the kiosk, you'll be directed to a very cool inclinator lift. This cliff-hugging, open sided lift is is operated continuously throughout the day and takes you down to the beach level.
Entry to Sundays Beach Club
A mid-week adult day pass costs IDR 400,000 which includes beach club access, a towel and fast Wifi. You also receive a IDR 200,000 voucher towards food and beverage which definitely helps towards your lunch, but wouldn't completely cover it.
A weekend pass for adults costs IDR 450,000, and with this you receive IDR 250,000 credit towards food and drinks.
Sundays Beach Club also offers kayaks, snorkeling equipment and SUPs as well as an evening bonfire sunset session!
However, to use/reserve a lounger/bean bag, the entry cost jumps to IDR 500,000 per person.
Food and Drink
Sundays offers a pretty good food menu, from breakfast, to lunch and all the way through to dinner.
Breakfast starts at 9am, and in true Bali style, is a super healthy and varied menu, with dishes created from locally-sourced ingredients.
They can bring little wooden tables down to the beach so you can eat where you're chilling, or you have the option of dining in the covered restaurant.
Activities at Sundays
Sundays offers a pretty good selection of aquatic activities, such as stand-up paddle boards, kayaks and snorkelling gear, all of which are included in the price of your ticket. You'll easily lose hours enjoying the magic shimmering waters at the beach.
Another activity on offer is massages at its beachfront, open-air spa, Sooth your soul with a relaxing scrub or massage, listening to the waves crashing on the reef in the distance.
Sunset Hour
One of the best things about Sundays is the big sunset session bonfire. This totally sets Sundays Beach Club apart from the other beach clubs in Bali.
As the sun slowly starts to dip, the team lay out huge bean bags and light two huge bonfires. They even offer marshmallows for toasting. It makes for a pretty chill vibe after spending your day at Sundays Beach Club.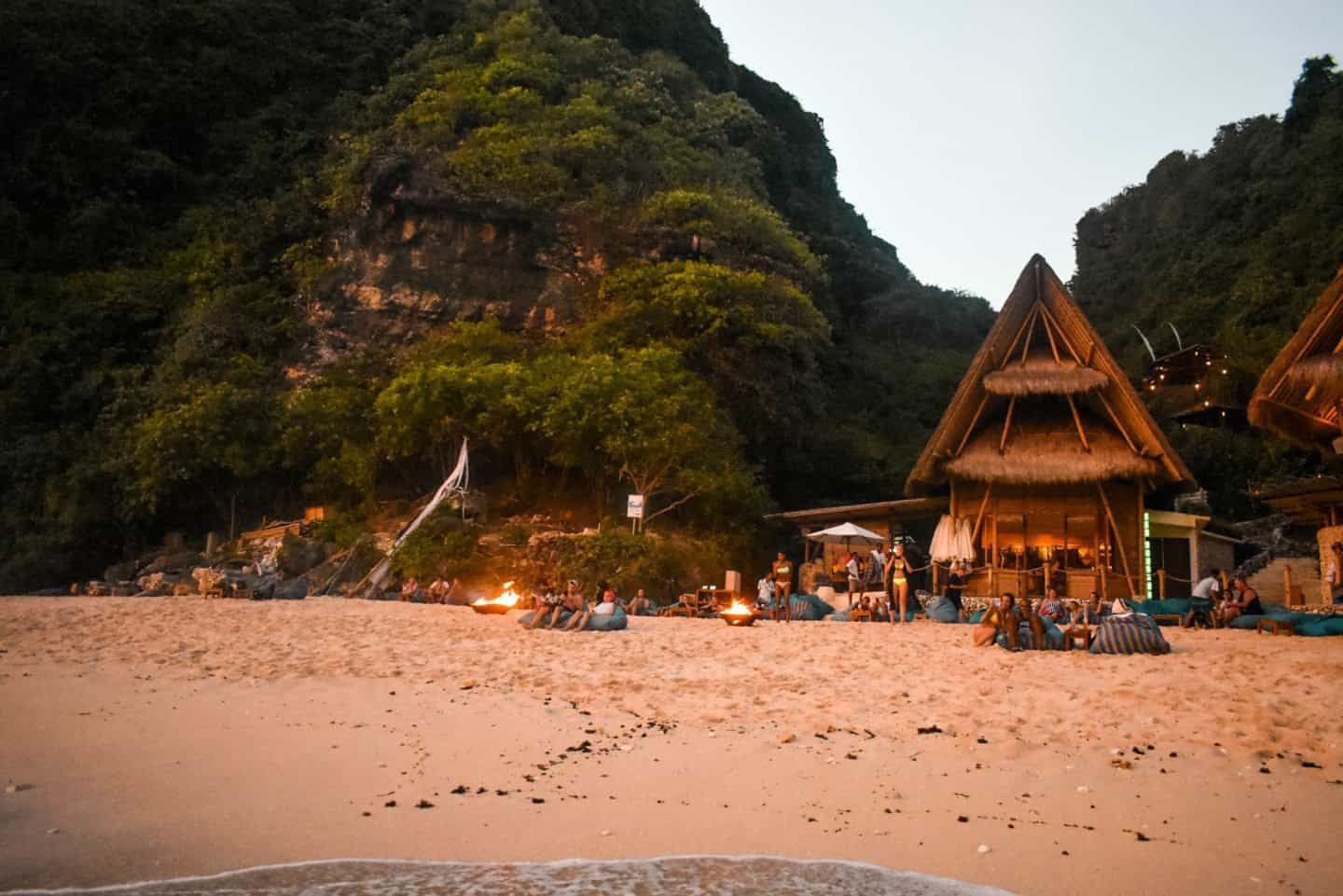 Spending the Day at Sundays Beach Club
Sot here's my guide on spending the day at Sundays Beach Club, a great place to chill and relax.
I hope this post has been useful for anyone visiting Bali but if this doesn't sound like your place, please check out my guide to the best beach clubs in Bali here.
Feel free to ask any further questions regarding Sundays Beach Club in the comments section below. If you're looking for a beautiful hotel to stay in, check out my review of Kalapa Resort & Spa here, and perhaps check out my Gili islands guide, the best plant-based restaurants in Bali and a guide to two fascinating temples in Bali.
If you've enjoyed this guide to Sundays Beach Club, then please do share using the below links!
Wanna see more? Check my Instagram here, my Facebook here or my Twitter here!
Disclaimer: This visit to Sundays Beach Club was entirely paid for by myself and there was no involvement from the tourism board or a hotel. This is an independent guide.
Enjoyed my guide to spending the day at Sundays Beach Club? Pin it!