Bohol Bee Farm is, in my opinion, the best place to stay on Bohol Island. In fact, it is one of my favourite stays ever anywhere in the world. Bohol Bee Farm is located near to Panglao in a small village called Dauis and offers a unique stay on a beautiful coastal farm. It's also one of the best foodie spots in the Philippines!
In general, deciding where to stay on Bohol Island in the Philippines can be quite a tricky decision. There are plenty of beautiful hotels suiting all budgets and tastes and there are several different beach areas to consider too. The majority of accommodation options on Bohol Island are concentrated nearer to Panglao, including Bohol Bee Farm. We also stayed in some other beachside hotels in the heart of Alona Beach in Panglao, but really preferred our stay at Bohol Bee Farm. So for this reason, I thought I'd put together a guide as to why I think this is the best place to stay in Bohol. Read on to find out more.
The Best Place to Stay on Bohol Island?
Why Bohol Bee Farm?
From the second we arrived at Bohol Bee Farm, it just felt like home. It might have been on the other side of the world, but as soon as we walked in, we were part of the family.
Bohol Bee Farm was a true home away from home on our travels through the Philippines. I only found the hotel when I spotted a small box out in my Lonely Planet guidebook noting that it makes a nice day trip, but also that it had rooms. When I looked online and saw those rooms were only £45 a night – I was sold!
So we turned up for what became the most magical stay ever. And that's with almost 3 days of heavy rain..
Read on for my review of the amazing Bohol Bee Farm in the Philippines. Find out why it stole our hearts and why it really is the best place to stay on Bohol Island!
The Farm
First and foremost, Bohol Bee Farm is an organic produce farm. Everything the farm does is focussed on encouraging and inspiring their farmers to practice organic farming.
The owner, a lovely woman called Vicky, has built and expanded Bohol Bee Farm over the past decade. She's done this with a true love of community, organic produce and sustainable techniques. The Bohol Bee Far staff endeavour to support an agricultural environment that leads to healthier soils and a diverse ecosystem.
Everything on the family-run farm has been built upon her vision for an eco-friendly, sustainable farm that supports the local community. Vicky designed the landscaping, accommodation and public areas herself. She also contracted local suppliers and tradesmen and women, ensuring everything is sourced from the island of Bohol.
It is the most beautiful farms I have ever seen, with gorgeous plants, inspiring art and incredible views. It is just so homey and welcoming. I truly don't think I have been anywhere like it. Bohol Bee Farm has really got to be one of the best places to stay on Bohol island, if not the Philippines.
The farm staff offer regular tours throughout the day to visitors and in-house guests to learn about everything the farm has to offer.
The Accommodation
Our room at Bohol Bee Farm was simple and beautiful. We had the most gorgeous bedroom with dark wooden flooring, a huge comfortable soft bed with warm local furnishings. We also had a huge bathroom and walk-in wardrobe area. Outside, we had our own terrace, rocking chair and vegetable patch. A short path led straight to a outdoor decking area with a series of sunken pools, loungers, hammocks and an open air spa area.
The Food
The food at Bohol Bee Farm is renowned all over the Philippines. However it is on Bohol island and in Cebu where you'll spot smaller outposts of the farm's Buzz Cafe. I'd definitely recommend stopping for lunch at these spots too, as they offer plenty of excellent dishes away from the farm.
But nothing beats actually eating the food at the Farm. Everything is organic and produced on-site – and is absolutely DELICIOUS! The mango and pesto dips served with all the meals is like nothing I've ever had before, the bread is so fresh and the salads are topped with vibrant flowers. Yum yum yum!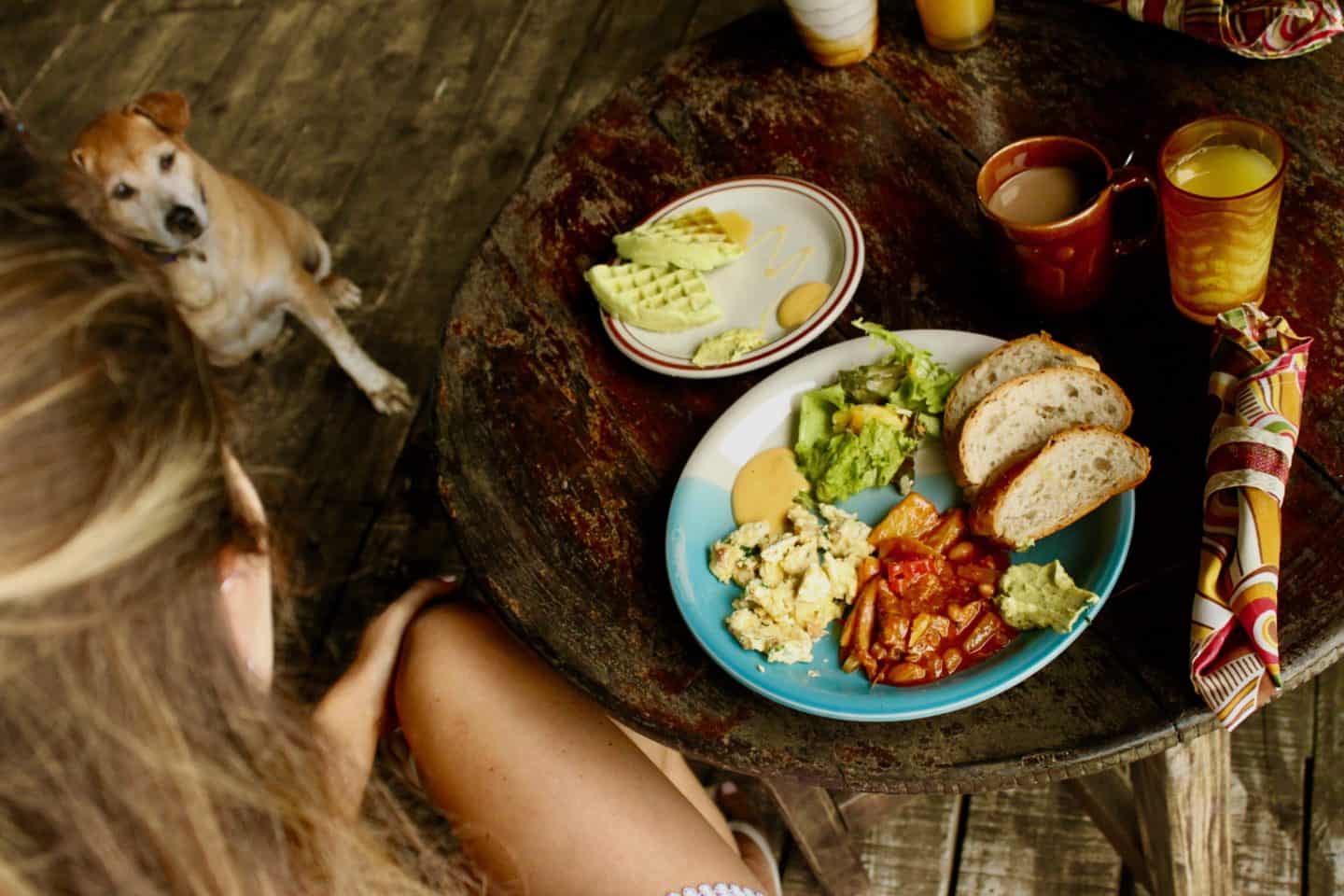 I loved the cassava lasagne, I couldn't stop ordering it. The ice cream in all its exotic flavours is fantastic – the purple yam was a particular favourite. Even the ice cream cones are made of cassava grown on site.
Bohol Bee Farm also has a gorgeous relaxed coffee lounge and bar to relax in. We really enjoyed the produce shop and ended up buying so many goodies (the honey is a winner) and locally made toiletries until our hearts were content. Our suitcases were bulging when we left Bohol Bee Farm!
The Spa
Our time at the spa was possibly one of my favourite afternoons ever. Yet another drizzly afternoon led us to an afternoon of pampering. We enjoyed manicures and pedicures, followed by a sunset couples massage with the crashing moody waves behind us – magical!
Other activities at Bohol Bee Farm
Bohol Bee Farm has a number of beautiful swimming pools and decks to relax on.
While it doesn't have its own stretch of soft sandy beach, there are some nearby.
There is also a wooden staircase at the back of the farm that leads down to a secluded deck on the water where you'll find another bar and the dive school.
Bohol Bee Farm: Essential information
As I've written this, I truly wonder if I've managed to articulate just how much I loved it at Bohol Bee Farm. The atmosphere, the people, the beautiful setting, the room, the pools, the spa, the delicious food.. everything!
Three days of heavy rain, whilst not ideal, meant we soaked everything up that the farm had to offer on site. I only wish we stayed longer and I will certainly be returning in future!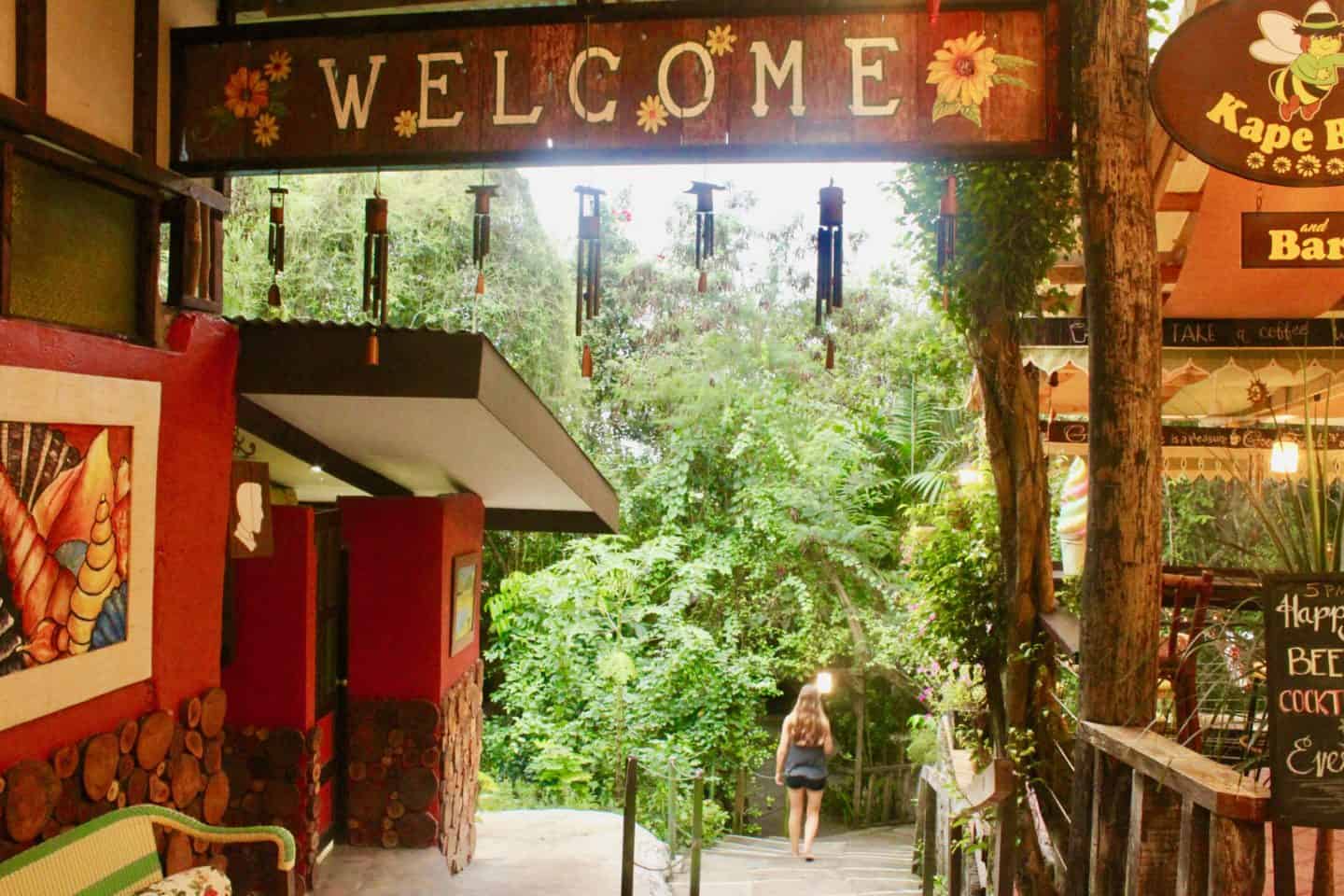 How to get to Bohol Bee Farm
From Alona Beach on Panglao, the drive in a tricycle is probably around 20 minutes. It's not too far at all and is clearly marked from the main road.
I hope you've found my guide to the beautiful Bohol Bee Farm useful and that you consider this place for your stay on Bohol Island.
If you've already been to Bohol or even this very accommodation, let me know in the comments! I'd love to hear from you.
You might also find some of my other posts useful, including my 3 week itinerary for the Philippines and my top tips for travelling in the Philippines here.
If you've enjoyed this post, feel free to share using the below links!
Wanna see more? Check my Instagram here, my Facebook here or my Twitter here!
Disclaimer: This visit to Bohol Bee Farm was entirely paid for by myself and there was no involvement from the hotel. This is an independent guide and review.
Enjoyed my thoughts on the best place to stay on Bohol Island in the Philippines? Pin it!