The famous blue city is high on most peoples' travel bucket lists, and it's easy to see why. Nestled high up in the Rif Mountains, its pale blue walls are like nowhere else in the world. The striking contrast between the quiet, colourful laneways, and the arid mountainous backdrop also makes it an Instagrammers' haven! However, it's not just a photogenic town, it's also a wonderful place to explore so read on for my guide of all the best things to do in Chefchaouen Morocco!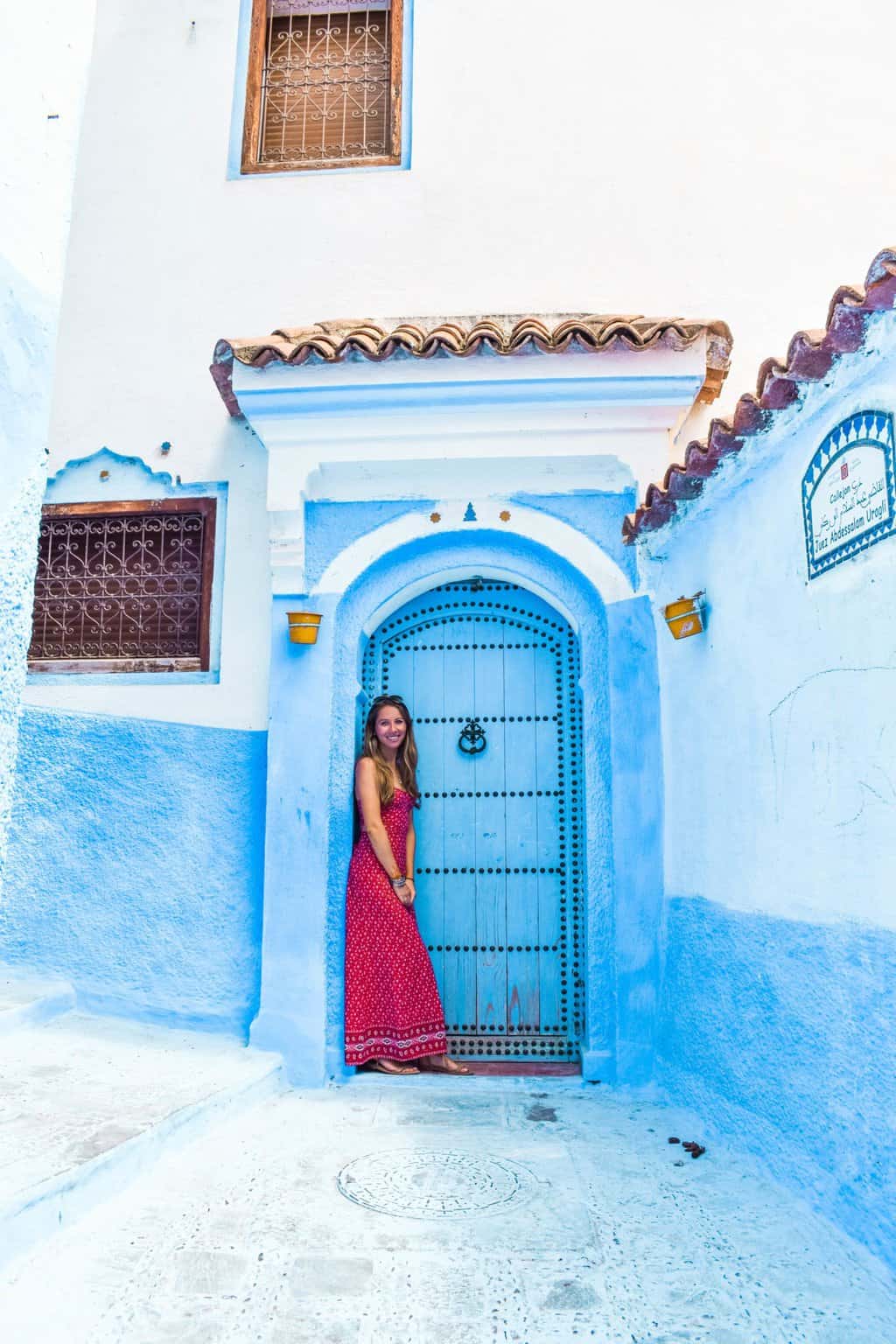 First Impressions
It's hilly. The walk from the bus stop to our hotel was a hugely steep hill. The little laneways are a cat and mouse maze of up and downs linked by small staircases and tunnels everywhere.
Second of all, where are all the tourists? Now don't get me wrong, it wasn't without tourists. But having heard so much about the destination and with Chefchaouen being featurely endlessly on Instagram, we felt like it would be really crowded. Some people say it is Morocco's best-kept secret, and maybe after all, they are right!
We actually found the town eerily quiet, in a peaceful way and coming from Fes, it was definitely a change in pace!. Our hostel was full yet we never saw many other travellers there, either.
We were so convinced it would be crowded with photographers and tourists that we even started to wonder if something had happened. This was April 2017, so do let me know in the comments below if it has changed!
Chefchaouen is also a bit of a hippie town, happily not conforming to the rest of the country's ways. The even speak Spanish here, over French and Arabic! There's a bit of a 'if you know, you know' drug scene, which apparently a growing number of tourists come for. I can't really divulge too much as I'm not interested in this – but quite a lot of the laneways smell of weed.. Amazingly, the growing of weed and Islamic religion exist harmoniously here.
Things to do in Chefchaouen Morocco
The greatest joy here in Chefchaouen is to wander and to do it slowly. Don't rush around looking for the iconic photo opportunities, but let them come to you.
Around ever corner is another shade a blue, another paint shop, another local going about their daily life.
You can't really get lost here, it's a lot smaller than Fes and Marrakech. Ambling slowly means stumbling across tiny shops with the friendliest owners, accidentally interrupting children's games and stopping to listen to a primary school choir singing their hearts out. It's a special kind of place.
Realistically, you can easily explore Chefchaouen in just a day. However, its mountainous location means there are a plethora of outdoor activities to partake in, such as hiking or stream jumping in the Rif Mountains.
Meet the locals (I mean the cats)
There could be more cats here than locals. This is totally unverified and just one of my musings, but really, there are cats everywhere!
Sunrise and sunset
This is one place that it is definitely worth timing your day around the sun. A twinkly morning sunrise from your hotel's roof terrace with a hot coffee is possibly one of the best ways to start the day in Chefchaouen.
A 10 minute hike to the Spanish Mosque on the hill and you're set for a peaceful sunset from the best vantage point.
Shopping in the medina
You can buy a lot of local handicrafts here that you can't really elsewhere in Morocco such as canvas art, powder paint and wool jumpers. The locals are quite happy to haggle and there's really no hassling at all!
 \
Eating Out
Chefchaouen has some really nice cafes and restaurants and we definitely ate our favourite meals here. Once we discovered the chicken pastilla, that was it – we were hooked! This is chicken flavoured with cinammon and almonds, wrapped in flakey pastry and topped with icing sugar.
After trying the pastilla at most restaurants in town, Chez Hicham proved to be our absolute favourite. That, together with its lovely atmosphere and friendly staff, we kept on returning.
A close second would be Chez Aladdin for its views and great food. Both of these are located off the main square.
We also found amazing Italian coffee at Cafe Roumana.
The photo opportunities
They're endless but I thought I'd share some of my favourite photos from our stay below.
Things to Do in Chefchaouen Morocco
Overall, Chefchaouen is a charming place which we enjoyed more than we expected. Great food, friendly locals and playful kittens – ideal! You can also visit the nearby Rif Mountains – I've written a blog post on hiking in these here.
I hope this post has been useful for anyone planning a visit to the Blue City and looking for the best things to do in Chefchaouen Morocco. Feel free to ask any further questions in the comments section below!
If you've enjoyed this post, feel free to share using the below links 🙂
Wanna see more? Check my Instagram here, my Facebook here or my Twitter here!