Chefchaouen, the famous 'Blue City' is a must visit town on any itinerary in Morocco. Nestled high up in the Rif Mountains in northern Morocco, Chefchaouen is known for the pale blue that locals have painted the walls of every building and pathway for the last few centuries. Compared to Marrakech and Fes, the quiet town of Chefchaouen offers the most pleasant and calm visit, with a striking mountain range behind.
There are photo opportunities aplenty, from the tiny kittens lazing in the sun, to the striking doorways and staircases. One thing to remember always in Chefchaouen however, is that all of the doors and pathways are part of peoples' home so it's important to be mindful of this when exploring, and not to be too nosy.
Some of the best things to do in Chefchaouen are simply walking and exploring the medina, as well as sampling the local cuisine and if you have time, taking a day trip to explore the local area. We found 3 days in Chefchaouen to be the ideal time, so this is my guide on all of the best things to do and see in 3 days, as well as all the essential things to know before going to Chefchaouen.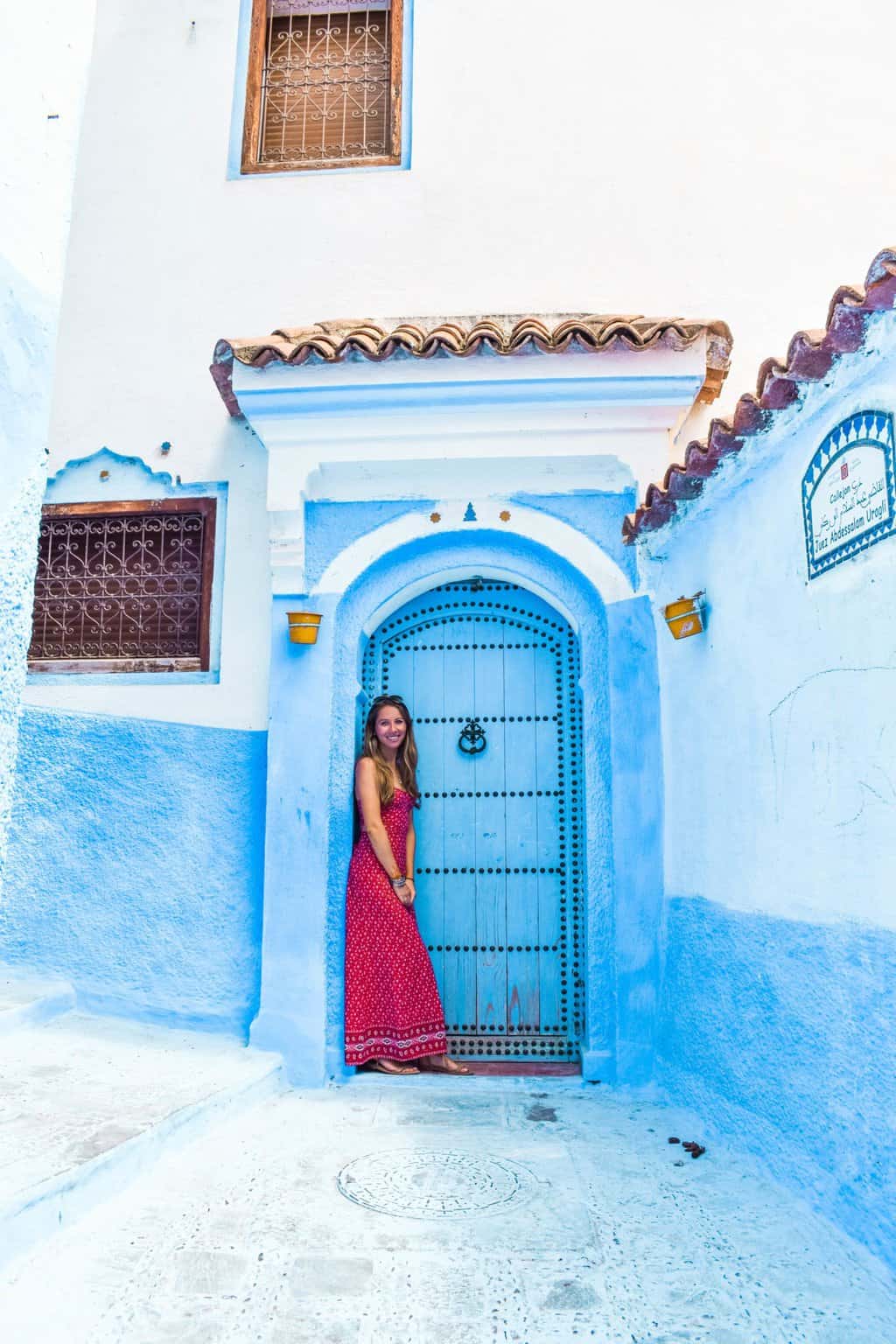 Visiting Chefchaouen, Morocco: Essential Things to Know
I was really surprised by Chefchaouen and by how calm it was. I'd heard so much before arriving and saw the town all over Instagram, I felt like it would be so crowded but it wasn't at all. Some people say Chefchaouen is Morocco's 'best-kept secret' and maybe they are right.
Although our accommodation had other guests, we did find the town to be quite quiet. Almost eerie at times! The town is also quite hippie and rebels against the rest of Morocco a little. Weed is smoked widely here and you may be offered it whilst walking around the town, and the smell lingers around some of the lane ways. Like Tangier, Spanish is spoken quite widely here so the town has a very interesting mix of Spanish, French, English and Arabic.
Second of all, where are all the tourists? Now don't get me wrong, it wasn't without tourists. But having heard so much about the destination and with Chefchaouen being featurely endlessly on Instagram, we felt like it would be really crowded. Some people say it is Morocco's best-kept secret, and maybe after all, they are right!
When is the best time to go to Chefchaouen
As Chefchaouen is located at altitude, it is definitely cooler than the rest of Morocco. The summer months will naturally be warmer, but the evenings are noticeably cooler. Visiting Chefchaouen in the winter months will make for cold days and cold evenings, and a significantly increased chance of rain. I went in April which made for warm days but we did experience some rain.
How to get to Chefchaouen
There are no airports near to Chefchaouen, which helps the town from being overcrowded or affected by mass tourism. The only way is to arrive by road, whether in a taxi, car or bus. The two nearest towns are Tangier, up on the Mediterranean Coast and then Fes which is further South. Tangier is where the ferries come in from Spain and the drive here is a hilly 2-3 hours.
We came via bus from Fes, which was a bumpy but fine 4 hour drive to Chefchaouen. There are only a handful of buses a day in either direction, so it's important to buy your tickets a day or two in advance if you're working on a tighter time frame in your Morocco itinerary.
Getting Around Chefchaouen
The most important thing to know is that the town is very hilly and the main way to explore the blue streets of Chefchaouen is by foot. This means it is not very accessible for many people, as a certain level of fitness would be needed for all of the stairs and steep pathways. It's a real cat and mouse maze of small staircases and tunnels.
If you want to visit any of the attractions nearby, such as the Rif Mountains, you'd take a taxi.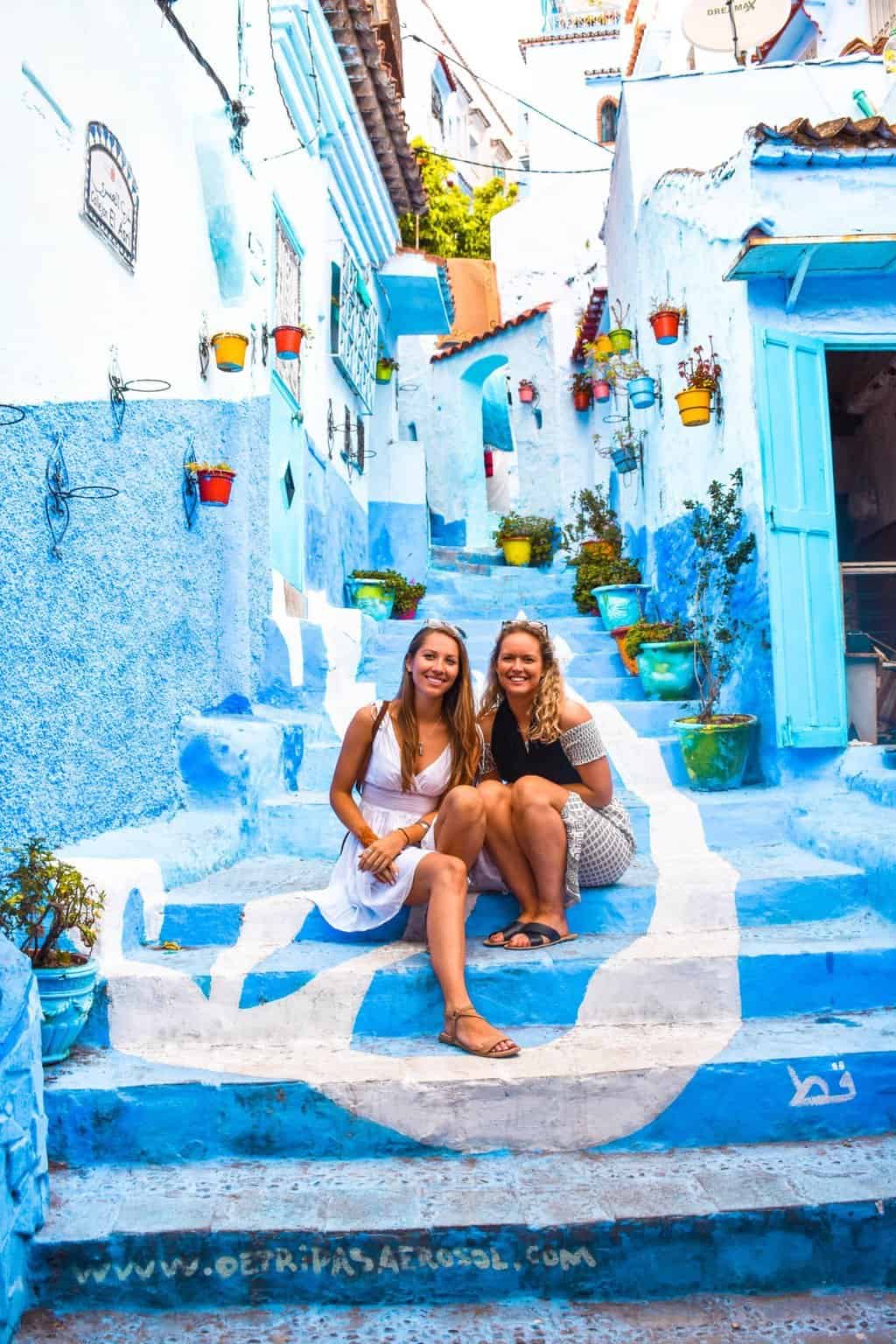 Where to stay in Chefchaouen
If you're looking to stay in Chefchaouen on a budget, you'll be pleased to know that most of the hotels or riads are highly affordable. There aren't really any luxury hotels in Chefchaouen.
We stayed at Dar ElRio, and loved it. I would highly recommend staying here – our host was so kind and helpful. The breakfast was great, with the roof terrace offering spectacular views across the whole town. You can check rates here.
You can check for rates for all the hotels and riads in Chefchaouen on Booking.com here.
The Best Things to Do in Chefchaouen, Morocco
The very best thing to do in Chefchaouen is to simply wander and to explore slowly. It's a joy to walk in and you never know what you might see. Around every corner is another shade a blue, another paint shop, another local going about their daily life.
You can't really get lost here and it's a lot smaller than Fes and Marrakech. Ambling slowly around Chefchaouen means stumbling across tiny shops with the friendliest owners, finding yourself in the middle of children playing games in the streets or finding yourself outside of a small primary school where a choir rehearsal is taking place. Chefchaouen offers a unique opportunity for tourists to find themselves at the heart of daily life in Morocco.
You could explore the centre of Chefchaouen, with its souk and medina in one or two days. However, its mountainous location means there are many excellent outdoor activities to do nearby, such as hiking in the Rif Mountains.
Here's my guide to the top things to do and see in Chefchaouen:
Witness a beautiful sunrise and sunset
Chefchaouen is one place that it is definitely worth timing your day around the sun. A hazy morning sunrise from your hotel's roof terrace with a hot coffee is possibly one of the best ways to start the day in Chefchaouen.
In the evenings, most tourists climb the 10 minute hike from the centre of town to the Spanish Mosque on the hill. Here crowds gather to witness the sun set over the town. This is definitely the best vantage point in the whole of Chefchaouen.
Interact and meet the locals
The locals in Chefchaouen are really friendly. I think they're quite bemused by the tourists wandering by.
Strike a conversation up with your waiter or hotel staff, we found the local Moroccans here to be so interesting. Also, Chefchaouen is literally full of cats. There might even be more cats than locals in Chefchaouen.
Shopping in Chefchaouen
The shopping in Chefchaouen is excellent and one the town's biggest tourist attractions. People come from all over to pick up traditional souvenirs in Chefchaouen. Compared to the vast souks of Fes and Marrakech for example, Chefchaouen offers a relaxed and pleasant shopping experience. Some of the local handicrafts that Chefchaouen is best known for art things such as excellent handpainted art, quirky woollen jumpers and of course, powdered paint! The locals expect you to haggle on the prices. There's also very little hassle and the whole souk is welcoming and friendly towards tourists.
Sample the local Moroccan cuisine
Chefchaouen has some really lovely cafes and restaurants dotted throughout the medina. Many offer beautfiul atmospheric dining experiences and rooftop terraces with stunning views. We definitely ate some of our favourite meals here in Chefchaouen during our 3 weeks in Morocco.
Once we discovered the chicken pastilla, that was it – we were hooked! This is chicken flavoured with cinammon and almonds, wrapped in flakey pastry and topped with icing sugar. I highly recommend trying it! After trying the pastilla at most restaurants in town, Chez Hicham proved to be our absolute favourite. That, together with its lovely atmosphere and friendly staff, we kept on returning and would say it is definitely one of the best restaurants in Chefchaouen.
A close second for best cafes in Chefchaouen would be Chez Aladdin. Known also for its excellent rooftop views and great food. Both of these excellent places to eat are located off the main square in Chefchaouen.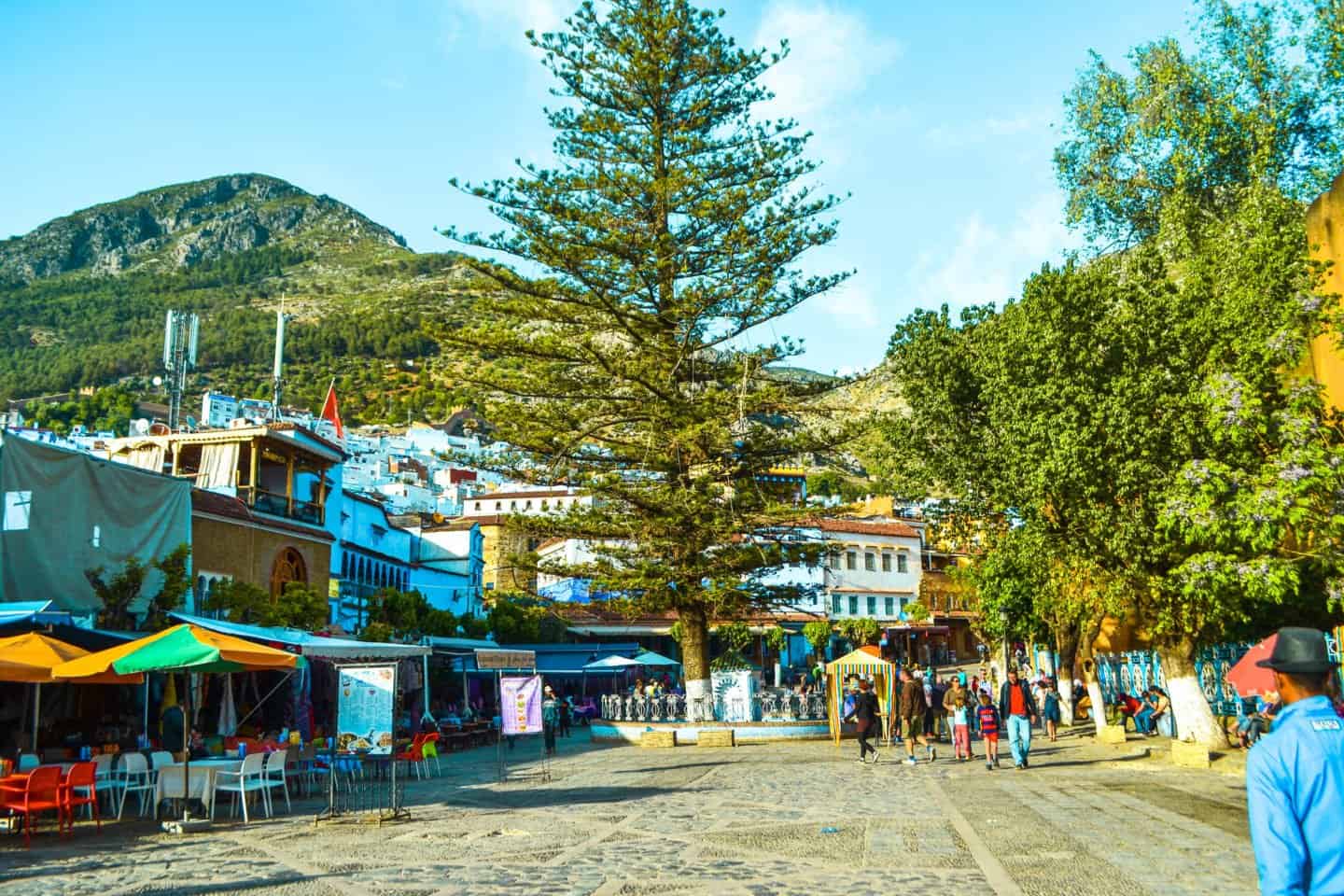 Enjoy a guided tour in Chefchaouen
One of the best things things to do in Chefchaouen is to join a day tour led by a local guide so you can really understand the town better and uncover the history. It'll also help you find the best photos spots in Chefchaouen, as many are tucked away and hard to find in the labyrinth of the medina.
One way to arrange a guided tour in Chefchaouen is through GetYourGuide, so I've popped some suggestions below:
Hike in the Rif Mountains
As mentioned earlier, if you can spare more than one or two in days in Chefchaouen, then I would highly recommend exploring the nearby Rif Mountains. Located less than a 30 minute or so drive away, there are plenty of exciting outdoor adventures to do here. From self-guided hikes (read more in my detailed guide here) to organised day trips with a local tour guide, it's a great way to explore the beautiful landscape near to Chefchaouen.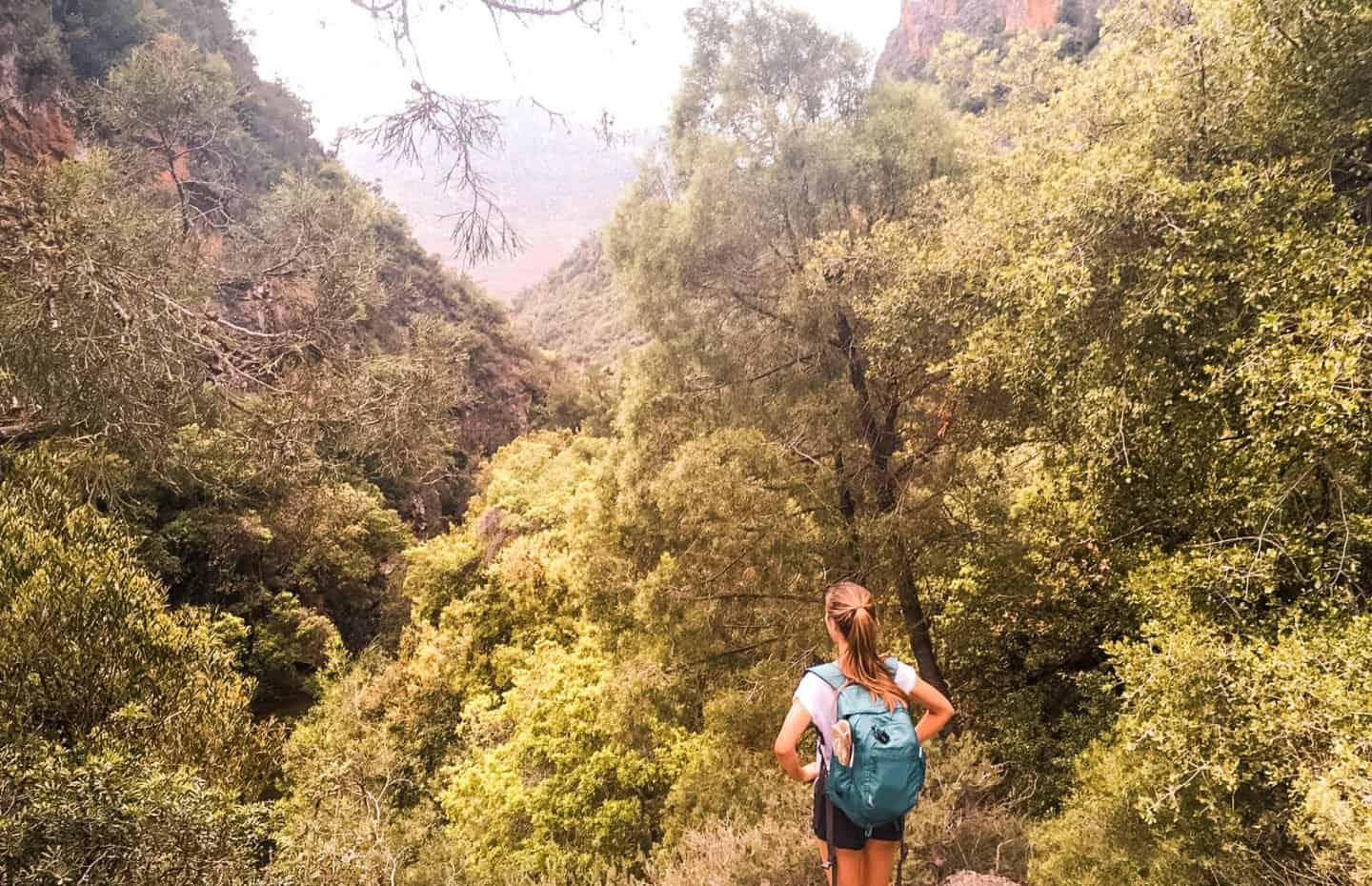 Have you been to Chefchaouen before? How did you find it? Let me know in the comments below!
Chefchaouen is the most charming Moroccan town, which we enjoyed even more than we expected. Chefchaouen offered great food, friendly locals and of course, sweet playful kittens. We were so glad we included it in our Moroccan itinerary.
If you are planning a longer trip around Morocco of a week or two, you might find some of my other blog posts useful. I've written detail guides to Rabat, Fes, spending 3 days in Marrakech, Essaouira, exploring the Sahara desert and enjoying a beach break in Taghazout and Paradise Valley. I've also written some more specific blog posts on hiking the Rif Mountains in Morocco, visiting La Mamounia in Marrakech as a day visitor, visiting Le Jardin Majorelle and a guide to some of the best places to eat in Marrakech.

I do hope my post on all of the best things to see and do in Chefchaouen, Morocco has been useful. Feel free to ask any further questions and I'd love if you shared on any of the below links!
Wanna see more? Check my Instagram here, my Facebook here or my Twitter here!

Disclaimer: This visit to Chefchaouen in Morocco was entirely paid for by myself and there was no involvement from the tourism board or a hotel. This is an independent guide
Enjoyed my guide to visiting Chefchaouen in Morocco? Pin it!