Visiting Le Jardin Majorelle in Marrakech is one of the best things to do in Marrakech. Le Jardin Majorelle is also known as the Majorelle Garden or the Yves Saint Laurent (YSL) garden. This enchanting attraction is iconic nowadays, and is most definitely one of the most visited spots in the Marrakech. The YSL garden draws quite the crowd each day and queues are not uncommon to enter.
Le Jardin Majorelle was originally created and designed by the French artist, Jacques Majorelle. However, it has since been lovingly restored and enhanced by Yves Saint Laurent, following his purchase of the garden in the 1980s.
The YSL garden takes around an hour or two to wander around. There's also an interesting Berber Museum and a beautiful coffee shop in the grounds too. Adjacent is the newly opened Musee Yves Saint Laurent.
Visiting Le Jardin Majorelle in Marrakech: Essential Things to Know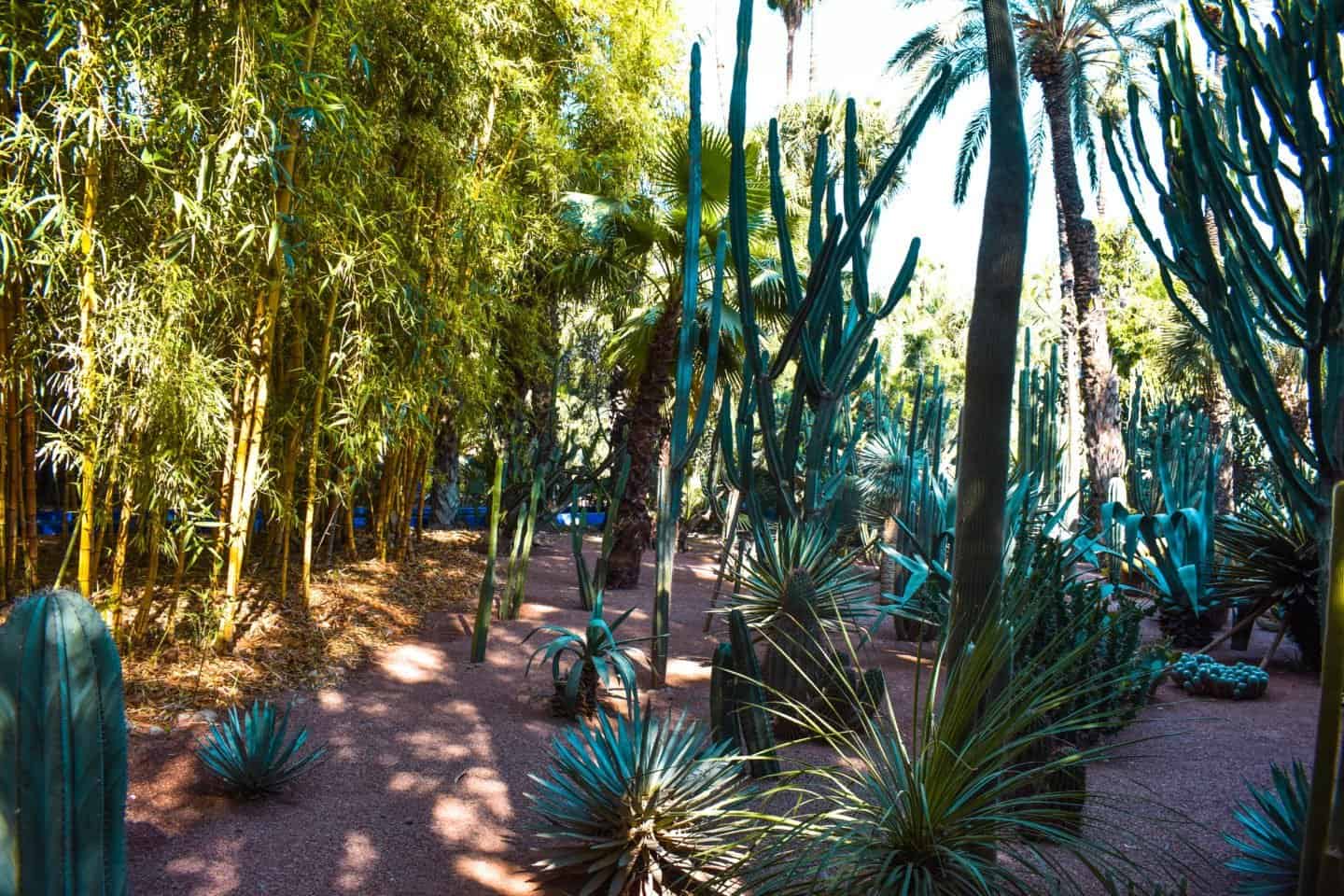 Entry costs
The entry fee to the YSL garden or The Jardin Majorelle is 70 Dirhams (£5.50) for tourists. It is an additional 30 Dirhams (£2.40) to enter the museum. Moroccan residents only have to pay 40 Dirhams to enter the YSL gardens and you can buy the tickets at the entrance gate.
Opening Times
The YSL gardens and museum open daily from 8am – 5.30pm (6pm between May and September)
What time is best to visit the YSL gardens?
Generally, I'd recommend arriving earlier rather than later to the Majorelle Garden. The queue definitely builds up as the day goes on.
The history of the Le Jardin Majorelle: Forty Years of Passion
Jacques Majorelle dedicated forty years of his life to these gardens. The tropical gardens are complimented by Moorish detailing, seen in the paths, the buildings and the fountains. They feel like a real oasis in a frantic Marrakech. Enjoy Majorelle's vision for colour and vibrancy in a dusty and frenetic city.
Photo Guide in Le Jardin Majorelle
Where to take photos in the YSL Gardens
If taking photos in the YSL Gardens is an important factor to your day, no fear! No words do justice to the beauty of these gardens, and there are plenty of beautiful photo spots around.
Here's some of my favourite snaps that best to portray the allure of the garden through imagery!
Where to stay in Marrakech
Marrakech has a huge wealth of accommodation across the city. From traditional riads to modern hotels, you will definitely find something to match your budget. Here's my pick of the best budget, mid-range and luxury hotels in Marrakech to choose from.
Budget riads in Marrakech:
Mid-range riads in Marrakech:
Luxury hotels in Marrakech:
Visiting the Majorelle Garden in Marrakech
Have you visited the YSL Garden in Marrakech before? If so, what did you think? Let me know in the comments below.
I would highly recommend visiting this oasis during a stay in Marrakech. This little corner of paradise in the hubbub of the city is a world away from the madness of the medina in Marrakech.
If you are planning a longer trip around Morocco, you might find some of my other blog posts useful. I've written detail guides to Rabat, Chefchaouen, Fes, Essaouira, visiting the Sahara Desert in Morocco and enjoying a beach break in Taghazout and Paradise Valley.
I've also written some more specific blog posts on visiting La Mamounia in Marrakech as a day visitor, as well as spending 3 days in Marrakech, and a guide to some of the best places to eat in Marrakech.
I do hope my guide to visiting Le Jardin Majorelle in Marrakech has been useful. Feel free to ask any further questions. I'd also love if you shared on any of the below links!
Wanna see more? Check my Instagram here, my Facebook here or my Twitter here!
Disclaimer: This visit to the YSL Garden in Marrakech was entirely paid for by myself. There was no involvement from the tourism board or any local companies. This is an independent guide.
Enjoyed my guide to visiting Le Jardin Majorelle in Marrakech in Marrakech? Pin it!