If you're looking for an enticing and eclectic city, jam packed with cultural attractions, excellent food and a vibrant atmosphere, Marrakech is a brilliant city to visit. Easily accessed by several UK airports, Marrakech is a very popular winter sun location.
Marrakech is also a brilliant destination to enjoy decadent and luxurious experiences without breaking the bank. Several hotels in Marrakech offer day passes to tourists to use their facilities, and one of the very best hotels to do this at is the incredible La Mamounia hotel. Visitors can purchase day passes in advance and spend the day as guests of the hotel.
Whilst a stay at the hotel overnight is in excess of £500, visiting La Mamounia as a day guest gives visitors the opportunity to experience one of the most opulent hotels in the world.
Spending the day at La Mamounia was top of our list for our three days in Marrakech. We tried to research beforehand, but didn't find much information on how to best go about visiting La Mamounia for the day. So here's my complete guide to buying day passes to La Mamounia. Hopefully it addresses any questions you might have, but feel free to let me know if you have any other queries. So read on and get planning your day visit to La Mamounia in Marrakech!
Top tips for visiting La Mamounia for the day
As mentioned, there are some really key things to know before visiting La Mamounia as a day guest. This goes from everything including arrival, etiquette and what's actually included.
However, things have changed at La Mamounia. It used to be that visitors were not guaranteed entry at the gate and that the staff used to regularly turn people away. Now however, you can pre-book your entry and on-the-day visitors are no longer permitted.
So read on to find out everything you need to know to visit La Mamounia as a day visitor!
How to get to La Mamounia?
La Mamounia is located just outside of the medina of Marrakech. You can see the location of La Mamounia on Google Maps here. It's probably walkable from your accommodation, but in order to not arrive looking a big sweaty mess, I'd recommend arriving by taxi.
Season Pass to La Mamounia
Although it is misleadingly called a 'Season Pass', it actually only permits you entry for the one day. This costs 1600 Dirhams (£345) Monday to Saturday, and 2000 Dirhams (£431) on a Sunday, when there is often their Sunday Brunch taking place.
The Season Pass includes lunch in the Pavilion Piscine (excluding beverages), a 60 minute spa treatment (either a massage or hammam and scrub), as well as access to the indoor and outdoor swimming pools, the jacuzzi, the sauna and the gym.
It's also worth noting that you must be 16 year of age or older.
They only have a certain number of passes a day, so generally these must be booked in advance.
Arrive early
A fairly useful tip in life, but arriving early at La Mamounia means enjoying the fabulous facilities for longer. You also have a higher chance enjoying the facilities La Mamounia before other day visitors arrive. We lazed around the indoor pool for more than an hour before other day guests turned up.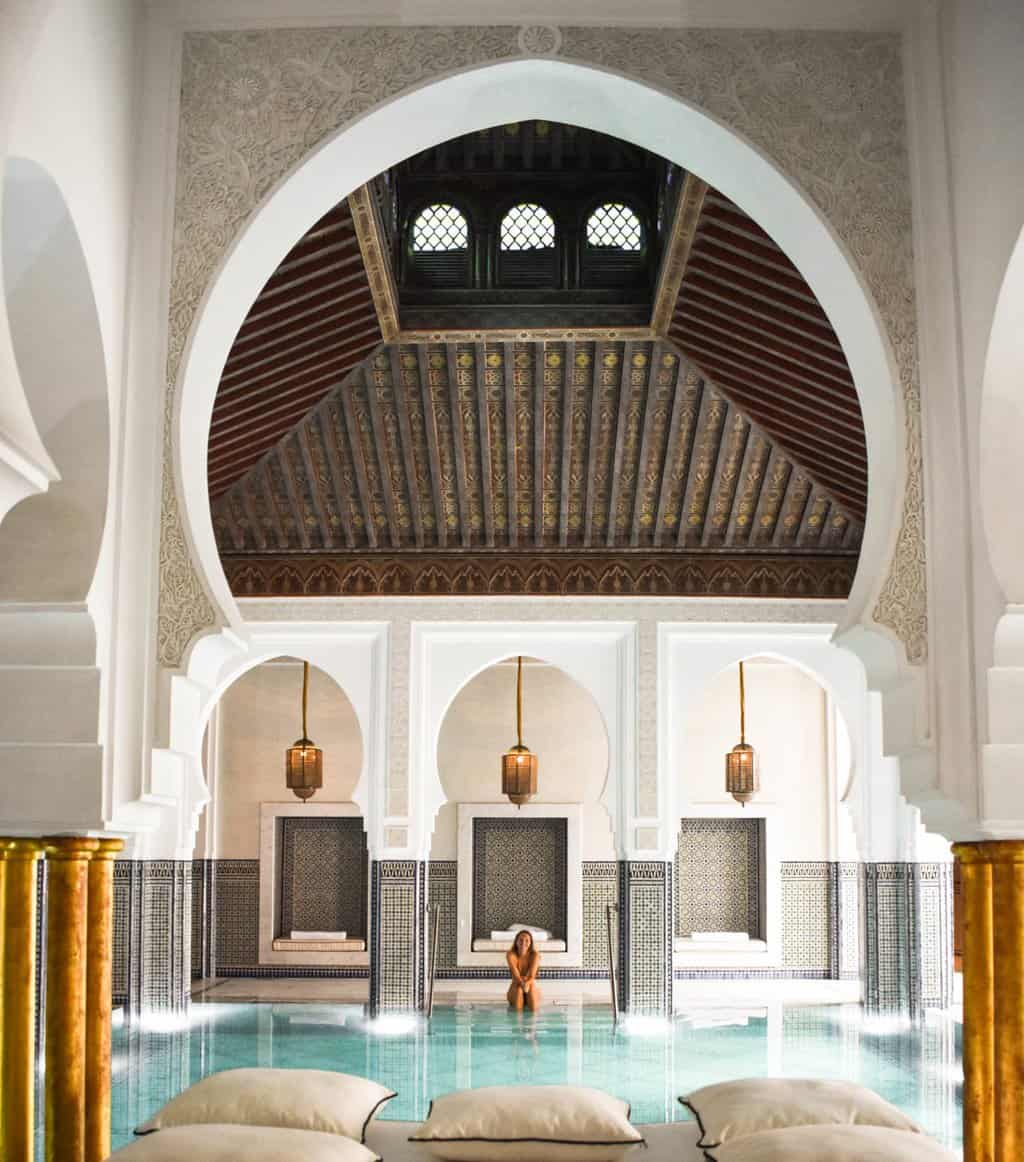 Dress smart
La Mamounia maintains an elegant dress policy in all areas at all times. This means no beach shorts, bikinis on show or midriff peeping out. I wore a smart day dress and kept my bikini in my bag.
Don't look like a tourist
When you were able to purchase day passes on the door, we saw a couple be turned away who were seeking day passes, just like us.
We're pretty certain this is because they were dressed as if they were going to the beach for the day and had their cameras swinging around their necks. Keep everything in your bag!
Although now you can purchase a pass in advance, I would still recommend dressing smart-casual as they do reserve the right for entry.
Prepare to spend ££ on food and drink
Spending the day lapping up the luxury at La Mamounia can be a bit expensive. You may want to bring extra money for food and drinks by the pool. Just to give you an idea, an iced coffee cost approximately £10.
Exploring the grounds of La Mamounia
A lot of day visitors to La Mamounia get carried away with the pools (understandably), but there is so much more to explore in the beautiful grounds. The hotel is fairly open to explore too once you're inside and you can wander around all the floors upstairs too. The gardens are expansive, with tennis courts, immaculate flower beds and lawns, and beautiful terraces to relax in. It's easy to forget about all the hustle and bustle outside the garden walls! La Mamounia is a true haven!
The Best Photo Spots in La Mamounia
Chances are, if you're looking to visit La Mamounia for the day, you're planning on taking some photos.
La Mamounia is famous throughout the world and has caused a storm on Instagram, thanks to its incredible photo spots. There's no denying that most people are dropping in, not to feast on the £10 coffee (seriously) but of course to capture their own slice of La Mamounia magic. The building itself is palatial. I'm confident it is one of the grandest non-royal buildings in the world. It's a real visual delight, from the public rooms, the bars and restaurants, and of course, the spa, for which it is famous!
So here's my guide to the most beautiful photo spots around La Mamounia, both inside the hotel building and in the grounds.
The Spa Entrance
One of the most stunningly beautiful entrances I have seen. It has some of most intricate mosaic tiling adorning the walls.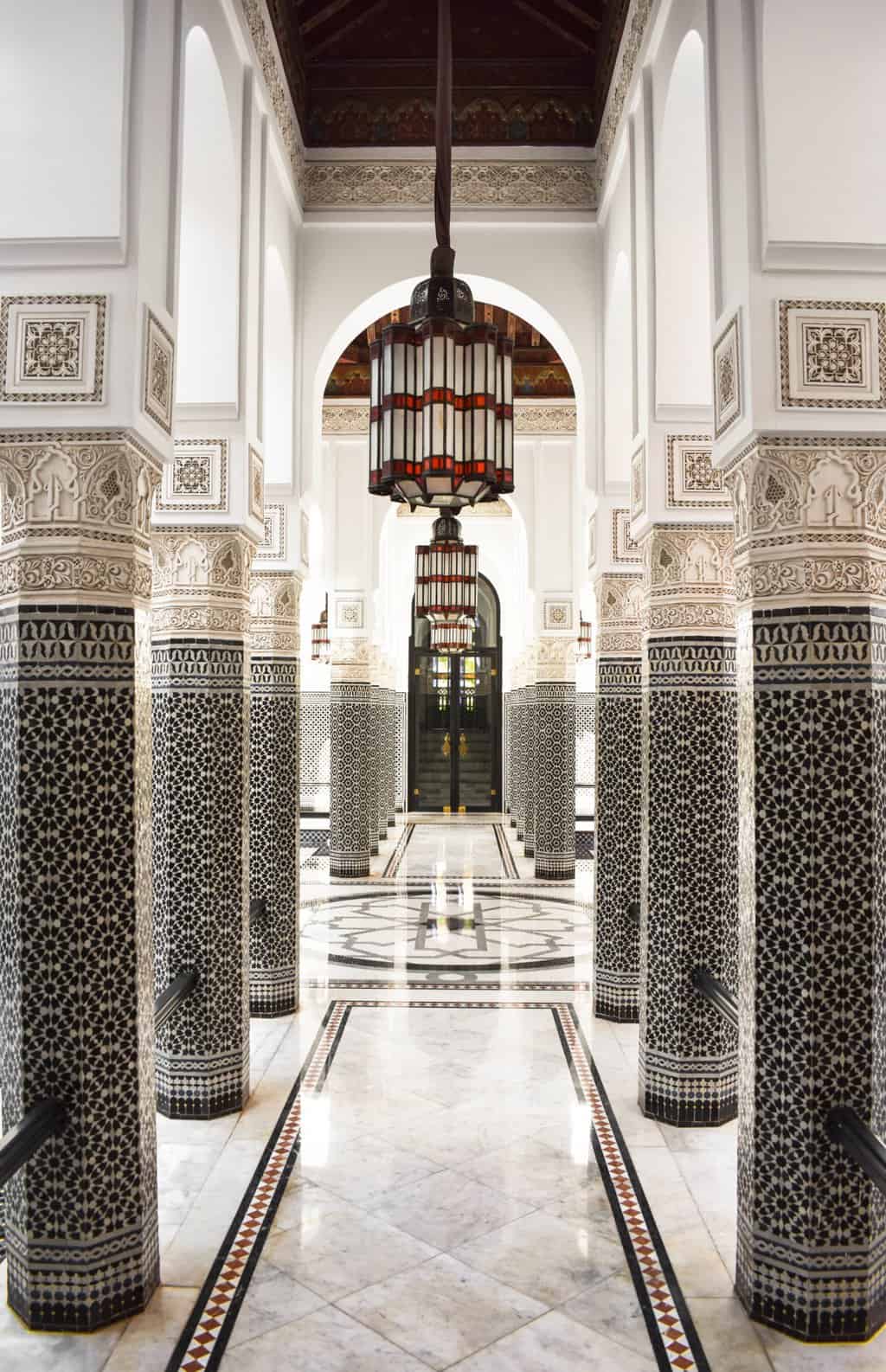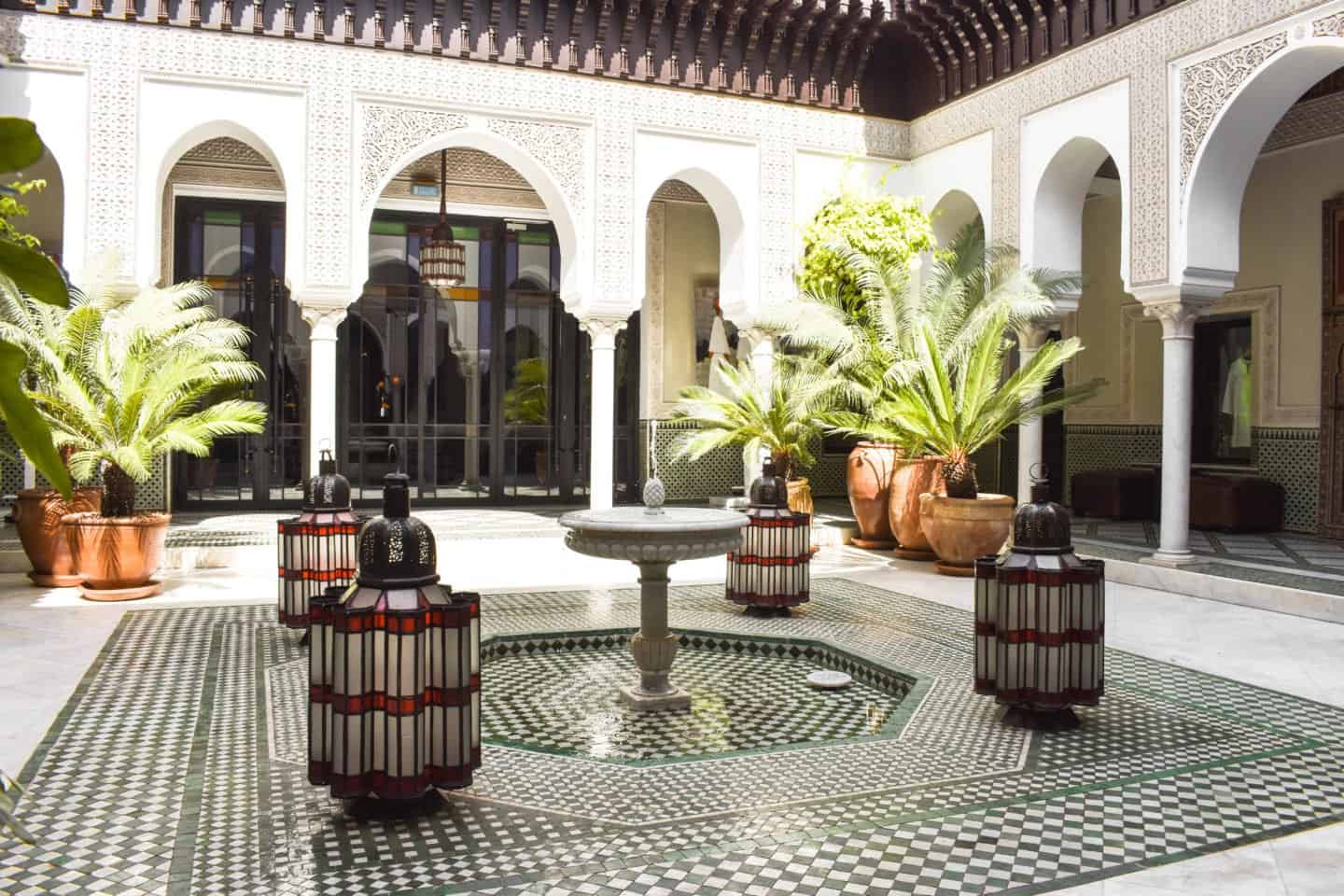 The Gardens
I couldn't believe the size of the gardens at La Mamounia. They're enormous. It's so easy to forget you're in the heart of Marrakech. They need probably an hour to explore. There are walls of bougainvillea, stunning terraces and pathways to take photos on.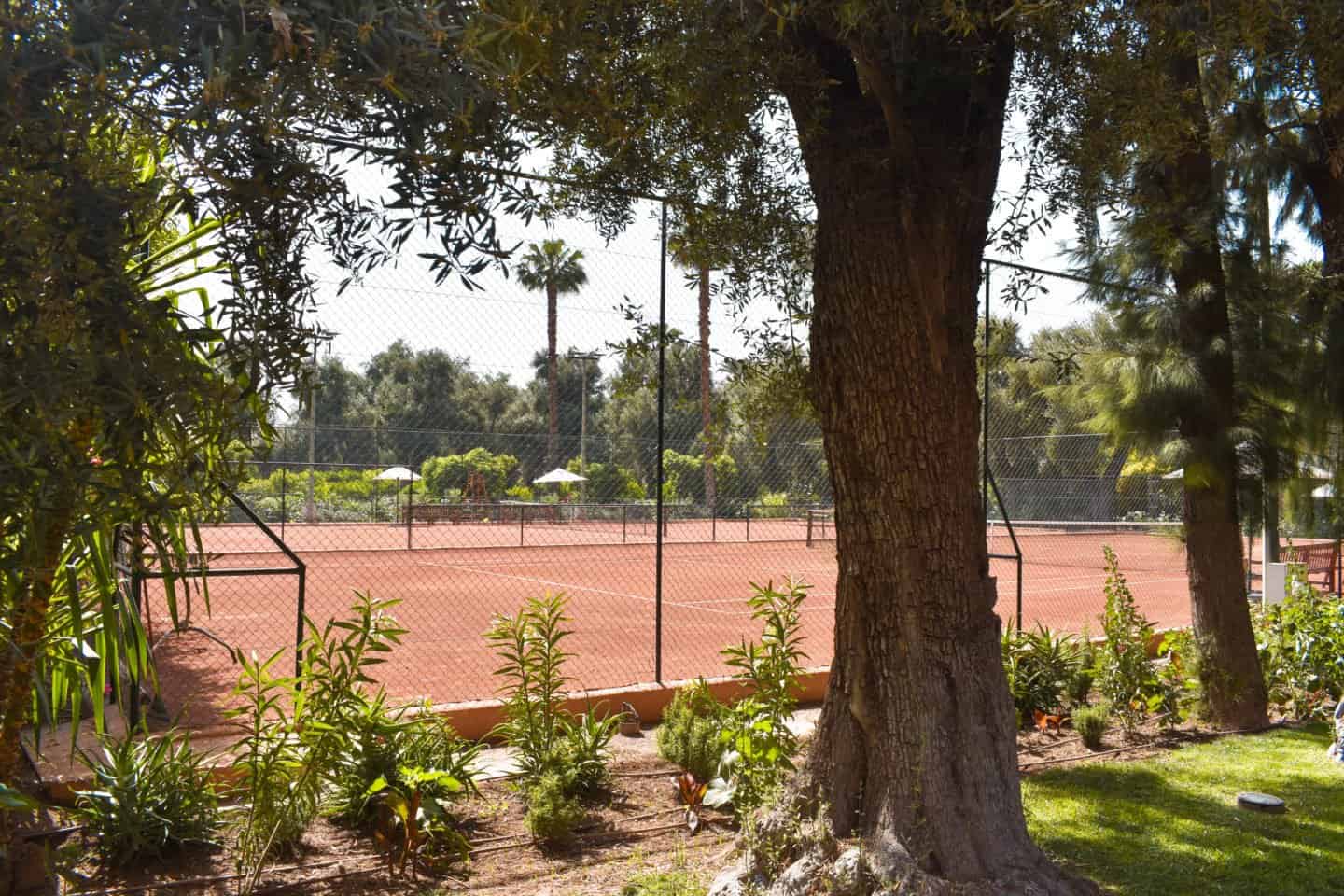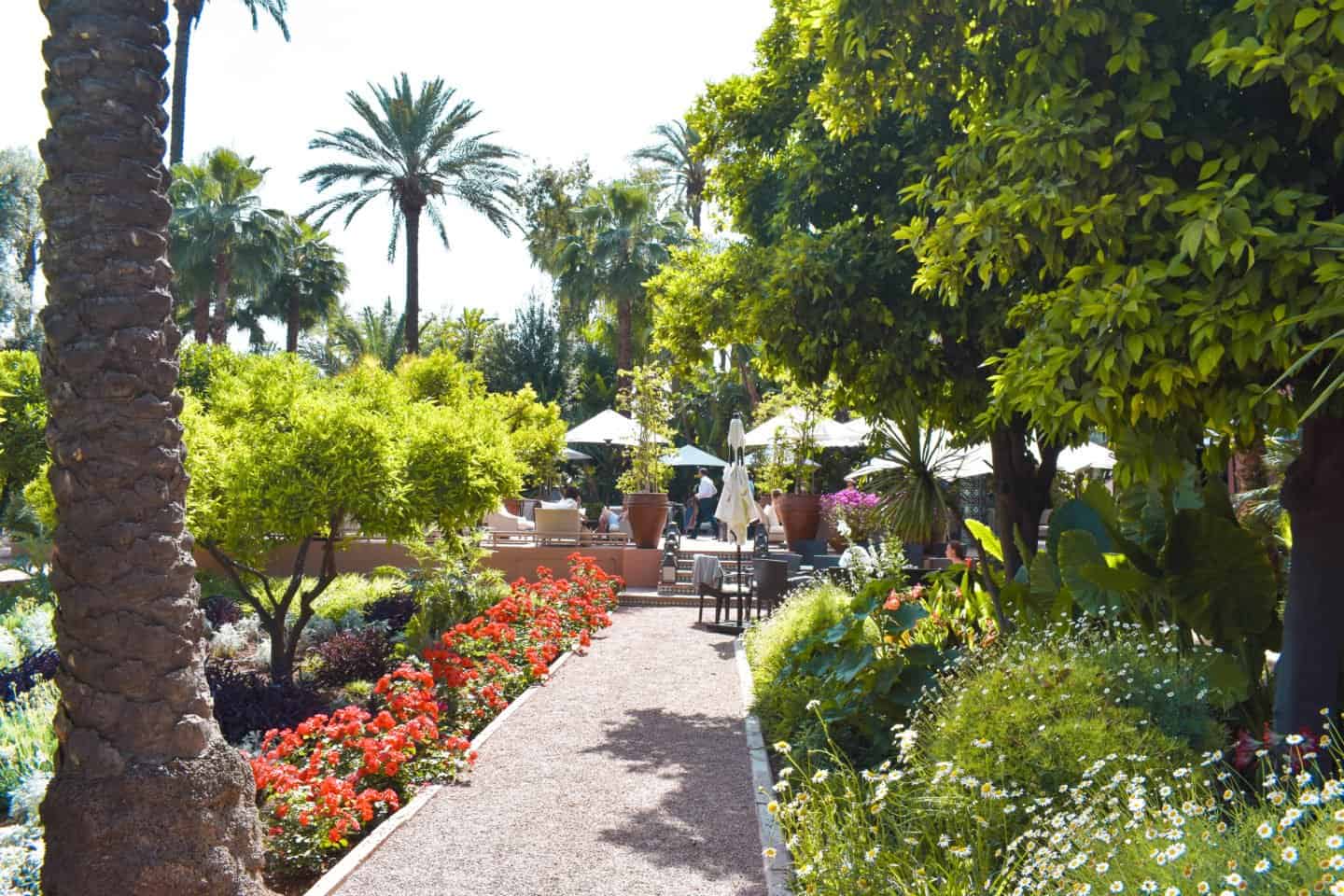 The Indoor Pool
Without a doubt, it's this incredible and iconic pool that has made La Mamounia an Instagram sensation. You'll be pleased to know that it's just as delightful to actually swim and relax in, as it is to take photos. We had more than an hour here to ourselves. It was quite magical!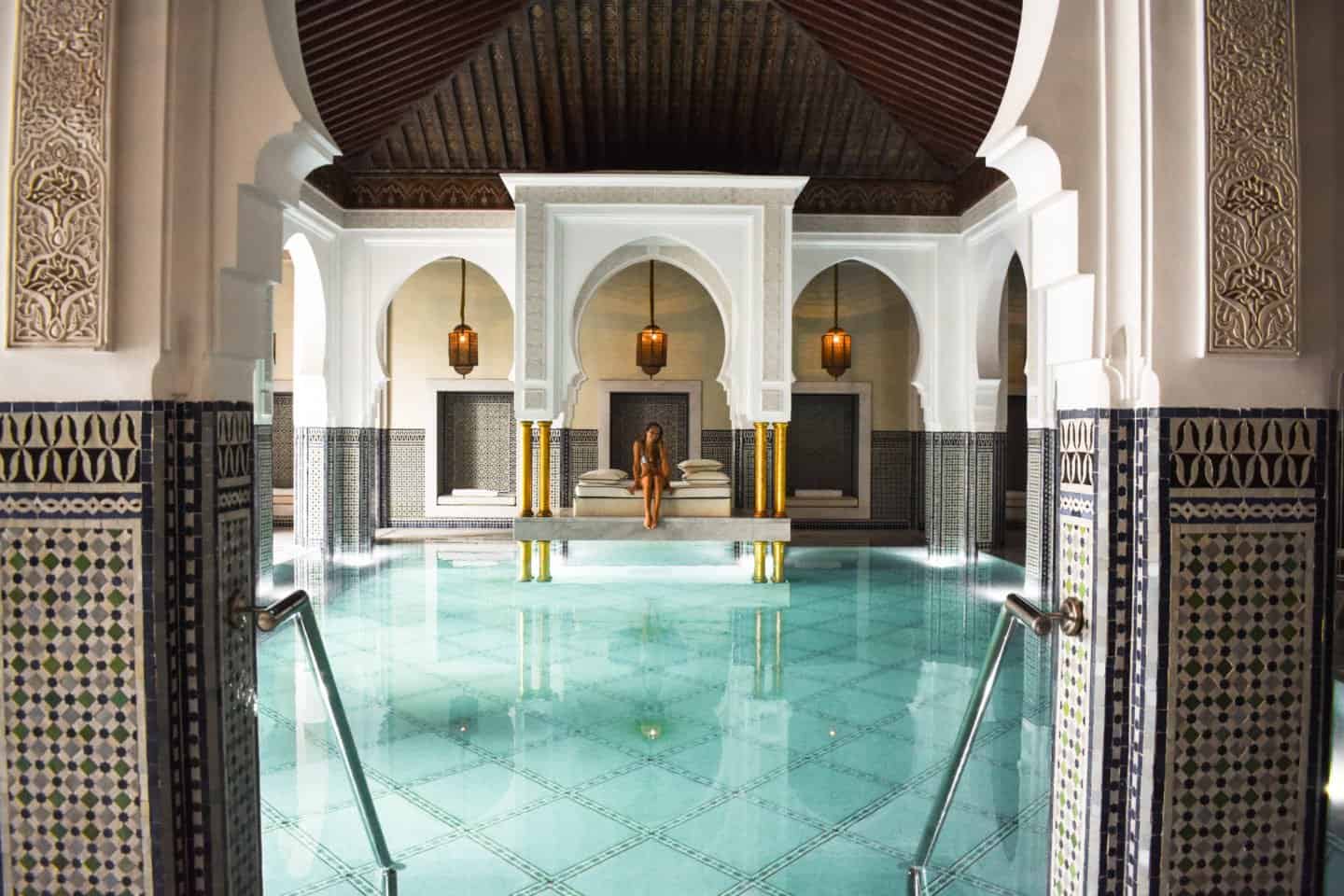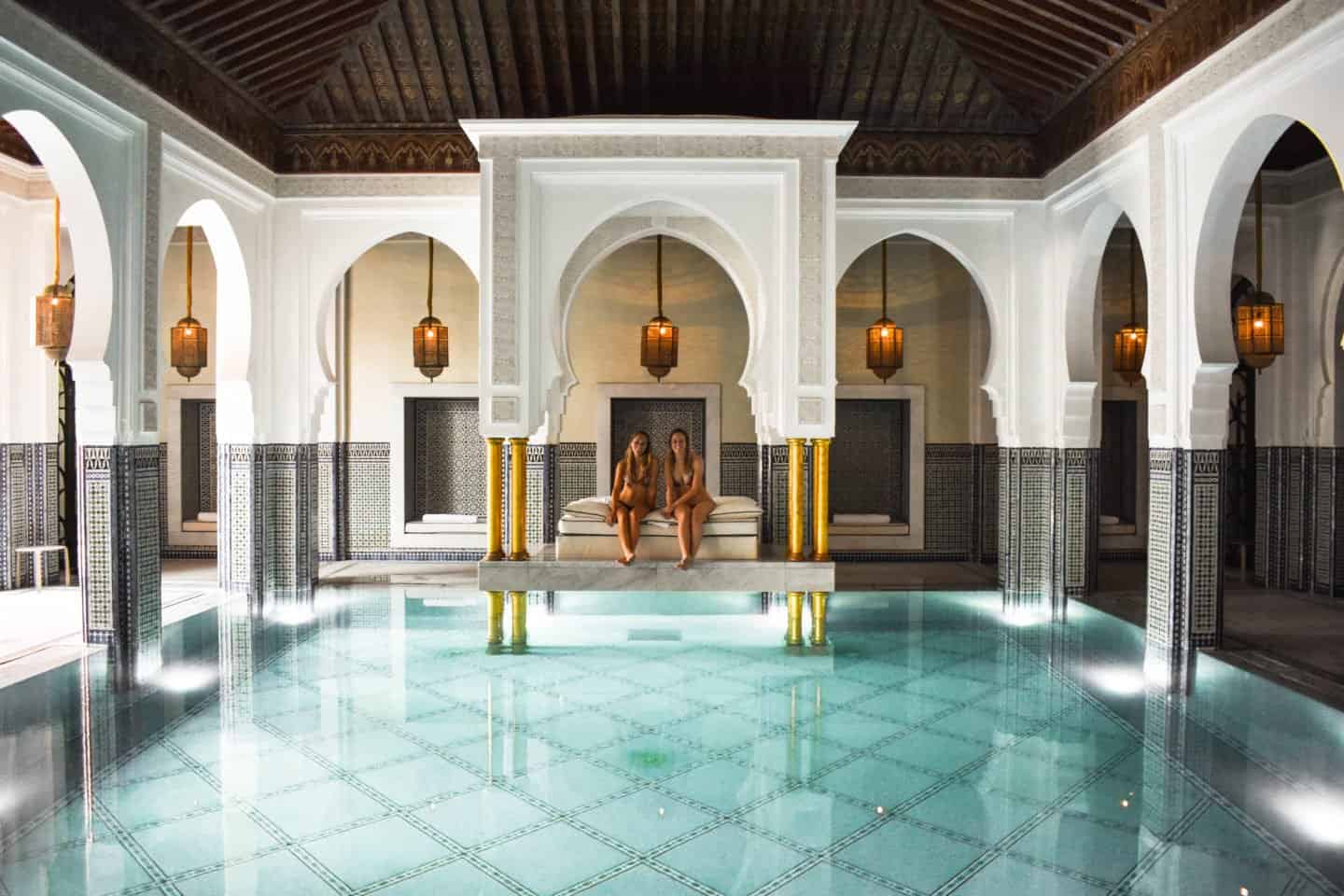 The Outdoor Pool
The outdoor pool at La Mamounia is slightly less photogenic, but absolutely delightful – we of course spent the bulk of our day visit here. We soaked up the sun and ordered some (very expensive) iced coffees. As it is typically rather toasty, we found ourselves in the water a lot to cool off. Behind this main pool area is a vast grassy area with plenty of sun loungers.
The Courtyard and Exterior
Photo opportunities at La Mamounia lie at every corner, literally. Even as we left the hotel, we found even more beautiful spots in the courtyard as we left La Mamounia.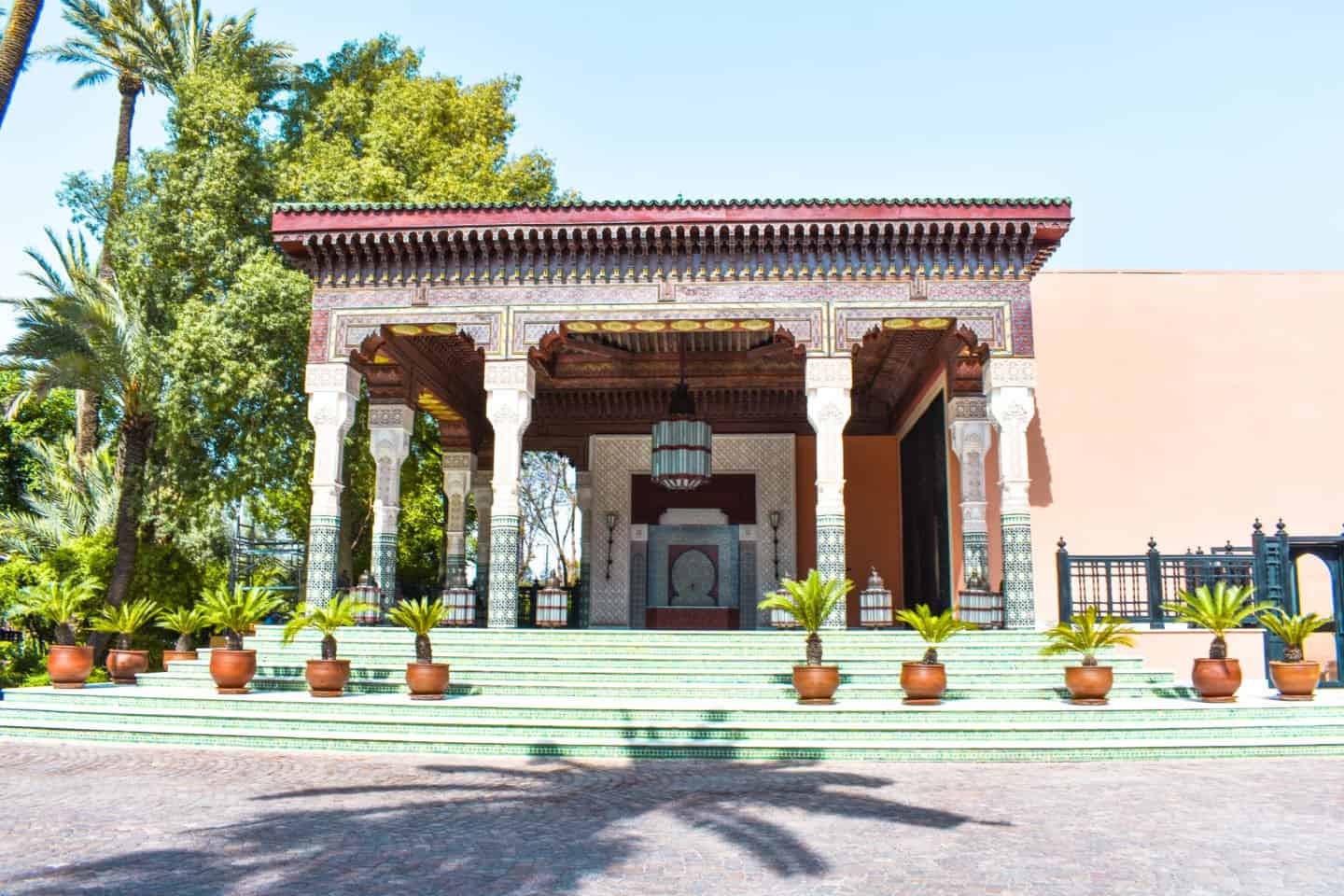 Where to stay in Marrakech
If you're visiting La Mamounia as a day visitor, you'll likely need somewhere a little more affordable to rest your head. Here's my pick of the best budget, mid-range and more luxury hotels in Marrakech.
Budget riads:
Mid-range riads:
Luxury riads:
Visiting La Mamounia as a day guest
Have you been to La Mamounia before? How did you find visiting as a day guest? Let me know in the comments below. Spending the day at La Mamounia felt especially lovely as we had just arrived back from three days driving in the Sahara Desert, so it was the perfect way to relax and recharge in Marrakech. A pool day was everything we needed!
I hope this guide to spending the day at La Mamounia was useful. Feel free to ask any further questions in the comments section below!
If you are planning a longer trip around Morocco of a week or two, you might find some of my other blog posts useful. I've written detailed guides to Rabat, Chefchaouen, Fes, Essaouira, visiting the Sahara Desert in Morocco and enjoying a beach break in Taghazout and Paradise Valley.
I've also written some more specific blog posts on Marrakech, including visiting Le Jardin Majorelle in Marrakech,
spending 3 days in Marrakech, and a guide to some of the best places to eat in Marrakech.
Wanna see more? Check my Instagram here, my Facebook here or my Twitter here!
Disclaimer: This visit to La Mamounia in Marrakech, Morocco was entirely paid for by myself and there was no involvement from the tourism board or any local companies. This is an independent guide.
Enjoyed my guide to visiting the La Mamounia in Marrakech? Pin it!