Visiting Petra in Jordan had been high on my bucket list for a while. It was a mix between wanting to explore Petra and see The Treasury with my own eyes, and a total curiosity to see more of the Middle East.
This guide details everything you need to know about visiting Petra in Jordan and how to plan your time in Petra. If you're visiting Jordan for 7 days or so, you might find my one week Jordan itinerary useful.
Petra was hot and dusty – and it was unexpectedly a bit stressful. But it was so worth it – and I definitely think Petra is an interesting place that will undergo some drastic changes in the coming years.
Are you thinking of planning a trip to Petra, Jordan? This guide will aim to answer everything from where to stay, what to wear, what to bring and what to do. Before I went, I had to do a lot of googling, so I plan for these tips to be as complete and as definitive as possible. It's going to be a long and beefy guide, but hopefully one that will outline all of the most essential tips for visiting Petra in Jordan.
Tips for Visiting Petra, Jordan: Essential information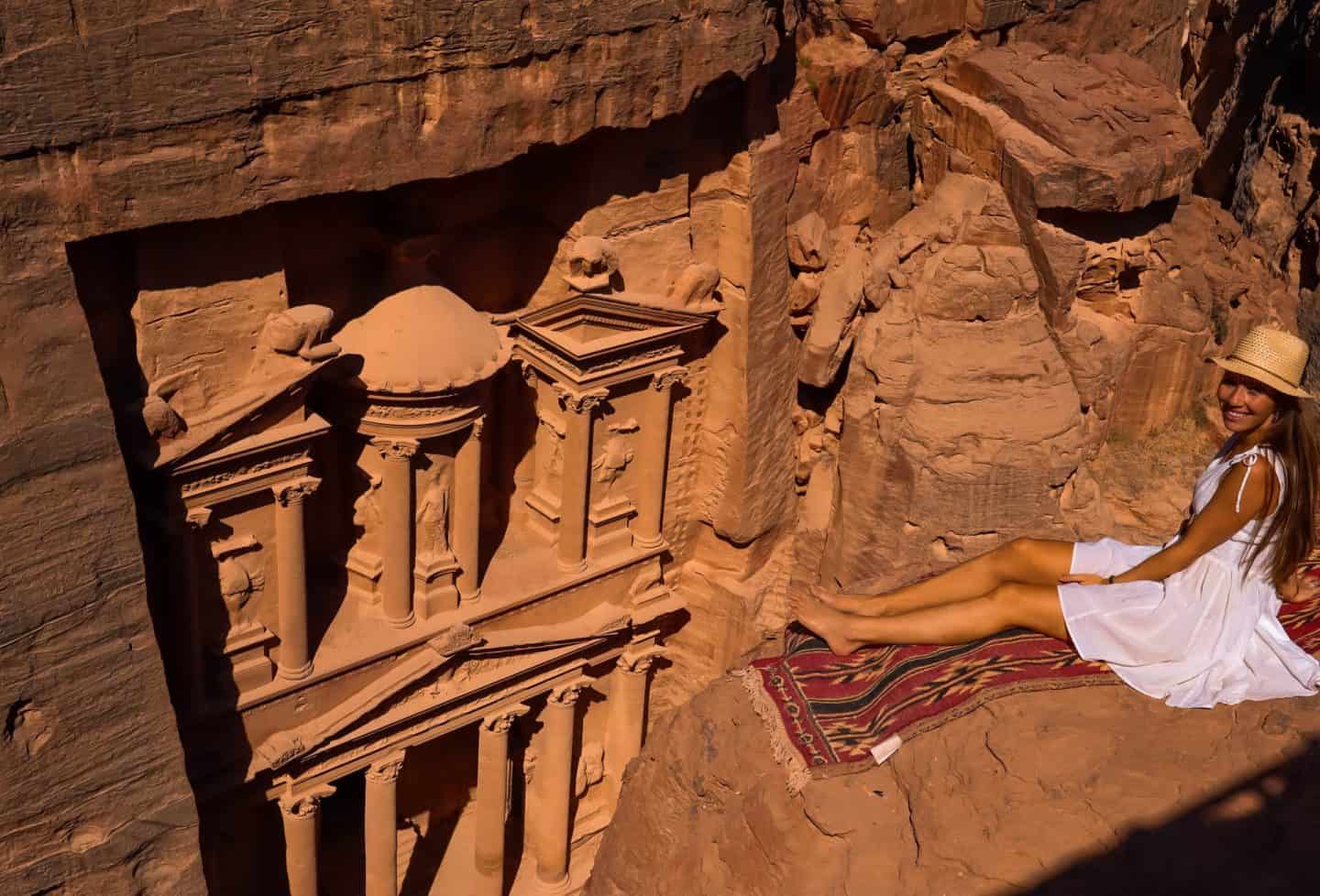 Where is Petra?
Petra is about three hours' drive south of Amman, the capital of Jordan and where most visitors to the country arrive. The quickest way from Amman to Petra is along the Desert Highway. The alternative is the slower, winding and more adventurous King's Highway. Trailing through ancient towns, castles and offering some of the most spectacular views – if you're not in a rush, this is quite the journey.
Alternatively, if coming from the South, Petra is about 1.5hrs from Aqaba.
Petra is adjacent to a small town called Wadi Musa, which has mostly evolved and built up purely to serve tourism. This is where nearly all tourists will base themselves and also where the entrance to the Petra Visitor Centre is (and the gates into Petra).
What is Petra?
Petra is a massive archeological site in Jordan, considered one of the Seven Wonders of the World. Petra was once an ancient city for the Nabataeans that dates back over 2000 years. It's also known as the Rose City, because of the stone colour that the sites are carved from. It was invaded by the Romans in 100AD, but since the 12th century, it has been left abandoned and the local people have taken residence.
How to get to Petra on public transport?
The easiest way to get to Petra is by car, and I would recommend hiring a car for ultimate flexibility and safety. The drive is approximately 230km.
However, public transport is an option and I discuss this in more detail in my one week itinerary guide to Jordan here.
To get to Petra from Amman, there are buses operated by Jordanian company JETT. They aren't very frequent throughout the day, and at the time of writing, the JETT bus departs from Abdali station in Amman at 6.30am and arrives into Petra at about 10.30am. A JETT Bus then departs Petra at 5pm, so it is possible to do Petra in a day from Amman on public transport.
Alternatively, you can arrange a private half day transfer from Amman to Petra here.
If you drive yourself, you have the opportunity of experiencing the incredible King's Highway which is a scenic route along Jordan's magnificent canyon.
Otherwise, I'd recommend joining an organised tour which is how many people choose to visit Petra. You can take a tour from nearly any of the cities in Jordan, and also Israel. But do check the current situation around border crossings at the time of your visit, and also your own personal visa requirements.
How much is the entry cost?
Currently (February 2020), the entry to Petra is 50 JOD for a 1 day ticket, 55 JOD for a 2 day ticket or 60 JOD for a 3 day ticket. So visiting Petra in Jordan is quite an expensive excursion, as 55 JOD is about £55.
If you come on a package tour, particularly a 1 day tour from Israel, the price is much steeper. Children under 12 enter for free.
You need to bring your passport or a form of ID to purchase a ticket.
Check the most up to date prices at the official website here: http://www.visitpetra.jo
Amazingly, if you are a Jordanian resident, the entry fee is a whole 1 JOD!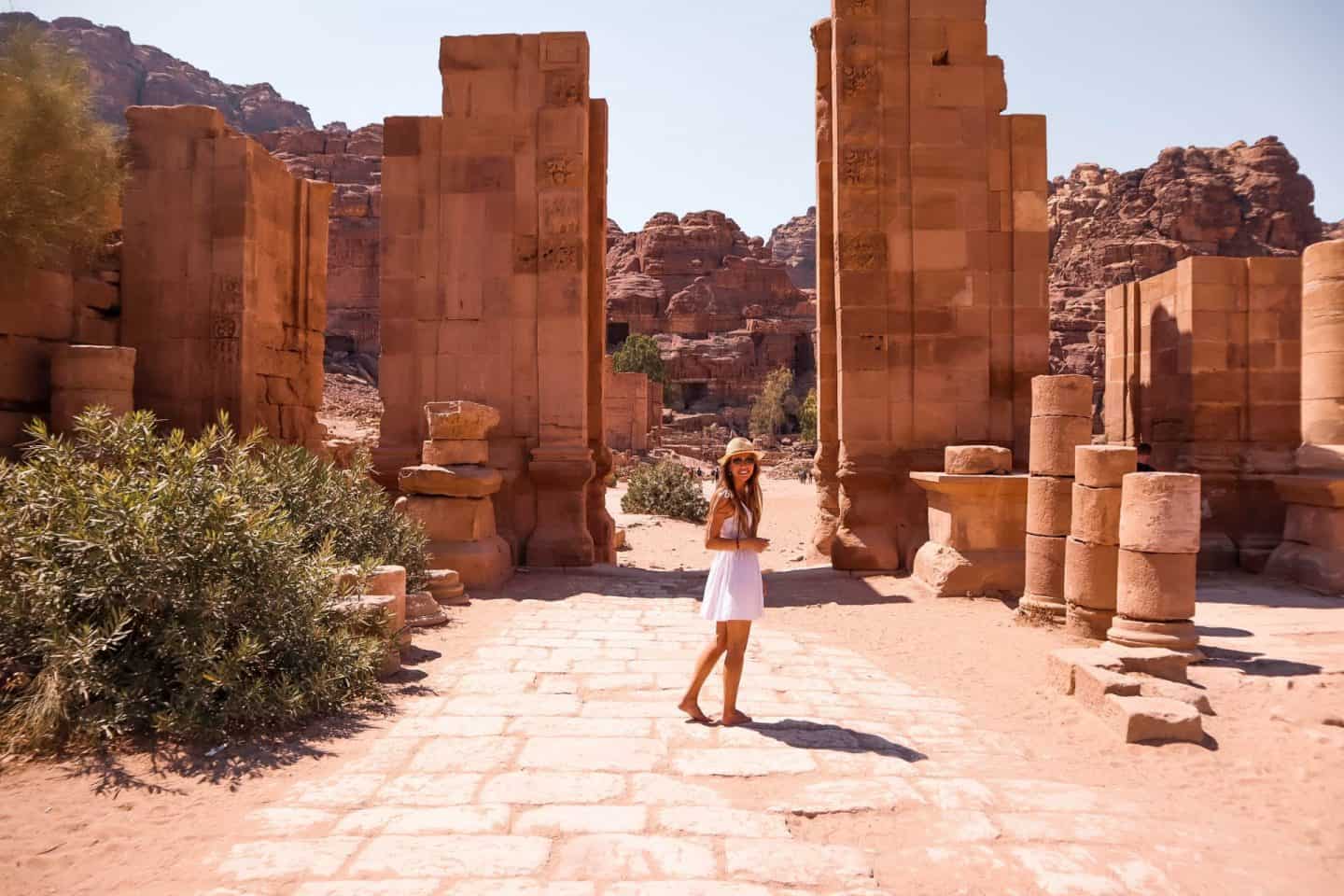 What is the Jordan Pass? What about using this?
Interestingly this isn't as widely advertised as you might expect, but Jordan Tourism offer a very straight forward alternative to paying these steep prices. Visitors to Jordan can opt for the Jordan Pass which includes a visa to the country, entry to Petra and entry to numerous other sites around the country.
It comes in 3 categories, each based on number of days spent at Petra.
The cheapest is 70 JOD for 1 day entry to Petra, 75 JOD for 2 days entry to Petra and 80 JOD for 3 days entry to Petra.
The only caveat in terms of eligibility for this pass is to spend at least 3 nights in the country and that you must purchase this online before you arrive.
It's amazingly straight forward – you just print off your PDF Jordan Pass and bring it along to the Petra ticket office who will stamp it each day. You must also bring your passport or form of ID.
Can I get a guided tour? How much does this cost?
You can arrange this before you arrive with a local tour operator, or you can arrange it at the visitor centre when you arrive. For the main trail, a private guide will cost about 50 JOD for the day.
However, if you prefer, you can arrange this in advance. I've popped a few excellent Petra tours below:
What time does Petra open and close?
Petra opens during the summer months from 6am to 6pm, and during the winter months from 6am to 4pm. The only way to enter Petra is by entering at the main visitor centre gates at the bottom of Wadi Musa, the main town. Once the park closes, it re-opens three nights a week for Petra By Night – more about this later.
What time of day is best to go to Petra?
In terms of day timings, I would recommend entering between 7am and 8am in order to beat the crowds and enjoy time at The Treasury alone. Even most of the local bedouins do not arrive much earlier than 7.30am. It also helps you beat the heat. Although, it might be important to note that if you are going to take photos at this time, it can be quite shadowy.
Another option is to arrive later in the day but it's a gamble with the crowds.
For us, the ideal day was enjoying the park from 7.30am-1pm or so before wandering back to our hotel to swim, relax and cool down.
When is the best time of year to visit Petra?
Jordan is hottest during the summer months of June, July, August and September. It helps deter crowds but it really is toasty.
If you're not great with heat, you might find the amount of walking at Petra quite hard in the summer months. The best months to visit, which are also peak season is October-April. At Christmas time, it cools down significantly so for some people, this might be a good time to go. However, there is a heightened risk of rain which floods the valleys.
Can I ride a camel? Or a donkey?
Yep, you will find local Bedouins offering camel rides everywhere.
You will also find horses at the entrance and donkeys throughout Petra. Local Bedouins charge for you to ride these and for the most part, I would discourage this as I don't believe the animals are treated well, despite what the locals argue. However, many tourists end up hitching a ride on a donkey as they are reaching exhaustion or if a trail is too steep, such as the Al-Kubtha trail (the viewpoint overlooking The Treasury).
Horse rides from the entrance are actually included in the tickets, and beware, enough locals will be shouting this at you as you try to walk past them. It's considered a scam as they will force you to give expensive tips. I would recommend bypassing them, but be prepared to be hassled a bit.
There are also horse and carriages rides from the entrance, along the Siq, to the Treasury. It costs 20 JOD each way and beware, they really force the horses to go very fast along this narrow walkway. It felt quite cruel.
What about food and drink inside?
There are some basic Bedouin food stands and tents, most offering up local dishes or things like fries. They're quite simple and were never busy when I was there, but this makes me think people were bringing in their own food. I believe some hotels will prepare packed lunches for you. All the food stalls are marked on the Petra maps.
Quite far into the park, there is a proper restaurant operated by Crowne Plaza serving up a grilled meat buffet and drinks. It was quite expensive, as were the food stands, which was really surprising.
Water is available inside in cooled fridges in bedouin tents. Most the time, it was between 1-2 JOD for a large bottle of water. This is helpful so you don't have to carry lots in your backpack.
Are there toilets?
Luckily there are toilets dotted around Petra, all of varying standards (some are small buildings and some are crumbling sheds) and most requiring a small tip to the attendant. Bring toilet roll just in case, but chances are you'll find a toilet in time as they are pretty well located.
What about Petra at Night? Is it worth it?
The Petra at Night experience is debatable. The reviews on TripAdvisor are a mixed bag, with many on totally different ends of the spectrum.
The show is on every Monday, Wednesday and Thursday each week. Ultimately, it is 1500 candles lighting the route along The Siq to The Treasury.
Then you sit in almost darkness in front of The Treasury to listen to local Bedouin people perform live music. They then flick on some lights and everyone scampers to take photos.
We went, mostly because I was curious and had seen amazing photography on Instagram, but overall, it was a disappointment, especially considering the cost. Tickets cost 17 JOD, which quickly adds for a group of 3 or 4.
It starts at 8.30pm and says it finishes at 10.30pm, but I think we we'd walked back by 9pm or 9.30pm.
What should I bring for a day in Petra?
Comfortable and sturdy walking shoes
Hat
Sunglasses
A comfortable bag
Camera
Money
Water
Sunscreen scarf
Blister plasters!
Do I need to cover up in Petra?
I found it was fairly relaxed and the Bedouins didn't make people feel uncomfortable for those who chose to have their shoulders uncovered. You don't need to cover your head as a woman at Petra, however, I would recommend wearing loose clothes so you attract less attention.
Although Jordan is a muslim country, it isn't as strict as Saudi Arabia, for example. For walking around Petra, I would dress for comfort and to protect yourself from the searing sun and this will likely also help you dress adequately and respectfully.
Definitely make sure to wear some comfortable walking shoes. You will clock miles exploring Petra, and the ground is hot and sandy. I did wear flip flops, but only because my feet have a high tolerance to heat.
When I climbed to the famous viewpoint (below), it was actually far more strenuous than I expected and I really needed some sturdy boots.
Is visiting Petra safe?
Yes, even for solo women travellers. However, do just be mindful that the Bedouins do enjoy approaching Western women and you may find some trying it on with you. You can ask you to leave you alone and normally they will.
The greater concerns are around scams of some type, so stay wary and think things through twice before deciding upon anything. You'll see plenty of stalls, with men dressed as Jack Sparrow trying to sell you all kinds of trinkets – but unfortunately, most of these are mass manufactured overseas.
I personally never felt unsafe in Jordan, although of course I wasn't there for an extensively long period and didn't step too far from the tourist trail.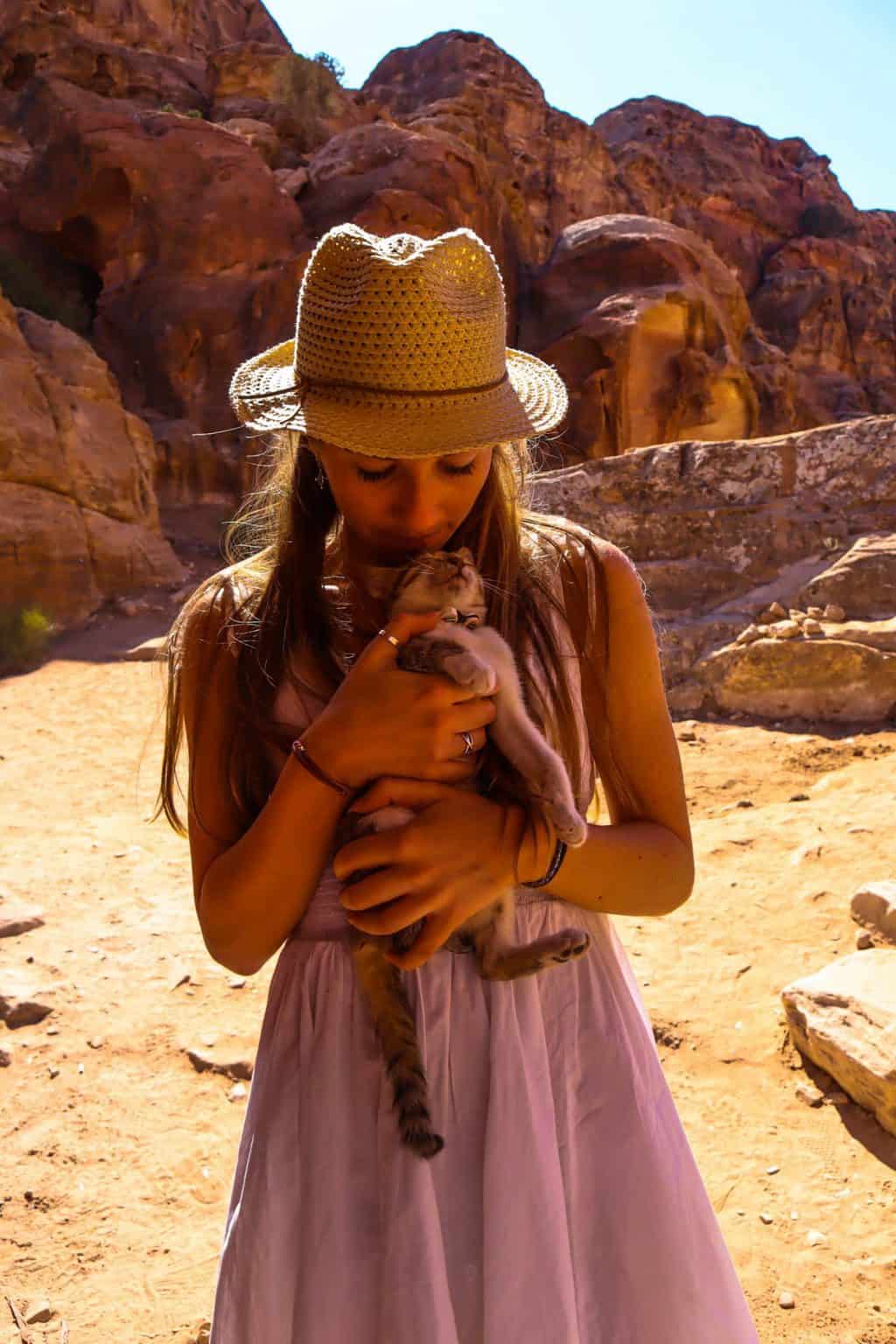 Planning your time in Petra
Petra is huge and overwhelming for a first-time visitor. It covers more than 60sq km – there is a lot more to see than just The Treasury. I've pulled together a detailed guide on all the must-see sites at Petra here.
Some groups come with a guided tour and just whizz between a handful of sites, before departing on a coach again. If you can, I really recommend spending between 2 to 3 days in Petra. This will give you time to really soak up the sites, enjoy the walking at a leisurely pace and factor in some restful afternoons. It is possible to sprint around the whole of Petra in a day but that really is a travel decision to be made, because that would be pretty exhausting and a shame to not go slowly enough to get a feel for Petra.
Either way, I'd strongly recommend an early start each day to beat the midday sun. You can re-enter as many times as you like, so some people (including us) head back to their hotel for a swim and cool down, before returning again later.
Where to stay in Petra
Enjoying some rest whilst at Petra is a good idea as wandering the dusty and sandy tracks can be pretty tiring. You can't camp within Petra, so most visitors tend to stay in accommodation in the adjacent town, called Wadi Musa. Here you'll find hotels for every budget.
We loved staying at the Mövenpick, one of the best luxury hotels near Petra. Its location is excellent – right by the entrance to Petra Visitor Centre and the hotel has a lovely swimming pool. I've written a more much detailed guide on my stay at the 5-star Mövenpick hotel in Petra here.
Check rates for the Mövenpick Resort Petra here.
There are many good value hotels in Petra, but one of the best budget places to stay in Petra is the excellent Seven Wonders Bedouin Camp. Located just a short drive away, this a traditional Bedouin style camp in a magnificent location. Alternatively, a great inexpensive hotel in Petra is the Rocky Mountain hotel. Check rates for the Rocky Mountain hotel here.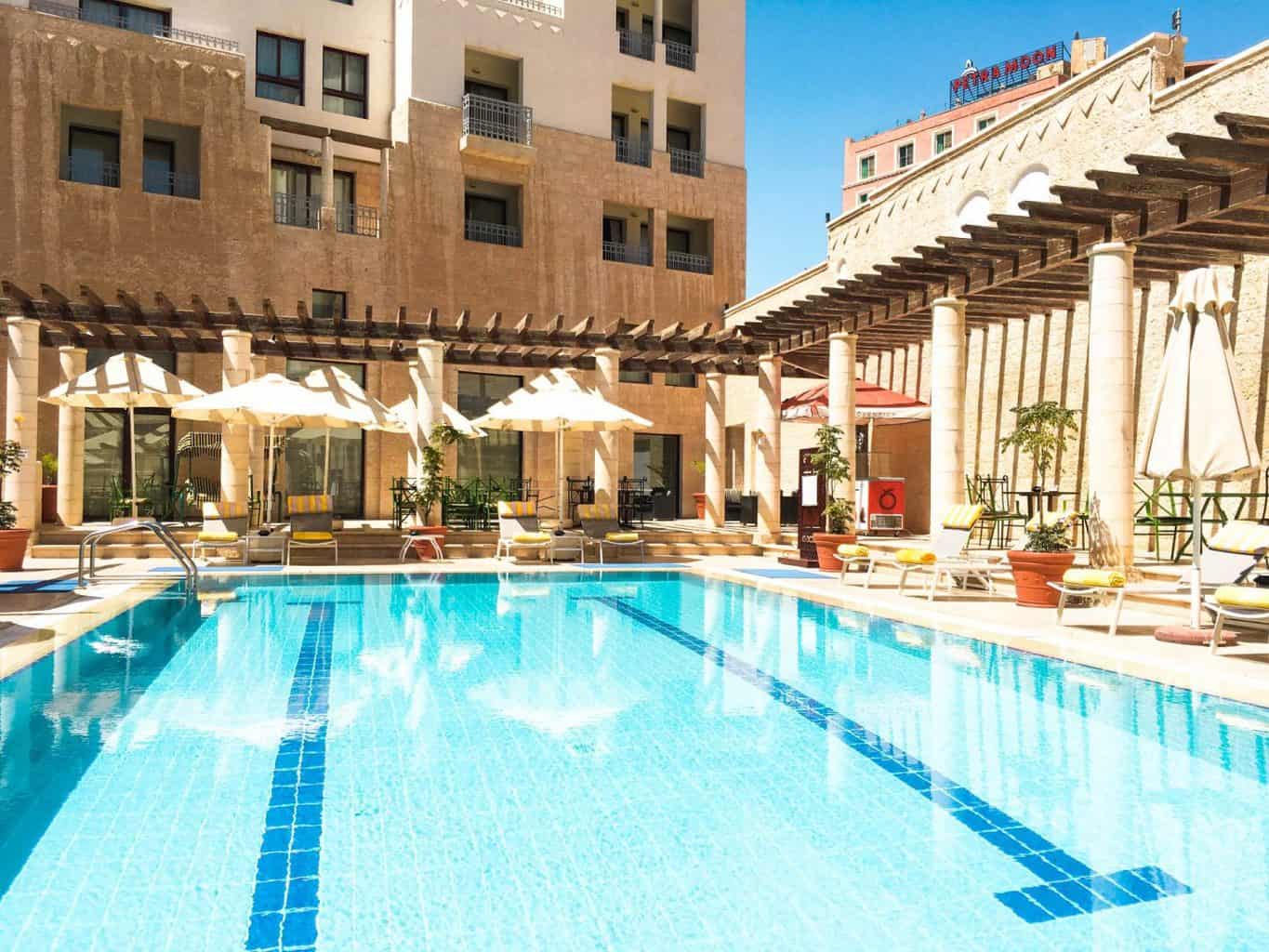 Visiting Petra in Jordan: A Travel Guide
Fortunately (and unfortunately), the most popular site at Petra, The Treasury, is one of the first sites you come to. Approximately 30 minutes of walking time from the Petra Visitor Centre through the magnificent Siq, brings you out in front of The Treasury. The other must-see sites include The Monastery and the Royal Tombs, but do check out my detailed guide on the key sites in Petra here.
So that's my complete guide to visiting Petra in Jordan. I hope it has proved useful and answered all of the questions you might have had ahead of your trip. Finally going to Petra was such a life bucket list moment and Jordan really is unlike anywhere else I have visited. Other than the images of The Treasury, I didn't know much else about Petra so it was a fascinating experience.
If you're looking for further guides in Jordan, please check out my other Jordan blog posts here, including my review of the Mövenpick hotel in Petra, and my guides to Wadi Rum and the Dead Sea.
If you've enjoyed this guide to visiting Petra in Jordan – feel free to share using the below links ?
Wanna see more? Check my Instagram here, my Facebook here or my Twitter here!
Disclaimer: This visit to Petra in Jordan was entirely paid for by myself, and there was no involvement from the tourism board or a hotel. This is an independent guide.
Enjoyed my guide to visiting Petra in Jordan? Pin it!