If 2020 has taught us one thing, it's that we should slow down and appreciate what's closer to home. We've known we have plenty of gems to visit in the UK, but the warmer climes and exotic adventures of overseas tend to lead us to the airport for our holidays. But this year, the pandemic has helped us to consider more domestic travel, and why shouldn't we?
There are dozens of magical spots in which to spend a beautiful weekend staycation. And this guide covers all of them, from the wild untamed stretches of beaches in Wales, to lesser known spots tucked away in places like Northumberland. Then of course, there's plenty of historical and interesting cities across the country, and the well-known seaside resorts of Brighton, Bournemouth and Great Yarmouth.
So here's my guide to the best weekend staycation destinations in the UK. I've organised these by region, so you can consider where's best based on your location and the distance you're able to travel for a break. And of course, nearly all of these destinations are worth a longer stay too, if you're planning a week-long trip, for example.
Don't forget, we're still in the midst of a global pandemic. Social distancing should be adhered to in all of the below destinations, as well as common sense following government regulation. Local lockdowns may be re-introduced to any of the below places over the coming months.
South of England
The Cotswolds
Submitted by Sophie & Adam from wedreamoftravel.com
For a quintessentially English countryside staycation, the Cotswolds is perfect. Encompassing 787 square miles over six counties, it is the largest Area of Outstanding National Beauty in England. Picturesque honey hued cottages are nestled into rolling hills and many of the villages feel as though time has stood still.
Take time to admire the architecture in the Cotswolds. Each of the gorgeous fairytale villages has its own unique character. However, the Cotswold stone from which they're built ties them seamlessly together. Some of the prettiest villages in the Cotswolds include Castle Combe, Painswick, Snowshill and Lower Slaughter.
Meander down the narrow roads in the villages and peruse the local, independent shops. Make sure to try some cheese, for which the region is known, as well as some Cotswold gin.
A visit to the Cotswolds would be amiss without a stop for afternoon tea at one of its beautiful tea rooms. There are also many incredible eateries for other meal times scattered throughout the Cotswolds, from rustic country pubs to Michelin star restaurants.
Fret not about how much great food there is – there's also plenty of hikes to walk it all off! Wander in pretty much any direction and you'll find yourself immersed in rolling British countryside, complete with sheep and cattle. The one mile hike between Upper and Lower Slaughter provides a picturesque short walk. Don't be put off by their ominous names – the word slaughter is actually derived from the Old English word for mud.
There are also many other attractions including Blenheim Palace, Sudeley Castle, Cotswolds Wildlife Park and Batsford Arboretum to keep you busy. So while the Cotswolds is perfect for a weekend staycation, it would be easy to spend weeks exploring!
The Cotswolds also provides a gateway to other great staycation destinations including Bath, Oxford, Cirencester and Stratford-upon-Avon.
Oxford
Submitted by Rose from whererosegoes.com
Bursting with history, architecture and Harry Potter movie locations, there are few better staycation destinations in the UK than Oxford. This small historic city an hour from London is a great place to escape the rat race and skyscrapers of the capital and step back in time. Many of the buildings of interest in Oxford are 1,000 years old including the Saxon Tower which offers great views over the city. You can also visit the iconic Radcliffe Camera home to over 600,000 books, the Bridge of Sighs, the Sheldonian Theatre and the Bodleian Library, one of the oldest in Europe.

Whether you take an Oxford day trip or stay overnight, there are lots of ways to keep busy for example punting down the river and exploring the wildflower meadow at the Botanic Gardens in good weather. If it's raining, you can visit some world-class museums like the Pitt Rivers and the Ashmolean. Don't miss the Covered Market where you can browse shops, cafes and eat the original Ben's Cookies at their flagship store. For afternoon tea with scones, cakes and sandwiches, visit The Rose or the rooftop balcony restaurant above the Ashmolean Museum. You can finish the day with excellent woodfired pizzas and craft beers at The White Rabbit, a cosy pub in the centre of town.

Finally, Harry Potter fans will want to tour the filming locations. Christ Church College, the Bodleian Library, Divinity School and New College were all used as parts of Hogwarts. Don't miss the dining hall at Christ Church or the hallways at New College.
Bournemouth
Submitted by Emily from dorsettravelguide.com
Bournemouth is a brilliant destination for a UK staycation. Situated near the centre of the south coast of England, in the beautiful county of Dorset, this lively beach town has everything you could want for a seaside getaway. With over ten miles of white sandy beaches skirting the wide bay on which the town sits, it's easy to see why this is one of the most popular beach resorts in England!.
There are loads of great things to do in Bournemouth. Whether you're looking for a relaxing getaway, a fun-filled family holiday, or wild nightlife, there's something for you! Explore the historic Victorian pier for arcades, a Big Wheel, and the world's first pier-to-shore zip wire.
Bournemouth is well-known for its nightlife, but that doesn't just mean busy bars and clubs. There are lots of quirky little independent places to discover too, such as Ginjams gin bar. Head to the coastal village area of Westbourne in search of boutique shops, eateries, and bars. For something a little different, don't miss Frieda's Afternoon Tea Bus, which combines a tour of the coast with the quintessentially British afternoon tea experience!
And if all that isn't enough, Bournemouth is perfectly poised to explore the rest of the Dorset coast and countryside. Head for cliff walks along the world-famous Jurassic Coast, explore ruined castles and country pubs on the Isle of Purbeck, or take a ride on the historic steam railway at nearby Swanage.
Isle of Wight
Submitted by Tracey from packthepjs.com
The Isle of Wight lies off the south coast of England, across the Solent from Portsmouth. Getting to the island is easy. Passengers can take the famous hovercraft from Portsmouth to Ryde, crossing in just 10 minutes. Travellers with cars have a choice of ferry services, with Wightlink offering several different routes.
At just 23 miles long, the number of things to do on the Isle of Wight is phenomenal. For historians, there's Osborne House, Queen Victoria's seaside palace. There's also Carisbrooke Castle, Yarmouth Castle, Shanklin Chine, Brading Roman Villa – and more!
For nature lovers there's the Isle of Wight Zoo, Monkey Haven, West Wight Alpacas and Llamas, and the Isle of Wight Donkey Sanctuary. The Needles are a 'must see' natural phenomenon, and children will love Tapnell Farm Park, Blackgang Chine and Dinosaur Isle.
If you like transport, then a visit to the Isle of Wight Steam Railway should top your Isle of Wight itinerary, with visits to the Wight Military and Heritage Museum and the Isle of Wight Bus and Coach Museum.
Yet, even with all these attractions, the Isle of Wight is most famous for its beaches. The 14 main ones offer something for everyone, lots of family-friendly sandy beaches; the west is both a surfer's paradise and a fossil hunter's dream (at Compton Beach you can see dinosaur footprints at low tide).
The Isle of Wight also hosts several festivals, including the Garlic Festival around mid-August each year. The Isle of Wight Festival is a music extravaganza with amazing headline acts. And then there's Cowes Week, which has been going since 1826. This is the world's largest sailing regatta – if you like boats, it's the place to be!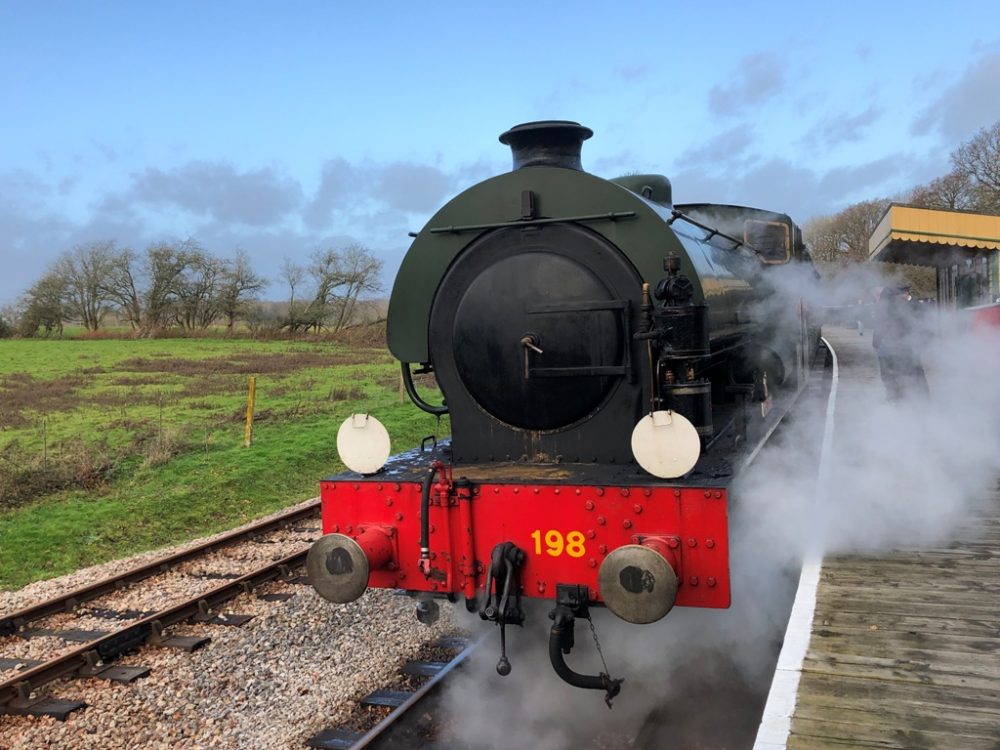 South East of England
Brighton
Submitted by myself – Claire
Brighton, the town where I grew up is my favourite staycation destination in the UK. And yes, of course I'm biased! Few places in my opinion offer the best of a vibrant beachfront city, with dozens of cultural and historical attractions, as well as outdoor adventures.
The main attraction in Brighton is its pebble beach which draws huge crowds, particularly in the summer months. Around the piers is where the beach is busiest but if you head a little further east towards the marina, you'll find plenty of beach space to yourself. Some great beach activities include beach volleyball, stand up paddle-boarding or kayaking.
Brighton is also known as a hub of creativity. You can spend hours browsing the tiny art galleries tucked away in the old arches behind the beach – these were once used by fisherman (and pirates!). Or you can explore the street art scene in Brighton, there's plenty to discover, including some Banksy gems.
Make sure to explore the distinct shopping areas in Brighton too. There are two sets of laneways, one called The Lanes which starts on East Street behind the beach. You can lose hours wandering the labyrinth pathways all the way to the iconic Royal Pavilion. This famous palace is inspired by Indian architecture and was built by the Prince of Wales as Brighton became a popular wellbeing seaside resort. Outside are the delightful Pavilion Gardens, a great place to enjoy a picnic, often with live music. The other main shopping area is the 'North Laine'. This collection of lanes is buzzing. There are dozens of boutique stores, independent shops, boutique stores and all the quirky markets selling everything from handmade jewellery, to vegan leather shoes and crystals.
Brighton is also well-known for its food, particularly vegan and vegetarian cafes. One of my favourite restaurants is Food for Friends, a delicious vegetarian restaurant, or 64 degrees in The Lanes. This is a real culinary treat and you must book beforehand!
Hastings
Submitted by Jenni from chooseveganism.org
Hastings is a large town in East Sussex, on the south coast of England. It's best known for the 1066 Battle of Hastings and anyone with an interest in history will be sure to enjoy a staycation in this fantastic seaside location.
The town has a myriad of attractions for kids and adults alike. The Norman ruins of Hastings Castle offer a fascinating way to spend a couple of hours and the views over the English Channel from the clifftop where the castle stands are breathtaking. You'll also find some very interesting smugglers tunnels in Hastings. Here, you can head underground to learn about how this system of tunnels and caves were used to evade taxes over 200 years ago.
Hastings also has a lovely little aquarium on the seafront and you can get discounted tickets which cover the castle, the tunnels and the aquarium.
Beach lovers will be pleased to know that Hastings has a very large pebble beach and the sea is lovely and warm in the summer. If you prefer a sandy beach, then there are several of those in the neighbouring towns. In fact, there are so many lovely beaches around Hastings that you'll be spoilt for choice! If I had to pick one, I'd recommend nearby Camber Sands which has soft light sand and some amazing sand dunes.
Hastings has lots of nice places to eat but my favourite has to be the Prince Albert. This cosy and traditional English pub offers the most incredible vegan burgers and vegan cheesy chips. They're so good that even meat-fans should give this place a try!
South West of England
Cornwall
Submitted by Kat from wandering-bird.com
If you're looking for a UK weekend staycation, consider heading to Cornwall.
This beautiful county is one of the best places in the UK for a weekend getaway— the weather is often better than elsewhere in the UK, the beaches are spectacular and the local food includes mouth-watering pasties, cream teas and ice cream (now is not the time to be on a diet!)
There is so much to do, you'll never see it all in a weekend, but there are some highlights you should definitely visit.
For a great beach, visit Westward Ho! (yes, the exclamation mark is included.) This is one of the best beaches in Cornwall and there are loads of places to eat, things to do for all ages, toilet facilities, play areas and surf schools if you want some physical exercise.
There are several theme parks and kids playgrounds in Cornwall- two of the best are Flambards and the Pirates Quest. For adults, head to the incredible Minack Theatre or, if you want some history, visit the famous Tintagel Castle and Merlin's Cave– home of King Arthur, the knights of the round table and Merlin the wizard.
There are plenty of cute villages to base yourself in for the weekend- Boscastle is fabulous, but you can go further down towards Lands End, St Ives or join the cool kids in Newquay.
Lastly, if you like secret waterfalls, head to nearby St Nectan's Glen- one of the prettiest waterfalls in the UK and a place very few people know about!
Devon
Submitted by Lucy from farawaylucy.com
If you're looking for good weather from your UK staycation (it's certainly hard to come by), there's no better place to visit than Devon, a popular county in southwest England. Best known for its stunning coastline and an array of beautiful beaches, Devon attracts tourists from all over the world.
There are so many beautiful places to visit in Devon, from fossil cliffs and medieval towns to sandy beaches and moorland national parks. No two visits are the same and there's always something new to see in Devon, so if you think you've already seen all of it, you're probably wrong!
If you're looking for a walking holiday, look no further than Exmoor and Dartmoor National Parks. Or if adventure's your cup of tea, the waters of North Devon are the ultimate playground for surfing and water sports. And if cute seaside towns are your thing, head to Salcombe or the English Riviera. Both are littered with palm trees and picturesque blue and white buildings, transporting you straight from the English coastline to the streets of Greece.
A great base for your trip to Devon is Exeter, an ancient city dating back to the Roman era. This is an ideal choice for those who are looking for more of a city break – and luckily, this gorgeous little city is full of history and amazing places to eat, shop and dance the night away. Be sure not to miss Harry's Restaurant, Pasha, The Flat and On The Waterfront. A trip to Exeter would also be incomplete without checking out the Cathedral, the Quay or the Underground Passages. Oh, and don't forget Gandy Street, Exeter's answer to Diagon Alley!
Somerset
Submitted by Angela from thelifeofspicers.com
Somerset, in the South West UK is a popular staycation area for many reasons. Famous for its apple cider, you cannot drive more than a few minutes in the county without seeing signs to the next cider farm. Be aware though, it's potent stuff!
If you're thinking of visiting Somerset for the weekend, I recommend staying near the City of Wells. The grand medieval City is near the vast Mendip Hills, a popular choice for walkers, and also not too far from the city of Bath.
Staying in Wells provides you with many attractions for days out close by including Cheddar Gorge, Wookey Hole Caves, Glastonbury Abbey, Stourhead and of course the famous Wells Abbey is not to be missed.
Cheddar Gorge is well worth a visit, even if you aren't planning on visiting the caves. A stroll through the village, stopping off to buy some famous Somerset cheddar is a must. Down the road a bit, Wookey Hole Caves are also a great place to explore for some history and culture as well as a bit of fun.
If you like being by the coast, Somerset also has some fantastic beaches to explore, many of which are also very dog friendly if you're thinking of having a weekend away with your four legged friend.
We have stayed in a variety of different accommodation options in Somerset from camping to lodges and hotels. To be able to wake up and see views across the Mendip Hills is a great start to the day no matter where you may be staying.
Bath
Submitted by myself – Claire
This incredible Roman city is located in the heart of Somerset and makes for a perfect weekend staycation destination. It's both an easy drive or straight-forward train journey from London and other places such as Oxford, Birmingham and Manchester. It also ties in well for a visit to Bristol, as the two are so close.
Bath is most famous for The Roman baths, which are the main attraction in the city. The beautifully preserved baths are stunning, and are fascinating – I highly recommend a guided tour. There are several hot and cold pools, and you can learn how the underground system works – very impressive as it dates back to the Roman times. Unfortunately, you can't swim in these as a guest but you can swim in the nearby Thermae Bath Spa. You must pre-book a spa session, but inside you have access to the steamy waters of its open-air rooftop pool, as well as the indoor pools including the Minerva Bath. There are also plenty of unusual rooms to explore such as an ice chamber, various steam rooms and an infrared sauna. I highly recommend booking a spa treatment too – it actually makes the spa package really great value!
Other famous noteworthy spots in the city to visit include the beautiful Royal Crescent, a stunning 18th century row of houses built in a crescent around a park. The 30 Georgian houses are now mostly flats.
Back in the heart of the city, stop by Bath Abbey as well as wander the centre for some great shopping and excellent food. Circus Restaurant is known as one of the best places to eat in the city.
Dorset
Submitted by Jiayi from thediaryofanomad.com
If you're looking for an amazingly scenic and relaxing weekend staycation in the UK, then Dorset should definitely be on your bucket list. In this stunning region, you'll find the beautiful UNESCO World Heritage Site of the Jurassic coastline, which is filled with natural wonders and is best explored via hiking or on a road trip.
The most remarkable place on the Jurassic coastline in Dorset is Durdle Door, one of the best hidden gems in Europe. This incredible beach is home to a stone arch that dates back 10,000 years. As soon as you reach this spot, you'll be amazed by the jaw-dropping view. Head over there for sunset to make the experience even more romantic! Once you're done relaxing on this beach, you can also go for some nature walks to Lulworth Cove or Bat's Head nearby. If you're feeling more adventurous, try rock-pooling or coasteering at the beach! You can also camp overnight in this area.
Some other beautiful sites in Dorset include the historic Corfe Castle and the quiet Mupe Bay, both of which can be explored on a road trip. If you want to see something extra dreamy, drive up north to Cranbourne Chase AONB, where there's very little light pollution at night. Grab a blanket and lie down next to Knowlton Church to enjoy an incredibly peaceful stargazing experience!
If you fancy bird's-eye-views, then make sure to go for a hot air balloon ride in Poole, another stunning place in Dorset. You'd be flying over some gorgeous rolling fields and ancient villages in the Dorset countryside, and will even be given champagne at the end of the ride. While you're in Poole, stop by The Poole Arms for some delicious seafood!
Lyme Regis
Submitted by Paul from thetwothatdo.com
There can be no better weekend staycation in the UK than the charming West Dorset coastal town of Lyme Regis. Boasting a seaside location, a sandy beach for traditional bucket and spade activities and the beautiful English countryside on its doorstep Lyme Regis truly is a world away from home.
Commonly referred to as the 'Pearl of Dorset' Lyme Regis is in the heart of the World Heritage Jurassic Coast. Children of all ages can enjoy a fossil hunting walk from the local Museum or go crabbing in the numerous rock pools of the delightful Monmouth Beach.
On the waterfront visitors can enjoy a one hour mackerel fishing trip for just £9 for adults and £6 for children. Deep sea fishing trips are also available at a cost of £25 for 3 hours.
Also along the seafront Lyme Regis offers ample choice of bars,
restaurants and of course fish and chip stalls. Whatever your choice waves crashing in to the dramatic Cobb makes for a perfect back drop.
Away from Lyme Hugh Fearnley-Whittingstall's River Cottage is less than 5 miles away. Nestled in the Dorset countryside this is the perfect spot to sign up for one of its many cooking classes or enjoy one of their popular evening get togethers.
Our own favourite restaurant though just has to be Hix Oyster & Fish House. One of Mark Hix's stable of restaurants this offers delectable dishes in a fabulous hill top setting overlooking Lyme Bay. There is surely no finer way to celebrate your time in this refreshing setting.
Bristol
Submitted by Chrysoula from historiceuropeancastles.com
If you're planning a staycation in the UK but are wondering which city to visit next, why not check out Bristol down in the southwest? Bristol is an eclectic city that boasts history and heritage as well as modern street art (including lots of Banksy pieces), top-notch shopping, great gig venues, and interesting museums and galleries. Whether you want to explore parks and gardens, take a boat trip out on the water, visit the Clifton Suspension Bridge or enjoy the city's epic nightlife, fear not for Bristol has you covered.
There are various different areas of Bristol that stand out from one another, like Old Town and Harbourside which are the home of shops, restaurants and museums, and Clifton which has a distinct village feel.
Within the city, there is a decent selection of hotels, hostels, and B&Bs and there are also campsites slightly further afield for those who want to combine city sightseeing with a more rural stay. While there are some great self-catered apartments in the city too, there are so many amazing cafes and eateries in Bristol that it would almost be a shame to cook for yourself! Check out Spicer & Cole in Clifton Village for a healthy, hearty brunch (or coffee and cake in the afternoon) and enjoy sumptuous gyoza from Bristol favorite, Eatchu. If you're feeling really flash, you might even want to dine at Casamia, the Michelin-starred restaurant down by Wapping Wharf.
Not only does the Bristol city center itself boast some incredible things to see and do (and eat!) but there are also some excellent castles to visit near Bristol such as Blaise Castle, Caldicot Castle, and other attractions like Wells Cathedral and Bath Spa.
The Midlands
Nottingham
Submitted by Steph & Lewis from bookitletsgo.com
Nottingham is a vibrant city in the Midlands. There are so many fantastic things to do in Nottingham that a weekend may not be enough. Steeped in history Nottingham Castle was the starting point of the British Civil War in August 1642 and is a must see on any visit to Nottingham. Learn about the fable of Robin Hood during your stay and check out the tributes to Nottingham's favourite outlaw all around the city.
If you are looking for tranquillity, just outside of Nottingham city centre you will find multiple open green spaces like The Arboretum which is the oldest park in Nottingham and Highfield Park where you can rent a rowing boat on the lake or enjoy the Victorian stepping stones and the waterfall known as 'the cascade'. A few minutes away you can find the fantastic Wollaton Hall and deer park, stepping inside the park you will find it hard to believe that this grade 1 listed Elizabethan Mansion set in over 500 acres of parkland with free roaming red deer and fallow deer is just minutes from the busy city centre.
Film fanatics may recognise Wollaton Hall as the setting for Wayne Manor in the 2012 Batman movie The Dark Knight Rises, during the summer months Wollaton Hall hosts outdoor cinema nights where you can watch your favourite movies.
Whilst in Nottingham be sure to check out the amazing cave system below the city, these can be seen in some of the oldest pubs in the country like The Bell Inn and Ye Olde Trip to Jerusalem. If you are a cat lover head over the Nottingham cat café off Market Square and for a special treat visit Doughnotts on King Street for tasty Instagram-worthy handmade doughnuts.
Stratford-upon-Avon
Submitted by Regan from duskyblueskies.com
Stratford-Upon-Avon is a quaint little market town in Warwickshire that's famous for being the home of William Shakespeare.
You'll be spoilt for choice when it comes to accommodation. How about staying at 3 Masons Court, available for booking through Airbnb and reportedly the oldest house in Stratford-upon-Avon. Perhaps something more contemporary that's been lavishly styled to honour the bard of Avon, such as Hotel Indigo. For luxury and a riverside view, you could book the Arden hotel located opposite the Royal Shakespeare Company. Or more homely comforts and charm can be found in the award-winning B&B, Avonlea.
If you love history or culture, indulge your passion by visiting the home of William Shakespeare, Holy Trinity Church, or by joining one of the walking tours. A peaceful place to pause and marvel at your medieval surroundings is the Guild Chapel, which is a hidden gem.
Meander around Stratford-Upon-Avon to discover some truly wonderful places, such as Anne Hathaway's Tea Rooms, Magic Alley, Roly's Fudge Pantry, the Peter Rabbit shop or the Alohorama shop on Henley Street will delight Harry Potter lovers.
For something a bit different try the Shakespaw Cat Café, the Shakespeare Distillery, or if you fancy something quirky and the only one of its kind in the UK, check out the MAD Museum. Whatever you do, make sure you don't miss the red telephone box outside the MAD museum.
Enjoying a relaxing boat trip or simply soaking up the scenery on a riverside walk is an essential part of any trip to Stratford-Upon-Avon. If you wish to get even closer to nature, follow the Greenway which will take you on an adventure in the glorious green Warwickshire countryside.
Lincoln
Submitted by Alex from the lincolnandbeyond.co.uk
Lincoln is not the most obvious city for a weekend staycation, but with an intriguing depth of history blended with a diverse modern vibe, it makes a compelling alternative to the UK's classic tourist destinations.
The city's stunning cathedral is its focal point; standing high on the central hill, it can be seen for miles around, and was the world's tallest building for 250 years. Lincoln is also home to one of the four surviving original copies of the Magna Carta, and its castle was built in the 11th century by William the Conqueror. Few places in the UK offer as much insight into the country's past.
At the same time, Lincoln is a vibrant, modern city, with a wealth of activities and eateries to try on a weekend trip. Since the city's university opened in the 1990s it has attracted a growing number of people and businesses from around the world, and you can now find brilliant Greek, Brazilian, Vietnamese, Spanish and Korean restaurants to name a few all around the city. This complements Lincoln's enduring local traditions, with an array of weekend markets, real ale pubs and tea houses still a staple on the High Street. Enjoy the best of both worlds with lunch in Stokes High Bridge Cafe, the Farmers' Market on the third saturday of every month, and dinner in Olé Olé Tapas Bar.
Lincoln is also a launchpad for getting off the beaten path and exploring the British countryside. It is perched on the doorstep of the Lincolnshire Wolds, an area of outstanding natural beauty that offers lots of options for camping and walking. A little further out, the Lincolnshire coast has a new hiking route, as well as several long and sandy beaches for a day out with the family.
Birmingham
Submitted by Becky from theowlet.co.uk
Birmingham was once the heart of industry in the UK. With canals winding throughout central locations and suburbs alike, this city should be at the top of your staycation bucket list.
Taking a tour by boat is the perfect way to start your trip and a really unique way to see Birmingham. Head to Gas Street Basin (just behind the Symphony Hall) and there will be boats waiting to take you on a guided tour, explaining the sights as you sail past them.
Once you've been dropped back at Gas Street Basin, take a shortcut through the Symphony Hall to visit the Library of Birmingham. With a secret open-air roof garden on the 7th floor & a 180◦glass viewing platform on the top floor it's the perfect place to take in this incredible city.
Bourneville, a suburb of Birmingham, is home to Cadbury's chocolate factory. If you've got a sweet tooth it's a short train from New Street station to Bourneville to visit Cadbury World where you can learn more about the history of this much loved brand, make your own chocolate bar and satisfy your cravings in the chocolate cafe.
If you're fascinated by history then your first port of call should be the Black Country Living Museum, where you can experience what it was like to live through the industrial revolution, then head to the Birmingham Museum and Art Gallery to find out more.
Birmingham is a must-visit for foodies. The city's history of immigration has led to being able to find just about every cuisine you could want to try. While the Spanish, Greek, Italian and Lebanese restaurants are incredible, Birmingham is famous for being home to the curry and has a number of award winning Indian restaurants, so you can't leave without trying one!
If you love food, you're interested in history or you just want to relax and take in the views, Birmingham is definitely not a city to miss.
East of England
Cambridge
Submitted by myself – Claire
Cambridge is one of my favourite places in the UK for a weekend away. It's easy to get to from London whether you drive or take the train, with direct lines running from numerous London railway stations.
The main highlights include of course wandering the beautiful university campus which is located in the heart of town. Make sure to take in the incredible King's College Chapel as well as the Fitzwilliam Museum – you can go inside both of these. Other famous sites include Queen's College, and the Mathematical Bridge, known for its geometrical design used for its construction. You can also wander within some of the colleges too, such as Trinity College and St John's College. It's quite something when you realise these are current students rooms – it's like a real life Hogwarts!
Another must-do activity in Cambridge is to go punting on the River Cam. You can either take your own boat and punt your way along the waterways, or go with a guide who will do all the punting for you. It's one of the best ways to take in the sights of the city and the university campus. On hot days you can definitely jump in and enjoy the water too.
Once you've enjoyed sightseeing and the River Cam, then I highly recommend enjoying a heart home-cooked lunch in one of the excellent pubs in Cambridge.
Norfolk
Submitted by Mandi from greatyarmouthfamilyfun.co.uk
Norfolk is located in East Anglia and is the perfect place for anyone to visit for a day trip, weekend or a week's holiday. If you are travelling as a family with children, the seaside resort of Great Yarmouth is great for visiting zoos, theme parks, sandy beaches and amusement arcades. Plus, the famous Golden Mile is full of fun things to do on both wet and dry days and will keep the entire family occupied. This makes Great Yarmouth perfect for multi-generational holidays, as there really is something to suit all ages.
Some of the popular attractions are Pleasure Beach, Bewilderwood, Roarr! Dinosaur Adventure, Banham Zoo, Thrigby Wildlife Park and Petitts.
If you are a couple looking for a romantic weekend away then the Norfolk Broads are the perfect place to visit. This beautiful area offers a stunning backdrop to watch the sunset. Or why not hire a boat to explore the Broads to spot the abundant wildlife, whilst enjoying peace and tranquility and watching the world go by. There are also some beautiful, quaint villages to explore, and with so many country pubs, you will never be short of a place to stop for a drink to admire the stunning greenery of Norfolk.
If you think the area will be too busy during the summer months, why not consider visiting in the winter, Norfolk is home to a number of Grey Seals that you can see on the beach with their young, a truly amazing sight, the best places to see them are at Horsey and Winterton.
Whatever time of year you choose to visit, you won't be disappointed as it's a beautiful place to visit. And who knows – you may end up falling in love with the area and up sticks and move here, like so many others!
Great Yarmouth
Submitted by Mal from rawmalroams.com
Great Yarmouth is a fantastic destination for a UK getaway. Situated on the eastern coast of England in Norfolk, Great Yarmouth is about a 2 hours' drive from London.
This charming holiday resort is famous for its long stretch of beach with fine sand perfect for lounging in the sun. But there is so much more to do here whether you're travelling solo or as a family.
Go on a historic walk and find out how people of Great Yarmouth used to live! There are a few options to choose from including Medieval Town Walls, Seafront or Graveyard walks. If you like to explore more history, pop into Time and Tide Museum and check out a fantastic recreation of a Yarmouth Row and find out how fishers used to live. Other great museums include The Nelson Museum and Elizabethan House Museum.
For the little ones, there is Pleasure Beach amusement park with some great rides and attractions situated on the beachfront and Splashpad with sprays and fountains near Great Yarmouth. Explore different sea creatures including jellyfish, sharks and dwarf crocodiles in Sea Life Great Yarmouth.
The area of Norfolk where Great Yarmouth is situated is also great to be explored on foot. There are various National Trails through lush green fields and rolling hills that can be enjoyed by couples and families alike.
For an excellent and fuss-free lunch head to the Beach Hut. It's right on the beach, and it serves a good selection of mouth-watering burgers and delicious desserts!
Mersea Island
Submitted by Sarah from asocialnomad.com
Mersea Island, an island in the estuaries of the Colne and Blackwater rivers is the perfect place for a weekend staycation in the south-east of the UK.
Mersea Island is reached by a tidal causeway, originally built by the Romans, so it's easy to say you're really getting away from it all. The island is cut off by the tide several times a month, so you'll need to plan your visit carefully! The island is small but perfectly formed. There are fabulous hideaway cottages, glorious sea view apartments and also several family-friendly holiday parks. This is a traditional seaside getaway with a difference.
The Romans also introduced vines and oysters to Mersea and the island still has a vineyard and brewery which make for an excellent tasting afternoon before you walk back to your accommodation. You can also spend a day at the beach and rent one of Mersea's colourful beach huts for the perfect seaside stay-away.
For kids of any age, you can buy a kit from locals and go crabbing on the pontoon, but for the more adventurous there are trips around the harbour, or you can take the foot ferry from the eastern side of the island across to the small town of Brightlingsea where fish and chips and ice cream awaits for lunch.
Be sure, though to eat at either the (very) famous, but still locally priced Company Shed or neighbouring West Mersea Oyster Bar – the seafood platters at these two eateries are renowned and great value for money – they're also great for takeaway too!
North of England
The Lake District
Submitted by Rachel from earthsmagicalplaces.com
For a rural escape, nowhere is better in the UK than the Lake District! Located in Cumbria, in the north west of England, it's the country's largest national park and arguably the most beautiful. The scenery is simply breath-taking, which isn't too surprising when you consider that the park is home to over 150 high peaks, including Scafell Pike (England's highest mountain).
The lofty peaks and countless sparkling lakes (which give the region its name) provide visitors with an endless number of things to do, such as hiking or sailing. Of course, part of the weekend away has to be spent at one of the quintessential British pubs that are dotted throughout the Lake District. My favourite is the Wasdale Head Inn, which serves hearty food, and provides the chance to enjoy a pint in the shadow of Scafell Pike.
As you can imagine, The Lakes are a paradise for campers! However, there's also plenty of stunning hotels, or cute cottage rentals, available for those seeking a slightly more luxurious staycation. After all, with the unpredictable British weather, it's always nice to have a warm and cosy bed to return to after a long day of exploring.
Personally, I like to stay within the Eskdale Valley which is as picturesque as it gets! It's also in a central location, close to charming towns like Ambleside and Windermere. Plus, you can even go on a miniature steam train through the mountains to the cute coastal village of Ravenglass, which is fun for children and big kids alike!
Overall there's so much to love about the Lake District that once you visit you'll never want to leave…
Manchester
Submitted by Stefan & Sebastien from nomadicboys.com
One of our favourites places in the UK for a staycation is gay ole' Manchester. The home of the Oasis brothers (Liam and Noel), Take That and where the original British version of Queer as Folk was filmed, Manchester is a cultural bedrock in the UK. Manchester offers so much to satisfy a city break or even a slightly longer trip.
Touristic highlights in Manchester include exploring the city's unique street art, which celebrates the city's history. One of the most prominent include those in the Northern Quarter and those along Manchester's Affleck Palace. Our favourites are those of Emmeline Pankhurst, the famous Manchester-born Suffragette. On that note, we highly recommend checking out the Pankhurst Centre. This was where the first meeting of the Suffragettes took place in the early 1900s back when it was the home of Emmeline Pankhurst (62 Nelson Street).
Over at Mackie Mayor is one of our favourite places to come to hangout, grab a bite and a few beers. It's a super hip food hall inside a restored former market building dating back to 1858. It has lots of small stalls selling drinks as well as traditional British food – a few Mexican, Thai and Italian also thrown.
Canal Street is our favourite part of Manchester. This is the heart of the city's vibrant LGBTQ scene, with a plethora of gay bars and clubs like GAY, Cruz 101, New York New York, The Molly House and many more. Next to Canal Street, we recommend paying homage to one of the UK's most famous gay historical figures – Alan Turing. In Sackville Park, a statue dedicated to Alan Turing sits on a bench where you can join him in contemplation. For more info about the nightlife, check out the Nomadic Boys' gay guide to Manchester.
The Peak District
Submitted by Jenny from peakdistrictkids.co.uk
Escape to the green rolling pastures of the Peak District National Park, for open landscapes, quaint villages, and characterful pubs. You will feel a million miles away, but actually as the Peak District is in the middle of the UK it's very accessible as a weekend staycation destination, especially from Manchester, Sheffield, Nottingham, and even London.
The best way to spend your weekend is with a long walk in the hills. Dovedale is popular if visiting from the South, but it can get awfully busy at weekends. Instead, drive a little further into the National Park to Hartington or Monyash. Or if you want dramatic escarpments, head to Curbar or Stanage Edge. Alternatively, you could bring your bike and enjoy a long cycle ride along one of the many disused railway tracks that have been converted into traffic free gravel pathways.
If you prefer a more relaxed day out, head over to the Chatsworth Estate, one of the grandest houses in the country. Or ride the cable car up to The Heights of Abraham and explore the old minding caverns, as well as the many other things to do in Matlock.
However you choose to spend your weekend, the best way to finish a day is at a local pub with a pint of Peak Ale. In the summer the beer gardens are the place to soak up the sunshine, and in the winter you can snuggle by a roaring log fire. Whatever the weather, as this is the Peak District, muddy boots and muddy paws are always welcome!
Yorkshire Dales
Submitted by Maja from awaywithmaja.com
The Yorkshire Dales National Park is a fantastic staycation choice for the weekend. The biggest draw to the Yorkshire Dales is the outstanding natural scenery and outdoor adventure options. Coupled with charming villages, the Yorkshire Dales should be on any UK bucket list.
One of the most scenic areas is Swaledale, between Richmond and Muker in the northern Yorkshire Dales. The landscapes here are stunning and quintessentially English—rolling green hills, drystone walls, and fields dotted with sheep. The walk along the River Swale from Muker to Keld (or vice versa) is beautiful and only takes a few hours.
Malhamdale is another picturesque area to visit in the Yorkshire Dales. Malham Cove is a curving limestone cliff with fantastic views from the top—one of the camping scenes in Harry Potter and the Deathly Hallows: Part I was filmed here! You can also explore Gordale Scar, Janet's Foss, or venture up to Malham Tarn, one of the highest lakes in England.
A popular activity in the Yorkshire Dales is to hike the Yorkshire Three Peaks—the three highest peaks in the national park (Whernside, Ingleborough, and Pen-y-Ghent). You can do all of them in a challenging 12- to 14-hour day, or just choose one!
The Yorkshire Dales is home to Wensleydale, the original location of the famous Wensleydale cheese. You can taste yourself right at the source at the Wensleydale Creamery in Hawes! You can also enjoy stunning riverside scenery in Wharfedale, walking along the River Wharfe between Burnsall and Grassington. Keep in mind that public transportation here is very limited, so having a car gives you the most freedom to explore. The Yorkshire Dales is a great weekend break with lots to offer!
Yorkshire Coast
Submitted by Sinead from bestinyorkguide.com
The Yorkshire Coast is a perfect staycation destination as the dramatic coastline and seaside towns offer something for everyone. The North Yorks coast can be reached by regional train from the city of York in less than one hour but the coastline is best explored by car.
Follow in Dracula's footsteps and start your staycation at the historic seaside town of Whitby – in Bram Stoker's classic novel, Dracula landed in England at Whitby. Explore the town's cobbled lanes and climb the 199 stone steps to the cliff top atmospheric ruins of Whitby Abbey which provides a fantastic view of the coastline. Learn about Whitby's famous son, Captain Cook, at the town's museum. Don't leave Whitby without sampling a fish and chip dinner – people drive from all over Yorkshire just for Whitby's fish and chips!
Drive or hike the stunning North Yorkshire coastal path (part of the longer Cleveland Way Trail) to the car free village of Robin Hoods Bay. This charming village is a maze of pebbled alleyways and tiny cottages. Hunt for fossils on Robin Hoods Bay expansive sandy beach or visit the seal colony at nearby Ravenscar.
Relax in the sun at Hunmanby Gap beach or surf the waves at windy Cayton Bay. For a traditional seaside experience with arcades and fun fairs visit the popular town of Scarborough or Bridlington. Bird lovers should head to Bempton Cliffs Nature Reserve near Flamborough Head. A mind boggling half a million seabirds nest here between March and October including the gorgeous puffin.
York
Submitted by Wendy from thenomadicvegan.com
York has a rich history dating back thousands of years and has been fought over and conquered by the Romans, Angles, Vikings and Normans. Known as Eboracum in ancient Roman times, York was among the most important cities in Britain when it was part of the Roman Empire. As a main hub of the national rail network, York is easily reached by train. The train station is a tourist attraction in its own right, and to see some historic railway locomotives head to the National Railway Museum. It's the largest such museum in the world, and it's completely free!
And as the largest Gothic cathedral in northern Europe, York's cathedral, known as the York Minster, is one of the city's star attractions. You can climb up the tower for stunning views, but mind the narrow spiral staircase. The city walls remain well preserved, and a walk along the ramparts is a great way to get a feel for the layout of the city. While the walls seen today were built in the medieval period, they stand on the foundations of much older Roman walls.
Another great place to go for a stroll is The Shambles. This is the narrowest street in the city, and it's lined with beautiful, historic shopfronts and half-timbered buildings. It's hard to believe that this quaint street used to be an open-air slaughterhouse and meat market where blood flowed through the streets. Originally known as the Great Flesh Shambles, this is the origin of the modern meaning of the word "shambles", used to describe a state of total disorder. Times have changed, and now you'll find plenty of animal-friendly dining options in this area. Just up the block on Church Street is Once Across the Garden, one of the best vegan restaurants in York.
Holy Island, Northumberland
Submitted by Tam from travellingtam.com
As one of Northern England's most intriguing isles, Holy Island, located just off the coast of Northumberland, is a fantastic weekend retreat. Alternatively, Holy Island makes a great day trip from the town of Alnwick.

Steeped in Viking and 6th Century history, this 3-mile-wide island is only accessible at certain times of the day when the tide is low, allowing a clear path across the causeway. The abundance of wonderfully preserved history is one reason why people love to holiday locally to this English island – and the remoteness being the other!

For such a small place, there is plenty to see and do. The most popular activity is a walk to Lindisfarne Castle, and if it's open (it's best to look this up in advance), a look around inside too. Perched dramatically on a hill with a sea backdrop, Lindisfarne Castle is actually one of the most photographed castles in England!

Once you've visited the castle, Lindisfarne Monastery ruins and Heritage Centre, explored the adorable churches and quaint houses, there is plenty of walking to be enjoyed around the island through the rugged beaches, seaside meadows and fields.

There is also a great gourmet dining scene on Holy Island. You can try and buy local meade (in many different flavours), fudge and chocolates, ice cream and not forgetting – taste freshly caught seafood.
Kielder in Northumberland
Submitted by Jonathon from journeymaxx.com
Located in Northumbria close to the Scottish border, Kielder Water and Forest Park is home to the largest woodland in all of England and something of a real hidden gem.
Whilst the Lake District further west in Cumbria may be teeming with visitors during peak season, Kielder feels like a best kept secret in comparison. And yet remains just as much an ideal family destination on the edge of Northumbria National Park and a popular base for hiking along Hadrian's Wall.
There are plenty of designated trails for walking and cycling in the forest itself but what is going to stand out are the unusual sculptures located at various points. One of which unintentionally doubles up as a shelter from heavy rainstorms!
As this area boasts some of the clearest skies totally free of light pollution it is without doubt one of the very best stargazing locations in the entire UK. It is essential that you pre-book a ticket for an evening session at Kielder Observatory, but once there you are more than honoured to see some of the clearest night skies and stars.
If looking for a place to stay, there is no shortage of cosy accommodation options here too. The Kielder Lodges with picture perfect peaceful views of the water are tailor made for families with activities such as mini-golf, the Minotaur Maze and of course sailing at your disposal. Alternatively there is my personal favourite option of staying in a nostalgic and more personalised inn such as The Hollybush in the hamlet of Greenhaugh.
Wales
Brecon Beacons National Park
Submitted by Ben from driftwoodjournals.com
The Brecon Beacons National Park, or Parc Cenedlaethol Bannau Brycheiniog to give it its proper name, is known for harbouring some of the most spectacular scenery in Wales.
Its moss-carpeted country lanes will wind and whizz you through hills of heather and waterfall-filled woodlands, from pretty little villages to castle-crowned mountaintops.
Hike the Black Mountains and mountain bike your way around the misty Coed-y-Rhaeadr (Wood of the Water), stopping for picnics in paradise at the Sgwd-yr-Eira (Snow Waterfall). Be still at the Talybont Reservoir and forest or be moved by the momentous occasion that is arriving atop Pen y Fan Mountain – located 886 metres above sea-level.
Or of course, you can take it a little more slowly in the colourful towns of Brecon and Crickhowell, where you can peruse the local shops and pubs at your leisure. The hamlet of Tretower boasts its own medieval mansion and Grade 1 Listed castle, while Hay-on-Wye is best known as the UK's famous 'book town' – heaven on earth for bookworms and tea-sippers alike.
You'd be amazed by how much there is to choose from in terms of accommodation in this relatively compact rural area. Camp at the foot of a mountain, cosey up in a cottage or check into one of the many local manor houses that have been converted into handsome heritage hotels. Gliffaes Country House is the only 4-star hotel in the Brecon Beacons and something of a culinary gem. Stay the night and explore the local delicacies in the restaurant – or at very least be sure to swing by for their famous afternoon tea and a walk through the property's historic gardens.
The Brecon Beacons is the rural retreat you've been dreaming of, and it's right on your doorstep.
Snowdonia
Submitted by Anuradha from countryhoppingcouple.com
Snowdonia is a mountainous region in North Wales that had its name derived after the mount Snowdon. Covering over 827 square miles and 37 miles of coastline, Snowdonia National Park is the largest national park in Wales, and one of the highest mountain ranges in United Kingdom. Snowdonia has everything one can ask for – rugged mountains, jaw-dropping views, picture perfect villages, roaring waterfalls, historic castles, beautiful lakes, coastal walks, sandy beaches, and endless mountain trails.
The obvious first choice for anyone travelling to Snowdonia is to visit the mountain range. Take the Snowdonia Mountain Railway from the picturesque Llanberis. We recommended taking the train one way, and walk down to Llanberis while returning (1.5 hours approx) so you get enough chance to savour the layers of mountains and the views it offers. Make sure to buy the train tickets in advance to avoid disappointment.
Snowdonia is also home to some bucket list medieval castles that are UNESCO Heritage Sites – Conwy Castle and Caernarfon Castle, both of which are located in the North of Snowdonia and Harlech Castle which is located along Harlech beach in the West coast. The national park is also dotted with beautiful waterfalls, some of which include Aber Falls, Swallow Waterfalls, Ceunant Mawr Waterfalls and Dolgoch waterfalls. For adventure lovers, there are activities like ziplining, water rafting, abseiling, mountain biking, making Snowdonia a true destination for adventure seekers and nature lovers.
Snowdonia can be accessed from various parts of Britain which makes it a compelling choice of staycation destination in the UK. Virgin Trains, Conwy Valley Line and Cambrian Line runs through Snowdonia stopping at various villages and towns. Driving is a convenient option given the size of the national park and various attractions you can see around. That said, do note that most of the roads in Snowdonia National Park are single carriageways (A roads) and single track roads with passing places (B roads). They may be intimidating and look narrow, but the roads are safe to drive.
Snowdonia National Park is huge to explore, so it is ideal to base yourself in Llanberis, Betws y Coed or Portmeirion all of which are picturesque and popular villages with plenty of accommodation options to choose from.
Gower
Submitted by Charlotte from burstingmybubbles.com
Gower is nestled in the coastline of South Wales and is the ultimate staycation in the UK. It is filled with beautiful beaches, historic castles, quaint villages and is only half an hour away from Swansea. Therefore you're not too far from a bigger city should you need it. Making this beautiful peninsula the ideal place for a holiday!
My favourite thing about Gower is it's many different beaches. Starting with Oxwich bay. You really could ask for more from a beach. It has shallow waters so it's safe for families, but you can also participate in water sports, which is perfect for adventure seekers. There is also a local shop which is also a chippy at the entrance for those late night trips, and has a shop onsite for during the day. The beach also allows campfires so you can toast marshmallows and its coastline spread for miles so you can take a nice relaxing walk along the beach!
Just round the corner from Oxwich is a pick your own fruit and veg for those who like to do something a little different. Which has gorgeous fresh stock and keeps you updated on their website what they have available.
Then if you want to take in some culture, head off to Mumbles, a gorgeous little seaside village with a castle in its centre for you to walk round. Here there are plenty of little shops, bars and restaurants for you to spend a day wandeing around. Before heading to Marco Pierre White's restuarant over looking the sea where you can enjoy a beautiful meal with a glass of wine and watch the sunset over the ocean.
Anglesey
Submitted by David and Faye from delveintoeurope.com
Anglesey is the island off the north-west coast of Wales and with some of the most spectacular coastline in the UK it makes an ideal destination for a weekend staycation break.
The main reason to visit is the incredible range of Anglesey beaches, and as some of these are quite remote, it's best to drive yourself rather than rely on public transport.
Llanddwyn Island is one of the highlights, a small tidal island on the south-west coast, at the 4end of stupendous Newborough beach with amazing views across to the mountains of Snowdonia and the Llyn Peninsula. Count on a few hours to see Llanddwyn, as it's a 40-minute walk from the car park to the end of the island.
There are also some lovely beaches on the east coast of the island, especially Traeth Lligwy and Traeth yr Ora, both to the north of Moelfre village. The north coast has some wild cliff scenery and exhilarating coast path walking.
Anglesey is home to one of Wales' UNESCO World Heritage Sites, Beaumaris Castle, which looks out over the Menai Strait to Snowdonia. The area around Beaumaris and Menai Bridge town is the best for accommodation on the island, with Chateau Rhianfa halfway between the two and Ye Olde Bulls Head in Beaumaris both excellent options.
Ye Olde Bulls Head is also one of the best places to eat on Anglesey, and it's also worth seeking out The Marram Grass, a new restaurant near Newborough, on the road to Llanddwyn.
Pembrokeshire
Submitted by Cath from travelaroundireland.com
One of the best places in the UK for a weekend staycation is Pembrokeshire in West Wales. An area of Wales with stunning scenery, Pembrokeshire has a lot on offer, whether you are visiting as a couple, solo traveller or as a family.
From a coastline that features inviting, sandy beaches to rolling countryside, mountains and rivers, Pembrokeshire is a must-visit weekend staycation destination in the UK. There is a National Park, which is Britain's only coastal National Park, pretty towns and villages including the ever-popular seaside town of Tenby, and history around lots of corners. Britain's smallest city of St David's is also located in Pembrokeshire.
If you love nature, it is all around you in this part of Wales. The hills and countryside will easily appeal to nature lovers, but the coastline is where it is at. Visit Tenby for its medieval walls, sandy beach and cute seaside town houses. Solva is a lovely little seaside fishing village with some great little places to eat. And of course, there are more amazing beaches along the coastline such as Saundersfoot, Newgale and Broad Haven.
Love history? Then visit places such as Pembroke Castle, Carew Castle, Wolf Castle or the beautiful Picton Castle and Gardens.

If you are visiting Pembrokeshire with kids, then you could stay at Bluestone National Resort where there are lots of things to do with kids. It is also an ideal location for visiting Oakwood Theme Park, Folly Farm Adventure Park and Zoo and Heatherton World of Activities. But no matter where you choose to stay in Pembrokeshire, you are sure to fall in love with this amazing part of Wales.
Scotland
Scottish Borders
Submitted by Heather from conversanttraveller.com
For somewhere truly off the beaten track where you can enjoy rural countryside exploration without the crowds, the Scottish Borders ticks all the boxes. Most visitors to Scotland miss out on this beautiful part of the UK as they travel up to the Highlands, and that's a shame.
There are so many unique things to do in the Scottish Borders that you can easily fill a long weekend here. To learn more about the fascinating heritage of the area, head to the four abbeys at Kelso, Melrose, Jedburgh and Dryburgh, and enjoy going back in time at these photogenic ruins. There is also a scenic hiking trail between these historic sites if you want to burn off some energy, and make sure you pay special attention to Melrose as this is where Robert the Bruce's heart is apparently buried.
For something a bit different, spend a morning at the famous Roxburghe Shooting School and have a go at the traditional sport of tomahawk throwing! It's harder than it looks but is heaps of fun, especially with a group of friends or family. Afterwards, cosy up by a log fire at the Roxburghe Hotel and enjoy a spot of afternoon tea, complete with delicious Scottish touches like haggis bonbons.
Don't miss a tour of Abbotsford House, former home to renowned local author Sir Walter Scott, situated in a picturesque position on the banks of the tranquil River Tweed. Finally, falconry is popular in this area too, with plenty of places where you can have a go yourself, including the beautiful Dalhousie Castle not far from Edinburgh.
Northern Ireland
Belfast
Submitted by Allan from bangorni.com
Belfast is the capital city of Northern Ireland but it is also a calm and quiet city when compared to the big bustle of the UK's major cities making it a lot safer to explore in the new normal.
Belfast City Centre is also small enough to cover on foot where the main tourist areas are all within a few miles walking distance including the more interesting sights of the city in the Belfast Botanic Gardens where it connects to Belfast Museum and the famous buildings of Queen's University. Then there is also the Titanic Quarter which is a bit like an open museum stretched over the shipyard where the Titanic was first built as well as covering many other local maritime attractions.
But the city centre is otherwise serene in itself at the busiest of times including Belfast City Hall which would be central to the city, and the banks of Belfast Laganside River is another popular area for a scenic historical stroll.
Some great local restaurants to check out include Mourne Seafood Bar, Deanes EIPIC for some fine dining, and a perfect place for the traditional Ulster Fry would be the Harlem Cafe. At the weekend in Belfast the Saint George's Market is the perfect place to explore and sample the local food scene.
Of course, Belfast is located on the island of Ireland but it is also safe and simple to reach with the Stenaline passenger ferries that travel between Belfast and Cairnryan in Scotland. Social distancing is also easy on board and the journey across would likely be safer than calling into your local supermarket shops.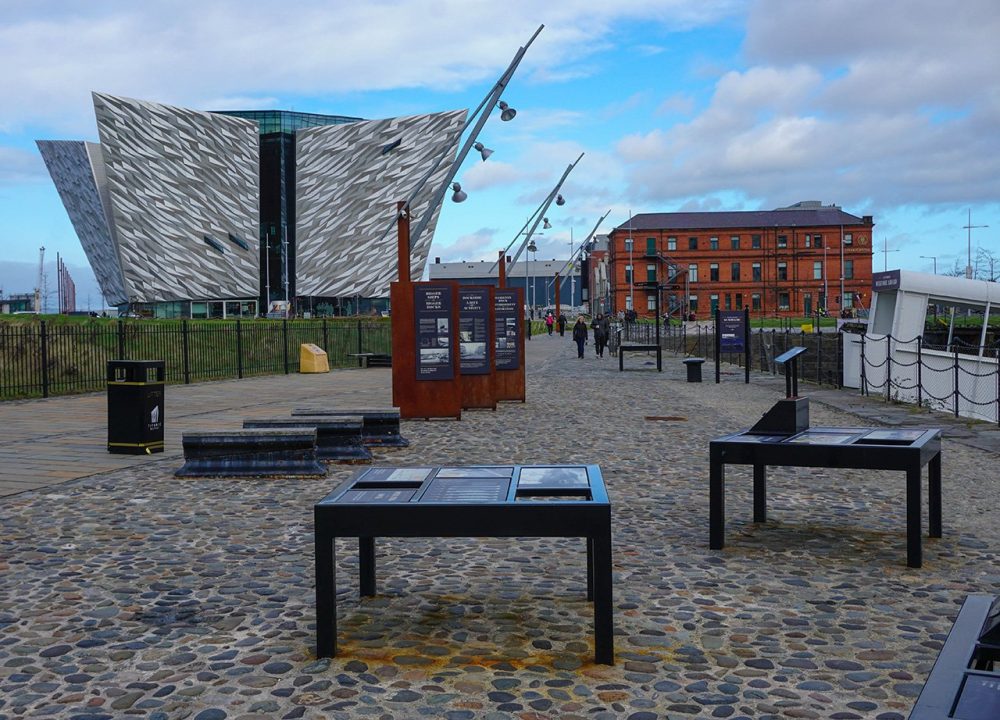 Best Weekend Staycation Destinations in the UK
So there you have my guide to the best staycation destinations in the UK. From big and bustling cities, to charming islands or stunning countryside, there are plenty of gorgeous places for your UK staycation this year. And of course, if your trip is blessed with good weather, it almost beats going abroad!
And of course, there's always the beautiful capital of London that's always worth a weekend stay!
I do hope this guide has been helpful and inspires you to explore more of the UK this year! Please, as always, do let me know if you have any questions!
Disclaimer: This guide has no involvement from the local tourism board or a hotel.
Enjoyed my guide to the best weekend staycation destinations in the UK? Pin it!