Rabat, capital of Morocco since 1912, is a large, clean, orderly and very 'European' city. Often missed out on Morocco itineraries, we decided to start our trip there as it was the cheapest flight route from London.
We weren't expecting too much, but actually, we found ourselves very pleasantly surprised. What it lacks in frenetic pace and the Moroccan culture, Rabat makes up for in just being a pleasant and easy-going city with quite a good array of things to do and see.
Peace and calm really are the order of the day. Rabat was the perfect stepping stone into the country and as a starting point to any Moroccan trip, we couldn't recommend it more.
What to See in Rabat Morocco
Despite often being omitted from travellers' itineraries, Rabat actually offers some of the country's most interesting historic and architectural monuments. Best of all, it is significantly calmer and more relaxed than Fes or Marrakech, and ultimately, quite a bit more enjoyable! The city is easily explored by foot and pretty navigable – especially compared to other places in Morocco.
The Hassan Mosque and Mausoleum of Mohammed V
As much of the old medieval city was destroyed by the Portuguese during raids in the sixteenth century, The Hassan Mosque is sadly just ruins now but worth visiting to explore its grounds, the adjacent Mausoleum of Mohammed V and the surrounding area.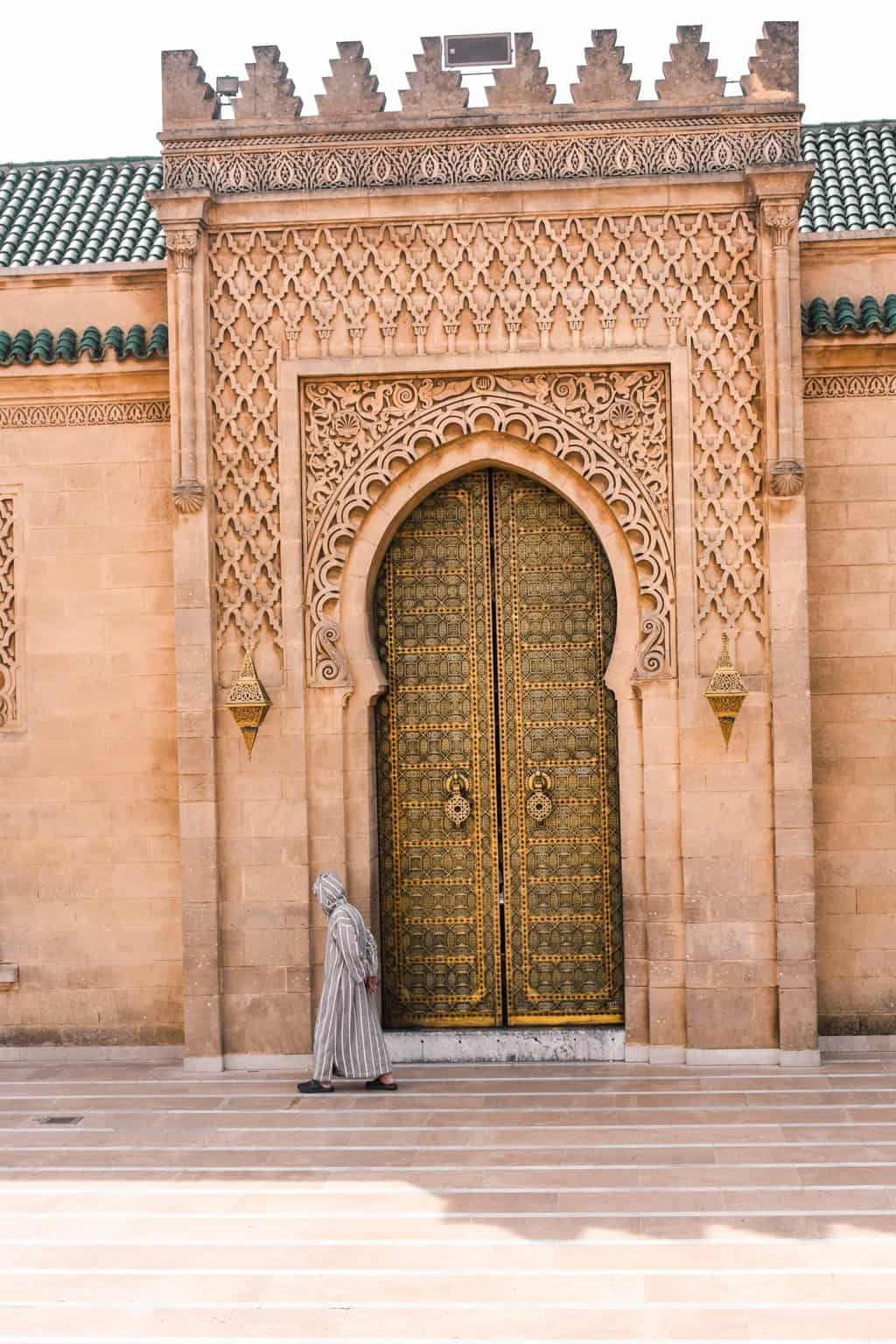 At one time, the Hassan Mosque was the second largest mosque in the Islamic world but following the area's destruction, now only the tower stands.
Kasbah des Oudaïas
This small kasbah is best entered through the Bab Oudaïa gate. Dating back to the 12th century, this ancient mini-medina area is manageable and very enjoyable to explore. As a first spot, we probably didn't appreciate it enough but after visiting Fes and Marrakech, we realised it is much, much calmer.
The complex stretches down to the sea, through a labyrinth of bluey white-washed lanes and is a real delight to explore.
The Port
Whilst not lined with cafes as we had hoped, it is a pretty waterfront and a great spot to watch daily life go by.
The Ville Nouvelle
The newer part of town is particularly European. Spacious and peaceful, with tree lined boulevards and Parisian style cafes serving up French, Spanish and Moroccan food. Croque Monsieur? Yep, this is a great place to pick one up. Great coffee? Yes, this too. Oh, and did I mention the funky street art adorning some of the walls?
Seek out Place Pietri for some great cafes in the sunshine!
How to get to Rabat and where to stay
Rabat's airport is just 7km out of town – just a 15 minute bus ride (22 dirhams). The bus times are amazingly irregular though and they often wait for the bus to fill up before departing.
The Rabat train station is centrally located and it is very straightforward to jump on a train to most places in Morocco.
What to See in Rabat Morocco
Realistically, there were no further sights to see or experiences to be had. That being said, it was undoubtedly the perfect first stop in Morocco and we had some delicious breakfasts!
Unfortunately, I wouldn't say that Rabat warrants a full weekend visit, but combining it with other spots in Morocco would be perfect! You can find my other Morocco blog posts here.
I do hope my post on what to see in Rabat Morocco has been useful for anyone wondering whether to include Rabat on a Morocco trip!
Feel free to ask any further questions in the comments section below!
If you've enjoyed this post, feel free to share using the below links 🙂
Wanna see more? Check my Instagram here, my Facebook here or my Twitter here!