Visiting Venice in just a weekend felt like it would be too short, but as it was a city that has been on my bucket list for ages, I just went for it. I'd just needed to visit this magical destination for myself.
For the most part, I really enjoyed Venice.
The city has been in the news a lot in the last few year, particularly for the sheer number of cruise ship passengers arriving daily. Locals have really made their voices heard and certain restrictions have been put in place.
Knowing how busy Venice can be in the summer, I decided to go in the month of March.
Based on my experience of going in March, I would definitely recommend this. I experienced far fewer crowds than expected and the canals and laneways weren't smelly, as I've heard this is an issue in the summer. It might have been nice for a little more warmth, but I'd pick fewer crowds over this in a European city, for sure!
A Weekend in Venice
Whether you're visiting for a romantic weekend or stopping by on a longer trip around Europe, Venice is definitely a charming destination. From the delicious food, the exquisite hotel stays and getting out on the canals, it's a city everyone should visit once in their life!
Where to stay
So if you're visiting Venice for a romantic weekend, I highly recommend splurging a little on your stay. Not only will you feel like royalty, but there are often several add-ons included that actually make it pretty good value.
We stayed at the truly palatial Palazzo Paruta.
Our stay on a Saturday night cost £200 per night, and was worth every penny. Our room was decadent, the breakfast exceptional and best of all, the team arranged a complimentary speedboat to Murano and Burano. Amazing!
Check rates for Palazzo Paruta here.
Some of the other best luxury hotels in Venice are:
For a few more affordable suggestions, I've popped a couple here:
Top tip: The canal network is pretty confusing. If you're not arriving by boat, I'd recommend using Google Maps to find the hotel. Don't rely on asking people or using signs.
Eating out in Venice
Venice is a bit of a tourist trap, and the restaurants really charge a premium to sit in especially scenic locations.
We did this for our first lunch at the Riva del Vin by the Rialto Bridge. It was certainly expensive, and the views were amazing, but the food was not the best Italian I've ever had for sure.
Some other excellent restaurant suggestions in Venice:
Osteria Alle Testiere
La Zucca
GLAM
Osteria La Perla ai Bisatei
Ristorante Quadri
Osteria Enoteca Ai Artisti
Sightseeing in and around Venice
Venice is a wonderful city to explore by foot (and gondola, of course), even in just a weekend.
To enjoy a ride on a gondola through the canals is around 80-100 euros. This was over our budget but if you're in Venice for a romantic weekend, it might be nice to do.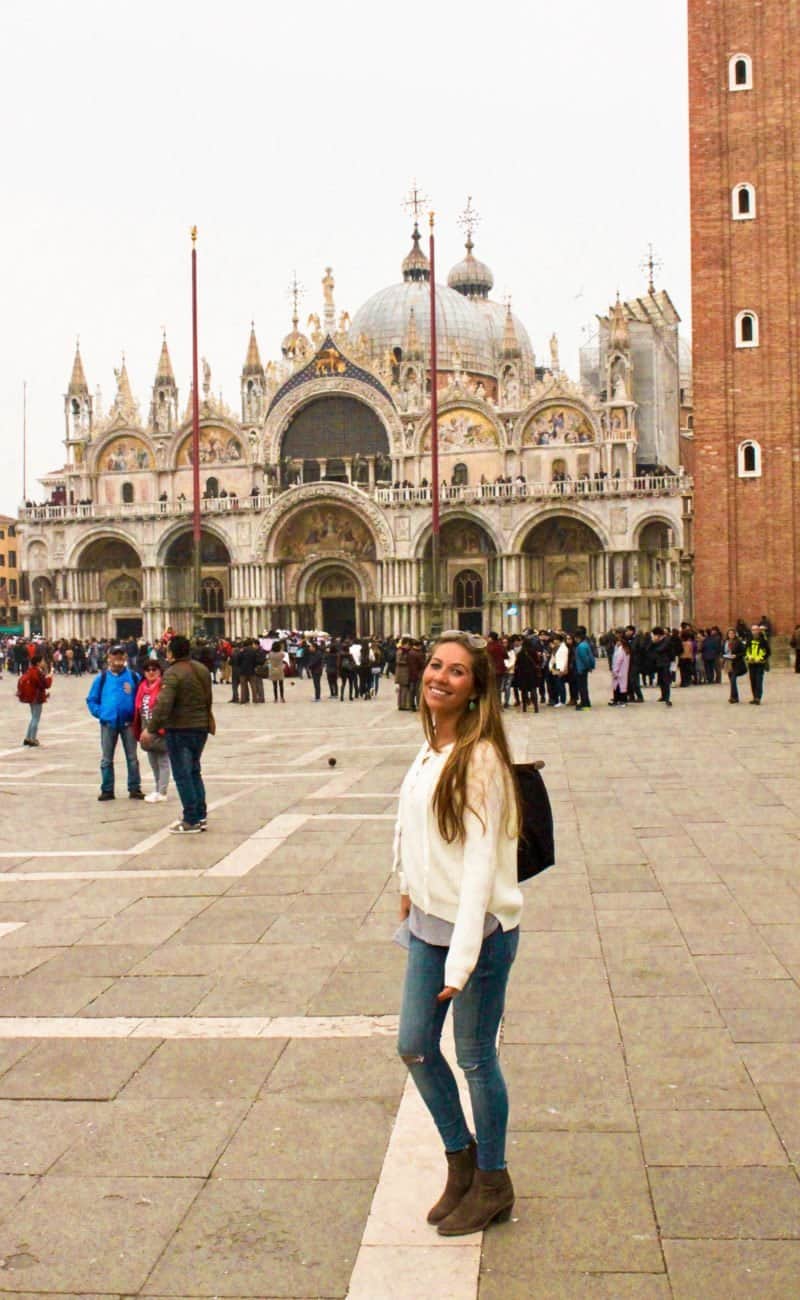 The main sites to see in Venice are of course the famous Piazzo San Marco, Saint Mark's Basilica and the Rialto Bridge.
But I think the real real joy in Venice comes from just wandering and exploring the canals & laneways. From tiny coffee shops and artisan clothing stores, it's really lovely to walk around.
Another idea is to do a walking tour with a local guide showing you lots of unusual and lesser known sites in Venice. Book your tour here!
Visiting Murano and Burano as a day trip from Venice
I would definitely recommend taking a boat over to Murano, a Venetian island famous for its glass-blowing. It's the perfect day trip, and you can also visit neighbouring island Burano too. The best way to travel to Murano and Burano is by public ferry. Its a simple vaporetto ferry, with line 12 running to and from Venice and Burano, taking about 45 minutes and costing €6.50 per person. Read more about how to spend a day on Murano and Burano islands here.
Alternatively, why not book on a half-day organise tour? Check prices here!
A Weekend in Venice
So there's my guide to planning a weekend in Venice. From where to stay, where to eat and what to see, it's the quick guide for spending two days in Venice. I hope this is useful but feel free to drop me a line if you would like any further information.
Don't forget to also check out my guide on visiting Murano and Burano as a day trip from Venice too!
Wanna see more? Check my Instagram here, my Facebook here or my Twitter here!
Disclaimer: This visit to Venice was entirely paid for by myself. There was no involvement from the tourism board or a hotel. This is an independent guide.
Enjoyed my guide to a weekend in Venice? Pin it!