If you're looking for unusual landscapes, fascinating ancient history, fantastic beaches and gorgeous seaside towns, Turkey needs to be on your travel bucket list. I recently spent two weeks exploring Turkey and the trip ended up being the best adventure possible. So since so many people have asked how I planned the trip, I thought I'd share my 2 week Turkey itinerary!
I'd been to Turkey as a child and had fond memories of climbing over huge ancient ruins and sailing on deep blue seas. So when considering where to go in Europe, I thought returning to Turkey sounded like a good idea. It ended up being a bit of a solo adventure. But I found travelling around Turkey as a solo female traveller to be completely safe and fine.
I spent two weeks in Turkey in the end. My time in Turkey included visiting the ancient ruins in Ephesus, the fascinating capital Istanbul and the magical landscape of Cappadocia. I also spent plenty of relaxing beach time in Bodrum and enjoyed a brilliant three day sailing trip on a traditional Turkish gulet boat.
I travelled across solo and entirely on public transport, using buses, trains and planes. You can read all about this in my detailed guide to public transport in Turkey.
In a nutshell, it was a fantastic trip. This guide to 2 week Turkey itinerary guide will cover where to go, how to get between destinations, where to stay and all of the best things to see and do. I'll attempt to cover everything you might need to know for your own Turkey adventure, so read on and start planning your own 2 week Turkey itinerary!
2 Week Turkey itinerary: Essential things to know
How long to spend in Turkey?
I'd recommend an action-packed 2 week itinerary for Turkey. Or at least of a minimum of 10 days in Turkey. This is ample time to visit the main sites and get a really good feel for the country.
However, if you have less time, for example just one week in Turkey – I'd recommend perhaps visiting just two or three destinations from this guide.
A three week Turkey itinerary could include an additional location perhaps. or more time in Istanbul to really learn about its fascinating history and mix of cultures. Alternatively, a 3 week itinerary in Turkey could be spent entirely along its beautiful coastline. You could hike the country's famous Lycian Way which traverses beautiful craggy mountains, pine forests and weaves through typical Turkish coastal villages. The options in Turkey are endless – it is a country that really encompasses so much!
When is the best time to visit Turkey?
Quite an important question when planning your trip is deciding when to visit Turkey. The summer months (May to September) are the peak times to visit with long sunny hot days and little rain. But if you're not keen on this, then the shoulder months would also be a good time to visit.
If you visit Turkey in the winter, you might even experience Cappadocia as a winter wonderland!
However, if you're planning on sailing the Turquoise Coast in Turkey or visiting coastal places, it would definitely be advisable to go in the summer months. As with many beach areas in Europe, many restaurants and hotels often do not open until early May.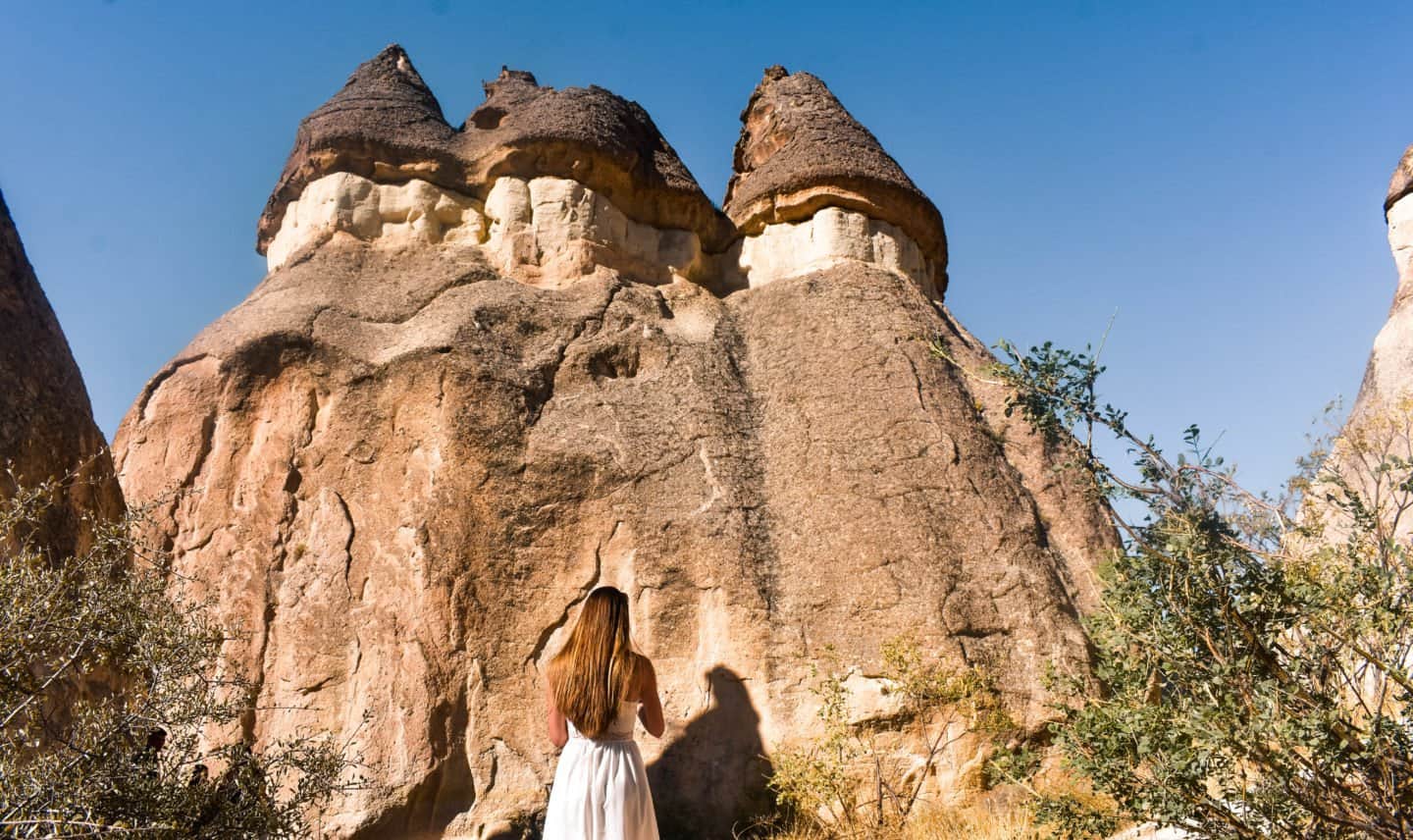 Getting around Turkey
Although Turkey is a vast country, I found Turkey very easy to get around by public transport. Using the buses, trains, dolmuş and domestic airlines was an efficient and convenient way to explore the country.
I found most public transport ran mostly on time, was very affordable, could be booked at the last minute and was clean/comfortable. I really enjoyed the independence that using public transport in Turkey afforded me. You can read my guide to using public transport in Turkey here.
What to take to Turkey?
What you should bring to Turkey really depends on the time of year that you visit. If you're visiting in the summer months, you'll need some good walking shoes for all of the sightseeing and exploring. I would also recommend a sunhat, plenty of suntan lotion and sunglasses!
As Turkey is mostly Muslim, there are some places where you need to cover up – particularly in religious buildings in Istanbul. However, the country on the whole is fairly relaxed and not too strict.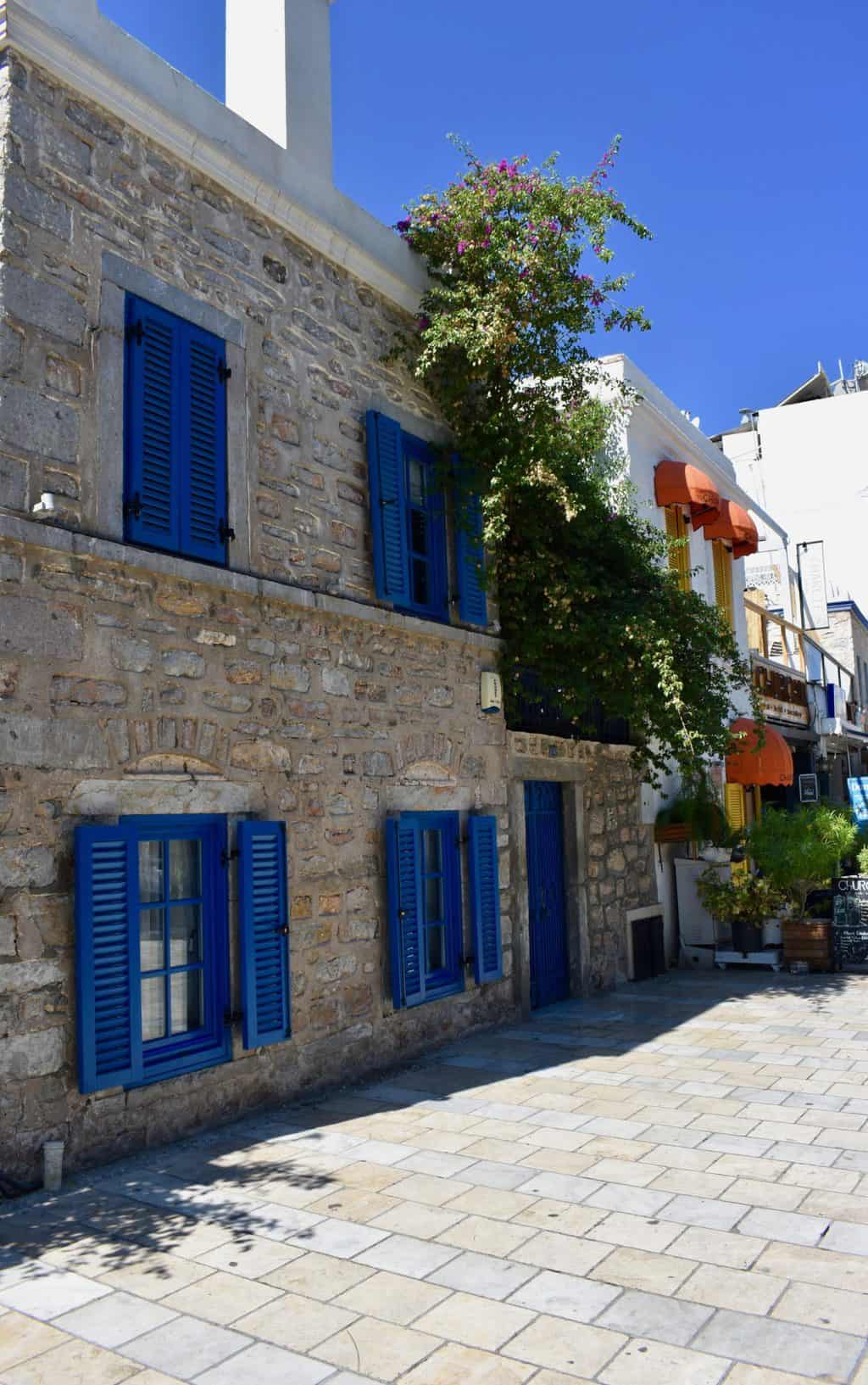 Is it safe to travel to Turkey?
Turkey has experienced periods of political unrest over the past decade, as well as several attacks. But of recent, Turkey has been declared safe to travel.
In fact, most governments around the world still advise travellers to not go near the border area with Syria. Which is understandable.
Fortunately, most of the major tourist attractions in Turkey, and all those included in this Turkey itinerary are nowhere near.
I found the Turkish people to be nothing but kind and hospitable throughout the country. The only city to use some extra caution would be Istanbul, just as with any other city in Europe.
Itinerary Planning for 2 Weeks in Turkey
Turkey is a popular summer tourist destination for countries across Europe. Therefore, its coastal towns have large airports so you might not have to start your trip in Istanbul.
You could for example fly into Bodrum, Izmir, Antalya or Dalaman Airports, all of which are on the coast and mean you wouldn't necessarily need start your Turkey itinerary in Istanbul.
Turkey is one of the best countries to travel around independently. It has a very comprehensive, well-priced and convenient public transport system in place. So no matter where you start your Turkey trip, it's likely you'll be able to travel to next destination with ease.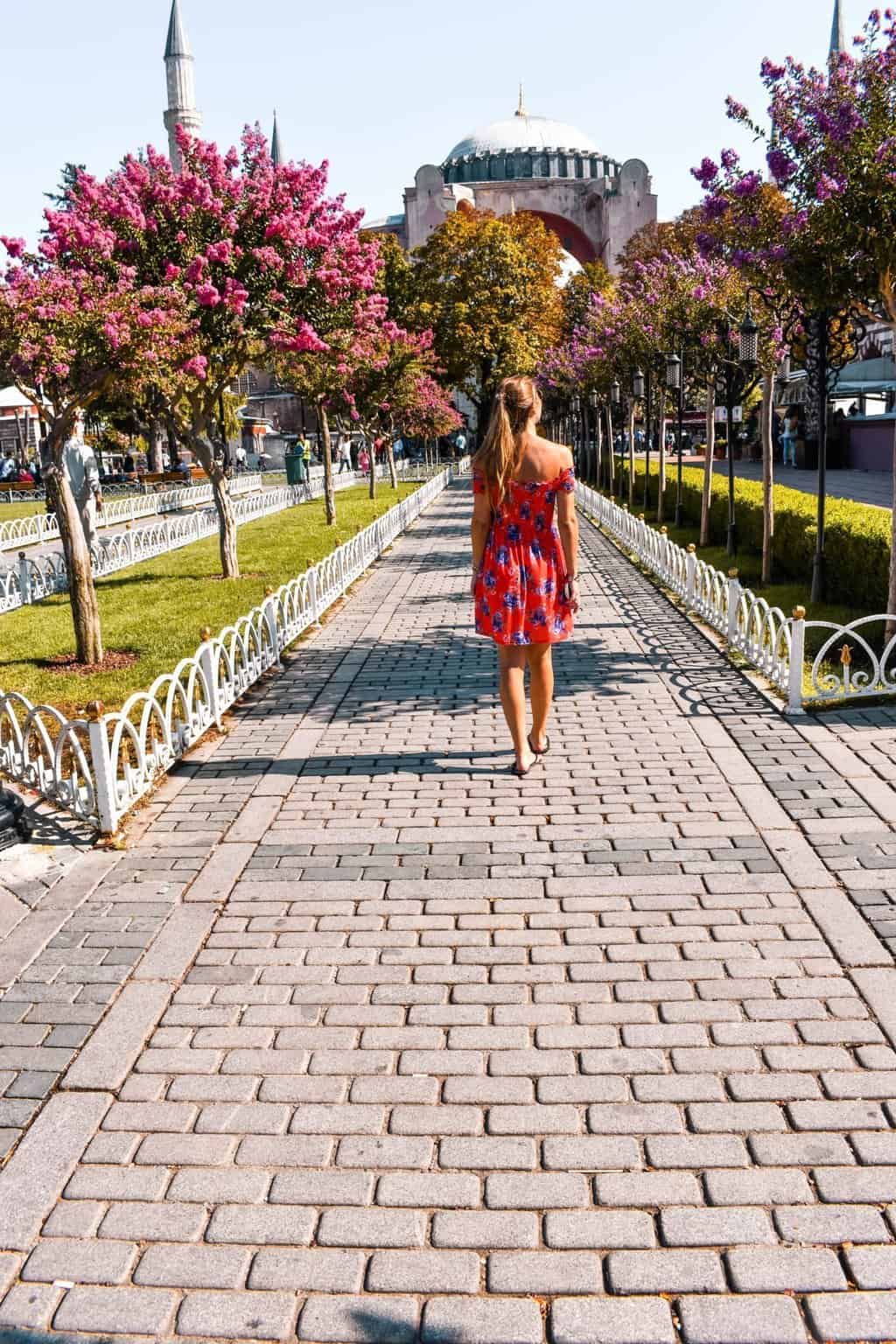 Useful tips for travelling in Turkey
Check visa/entry requirements to enter Turkey. Rates vary depending on nationality. You can apply for your visa ahead of time on the official Turkish government e-visa website here.
Currency. The main form of currency is the Turkish Lira (often referred to as TL). ATMs are widely available.
Language.T urkish is the most spoken language in Istanbul. Most people, especially those in hospitality or food & beverage, speak English very well so you shouldn't have a problem with communication.
The Museum Pass
This excellent pass is a great buy if you are visiting several places in the city, especially for many of the destinations in this two week Turkey itinerary. It covers your entry to many attractions and archaeological sites across Turkey, including Ephesus, Pamukkale and Istanbul. You can buy it online here, or at any of the attractions that offer it.
Example route for 2 weeks in Turkey
Bodrum
I travelled in late August and chose to fly from London to Bodrum as this was the most affordable flight. It actually worked out to be a brilliant first stop.
I knew I was interested in visiting Ephesus and as soon as I realised the public transport would be straight forward to get there, I decided Bodrum would be a great first stop on my Turkey itinerary.
Bodrum was charming, lively, interesting and beautiful. It was such a pleasant surprise and Bodrum town centre has none of the large all-inclusive resort hotels I expected. The big resort hotels are located just out of town, leaving the centre of Bodrum to be a delightful car-free place. You could easily spend just one or two days in Bodrum, or a whole week soaking up the sun and enjoying the beaches. I've written a longer guide on what to do and in see in Bodrum, which will give you everything you need to know before deciding whether or not to include Bodrum in your Turkey itinerary.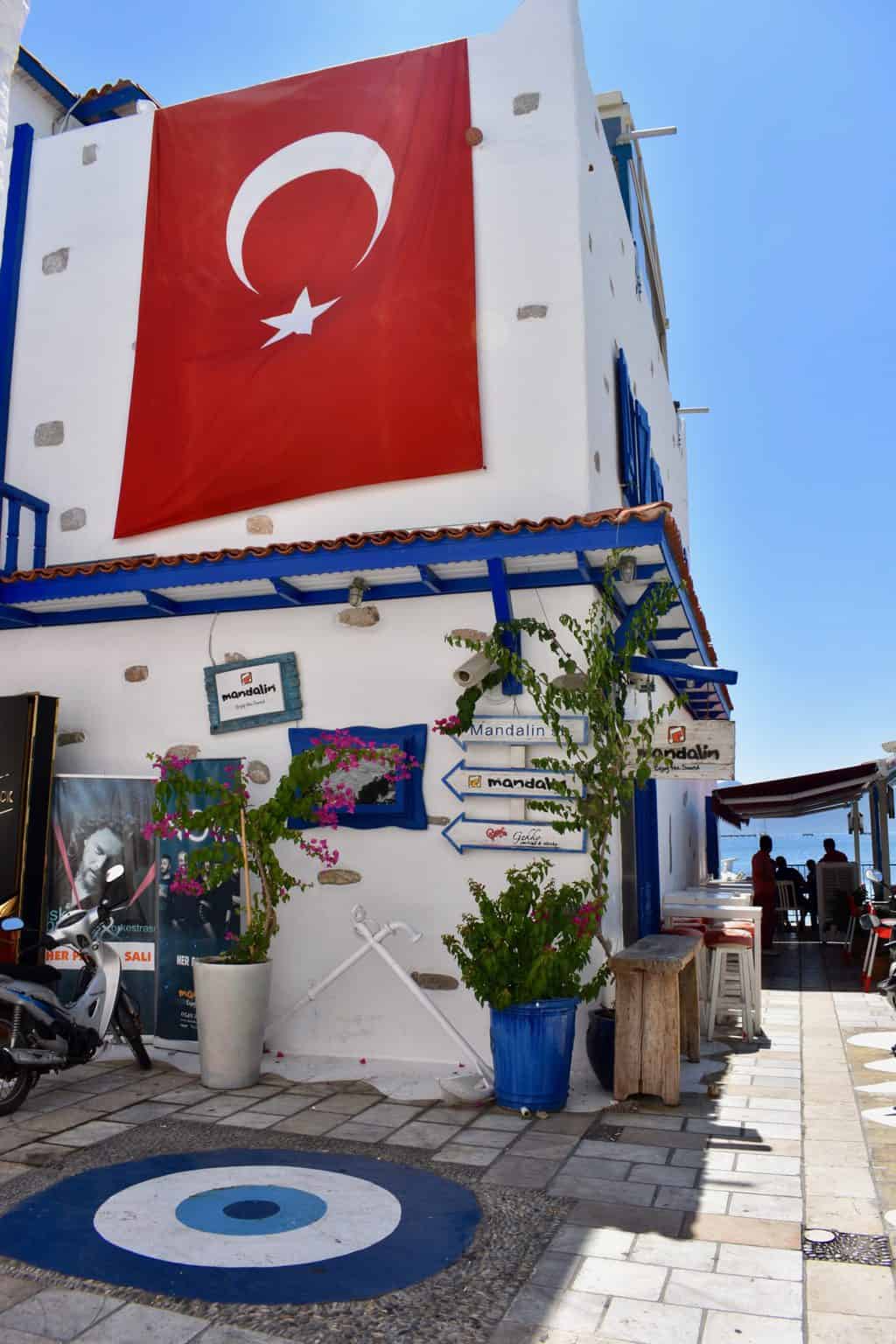 Where to stay in Bodrum
There are plenty of brilliant budget hotels in Bodrum, as well as more luxury options. I stayed at the excellent Eskici hotel (you can check rates here at Booking.com).
A few suggestions for some other great budget hotels in Bodrum:
In terms of luxury hotels in Bodrum, there are many to pick from. I've listed some of the best below:
The best things to do in Bodrum
From wandering its charming streets and visiting the historic Bodrum Castle, to sampling the best of Turkish cuisine in the atmospheric restaurants, there's plenty of attractions to see and things to do in Bodrum.
If you're only visiting for a short time, one idea could be to book a local tour. I've suggested a few with GetYourGuide below covering all of the must-see attractions in Bodrum: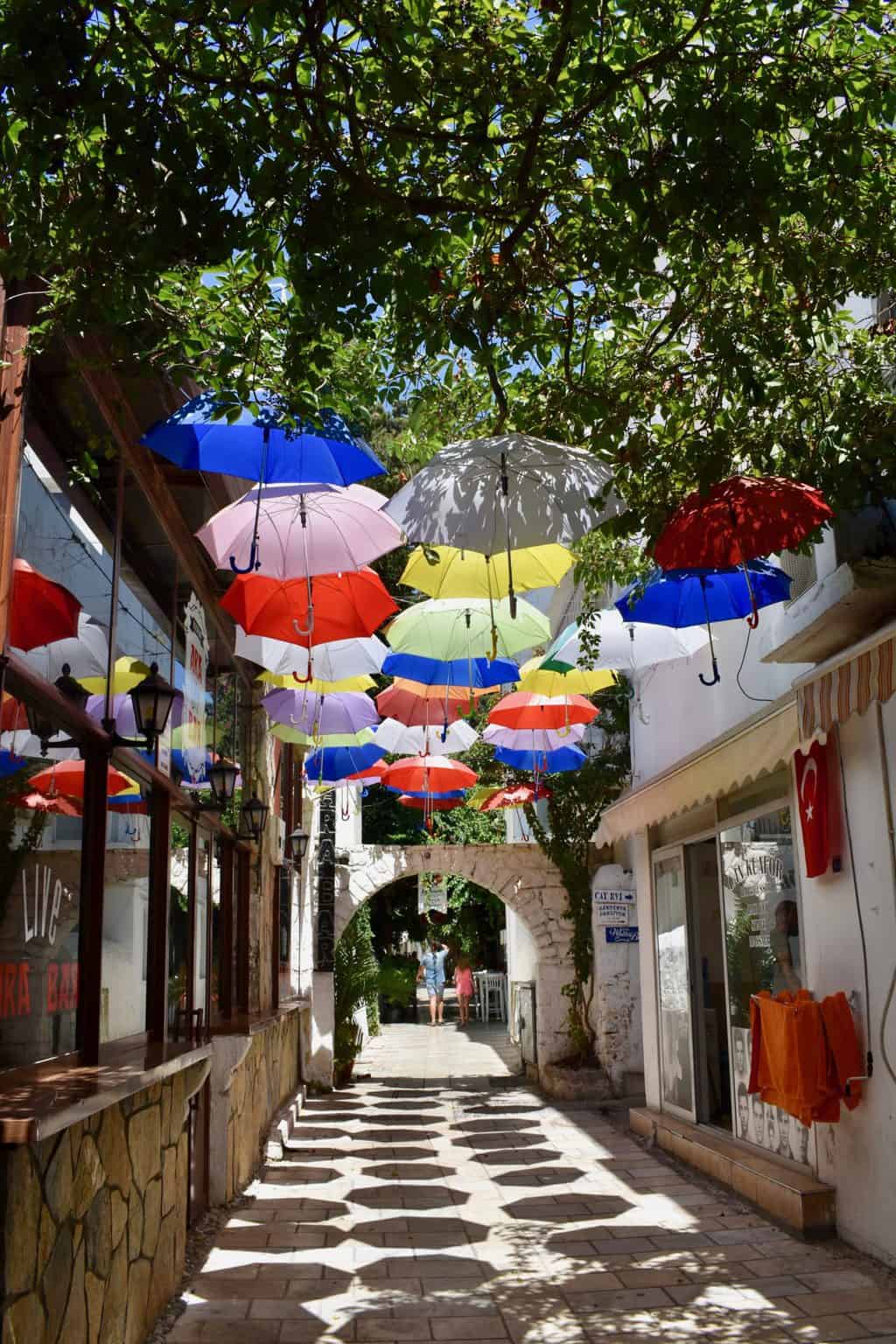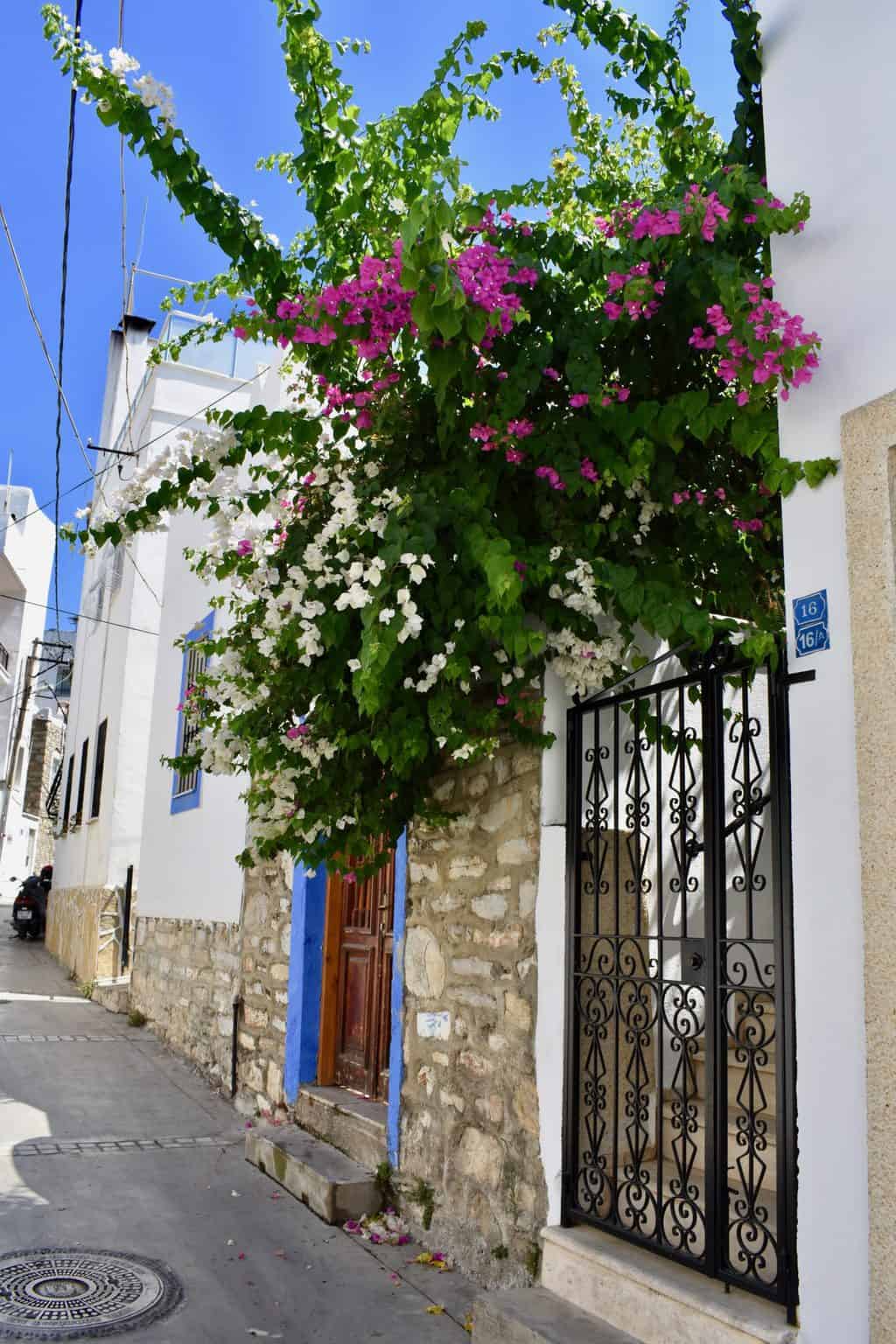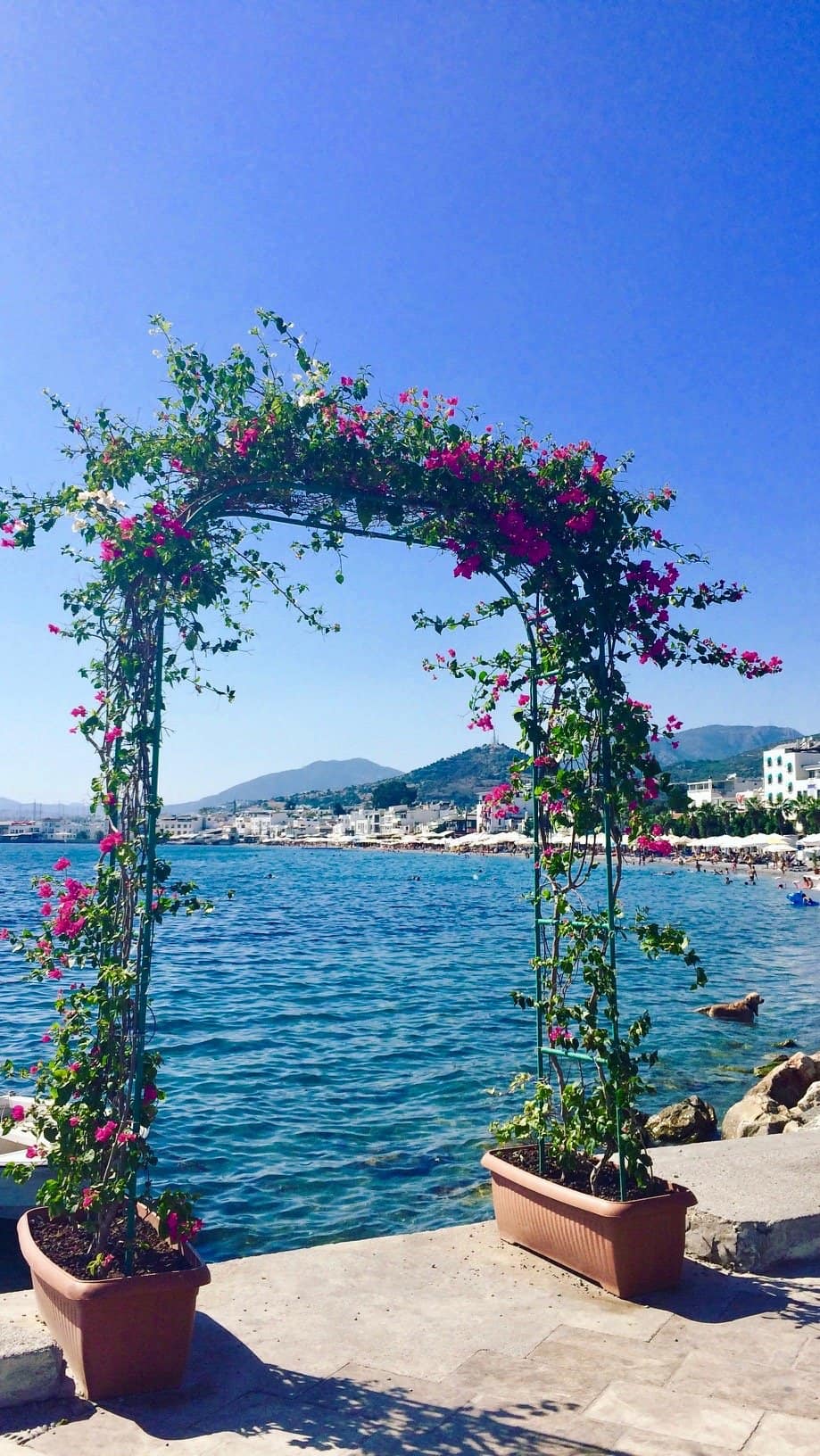 Ephesus and Selçuk
Next stop, Ephesus and the nearby town of Selçuk. Travel time: 2h30 on public bus.
The ancient ruins of Ephesus are definitely one of the top things to do in Turkey. Located relatively nearly Izmir and also the cruise port of Kusadasi, the ruins are popular with cruise day-trippers. Huge crowds arrive at Ephesus everyday. I've written a long guide you can read here covering how to visit Ephesus without the crowds.
I chose to visit Ephesus and the adjacent town of Selçuk after Bodrum, as I realised it was a straight forward bus from between the two. I spent a full day exploring Ephesus, before spending the night in Selçuk.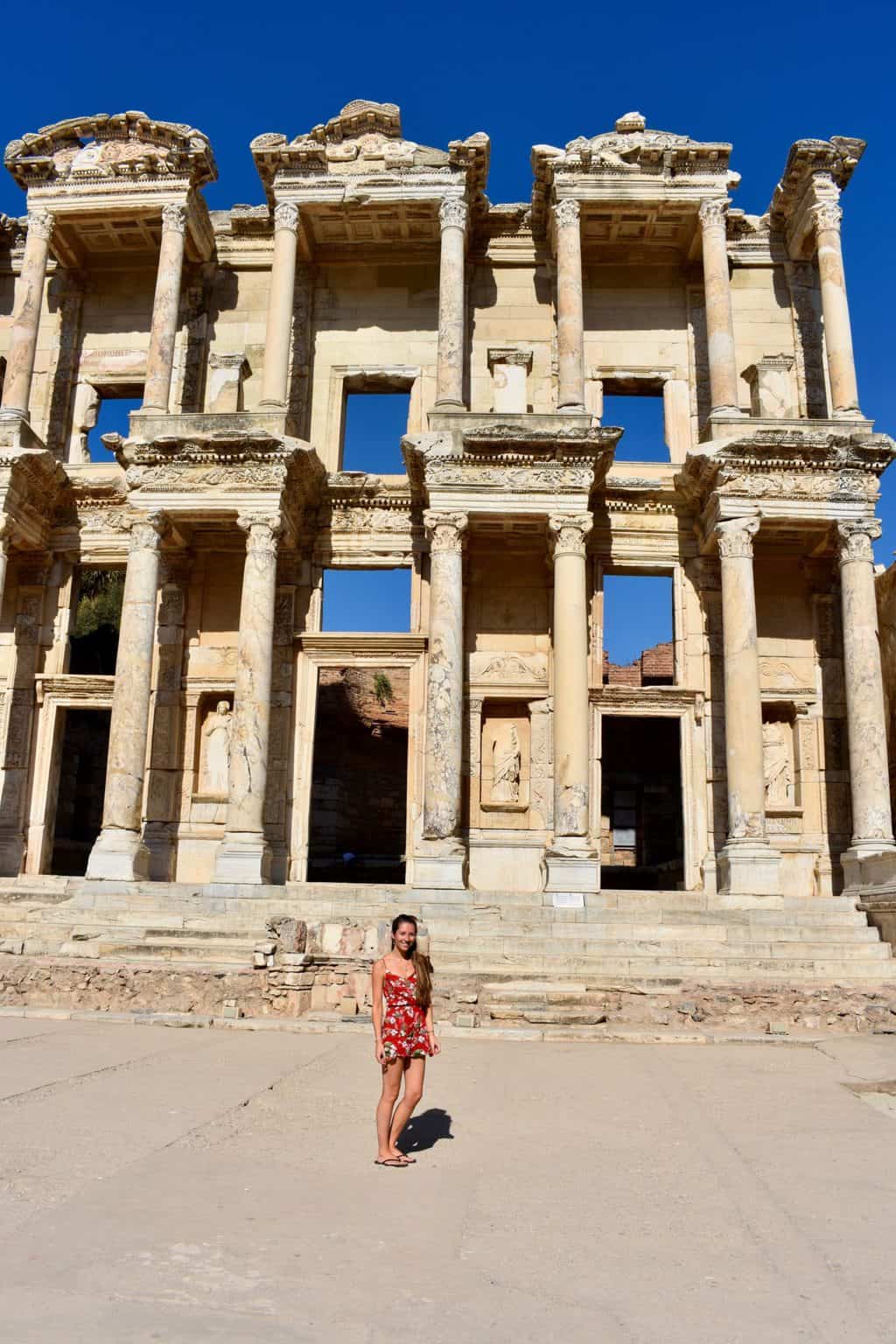 Where to stay near Ephesus
As I mentioned, Selçuk is the nearest town to Ephesus. There are several mid-range hotels here to choose from, all catering for tourists visiting Ephesus. I stayed at the Saint John Hotel, which was about a five minute walk to the train station and offered a really pleasant stay.
The lovely hotel is family-owned and run, and they made me feel right at home. You can check rates for Saint John Hotel here.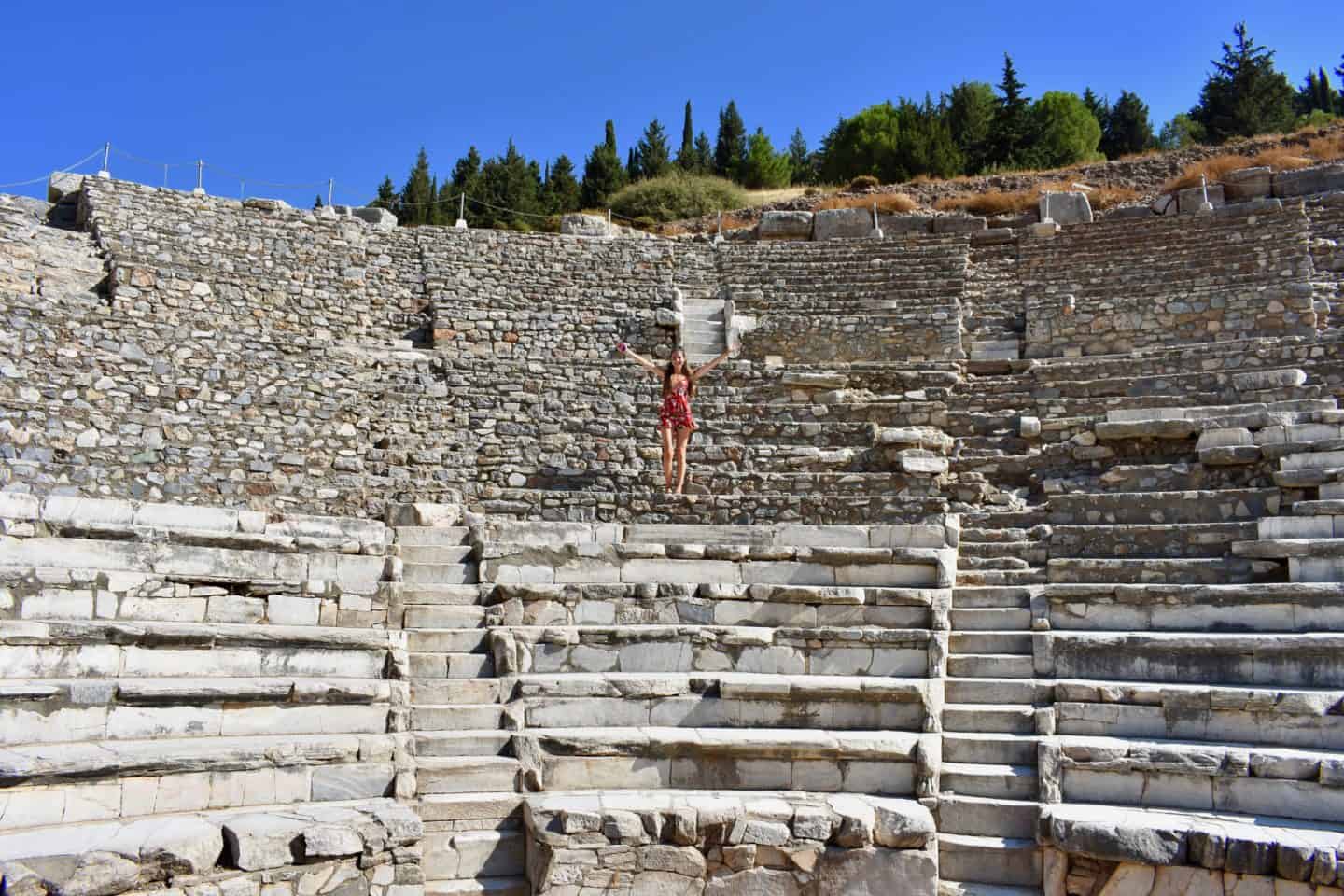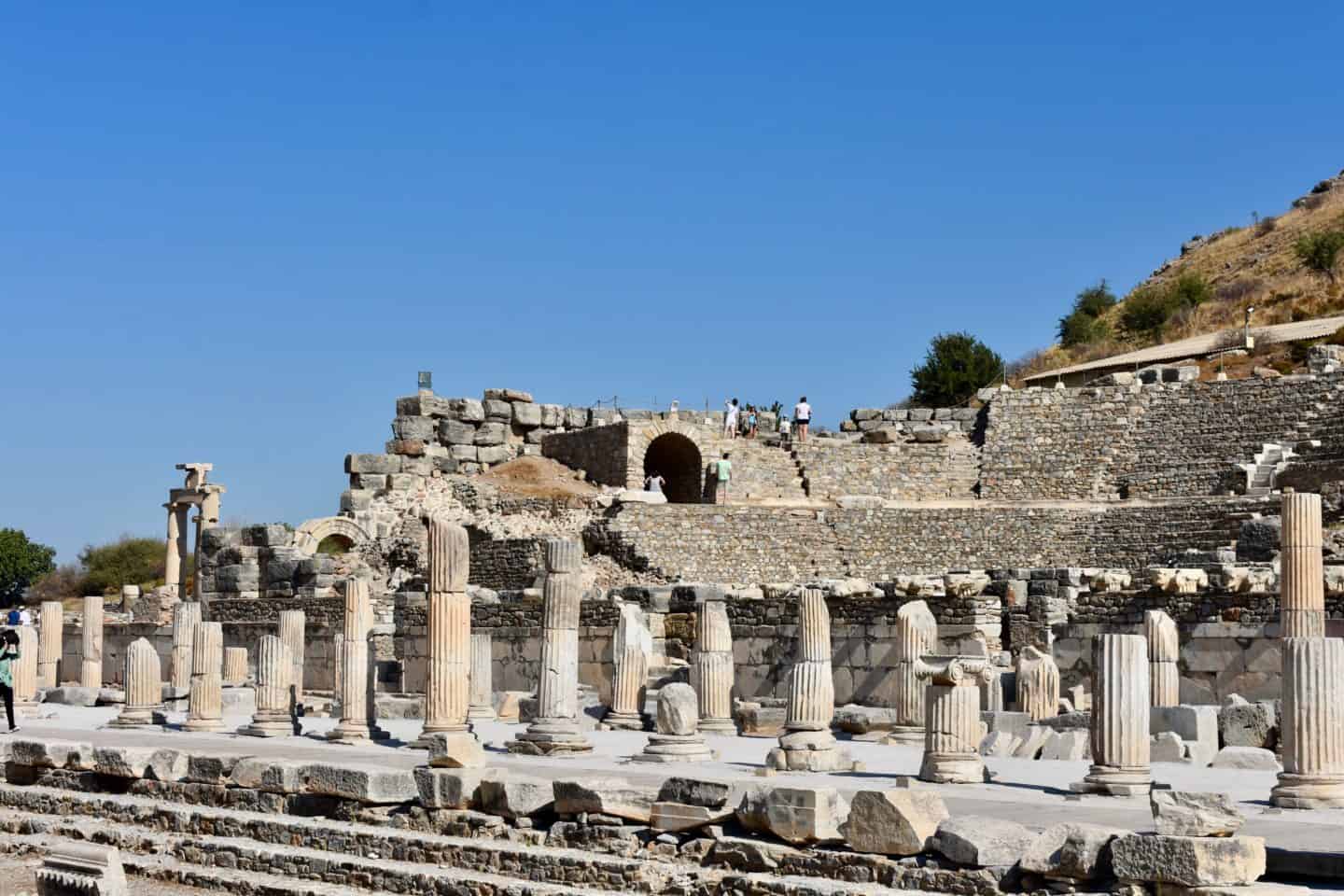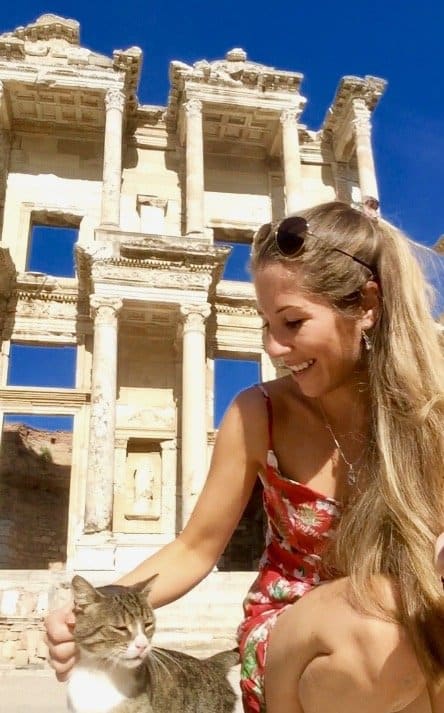 What to see at Ephesus?
The main archeological sites include the Library of Celsus, the Temple of Artemis and the amphitheatres. At the entrance you can pick up a map, and there is signage throughout, so you could give yourself a self-guided tour through Ephesus. However, you can arrange a tour through a local tour company in town, or book on a tour with GetYourGuide advance:
Pamukkale
Next stop: Pamukkale. Travel time from Selçuk to Denizli: 3hr30.
This spectacular natural wonder is unusual and distinctly different to anything else in Turkey. I'd highly recommend including a visit to Pamukkale on any Turkey itinerary. Not only can you submerge yourself in these pools, but you also explore Hierapolis at the top. Here are some more fantastic ancient ruins, which are perhaps even more spectacular than Ephesus – and definitely more overlooked.
We took the train from Selçuk to Denizli, which was just over 3 hours. From Denizli, we took the local bus to Pamukkale which was really straightforward.
However, a day trip to natural wonder of Pamukkale does require a bit of pre-planning. It's almost essential to try and arrive before the day tripper crowds arrive. It'll make for a much better experience and you can enjoy an hour or more of the pools to yourself.
Visiting Pamukkale can be done as a day trip from nearby Denizli (and other towns in Turkey). You see many tours offering this and I've popped a few suggestions below:
However, I strongly recommend spending the night before in the town of Pamukkale for a less hurried experience. My guide to visiting Pamukkale is well worth a read if you're planning on going.
However, one full day and one night is sufficient time to explore Pamukkale.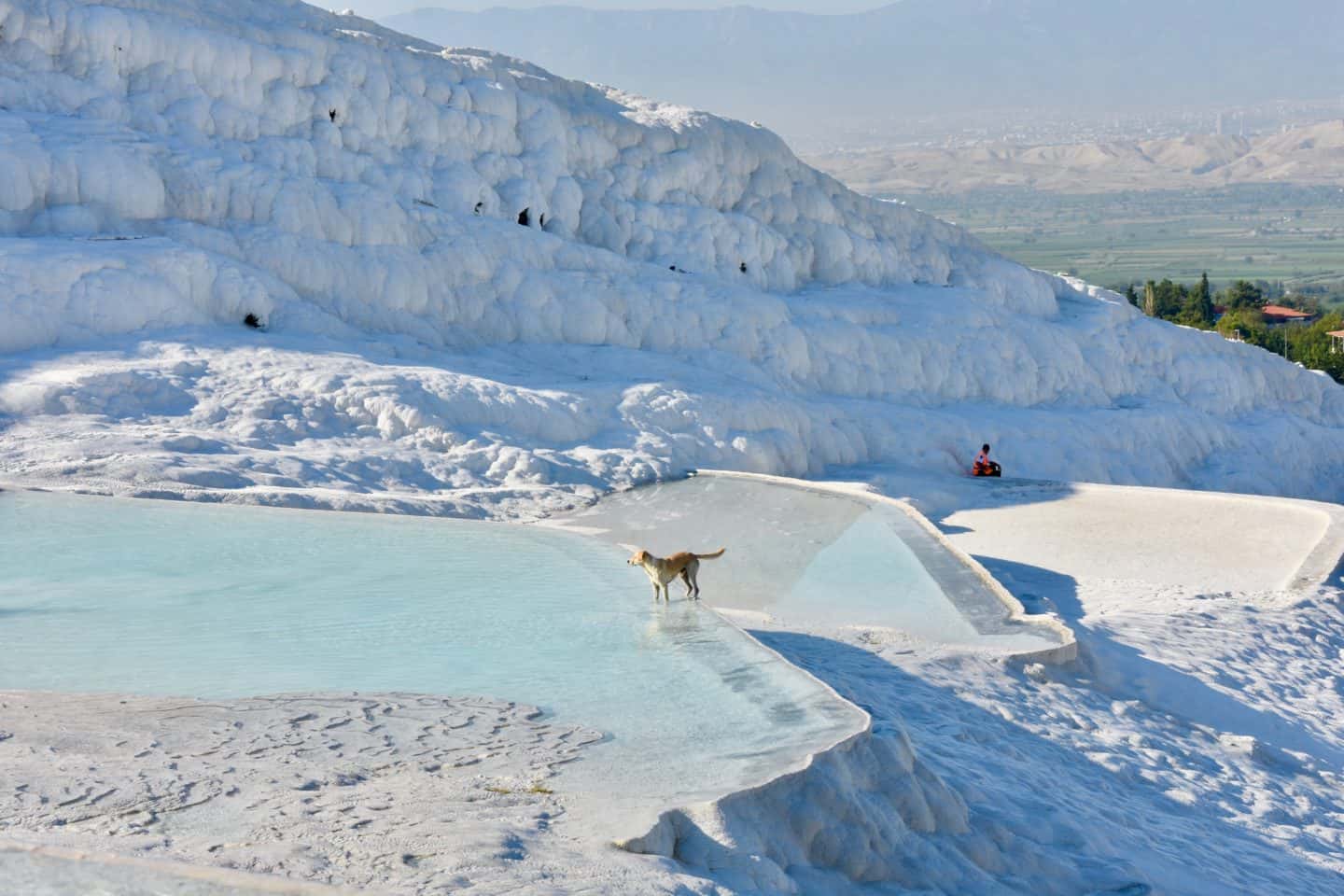 Where to stay in Pamukkale
If you choose for the convenience of an overnight stay in Pamukkale, there are several mid-range hotels to pick from. I stayed at the Melrose House Hotel which was the perfect base from which to explore Pamukkale. You can check rates for this great hotel here.
If you're looking for something a little more fancy, you could choose Doğa Thermal Health & Spa or Richmond Pamukkale Thermal.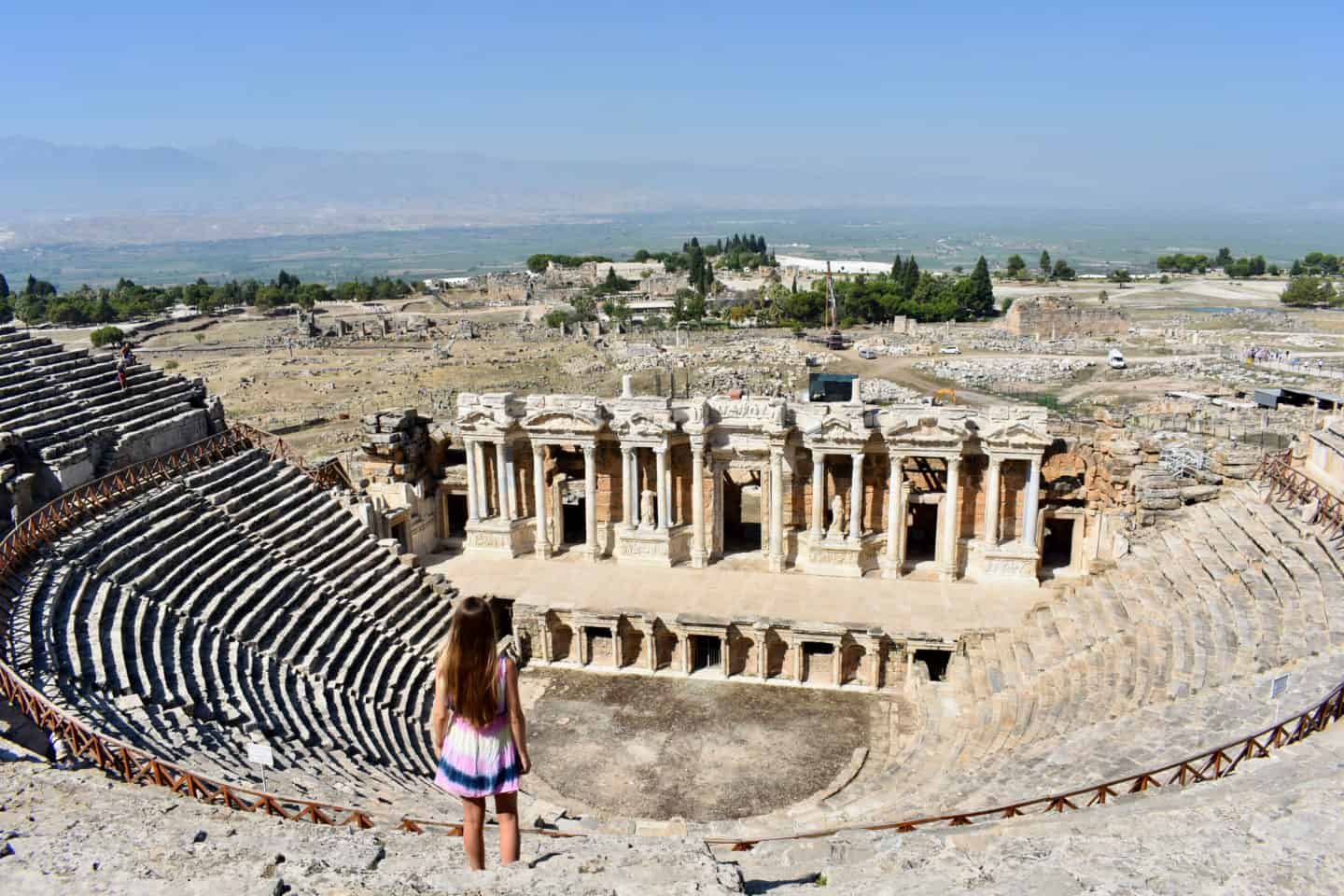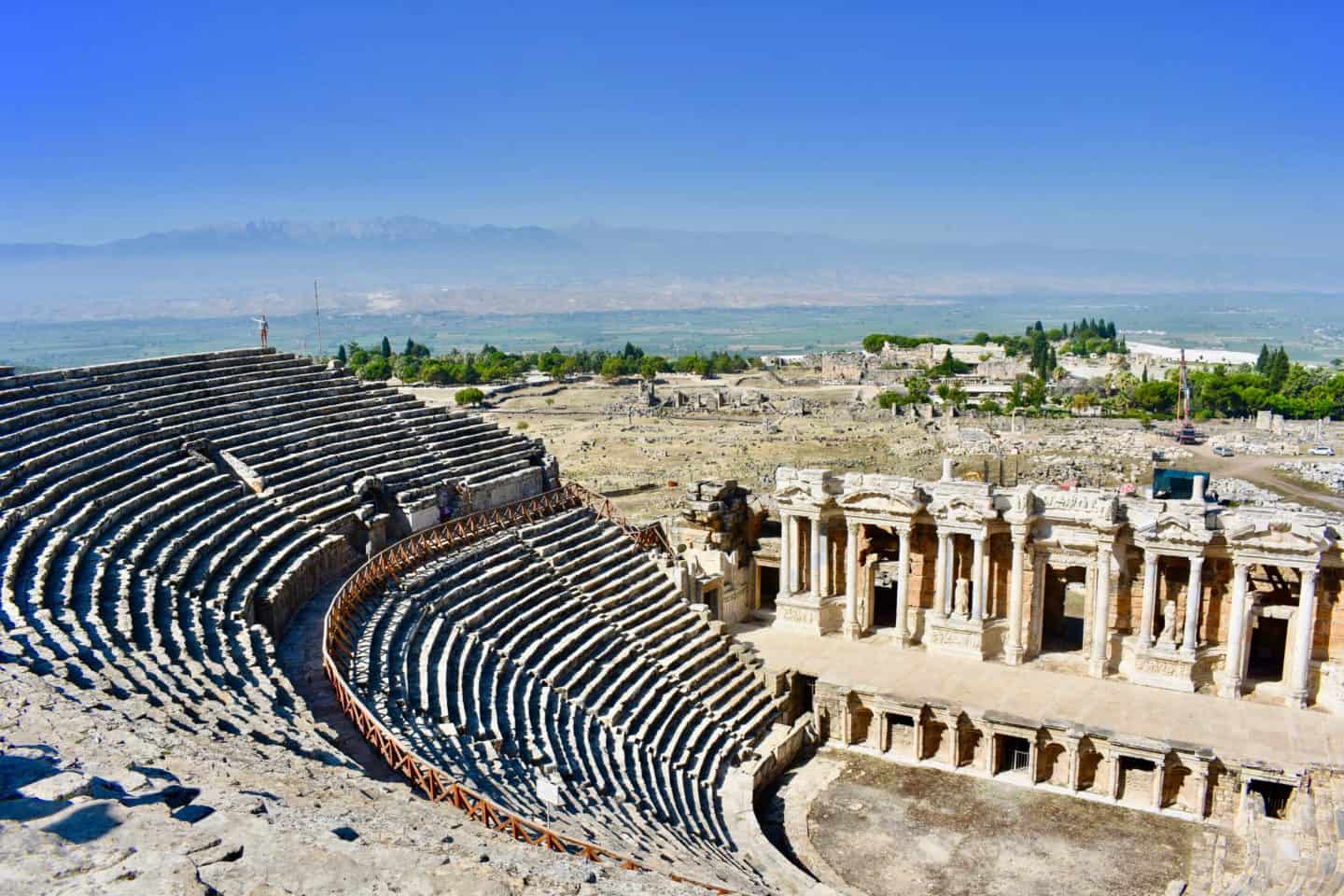 Sailing the Turquoise Coast
Next stop: Fethiye for a gulet cruise. Travel time from Denizli to Fethiye: 2hr40.
Sailing along the Turquoise coast is a magical way to spend time in this beautiful country. If you can include a gulet cruise in your Turkey itinerary, you definitely not regret it. The stunning coastline is lined with deep emerald green pine forests, craggy rock faces, charming Turkish villages and fascinating history. It is also where you can go paragliding above Ölüdeniz.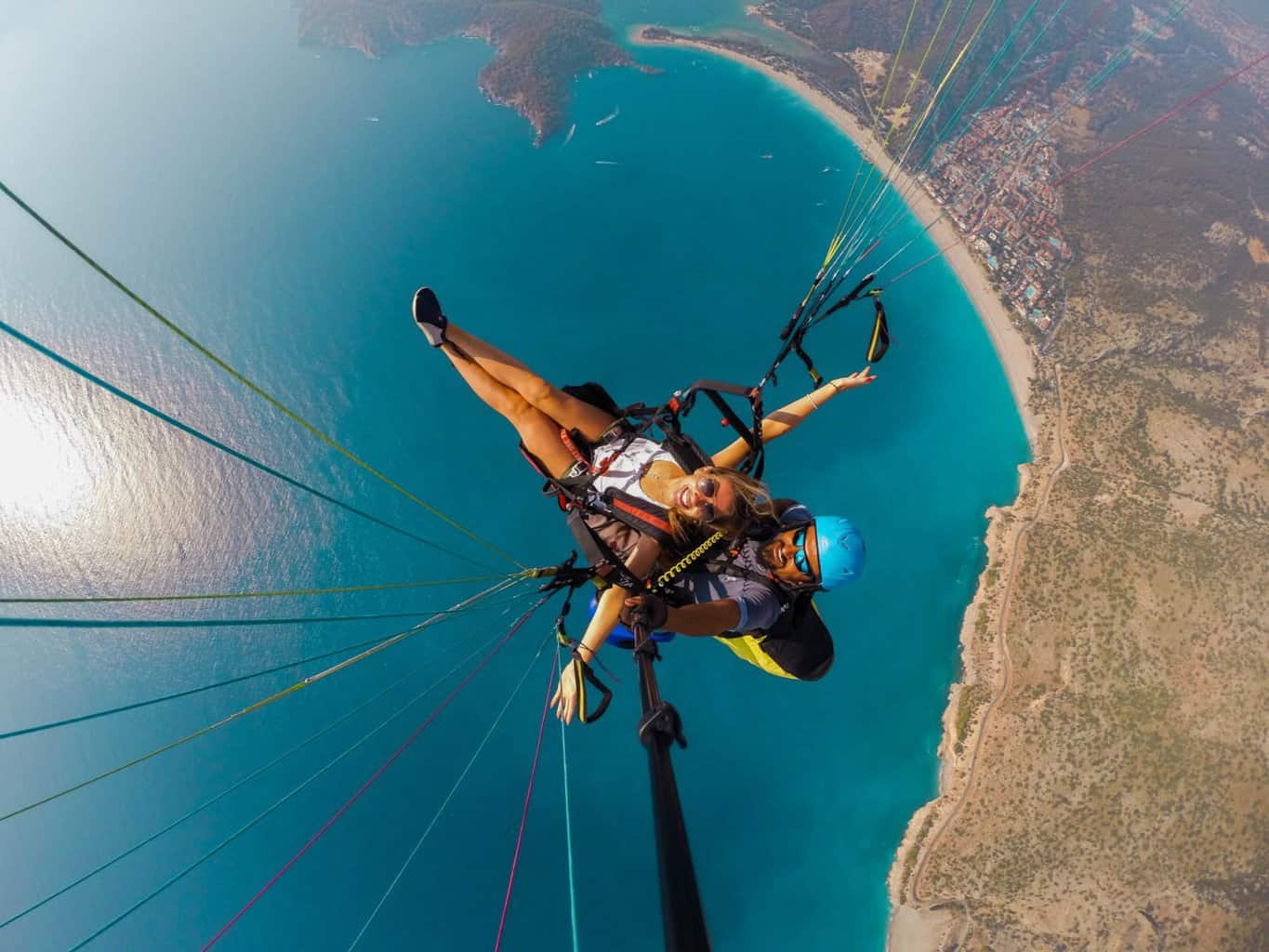 Spending a few nights on board a traditional Turkish wooden gulet cruise boat is a fantastic and authentic way to sail the coastline. The gulet boats tend to sail between Fethiye and a town near Antalya called Olympos. I departed from Fethiye for my gulet sailing trip.
I'd say I definitely wouldn't choose to return to Fethiye for a longer trip on another occasion as I found it to be over commercialised and the total opposite of quaint.
There are plenty of local companies to pick from for your sailing trip in Turkey. I would definitely recommend local company Alaturka Cruises who I found online in advance of my visit. The gulet boat was great, the team fantastic and their email support before the gulet departed was brilliant.
I've written a much longer and extensive guide to sailing the Turquoise Coast in Turkey here. I've covered everything you'd need to know including when to go, how to get to the departure points, what to take on the sailing trip and what to do in each of the ports.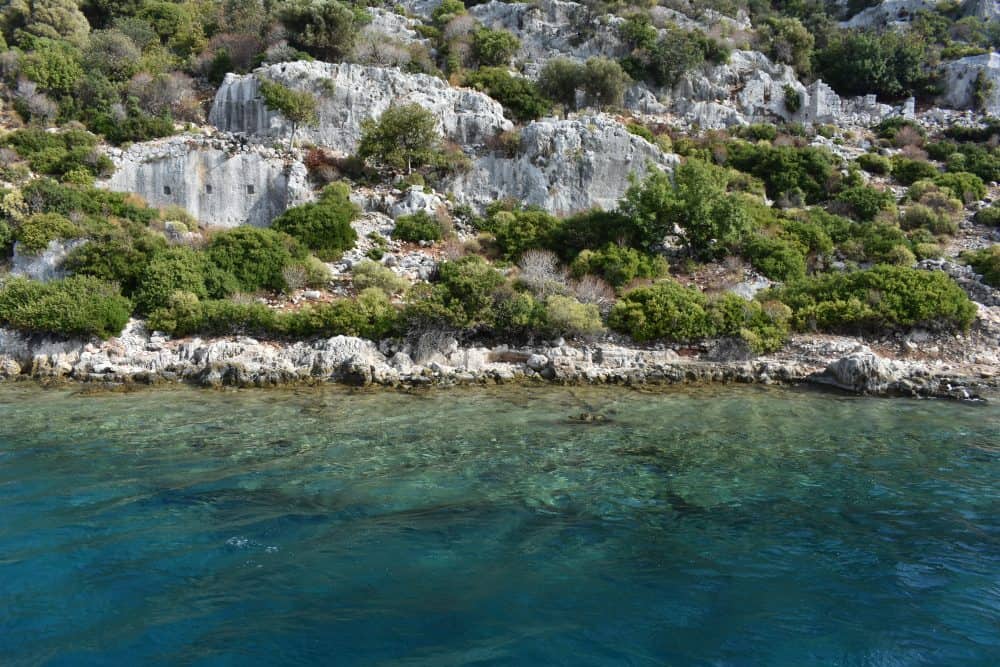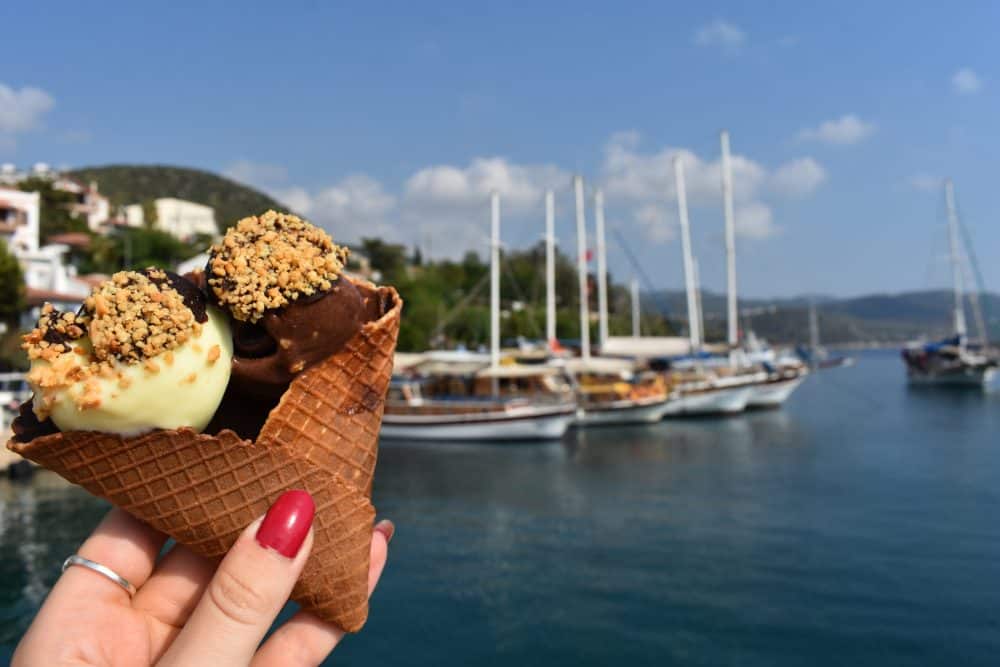 Istanbul
The sailing trips along the Turkish coastline tend to finish in a small town called Olympos. A unique town in itself as it offers treehouse stays in a densely forested gorge. However, instead of staying here, I took a quick domestic flight from Antalya to Istanbul. Travel time from Olympos to Antalya airport on a bus: 1h30. Flight from Antalya to Istanbul: 1hr.
Istanbul is a city like no other. Straddling two continents, Asia and Europe, it is a true melting pot of religions, cultures, backgrounds and traditions. I only had one day in Istanbul but I felt I visited a good number of the best attractions in the city. I've written a detailed guide on all of the top things to see and do in Istanbul if you only have one day or maybe a weekend to spend in the city. However, if you're looking for a slightly longer guide to the city, then do check this two day guide to Istanbul here.
An absolute must visit destination in any 2 week Turkey itinerary, Istanbul offers a mesmerising experience. From its Grand Bazaar, one of the biggest indoor markets in the world, to the fascinating Hagia Sofia, a religious structure that has been used by Christians and Muslims through time.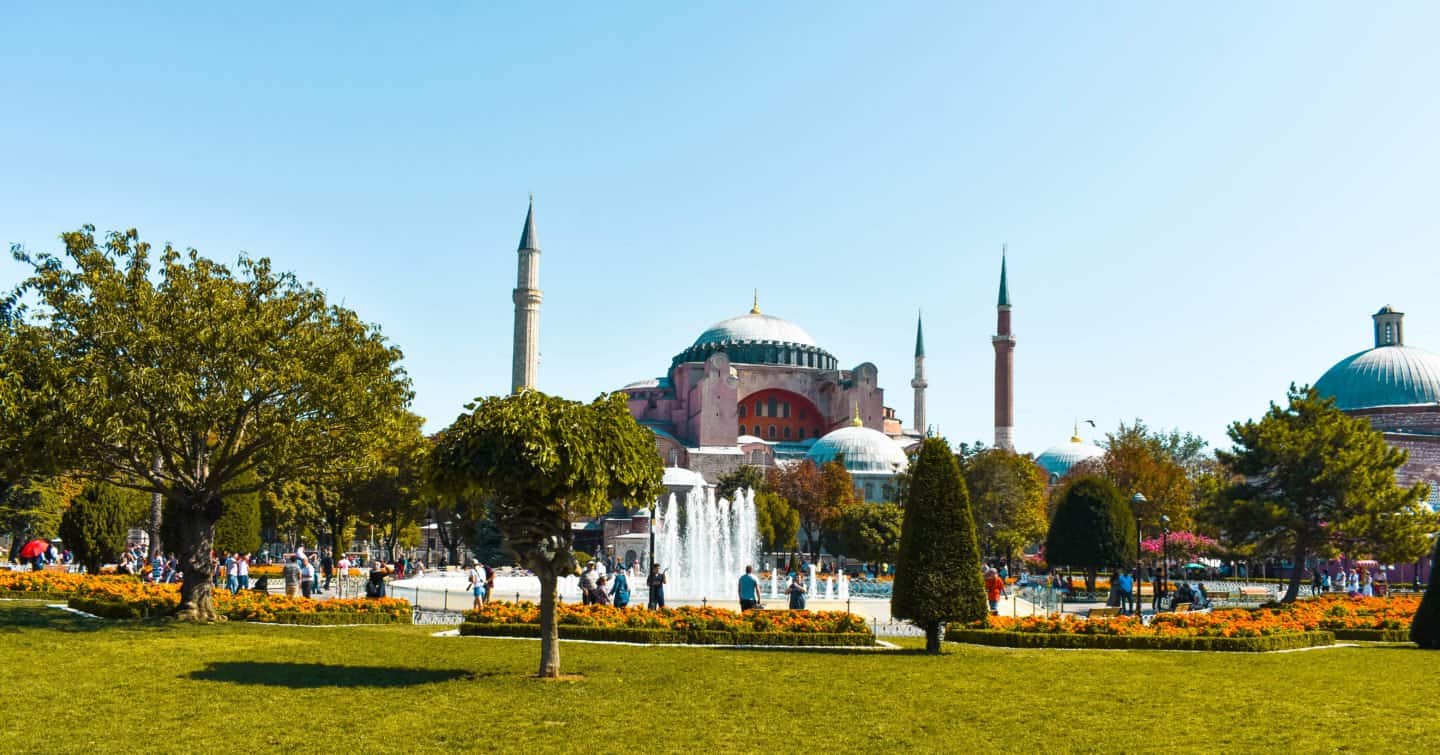 Where to stay in Istanbul
Istanbul has thousands of hotels to choose from, covering budget bases to ultra-luxurious palatial stays.
I enjoyed an excellent stay at the Intercontinental Istanbul, which was well located and adjacent to Taksim Square. It offered the most impressive breakfast and had a lovely pool to enjoy after a long day of sightseeing in the city. You can check rates for this hotel here.
Some of the other best luxury hotels in Istanbul include:
If you're looking for somewhere as more of a comfortable base, these are some of the best value for money hotels in Istanbul: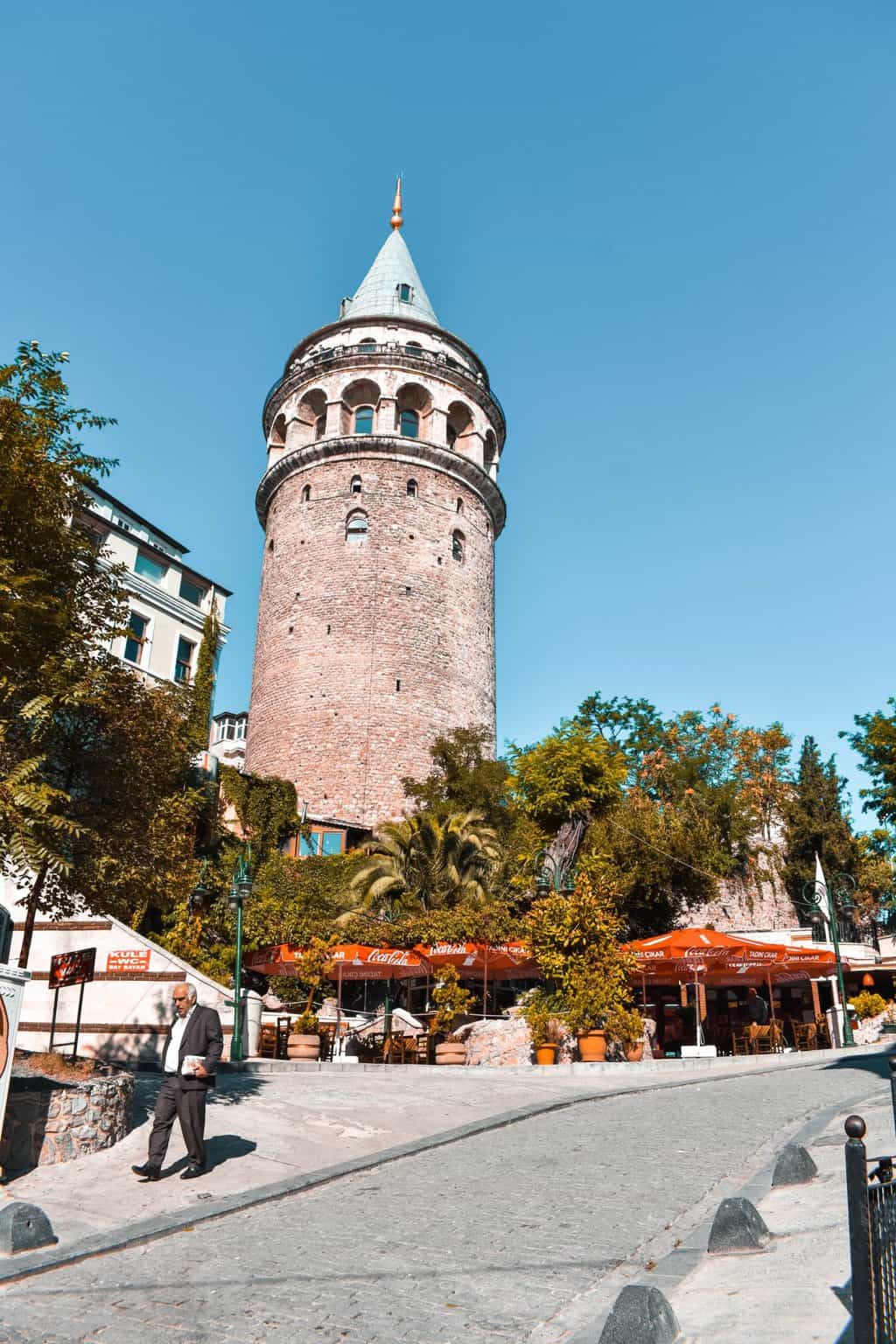 Cappadocia
Travel time from Istanbul to Kayseri: 1hr flight
From Istanbul, it's a quick and easy flight to Kayseri, which is the nearest airport to Cappadocia.
I think a visit to this surreal town withits magical fairy chimneys and mesmerising sunrises, is essential on any Turkey trip. Most of the best attractions and sites in Cappadocia can be visited in a two or three day visit. Plus, with regular flights from several Turkey airports, it's pretty easy to include Cappadocia on any Turkey itinerary.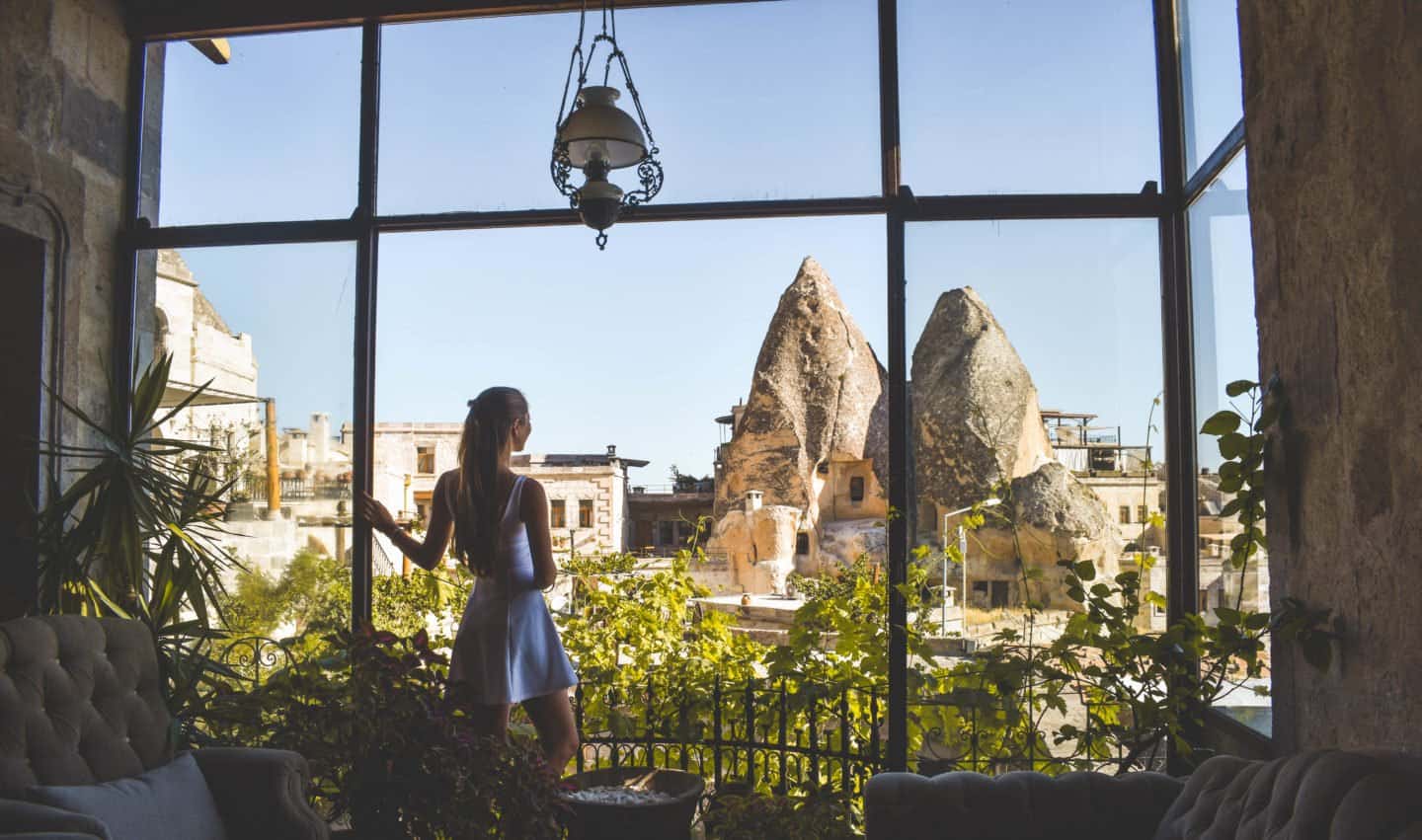 I spent 3 days in Cappadocia and thought it was one of the best places I have ever visited in the world. Staying at a cave hotel is an must-do whilst in Cappadocia – we stayed at the beautiful Sultan Cave Suites, a cave hotel that has become famous thanks to Instagram and its incredible terrace is the perfect place to capture a Cappadocia sunrise photo.
The best cave hotels in Cappadocia
There are so many cave hotels in beautiful Cappadocia to choose from, so it isn't an easy decision to decide where to stay.
Sultan Cave Suites is one of the most popular cave hotels to stay in in Cappadocia. You can read my full guide to staying at this amazing cave hotel here – it was incredible! Check rates for the Sultan Cave Suites here!
However, if it is fully booked, there are still so many other amazing cave hotels from which to pick.
Some of other best cave hotels in Cappadocia include: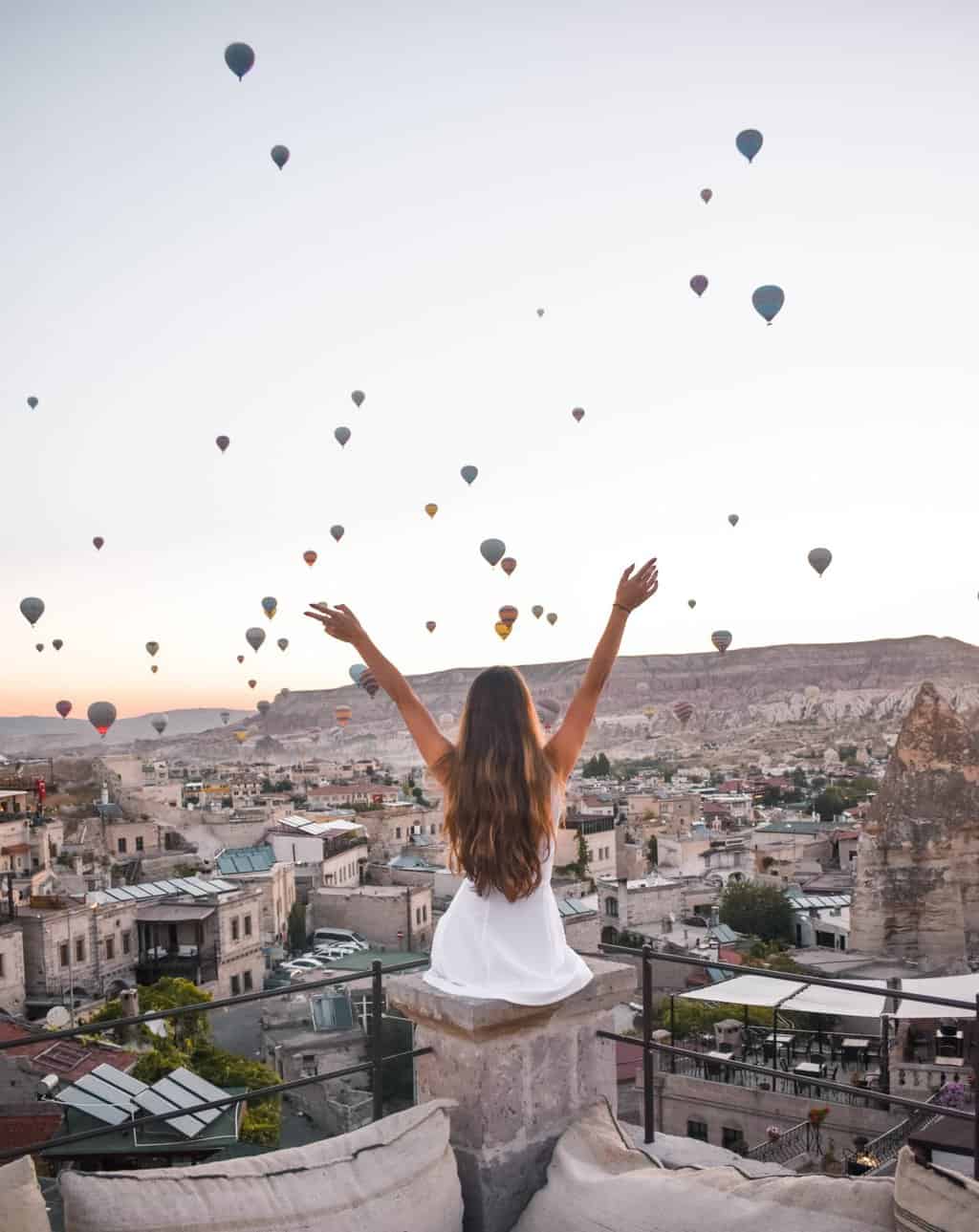 The best attractions in Cappadocia
One of the very best things to do in Cappadocia is to witness one of the incredible sunrises. If you can, do it twice. Once from a beautiful viewpoint, such as the terrace at the Sultan Cave Suites hotel (you must be a guest) and once from a hot air balloon ride.
But that's not all there is to do in Cappadocia. Some of the other main attractions include the visiting the Göreme Open Air Museum, exploring the nearby village of Uçhisar and some of the incredible rock formations at Pasabag and Devrent. This detailed guide here covers all of the best things to do and see in Cappadocia.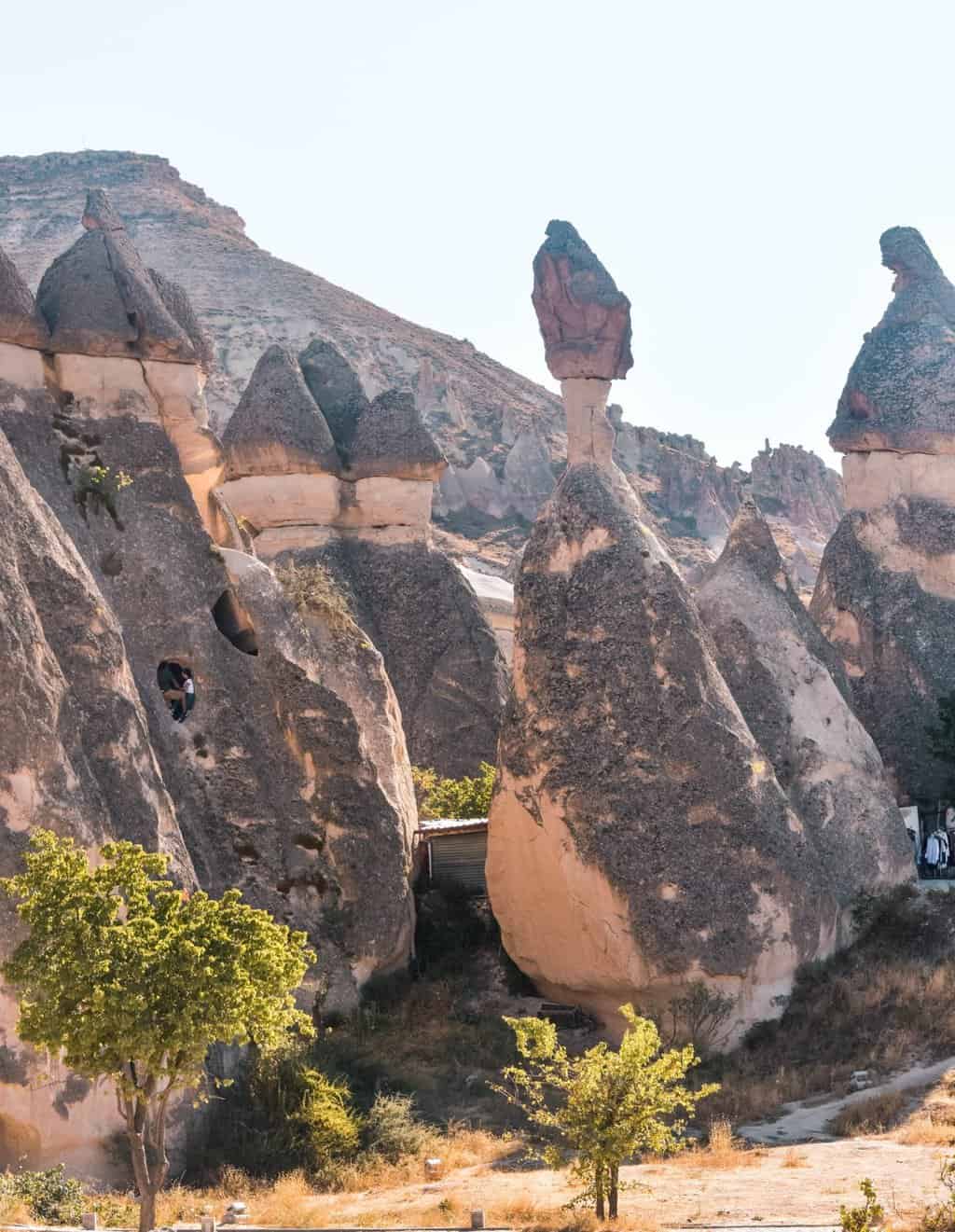 If you're short on time, it's best to see all the top attractions in Cappadocia on an organised day tour. You can arrange this through your hotel, or you can plan your time in advance by booking a tour through GetYourGuide:
So that's my 2 week Turkey itinerary. The perfect mix of historical sites, a sailing adventure, a cosmopolitan and cultural the city, and the otherworldly magic of Cappadocia. As mentioned, I got around purely by public transport in Turkey which I found to be safe, especially as a solo female traveller, as well as cost efficient.
I do hope this guide for a 2 week Turkey itinerary is useful. Naturally, the more time you have, the places you can visit. Although some places, such as Pamukkale, you really you don't need to spend more than one day in.
Feel free to drop me a line if you would like any advice or further recommendations? If you've enjoyed this post, please do share using the below links!
Wanna see more? Check my Instagram here, my Facebook here or my Twitter here!
Disclaimer: This visit to Turkey was entirely paid for by myself and there was no involvement from the tourism board or a hotel. This is an independent guide.
Enjoyed my 2 week Turkey itinerary? Pin it!