If you're looking for a beautiful seaside resort in Turkey, offering great dining, brilliant hotels and a great selection of things to do, Bodrum is a great place to go in Turkey. I spent a weekend here at the start of a two week Turkey itinerary, and it was the most perfect place to start a trip around the country.
Bodrum has previously been known as a mass-market tourist resort, but I was pleasantly surprised that these are located more out-of-town and the centre of Bodrum consisted of charming streets, a relaxing harbour area and lovely markets.
If you have plans to spend a week in Bodrum, you will find plenty of activities to do and attractions to see. But if you only have one day or a weekend in Bodrum, you'll still get a real feel for the place and will see the majority of its sites in the town centre and I would recommend including Bodrum on any itinerary around Turkey.
So here's my guide to some of the best things to do in Bodrum, as well as some other essential information such as where to stay in Bodrum and how to get around. Hopefully you will find this blog post useful in planning your own trip to Bodrum!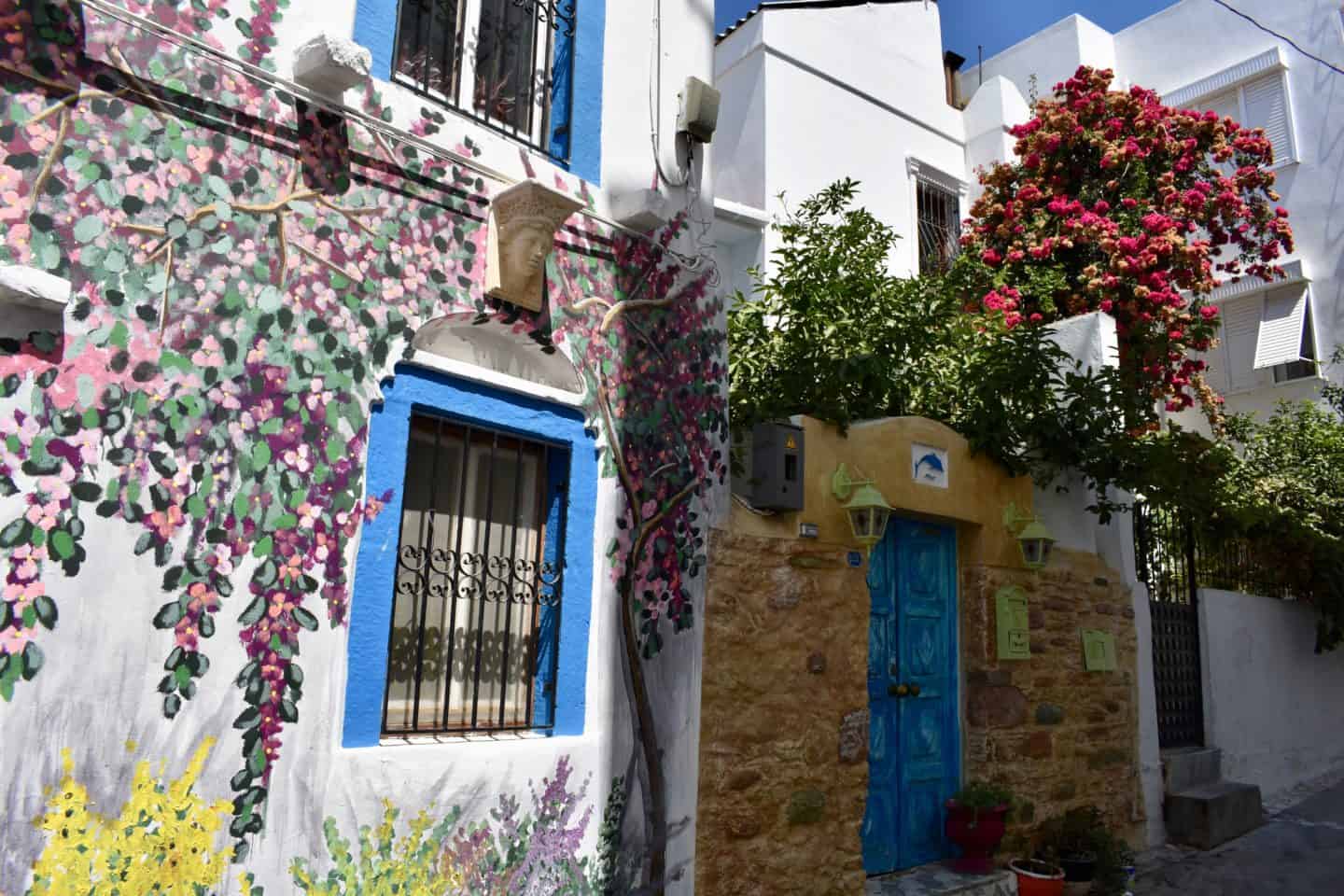 Bodrum Travel Guide: Essential things to know
When is the best time to go to Bodrum?
Peak season in Turkey stretches from around May to September, similar to other European destinations. I visited in the high season in Bodrum and didn't find it to be too busy or hectic. The daytime temperature was hot, around 33 Celsius or so and it was blue skies and sunny. In the evening in Bodrum, it was still very warm.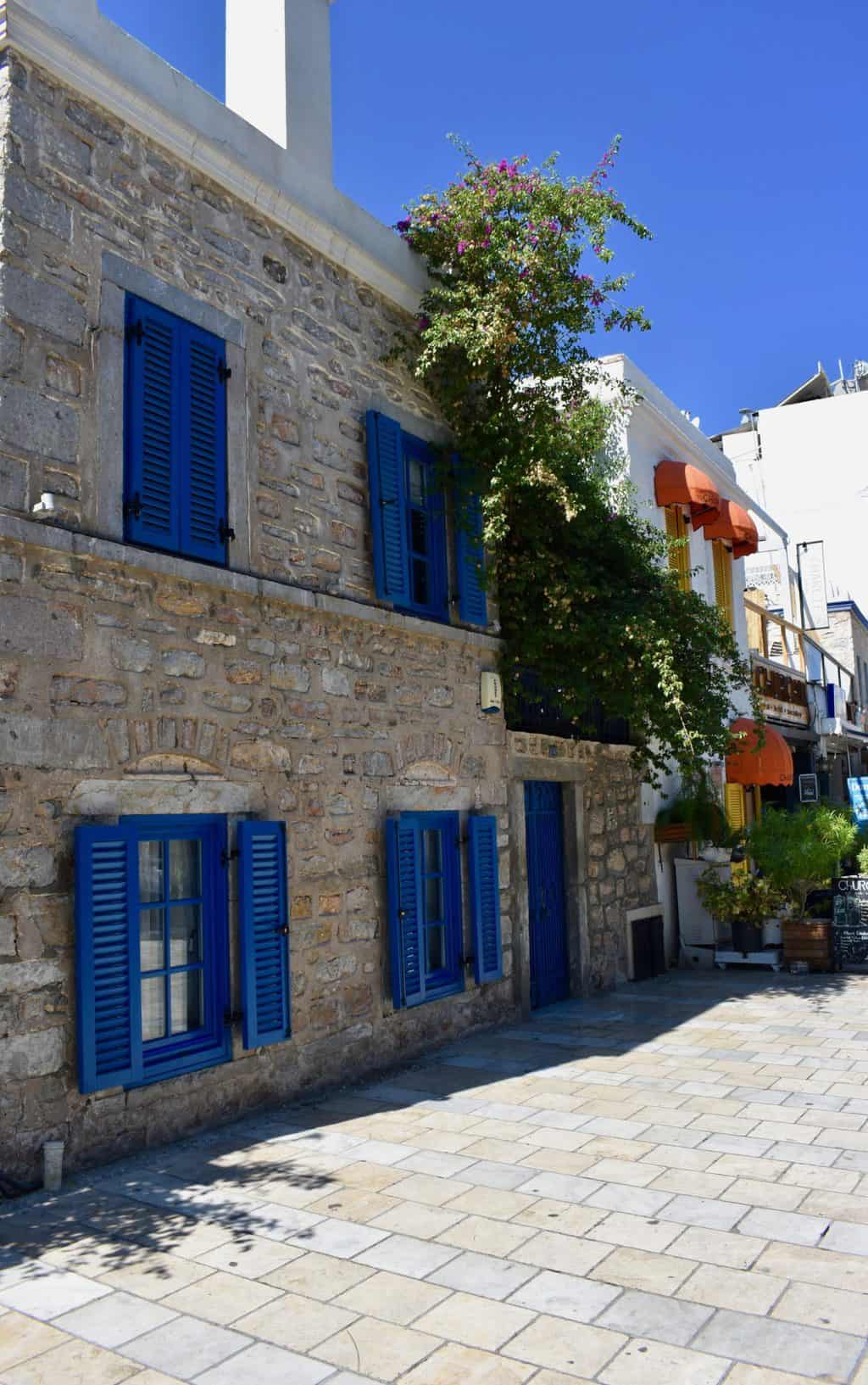 Getting around Bodrum
The old town, including the marina of Bodrum, is small enough to walk around on foot easily. In fact, much of it is pedestrianised. Even the bus station is walking distance (10 minutes) from the town centre. If your hotel is just out of town, it is highly likely it will have a shuttle to the centre of Bodrum.
Arriving in Bodrum airport (Milas Mugla airport) is fairly simple, although the drive from Bodrum airport to the centre of town is around 40 minutes.
The Havas Bus service offers frequent and straight forward transfer buses between the two (costing 10 TL), or another option is to use a taxi, this is likely to cost about 130 TL. I actually pre-booked my transfer with GetYourGuide, which was pretty efficient and dropped me at my accommodation in Bodrum. Book your airport transfer here.
Where to stay in Bodrum?
There are so many hotel options in and around Bodrum, it can be quite hard to pick. As I was travelling solo in Turkey, I chose to stay in a hostel in the town centre. I stayed at the Eskici hostel, which was just metres from the beach. It offered a chill out pool and a really cool relaxed vibe.
You can check rates for the excellent Eskici hostel here at Booking.com
Other good value hostels and hotels in Bodrum include: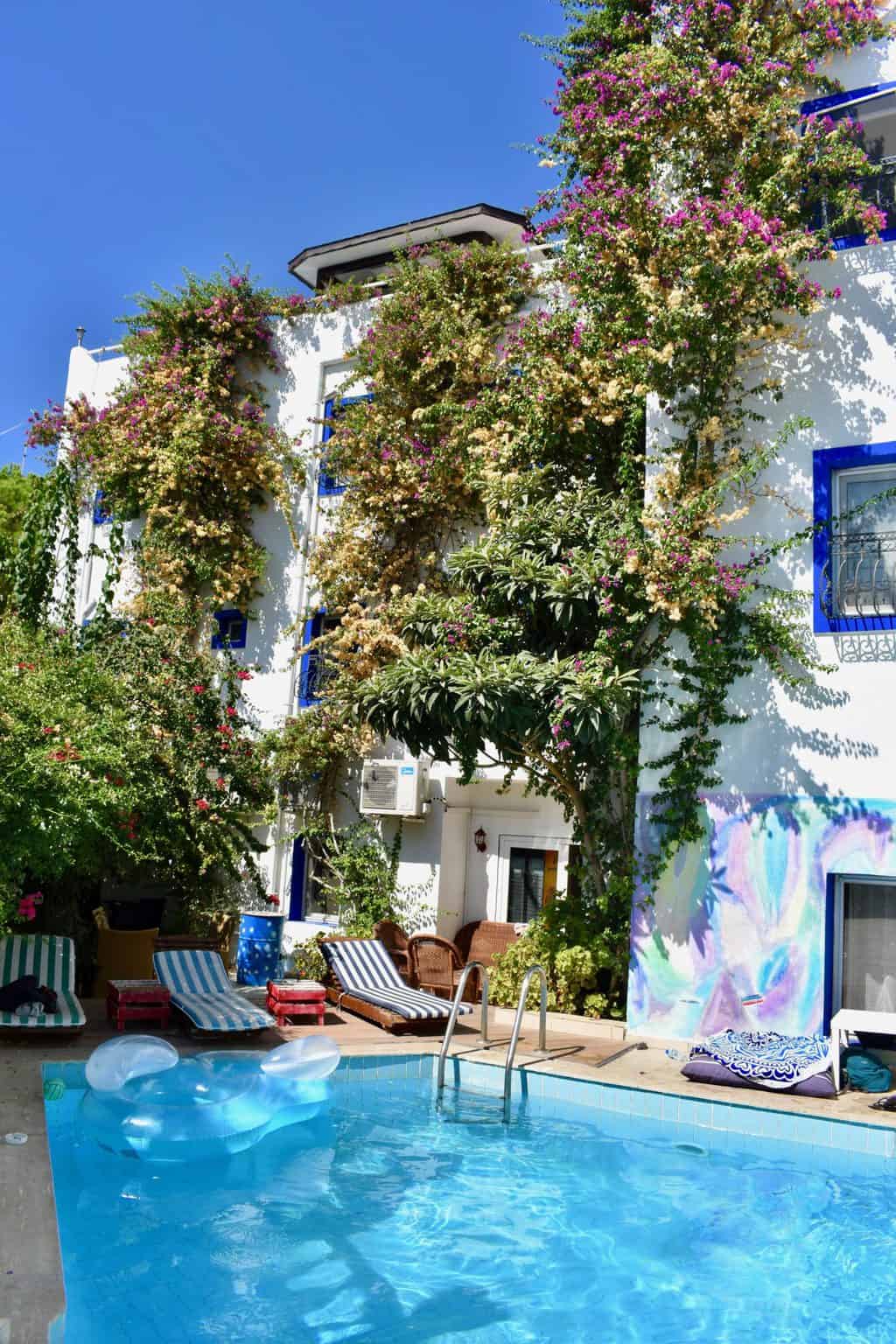 However, Bodrum is also known for some spectacular luxury hotels, such as the Mandarin Oriental and The Bodrum EDITION.
You check prices for these, and several other top hotels in Bodrum below:
Bodrum Travel Guide: Things to do in Bodrum
Wander its charming streets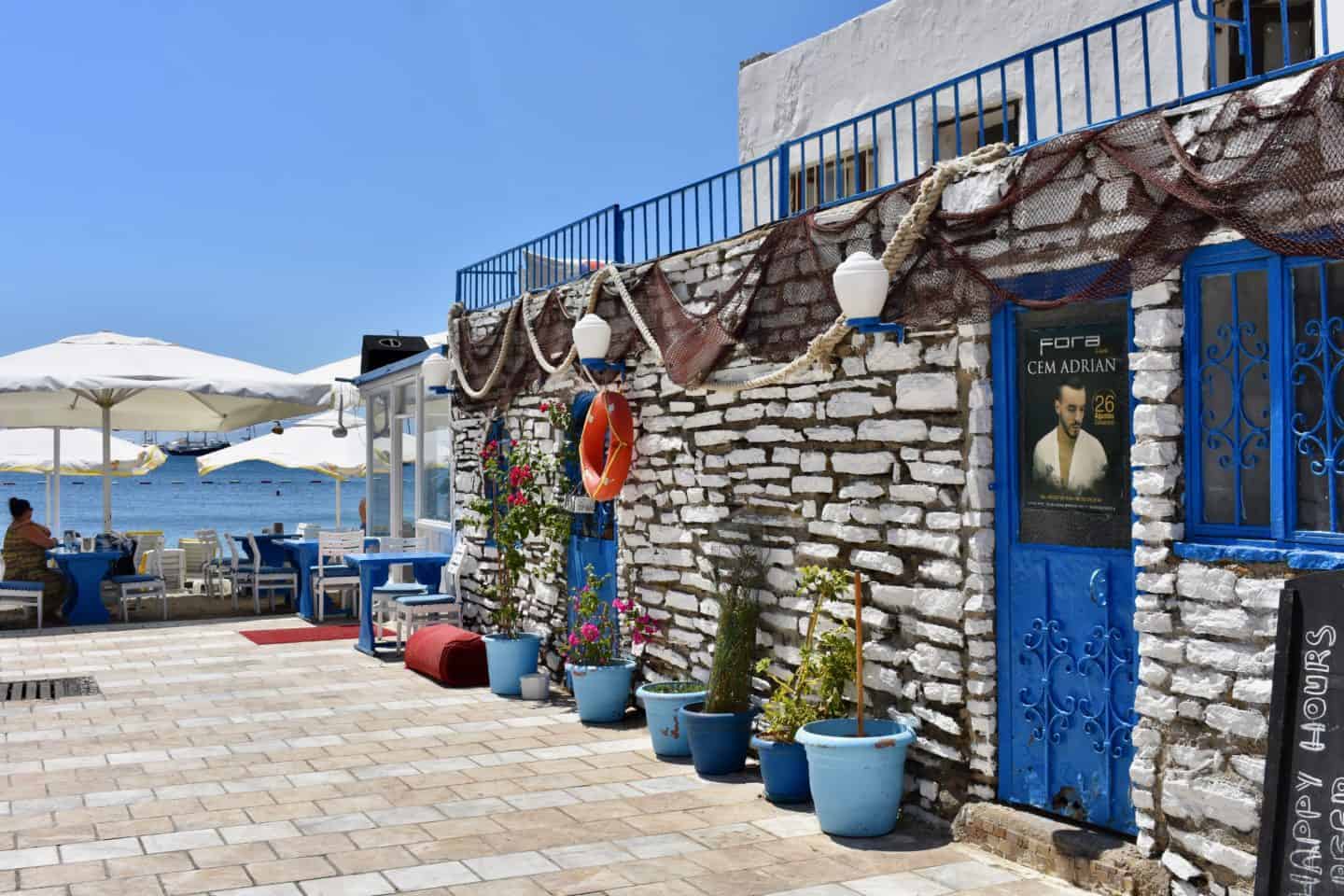 Bodrum's town centre consists of many little laneways, all offering charming experiences and unusual street art. Wandering around the quaint town centre of Bodrum, I'd keep coming across corners of tumbling bougainvillea and gorgeous wall climbers, tucked away from main paths.
The Turkish people are hugely passionate and patriotic, and the Turkish flag is everywhere, adorning many buildings' walls. You will also see the 'evil eye', meant to ward off evil spirits in many places too. You could say it is kind of like Turkey's national symbol.
A very pleasant afternoon or longer can be spent exploring the streets of Bodrum. There are many Instagram-worthy photo stops in Bodrum, but thankfully, not too many photoshoots happening at once!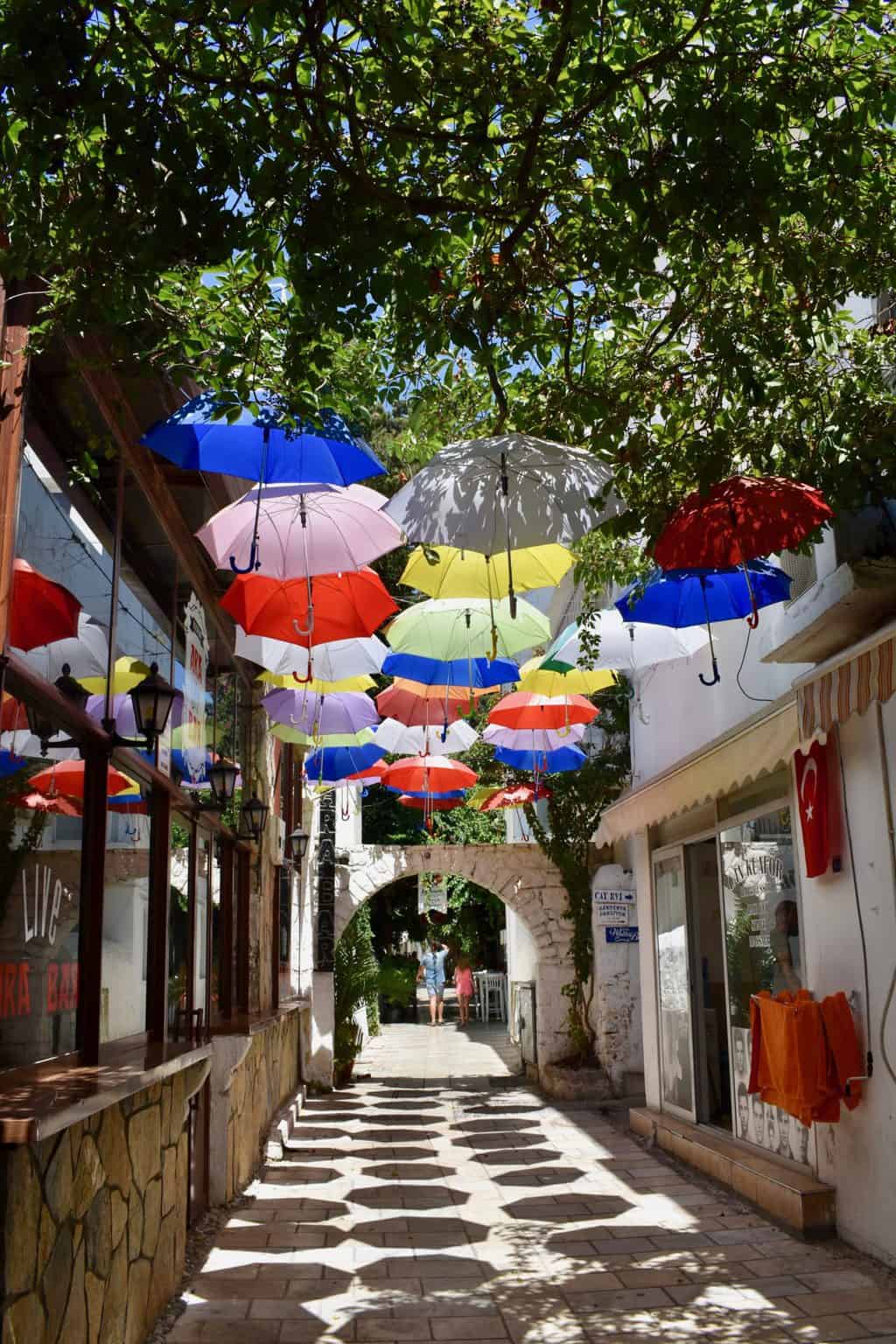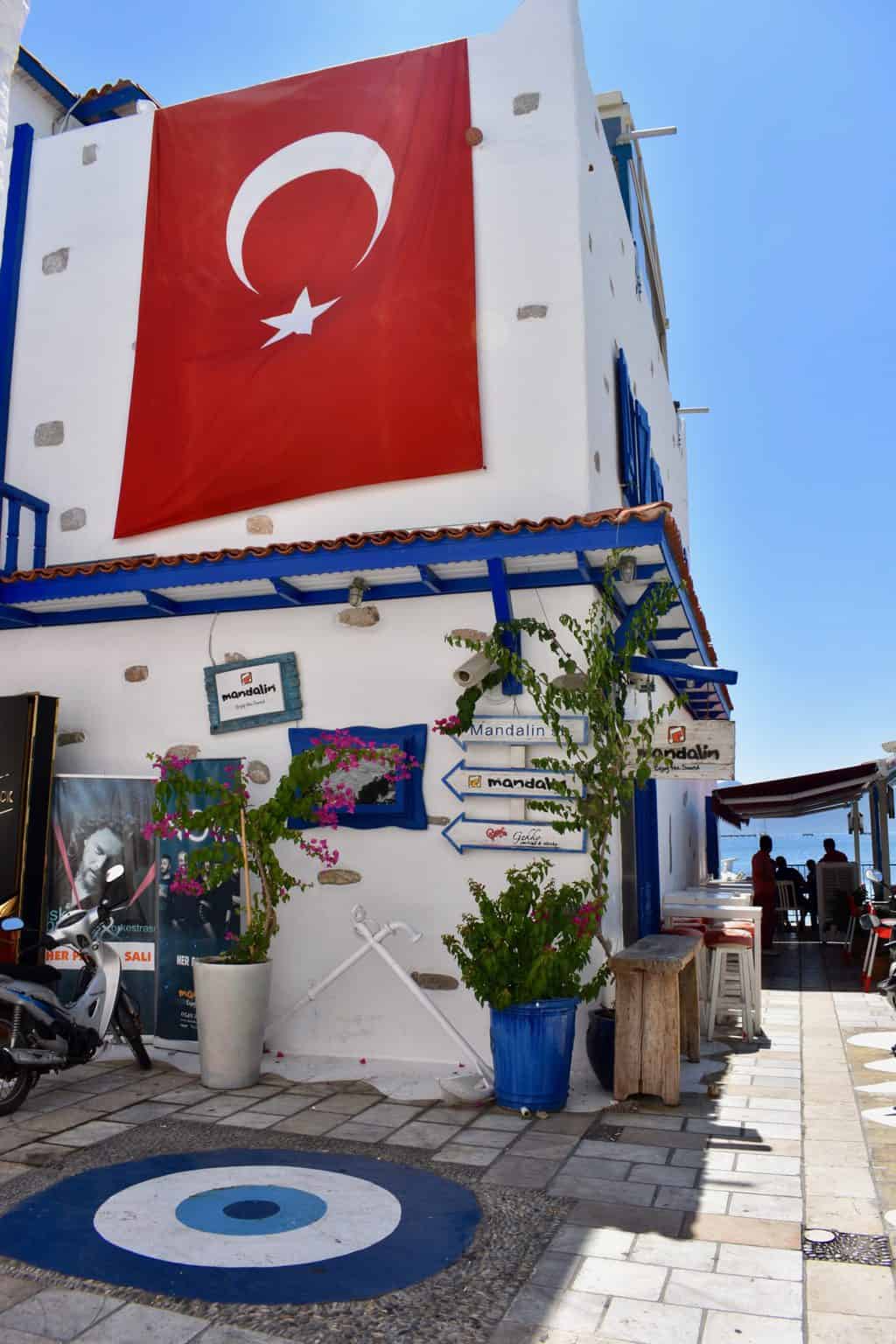 Sample Turkish cuisine at one of Bodrum's best restaurants or cafes
Like many European seaside towns, the waterfront and the marina area in Bodrum is lined with great restaurants, bars and cafes. Some are really quaint and romantic, and some more lively. But on the whole, I was really amazed with how beautiful they were. You feel charmed to enter!
One restaurant I particularly liked was Kortan 365 on the waterfront in Bodrum. The building dates back over 450 years and it's really like stepping back in time, however I was surprised to learn it turns into a lively evening spot after dark!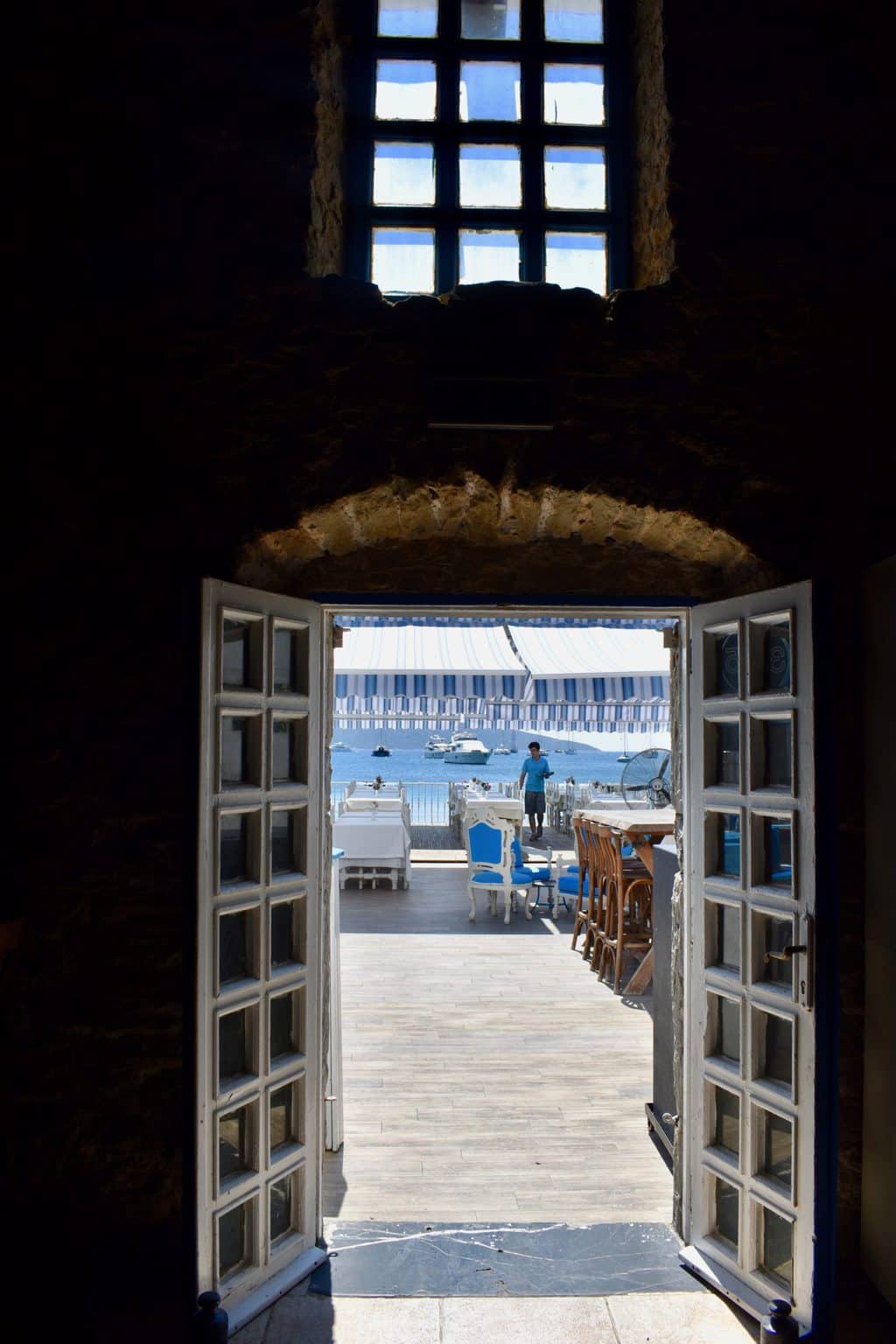 Turkish cuisine is one of my favourites. I highly recommend borek, which is white cheese in pastry and aubergine salad topped with yoghurt.
I tried a Turkish coffee with keen anticipation, but realised it's not for me.
Other brilliant places to eat in Bodrum include: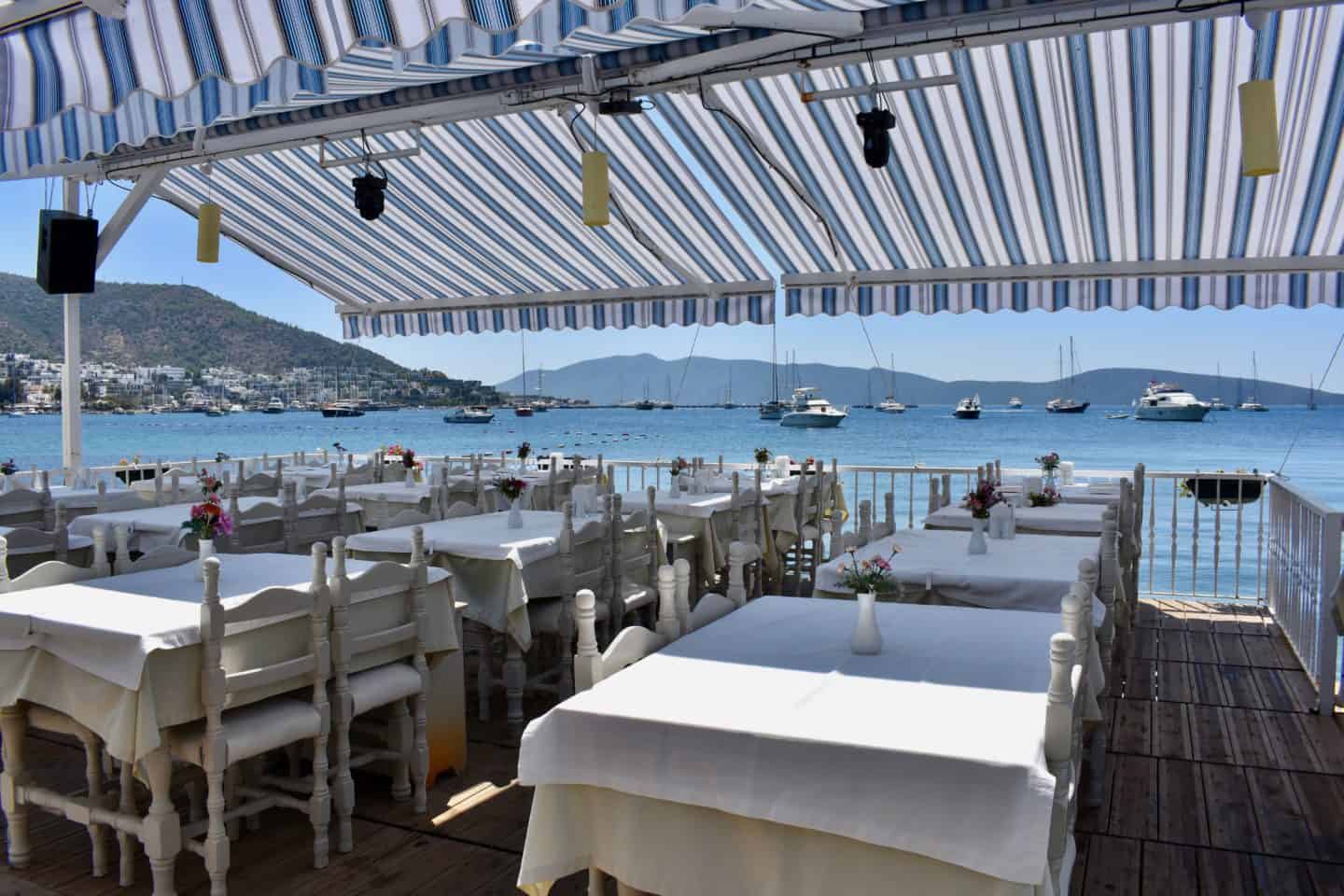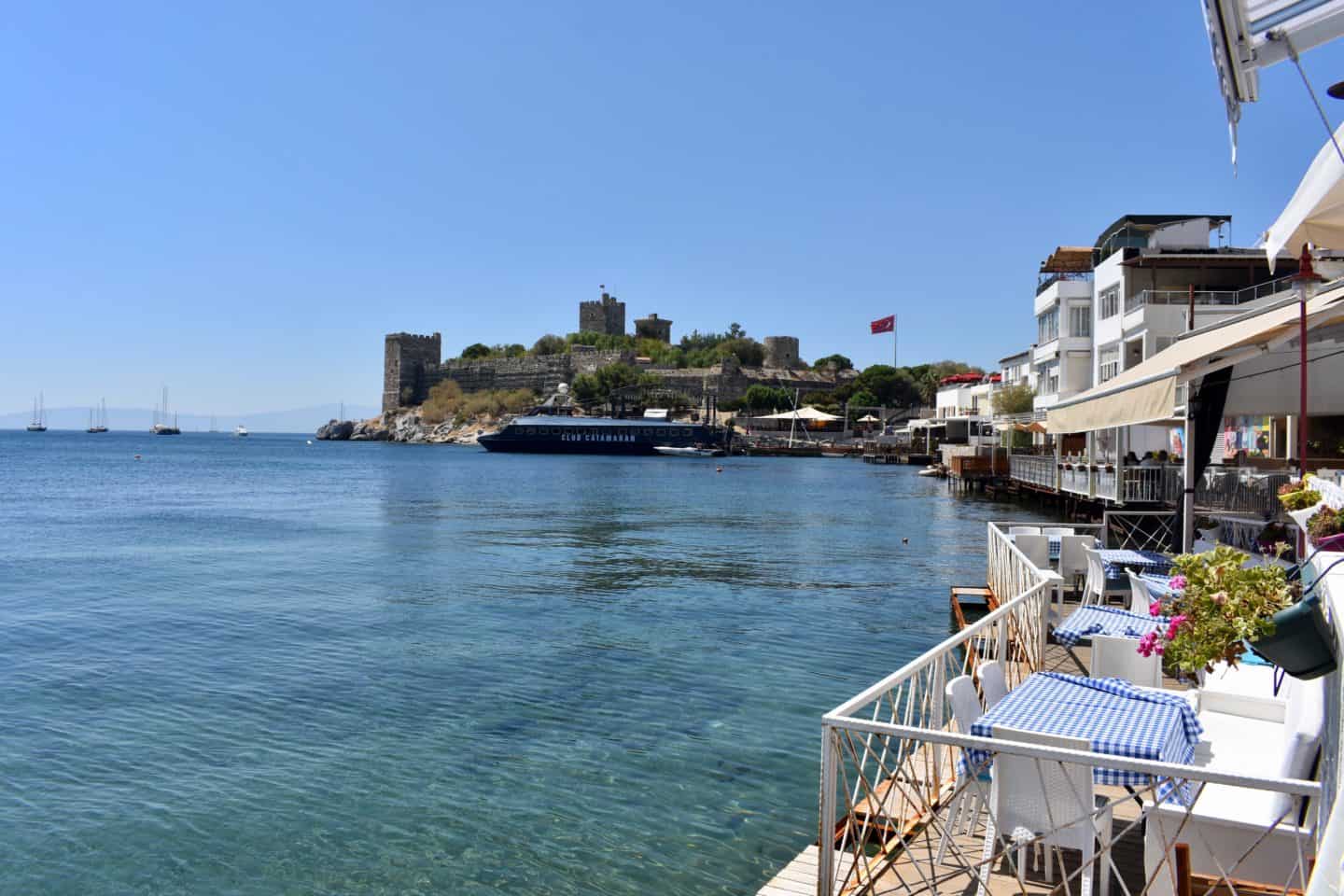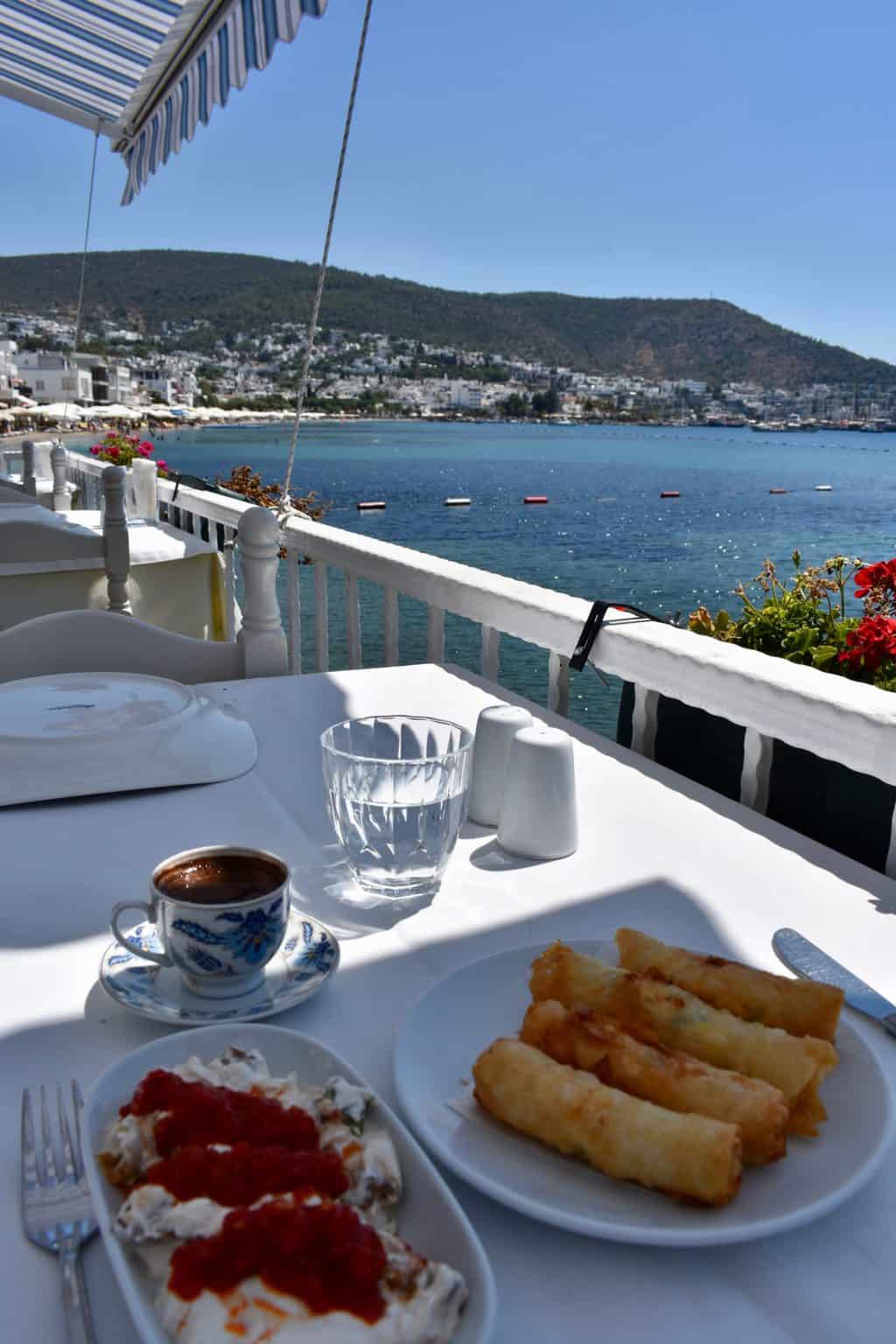 Visit Bodrum Castle and learn about the area's history
The castle in Bodrum dates back to 1402 and is one of the town's main tourist attractions. Bodrum Castle offers amazing views over the town and the turquoise Aegean Sea. It is also home to the Museum of Underwater Archaeology, housing one of the most important collections in the world. The castle has recently re-opened following a €25 million restoration project. Book your city sightseeing tour here.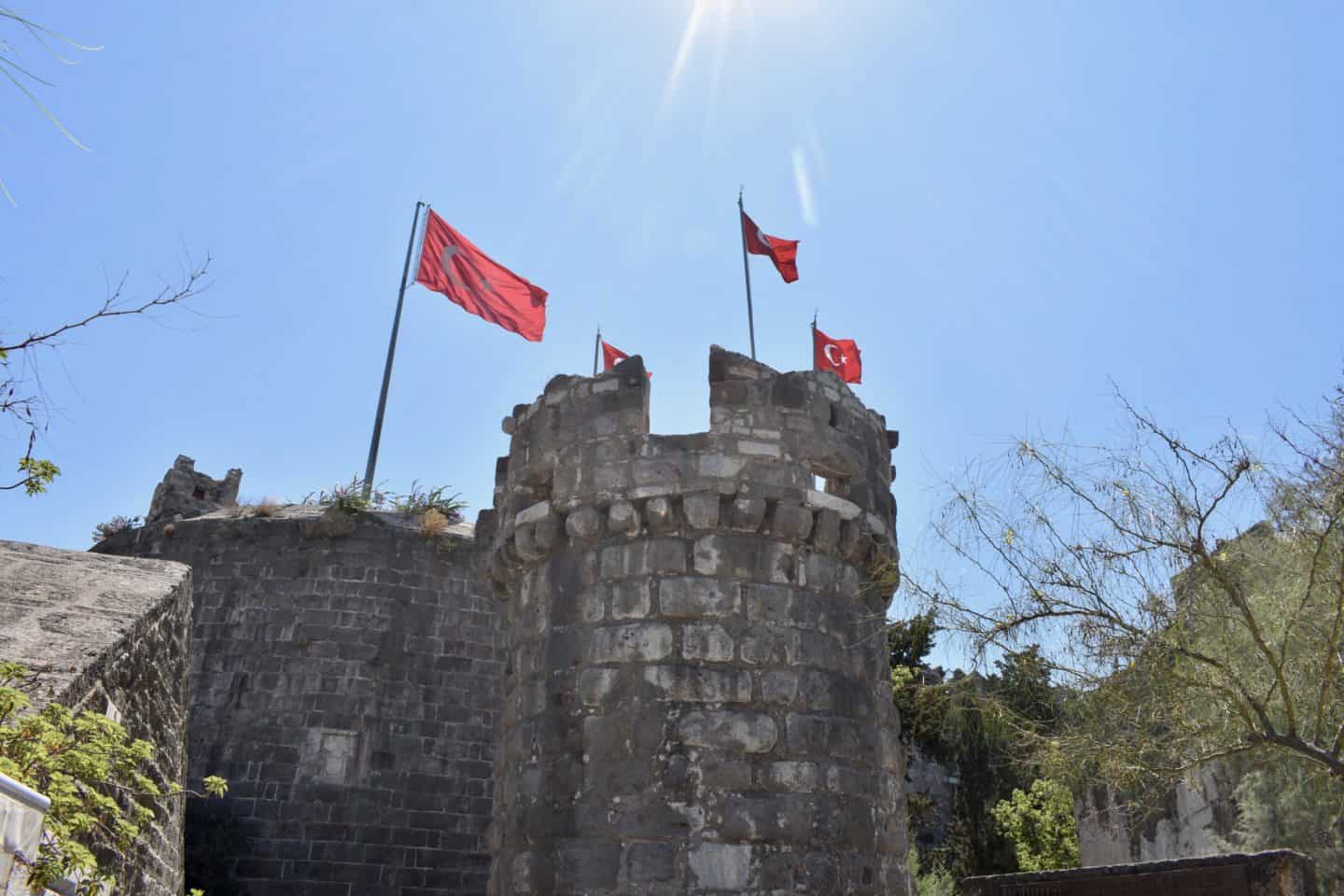 Join a boat trip in Bodrum
Some of Bodrum's best beaches are further out in the bay and can be reached by boat.
Gulets, the traditional Turkish style of boats, line the harbour. You can also sail the Greek Islands of Kos or Rhodes easily from Bodrum, which is a cool day trip.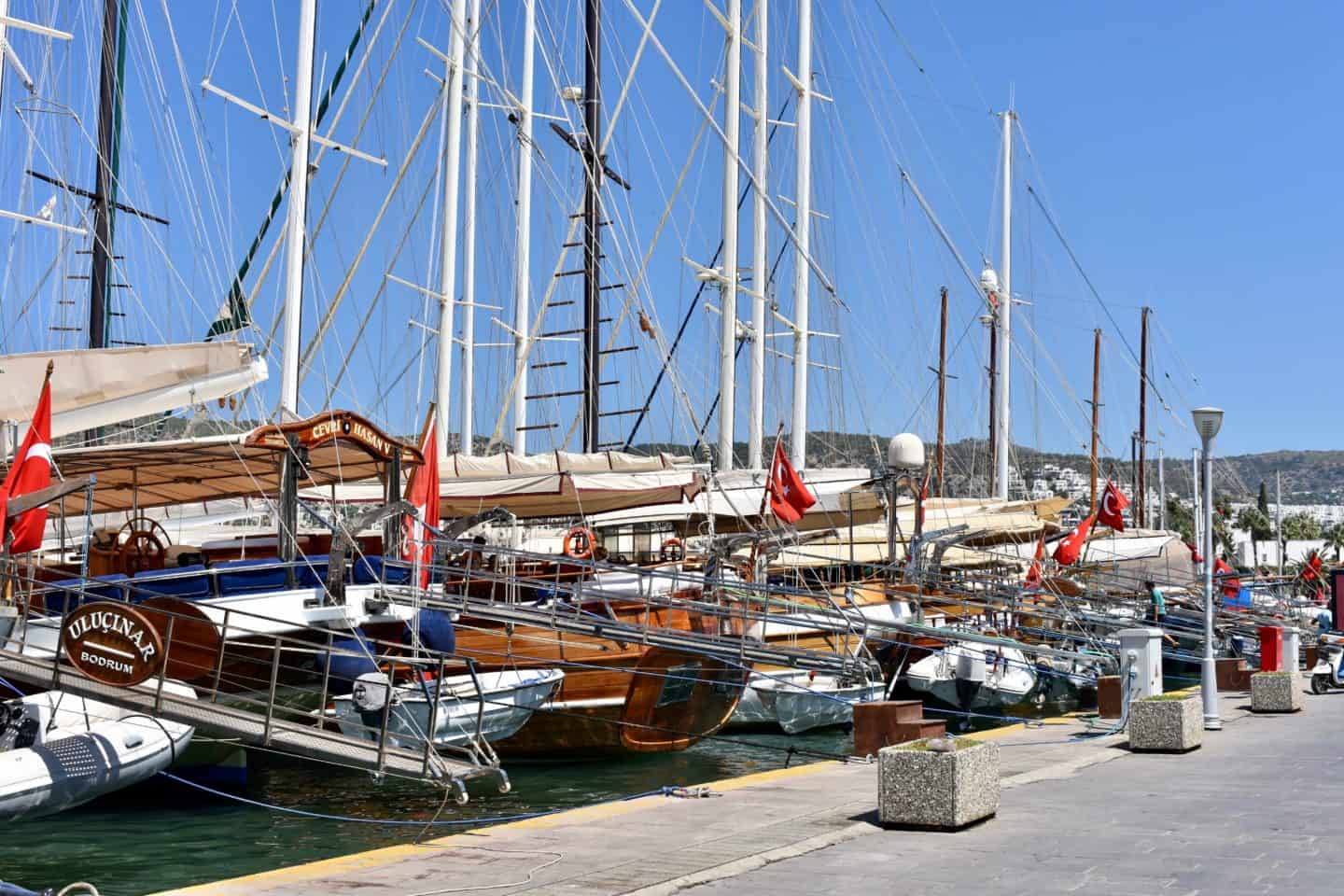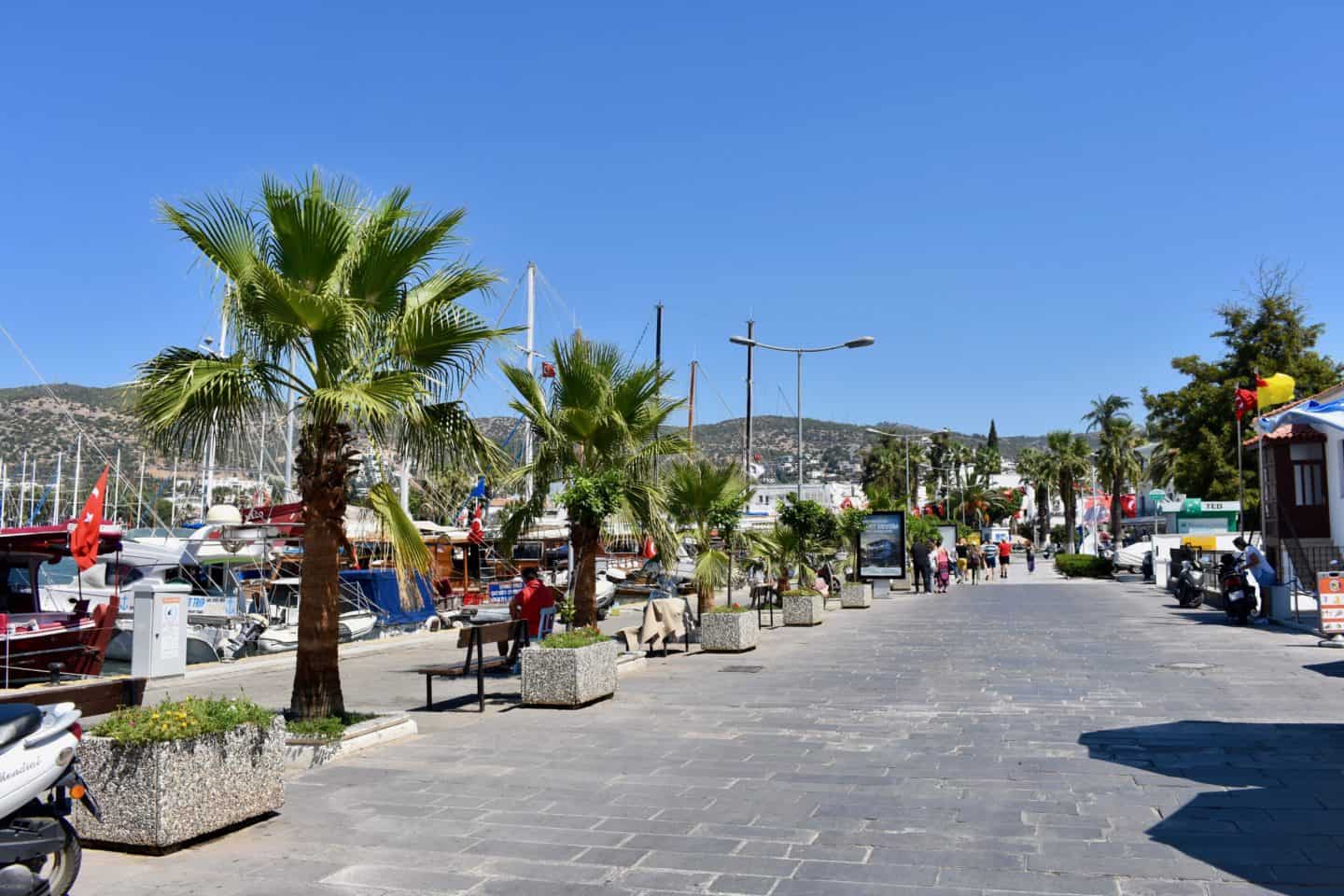 GetYourGuide offer hundreds of day trips from Bodrum and excursions by land or sea to exciting attractions nearby. I've selected a couple of great tours here:
Wander the artisan shops
The shopping in Bodrum is surprisingly good. I found I wanted to buy so many knick-knacks, clothes and sandals. In fact, Bodrum is famous for its excellent quality leather sandals! I thought the beautiful shell and jewellery stands were particularly eye-catching and I wanted to buy everything.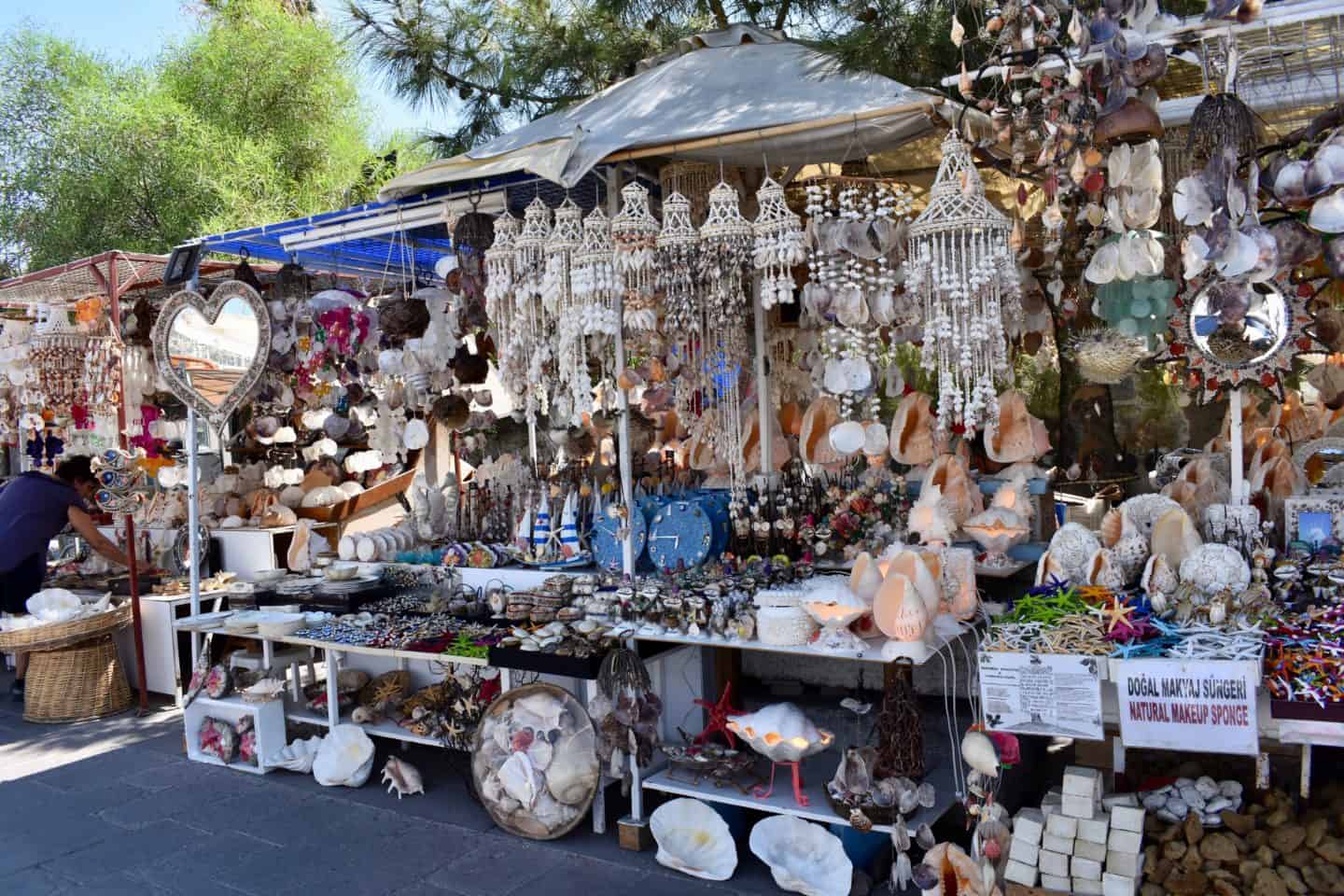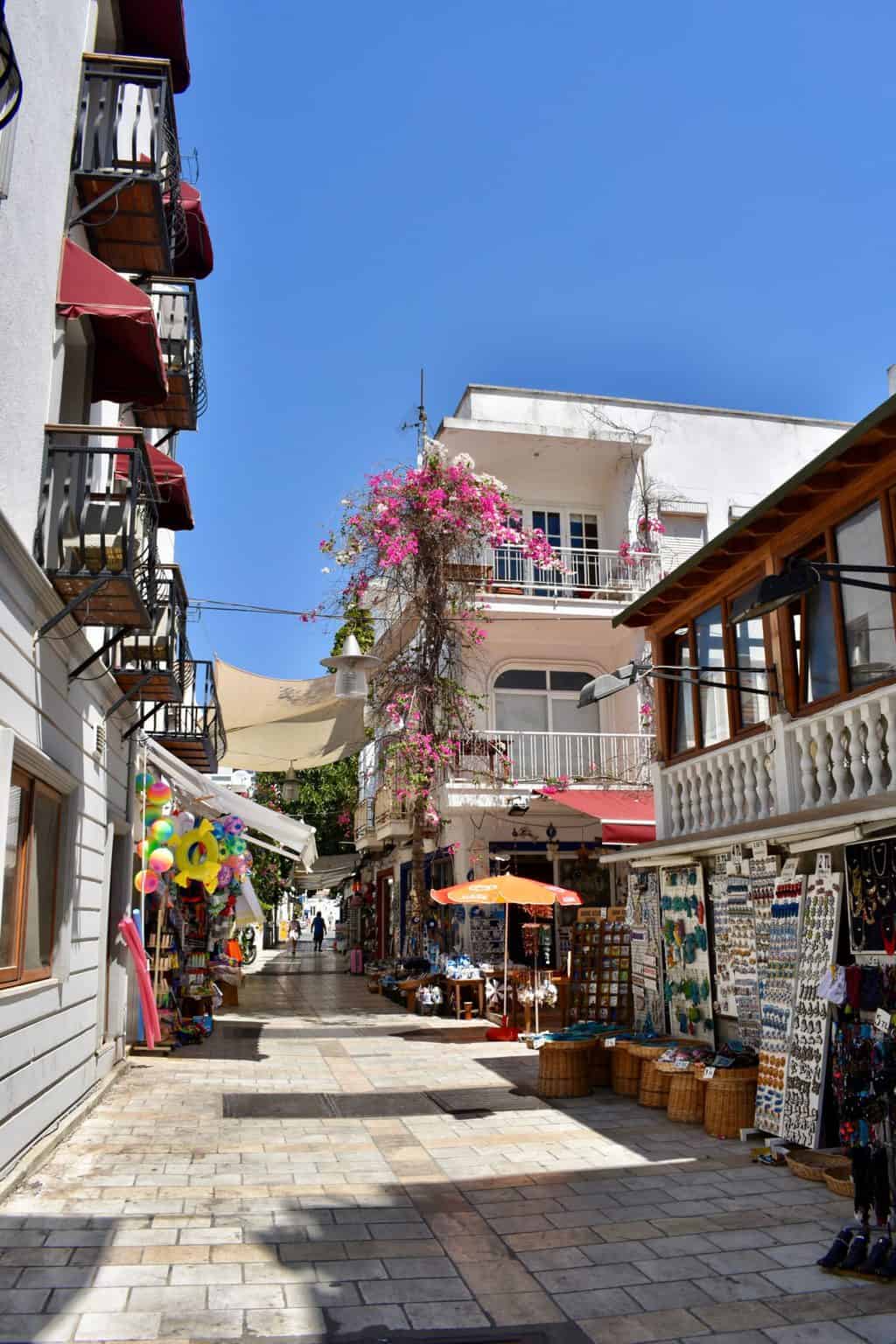 Soak up the fun nightlife
The atmosphere in Bodrum is surprisingly lively and welcoming. The town centre didn't feel tacky, although I'm aware it sometimes has this reputation. I think a lot of revellers stay in their resorts or bars nearer their hotels maybe.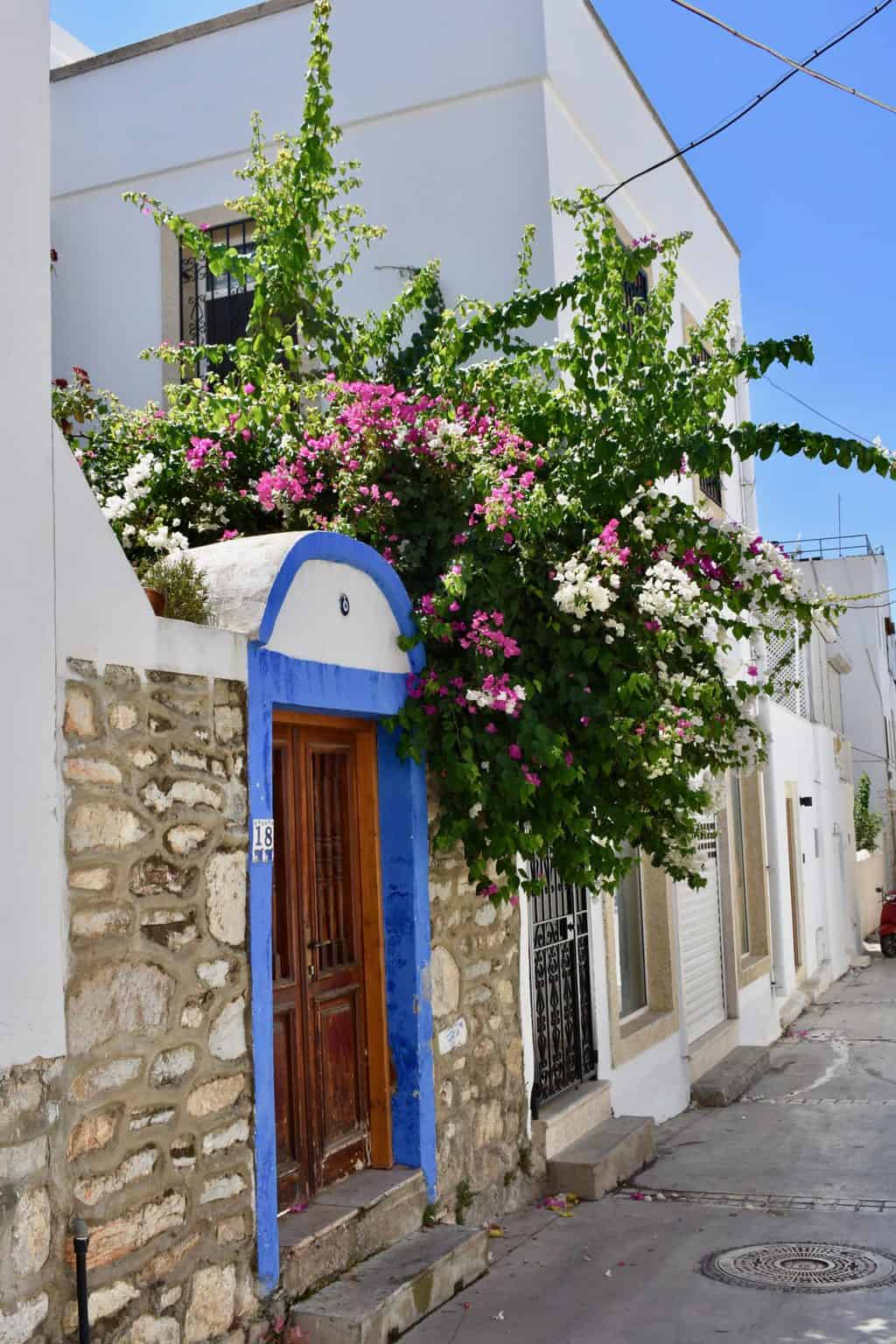 Experience a hammam
Doing a traditional Turkish hammam is a must-do at some point during your Turkey holiday, and where better than Bodrum! There's several hammams in town, but why not go with a local guide who'll take you to the baths, and talk you through the experience! Book a tour to a traditional local hammam here.
Bodrum Travel Guide
Have you been to Bodrum before? How did you find it? I'd love to hear, so do let me know in the comments below. Visiting Bodrum was a really pleasant surprise, and the perfect first place to visit on my two week Turkey itinerary. I found a weekend to be a good time to explore Bodrum, but I could have easily spent a week enjoying the beaches in Bodrum.
I hope this guide to Bodrum has been useful in planning your own trip to Turkey!
If you're considering a longer Turkey adventure, you might find my two-week Turkey itinerary here useful, as well as my guides to Pamukkale, Ephesus, sailing the famous Turquoise Coast, Istanbul and Cappadocia.
If you've enjoyed this post, feel free to share using the below links! Wanna see more? Check my Instagram here, my Facebook here or my Twitter here!
Disclaimer: This visit to Bodrum, Turkey was entirely paid for by myself. There was no involvement from the tourism board or a hotel. This is an independent guide.
Enjoyed my Bodrum Travel Guide? Pin it!