Sultan Cave Suites cave hotel is easily one of the best hotels to stay in in Cappadocia. It became famous on Instagram for its roof terrace and the incredible viewpoint it offers to see the hot air balloons at sunrise in Cappadocia.
However, as well as a beautiful sunrise in Cappadocia, the hotel also is a brilliant stay inself, with an excellent breakfast offering, awesome cave rooms and some of the nicest hotel staff I have ever come across.
Unsurprisingly, it was seeing photos on Instagram that inspired my stay there, but my time at Sultan Cave Suites was without a doubt one of the most incredible hotel stays of my life. That's a bold statement, but I had the most faultless stay. I've written a long and detailed guide to experiencing a sunrise in Cappadocia and at the Sultan Cave Suites, but in this blog post, I am aim to cover everything else you might want to know about the Sultan Cave Suites, from the rooms, the food, the public areas, and of course, the pool – which few people seem to know about.
So read on and let me know if you have any questions or thoughts. I hope this helps in planning your time in Cappadocia and in Turkey!
Sultan Cave Suites – Essentials things to know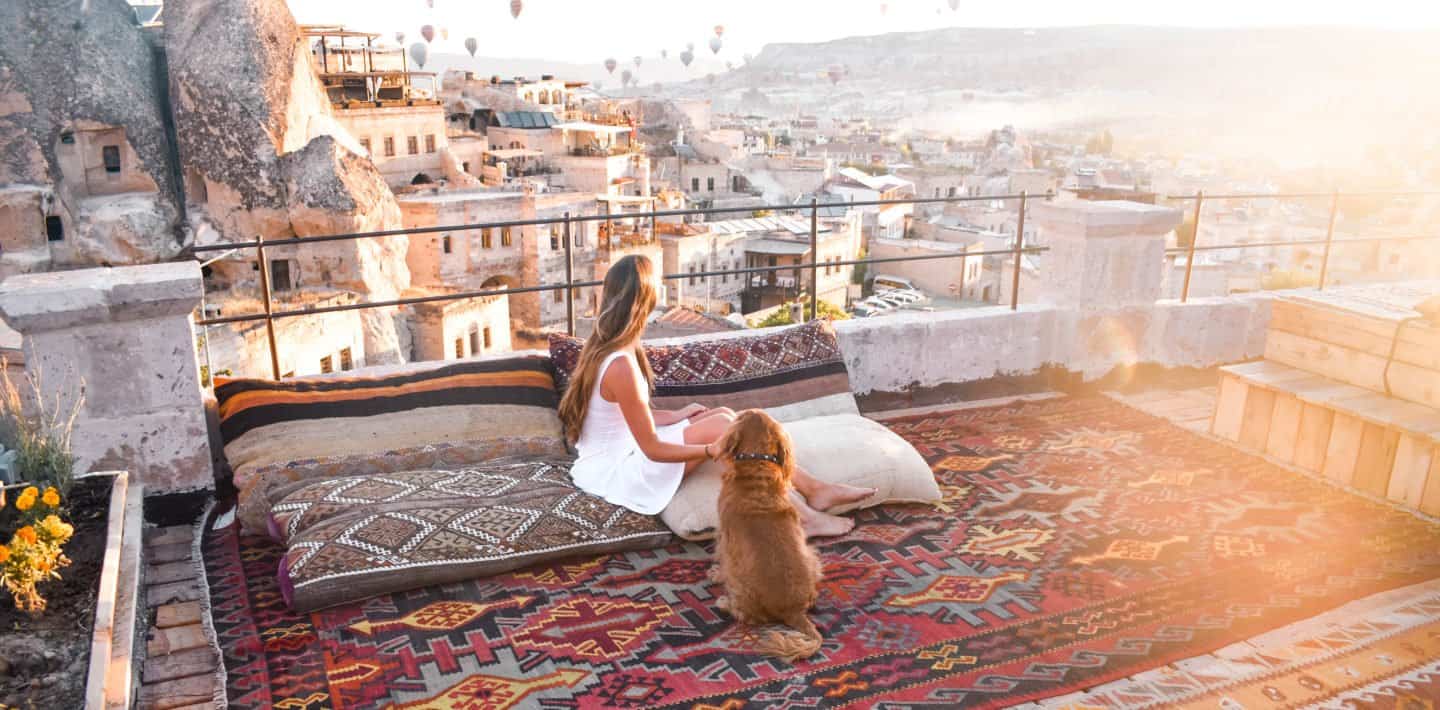 Price
One of the most important things to be aware of when considering a stay at Sultan Cave Suites, is that is is affordable! I honestly couldn't believe it when I found it on booking.com. We stayed in a Junior Suite which was around £130 a night. I do know now however that it is increasing in its popularity and you have to book way ahead of time. You can check prices for a stay at Sultan Cave Suites here. I actually booked in 2017 for a stay in three weeks time, so I was pretty lucky!
The price includes an incredible breakfast. as well as the best sunrise view in Cappadocia. What more could you ask for!
The rooms
Sultan Cave Suites is a true cave hotel in Cappadocia, offering real stays in caves with stone walls. It is incredible. However, they weren't always cave hotels.
Over the past few centuries, the residents of Cappadoccia and the village of
Göreme have moved out of their ancient dwellings into more modern and practical homes. This has meant there were hundreds of abandoned and empty cave homes which locals, such as the team behind Sultan Cave Suites, have preserved. So these original cave dwellings now make otherworldly hotels.
Sultan Cave Suites hotel has 30 rooms, all varying in size, shape and amenities, due to the type of cave they situated in. Ranging from Junior Suites, Suites and King Suites, they can accommodate different numbers of people.
The cave walls left dust on my fingers, some of the beds are nestled into alcoves and there are little cubby hole shelves hidden by little wooden doors. It's really just a whole different experience!
Sultan Cave Suites calls itself a 'visual delight' and they're right. Each room is a joy, with the furniture integrated harmoniously into the rooms designs, and each decorated with local art or artefacts showcasing the unique history of the town.
The bathroom was modern, despite being in a cave. I experienced no issues with the power shower at all and it was an all-round luxurious experience. Cappadocia is prone to heavy snowfall in winter, so the rooms are equipped with good heating, blankets and many have fireplaces and chimneys to warm up by.
Many of the cave rooms at Sultan Cave Suites have their own stone terraces, often tucked away, with comfortable seating and the most incredible views over the fairy chimneys of Cappadocia. My excitement whilst jumping up at 5am to see the hot air balloons drifting right above the door to our room, with the soft morning sky behind. It was really an experience like no other.
The rooms are nestled into the side of the hill, so it's important to know that there are many stairs and little pathways to navigate your way around the hotel. I would not say it is a very accessible hotel. Despite the Sultan Cave Suites being at capacity whilst we were there, it never felt busy and we could always have a quiet spot to ourselves.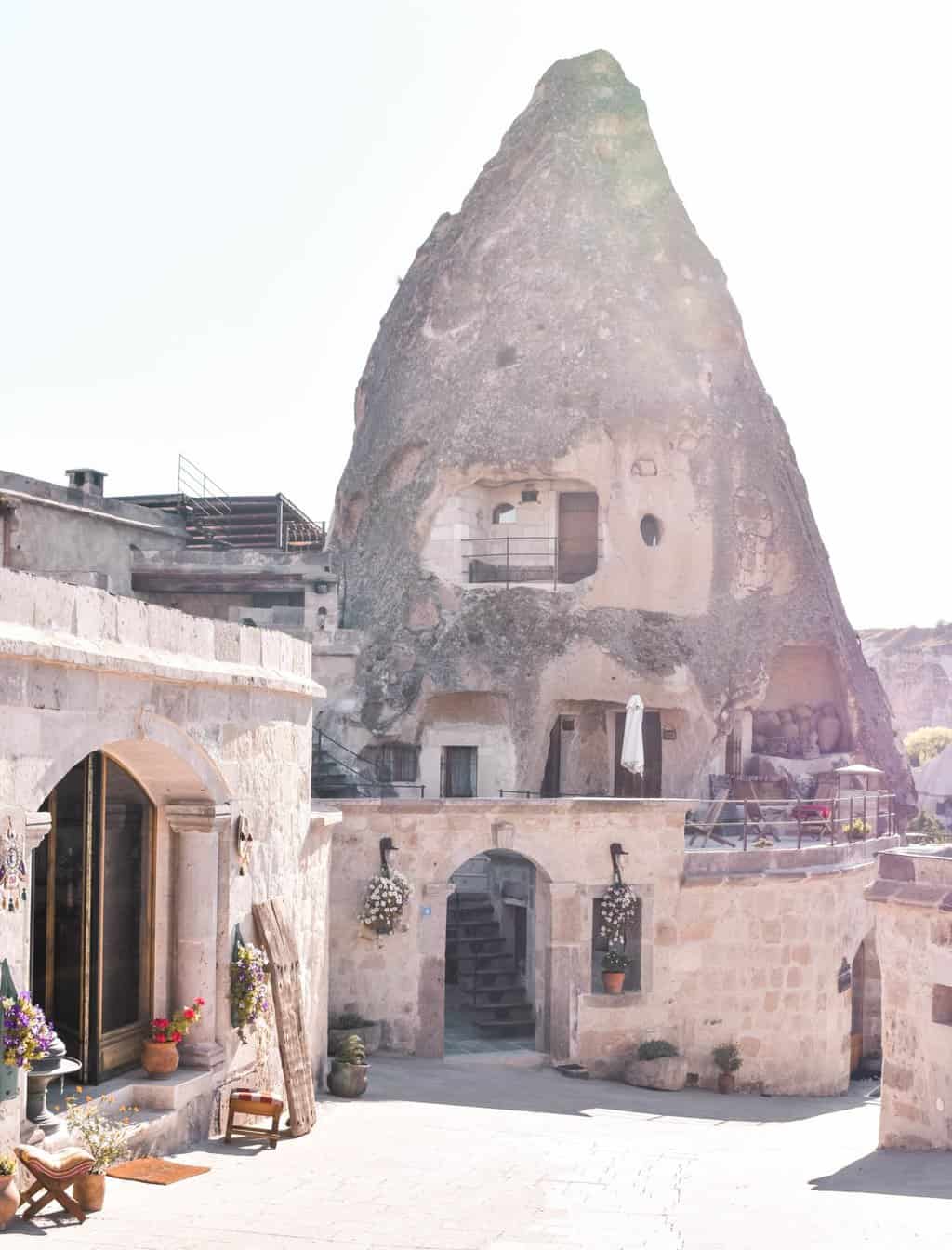 Sultan Cave Suites's public areas
The hotel reception is located in a large living room (after all, it was once a home), with a huge fireplace, sofas and books. It's very cosy.
This is also where Izmir, the famous Instagram dog of Cappadocia lives. Check-in is very relaxed affair here. There are no typical hotel formalities – Sultan Cave Suites just feels like a wonderful family home.
There are a number of public terraces to relax with tables and chairs or softer giant cushions on the floor. The famous Instagram photo spot is on the terrace, which is often quite busy in the morning whilst everyone takes photos of Instagram.
But during the day, the beautiful terrace makes a lovely relaxing spot to enjoy the sun. There's a bar on the terrace too, as well as renowned restaurant called the The Seten Anatolian Cuisine Restaurant, which welcomes non-guests in the evening for dinner.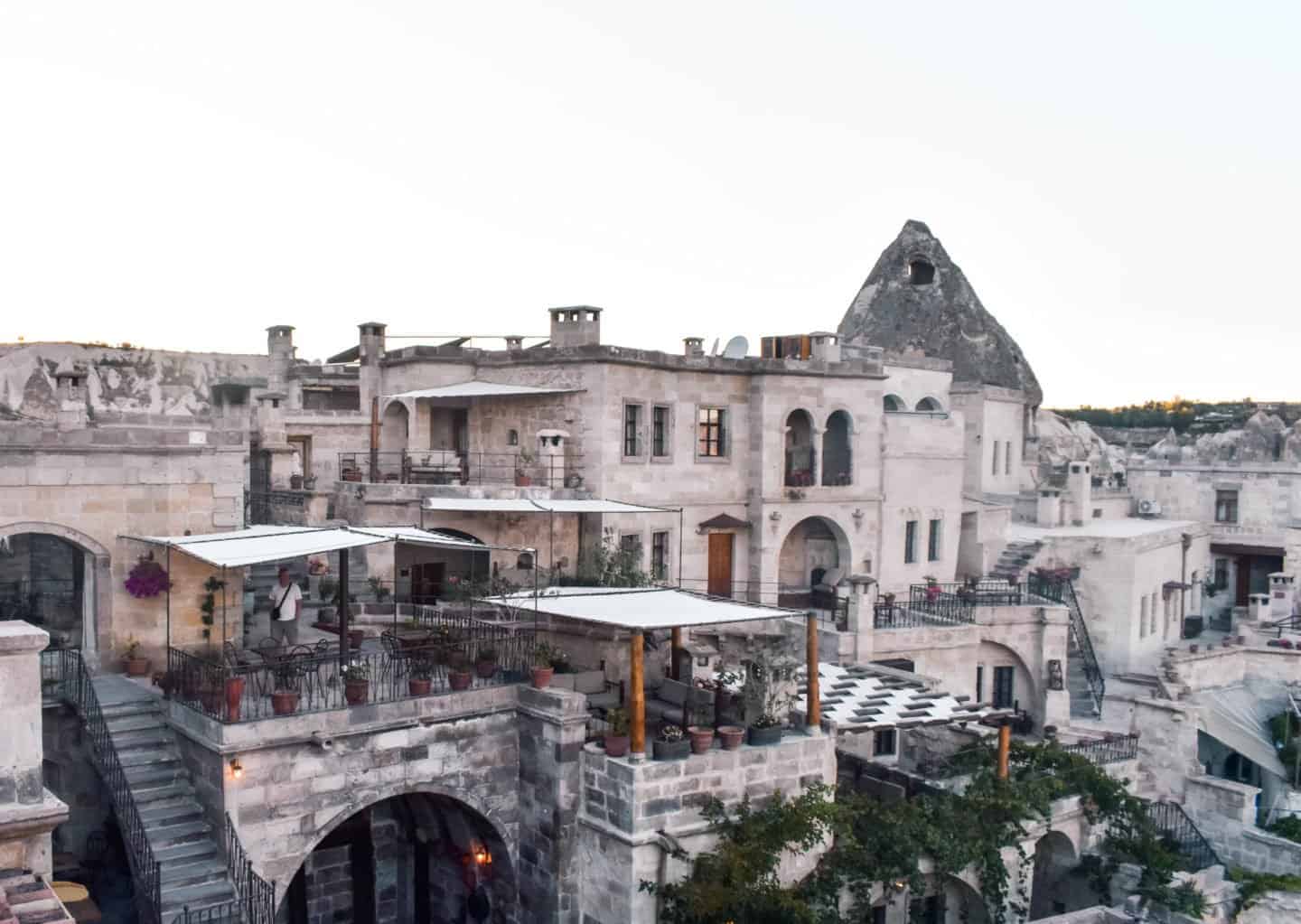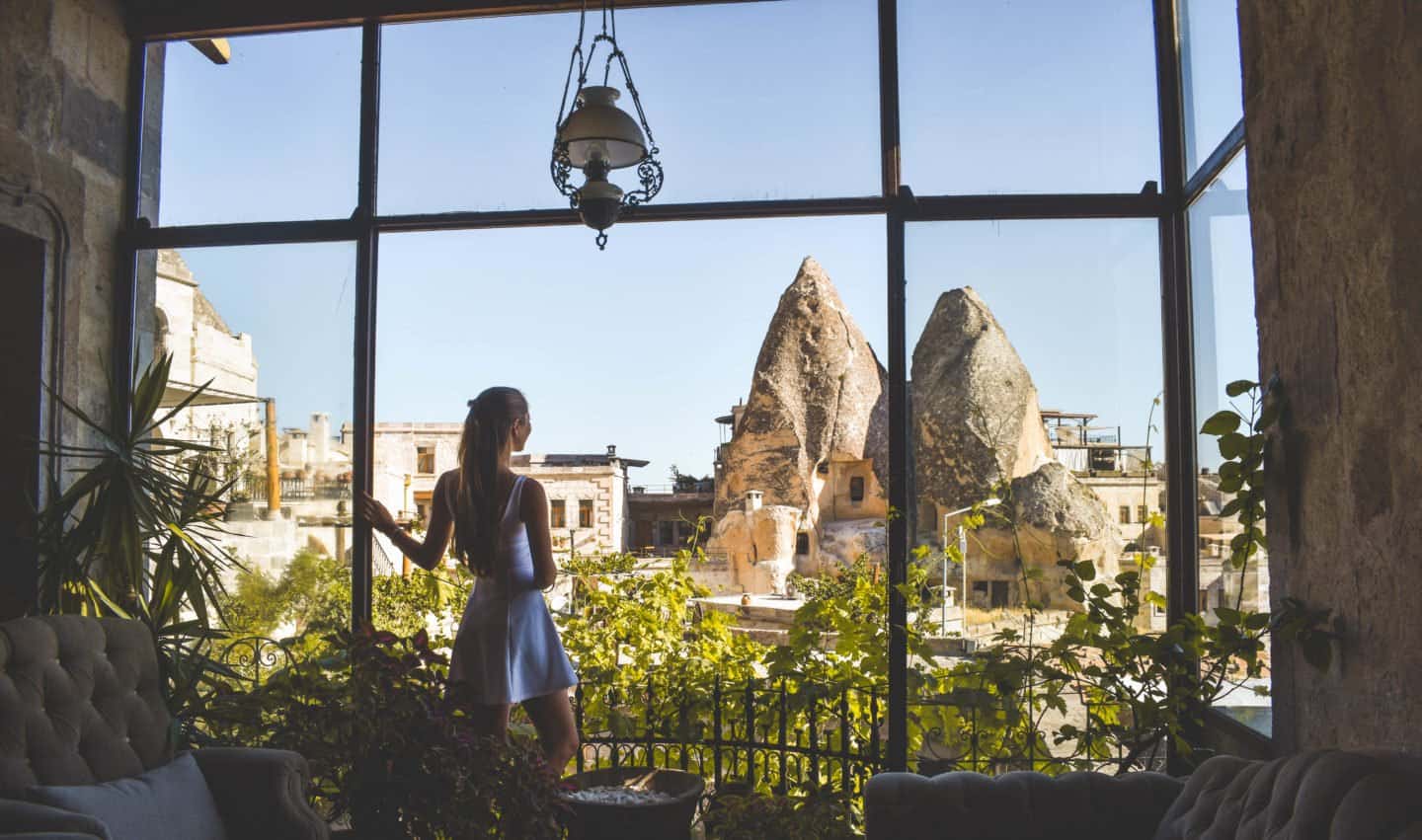 Breakfast
Breakfast is included in your stay at the Sultan Cave Suites and it's an extravaganza of delicious home-cooked food!
It is definitely one of the best breakfast spreads I have ever seen, and much better than generic 5* hotels' offerings.
Apparently, there are more 50 local dishes and items, it certainly felt that way. I'm sure I spent a good hour in there munching away. Eating out on the terrace just as the last hot air balloons go down is pretty special too.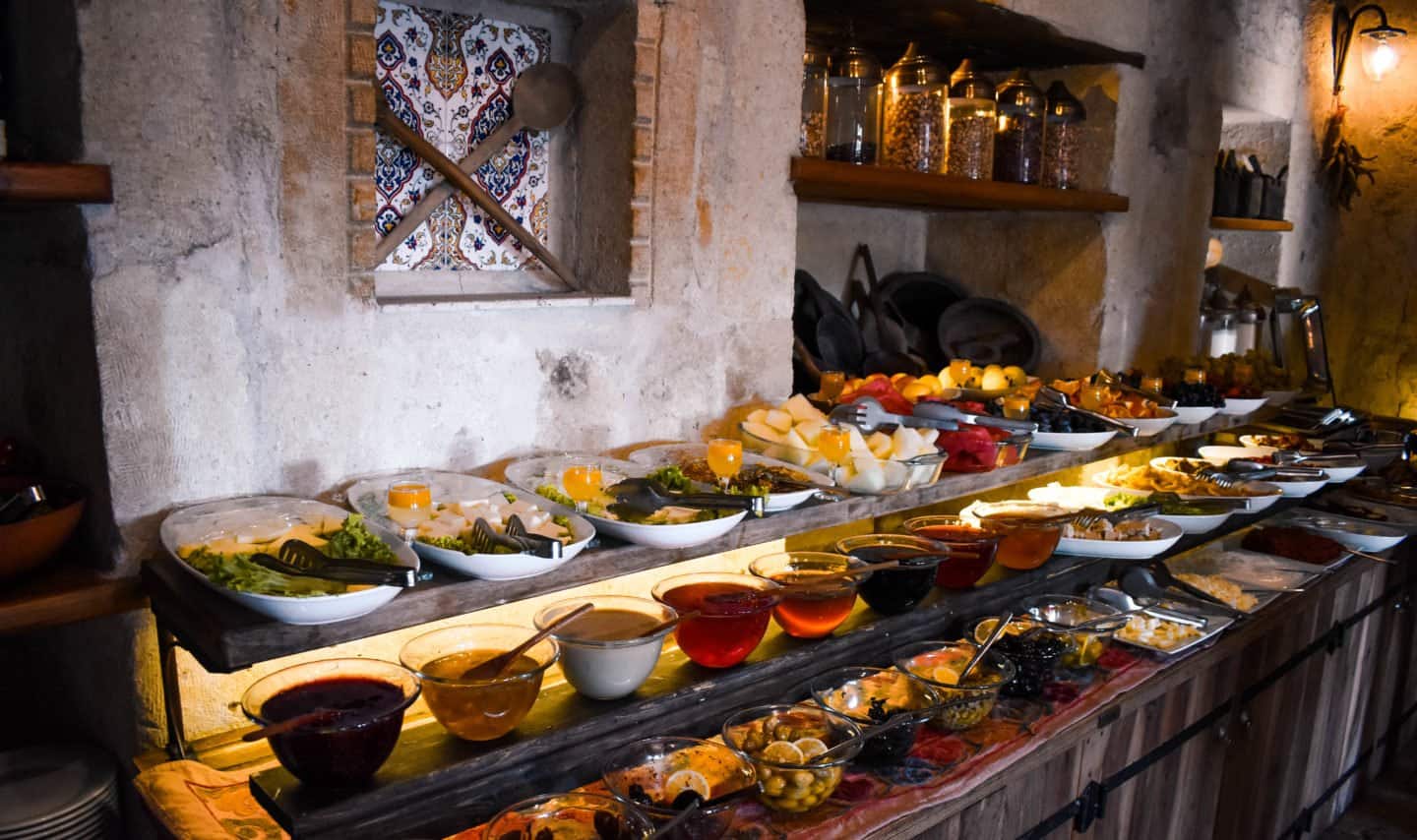 The swimming pool at Sultan Cave Suites
Something the hotel doesn't really promote is that it has use of its sister hotel's pool! Right next door at Kelebek Special Hotel – this hotel is also a brilliant alternative is Sultan Cave Suites is fully booked up.
We had a full morning to relax ahead of our flight and spent the most enjoyable few hours chilling at the Kelebek Special Hotel. But, you're warned – the water is cold!
Location and Getting to Sultan Cave Suites
The Sultan Cave Suites cave hotel is located in the heart of the old part of Göreme, and is just a five minute walk down the hill into the town centre. The hotel is happy to organise an airport transfer for your stay, which I recommend for ease (about 7 euros per person). It takes about one hour to drive from Sultan Cave Suites to Kayseri airport. Using the hotel's airport transfer makes it much easier to find the hotel on arrival. The entrance after all is just a door in a wall!
The Staff
The staff at the Sultan Cave Suites are just something else. The hotel is so relaxed, yet so clean, efficient and well-maintained. The staff are always happy and having fun, without it feeling stiff and formal like a traditional branded hotel. After a day sightseeing, you might come back and find them enjoying some time playing a board game together. I found the team to be so helpful and I spent a lot of time getting to know them!
Tours in Cappadocia
Sultan Cave Suites is able to organise a number of tours directly through a local tour operator service in the town and with hotel pickup. Some of the best things to do in Cappadocia include hot air balloon flights at sunrise, to visiting all of the must see attractions in town and local area. We loved our organised trip. I've also written a longer detailed post on all of best things to do in Cappadocia.
Sunrise at Sultan Cave Suites
Sultan Cave Suites is one of the most famous hotels on Instagram, thanks to its incredible photo spot on its terrace. Easily one of the best places to capture the sunrise in Cappadocia, I've actually written a long and detailed blog post on sunrise at the Sultan Cave Suites and everything you need to know to get an awesome Instagram photo. However, it important to know the balloons flying is weather dependent. If the winds are too strong, they simply cannot fly.
Izmir, the dog
Izmir is the Instagram dog who has become famous for her role in beautiful sunrise photos at Instagram. She's a bit sassy and you have to catch her on a good day, but normally she's happy to be in your photos in exchange for some treats. Again, read more about Izmir and taking sunrise photos at Sultan Cave Suites in this post here – I've aimed to answer all of your questions.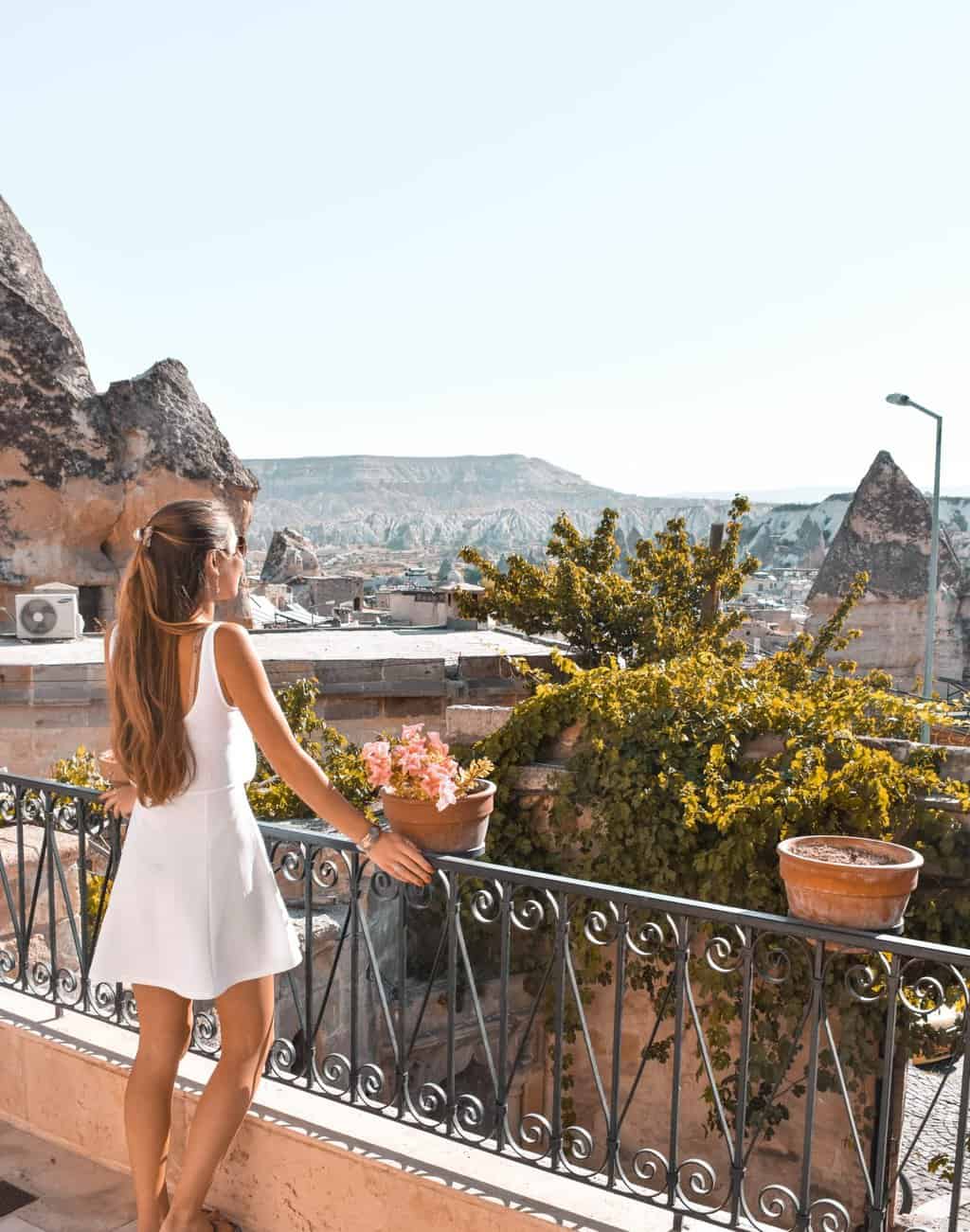 So this concludes my guide to staying at the Sultan Cave Suites hotel. Whilst it one of the most well known Instagram hotels in Cappadocia, it really is an amazing stay too and easily one of the best photo spots to capture the hot air balloons at sunrise too.
I hope this has been helpful if you're planning on heading to the amazing area of Göreme and Cappadocia in Turkey. If you're considering a longer Turkey adventure, you might find my two-week itinerary here useful, as well as my guides to Bodrum, Pamukkale, Ephesus, sailing the famous Turquoise Coast, and Istanbul here.
Feel free to ask any further questions in the comments section below and if you've enjoyed this post, feel free to share using the below links.
Wanna see more? Check my Instagram here, my Facebook here or my Twitter here!
Disclaimer: This visit to Cappadocia, Turkey was entirely paid for by myself and there was no involvement from the tourism board or the Sultan Cave Suites team. This is an independent guide
Enjoyed my guide and review of Sultan Cave Suites hotel in Cappadocia? Pin it!