Visiting Pamukkale was one of the places I was most exciting about going to when planning my trip to Turkey. If you're looking for a spectacular natural wonder and something a bit unusual to see whilst on your trip to Turkey, then this Pamukkale Travel Guide is for you.
Did you know that despite not being that well known outside of Turkey, Pamukkale receives more than 2 million visitors a year? That's more than any other tourist site in the country.
It had been high on my bucket list, so having recently spent two weeks travelling through Turkey, I made sure to spend 2 days at Pamukkale.
In this Pamukkale Travel Guide, I cover how to get there, where to stay and getting around. I also listall of my top tips for visiting Pamukkale without the crowds. So read on and starting planning your trip to Pamukkale.
Pamukkale Travel Guide – Essential things to know
What is Pamukkale?
Pamukkale, meaning "cotton castle" in Turkish, literally looks like.. well, a cotton castle. Formed by a carbonate mineral left by the flowing water, Pamukkale is a series of white travertine terraced pools nestled into the hillside. People don't seem to be completely certain as to how Pamukkale was actually created however.
At the top of Pamukkale is the incredible ancient Greco-Roman city of Hierapolis, chosen to sit atop the "cotton castle" with an abundance of hot springs.
Today, Pamukkale is an UNESCO World Heritage site and you can visit both here and Hierapolis for one ticket price.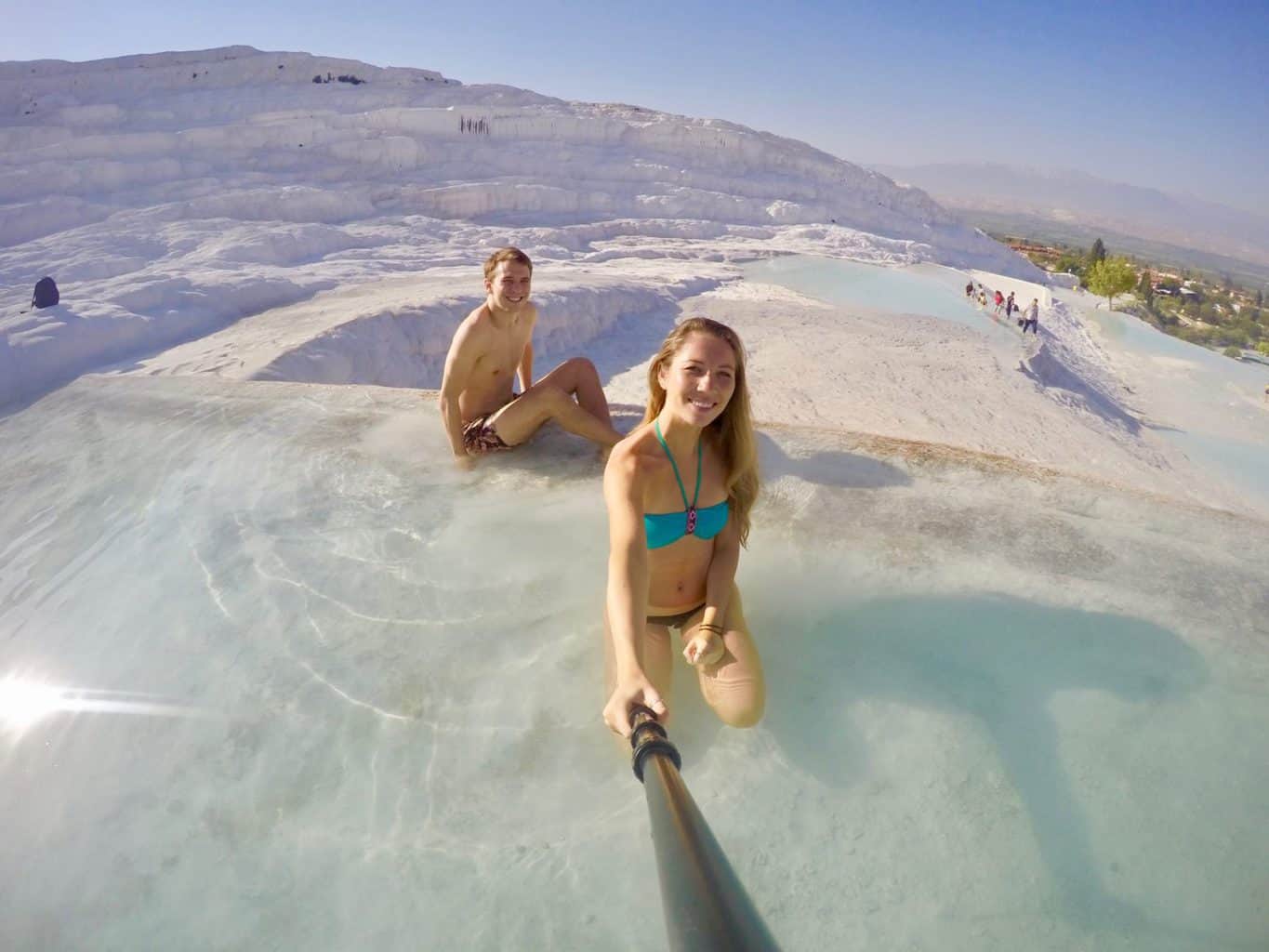 Where is Pamukkale?
Pamukkale is located in South West Turkey, approximately 20km from the major town of Denizli.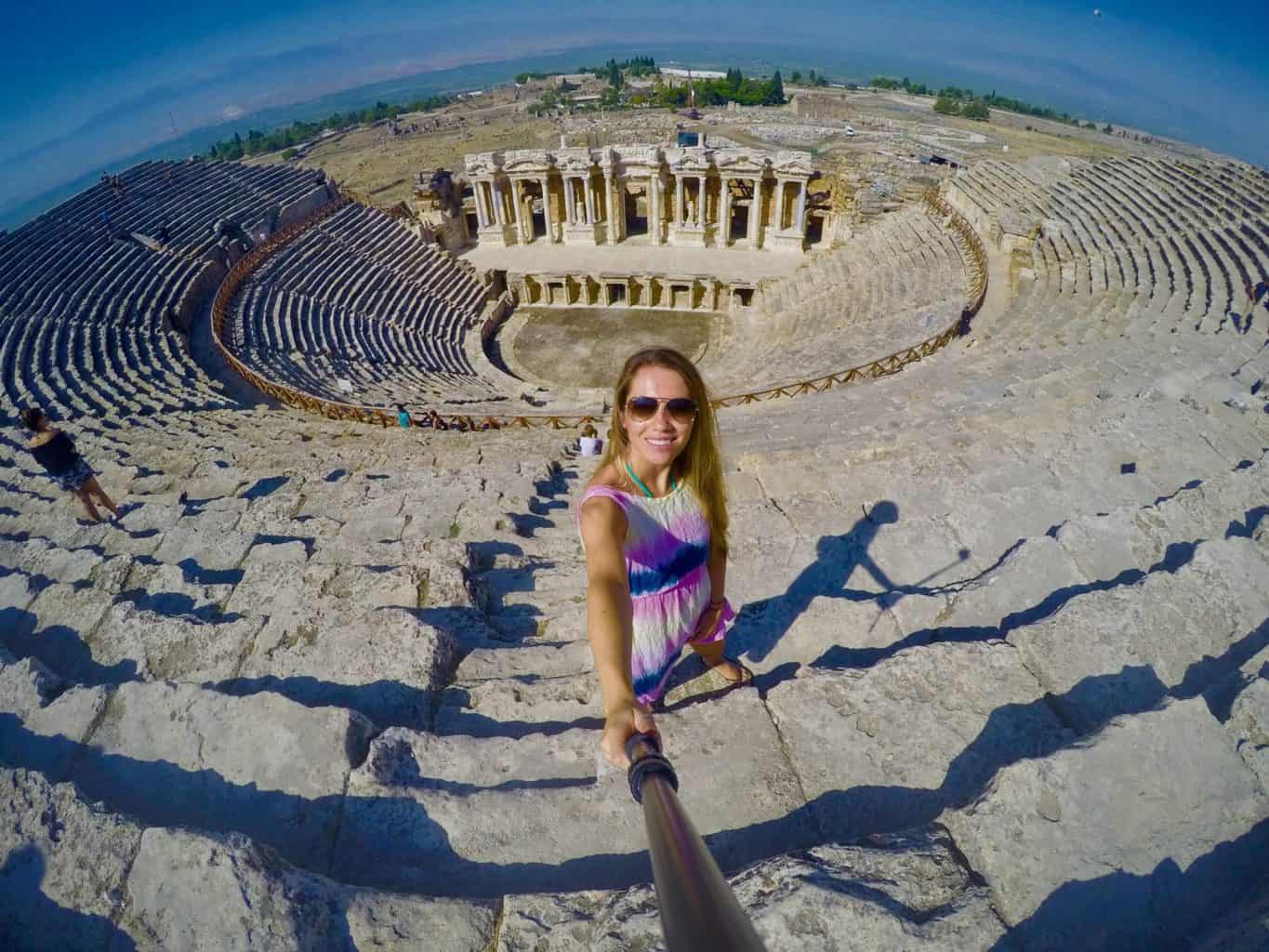 How to get to Pamukkale?
The main point of arrival is Denizli, which has connections from across Turkey via bus, train and plane. If you arrive by bus or train, you will need to head to the lower level of the Denizli bus station (the two are across the road from each other), and look for the dolmuş shuttle at peron (gate) 76. It's only about another 30 minute drive to Pamukkale from Denizli and costs 3.50 TL. You must tell the driver and he will stop near your hotel in town as there is no bus stop in the town of Pamukkale.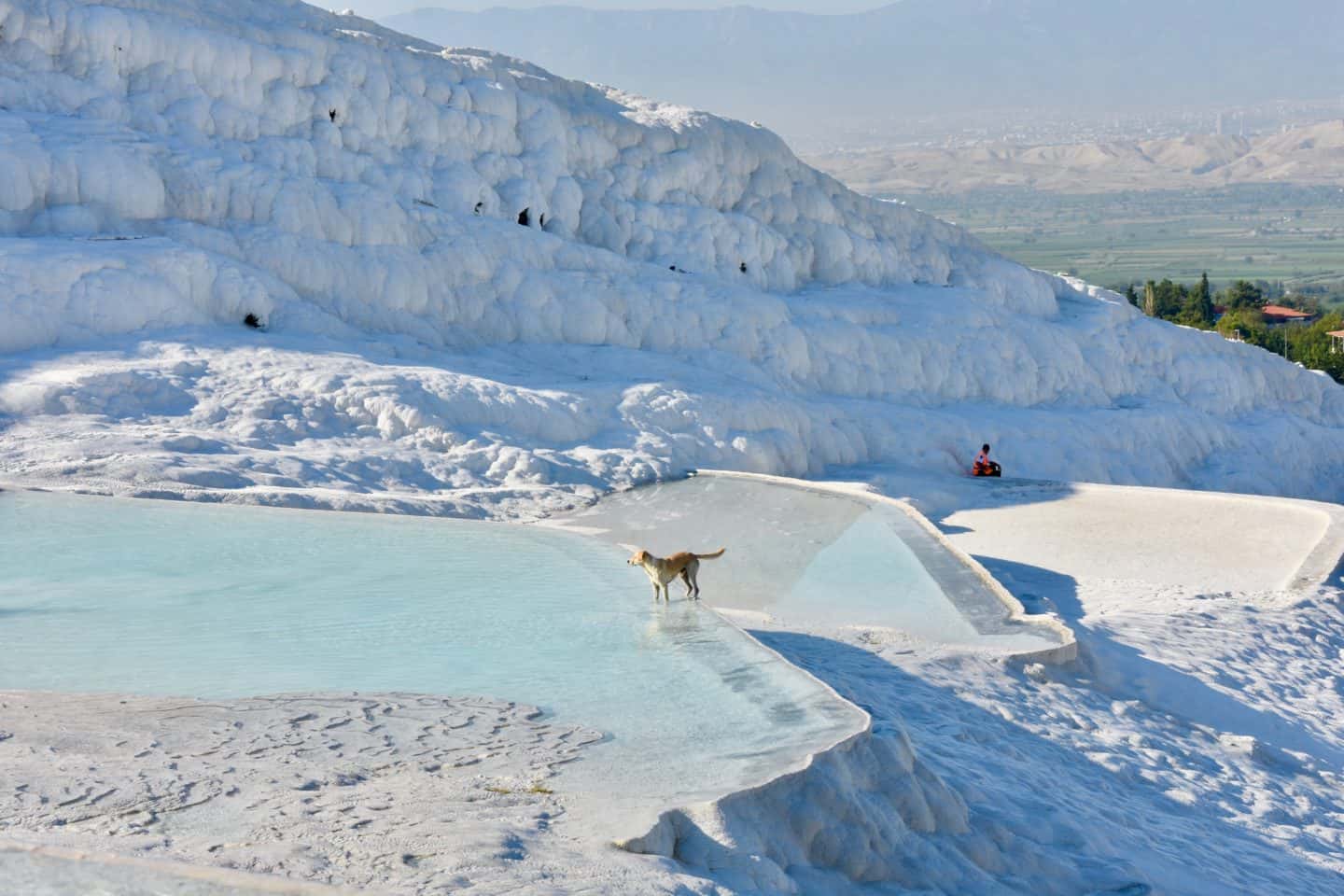 How to get around Pamukkale
Luckily, Pamukkale is a really small town and you can easily get around on foot.
Entrance fee to Pamukkale
A ticket costs 25TL which gives you entry to both Hierapolis and Pamukkale. These tickets permit you to stay all day. It's important to know that to swim in the Cleopatra Pools at Hierapolis, it costs an extra 32TL.
If you have a monthly Turkish Museum Pass, then Pamukkale is included and you can even skip the queue!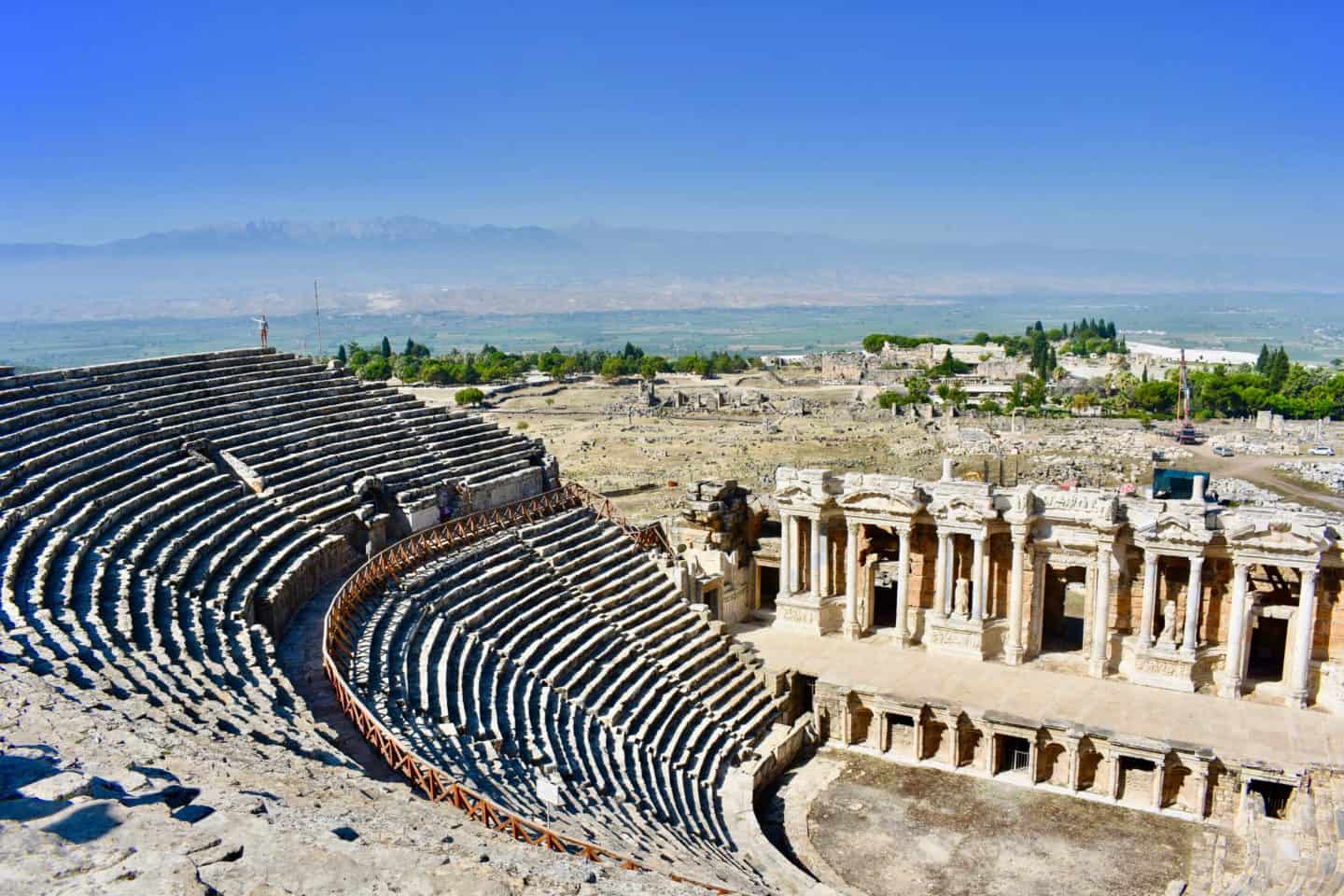 Pamukkale opening times
In the summer season (April to October), Pamukkale opens at 6am and closes at midnight. In the winter season, it opens at 6am and closes at 6.30pm.
When is the best time of year to visit Pamukkale?
Generally, the better time to visit would be the summer months so you can immerse yourself in the pools and explore in your swimwear. The best time to visit in the summer would be April to June when the heat is less intense, and the crowds are calmer.
Visiting Pamukkale on a day trip
How long does it take to visit Pamukkale?
You can easily spend a full day at Pamukkale and Hierapolis. You'll probably find that you won't spend more than an hour exploring the terraces at Pamukkale, just because there's only a certain number and as it gets busier, it does get more unbearable. You can easily spend a fair few hours walking around Hierapolis and, if you pay the extra cost, enjoying the hot springs (Cleopatra pools) at the top.
As mentioned, it is very common to visit as a day trip. I've popped loads of great suggestions below:
Staying overnight in Pamukkale
Where are the best places to stay in Pamukkale?
There are many hotels in Pamukkale, none of which are super exciting or fantastic really. The town seems to exist purely because of tourism and this means there's little character to the streets. It's a bit of a quiet and slightly run-down town.
I chose to stay at the Melrose House Hotel which was a perfect base with plenty of kittens and a lovely swimming pool. You can check rates for this great hotel here. I would say this was a great mid-range option.
There aren't too many luxury hotel options in Pamukkale, but the best hotels are these two: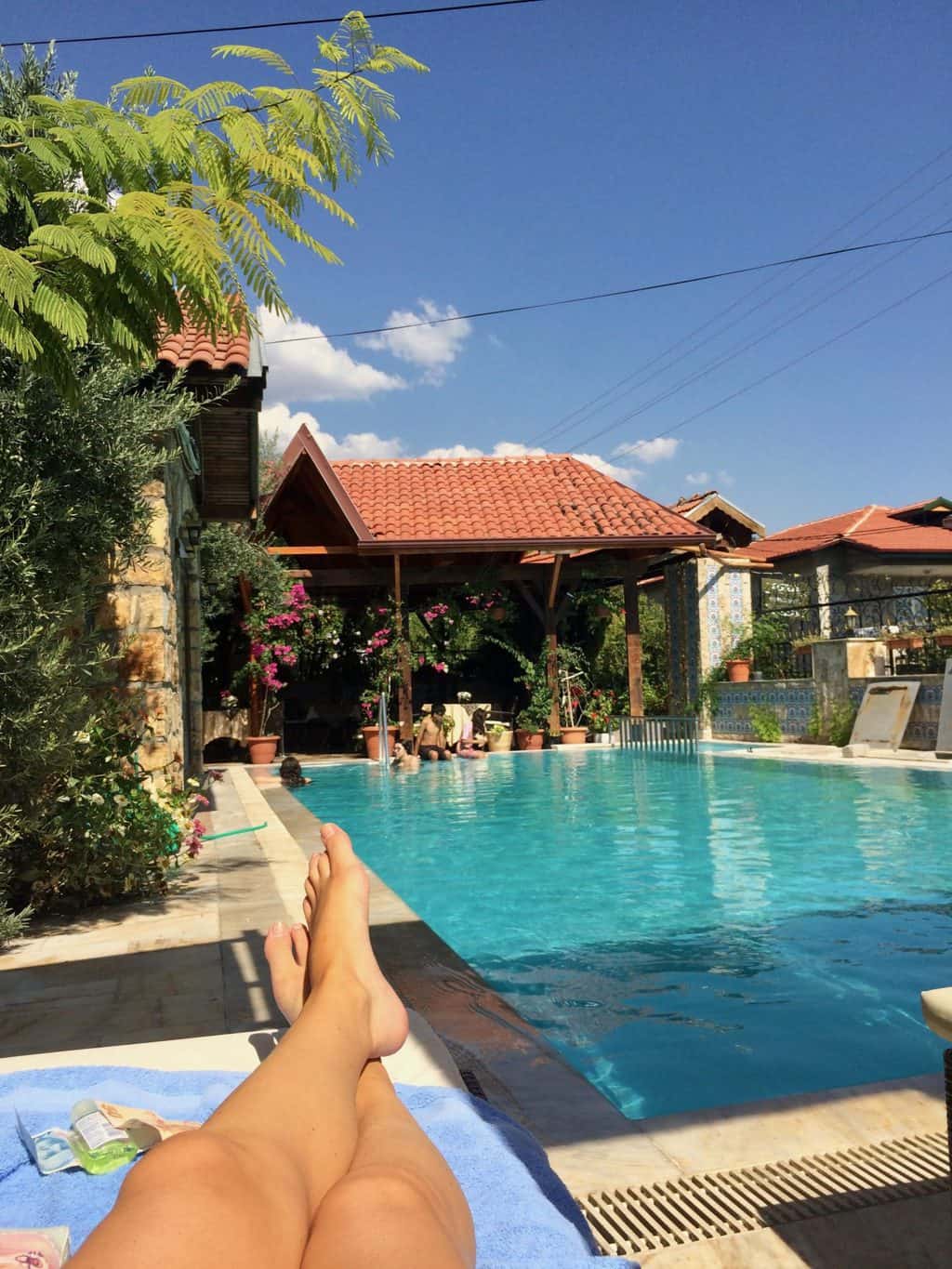 Top tips for a day or overnight visit to Pamukkale
Arrive early
It's fairly useful advice for any tourist attraction but it is vital to arrive early when visiting Pamukkale. If you're staying overnight in the town, obviously this will be easier but you could also take the first dolmuş of the day from Denizli.
Mass tour groups from the seaside resorts start descending in the pools by about 9.30/10am. They arrive in their masses and I found it to completely change the experience.
Although the doors opened earlier, I arrived at about 8.30am. I had no queue at the gate and was one of the first people there. I enjoyed about 40 mins having the pools to myself and a handful of others.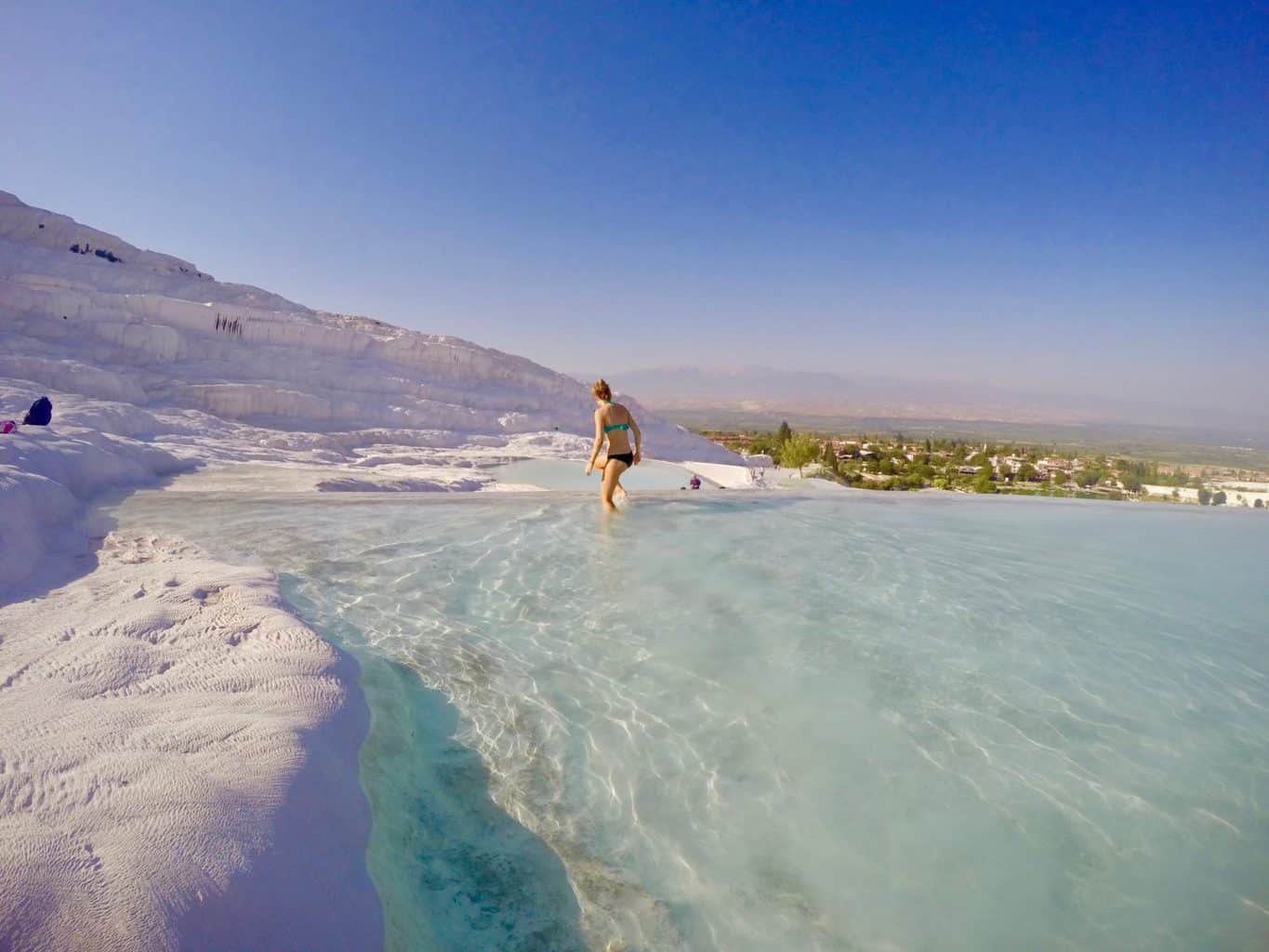 Enter through the lower gate
Try to arrive at the ticket gate nearest to the town and the Gendarma (police station).
It's pedestrian only and means you come in right by the pools at Pamukkale. It extends your time without crowds significantly as the tour buses arrive at the top by the upper gate. They slowly come down the path by the pools from the top but stop to take so many photos on the way down that it bides you some time at the lower pools for sure.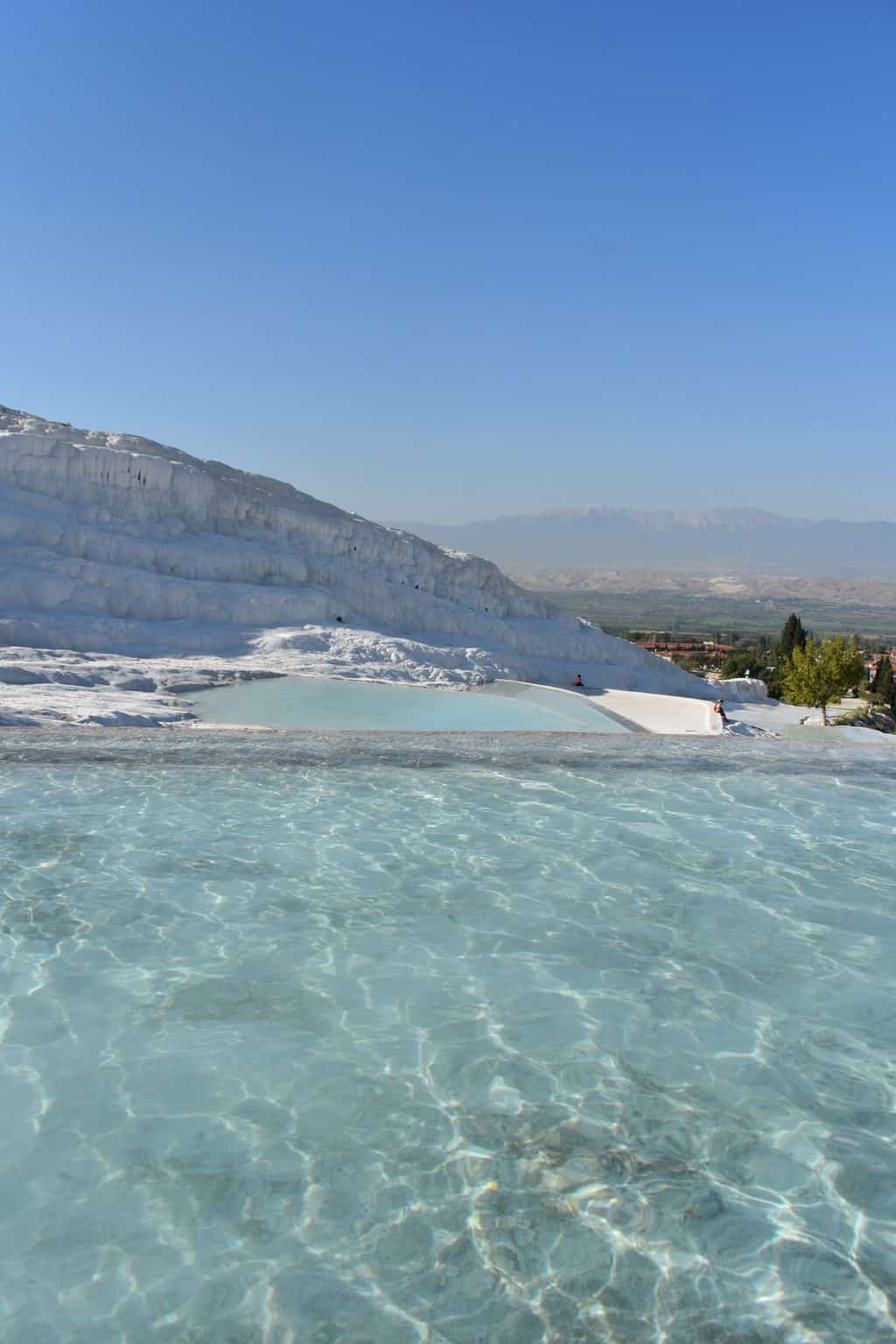 Bring a waterproof bag and wear swimwear
I was surprised to find that much of the white chalky surface was wet. There are few places to put bags and belongings down where they will stay dry.
You will also definitely find yourself in your swimwear all day long. We noticed that many people even seemed to stay in their swimwear whilst walking round the Hierapolis ruins which really seems quite odd.
You will definitely be barefoot inside, so make sure you have a bag to put your shoes in so you hands can be free.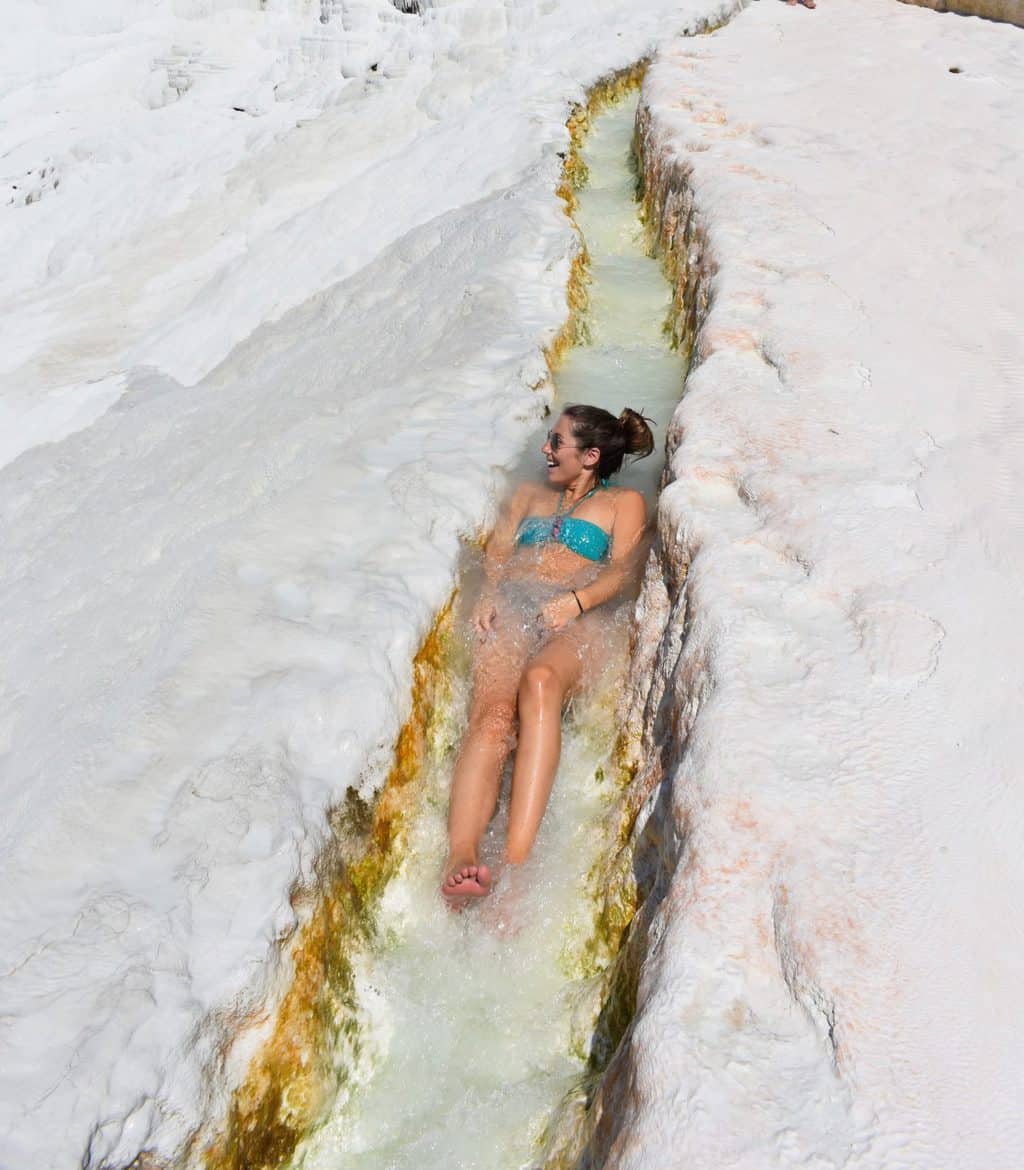 Don't skip Hierapolis
Some people come purely for the pools and don't even visit the ruins at the top. I thought they were absolutely incredible. As you can see too, the views with the mountains behind are amazing!
Just by the ruins complex of Hierapolis, you can enjoy a lazy swim in the hot springs (the Cleopatra Pools). Here there are sun loungers and a cafe, so as I said before, you can easily spend the full day here.
The Romans once bathed in these pools, and it is quite the surreal experience to swim amongst submerged columns.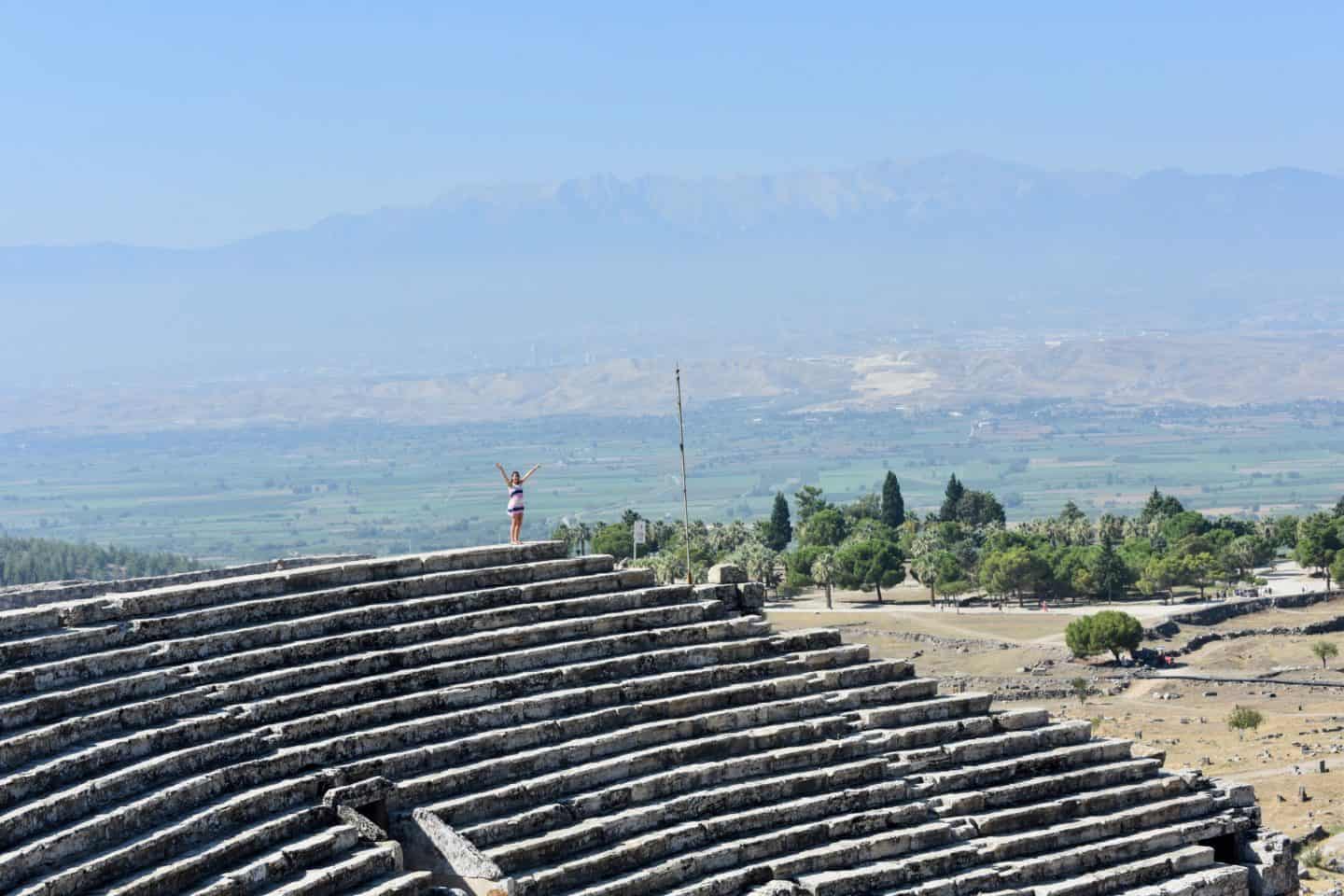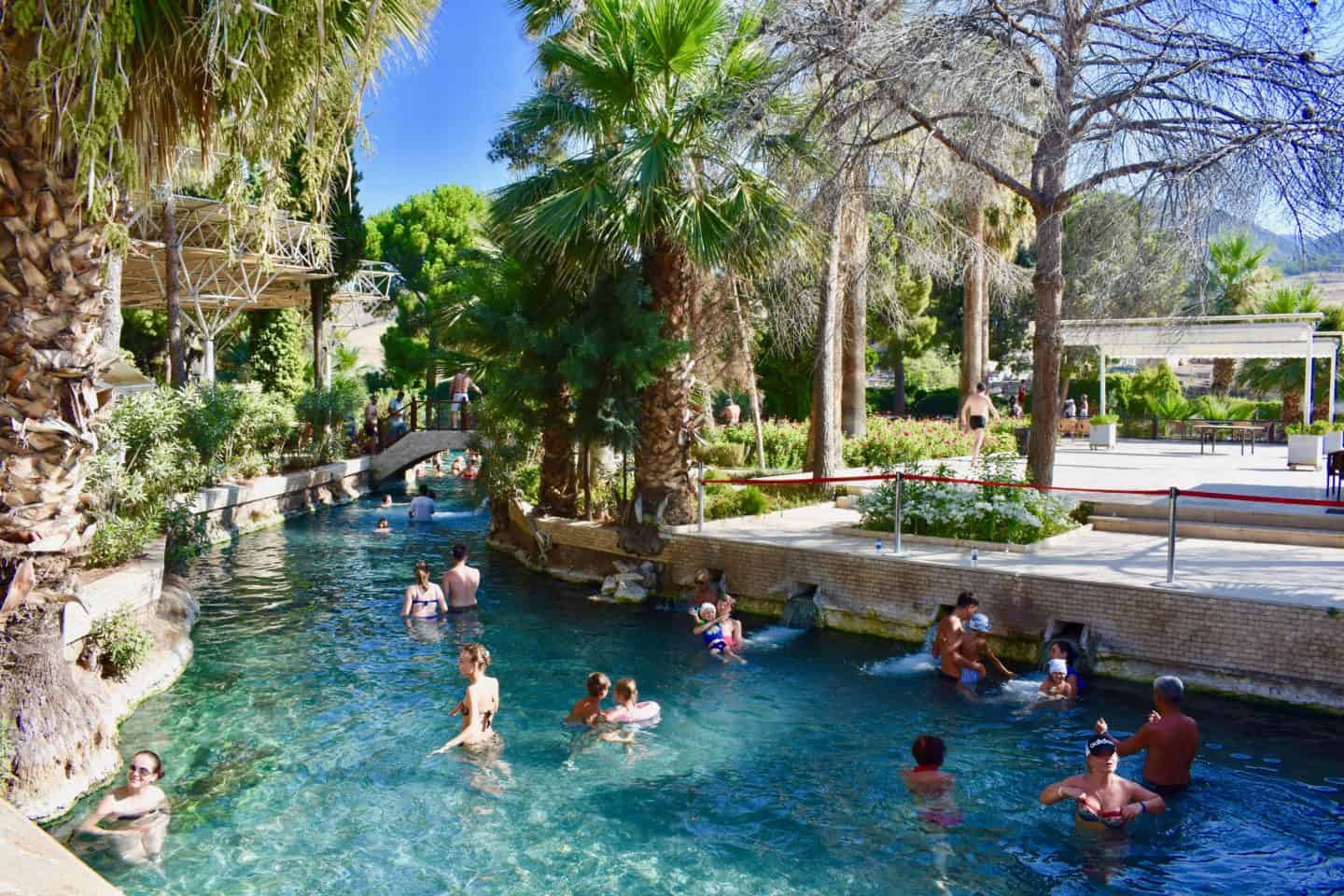 Take a picnic
Assuming you do choose to spend the day at Pamukkale and Hierapolis, it would be a good idea to bring a picnic.
The only food options are the poor quality cafes by the Cleopatra pools. Interestingly though, there are ATMs up by the cafe.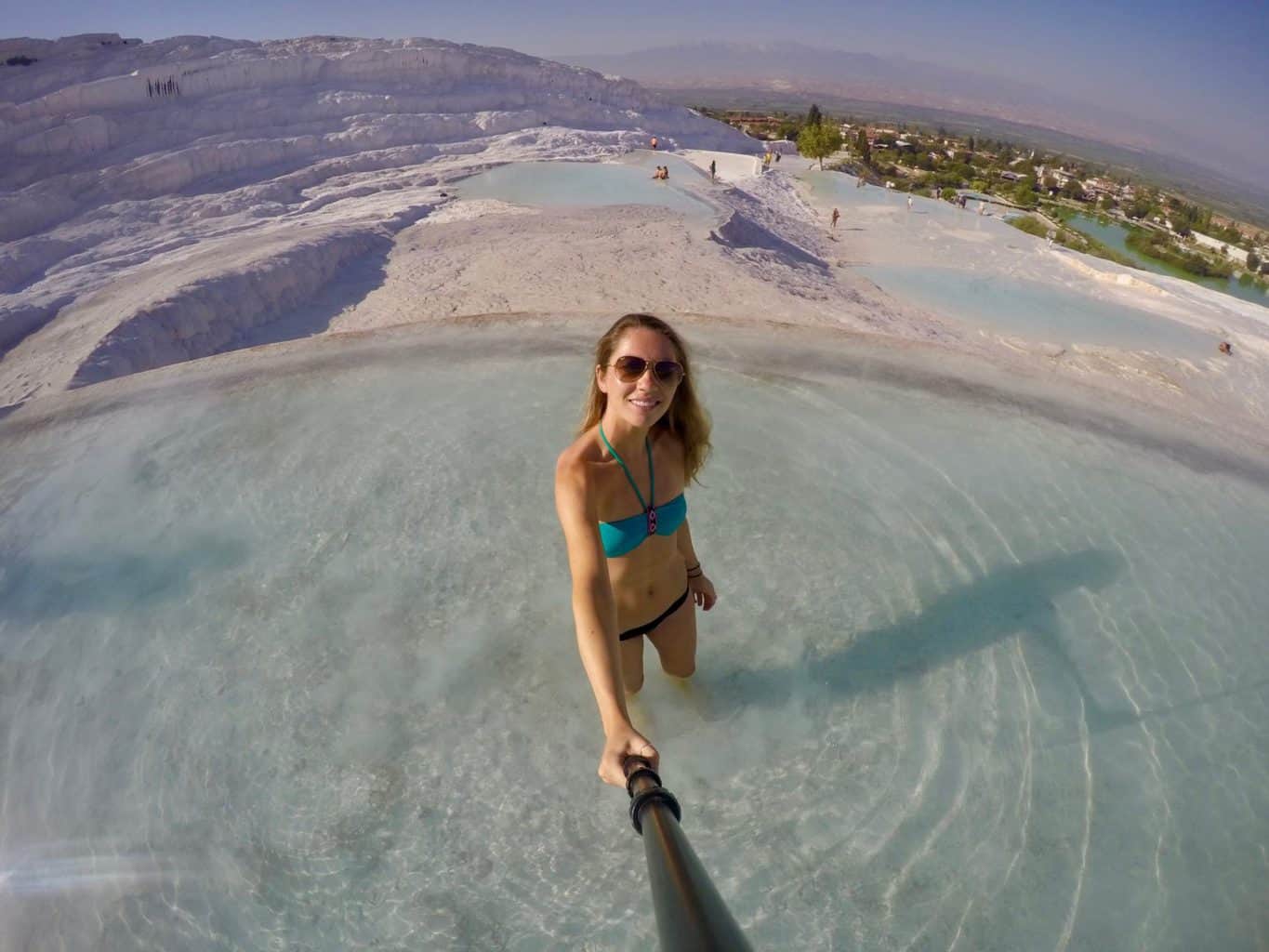 Pamukkale Travel Guide
So here is my guide and top tips for visiting Pamukkale and Hierapolis.
Have you been to Pamukkale and Hierapolis? Do you have any other tips for visitors to this amazing place? I'd love to hear if so – drop a comment below!
As you can see, whether you visit as a day tripper or stay overnight in the town of Pamukkale, arriving earlier to the lower gate will offer you a much more successful and enjoyable visit. The two sites are absolutely worth a visit on any trip to Turkey and I would highly recommend including them.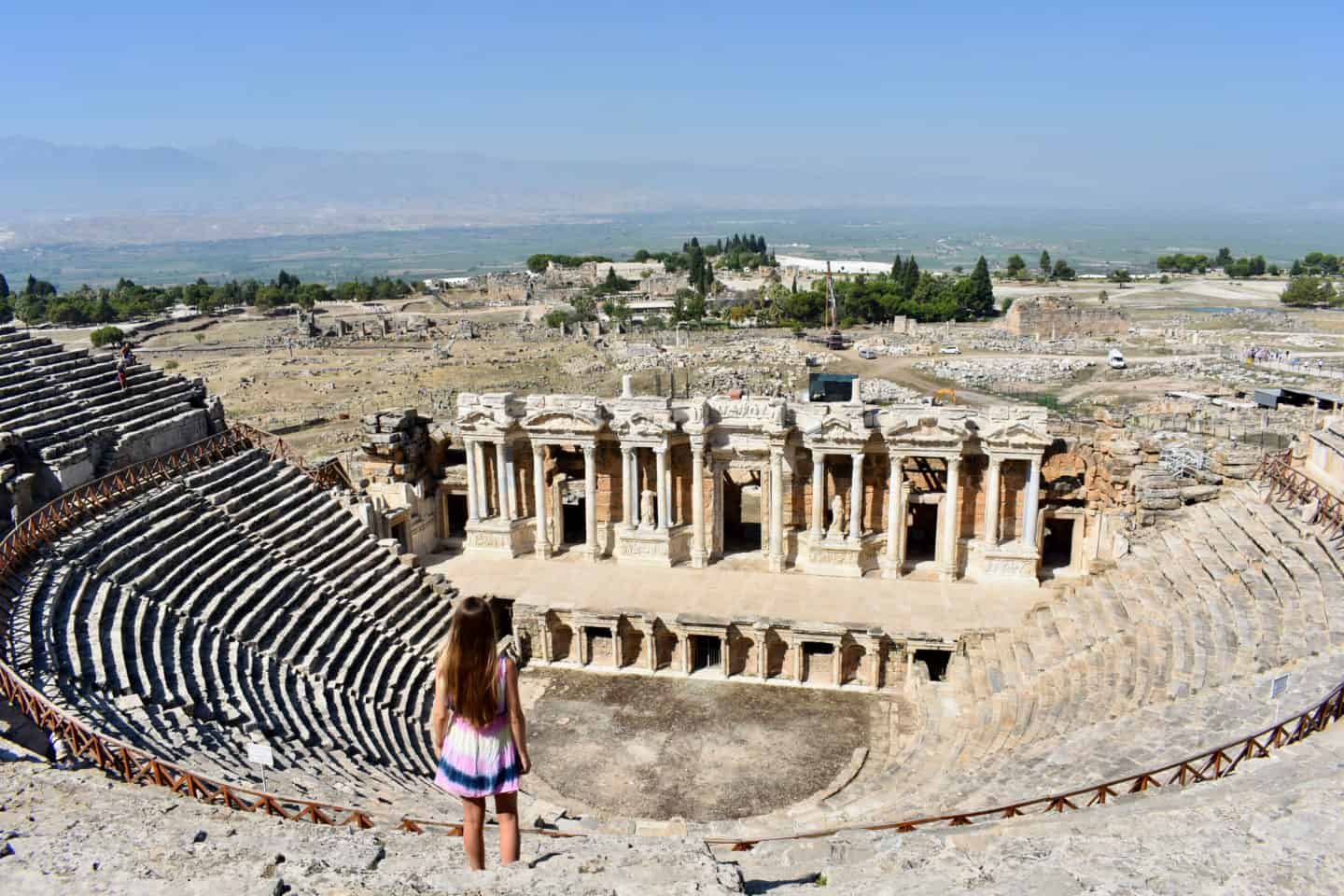 If you're considering a longer trip, you might find my two-week Turkey itinerary here useful, as well as my guides to Bodrum, Pamukkale, Ephesus, sailing the famous Turquoise Coast, Istanbul and Cappadocia here.
If you've enjoyed this post, feel free to share using the below links!
Wanna see more? Check my Instagram here, my Facebook here or my Twitter here!
Disclaimer: This visit to Pamukkale, Turkey was entirely paid for by myself and there was no involvement from the tourism board or any local companies. This is an independent guide.
Enjoyed my Pamukkale Travel Guide? Pin it!