Rotterdam as a city really surprised me. Partly due to its quirkiness, and in part due to the variety of foodie places. I found so many places to eat that I thought it made sense to compile a list of the best cafes in Rotterdam.
Although my initial impressions were not strong, (and the heavy rain didn't help), I slowly explored on foot and by bike and really discovered my own Rotterdam. Make sure to check out my Rotterdam Travel Guide here.
It's quirky and unusual, and some of the best gems are not in obvious view. It took a little more than scratching the service, but once I did, I was just so pleasantly surprised. Plus, Rotterdam seems like a wonderful city to live in – it's safe, friendly and vibrant.
I've put together some of my favourite foodie and coffee spots I discovered around the city of Rotterdam. Take a look below for the best cafes in Rotterdam and I hope this is helpful whilst you're in Rotterdam!
The Best Cafes in Rotterdam
Sajoer
Perfect for breakfast and healthy snacking throughout the day, Sajoer serves up freshly pressed juices and delightful acai and smoothie bowls.
I loved its outside eating area in the cool pedestrianised area outside and its choco smoothie bowl (below) was divine, blended with avocado and dates.
It's also very Instagram friendly!
Lot & Daan
Amazing interiors AND delicious food. Service was a little slow on the day I visited, but they had literally just opened and I was the first person in on a Saturday morning. I loved loved loved the quirky fun interiors and that it wasn't so busy, so I could really appreciate them!
Lot & Daan is tucked away behind the Citizen M hotel opposite Markthal. Once you get to the cafe, you've got wonderful walks right ahead of you along the canals too!
Fenix Food Factory
This super hip hangout's terrace areas are packed on sunny weekends, but the Fenix Food Factory is equally as busy on wetter days with its huge indoor seating area. Foodie entrepreneurs came together in 2014 to occupy this old port warehouse in Katendrecht with various stalls and stands. You'll find excellent artisan coffee at Stielman Koffiebrander, a craft beer brewery and plenty of live music. The waterfront here offers beautiful sunset views over the Nieuwe Maas River.
Lilith
Another Rotterdam cafe in a different part of town, delivering amazing breakfasts that come highly recommended, and ALL DAY. I enjoyed another delicious smoothie bowl here at Lilith and loved its fun, eclectic interiors. The staff are also cute.. which really helps.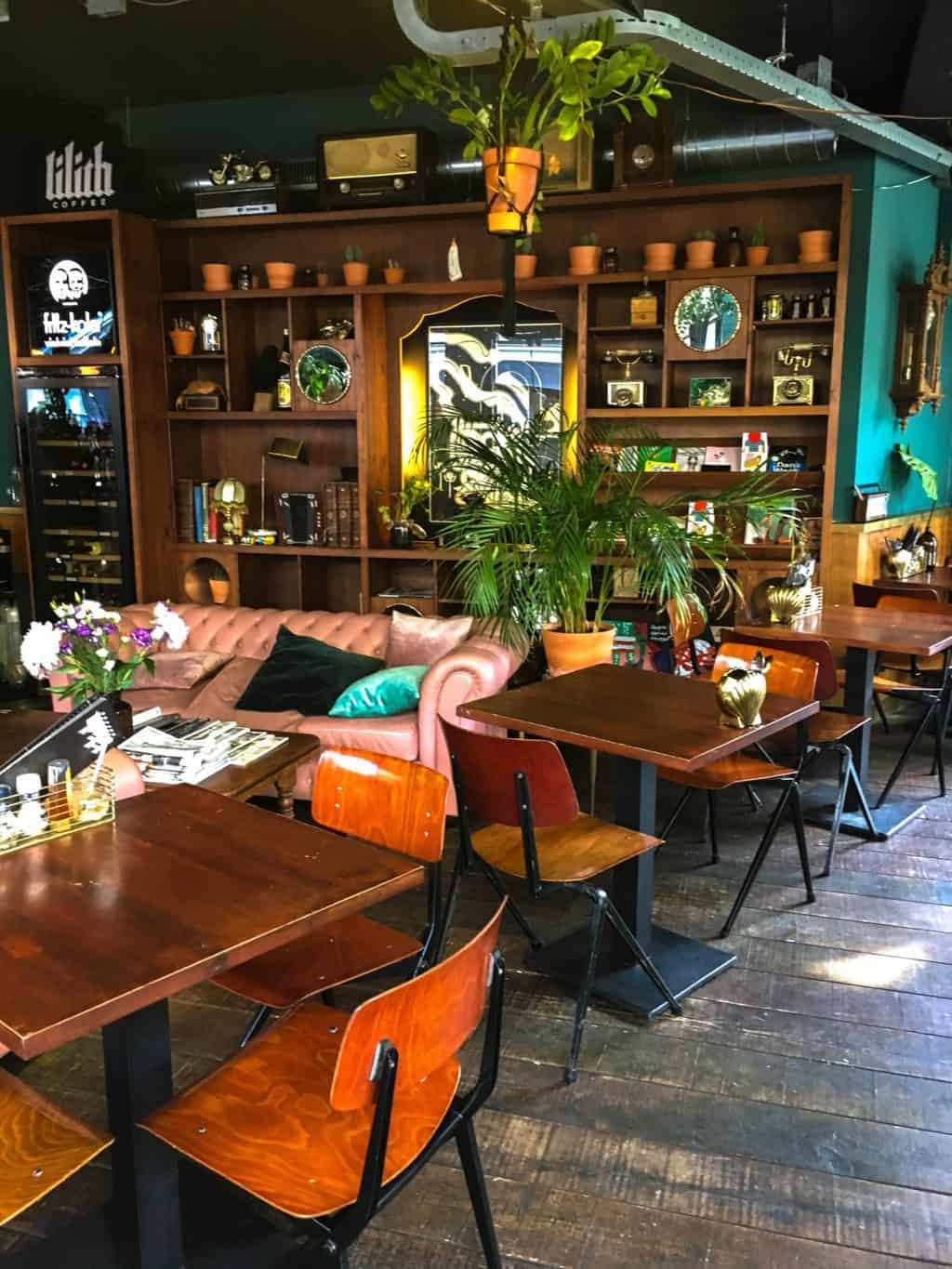 Markthal
One of the most iconic sites in Rotterdam, the famous Markthal foodie market is in the heart of the city and is the gourmet destination. No Rotterdam foodie guide would be complete without including Markthal. This vast indoor market hall offers more than 100 fresh food stands and plenty more restaurants. You can really eat around the world here and hop from stand to stand.
The thing that surprised me most however, was that it closed so early at 8pm. So be aware to head over early and not for an evening dinner (!)
This food hall is an amazing place to try some typical Dutch foods too, such as the delicious poffertjes (like mini Dutch doughy pancakes!)
Dough Bakers
So I ended up going to Dough Bakers almost every day to enjoy my cookie dough fix. Housing all things unhealthy, this brilliant cafe offers a number of different cookie dough mixes and loads of different topping options. I honestly couldn't get enough of this places' gooey deliciousness!
Cinta Coffee
In their own words, they're a coffee bar with an Indonesian twist. Cinta means to love or adore in an Indonesian dialect, and that is easy to do here. Located in the upper floor of the very cool InConcept store, Cinta is cool, calm and collected. I loved my coffee and the staff were so pleasant, I could have lost plenty more hours with my laptop in here. The coffee beans are imported from Indonesia and brewed Kopi Tubruk, which is a centuries-old coffee brewing method.
Brasserie Schielandshuis
Located conveniently next to the Rotterdam tourist office, I decided to pop into Brasserie Schielandshuis after collecting some info from the staff. Well, what a hidden gem! Great staff and really delicious food, maybe even one of the best toasties I've had – and I'm partial to a good toastie! I worked with my laptop here for a few hours and it was the ideal quiet daytime spot. I've heard it's a great evening drinks spot too though!
Where to Stay in Rotterdam
Eating your way around a city is all good, but you need a place to read your head after all that food! I've popped several hotels below covering all price ranges:
Luxury:
Mid-range:
Budget:
Rotterdam Foodie Guide
So there you have my guide to the best cafes in Rotterdam, covering the coffee, brunch, lunch and daytime drinking spots in Rotterdam.
Rotterdam is certainly a quirky city, and well worth visiting. Make sure to check out my Rotterdam Travel Guide here for more info on the city and the best districts to visit.
Feel free to drop me a line if you would like any advice or further recommendations for planning your trip to Rotterdam. If you've enjoyed this guide to the best cafes in Rotterdam then please do share using the below links!
Wanna see more? Check my Instagram here, my Facebook here or my Twitter here!
Disclaimer: This visit to Rotterdam was entirely paid for by myself. There was no involvement from the tourism board or any cafes. This is an independent guide.
Enjoyed my guide to the best cafes in Rotterdam? Pin it!