Incredible archaeological ruins, one of the Seven wonders of the world, epic desert scenery and the lowest point in earth. For a small country, Jordan offers a lot. It's home to some of the most famous historical sites in the world.
The perfect one week Jordan itinerary ought to include a number of key locations around the country, including its capital Amman, the otherworldly landscape of Wadi Rum, the historical treasures of Petra, the magic of the Dead Sea and the allure of the Red Sea at Aqaba.
These would be considered the main sites to see, but unfortunately, due to needing some real relaxation time, I opted to omit Amman and Aqaba for extra time in the Dead Sea.
You might be asking if a 7 or 8 day itinerary is enough to see all of those places, and actually it is. Jordan is a small country but it packs a mighty punch. You could equally spend 14 days doing the country at a more leisurely pace, but if you want an action packed trip in one week, you can most definitely do it.
However, my parents went to Amman for a few days ahead of my arrival. They loved it. They said they felt safe, very welcome and relished exploring the history and culture of the city. They enjoy the hustle and bustle of the modern city, where you might stumble across an ancient ruin any moment. Considered one of the most liberal and westernised cities in the Middle East, they enjoyed a relaxing and interesting 3 days here taking in the citadel and other ancient Roman ruins.#
Furthermore, just 30 minutes north of Amman, you'll find Jerash, the ancient Roman city that dates back to the 1st century. It's one of the best preserved Roman sites in the world.
Day 1 – Madaba and the King's Highway to Petra:
I landed in Amman's Queen Alia International Airport on Turkish Airlines at about 5am in the morning. My parents were staying at the Madaba 1880 Hotel and had arranged a driver through the hotel to pick me up. A man met me at arrivals in a very stained polo shirt and led me to his car. He didn't offer to help wheel my suitcase but did offer me a cigarette, which I politely declined. The car was an old beaten up BMW and most definitely not road-worthy here in the UK.
He left the airport and turned sharply onto a track heading into what looked a very empty and barren landscape. It did run through my mind that this would be the perfect place for something to go wrong. I later found out from my Dad that this is a well-trodden shortcut from the airport to Amman but at 5am, it was entirely deserted and unlit. I did start to feel a little scared – for the first time in a very long time!
We arrived in Madaba 30 minutes later. At this time in the morning, it was mostly construction workers and dogs, and felt quite rundown and derelict. However, Madaba is actually famous for being home to some of the world's largest and best-preserved Byzantine mosaics which can be seen in various sites around the town.
After a brief nap, we decided to start our road trip and start the journey south. Driving through Madaba in the daytime was a whole different experience, it felt safe and it was fascinating watching the hustle of normal daily life going on.
The roads at this point were pretty straight forward and simple, and before we knew it, we were tearing down the King's Highway.
There's a much quicker route south on the modern Desert Highway, but this bypasses many interesting sites and takes you away from seeing Jordanian life in flow. The King's Highway, whilst slower (2 hours longer), traces the old trade and pilgrimage route that traversed the Middle East for almost 5000 years. You can literally drive on history.
This spectacular route could be considered one of the best drives in the world. The route twists and turns before leading into Wadi Mujib, which is Jordan's Grand Canyon. The views are incredible and stretch into the distance over the 1300m deep gorge.
We decided to make our first stop Karak, home to a huge 12th century Crusader Castle. We parked up easily and explored freely on our own. Entrance was included in our Jordan pass.
This was the only location on our whole Jordan road trip where we were only ripped off (£5 for 2 mint teas), which was a shame. There were also few tourists during mid-morning and it was a pleasant break to the route.
We continued to drive south for another 3 or 4 hours towards Wadi Musa, the village at the entrance to Petra. It is worth noting that at the time (Sept 2018), Google Maps was not up to date with the new roads in Jordan. We took many wrong turns and found ourselves being utterly confused with the road signs.
We stayed at the gorgeous Mövenpick Resort in Wadi Musa and you can read my full review on this stay here. We spent the afternoon relaxing at its pool before preparing for an early start the following morning.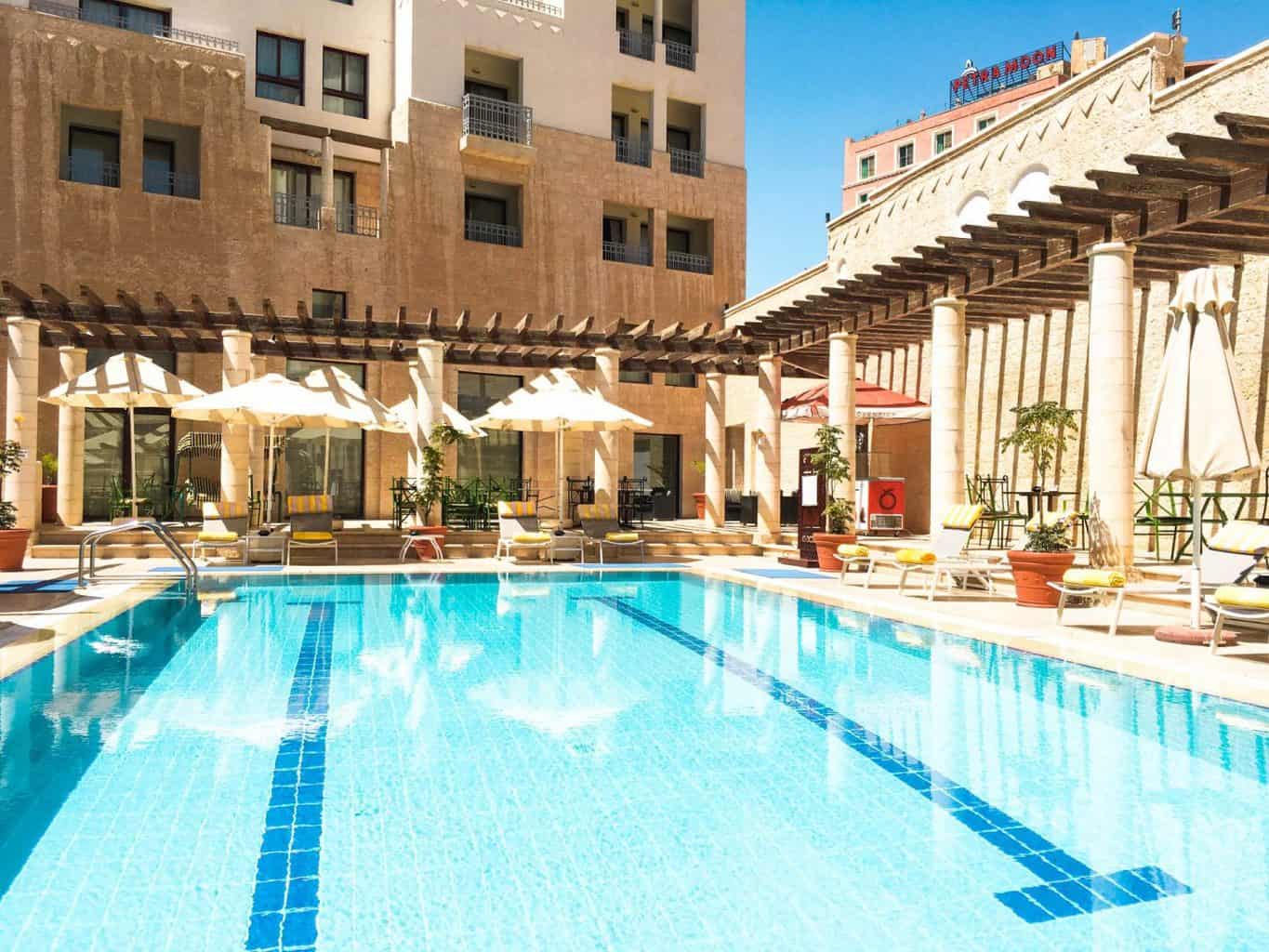 Days 2, 3 and 4 – Petra
The jewel in Jordan's crown, it's the Treasury that draws tourists to the country. However, there is so, so much more to do within Petra than just seeing The Treasury. I've written a full and detailed guide on visiting Petra here, as well as full blog post on all of the must-see sites in Petra here.
We also did The Petra at Night experience. As I mentioned in my guide to visiting Petra, we chose to go (despite mixed reviews online), mostly because I was curious and had seen amazing photography on Instagram. Overall, we'd say it was fairly disappointing, particularly considering the cost. Tickets cost 17 JOD per person.
We spent 3 days in Petra and would recommend a similar length of time, if you can spare it. This amount of time really allows for ample exploring time, and ample rest and relaxation time. If you're travelling in the summer months, this will be key!
We headed further south towards Wadi Rum on the evening of the 4th. It was about a 2 hour drive and we approached the entrance of Wadi Rum at about 6.30pm, just as the sun was setting. So special!
Our wonderful guide from Bedouin Directions met us in Rum Village where we left the car. We tore across the incredible desert landscape in our 4×4. It was utterly magical and camels even came along to greet us! So special.
Day 5 – Wadi Rum
We slept at Bedouin Directions' camp and woke up bright and early to get going on our day trip around the desert of Wadi Rum. You can read my full itinerary guide to Wadi Rum here. It was an amazing day with so many awesome highlights. Wadi Rum really is so different to any desert experiences I'd had before in the UAE and Morocco, for example.
We loved it and we were completely exhausted after a long day under the hot sun.
Departing Rum Village, we headed briefly south to Aqaba (30 minutes' drive) on the Desert Highway before turning sharply north. This beautiful route gave us a glimpse of Aqaba and the Red Sea as well as Eilat in Israel. We drove along the Jordan/Israeli border for miles (almost 3 hours) in temperatures of around 39 Celsius before finally arriving at the Dead Sea.
The hotels area is at the upper end of the Dead Sea area, so we got to enjoy a stunning drive for over an hour alongside its shores. Magical!
We stayed at the Crowne Plaza Dead Sea Resort & Spa. A large high-end resort with a huge central pool and another adults-only pool closer to the beach, as well as guests-only Dead Sea experience. The Crowne Plaza offers direct access to the Dead Sea and a whole mud-applying area which consists of giant mirrors and bowls full of fresh cool mud.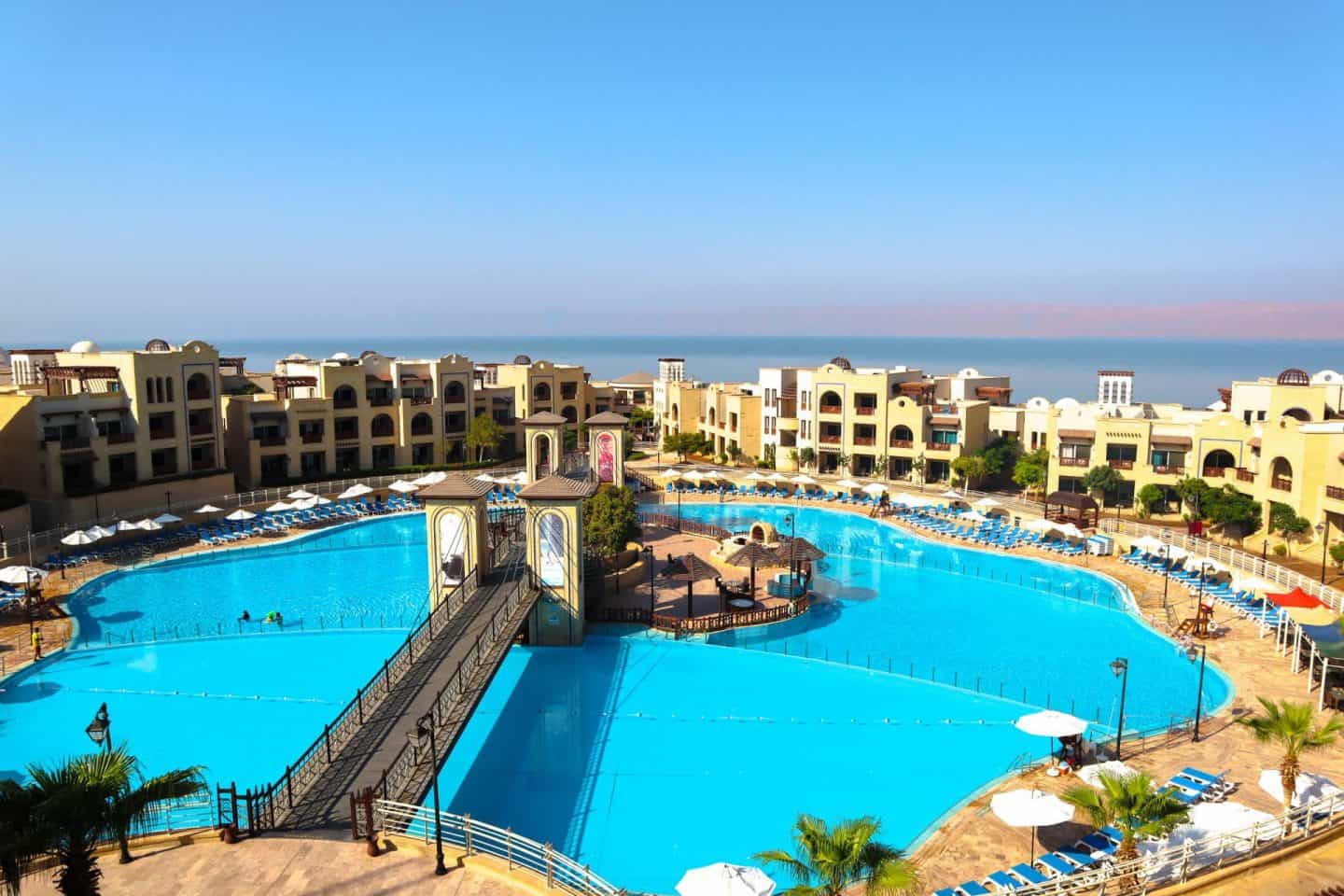 Day 6, 7 and 8
We enjoyed 3 full days at the Crowne Plaza. This was the perfect length to really relax, not to mention float in the sea several times. The novelty didn't really wear off.
The views across the Dead Sea from the Jordanian side are absolutely magnificent and pulling back my curtains each morning to this panorama was something else.
You can read my full guide to the Dead Sea and staying at the Crowne Plaza Dead Sea Resort here.
We left at sunset to head back to the Queen Alia International Airport in Amman ahead of our flight home with Turkish Airlines.
Perfect 1 Week Jordan Itinerary
We absolutely loved our week exploring Jordan and really found this route to be the perfect 1 week Jordan itinerary. With an extra 3 days, you could really tackle Amman and Jerash too, or shorten your time in the Dead Sea or Petra instead.
I do hope this 1 week itinerary has been inspiring, or useful if you're already planning on going to Jordan.
If you're looking for further guides in Jordan, please check out my other blog posts here.
If you've enjoyed this guide to the perfect 1 week Jordan itinerary, then do feel free to share using the below links.
Wanna see more? Check my Instagram here, my Facebook here or my Twitter here!