Home to incredible archaeological ruins, one of the Seven Wonders of the World, epic desert scenery and the lowest point on earth. For a small country, Jordan offers a lot – and this one week Jordan itinerary will help you visit the best of Jordan in 1 week.
A destination like no other, you can see a lot with one week in Jordan! From the otherworldly landscape of Wadi Rum desert, the historical treasures of Petra, the magic of the Dead Sea to the allure of the Red Sea at Aqaba.
These sites are considered the main attractions to see during a one week Jordan itinerary. You might be asking if 7 days is enough time to see all of those places, and actually it really is! You could equally spend longer and a two week Jordan itinerary, for example, would leave you ample time to explore the country at a more leisurely pace.
So without further ado, here's my one week Jordan itinerary focused on several main destinations in Jordan: Amman, Petra, Wadi Rum and the Dead Sea. I've written mini guides to each of the places below, as well as suggestions on where to stay, where to eat and all the best things to do in each place in Jordan.
One Week Jordan Itinerary: Essential information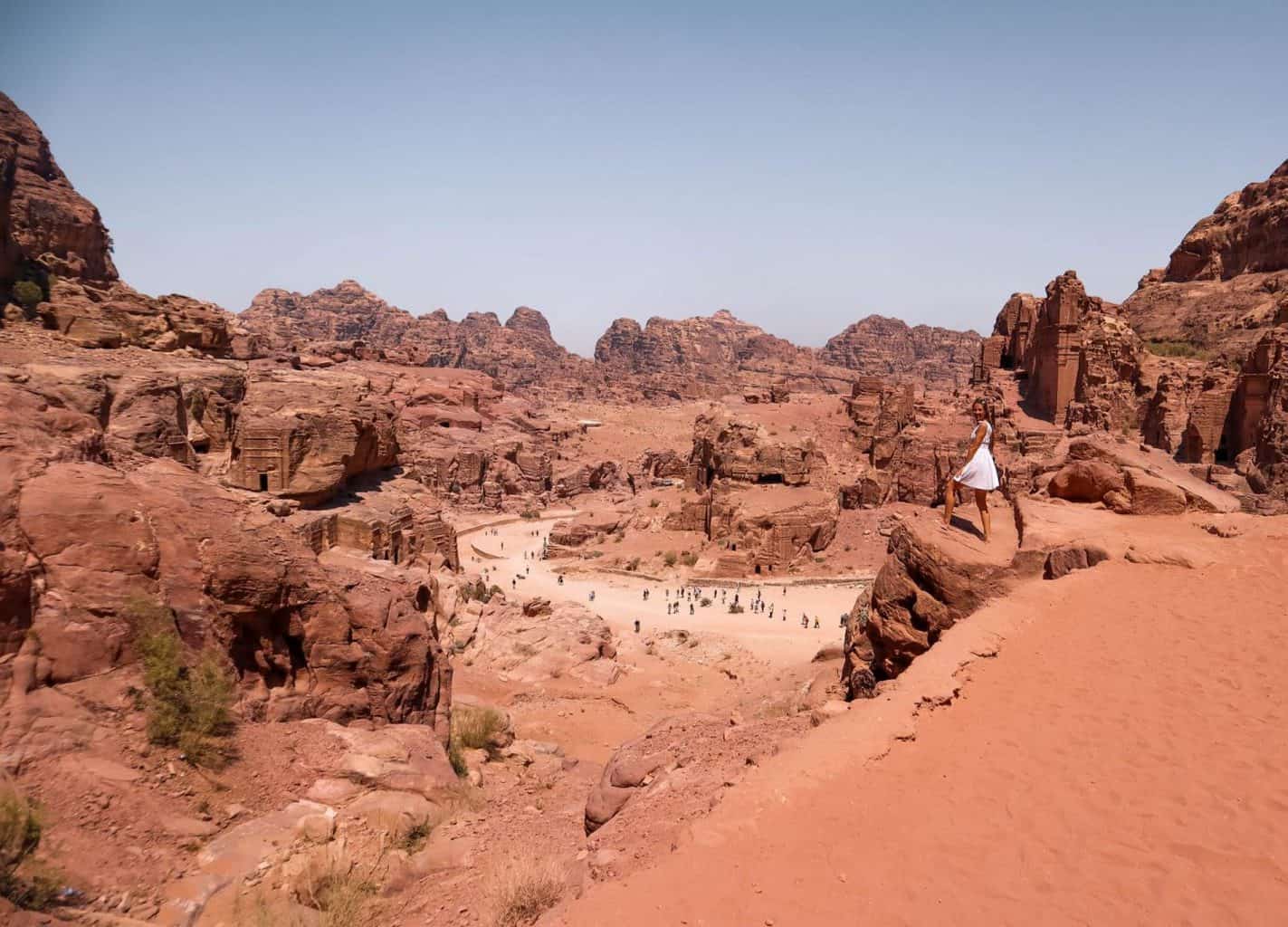 When is the best time to visit Jordan?
Key to planning your trip is knowing which month is best to visit Jordan. The summer months (June to September) bring high temperatures but slightly less crowds. Spring and Autumn however offers ideal temperatures for exploring, but this is the high season and the crowds are there to match. November through to January can see some very heavy rainfall in Jordan, to the point that Petra floods!
Getting Around Jordan
You can use public transport to get around Jordan, however I would strongly recommend hiring a car in Jordan. Not only does this offer hugely increased flexibility and freedom in travelling around the country, but you'll find it surprisingly good value for money. Jordan is a really great country for a road trip.
From Amman, there are plenty of hire car companies located in the terminal.
Other alternative (but more expensive) options include hiring a driver, or joining an organised tour such as one of these:
Is it safe to drive in Jordan?
Using a hire car to explore Jordan is highly recommended. The roads are pretty well-maintained and the driving from the Jordanian locals is decent too. We found parking to be easy and straightforward in most places. I would suggest asking for a very up-to-date map or be prepared to get slightly lost.
When we were there, new roads had been built and Google Maps hadn't acknowledged them yet, and the Sat Nav certainly hadn't either. But overall, I would say it is safe to drive in Jordan.
Using the Jordan Pass
The Jordan tourism authority has devised a very useful and convenient useful tourism pass for visitors to access all of the top attractions in Jordan. This is especially useful for tourists spending three days or longer in Jordan. The best thing about the Jordan Pass is that it includes your entry visa to the country, as well as entry to Petra, so having those two things alone included saves a huge amount of money. You can buy it online in advance of visiting and can either print the pdf, or use the app on your phone.
There are three packages for the Jordan Pass, each increasing in price with extra days at Petra. Otherwise they include the same tourist entry visa and access to 40 attractions across Jordan.
The Jordan Pass is a must-buy for any visitor to Jordan.
Eating and drinking in Jordan
Similar to other countries in the Middle East, the cuisine in Jordan is based on light meat, fish and rice dishes. You'll also find lots of hummus and mezze platters on the menu too. Yum! Jordan is a muslim country so you won't find alcohol widely available. In 5* hotels and higher end dining spots, you're more likely to find alcohol.
A One Week Jordan Itinerary
Day 1: Amman
You will no doubt land in Amman, the capital of Jordan in the pleasant Queen Alia International Airport. Either pick up your hire car here or grab a taxi to the city centre. Depending on the time that you arrive in Amman, you might be able to start exploring straight away!
Amman is a safe, welcoming city with a huge amount of historical and cultural sites on offer. You could be enjoying the hustle and bustle of the modern city, and then suddenly come across an ancient ruin at any moment.
The city of Amman is also considered one of the most liberal and westernised cities in the Middle East. Although I would say one day in Amman is sufficient to explore the city, you could equally spend three or more days in Amman, taking in the citadel and other ancient Roman ruins. Most of the key attractions in Amman are included in the Jordan Pass. Make sure to also visit the fun Rainbow Street for dinner or drinks.
Just 30 miles north of Amman, you'll find Jerash, the ancient Roman city that dates back to the 1st century. It's one of the best preserved Roman sites in the world. If you want have an extra day in Amman, you could definitely do a day trip to Jerash.
Where to stay in Amman
There are a great deal of places to stay in Amman, including some excellent luxury hotels at pretty reasonable prices. You can browse a fantastic selection here on Booking.com.
Here are some of the best value hotels in Amman:
And these are the top luxury hotels in Amman:
Day 2: Madaba and the King's Highway to Petra
Nearby Madaba is home to some interesting cultural and historic attractions, including the world renowned 6th-century mosaic map of 'the Holy Land' in the Greek Orthodox Church of St. George. There is also the Madaba Archaeological Park which preserves the mosaic Church of the Virgin Mary, as well as fascinating artefacts from several eras, including the Roman, Byzantine and Islamic eras.
It is also the starting point of the famous 'King's Highway' which leads to Petra, so we chose to stay here overnight in the Madaba 1880 Hotel. This was a convenient and comfortable hotel to base ourselves in before starting the drive from Amman to Petra.
There are two main routes from Amman to Petra. The much quicker route (approx. 2-3 hours) is along the newly built Desert Highway. If you're in a rush, take this route. However, this route bypasses many interesting sites and takes you away from seeing Jordanian life in flow. The King's Highway, whilst slower (2 hours longer), traces the old trade and pilgrimage route that has traversed the Middle East for almost 5000 years. You can literally drive through history.
The spectacular King's Highway route could be considered one of the best drives in the world. The route twists and turns before leading into Wadi Mujib, which is Jordan's version of the Grand Canyon. The views from here are incredible and stretch into the distance over a 1300m deep gorge. We also stopped for a lovely coffee at a stunning viewpoint at a small Bedouin stall at the side of the road.
We decided to make our first stop Karak, which is home to a huge 12th century Crusader Castle. It was easy to park in Karak and we enjoyed an hour freely exploring on our own. Entrance to the Karak Castle is included in the Jordan pass and we also enjoyed a tea stop nearby.
From Karak, it's another 3 or 4 hours drive south towards Wadi Musa, the village at the entrance to Petra.
You can see the entire King's Highway route we took from Madaba (Amman) to Wadi Musa on Google Maps here. This drive in total is around 5-6 hours and is approximately 242km.
Days 2-4: Petra
The jewel in Jordan's crown, it's Petra that draws tourists from far and wide to the country.
However, there is so, so much more to do within Petra than just seeing The Treasury. I've written a full and detailed guide to visiting Petra here, as well as blog post on all of the must-see sites in Petra here.
Where to stay in Wadi Musa
We stayed at the gorgeous Mövenpick Resort in Wadi Musa and you can read my full review on our stay in Petra at the Mövenpick here. I would highly recommend staying at the Mövenpick Resort as it is located directly opposite the entrance gate to Petra and offers some lovely facilities.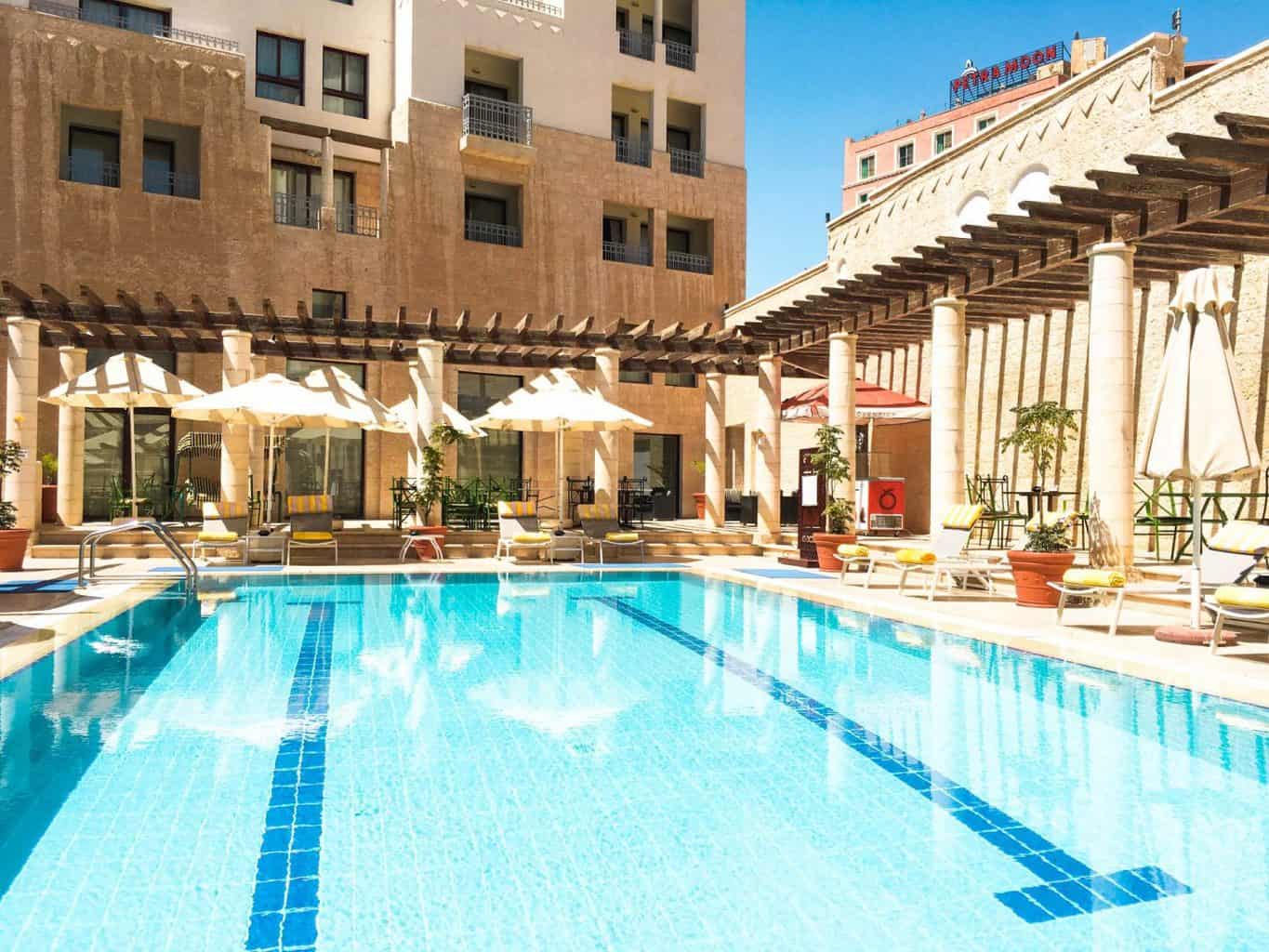 Petra is likely to be the highlight of your Jordan trip, and is one of the most popular attractions in Jordan. We spent 3 days in Petra and would recommend a similar length of time, if you can spare it. The whole area covers more than 50 sq km, which in the heat of the desert can be quite exhausting to explore.
Some visitors spend just one day in Petra, and whilst it is do-able in this length of time, it makes for quite a rushed experience. Whether you're in Petra for one day, or longer, I'd definitely recommend starting your days early before the heat really kicks in.
More than one day in Petra really allows for ample exploring time, as well as some time to relax too. This will also help you avoid the crowds that descent on Petra throughout the day, if you've longer to explore.
Petra by Night
During our three days in Petra, we did the 'Petra by Night experience'. We chose to go (despite mixed reviews online), mostly because I was curious. I had also seen some amazing photography on Instagram and wanted to see it for myself.
Petra by Night is an evening show that takes places every Monday, Wednesday and Thursday from around 8.30pm to 10.30pm. They light thousands of candles all the way along the Siq to in front of The Treasury. Here they play live music and serve tea.
Overall, I'd say Petra by Night was fairly disappointing, particularly considering the cost. Tickets cost 17 JOD per person. Please noted it is not covered by the Jordan Pass.
Day 5: Wadi Rum
From Petra, head further south towards Wadi Rum. We found this drive wasn't too long and took about 2 hours (Wadi Musa to Wadi Rum is approximately 120km). We actually approached the entrance of Wadi Rum at about 6.30pm, just as the sun was setting. This was so special and I recommend arriving at Wadi Rum for sunset time for a similar experience.
It is advisable to book your stay at a desert camp in Wadi Rum in advance. You can do this here through Booking.com, or through GetYourGuide.
Our wonderful guide from Bedouin Directions met us in Rum Village. This is where visitors are told to leave their car and anything they won't need for their desert stay. We then raced across the incredible desert landscape in our 4×4. It was utterly magical and camels even came along to greet us! So special.
A typical stay at a camp in Wadi Rum involves eating a traditional desert dinner, which is cooked underground. You sit on mats with your fellow campers and your guide is likely to sing or share anecdotal tales.
Where to stay in Wadi Rum & how to find a desert camp
The quality of the desert camps really varies in Wadi Rum, and there are some exceptionally cool places opening up all the time. We slept at Bedouin Directions' camp, which was perfect for us, although quite basic. Each camp is owned and run by a local Bedouin family so it's pretty authentic and a lovely way to experience Wadi Rum.
The clear bubble tents are becoming very popular and although not so traditional (!), they are a pretty unique experience to have in Wadi Rum, Jordan. You can places to stay through Booking.com or through searching on Google. I would strongly recommend arranging your stay at a desert camp before you arriving in Wadi Rum.
Some of the best places to stay in Wadi Rum include:
What to do in Wadi Rum
Your time in Wadi Rum is best spent with an organised tour. It is highly likely your camp will be able to organise a driver/tour guide for your time in Wadi Rum, and I would recommend this over self-exploring.
You can see all of the top sites in Wadi Rum in one day, and unless you're keen on hiking or another outdoor activity, one day in Wadi Rum should be long enough. The main attractions in Wadi Rum include Lawrence's Spring, the red sand dunes, the House of Lawrence and the Um Frouth Arch. Wadi Rum offers unbelievable natural beauty, with arches, canyons and epic sand dunes to be explored. Check out my full guide to all of the key places to visit in Wadi Rum here.
Day 6-7: The Dead Sea
From Rum Village (the start of Wadi Rum), drive to the magical Dead Sea.
We took a brief detour to Aqaba (30 minutes' drive) on the Desert Highway before turning sharply north. This beautiful route gave us a glimpse of Aqaba and the Red Sea as well as Eilat in Israel. Both these towns are known for incredible diving in the Red Sea.
We drove along the Jordan/Israeli border for miles (almost 3 hours) in temperatures of around 39 Celsius before finally arriving at the Dead Sea. It's a long way to go (approximately 345km) and you can see the route from Wadi Rum to the Dead Sea on Google Maps here.
Confusingly, the Dead Sea is not actually a sea by definition, but a huge salt water lake that is bordered by Jordan and Israel. It is one of the saltiest lakes in the world and the lowest point on Earth. It's one of those travel bucket list places, and floating in the Dead Sea's waters draws thousands of tourists from around the world.
How to pick a Dead Sea Resort
The Dead Sea in Jordan is dominated by large, international hotel brands, each with huge resort complexes on the shores of the Dead Sea.
We chose to stay at the Crowne Plaza Dead Sea Resort & Spa, as it was within our budget for our time here. This is a large high-end resort with a huge central pool and another adults-only pool closer to the beach. There is also a guests-only Dead Sea experience, with the Crowne Plaza offering its own direct access to the Dead Sea. This means not having to go to the public 'Amman beach' to go in the sea.
The whole mud-applying area consists of giant mirrors and bowls full of fresh cool mud. I've written a long and detailed guide on our stay at the Crowne Plaza Dead Sea Resort here.
We actually enjoyed three days in the Dead Sea, but you could easily spend just one or two days here enjoying the novelty of floating in the Dead Sea. However, as we wanted a bit of a beach break too, we chose to spend a little longer in the Dead Sea.
The views across the Dead Sea from the Jordanian side are absolutely magnificent and pulling back my curtains each morning to this panorama was incredible.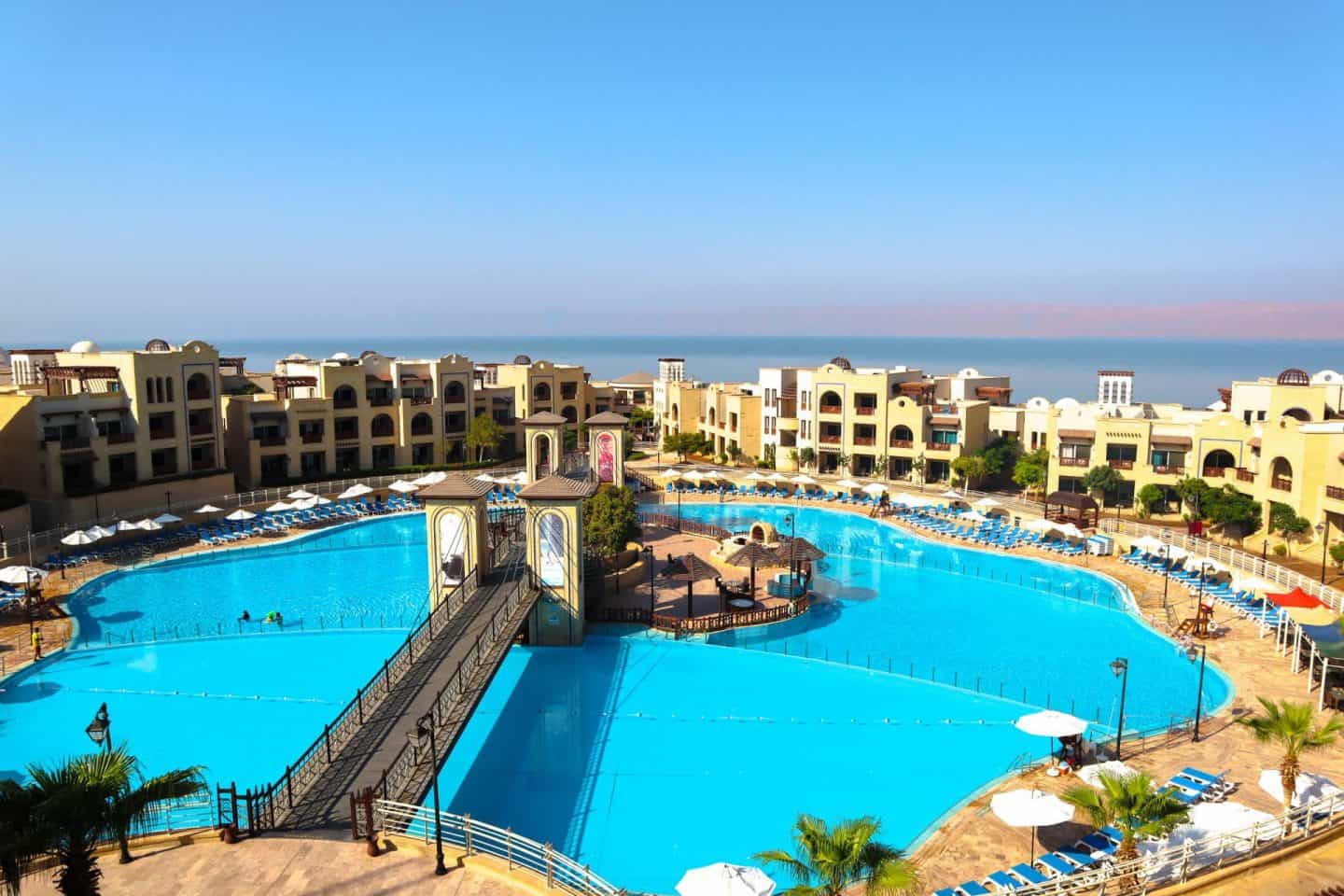 Visiting the Dead Sea as a day trip
Another option if you're running short on time is to visit the Dead Sea as a day trip from Amman, either at the start or the end of your one week in Jordan. This also helps save on hotel costs, although I do recommend splashing out on a luxury stay in the Dead Sea!
You can go from Amman to the Dead Sea on public transport fairly easily and this great guide here details how to do so. The journey time is around one hour and costs as little as 5JOD (£7) per person.
Alternatively, you could join an organised tour with a local guide. A tour to the Dead Sea is a good option for anyone keen to learn more about the local area and have an authentic local lunch included too.
A few great options include:
7 Day Jordan Itinerary
We absolutely loved our time exploring this beautiful country. We found found this route to be perfect for a one week itinerary around Jordan. I feel we visited all of the main places in Jordan. Had we had longer, we could have stopped in Aqaba for some snorkelling or diving maybe.
If you've been to Jordan before, how did you find it? Is there anything you did differently? Of course, if you wanted longer in Amman or Aqaba, for example, you could shorten your time in Petra.
I hope this one week Jordan itinerary has been inspiring, or useful if you're already planning on going to this magnificent country.
If you're looking for further ideas and inspiration for Jordan, please check out my other Jordan blog posts here or below:
Wanna see more? Check my Instagram here, my Facebook here or my Twitter here!
Disclaimer: This visit to Jordan was entirely paid for by myself. There was no involvement from the tourism board or a hotel. This is an independent guide.
Enjoyed my one week Jordan itinerary guide? Pin it!