Visiting the Dead Sea in Jordan had been something I'd wanted to do for almost 16 years now. My chemistry teacher in Year 7 once told me about her daughter who had just visited the Dead Sea in Israel. She shared how she floated in the water and was able to read a newspaper. Using solely my imagination (as showing pics by smartphone was definitely not a thing back then), it just sounded magical. And this vision is something that has stayed with me for years.
So like many other travellers to Jordan, visiting the Dead Sea was one the highlights on my one week trip to the country.
Did you know the Dead Sea is the lowest spot on Earth, sitting 423 meters below sea level. The water is nearly 34% salt – the highest concentration anywhere on Earth. It's an epic life experience to bathe in its waters.
It completely lived up to my expectation. Visiting the Dead Sea in Jordan was as good as I expected. I found the Dead Sea itself to be totally relaxing. The novelty to cover myself in mud and float in the salty water didn't really wear off.
So whether you're planning to spend one week in Jordan or two, visiting the Dead Sea is an absolute must-visit. It is possible to visit the Dead Sea as a day trip for Amman (the capital), or you could spend a few days there. We chose to maximise our time there by spending three nights in the Dead Sea in Jordan at a beautiful resort, the Crowne Plaza Dead Sea Resort & Spa.
Hopefully this guide will be useful for anyone heading to Jordan and the Dead Sea soon. I'l detail everything you need to know for visiting the Dead Sea, as well as a full review of a top luxury Dead Sea hotel, the Crowne Plaza Resort & Spa.
The Dead Sea in Jordan: Essential information
The Dead Sea is actually a lake bordered by Israel and Jordan – although unfortunately, it isn't that easy to pass between the two countries. To give you an idea of its scale, it's around 234 sq miles. Although it did used to be far larger 100 years ago or so. We drove the length of the Dead Sea on the Jordan side, from just near Aqaba to near Amman and this took around 3 or so hours. It was a truly stunning drive with a mountain range to one side, and then Israel on the horizon on the other side of the Dead Sea.
But it is a big area and certainly not somewhere for a walk alongside. All of the luxury hotels on the Jordan side of the Dead Sea are concentrated in the northern end, about a one hour drive from Amman. So it is likely you'll only see a small section of the Dead Sea whilst staying in a luxury resort.
Why is it called the Dead Sea?
Well, unsurprisingly – this is because no fish can live in it. Some small microorganisms do live within it, and the water is full of minerals too.
The Dead Sea is linked to many key biblical scenes and testimonials of the Dead Sea go back to the very early times.
Health Benefits of the Dead Sea
Not only is it fun to cover yourself in mud, and then float in the Dead Sea, but there are many health benefits.
Its high salt content means there's a high concentration of over 20 minerals including calcium, potassium and magnesium, each with its own beneficial properties. For example, calcium helps exfoliate skin cells and clean pores. It is said that floating in the Dead Sea water helps draw toxins form the skin too.
People also come from all over for help with their arthritis, as the Dead Sea minerals are said to alleviate this pain.
Best time of year to go
The best time to visit the Dead Sea is from March through to November. December and January are particularly cold, so perhaps not that pleasant for immersing yourself in its waters.
If you visit in peak summer months when the temperature can top 40 Celcius each day, you won't find the water very refreshing at all. More like a warm bath. So I'd recommend staying at a hotel with a cooling swimming pool.
Generally, the weekends are far busier in the Dead Sea, especially on the public beaches.
Getting to the Dead Sea
Most visitors to Jordan arrive at the Queen Alia International Airport in Amman. Fortunately, getting to the Dead Sea from Amman is very simple as it a 1hour drive (55km).
One option is to go as a day trip from Amman using public transport, and the tourist board website has a really good guide to this here.
Another option is to visit on your own steam in your own hire car, which is a highly recommended way to get around Jordan. Not only can you stop where you wish, but driving in Jordan is fairly straight-forward and safe.
By car, simply the follow the signs from anywhere in the city towards the Dead Sea. It's a smooth and well paved dual carriageway, pretty much the whole way from Amman to the Dead Sea.
Many travellers arrive in the Dead Sea from other destinations in Jordan, such as Petra or Wadi Rum. If you don't fancy hiring a car, I've listed some great tours below:
Visiting the Dead Sea as a Day Trip from Amman
If hiring a car doesn't appeal, then another option is to join an organised tour group which would take care of every aspect. You can arrange and pay for this in advance with GetYourGuide here.
Some people even do the Dead Sea during a long layover in Amman, and if you were to do this, I'd definitely recommend joining a day tour for ease.
These tours most often take you to the public beach in Amman. If you were to visit this independently, it's about 20 JOD to enter, or you can visit a resort with a day pass.
Swimming in the Dead Sea: Top Tips
Well, first of all. You can't really swim in the Dead Sea. The salt content makes it so buoyant that trying to swim is near impossible.
The other very important thing to know about swimming in the Dead Sea is that the salt content in the water means any cuts or blisters etc you have will really sting. And I mean really sting. Don't go in the water if you've just shaved your legs or beard even.
The stinging can be intolerable which is why it's advisable to enter the Dead Sea with a fresh water shower nearby so you can rinse the salt off.
For this reason, it's recommended to just float and relax in the water. If you do try and swim or splash around, the water in your eyes stings unimaginably too. Also, never rub your eyes!
I would also recommend wearing a dark coloured swim suit/ swimming trunks – the mud can definitely stain your clothes.
Choosing where to Stay in the Dead Sea
If you're planning on spending one or two days in the Dead Sea (which I highly recommend), you'll need to stay in one of the big resorts that line the north of the Dead Sea.
Realistically, there aren't a huge range of places to stay in the Dead Sea. Most hotels are high end and luxury, with few budget hotels to choose from. You can check out all of the accommodation options in the Dead Sea here.
We stayed at the Crowne Plaza Dead Sea Resort & Spa and we absolutely loved it.
The other main options for the Dead Sea are Hilton Dead Sea Resort, the Kempinski Hotel Ishtar, the Dead Sea Marriott Resort & Spa and the Mövenpick Resort & Spa Dead Sea.
The main factor to consider is your budget, as realistically the stay will be fairly similar at each hotel. I say this because they have all relatively similar access to the beach, and will all have several pools. Nearly all have a spa and a number of restaurants to opt from in the evening.
We chose the Crowne Plaza Dead Sea Resort & Spa as we often stay in the hotels within the IHG group for loyalty perks and benefits.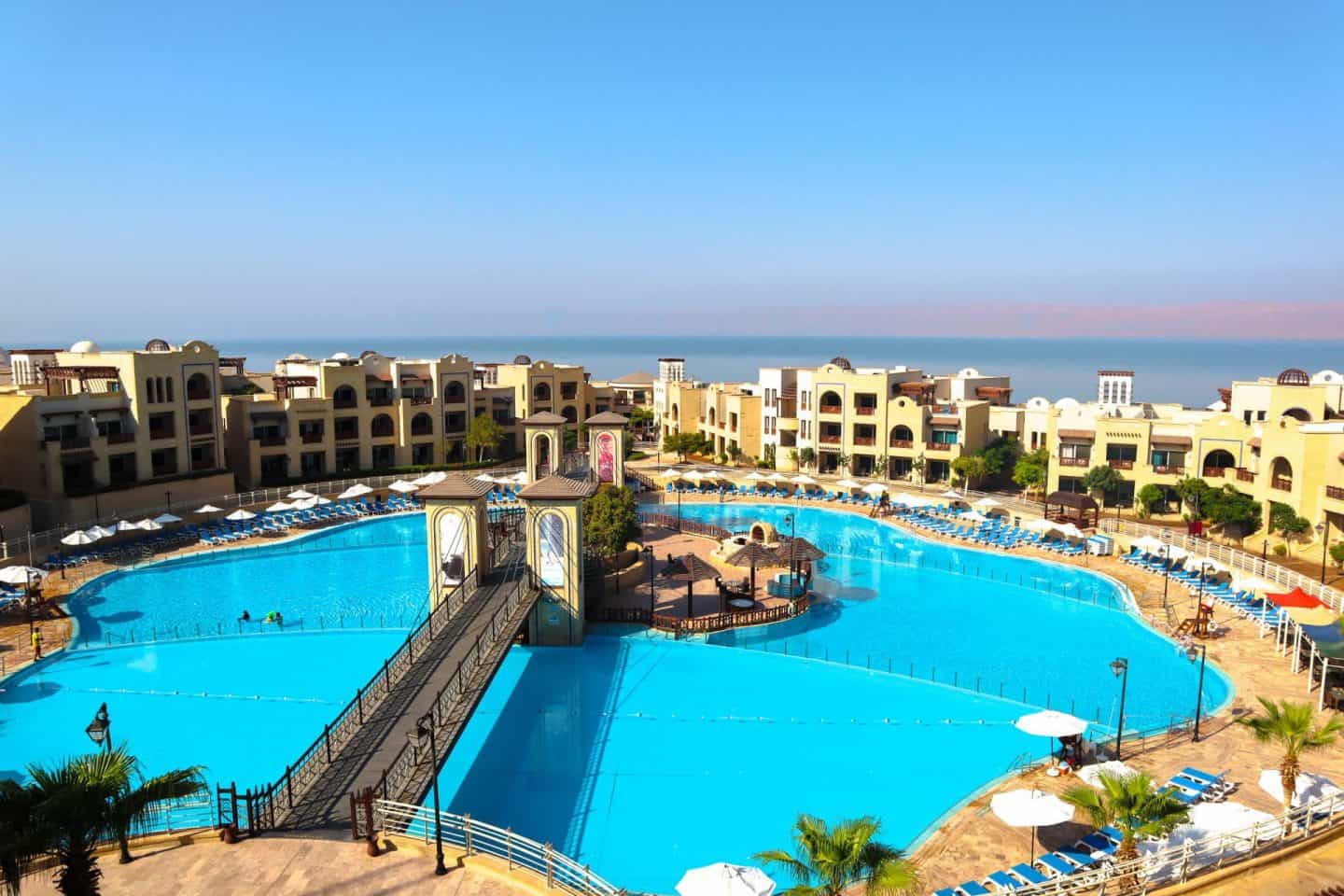 Staying at the Crowne Plaza Resort
We arrived in the Dead for the final few days of our one week Jordan itinerary. Hot, sweaty and covered in dust and sand having coming from the Wadi Rum desert, we were very ready for a few days relaxing by the pool and the sea.
We approached the Dead Sea from the South, having driven 5 or so hours from Wadi Rum.
In early September, the temperature was a steamy 38 Celsius and by the time we approached the Crowne Plaza Dead Sea Resort, I had probably never wanted to see a hotel more than then. I was overheating and I think our car was too.
We spent the following three days between the two pools (one for adults with a bar) and another huge pool for everyone, and taking semi-refreshing dips in the Dead Sea. I say semi-refreshing because it certainly wasn't cooling, more like a hot bath. But as I said earlier, the novelty of floating in the water never wore off .
The Crowne Plaza Resort is a beautiful landscaped complex of pools, gardens and low hotel buildings. My room was large and characterful, and faced towards the Dead Sea. The sight of its shimmering waters blew me away every single morning when I pulled back my curtains.
The heat on opening my balcony door was a proper oven experience – something I haven't experienced in a while. It made my balcony in the height of summer a bit hot to sit on, but great for drying my clothes!
The hotel has a huge central pool which was extremely busy on the weekend days but practically empty mid-week. We spent half our time there, and the other half at the adults-only pool closer to the beach. Part of the El Grito restaurant and bar area, this gorgeous infinity pool was my favourite place to hang out, even if the DJ was just a little bit too loud!
Enjoying the wellness experience of the Dead Sea
The Dead Sea mud has long been claimed to have healing properties. People come from around the world to try and find relief from their ailments at the Dead Sea.
Whilst the Crowne Plaza has a premium spa, they also have direct access to the Dead Sea and a whole mud-applying area. It consists of a few stands with giant mirrors and bowls full of fresh cool mud. Guests are invited to cover themselves in the mud, before sitting on a sun lounger or on one of the benches to allow it to dry.
To be honest, I felt my skin starting to sting (could have been a bit of sunburn), so I never waited for it to fully dry before wading into the sea.
I was so, so excited to get into the water. I waded into about the height of my knees before crouching down. All you do is simply start to rock back gently, before feeling your knees pop up. Then.. you're floating.
As I said earlier, the sea was really hot so it wasn't a refreshing dip like you'd hope for. Nevertheless, it was wonderful to float in.
Other activities to do in the Dead Sea area
You can visit the nearby Wadi Mujib reserve, but its entry price is 15 JOD per person, which is not covered by the Jordan Pass. We thought it was a bit steep after having already spent one week in Jordan but everyone's budget is different. The main activity to do in Wadi Mujib is canyoning here, which looked amazing and in hindsight, I do regret not doing this.
It could be better value to join an organised tour, such as some of the below:
There are a number of historical and religious sites too within easy distance of the hotels in your car or a taxi. For example, you can visit the site where John the Baptist baptised Jesus Christ. The site is still being excavated as it was actually only fairly recently discovered.
Another option is to visit Mount Nebo, which is a short drive away. It offers an incredible panoramic view of the Holy Land, including the Dead Sea and Jericho and Jerusalem in Israel. Both Christianity and Islam can trace the beginnings of their religions to this land, making it a hugely significant location.
A fifteen minute or so drive into the mountains takes you to the Dead Sea Panorama Complex, offering a scenic restaurant as well as the Dead Sea museum. Although not huge, it provides an interesting insight into the geology, ecology and history of the area.
Every single drive near the Dead Sea is basically guaranteed to be a phenomenally scenic drive. For that alone, it's worth leaving your hotel.
Visiting the Dead Sea in Jordan
So that's my guide to visiting the Dead Sea in Jordan, together with my review of staying at the Crowne Plaza Dead Sea Resort & Spa. The Dead Sea is a must-do on any Jordan itinerary, for both the sensational landscape, and for the unique experience of floating in the water.
Hopefully this guide has been inspiring, or useful if you're already planning on going to the Dead Sea in Jordan. If you're looking for a one week Jordan itinerary, do check out my guide, as well as my complete guide to Petra found here.
If you've enjoyed this guide to visiting the Dead Sea in Jordan. then do feel free to share using the below links.
Wanna see more? Check my Instagram here, my Facebook here or my Twitter here!
Disclaimer: This visit to the Dead Sea in Jordan was entirely paid for by myself. There was no involvement from the tourism board or the Crowne Plaza hotel. This is an independent guide.
Enjoyed my guide to visiting the Dead Sea in Jordan? Pin it!