Visiting the Dead Sea has been something I've wanted to do for almost 16 years now. My Chemistry teacher in Year 7 once told me all about her daughter who had just visited the Dead Sea in Israel.  I had to use solely my imagination (as showing pics by smartphone was definitely not a thing back then) to picture floating and reading a newspaper, but this vision was something that has stayed with me for years.
When I finally started to plan a trip to Jordan, I popped visiting the Dead Sea high on the list. In the end, we chose to spend 3 nights at the Dead Sea in a beautiful resort, the Crowne Plaza Dead Sea Resort & Spa.
Visiting the Dead Sea in Jordan was possibly my highlight of my time in the country. I found it totally relaxing and an absolute novelty to cover myself in mud and float. It's really amazing to think the Dead Sea is the lowest spot on Earth, and it's facts and records like this that draw me to places! Did you know the Dead Sea actually sits 423 meters below sea level and the water is nearly 34% salt – the highest concentration anywhere on Earth. Very cool!
For anyone thinking about going to Jordan, definitely put the Dead Sea on your itinerary. Hopefully this guide below will be really useful for planning your time and for deciding where to stay in the Dead Sea in Jordan.
Getting there
The Dead Sea in Jordan is conveniently close to Amman. It is possible (and many people do) to do the visit as a day trip from the capital by car or bus. It is an hours' drive and therefore can even be done during a long stopover, if you so wish.
By car, simply the follow the signs from anywhere in the city towards the Dead Sea. It's a smooth and well paved dual carriageway, pretty much the whole way from Amman to the Dead Sea.
Alternatively, go by organised tour, which will make your day much more simple although limits your freedom in terms of stopping spontaneously. The Tourist Jordan website has loads of options here.
Choosing where to stay
Realistically, there isn't a huge range of places to stay and most are high end, so it is quite limited in terms of catering for different budgets. For the most part, the Dead Sea zone is lined with a series of top quality hotels, such as the Hilton, the Kempinski, the Marriott and the Movenpick.
We stayed at the Crowne Plaza Dead Sea Resort & Spa and we absolutely loved it.
We approached from the South, having driven 5 or so hours from Wadi Rum. In early September, the temperature was a steamy 38 Celsius and by the team we approached the Dead Sea area, we were very hot and bothered. The site of the Crowne Plaza was a joyous moment and I have probably never wanted to see a hotel more than then.
Staying at the Crowne Plaza Dead Sea Resort & Spa
A beautifully designed and landscaped hotel, this was a really delightful stay.
My room was large and characterful, and faced the Dead Sea.  The sight of its shimmering waters blew me away every single morning when I pulled back my curtains.
The heat on opening my balcony door was a proper oven experience – something I haven't experienced in a while. It made my balcony in the height of summer a bit hot to sit on, but great for drying my clothes!
The hotel has a huge central pool which was extremely busy on the weekend days but practically empty mid-week. We spent half our time there, and the other half at the adults-only pool closer to the beach. Part of the El Grito restaurant and bar area, this gorgeous infinity pool was my favourite place to hang out, even if the DJ was just a little bit too loud!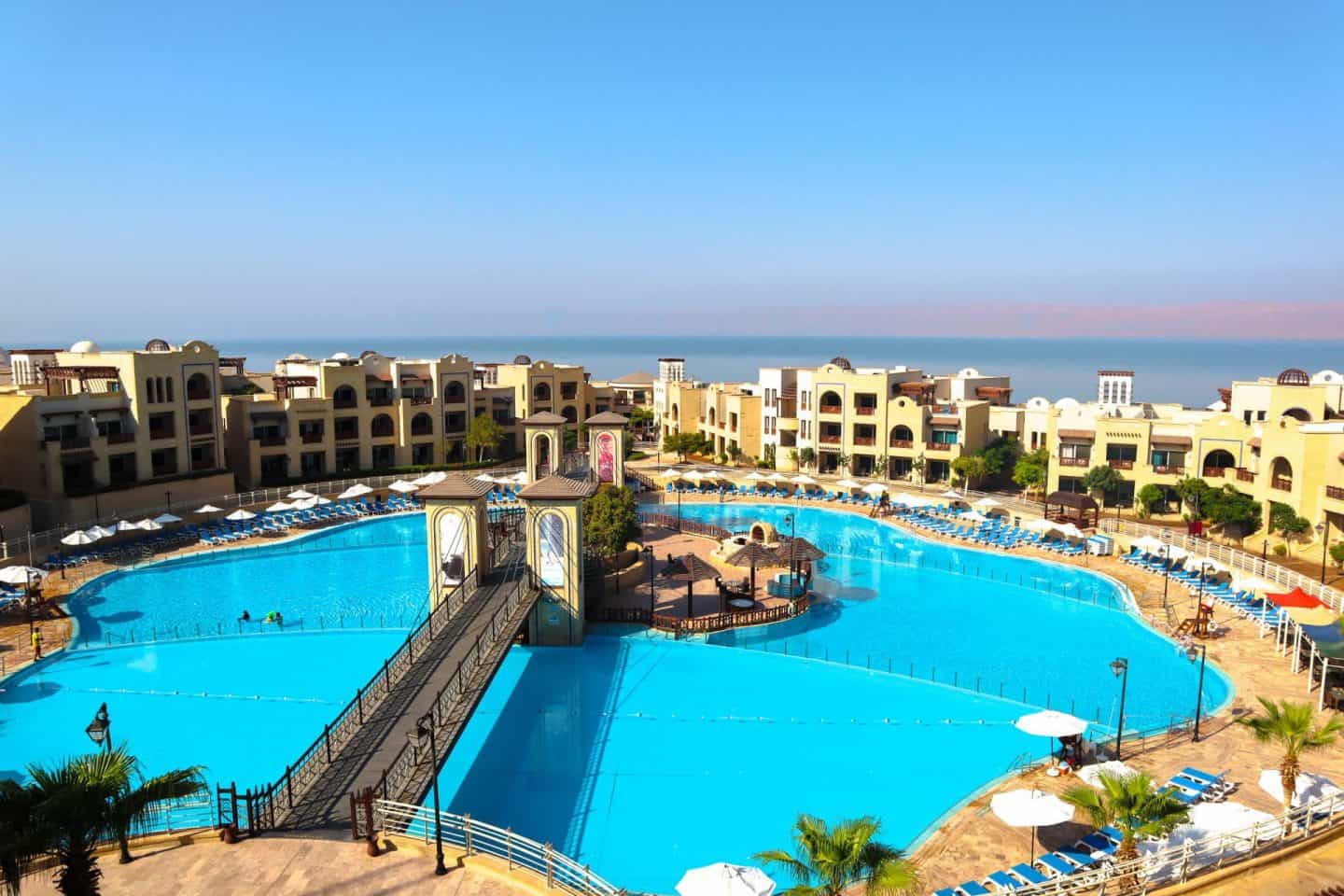 Enjoying the wellness experience of the Dead Sea
The Dead Sea mud has long been claimed to have healing properties and people have come from around the world to try and find relief from their ailments at the Dead Sea.
Whilst the Crowne Plaza has a premium spa, they also have direct access to the Dead Sea and a whole mud-applying area. It's a few stands with giant mirrors and bowls full of fresh cool mud. Guests are invited to cover themselves in the mud, before sitting on a sun lounger or on one of the benches to allow it to dry.
To be honest, I felt my skin starting to sting (could have been a bit of sunburn), so I never waited for it to fully dry before wading into the sea.
I was so, so excited to get into the water. I waded into about the height of my knees before crouching down. All you do is simply start to rock back gently, before feeling your knees pop up. Then.. you're floating.
In early September, the sea was also actually really hot so it wasn't a refreshing dip like you'd hope for. Nevertheless, it was wonderful to float in.
Top tip: Do NOT get any of the seawater into your eyes or go in with any open wounds. it stings SO MUCH. You'll find yourself running out of the water but fortunately, at the Crowne Plaza, they have fresh water showers right by the sea.
Other activities to do in the Dead Sea area
You can visit the Wadi Mujib reserve, but with an entry price of 15 JOD per person (not covered by the Jordan Pass), it could be a bit steep if you're a group or at the end of your time in Jordan like we were. You can do canyoning here, which looked amazing and I regret not doing.
There are a number of historical sites too within easy distance in a car or taxi. For example, you can visit the sites where John the Baptist baptised Jesus Christ. It's still in excavation as interestingly, it was actually only fairly recently discovered.
Another option is to visit Mount Nebo, which is a short drive away. It offers an incredible panoramic view of the Holy Land, including the Dead Sea and Jericho and Jerusalem in Israel. Both Christianity and Islam can trace the beginnings of their religions to this land, making it a hugely significant location.
A fifteen minute or so drive into the mountains takes you to the Dead Sea Panorama Complex, offering a scenic restaurant as well as the Dead Sea museum. Although not huge, it provides an interesting insight into the geology, ecology and history of the area.
Wherever you drive in the Dead Sea, you'll be guaranteed a phenomenally scenic drive, and for that alone, it's worth leaving your hotel!
Visiting The Dead Sea Jordan
Visiting the incredible area is a must-do on any Jordan itinerary, for both the sensational landscape, but also for the the hotels, such as staying at the Crowne Plaza Dead Sea Resort & Spa. Hopefully this guide has been inspiring, or useful if you're already planning on going to the Dead Sea in Jordan.
If you're looking for further guides in Jordan, please check out my other blog posts here and check out my review of the Mövenpick in Petra, Jordan here.
If you've enjoyed this guide to visiting the Dead Sea in Jordan. then do feel free to share using the below links.
Wanna see more? Check my Instagram here, my Facebook here or my Twitter here!