Staying at the Mövenpick Resort in Petra, Jordan was one of my favourite travel decisions of 2018.
I spent a fair bit of time trying to decide where to stay in Petra, Jordan and it was quite challenging, as there were so many options. We were tossing up between camping, small basic hotels and then the other end of the spectrum, the bigger branded hotels. If you're still wondering where to stay in Petra, then this guide to the beautiful Mövenpick might help you work it out 🙂
Reasons to stay at the Mövenpick Resort in Petra:
Location
Without a doubt, it has the best location of any hotel in Petra. It is located directly opposite the main entrance to Petra. You cannot underestimate the importance of this after a long day trekking. Knowing that we didn't need to get in the car, or in a taxi or walk any further was something I ended up feeling very grateful for.
Swimming Pool
I'm over the part in life where I want to do as the locals do. After a day of hot, dusty, walking, the thought of coming back and getting into that swimming pool was actually quite magical. It is one of very few hotels with a swimming pool in Petra and as I booked the hotel, I didn't even know just how much we would appreciate that.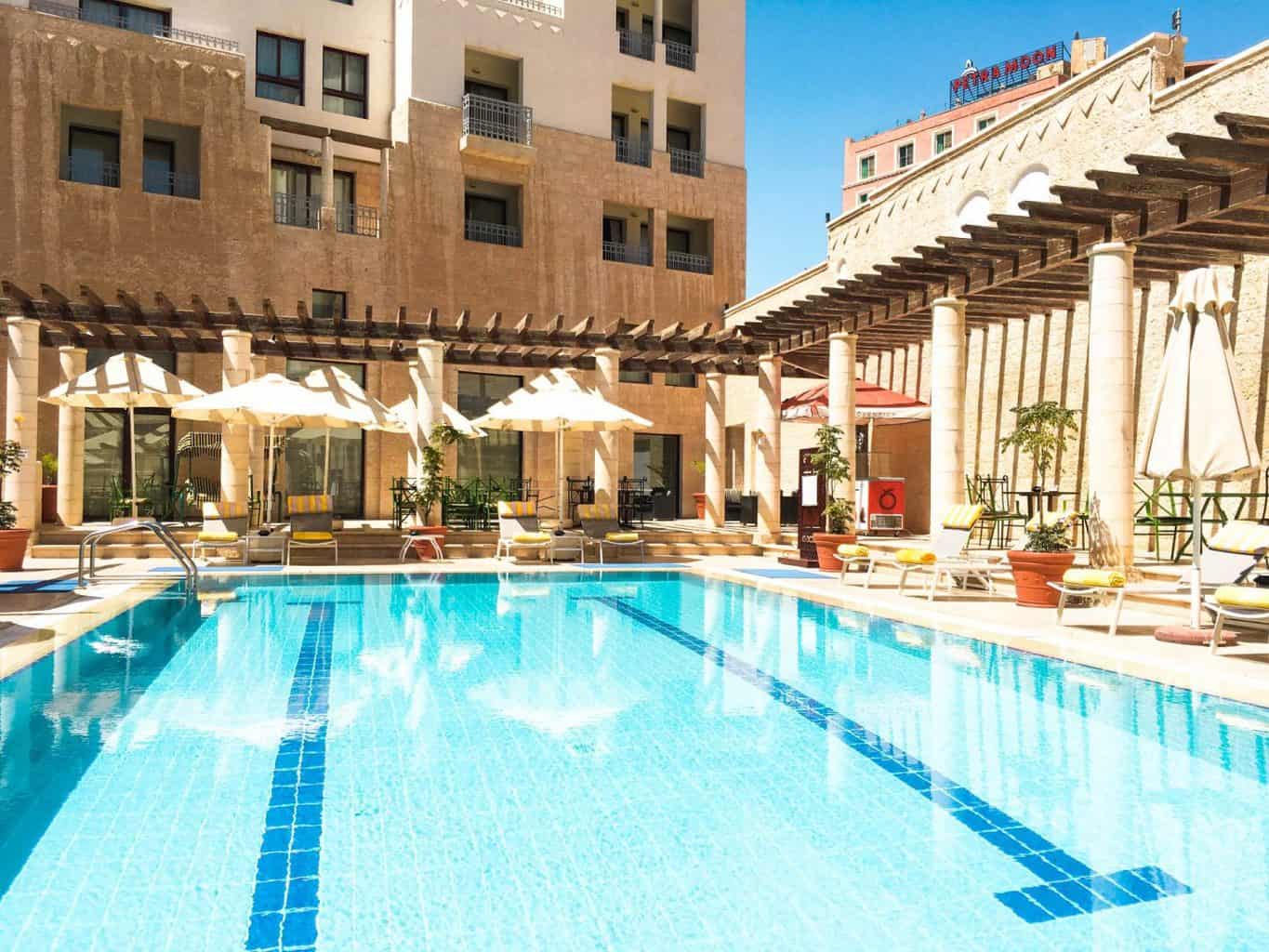 Comfort and luxury
The Rooms
Considering the Mövenpick Resort in Petra, Jordan is one of the few 5* hotels in the town, the room was a bit on the small side. However, it did of course have everything we needed, as well as a lovely view over the valley where we'd see Bedouins heading to and from Petra on their donkeys.
The Pool
The pool was absolutely gorgeous and despite the hotel being full, there was nearly always sunbeds available. They had a sterile foot bath and showers to use, and the pool was the perfect cooling temperature after a day hiking around Petra. There is also bar service and the waiters were very kind and attentive.
Dining
The Mövenpick Resort in Petra has 7 restaurants or cafes, many of which are frequented by non-guests too.
The breakfast, served in the magnificent Al Saraya restaurant, was a delicious feast of everything you might expect, plus smoothie shots and delicious Jordanian flat breads and dips. So good to fill up on before heading out to Petra for the day.
One evening we had a more laid back dinner at the Al Maqa'ad Bar, which is adorned with the most stunning and intricate walls, so delicately decorated with gold leaf. Apparently this is reminiscent of old palaces from Syria, and I had certainly never eaten anywhere like it.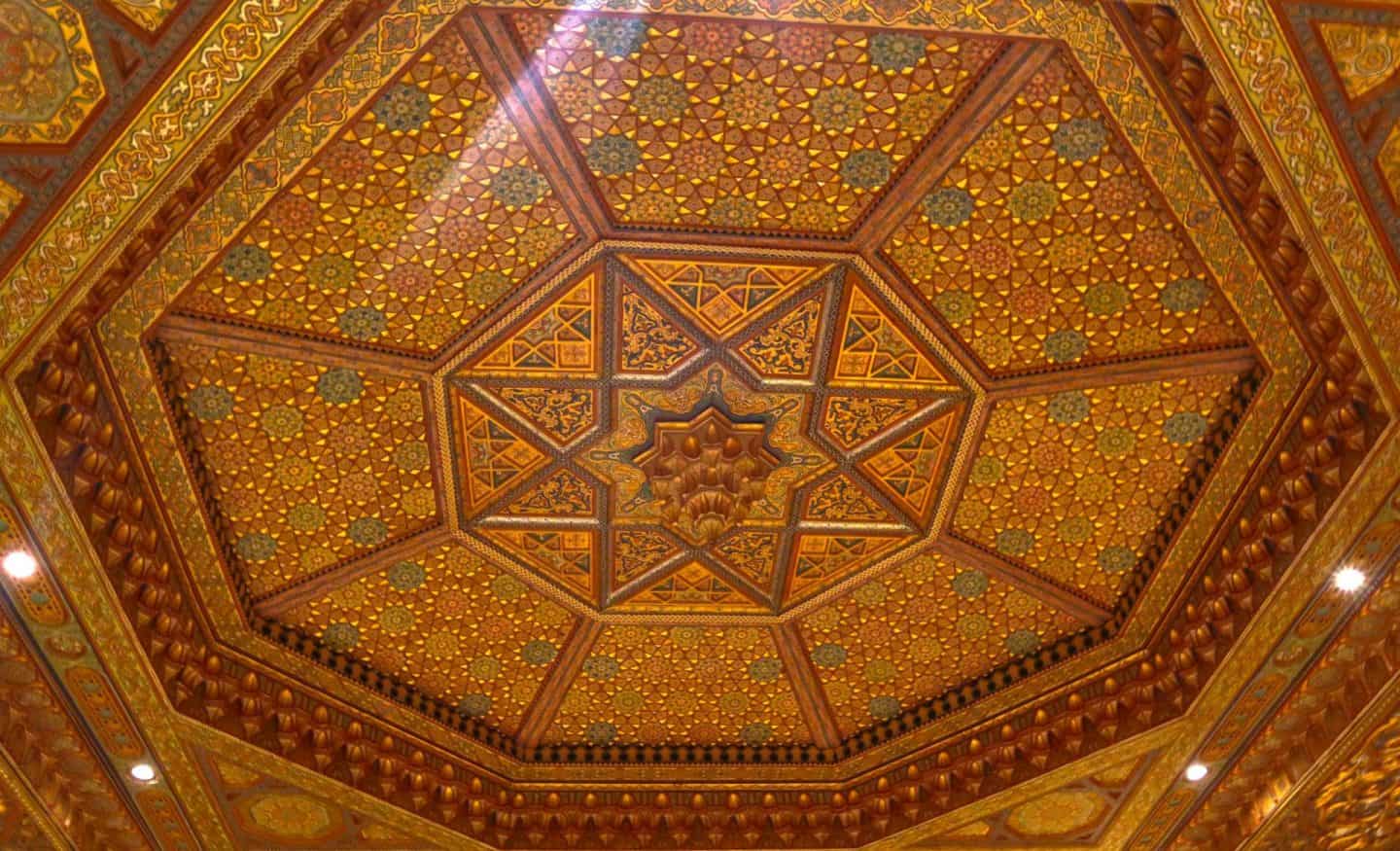 Lastly, we enjoyed a fantastic meal at the stunning Al Ghadeer rooftop. Offering a beautiful sunset view over the Petra hills and a romantic location, it was quite special. Tall white columns mark the entrance way, with an array of tables and floor cushions covering the space. You can either enjoy a delicious meal up here with the view, or alternatively, relax with shisha and drinks.
We enjoyed a grilled BBQ, which is sizzled by the staff right in front of you. Between us we enjoyed grilled fish (from the Red Sea at the southernmost point of Jordan), beef medallions and a whole mixed grill platter for our mains. Everything was excellent and the portions well-sized. As with most Middle Eastern countries, a huge mezze platter and flatbreads was served beforehand. And yes, we polished off every dish.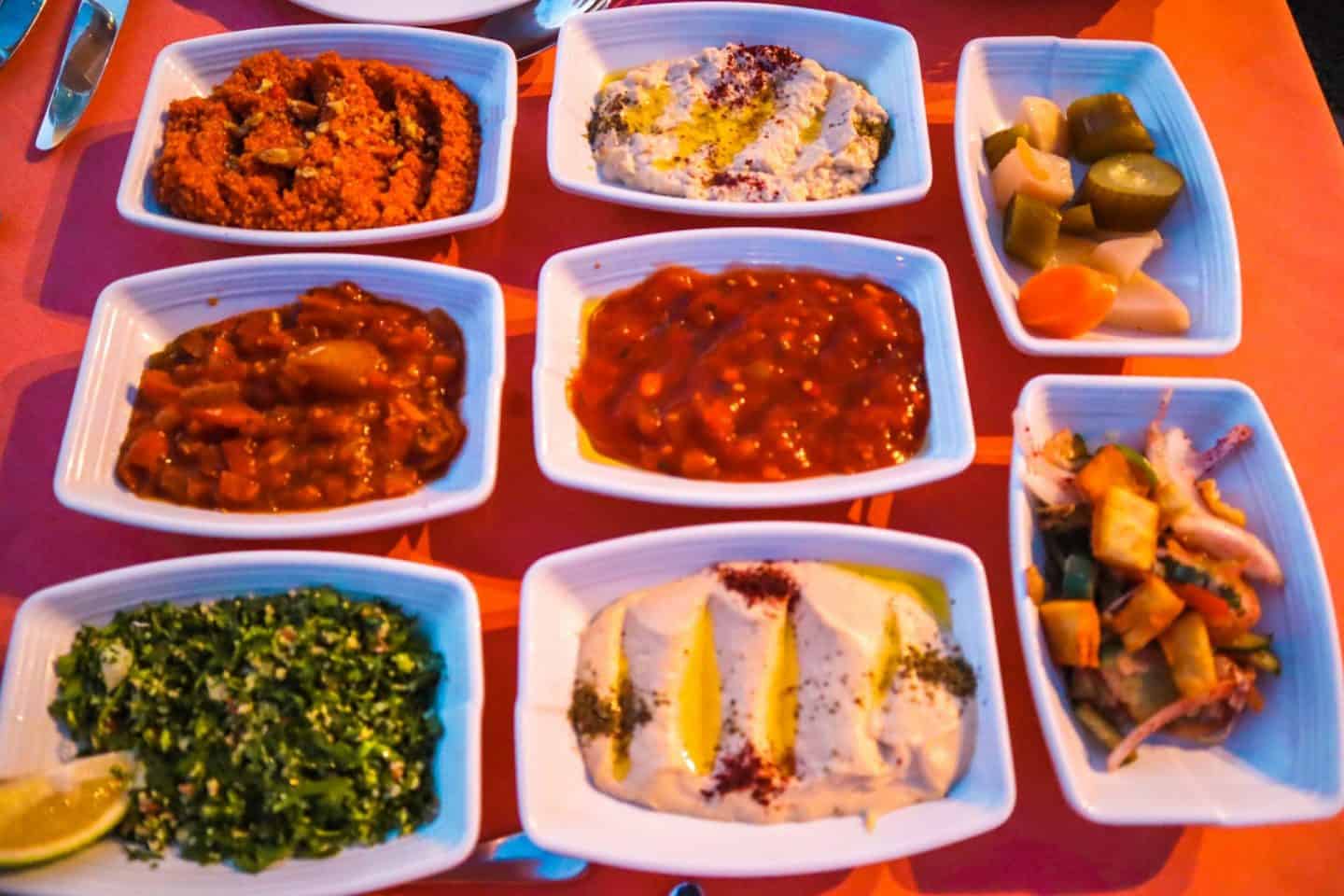 After sunset and dinner, just as a slight chill had come into the air, our wonderful host for the night offered us camel-skin jackets and we moved over to the floor cushions to relax. I wasn't sure how I felt about these jackets at first, but they were so warming and I felt just like the part on our Jordanian adventure.
Our Experience Staying at the Mövenpick Resort in Petra, Jordan
We knew that after Petra we'd be heading off to Wadi Rum to stay in a desert camp. Also, after an overnight flight with Turkish Airlines, the first night in Petra was also my first night of the trip. After that journey, plus a 6 hour adventure down the King's Highway, a comfortable and quiet hotel room was top of the order! We approached the main gates in the car, where we were welcomed by the friendly security guards. It seems to be very common in Jordan that, despite the low terror risk, they check the boot of the car and under the car with a mirror. After passing the checks, we were welcomed by the concierge staff who took our bags and then proceeded to park the car for us. At reception, we were greeted with freshly poured hot mint tea and medjool dates. Everyone was so lovely and pleasant, and made our hot and sweaty arrival a little less stressful. The Mövenpick hotel in Petra is constructed of a soothing, pale natural stone. Together with furniture built in handcrafted wood and decorated with gorgeous Middle Eastern fabrics and textures, it feels like a real haven and adds to the Jordanian experience perfectly.
Overall, our stay here at the Mövenpick Resort, Petra was absolutely splendid. Every single day on our return from Petra, we were so so grateful to be so nearby and to have the delightful swimming pool to dip in and cool off by.
If you're heading to Wadi Rum too on your Jordan journey, I strongly recommend picking out a comfortable and nearby stay, such as the Mövenpick Resort. In Wadi Rum, the only options are to camp and that is the most authentic experience possible, so save it for there and enjoy comfort in Petra.
I do hope this has been of use if you're wondering where to stay in Petra, Jordan. If you're looking for further guides in Jordan, please check out my other blog posts here and check out complete guide to exploring Petra here.
Do also feel free to share using the below links ?
Wanna see more? Check my Instagram here, my Facebook here or my Twitter here!