Milos is an unspoilt and lesser-known Greek island without half the crowds of other places in Greece, and I had been eager to visit for a while. So, we finally went to Milos last summer and it has easily become one of my favourite European destinations. It was the perfect mix of unusual scenery, incredible beaches, charming towns and wonderful food. Whitewashed towns are nestled along the cliffs, each made up of tiny lane ways full of character and history, and brightly coloured bougainvillea draped down the side of buildings. Total magic.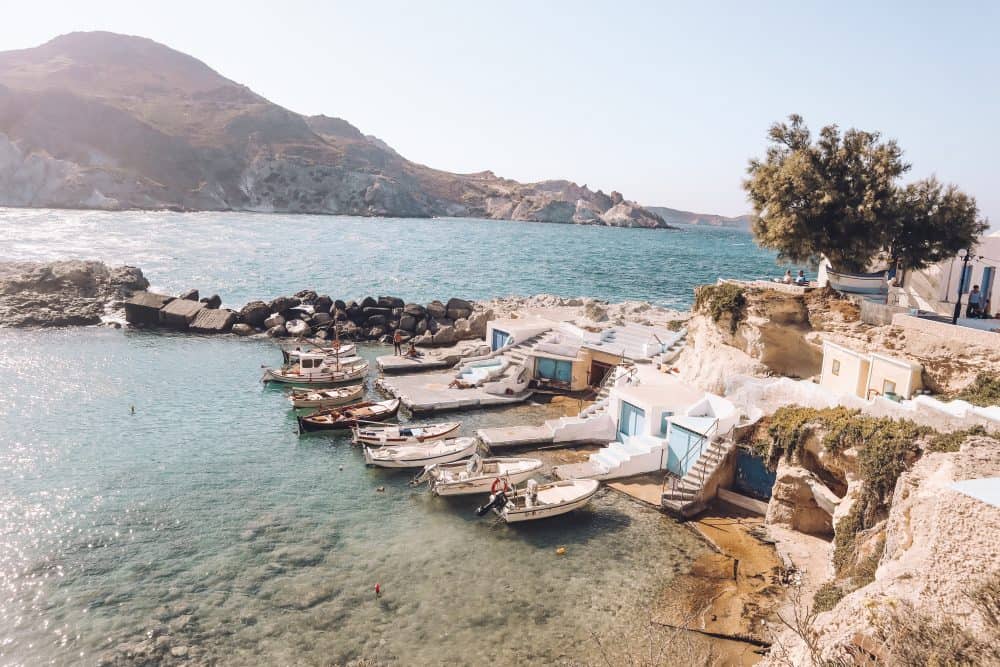 It's a real slice of Greek paradise and everything you'd hope for in a Greek island. Milos is one of 22 volcanic islands in the Cyclades region, along with the far busier islands of Santorini and Mykonos. Milos is famous for its moon-like landscape, quite unlike anywhere else I've been. The smooth white rock contrasted with the bright turquoise sea is unique and exploring Milos is a real adventure. So I've written a full and detailed Milos travel guide including everything you need to know to plan a trip to the island of Milos, including how to get there, how to get around and what to see and do.
The best thing about Milos is just how easy going and relaxed it is. You don't need to overly plan your time and you don't need to work out when to beat the crowds. In fact, aside from tourists, Milos only has about 5,000 permanent residents so it is as laidback as it gets!
Additionally, unlike many of Greek islands – tourism is not its main industry. Mining is and has been its main income source for the past century. You won't find any package holidays here, or tour buses packed with daytrippers or tourists. Milos appeals to those with an adventurous nature – not least because it requires a bit of effort to travel to. So read on for my Milos Travel Guide..
Essential information for visiting Milos
How to get to Milos, Greece
The main way to arrive in Milos is by plane or by ferry. Currently, there are no direct flights to Milos from the UK, so you'd need to connect in Athens. Aegean, the Greek national carrier, has the most fight options. If you find yourself spending any time in Athens between flights, make sure to check my one day itinerary for Athens.
Alternatively, you could arrive on Milos by ferry. The main ferry companies, Blue Star Ferries and Seajets, operate ferries in and out of Milos on routes around the Greek islands. We arrived in Milos from Santorini via Folegrandos, which took around 2 hours. Milos is a great island to include in a Greek island hopping itinerary, due to its central location near to lots of other islands.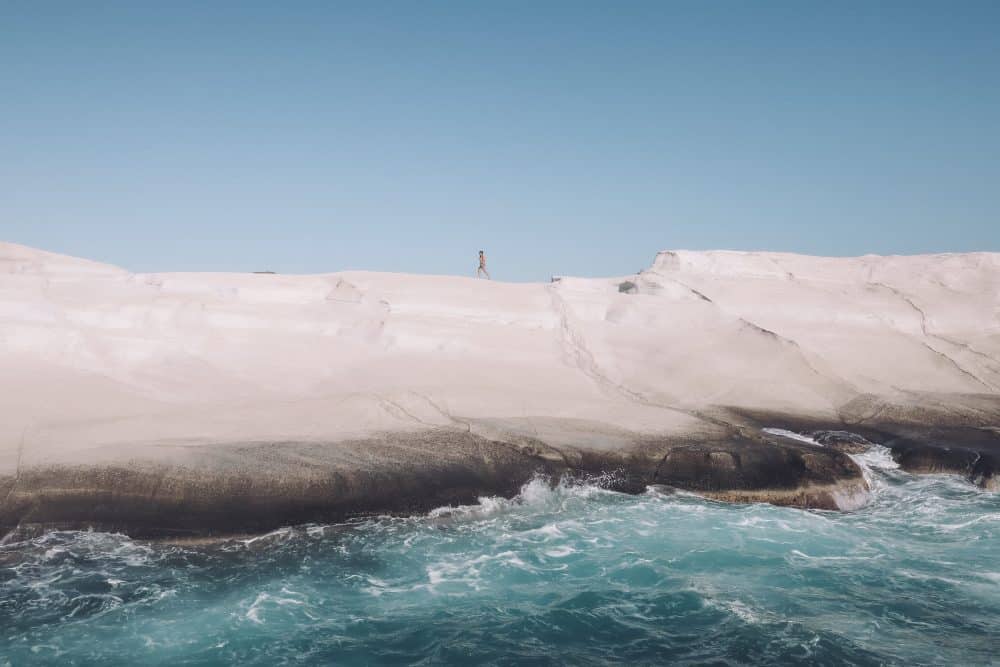 How to get around Milos?
I'd strongly recommend hiring a car or an ATV to travel around Milos. The island is unique in that you can explore huge areas of Milos without seeing another person – perfect if you hate crowds!. You might be the only car or ATV around.
There are public buses (and taxis) on Milos, which are quite convenient. Most routes depart from Adamas, the main town on the island. If you do plan to explore Milos using just public transport, I recommend staying in Adamas.
A reliable car and ATV hire company is Nikos Milos. We used this company and would recommend their services.
How long do I need in Milos?
Milos is one of those dreamy islands where you could easily spend a week or two exploring its 70 beaches. We had four days in Milos which was plenty of time for two days exploring on our ATV, and two days relaxing at our hotel. With one week in Milos, we would have just had more time to soak up the charming villages and explore more of the beaches. I definitely don't think we'd have got bored!
When to go to Milos?
Milos, like most of the Greek islands, gets the best weather from May to October. Expect long, hot, sunny days and clear blue skies. Milos will of course be quieter in the shoulder months, but as it is such a small island, this may mean many places would be closed. It's also worth noting that the island can be very windy from August to October.
Where to stay in Milos?
There's no shortage of beautiful places to stay in Milos. As I said above, the port town of Adamas is a good play to stay if you're planning on using public transport to get around Milos. We chose to stay in Adamas, even though we had an ATV, as it is walking distance to the port for the ferry. Adamas also has a lovely collection of waterside restaurants and cafes, and makes a great centrally located base for exploring the whole island.
We loved our stay at Santa Maria Hotel & Spa. Tucked away about a 5 minute walk from the main road in Adamas, we enjoyed the whitewashed village feeling of the hotel. The pool was excellent and the poolside bar was very reasonably priced for food and drink. I would definitely stay at Santa Maria hotel when I return to Milos one day.
Check rates for Santa Maria Hotel & Spa here.
Another area to stay is in Pollonia, a gorgeous beachside town located in the northeast of the island.
Some great hotel options in Pollonia include:
Where to Eat
Hanabi in Pollonia – this restaurant serves up top notch sushi together with some unusual creative fusions. Wash the sushi down with their excellent cocktails too whilst watching the sunset in Pollonia.
Mikros Apoplous in Adamas- located next to the softly rippling waves of the bay in Adamas, this excellent restaurant was one of our favourite meals in Milos. It's highly rated on TripAdvisor and for good reason!
Sirocco in Paleochori – one of the most popular and well-known eateries on the island is located at Paleochori beach. At this unique restaurant, you can have your meal cooked on the hot sand which is the typical old-fashioned way of the island.
Medusa in Mandrakia – the tiny waterside taverna is located in the teeny fishing village of Mandrakia. We found Medusa quite by chance, but its setting is wonderful and the food is excellent.
Gialos in Pollonia – this pretty beachside restaurant is near to Hanabi and serves up delicious Greek food. Whether you come for lunch or for dinner, it's a wonderful experience.
The Best Beaches in Milos
No Milos travel guide is complete without mentioning its unbelievable beaches. Milos is known for its unusual beaches, and there's no shortage to explore. Here are my favourites:
Sarakiniko Beach – Easily the most famous beach in Milos. Sarakiniko is a unique beach made of lava that's been bleached by the sun and shaped by the waves. It's an amazing spot for some cliff jumping too! Getting to Sarakiniko beach is pretty easy – in fact, if you're staying in Adamas, there's a direct bus to Sarakiniko.
Firiplaka Beach – This stunning beach is one of the best beaches in Milos, in my opinion. Fairly easy to get to and very pleasant to spend the day in. The bay is a perfect crescent of the brightest turquoise water and it's a wonderful beach to bring a picnic and spend the day.
Getting to Firiplaka beach is a bit more challenging and it's best to get here by hire car or ATV.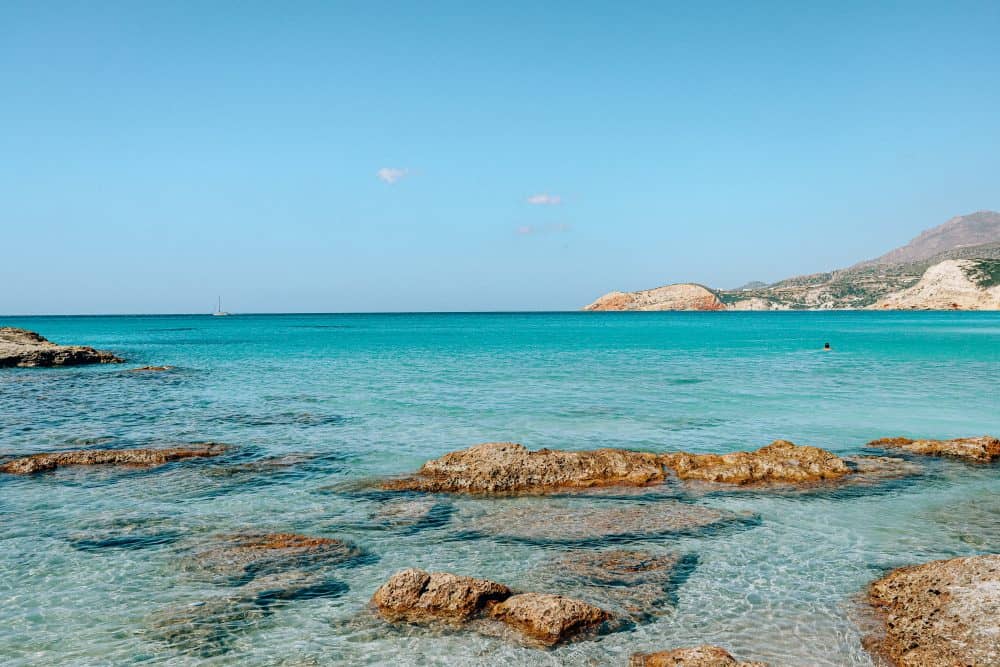 Tsigrado Beach – This remote beach is right near Firiplaka – but so different. Access to Tsigrado is via a series of ropes and ladders through a narrow crevice in the rocks. Unusual to say the least – but worth it for the adventure. The beach is very small, but you can peek over the edge to see how busy it is before descending.
Firapotomos Beach – Another gorgeous Milos beach, located not too far from Plaka. There are more facilities here than some of the other beaches as it located adjacent to the tiny fishing village of the same name.
Paliochori Beach – This beach is famous as it is home to Sirocco restaurant, the popular Milos foodie spot where you can have your food cooked in the sand. This was by far the busiest beach we went to in Milos. It was also a little commercial and sun loungers cost 10-15 euros per person for the day.
Ammoudaraki – This is definitely one of the best beaches for families in Milos, with soft sand and crystal clear waters.
Best Things to do in Milos
Visit the beaches
The very best thing to do in Milos is to explore! With 70 beaches, you can visit several different ones each day. Each beach in Milos is totally unique and most of them are so rugged – perfect for adventurous travellers. I've listed my favourites just above.
Head out on a boat to the Kleftiko Caves
This awesome and unique attraction in Milos is only accessible by boat. You can either rent your own, or join a local guided tour. These do fill up so it would be advise to book ahead. I've linked a great full sailing day tour to Kleftiko Caves here.
Visit the Milos Mining Museum
For an inexpensive fee of €5, you can learn about the history of mining in Milos. This museum is located close to the heart of Adamas and gives visitors the opportunity to learn about the island's wealth in minerals.
Explore The Local Villages
Milos is dotted with many tiny whitewashed villages, some with incredible views over the sea. Nearly every village in Milos is your typical Greek authentic village, packed with traditional charm.
Plaka – Although the island's capital, is actually tiny. It's characterful and incredibly pretty – and also known for an iconic sunset viewing spot at Utopia.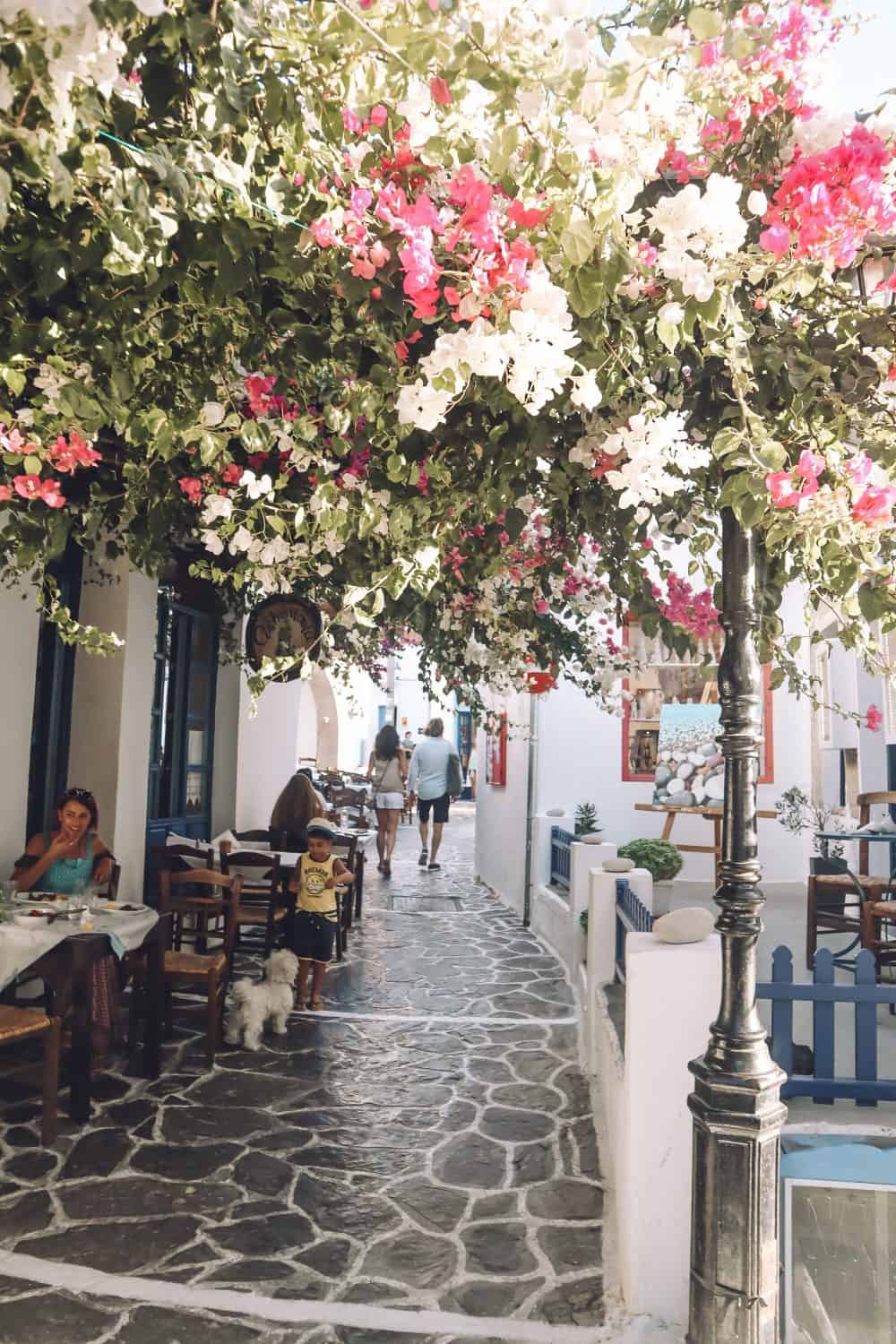 Mandrakia – Home to one of the island's best restaurants: Medusa, Mandrakia is a quaint fishing village where you might spot as many dogs as people. It's about as tiny as a Greek fishing village could be.
Klima – Another tiny seaside village, Klima is lined with brightly coloured boat houses and is a beautiful spot to photograph.
Pollonia – This small town in the north of the island is about as commercial as Milos gets (And that's not very commercial!) It has a pleasant beach, lined with tiny restaurants and bars offering a perfect laid back atmosphere.
Catch a sunset
As mentioned, Plaka is the place to be on the island to watch sunset. Utopia Bar is the most popular place and I'd recommend arriving early to get a seat. Fortunately, food and drinks are really well-priced so you don't have to break the budget to enjoy Utopia. Afterwards, wander along Plaka's charming laneways.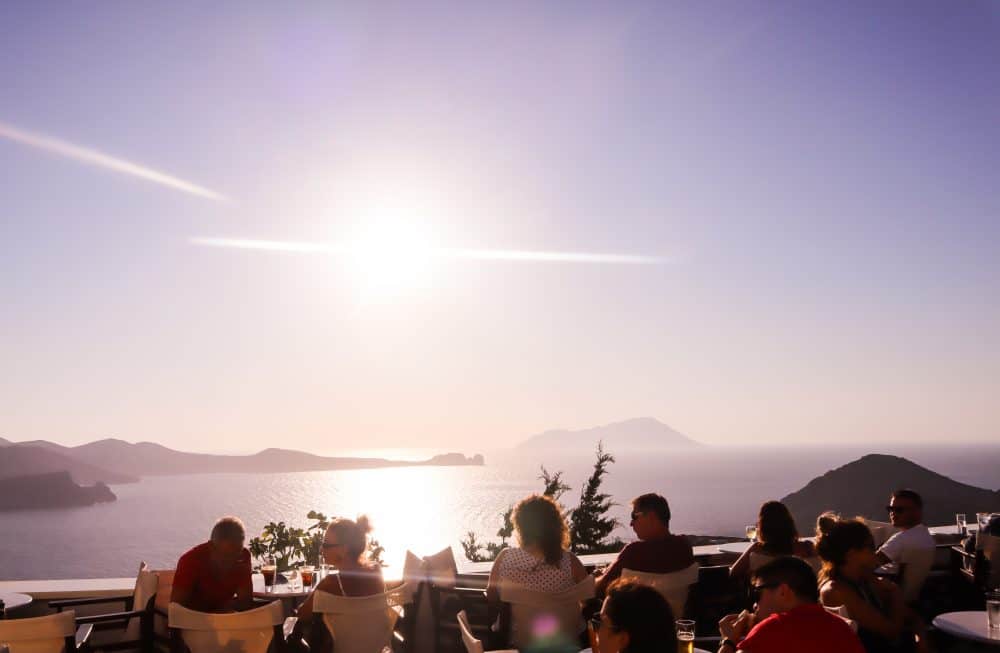 Milos Travel Guide
So that's my complete Milos travel guide, hopefully covering everything you need to know before visiting this incredible island in Greece. Milos offers a real slice of traditional charm, whitewashed Cycladic villages and stunning beaches, it's definitely one of lesser visited islands in Greece. I'd definitely recommend visiting Milos sooner rather than later, before direct flights start from London!
In fact, Milos is the ideal destination for an authentic Greek holiday. A perfect island without the masses, and also be a great destination to visit if you're backpacking in the Greek Islands. If you're planning on island hopping Greece, then don't forget to check my detailed guide to Santorini and how to visit the island on a budget. Although Santorini is considered a honeymoon destination, it can be surprisingly affordable! Also, make sure to check out my guide to Athens and how to spend one day (or more) there.
Feel free to drop me a line if you would like any advice or further recommendations. If you've enjoyed this Milos travel guide, please do share using the below links!
Wanna see more? Check my Instagram here, my Facebook here or my Twitter here!
Disclaimer: This visit to Milos was entirely paid for by myself, and there was no involvement from the tourism board or a hotel. This is an independent guide.
Enjoyed my Milos Travel Guide? Pin it!