Choosing which islands to visit for a Greek island-hopping itinerary can be quite a daunting (but exciting) challenge.
With more than 6,000 Greek islands to pick between, it's not the easiest task for anyone who is even the slightest bit indecisive. If you look on Google for answers, it's even more overwhelming. A quick search of 'best islands to visit in Greece', and you'll still get a list of 20 or so islands each sounding so beautiful and also slightly similar. So it doesn't end up being that helpful. You could end up with more than 10 potential islands that sound unmissable for your Greek island hopping trip.
So this is my itinerary for Athens, Santorini and Milos (plus a brief detour to Folegrandos). In this post, you'll find everything you need to know for planning a Greek island-hopping itinerary, from how to arrange transport, the best routes, accommodation and of course, an overview of these destinations.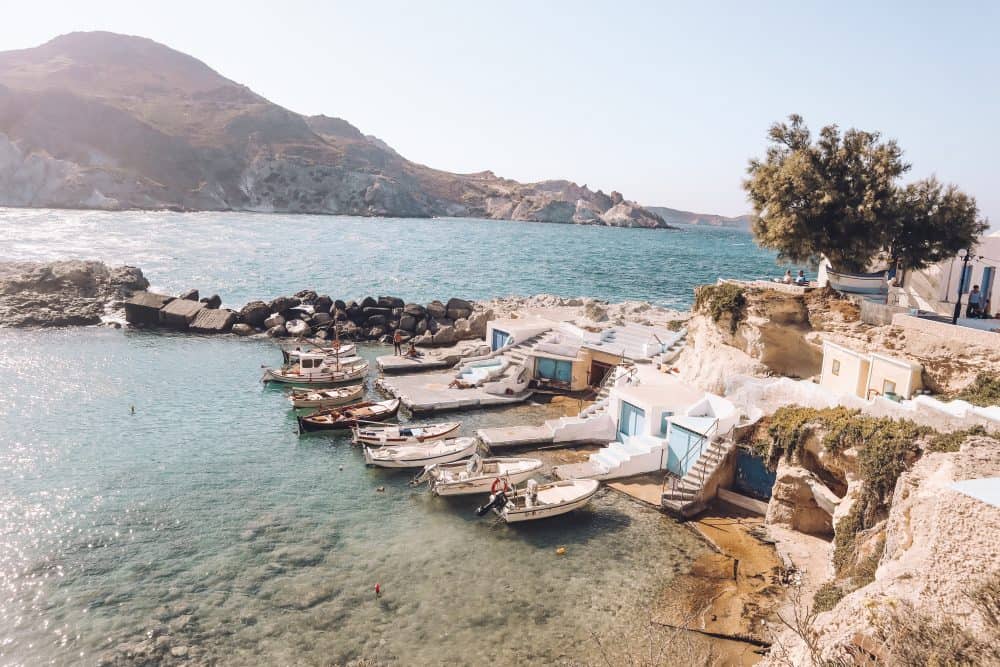 Planning your Greek Island Hopping route
When planning your Greek island hopping route, the first thing to consider is time. The longer you have, the more islands you can comfortably visit (obviously) – but also, you must consider that transport between islands isn't as simple or cheap as you might have hoped. We were in Greece for 9 days, and chose to visit three destinations in this time. We started and finished in Athens, because it was the cheapest place to fly in and out of, by far.
Then, I had some long lived dream of visiting the whitewashed town of Oia in Santorini so popped this beautiful island on my list. Finally, I wanted the third Greek island to be somewhere a little lesser known and less touristy. Fortunately, there are plenty of islands falling into this category. I chose Milos, which receives a moderate number of visitors.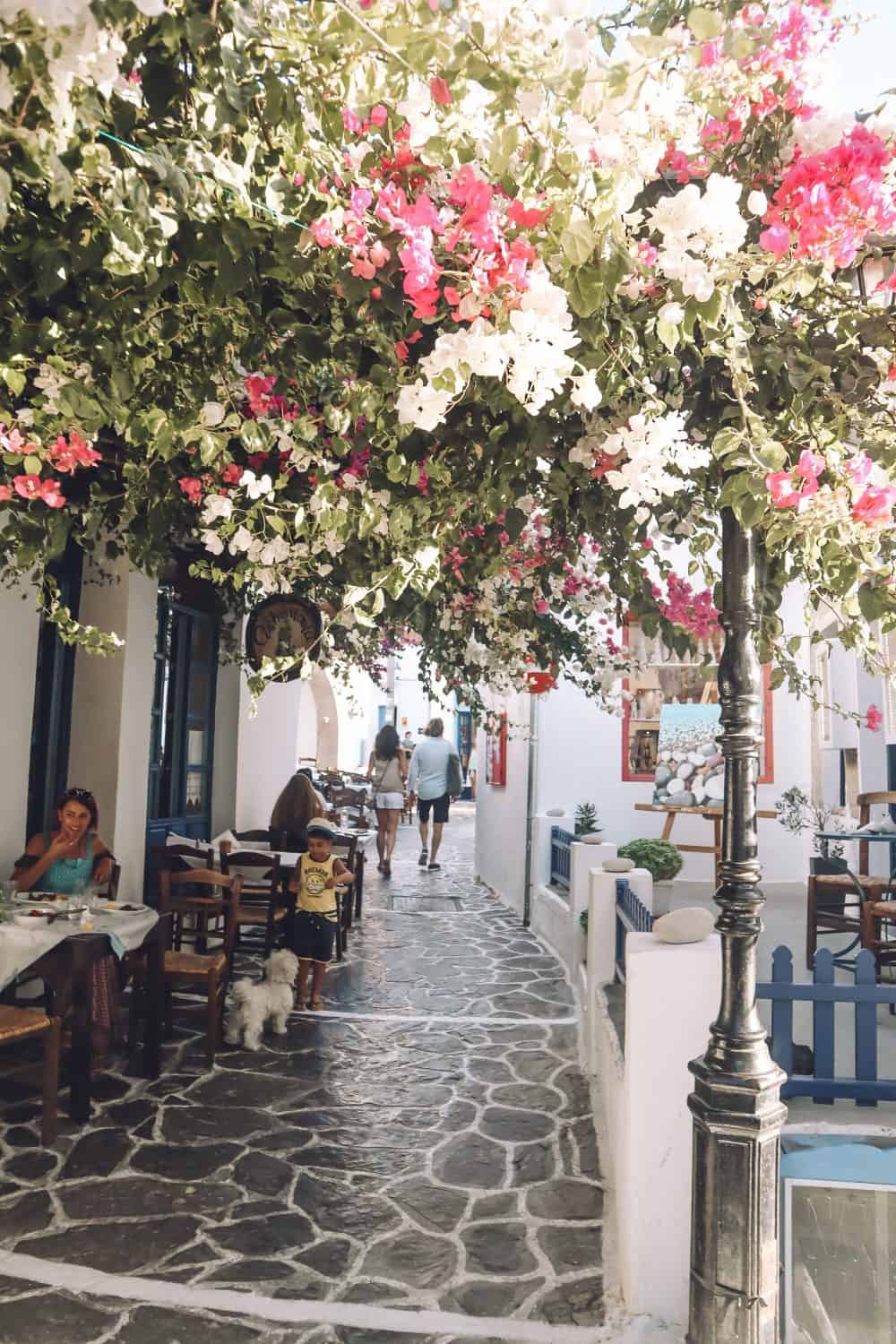 Greek Islands: How to Choose
The first step should be to look at a map of Greece to get an idea of the groups of islands geographically. You'll spot there are several groups, these include:
The Ionian Islands: Located NW of the mainland peninsula of Greece, these include Corfu, Paxos, Zakynthos and Kefalonia. These have somewhat moderate termperatures even in Spring and Autumn, making them great for outdoorsy visits in the shoulder months.
The Dodacanese Islands: Located near Turkey, these islands have a different feel to the rest of Greece. The better known islands here are Rhodes and Kos, both of which are close enough to Bodrum in Turkey which makes for a great day trip.
Crete: This island is the largest in Greek by far. Although it can be included on a Greek island hopping itinerary, there's plenty to do on this huge island for a whole week or longer.
The Cyclades Islands: This group of centrally located islands are the most easily connected and make for a great island-hopping itinerary. Santorini and Milos are easily connected, and for this reason, a combination of Cycladic islands can make for a great Greek-island hopping itinerary. These islands include Santorini, Mykonos, Paros, Naxos, Milos, Folegrandos, Sifnos and Ios.
Athens does make a good natural starting point for any island-hopping route, especially as international flights can often be cheapest here. It can also be a good finish point to round off a trip too. Unless you choose to finish the route on an island with a large enough airport to fly back to your international destination.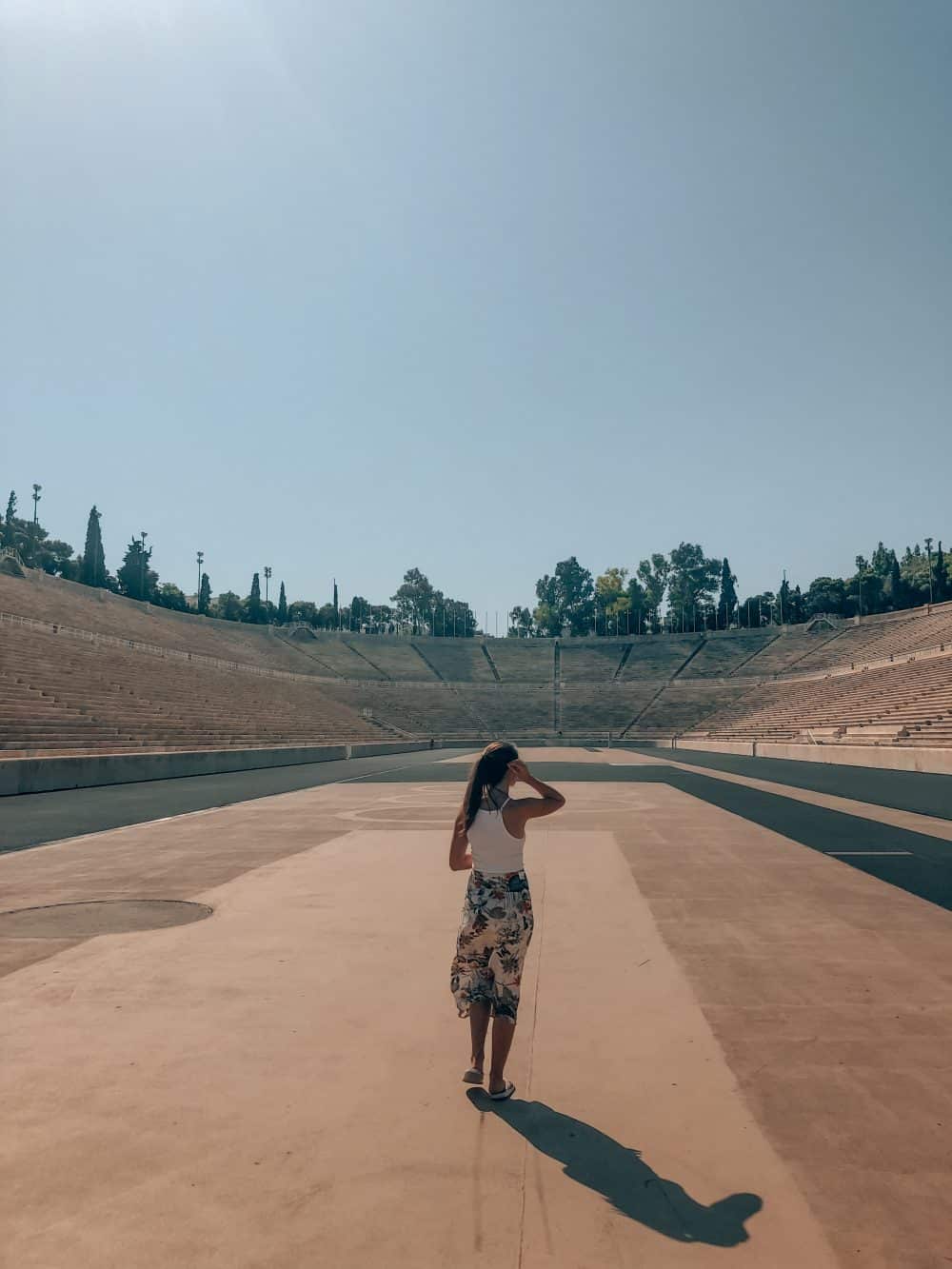 Now you've got a feel for the island groups in Greece, it's good to consider routes on the ferries and by plane.
Between the islands, flights can be somewhat irregular (or non-existent). Nearly all islands are connected to Athens but there isn't a very comprehensive network between islands. Therefore, ferries can be better – but even these run between fairly fixed routes.
So for choosing your islands, I would pick one island that really jumps out to you as essential, and work your itinerary around its location. For me, this was Santorini.
Things to know about transport in Greece
Unfortunately, unlike places such as South East Asia, you can't just decide on the day that you want to move islands. Most ferry routes (especially in the summer months) get booked up way in advance, the same way seats on planes do. Prices can also rise. Therefore, you are very likely to have to pick your days and dates in advance. This can make a very spontaneous Greek island hopping trip quite difficult.
I would not leave any ferry travel to your final island/destination. Ferries can be disrupted easily in Greece. All of our journeys were delayed or cancelled. Flights are more reliable. Ferries are more easily delayed or cancelled in high winds (a real issue in Greece), than flights.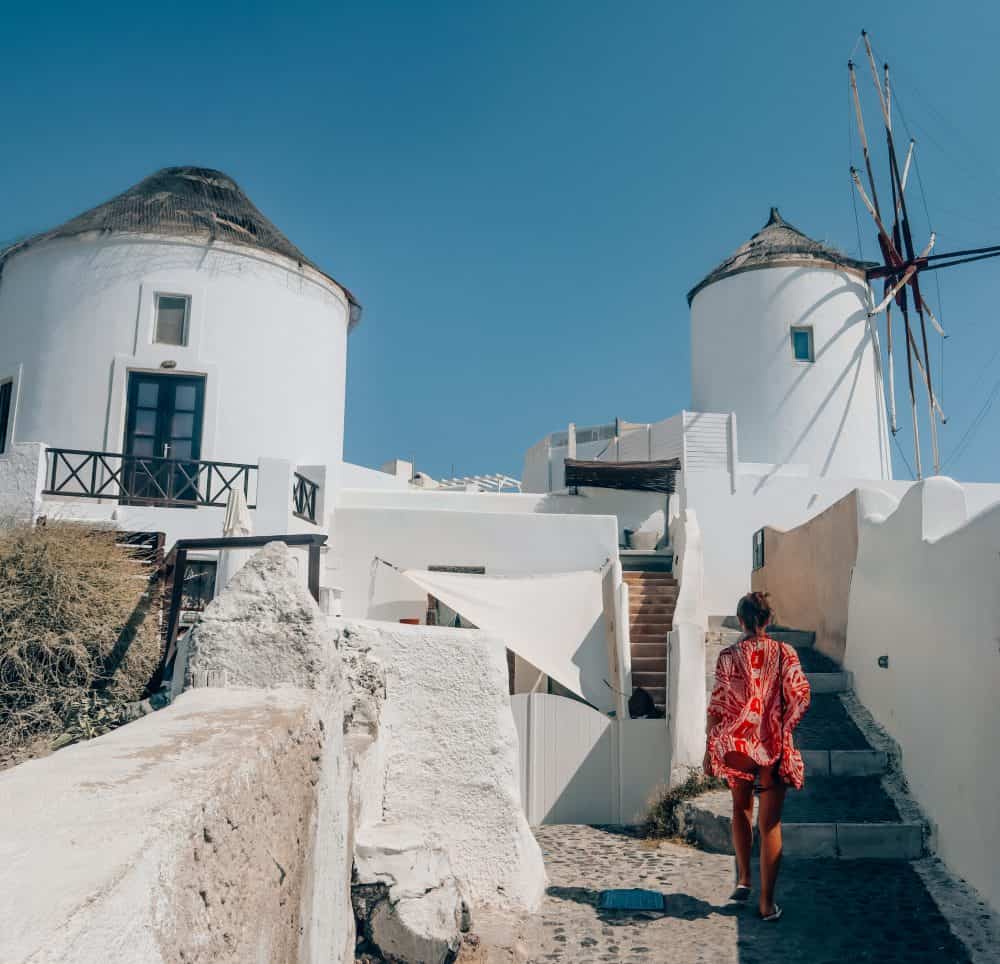 Although ferry hopping (or flying) can sound a bit more hassle, it's definitely worth doing over a Greek island hopping cruise. Firstly, you can spend longer than a day in a port, but also you'll be able to beat the crowds from cruises and be able to sample more local food.
Ferry passes are not a thing, and each journey needs to be booked separately.
Ferry tickets in Greece aren't too expensive, but they're not as cheap as you might have hoped. If you're visiting Greece on a budget, I wouldn't pick too many islands purely for this reason.
The best sites to book through are Direct Ferries, which can compare prices for various companies. Alternatively, you can book direct through Blue Star Ferries and Seajets, which are two of the main ferry companies linking these islands.
Accommodation in Greece
As with most European destinations in the summer months, the Greek Islands get busy and accommodation will get booked up way in advance. Especially on places like Santorini or Mykonos. If you leave it to the last minute, it'll either be terribly expensive, or terrible quality. It's best to book as early as you can, so you can stay in the best place for your budget.
Airbnb is always another option, but leaving this to the last minute can leave you to some very basic accommodation.
My Cyclades Itinerary: Athens, Santorini and Milos
So this is how I ended up picking these as my main stops for my Greek island hopping trip. I would say this combination of Cycladic islands is the best for first-time island hoppers.
Athens
The capital of Greece is an ideal place to start a Greek-Island hopping trip. Athens has it all. From some of the world's most iconic historical landmarks and museums, to a lively bar scene and funky street art. We chose to spend just a day here as visiting in the height of summer can be hard work, with both large crowds and high temperatures.
Some of the very best things to do in Athens include:
Explore the Acropolis
Visit the Panathenaic Stadium
Stroll in the colourful quarter of Anatofika
Stop for breakfast or lunch in pretty Plaka
Enjoy some greenery at the National Gardens
People watch in Syntagma Square
Sample rooftop drinks at some of the cities coolest bars, such as Couleur Locale
Take in a sunset over dinner with a view of the Acropolis
Do check out my guide to the city here, including a one day itinerary to Athens.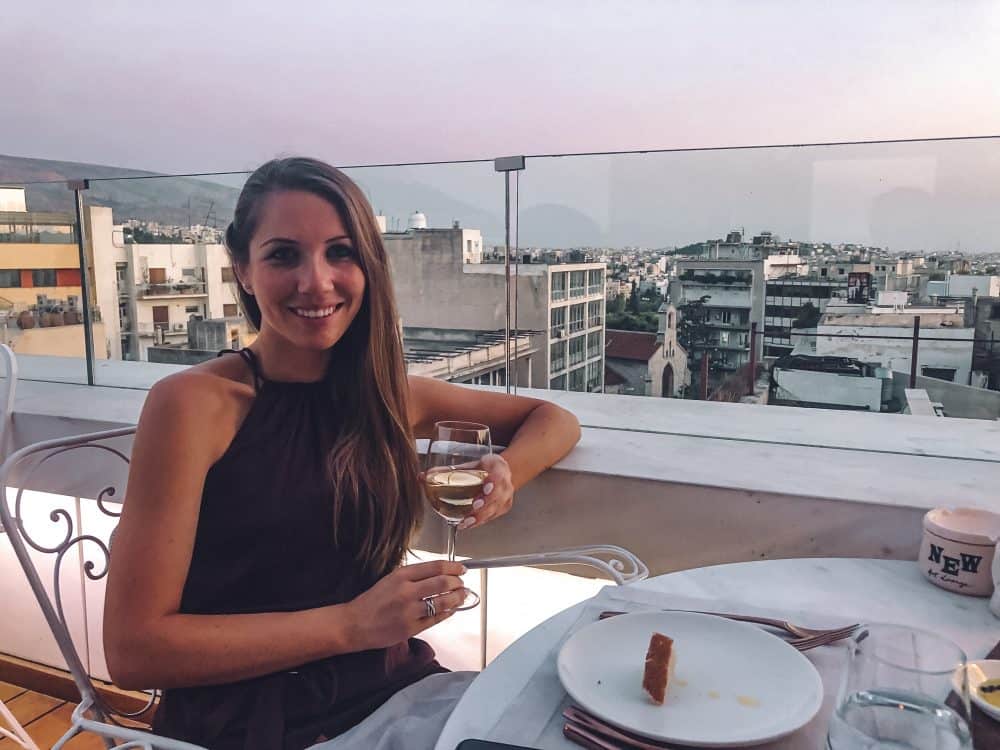 Santorini
Beautiful Santorini is the picture-perfect Greek island of dreams. Known for its breathtaking landscapes, whitewashed villages and world-class sunsets, it's an excellent island to visit. Connected to Athens by both air and by ferry, it's an easy first island to get to.
Despite the hordes of tourists that descend on Oia, and the island's capital, Thira every single day from the cruise ships, it's still definitely worth visiting. Santorini is still one of the most beautiful places I have ever been.
Top things to do on the island of Santorini include:
Enjoying the scenic hike from Oia to Thira along the caldera ridge
Visiting Oia Castle
Swimming in Ammoudi Bay
Catching an iconic Santorini sunset
Drop by the unusual Red Beach
Enjoying beachside cocktails in Perissa or Kamari
Going wine tasting at Santo Wines
Exploring the island by quad bike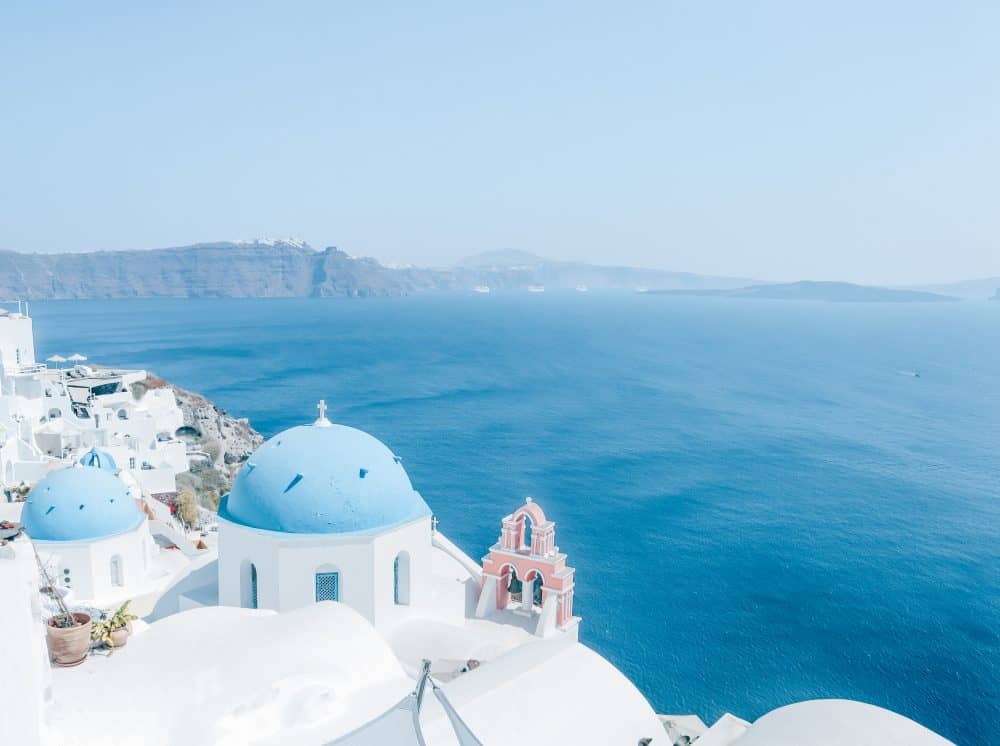 Make sure to read my detailed guide to Santorini here, including how to visit on a budget. After all, it is known to be an expensive honeymoon destination!
Buy your ferry from Santorini to Milos through Direct Ferries here
Milos
Milos, another beautiful island in the Cyclades group, yet far lesser visited then Santorini and Mykonos, is the ideal second island to visit. Calmer, less expensive and a totally different feel, Milos is a special place.
To travel from Santorini to Milos, you need to take a ferry on either Blue Star Ferries or Seajets. There's a brief stop in between at Folegrandos, but the overall journey time should be around 2-3 hours.
The main port is Adamas, which is also a great place to stay meaning you can skip transfer or taxi costs. This is unlike Santorini where taxis are rather expensive – its port is at the bottom of a steep zigzagging cliffside road.
Top things to do on the island of Milos include:
Visit one of the island's stunning beaches including Fyroplaka or Tsigrado
Lunch in one of Pollonia's excellent restaurants
Spending long sunny days at Sarakinikio, exploring the moon-like rocks or jumping in the sea
Dinner in the quaint fishing village of Mandrakia
Sunset cocktails in Plaka
Enjoy a day trip aboard a sailing boat with a local company
Hire an ATV and go well off the beaten track
Here's my longer and far more detailed travel guide to Milos, make sure to check it out.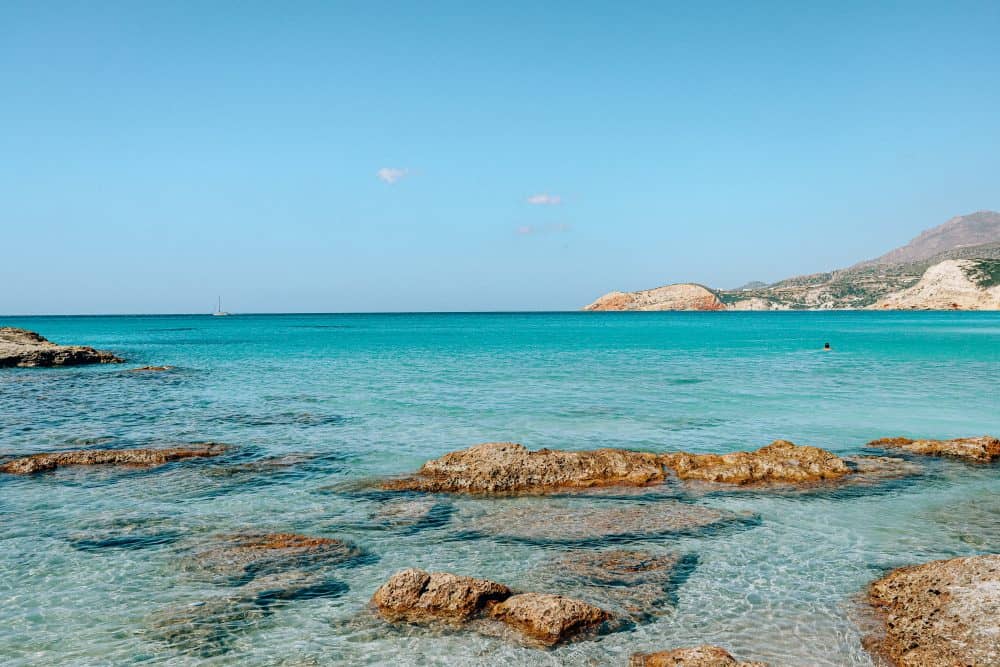 Folegrandos
Well, we went to Folegrandos by accident.
We only had an evening and a morning, but what a charming and untouched island. This is the ultra-local, lesser visited island in Greece you might have been dreaming of. Not only is it tiny, but it's easy to get around and the locals are very welcoming. Between visiting its traditional Greek tavernas, visiting empty beaches and its charming villages, it's a very pleasant island to include.
Mykonos: An Alternative
We didn't choose to include Mykonos on our island-hopping itinerary as we were already going to Santorini, and that would be our touristy island. However, Mykonos can easily be included in this itinerary as the Cyclades' ferries connect Mykonos with Santorini and Milos.
The island of Mykonos has a global reputation of being a party island, with glitzy bars and glamorous people from the around the world. It is definitely this, plus expensive. However, you can still visit the Mykonos Old Town, and explore its quaint whitewashed streets and charming cafes and tavernas.
Athens, Santorini, Milos: Greek Island Hopping Itinerary
So there you have my suggestions for a wonderful island-hopping round amongst the Greek Islands. A truly special corner of the world, offering a summer destination like no other. Charming whitewashed villages, unusual beaches and sublime food, island hopping in Greece is one of my favourite trips ever. And don't forget, if these islands don't suit – then why not check out my guide to lesser known Greek islands here?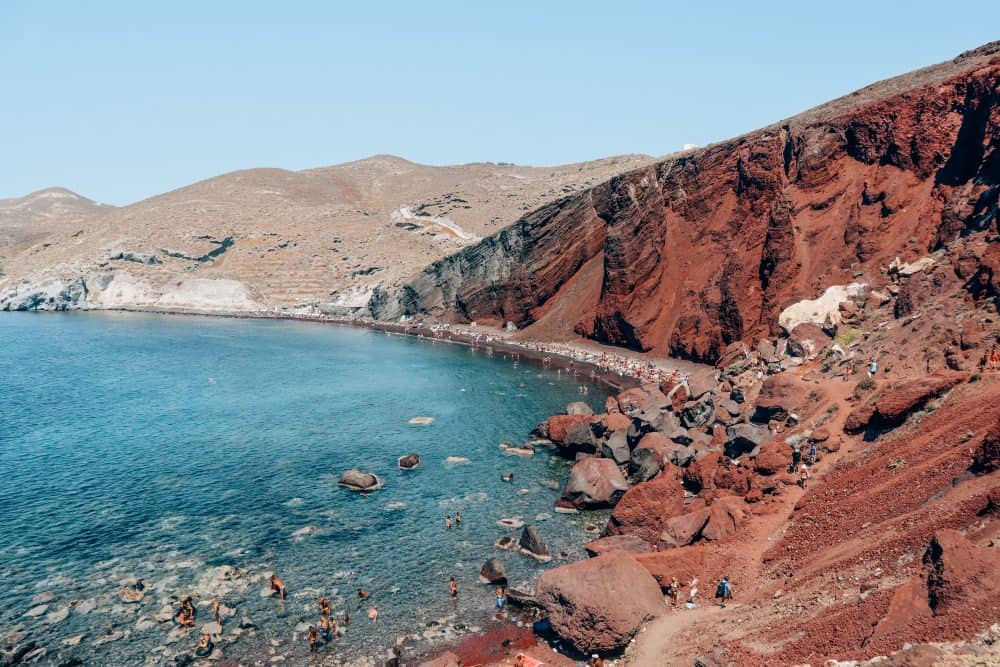 I do hope this guide has been helpful and has covered your questions and thoughts for planning a Greek island hopping itinerary?
Disclaimer: This visit to Greece was entirely paid for by myself, and there was no involvement from the tourism board or any hotels. This is an independent guide.
Enjoyed my Greek island hopping itinerary guide? Pin it!