Cape Town, arguably one of the most beautiful cities in the world, is a must-visit destination in South Africa. Whether you have just a weekend in Cape Town, or stay for 10 days, you'll get a real feel for the city and its incredible atmosphere. However, there are so many things to do in Cape Town it's hard to know where to start! So I thought I'd write out several plans for a Cape Town itinerary covering varying lengths to help visitors with their planning.
My Cape Town itinerary ideas are based on my own experiences in the city, but my South African boyfriend has also contributed. He lived in the city for more than 6 years. I really hope you'll find these useful and that they help you plan your trip to Cape Town, South Africa.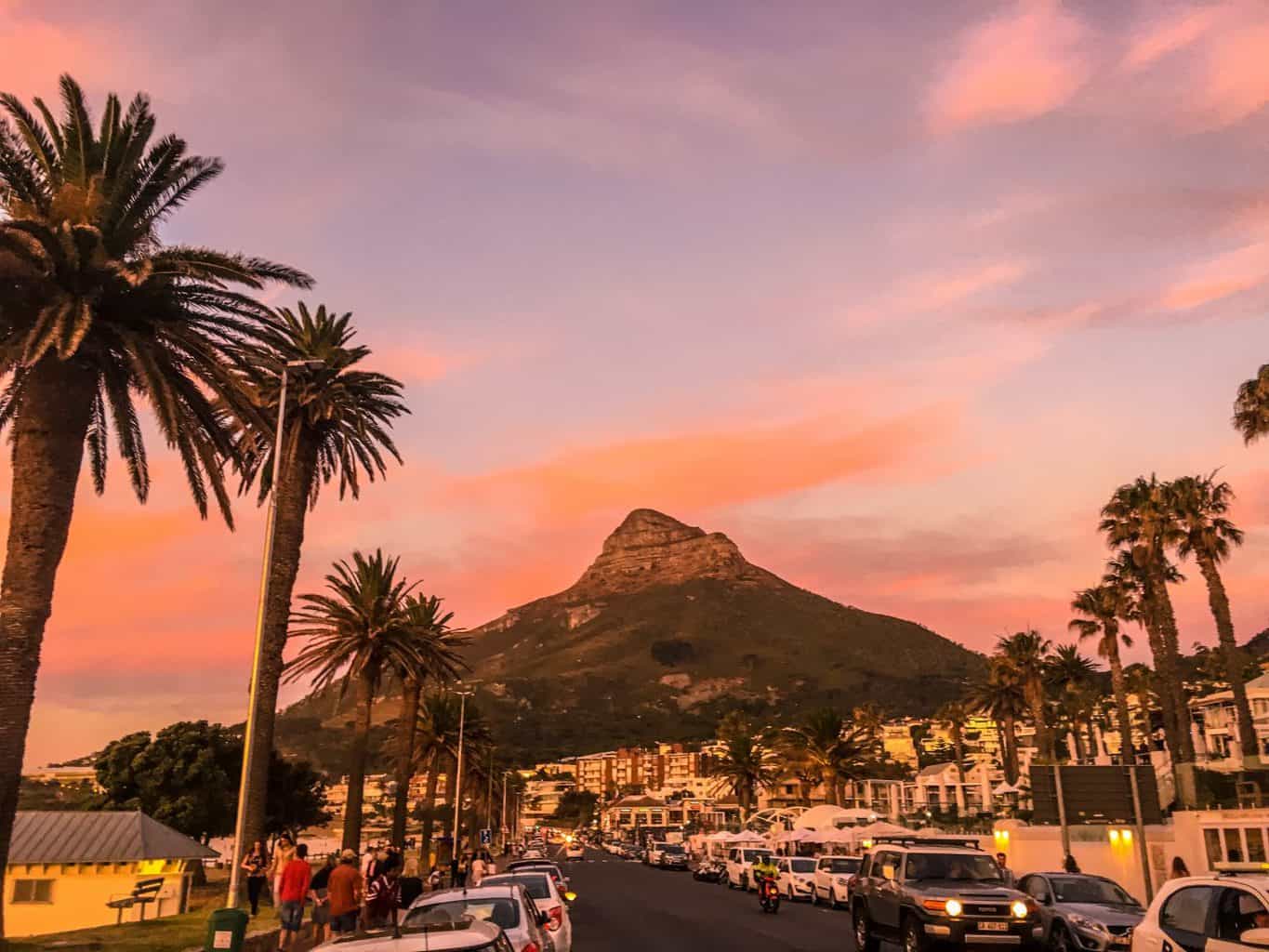 Cape Town Itinerary Guide
Why go to Cape Town?
Many visitors travel to Cape Town and proudly declare it as one of their favourite places in the world. The amazing thing about this, is that it can be for very different reasons.
In fact, there are few cities in the world that can really appeal to so many peoples' different interests. Outdoor activities are literally just minutes from the Cape Town city centre. From wine farms, the incredible V&A Waterfront, the excellent dining and world-class driving routes, a Cape Town itinerary can certainly be varied. There are few other cities that offer such a smorgasbord of activities so close by as Cape Town.
However, you aren't really seeing Cape Town if you don't understand the people who built this city. Visiting the museums, Robben Island and a township are essential to knowing that you've really seen Cape Town.
Is it safe to go to Cape Town?
It's a question that crosses most peoples' minds when considering a trip to South Africa. The truth is, yes – it's definitely safe to go to Cape Town. But it would wise to take certain precautions and to be mindful on your travels throughout South Africa.
A concern over safety applies to virtually all travel destinations but for Cape Town. But based on my personal experience, these are my top tips for staying safe:
At night, take a taxi from A to B and don't walk even short distances
Don't flash any expensive goods and products whilst walking around the streets
Close your windows and lock your doors at traffic lights
Don't go hiking at night, unless joining a tour
Personally, I felt safe everywhere I went in Cape Town. I even walked from the Tamboerskloof neighbourhood (under Lions Head), down the hill to Bo Kaap and onwards to the V&A. I would say there weren't many other tourists walking, but I put my camera away in my bag and used common sense to direct myself to the waterfront (instead of pulling out my phone repeatedly), and I really did feel fine.
The areas of Long Street and Bree Street, which are nightlife areas, can be prone to some muggings or attacks late at night.
But really – I live in London where crime is common. Just take normal sensible precautions and don't walk around at night, and you should be fine. Don't overthink it – after all, millions of tourists visit Cape Town each year and have issue-free visits.
Practical Information
Getting to Cape Town
The Nelson Mandela International Airport is the main gateway to Cape Town for international travel. Many airlines fly here from around the world, including British Airways and South African Airways (both direct from London Heathrow), as well as Emirates (from Dubai), Qatar Airways (from Qatar), Air France (from Paris) and TAPAir (from Lisbon).
From the airport to central Cape Town, you can take a taxi and the official taxi provider is Touch-Down Taxis. It'll cost around R300 and R400. There is also the airport shuttle bus to the centre of town which runs from 5.30am to 9.30pm for around R60. R100 is approx. GBP 5 or USD 7.
Getting around Cape Town
If you're staying somewhere central in the CBD of the city – such as the V&A Waterfront, you'll be able to walk to quite a few key Cape Town attractions or jump in a taxi for a quick ride. Overall, for safety issues and sometimes a lack of pavement, it isn't the most walkable city.
For things outside of the centre, such as the Cape Peninsula or the Cape Winelands, I'd recommend either hiring your own car for maximum flexibility or joining a local tour. Cape Town, although having much of the activity concentrated in its CBD, is also very spread out.
The MyCiti bus service is fairly well connected around Cape Town, and crime isn't too bad on this mode of transport. However, unless travelling in larger groups, I would not recommend taking the train around the city, for example to Simon's Town.
As Uber is so widely available, and the option of taking tours is there, you may not need to use public transport or rent a car to get around Cape Town.
Another idea is to use the City Sightseeing Hop-On Hop-Off tour bus, which takes tourists to all the key sites across the city.
Buy your City Sightseeing bus tickets here.
Renting a Car in Cape Town
Hiring a car in Cape Town offers you a wonderful degree of flexibility and freedom.
Parking is nearly always straight forward – there are often plenty of spaces and a car parking attendant (in a high vis jacket) will help direct you. You just leave your car in the space, and tip the attendant a R5 coin on your return as a way to say thanks for keeping an eye on it!
Top tip: Don't leave any valuables on show at all in your car – for both driving and when you're parked up.
The roads in Cape Town are also pretty good and well maintained with good signage. You could opt for the extra level of insurance just for peace of mind.
However, the greatest concern around hiring a car in Cape Town comes down to crime. Robberies do sometimes take place at traffic lights and sadly, 'smash and grab' robberies are becoming increasingly common. That being said, I spent a full month driving around South Africa and didn't have a single dodgy issue, not least in Cape Town. There are a few people loitering around the traffic lights (called robots in South Africa) but they didn't bother us at all.
Best time of year to visit Cape Town
November to March brings out the very best weather in Cape Town and the South African summer is considered the best time to go. Expect long, hot, sunny days and little rainfall. December is the busiest time in Cape Town with the biggest crowds.
The winter months are July and August which can be cloudy and cool with increased rain. It's worth knowing that the sea in Cape Town is freezing year-round. It never warms up!
Where to Stay in Cape Town?
For ease of access to several of the main attractions in Cape Town, I'd recommend staying in the area closest to the V&A waterfront.
If you want to be next to the beach, I'd recommend staying in Camps Bay.
Although, if you hire a car and are looking for a luxurious experience, I'd recommend some of the hotels along the coastline from Camps Bay.
Here are a few suggestions for excellent hotels in the different neighbourhoods of Cape Town:
V&A Waterfront area:
Other areas in Cape Town CBD:
Camps Bay hotels:
Other coastal hotel stays:
Is Cape Town expensive?
No! One of the best things about Cape Town and South Africa in general is its affordability. Food, drinks, activities and transport are all very reasonably priced.
Cape Town Itineraries
Cape Town is a true melting pot of cultures, set amongst possibly the most beautiful back drop anywhere in the world. Its CBD is lively, vibrant and cosmopolitan, with an endless array of excellent restaurants and bars. The beaches in Cape Town are some of the best in the world and its mountains are jaw-droppingly beautiful. From clifftop drives, up-close encounters with wildlife and history lessons like no other, Cape Town is a one of a kind destination.
3 days in Cape Town
If you only have three days or less to get a feel for Cape Town, I would recommend learning about Apartheid at Robben Island. I would also suggest visiting nearby Constantia to sample some of the finest South African wines and spending an afternoon soaking up the rays at Camps Bay. So without further ado, here's my suggested 3 day Cape Town itinerary:
Day 1
Leave your hotel located in V&A Waterfront and spend a relaxing morning enjoying the vibrant atmosphere of the cafes, together with the street entertainers and resident seals in this giant marina.
After lunch at the waterfront, drop by the nearby District Six Museum. Here, visitors can learn about the forced ejection of local communities from the Sixth District in Central Cape Town.
Following this, head to the pier to take the boat over to Robben Island. This is an absolute must-visit on any trip to Cape Town and essential for all visitors to deepen their understanding of apartheid. Robben Island was used by the South African government during the apartheid era (early 1960s to 1991) as a prison for political prisons. Its most famous prisoner was, of course, Nelson Mandela.
A full afternoon is required to visit Robben Island as the ferries run on very set times. Visiting sooner rather than later also means you may have the chance to have a tour led by a former inmate who now work as guides – hearing first-hand of their experiences is quite something. You can read my full guide to visiting Robben Island here.
Essential info for this itinerary:
V&A Waterfront: Open every day until late. Location: 19 Dock Rd, Cape Town
District Six Museum: Open Mon to Sat 9am – 4pm. Closed on Sundays. Guided tours half past the hour throughout the day. Location: 25A Albertus St &, Buitenkant St, Zonnebloem, Cape Town. Admission Cost: Self-guided R45 or guided for R60
Robben Island: Open daily with ferries at 9am, 11am and 1pm. You must book the tour in advance through their website. Location: 'The Nelson Mandela Gateway' Pier. Ticket Cost for Adults: R550 (Foreigners) and R380 (South Africans)
Buy your tickets here in advance for Robben Island
Day 2
Time for an early start! Early morning is a great time to hike Lions Head.
Enjoy some early morning exercise and witness what is likely to be an incredible sunrise. It takes 2-3 hours to reach the summit of Lions Head and go back down again. This is depending on your fitness level and how many times you stop to take in the amazing views. The path is well-trodden and clearly marked, so you can't get lost. The final stages to the summit are a little more challenging and likely to be difficult for those less able. But, for those who don't want to scramble the final section, you can still go pretty high up just by walking.
As you wind around the 'Lions Head', you're greeted with unbelievable views from every side. Whether it's of the city, Table Mountain or Camps Bay – it'll blow you away.
Afterwards, I recommend heading back to your hotel for a shower before heading over to Bo Kaap for breakfast. This is the very cool and colourful Malay quarter of Cape Town. Its heritage is multi-cultured, mostly due to the many slaves who settled in this area in the 16th and 17th centuries. Today, it's a highly Instagrammable location but remember, people still live in these homes today so do be mindful of this!
I recommend stopping by Harvest for breakfast or brunch – excellent healthy dishes.
Top tip: There have been some reports of muggings in Bo Kaap in the afternoon, so visit in the morning. If you see anything odd, make sure to move on
Spend a couple of hours in this area before heading over by car or uber to Camps Bay for the afternoon.
Camps Bay is the ultimate beach lifestyle place in Cape Town. It's the perfect place to grab a long lazy lunch at somewhere like Tiger's Milk or The 41, before catching some rays on the sand. With the backdrop of the Twelve Apostles, there are few beaches that are this scenic.
Stay for sunset and enjoy drinks at one of the lively bars before heading back to the CBD for dinner.
Essential info for this itinerary:
Lions Head: Open every day and free to enter. Location: You can get to the start point (location here on Google Maps) by uber or hire car. If you want to hike this at sunset, consider joining a local tour.
Bo Kaap: Free to wander this neighbourhood. There is a small museum open every day except for Sunday from 9am to 4pm. Admission Cost: R20 for adults
Camps Bay: Free and easy to wander this beach neighbourhood.
Day 3
No trip to Cape Town is complete without a trip to one of the three Cape Winelands. For a 3 day Cape Town itinerary, I'd recommend visiting Constantia which is closest to the centre of Cape Town.
I'd suggest spending a full day along the Constantia wine route including stopping for lunch. Not only is the scenery spectacular but you'll be surprised how quickly a day goes hopping between vineyards! Two of the best vineyards are Groot Constantia and Fairview Wine Farm.
Suggested wine tours, departing from Cape Town CBD:
5 days in Cape Town
This itinerary builds upon the 3 day itinerary with some other key inclusions. From an excursion to the Cape Peninsula for stunning scenery and wildlife encounters, to visiting Table Mountain and participating in a township tour. So here's my suggestions for a 5 day Cape Town itinerary:
Day 4
After a day of sampling some of the world's finest wines, it's time to do something completely different. Head to the epic Cape Peninsula! Not only is this a stunning drive, taking in several charming spots, such as Simon's Town, Kalk Bay, but it passes by several beautiful beaches. It even incorporates Chapman's Peak drive, considered one of the most incredible drives in the world. The route winds its way alongside the cliffside with a sheer drop to the ocean on the other side.
This is best done as a self drive so you can stop as you please. But you can also join on tours or the big red bus tour.
Check rates for an excellent Cape Peninsula tour here
I'd recommend starting the Cape Peninsula drive at Muizenberg beach (also worth a visit). From here, you can drive the route round to Cape Point and then onwards to Chapman's Peak and onwards to Camps Bay. Then you can visit in time for sundowners at somewhere like The Lawns at Roundhouse.
Boulders Beach, aka the penguin beach is also located on this route. It's one of the few places in the world where you can get up close and personal to a wild penguin colony. And the African penguins are very cute too. Make sure to check out my full guide on visiting Boulders Beach here.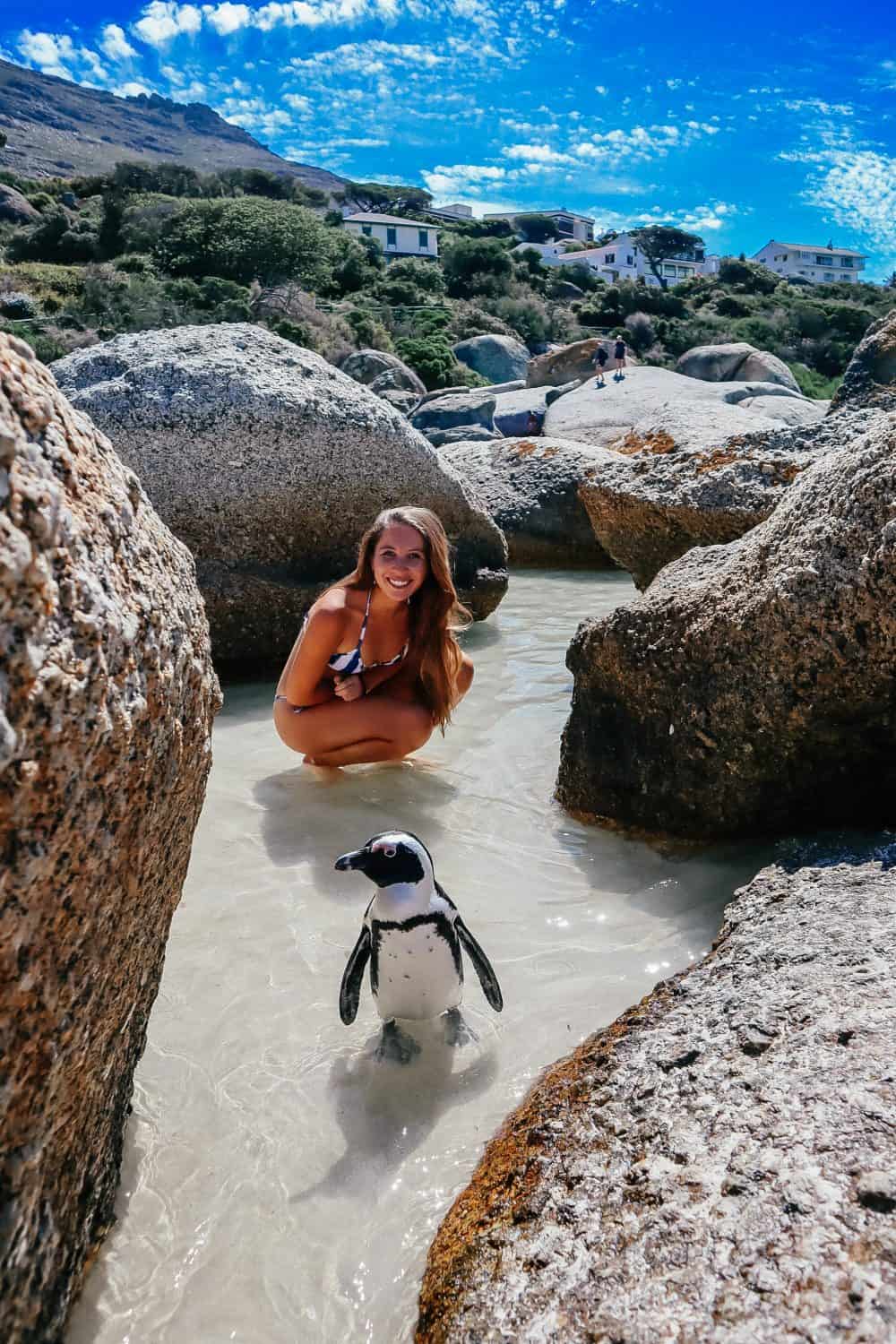 Essential info for this itinerary:
Cape Point and Cape of Good Hope: Open everyday from around 6am to 5pm in the summer months, with slightly shorter opening hours in the winter. If your vehicle is still in the park after sunset, you risk being fined. Entry fee (per person): R303 (Foreigners) or R76 (South Africans) Location: Route from Cape Town on Google Maps here.
Boulders Beach: The area (part of Table Mountain National Park) is open daily from around 8am to 6pm, depending on the time of year. Entry fee: R152 (Foreigners) R39 (South Africans) Location: 4 Boulders Place, Secluse Ave, Simon's Town, Cape Town
Chapman's Peak Drive: This is a toll route, with varying tariffs depending on your motor. You can drive this route any time of day.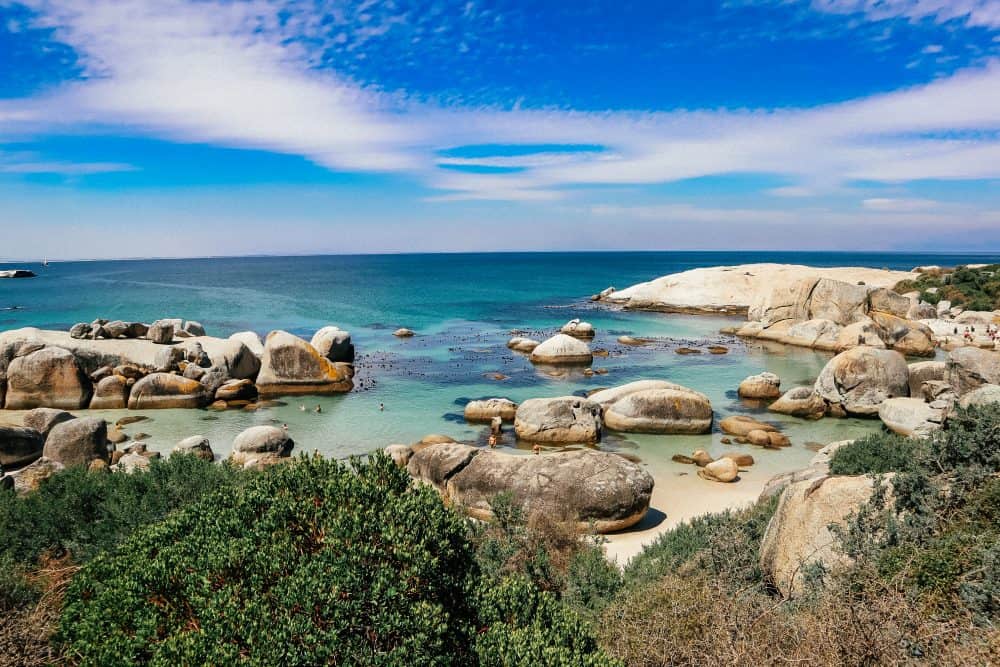 Day 5
Visiting a township can be considered a controversial activity, but I sit in the camp that it is not poverty tourism, but instead insightful and beneficial to the local community.
We visited Langa township on a small group tour with Siviwe. It was really interesting and a positive experience. Not only do you learn about the ongoing legacy of apartheid but also how the communities are striving to improve their quality of life and prospects for the future. More than 80,000 people call Langa home, even though it's one of the smaller townships in Cape Town. I've written a long and detailed guide to visiting Langa township in Cape Town here.
After this, and perhaps a spot of lunch back in the CBD, it's time to tackle Table Mountain. Whether you hike one of the paths (some of which are quite strenuous), or take the cable car, the views will not disappoint. Table Mountain looks over the whole city of Cape Town and is a symbol of the 'Mother City'. It's one of the most iconic cityscapes in the world.
The cableway at Table Mountain doesn't shut too often, unless in high winds – so keep this in mind if the wind picks up. You may have to hike back down.
You need to pre-book your tickets for Table Mountain. This is one of the most popular attractions in Cape Town, and queues can be rather long!
Head to nearby Kloof Street for dinner. Or enjoy a sunset cruise from the V&A Waterfront to take in the stunning city from the water.
Suggested sunset tours here:
Essential info for this itinerary:
Langa Township: Tours need to be booked in advance through this site here. The tours depart nearly every day at around 9am, 12pm or 2pm, lasting around 2 hours. Ticket cost: R350 per adult with your own transport
You can actually buy a township and Robben Island Combination tour ticket here too
Table Mountain: Open every day, with the first cable car up at around 8am. The last cable car comes back down between 6pm and 8pm depending on the time of sunset. Cable car location: Tafelberg Rd, Gardens, Cape Town Admission Cost: R290 per adult. This has to be bought in advance to avoid long queues!
7 days in Cape Town
Planning to spend a week in Cape Town? There's still plenty to do, in fact – the longer you can spend in Cape Town the better. Here's a few more day plans for a 7 day Cape Town itinerary:
Day 6
Start your morning at Sea Point. This central neighbourhood is focused around a lengthy promenade. Here, you'll see young and old Capetonians running, cycling and roller blading against the backdrop of Table Mountain. Start with breakfast at one of the local coffee shops, then hire your own bike to explore this area and cycle back to the V&A Waterfront.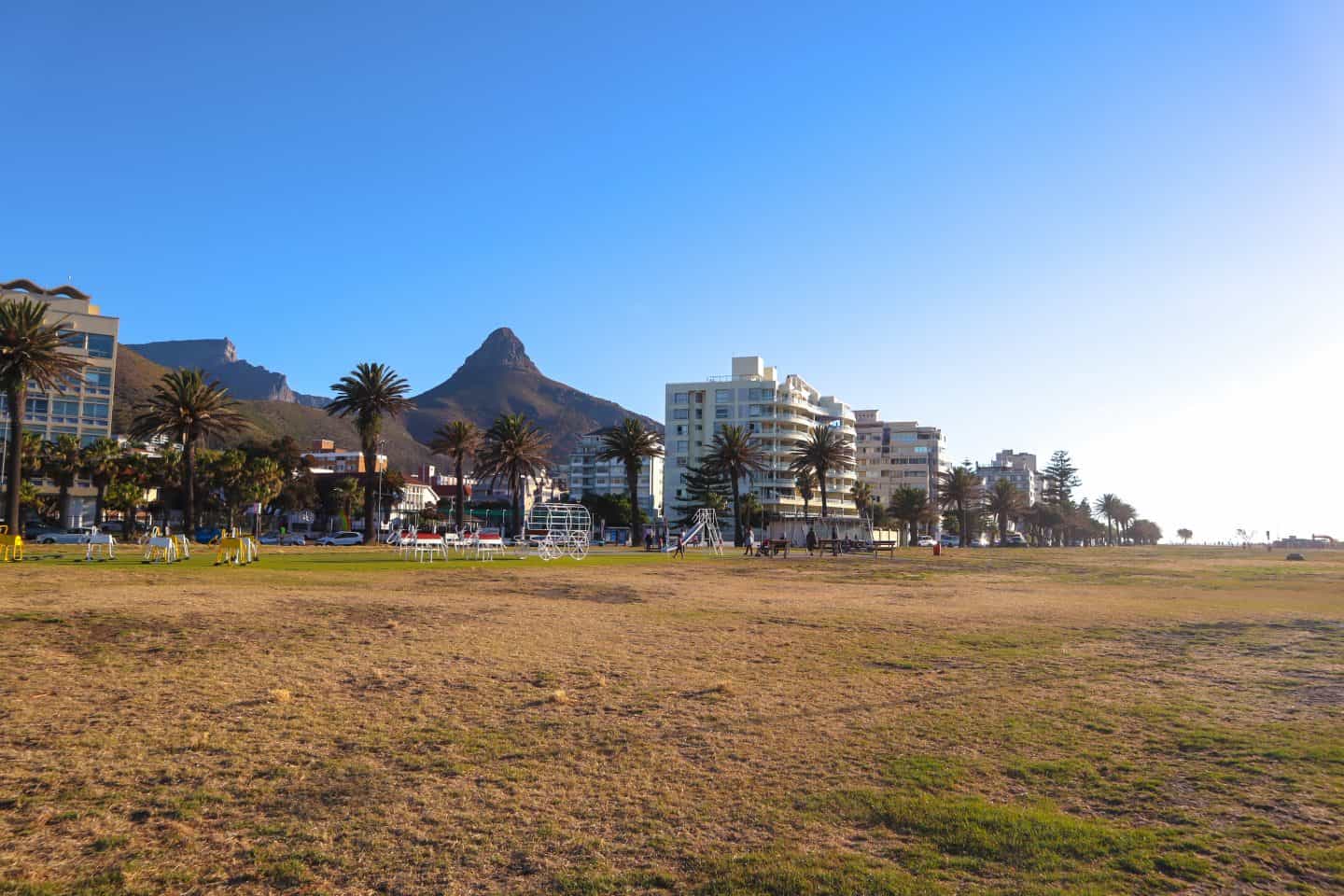 Visit Kirstenbosch National Botanic Gardens. These are considered some of the most beautiful gardens in the world. Make the time to enjoy a leisurely stroll around the botanical gardens and explore the elevated canopy walkways. Afterwards, why not hit the beaches at Clifton for an afternoon in the sun. Or visit one of the Cape Town foodie markets. Get in with the locals and sample delicious local food. Two of the best can be found at the Old Biscuit Mill market in the hipster district of Woodstock on Saturdays, or at Oranjezicht City Market in the V&A Waterfront on Saturdays and Sundays.
Essential info for this itinerary:
Kirstenbosch Gardens: Open every day from around 8am to 8pm during the summer months, with slightly shorter opening hours during the winter. Admission cost: R70 Location: Rhodes Dr, Newlands, Cape Town
Clifton Beaches. There are four of these beaches, each adjacent to each other and sheltered by Lions Head. Location: Clifton, Cape Town Admission cost: Free!
Day 7
Do a day trip from Cape Town. I'd recommend either visiting one of the other Cape Winelands that's a little further afield, such as Stellenbosch or Franschhoek. Both are less than one hours' drive from the CBD but feel a world away. Whichever you visit, you're bound to be blown away by the stunning scenery.
Stellenbosch is one of the oldest town's in South Africa. It is a traditional and charming university town with many world class vineyards. One of my favourite vineyards here is Babylonstoren. It's a magical Cape Dutch farm that has been transformed into a winery, hotel and has the most incredible grounds for exploring. Visit for the day and stop for lunch at one of its amazing restaurants.
Franschhoek is a charming village filled with artisan stores, art galleries, fine restaurants and a world famous wine tram that takes visitors on a tour around several vineyards without having to drive!
A few suggested tours to Stellenbosch and Franschhoek here:
Alternatively, you could spend a day beach hopping. Cape Town and surrounds are home to some of the world's best beaches. Why not stop by Bloubergstrand? It's a beautiful stretch of the softest white sand, with Table Mountain in the distance.
Signal Hill. This is the perfect place to witness a Cape Town sunset. It's a busy spot but take a picnic up and join the locals and tourists gathering there each evening. If you're on the big red bus tour, they also stop up there.
Cape Town Itinerary Ideas
So there you have my 3, 5 and 7 day Cape Town itinerary suggestions. By all means, you can switch days around or do things in a different order. In fact, you might want to keep the weather in mind and stay flexible. For example, timing your visit to Lions Head for a sunny day so it isn't shrouded in deep cloud.
I think Cape Town is truly one of the greatest cities in the world and no matter how long you spend there, you'll leave with fond memories. From the friendly people, exceptional food, extraordinary scenery and interesting history, it really is a destination like no other. In fact, I would happily live in Cape Town!
I hope my post will help you plan your own Cape Town itinerary. I've also written detailed guides on the best places to eat in Cape Town, the best day trips from Cape Town, and all of the best activities to do in Cape Town.
If you're travelling around South Africa, make sure to check out my guide to the Garden Route, the best beaches in SA and my guide to going on safari at Kruger National Park.
Feel free to drop me a line if you would like any advice or further recommendations on visiting Cape Town. If you've enjoyed this itinerary guide, then please do share using the below links!
Wanna see more? Check my Instagram here, my Facebook here or my Twitter here!
Disclaimer: This visit to Cape Town was entirely paid for by myself, and there was no involvement from the tourism board or a hotel. This is an independent guide.
Enjoyed my Cape Town itinerary guide? Pin it!