South Africa, at the southern tip of the African continent, is home to some of the best beaches in the world. From the city beaches in Cape Town and Durban, to the rugged stretches along the Wild Coast in the Eastern Cape, or even the stunning beaches stretching up the Northern Cape towards Namibia. Whether you're a couple looking for secluded resorts for a honeymoon, or a family looking for a fun adventure, there are beaches to suit everyone in South Africa.
So read on for my guide to the best beaches in South Africa:
Best Beaches in Cape Town
Cape Town is home to some of the best beaches in the country, if not the world. Some, such as Bloubergstrand have the unbelievable backdrop of Table Mountain behind them, and others have unusual wildlife populations, such as the penguin colony at Boulder's Beach. Some are famed for surfing, and some are known for dazzling sunsets. Whatever you're looking for in a beach, Cape Town is going to have a beach to match.
Most of Cape Town's beaches are located along the Atlantic Seaboard, which means very cold water! But interestingly, the Western Cape coastline, where Cape Town is located, is actually split by two separate oceans. One the west side is the Atlantic, and the Indian Ocean is on the east side. The place where they meet is at Cape Agulhas, which is also the southernmost point on the continent, and well worth a visit on a day trip from Cape Town.
One of my favourite things about Cape Town is that visitors can find themselves on gorgeous beaches in just minutes from the centre of the city!
Clifton
Clifton is one of the most central beaches in Cape Town. The beach here is actually split into 4, known as Clifton 1st, Clifton 2nd, Clifton 3rd and Clifton 4th. This stunning set of beaches is blessed with gorgeous white sand, the magnificent backdrop of Lion's Head and a beautiful crowd of sunkissed locals.
But beware, as beautiful as the water looks, it is freezing!
Clifton 4th is the best beaches for families, as the waves here are the most gentle.
This area is also one of the most expensive places to live in the country, and you'll see the homes behind the beach are rather incredible! Parking is typically quite tricky, so I'd recommend arriving early.
Distance from Cape Town city centre: 7km (10-15 minutes in a taxi) or a very pleasant walk from the V&A, to Green Point and past Sea Point (6.5km, approx 1h20).
Best hotels in Clifton:
Camps Bay
Wow, this beach is beautiful. Backed by the incredible 12 Apostles mountain range, together with Lions Head at one end, Camps Bay is easily one of the best beaches in South Africa for views. Camps Bay feels to me a little like St Kilda in Melbourne, or a cosmopolitan beach town more typically found in the Mediterranean than Africa. The entire Camps Bay suburb is one of the coolest places to spend time in Cape Town. Whether it's enjoying sundowner cocktails at one of the beach bars, tasting an exquisite meal or embracing an early morning run, it's hard not to like Camps Bay.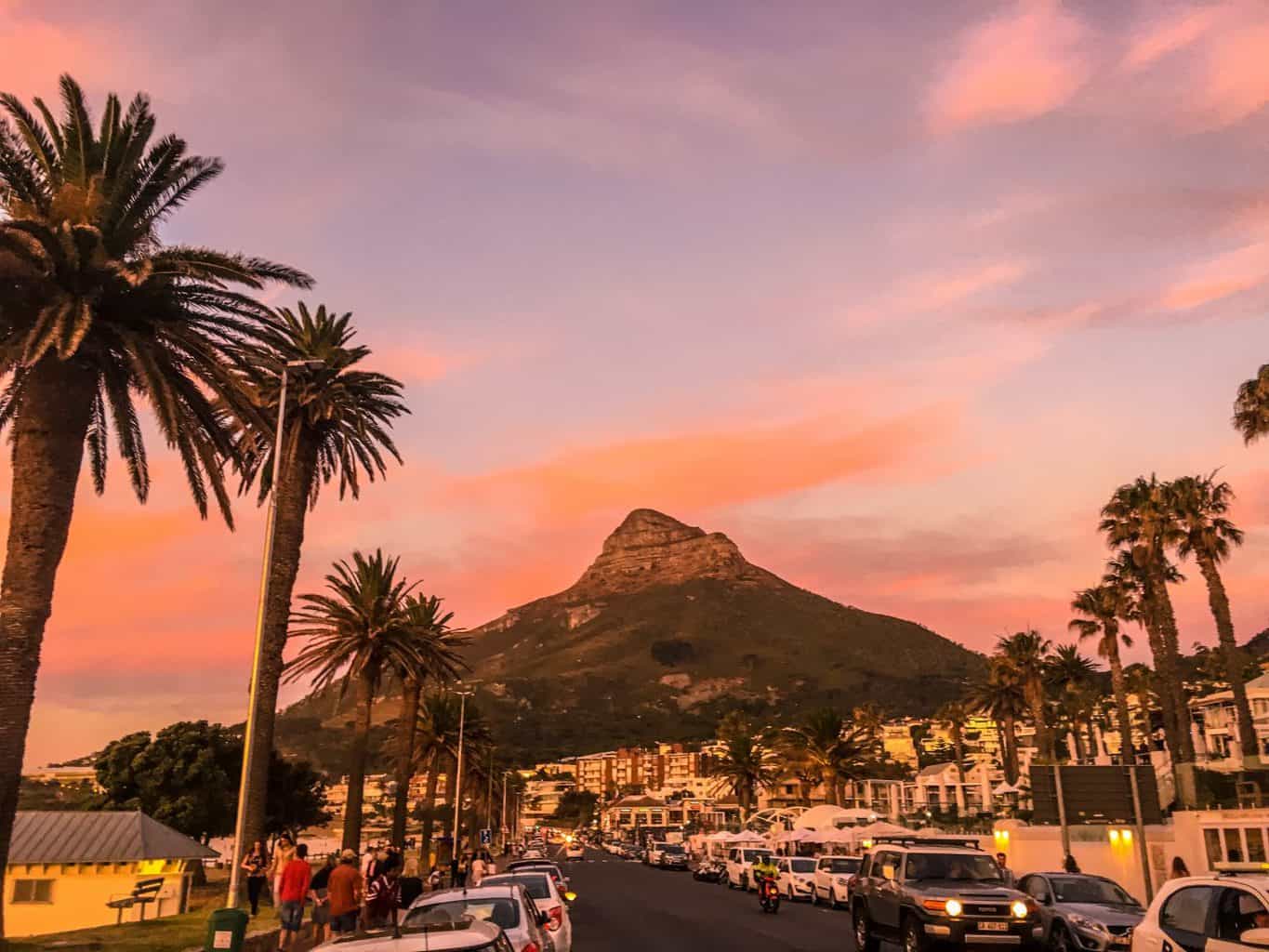 Camps Bay makes for a beautiful location to stay for a few days in Cape Town, or even a full week. You can find huge houses with private swimming pools to rent too, often for a fairly reasonable price. There are also several luxury hotels too.
Compare prices for Camps Bay hotels here
In the evening, crowds flock to the beach for sunset. Visitors often enjoy a sundowner at one of the beach bars or a picnic on one of the big boulders. There are even tidal pools which are sheltered from the sea, which makes for great and safer swimming for families.
Parking is reasonable in the residential streets behind.
Distance from Cape Town city centre: 10km (15 minute drive or taxi).
Best hotels in Camps Bay:
Llandudno
This stunning beach is another of South Africa's most affluent and fancy locations, with dozens of enormous opulent homes nestled on the hillside. Days at Llandudno can easily be spent on the wide and expansive sandy beach, with miles of sand for volleyball, rugby and frisbee throwing. It's also a dog friendly beach and you'll find plenty of locals with their pups on the beach.
Llandudno is known as one of the best places to surf in Cape Town, and it also sees some fantastic sunsets over the horizon.
Parking is a little trickier here, as there is no large car park. Instead cars have to find a space along the narrow residential streets.
Distance from Cape Town city centre: 28km (approx a 35 minute drive)
Best hotels near Llandudno:
Bloubergstrand
This was the first beach I visited in South Africa, and it blew me away. This long stretch of soft white sand is blessed with the most magical backdrop of Table Mountain, behind bright turquoise waters.
The beach feels untouched and un-touristy, but behind the main stretch are some condo blocks, family-friendly hotels, a mall, some small stores and cafes. It's also a popular spot for kitesurfing, which is always exciting to watch!
Parking is plentiful directly behind the beach.
Distance from Cape Town city centre: 18km (approx a 25 minute drive)
Best places to stay in Bloubergstrand:
Boulder's Beach
Boulder's Beach is the place in Cape Town to find the penguins. Located on the stunning Cape Peninsula drive, an epic day trip from Cape Town, Boulder's Beach is an unmissable stop. Not only are the beaches picture-perfect, and idyllic, but of course, you can get pretty close to the penguins! We even found the water here to be a little warmer than other beaches in Cape Town because of its sheltered location and the large boulders. There is an entry fee to enter Boulder's Beach as it is an official SANPark, but it's well worth it.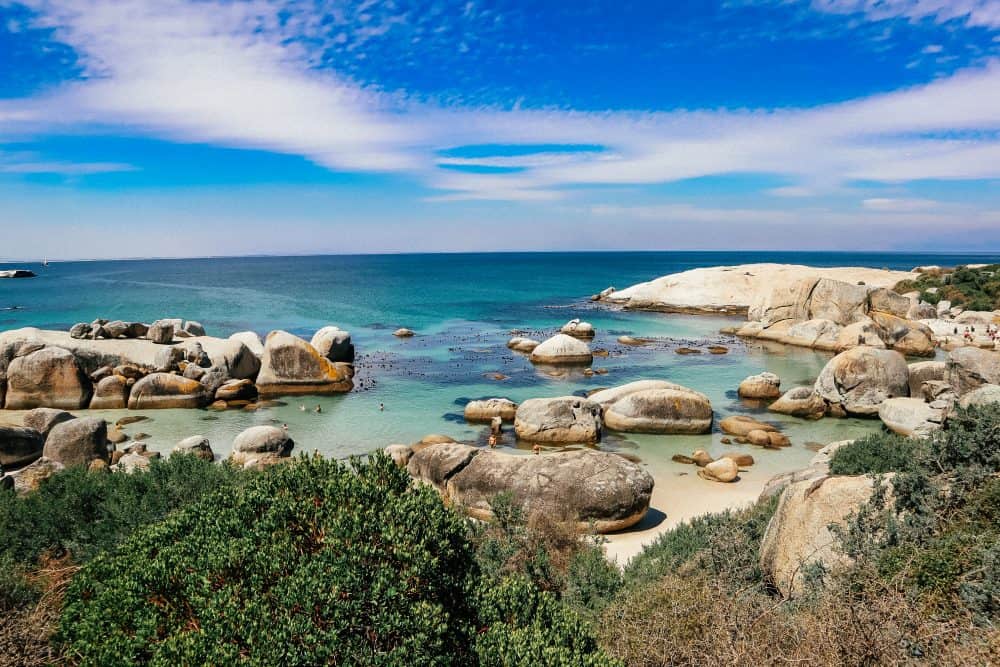 Make sure to check out my detailed guide to visiting Boulder's Beach here.
Parking is really easy, with designated car parks at the entrance.
Distance from Cape Town city centre: 46km (approx a 50 minute drive)
Hotels near Boulder's Beach:
Muizenberg
This is one of South Africa's most iconic beaches, and another must-visit beach in Cape Town. Gracing hundreds of Instagram accounts are its colourful beach huts that line the shore in Muizenburg. These are actually changing rooms that you can go use for free.
Muizenburg is known for excellent surfing, and incredible views across to False Bay where the quaint Simon's Town and Kalk Bay are located. Popular with surfers, especially on the weekend, it's also popular with local families who come to spend long days in the salty air.
Like most of the beaches away from Cape Town's CBD, parking is plentiful in a designated car park.
Distance from Cape Town city centre: 26km (approx a 25 minute drive)
There aren't many places to stay directly by Muizenberg beach, but one suggestion is nearby at St James Guesthouse.
Hout Bay
A beautiful and bustling beachside suburb, Hout Bay is a favourite for many locals and tourists.
Hout Bay has a busy, vibrant marina, as well as art galleries, restaurants and bars, and a big beautiful white sand beach. The surfing here is excellent but you'll always see plenty of locals walking their dogs too.
From Hout Bay, you can also take a boat trip out to Duiker Island, home to a Cape Fur seal colony. If you're feeling extra adventurous, you can even snorkel with the seals here. Book your seal snorkelling activity here.
Distance from Cape Town city centre: 20km (approx a 25 minute drive)
Places to stay near Hout Bay:
Strand
This wide, expansive beach never tends to make it on the lists for best beaches in South Africa. Located just outside of Cape Town, towards False Bay and the Somerset Mall, I really liked Strand beach. It had by far the warmest water of the beaches I visited in the Western Cape.
It's quite a busy beach, with a long seafront promenade directly behind. And although there is the backdrop of the Hottentots Holland mountain range in the distance, it isn't as scenic as other beaches, for example Bloubergstrand. However, with some great people-watching on offer and calm, shallow waters to cool down in, Strand is a great beach to spend the day.
Distance from Cape Town city centre: 47km (approx a 40 minute drive)
Hotels in Strand:
Kommetjie
This stunning wide bay is a beautiful beach and well worth driving to for a day trip. Although it is still a tiny village, Kommetjie is known for excellent surfing and a chilled out atmosphere. There are also plenty of beautiful, large homes here where many city-workers prefer to live and commute from.
With a 5km stretch of soft, white sand, Kommetjie beach is peaceful year-round. Frequented by surfers and families, who often sit near to the protected tidal pool, it's a beach definitely worth visiting.
Distance from Cape Town city centre: 41km (approx a 40 minute drive)
There aren't too many places to stay around here, but one of the best hotels on Kommetjie beach is The Last Word Long Beach.
Best Beaches in the Western Cape
Paternoster
Beautiful Paternoster was one of the first beaches I visited in South Africa, so I was spoilt from day one. Offering the brightest white sand and twinkly turquoise waters, Paternoster is the perfect day trip to take from Cape Town.
Visitors to Paternoster can spend long days soaking up the sun, before stopping by the epic Die Strandloper outdoor seafood restaurant. This is a rustic dining experience like no other and must be booked in advance. But even the drive to Paternoster can be exciting, with possible sightings of giraffe, ostrich and other game to be spotted in the farms and game reserves that run alongside the highway.
Distance from Cape Town city centre: 160km (approx a 1hr45 minute drive)
There are some seriously amazing places to stay in Paternoster, here are some of the best:
Kraalbaai, West Coast National Park
This beach is located within the West Coast National Park, and is actually an idyllic lagoon. There's a small entry fee to enter the park, but once you're in, you can enjoy not only the beach, but also hiking trails, mountain bike trails and kayaking. There are no waves as it's not the sea, so it's an ideal place to relax and unwind – plus the water here is warmer than the Atlantic Ocean!
The best place to stay near Kraalbaai is in Langebaan – here are some great accommodation suggestions for the area:
Best Beaches in the Eastern Cape
I was fortunate to spend a week exploring the beaches of the Eastern Cape, particularly those on the 'Wild Coast', a rugged stretch of coastline in a region called the Transkei. During apartheid, this area wasn't even considered South Africa, and as such, tourist development and mass crowds have still not made their mark on this region. As a result, visitors who do make the journey here are rewarded with stunning, desolate beaches, some stretching as far as the eye can see.
Closer to Port Elizabeth, the largest city in the Eastern Cape, is the world-famous Jeffrey's Bay known for its incredible surfing conditions, and the beautiful Sardinia Bay.
Sardinia Bay
This is one of my favourite beaches in South Africa. Located just a 15 minute drive or so from the heart of Port Elizabeth, this huge sandy beach is wonderful to spend the day at. Backed by huge sand dunes, you must first climb and descend the other side to access the beach. Then you're greeted by a long expanse of endless white sand, with the twinkly Indian Ocean just calling your name to jump in! Popular with dog walkers and rugby players training on the hills, there's a lot to take in. Facilities-wise, there aren't too many, so bring what you need for the day.
Beautiful places to stay nearby include country retreat, The Plantation and 302 on Old Sea View Road.
Jeffrey's Bay
Often called J-Bay, Jeffrey's Bay is one of the best places to surf in the world. Some of the top surfers on the planet come to Jeffrey's Bay to ride the iconic right-hand Supertube wave. Besides the excellent surf, there's another smaller beach called Dolphin Beach which is as good as family-friendly beaches get! It has a wide, open, soft white sand beach, beginner's waves and a small waterpark, together with good facilities and cafes nearby.
Distance from Port Elizabeth: 78km (approx a 55 min drive)
Some excellent places to stay in Jeffrey's Bay include Dio Dell Amore Guest House, On the Beach Guesthouse and The Mandyville Guesthouse.
Mdumbi
This beautiful, rugged beach is one of the most remote corners of the world. We arrived here having driven around 10 hours from Durban, although you could come from Port Elizabeth (550km/approx 7hr30 drive) or East London (300km/approx 4hr30 drive).
The nearest large town is Umtata (2hr drive), once home to Nelson Mandela. The roads from Umtata towards Mdumbi are paved in parts, but bumpy throughout. Children ran alongside our car to say hello and we had to patiently wait for cows to cross the street many times. The route passes hundreds of tiny villages with their colourful rondavels, all home to the Xhosa tribe. It's a million miles away from the European feel of Cape Town, and feels far more South African – because it is. What it lacks in infrastructure and tourist development, it makes up for in cultural exposure. Complete magic!
We stayed in a small locally-run lodge called Mdumbi Backpackers in a traditional rondavel, which is a circular hut. A great back to basics experience.
Coffee Bay
This beach is another rugged spot along the Wild Coast, with slightly better access roads than Mdumbi. The distance between the two is around an hour, but Coffee Bay receives more domestic tourists than Mdumbi, although still few international holidaymakers.
The main place to stay in Coffee Bay is the Ocean View Hotel, but there's plenty of camping and caravanning sites nearby. Personally, Coffee Bay wasn't my favourite beach, probably beause I was disappointed in the over-priced hotel and didn't find the town as interesting as I had hoped.
Especially as it is considered a backpacker town. One of the main attractions near Coffee Bay is the Hole-in-the-Wall – a unique cliff with a hole in the middle where the waves come smashing through.
Kei Mouth
If driving from Port Elizabeth or East London towards the Transkei, Kei Mouth is one of the first towns you'd come to. In fact, from East London, it's only around a one hour drive to Kei Mouth. Popular with South Africans during the festive break, it's a beautiful town to visit if you're looking for quiet rugged beaches, but some facilities and eateries too.
There are some beautiful places to stay, including the Kei Mouth Guest Lodge and Neptunes Cove.
Kenton-on-Sea
One of the most popular holiday home destinations in Eastern Cape, thousands of South Africans head here during the summer months. It's located roughly halfway between East London and Port Elizabeth, and is home to the Kariega River and the Bushmans River.
Days in Kenton can be spent enjoying one of the many white sand beaches, some of which can only be accessed by climbing over sand dunes and rocky cliff edges. One of my favourite beaches is Shelly Beach, which is more secluded, as well as Kariega Beach in the heart of Kenton, which joins up with the lagoon, creating a sheltered beach area with warm and shallow waters.
Aside from days spent soaking up the rays, other activities that can be enjoyed in Kenton include sandboarding, hiking, kitesurfing, beach horse riding and excursions on the river.
Kenton, as one of the larger beach towns in the area, has a huge number of places to stay. Some great value options include The House Quarters, Milkwood Manor and Sky Blue Guest House.
For some luxury hotel stays, make sure to check out The Oyster Box Beach House, The Boat Shed and The Oyster Shack.
Best Beaches on the Garden Route
The Garden Route South Africa is considered one of the most beautiful road trip in South Africa. The official route starts at Mossel Bay and ends at Storms River, but most visitors tend to drive a long stretch from Cape Town all the way to Port Elizabeth. No matter how long you spend driving the Garden Route, or which parts you visit, you're guaranteed to see some of the best beaches in South Africa.
Plettenberg Bay
This unbelievable beach is one of the most popular beaches in South Africa, with people from all over the country visiting here for their holidays. Many South Africans also have holiday homes here and come every single year without fail. The main beach is beautiful with huge groups staking their spot for days on end to enjoy the warm waters and many activities on offer.
Adjacent to Plettenberg Bay is the incredible Robberg Nature Reserve, easily one of the most beautiful places I've been in South Africa. The beaches within Robberg are stunning and most often, totally empty. Robberg is popular with hikers, and with several different length routes, it's suitable for most levels of fitness. It's also a great location for spotting whales and other marine life!
Distance from Cape Town: 520km (approx a 6 hour drive)
Distance from Port Elizabeth: 231km (approx a 2h30min drive)
There are some seriously amazing places to stay in Plettenberg, so I've grouped them below under luxury, and mid-range:
Luxury hotels in Plettenberg Bay:
Affordable hotels in Plettenberg Bay:
Buffels Bay
The stretch of coastline around here is beautiful, and it's hard to pick out a best beach but I've decided to include Buffels Bay. This stunning beach is home to a host of great cafes and stores, but is much less busy than Plettenberg. It's also a wonderful stop on a Garden Route road trip, as it's just outside of Knysna – a town you'd definitely include on any road trip itinerary. However, Knysna isn't home to many beaches, so Buffels Bay is a wonderful nearby beach to visit.
There are few hotels directly in Buffels Bay, but you can stay in nearby Brenton-on-Sea. Some great places to stay near here include Alkira Lodge, Brenton on the Rocks and Villa Castollini.
Best Beaches in Durban and KwaZulu-Natal
This side of South Africa offers year-round sunshine and warmth, with a beachy lifestyle on offer whenever you go. The climate in Durban is sub-tropical, so it's often quite humid with lush green trees everywhere. Heavy rains are quite common here, so it feels quite different to the Western and Eastern Cape which are rather dry in comparison.
Durban – North Beach and South Beach
These two beaches are located in Durban city centre, and together are known as the Golden Mile. The sand is golden and the water is super warm. They're very popular with families as there are several attractions behind the beaches' boardwalk such as a skate park, swimming pools and restaurants. South Beach tends to be slightly quieter and is also home to uShaka Marine World. Buy your tickets to uShaka Marine World here.
Ballito and Umhlanga Rocks
Ballito and Umhlanga Rocks are both further north from Durban and are popular holiday towns with South Africans. There are plenty of places to stay in both beach areas, and getting between the two is pretty quick. Umhlanga Rocks (pronounced Um-shlunga) is home to higher end shops and restaurants, together with fancier accommodation. Ballito is positioned along a stretch of coastline called the Dolphin Coast which is host to a wide array of outdoor activities and some wonderful parks to explore, such as Sugar Rush Park.
It's well known that Durban and surrounds sometimes experiences a shark attack or two, but at Umhlanga, there are offshore shark nets keeping swimmers safe.
Best Beaches in the Northern Cape
Although the Northern Cape is huge size-wise, it doesn't actually have that many beaches. It is isolated from the rest of the country with no major airport, but it certainly offers an intrepid traveller a desolate kind of paradise! Some of the beaches even stretch up to the Namibian border, and share similar characteristics as Namibia's famous Skeleton coast, which is expansive sand dunes stretching to the crashing waves.
As I haven't visited the Northern Cape, I can't share which beaches are the best from personal experience, but from my research, the following look appealing:
Alexander Bay. This beach town is by the entrance to the Orange River, a haven for adventure lovers and explorers. It was once a booming mining town, but today is quiet, isolated and rugged beach.
Kleinzee Beach. This pristine beach is located at the mouth of the Buffels River, in a remote spot, far from any larger towns.
Port Nolloth Beach. A lesser known holiday town, many South Africans living in-land tend to have holiday homes here. Another beautiful beach, with rock pools to explore.
Best Beaches in South Africa
So there you have it! My complete guide to the most beautiful beaches in South Africa, including a handful of suggestions of places to stay in each beach destination. I hope this is useful but feel free to drop me a line if you would like any further information.
If you're planning on spending a bit of time exploring South Africa, then you might find some of my other guides useful. I've got a detailed post on planning a Garden Route road trip itinerary and a guide to going on safari in Kruger National Park too. Make sure to check out all my Cape Town guides too, including an overview of all the best day trips to take from Cape Town.
Wanna see more? Check my Instagram here, my Facebook here or my Twitter here!
Disclaimer: This visit to South Africa was entirely paid for by myself. There was no involvement from the tourism board or a hotel. This is an independent guide.
Enjoyed my guide to the best beaches in South Africa? Pin it!