Marrakech is a wonderful destination to visit if you're looking for an enticing and eclectic place to visit. The city is packed with cultural attractions, interesting food and a has a truly invigorating atmosphere. Marrakech is a brilliant city to visit, either as a city break, within a wider two week itinerary or as a winter sun holiday.
We recently spent three days in Marrakech at the half way point of our two week adventure in Morocco. We'd started in Rabat, taken the train to Fes for a few nights, before heading onto Chefchaouen, where we went hiking in the Rif Mountains. After this, and before arriving in Marrakech, we explored the Sahara Desert in a 4×4.
By this point, we didn't know what to expect with Marrakech. None of the cities had matched our preconceptions of Morocco so far. Some of the preconceived expectations included hassle from men and shop owners, the feeling we might be pick-pocketed, finding ourselves in dodgy alleyways in the medina or darting around crazy traffic on the roads.
But Marrakech was all these things. The city was exactly as everyone described it. Hot and dusty, with lots of hassling. There were snake charmers in the main square, Jemaa el Fna. Oh, and tourists everywhere.
However, we loved it. Maybe because it did match our expectations of Morocco? I don't know. Maybe because there was greater appreciation in finding an extra sweet shop owner, or navigating the medina alleys without getting lost for the first time. It could have even been the greater satisfaction in finding solitude in such a busy city?
Whatever it was, I'm not sure. Out of everywhere in Morocco we visited, Marrakech is the main place I could return to.
Two or three days in Marrakech is the perfect amount of time to explore this city, which is an absolute must-visit on any Morocco itinerary.
If you have plans to visit the Atlas Mountains or anywhere else outside of Marrakech, you'd definitely need to add days on but otherwise, three days to explore Marrakech is ideal!
The Best Things to do in Marrakech
Spend the morning at the Jardin Marjorelle
Beat the crowds and head to Le Jardin Marjorelle early. This exquisite garden is like nowhere else, and together with the newly opened Musee Yves Saint Laurent, it's the perfect respite from the medina. Read my guide to visiting the Jardin Majorelle here, including information on the best photo spots.
These gardens are also known as the Majorelle Garden or the Yves Saint Laurent (YSL) garden
Visit the Medersa Ben Youssef
Another example of incredible architecture in Marrakech, Medersa Ben Youssef is an Islamic place of education founded in the 14th Century. As with many of Morocco's mosques and medersas, it has been beautifully maintained and cannot be missed on any trip to Marrakech. You can easily spend an hour or two exploring the building, with its upper and lower terraces and central fountain.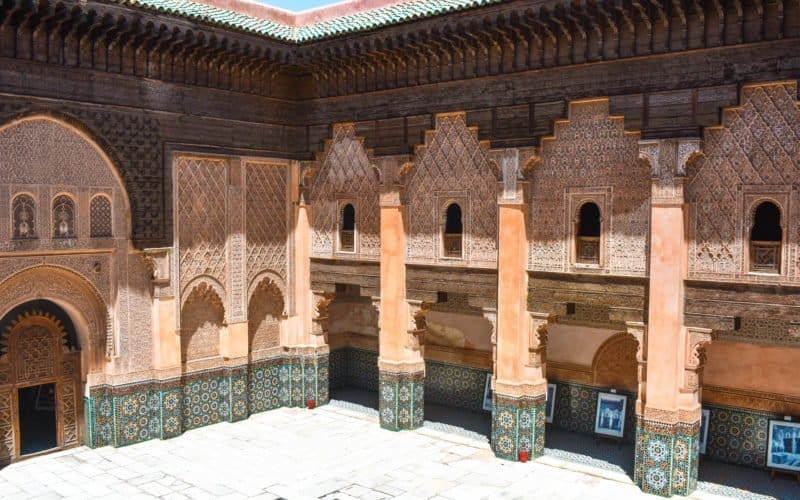 Explore the Medina
Marrakech's medina is a beast. You are absolutely certain to get completely lost, but that's half the fun. The medina is huge but after a few days, you'll have the route back to your hotel nailed (maybe..).
Top tip: Download your route on Google Maps before you leave, and you'll be able to use the app without Wifi as you walk around!
Hours can be spent wandering the tiny laneways of the medina. Take the time to speak to the shop owners, hear their stories, purchase their beautiful wares, such as jewellery, lamps, clothing, spices and sweet treats.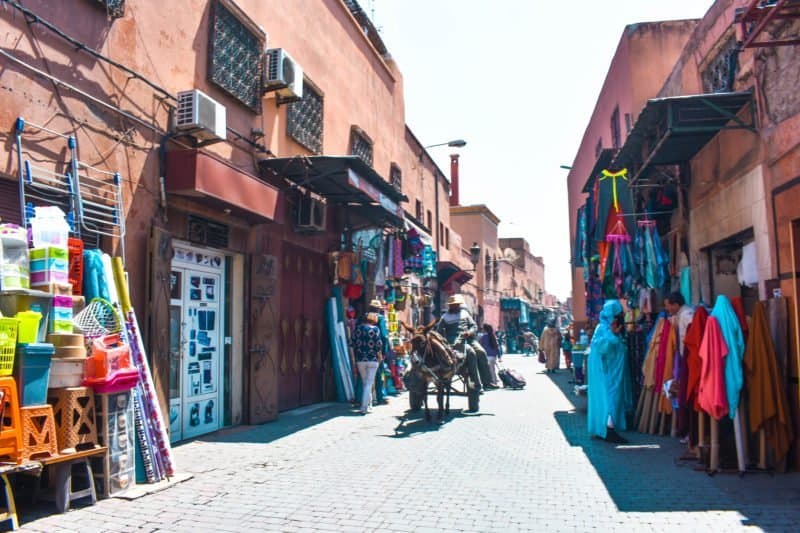 Drop by Jemaa el-Fna Square
It's the beating heart of Marrakech. The Jemaa el-Fna Square was certainly not my favourite area of Marrakech, but you've kinda gotta see it on a visit to the city. You can also see the Koutoubia Mosque which is one of the Marrakech's must-visit attractions.
The square is home to snake charmers, working donkeys, scammers, musicians, artists – and anyone who can make a quick buck of a tourist. Enjoy it, but stay vigilant and be wary!
Visit La Mamounia
For the ultimate opulent experience, visiting La Mamounia as a day visitor is one of the best things to do in Morocco. I've written a full guide on how to visit the spectacular La Mamounia hotel and spa as a day visitor here. If it's in your budget, then go one better and stay – it is without a doubt one of the best luxury hotels in Marrakech, and even Morocco.
For the ultimate ultra-luxury Moroccan experience, La Mamounia is one of a kind. Even with just three days in Marrakech, we recommend staying or visiting here.
Stop by the Places des Epices
Places des Epices is another lively and atmosphere square tucked into the medina, although it is a lot calmer and more pleasant than Jemaa el Fna. This area is perfect to pick up spices and other local crafts, it's also home to the hedonistic hotspot that is NOMAD. This is one of the best restaurants in Marrakech – I've written a full guide on where to eat in Marrakech here.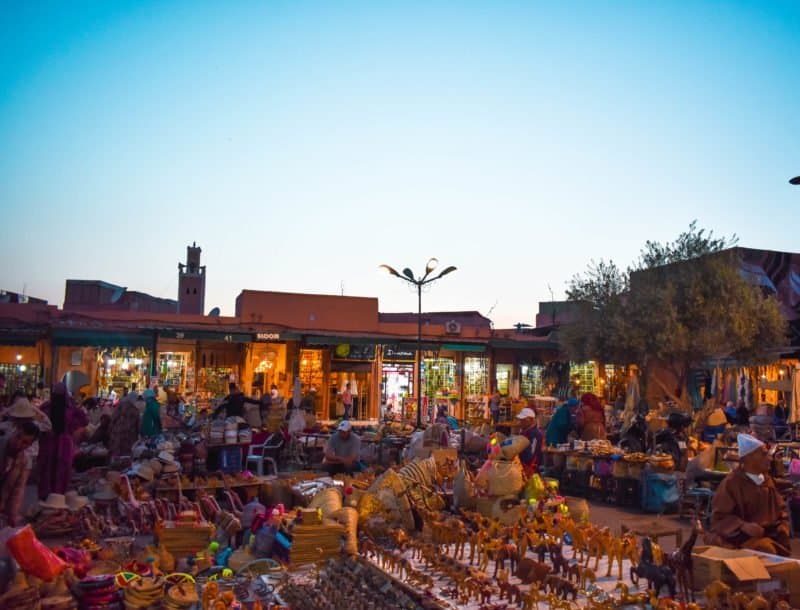 Enjoy a hammam or pool time
Spending two or three days in Marrakech can be surprisingly tiring. The frenetic pace and noise of the city can wear down even the hardiest of travellers.
Much of the traditional types of accommodation in Marrakech are in the form of riads – something I'd highly recommend staying in for an authentic experience. Many riads in Marrakech have pools, either on the ground level or on the rooftop. Spending time cooling off and relaxing here is a not a bad idea in the city like Marrakech.
Another of the best things to do in Marrakech is to experience a traditional hammam. With designated women and men's sides, a hammam is a social activity and you will definitely have interesting local women stare at you. Aside from this, you take a good scrub down and have a bath in the public bathing areas – it's a highly relaxing experience.
Where to Stay
Marrakech has a huge wealth of accommodation across the city. From traditional riads to modern hotels, you will definitely find something to match your budget. Here's my pick of the best budget, mid-range and luxury hotels in Marrakech to choose from.
Budget riads:
Mid-range riads:
Luxury riads:
We stayed between two beautiful Riads, both located right by each other at the edge of the medina. The first, Riad Attika was small but perfect for a 2 night stay, then for our final night we updated to the swish Angsana Riads where we stayed in an amazing Heritage Suite Room.
We ate in some brilliant places across the city, but I've put a guide together of our absolute favourites here.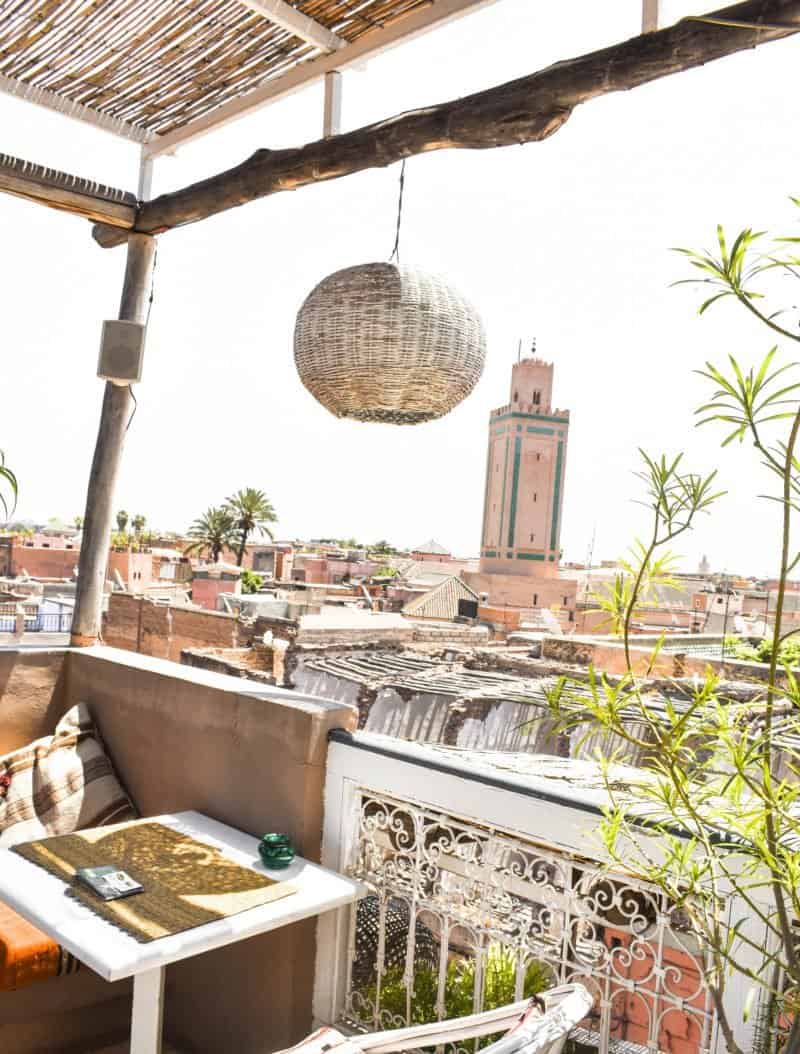 I hope this post has been useful for anyone visiting Morocco and planning on spending 3 days in Marrakech! From here, we travelled onwards to Essaouira, a lovely coastal town – read my guide here.
Feel free to ask any further questions in the comments section below! 🙂
If you've enjoyed this post, feel free to share using the below links ?
Wanna see more? Check my Instagram here, my Facebook here or my Twitter here!