Hiking the Rif Mountains in Morocco was an activity that came highly recommended to us.
I always enjoy hiking and doing adventure activities during my travels, so exploring the surrounding area near Chefchaouen seemed a good idea. Exploring the Rif Mountains is very popular with hikers and backpackers, and having suitably explored the colourful town of Chefchaouen, we decided to head to the mountains for more exploring. We had a good day, but it wasn't without its hiccups which is why I thought it would be a good idea to put together this blog post on hiking the Rif Mountains. Had we known some of the below information, we might have had an even better day! So read on and get planning your own trip to the Rif Mountains!
Hiking the Rif Mountains: Essential Things to Know
How to get to the Rif Mountains
It's mostly likely that you'd get to the Rif Mountains from Chefchaouen. However, to get to Chefchaouen, it's worth noting that there are no nearby airports, so you'd most likely arrive by road from Fes or from Tangier. For further information on getting to Chefchaouen, please see my detailed guide.
We religiously followed the instructions in our Rough Guide book on how to get to the village of Akchour in the Rif Mountains, as we'd heard this was the start of a great hiking route.
We asked around for information on how to take the taxi to Akchour from Chefchaouen, but the local people seemed reluctant to advise and we got pretty confused. We initially waited for a grandtaxi (a shared taxi) but after 40 minutes of waiting for other guests to join us, we decided – in the interest of time – to jump in a private taxi.
This cost us 150 dirham one way, but would have been 25 dirham had we managed to get in a grand taxi.
The drive however from the town centre of Chefchaouen to Akchour took around 40 minutes. The route wound its way along very steep, bendy roads with some amazing dramatic scenery.
Where to stay nearby
As mentioned, the nearest major town is Chefchaouen, which would be the best place to stay nearby for a trip to the Rif Mountains.
We stayed at Dar ElRio, which I'd highly recommend. You can check rates here or see a wider selection of hotels in Chefchaouen on Booking.com here.
What to take for a hike
For a day hike, it's essential to bring several layers of clothing and wet weather gear. The weather changed drastically as we gained altitude. Even though it had been blue skies and sunny in Chefchaouen, it was far colder and windy in the Rif Mountains. There was even lashing rain at times! During one day of hiking in the Rif Mountains, it felt like we went through every weather system possible and at some moments, we were really, really cold and wet from the rain.
I wouldn't bring any food or water as there are so many small stands along the way selling snacks and drinks.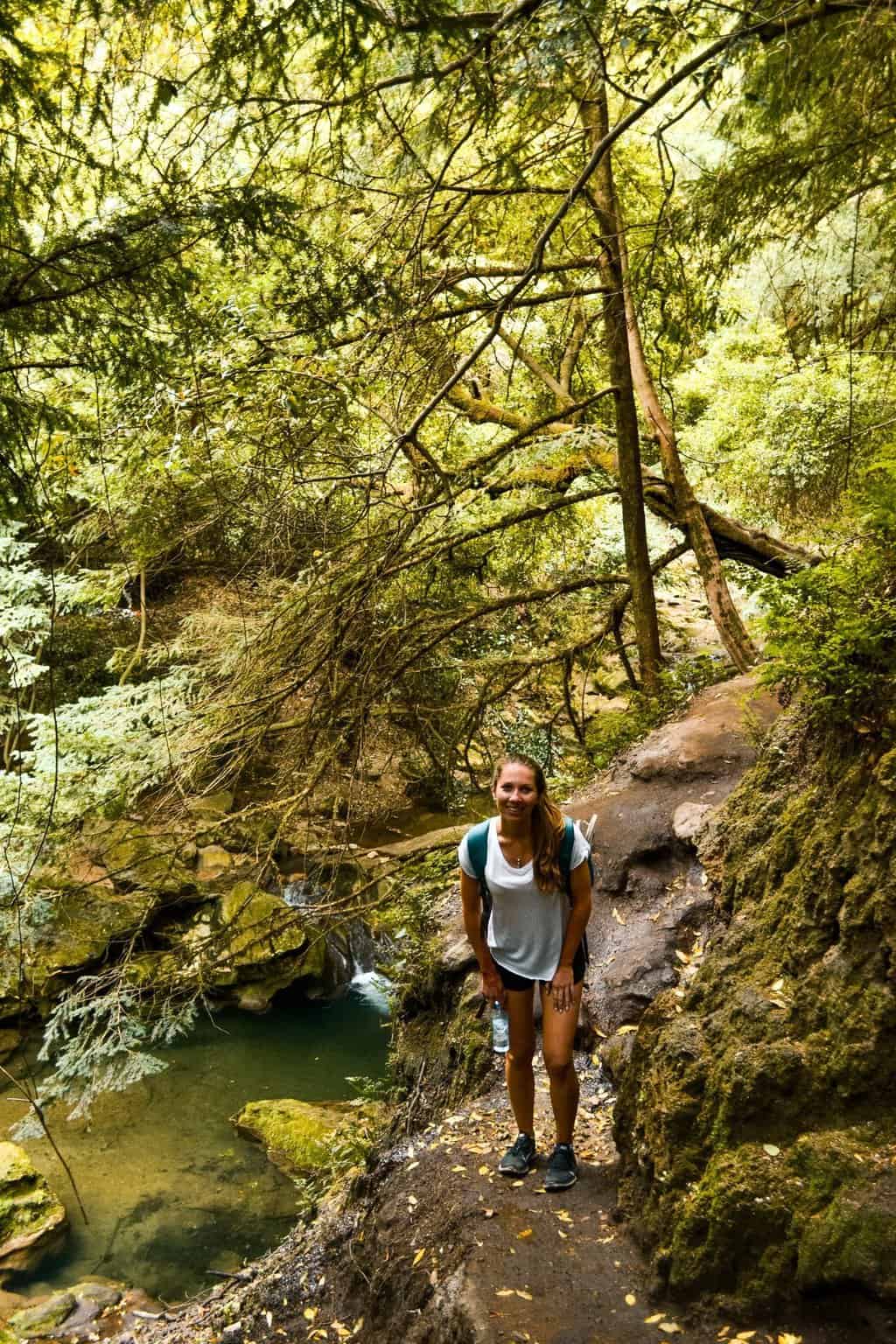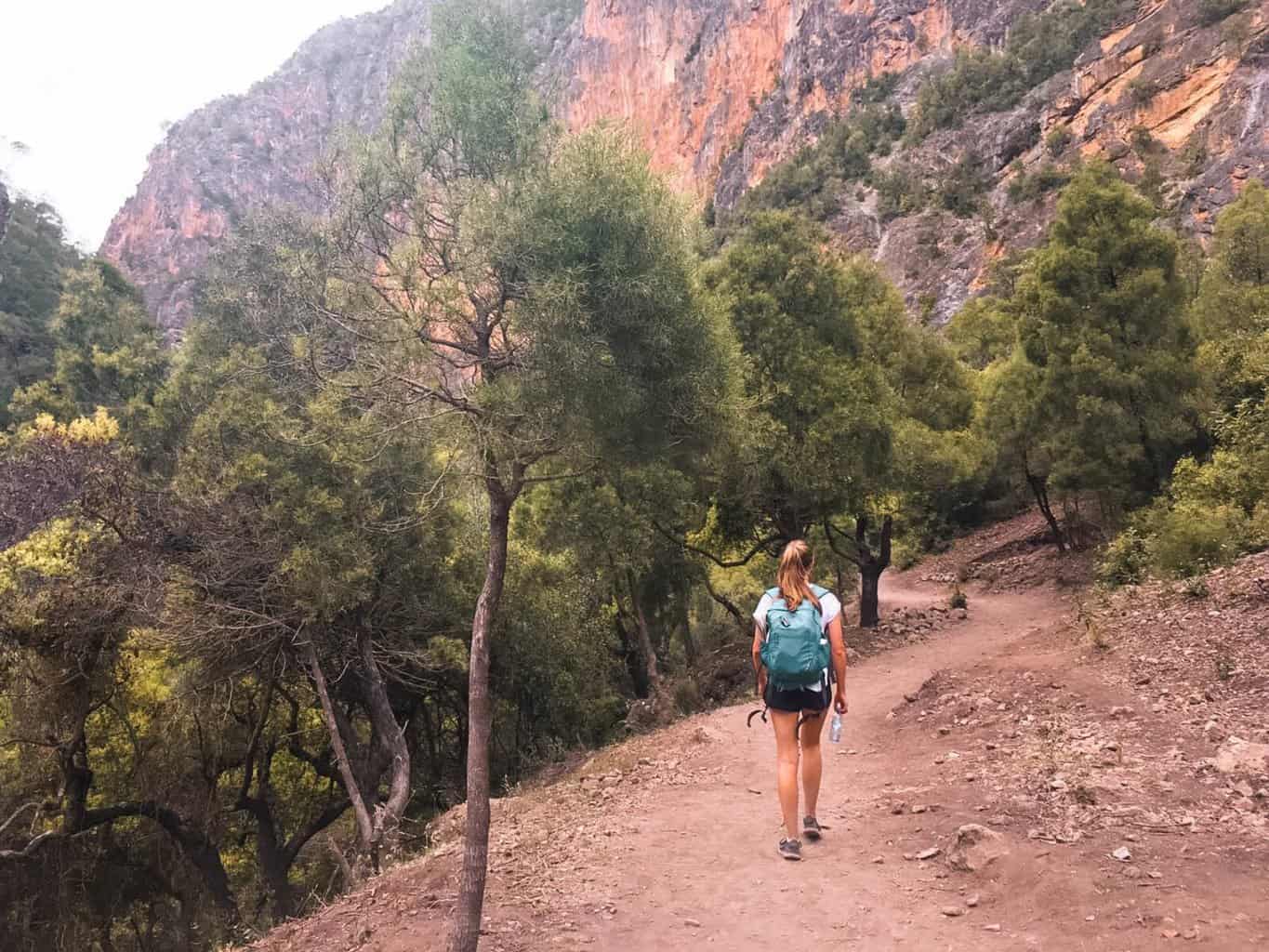 Deciding on a route
We decided to start at the village of Akchour as we'd heard there was a wonderful hike starting from here to some stunning waterfalls, and then another route to 'God's Bridge'. This is the main starting point indeed, but it will feel a bit odd. There's basically nothing there and little signage. There is also no phone signal.
This lack of signage or maps did make it very hard to know where to go. We even walked in the wrong direction for an hour. There were so few locals around to ask for directions, it was a bit frustrating. It was only upon meeting a handful of other hikers turning back that we learned we were also heading the wrong way.
To get to the cascading waterfalls, you must walk from the small village of Akchour to the river area (this first part is obvious, promise!)
Then, make sure to take the left split at the small bridge. Keep the river to your right and pass behind a series of cafes and a hotel to your right again.
From this point, it takes about 1.5 hours from there to the waterfall, where you'll find numerous tiny cafes and stalls to buy water, snacks or meals from.
The waterfall itself was slightly underwhelming. You can't swim in it and interestingly, the vantage point is about half way up the waterfall on a platform that juts out.
If I am completely honest, we found the actual hike a little dull. There were few animals, birds or insects to spot and a disappointing amount of graffiti on the rocks and wall faces.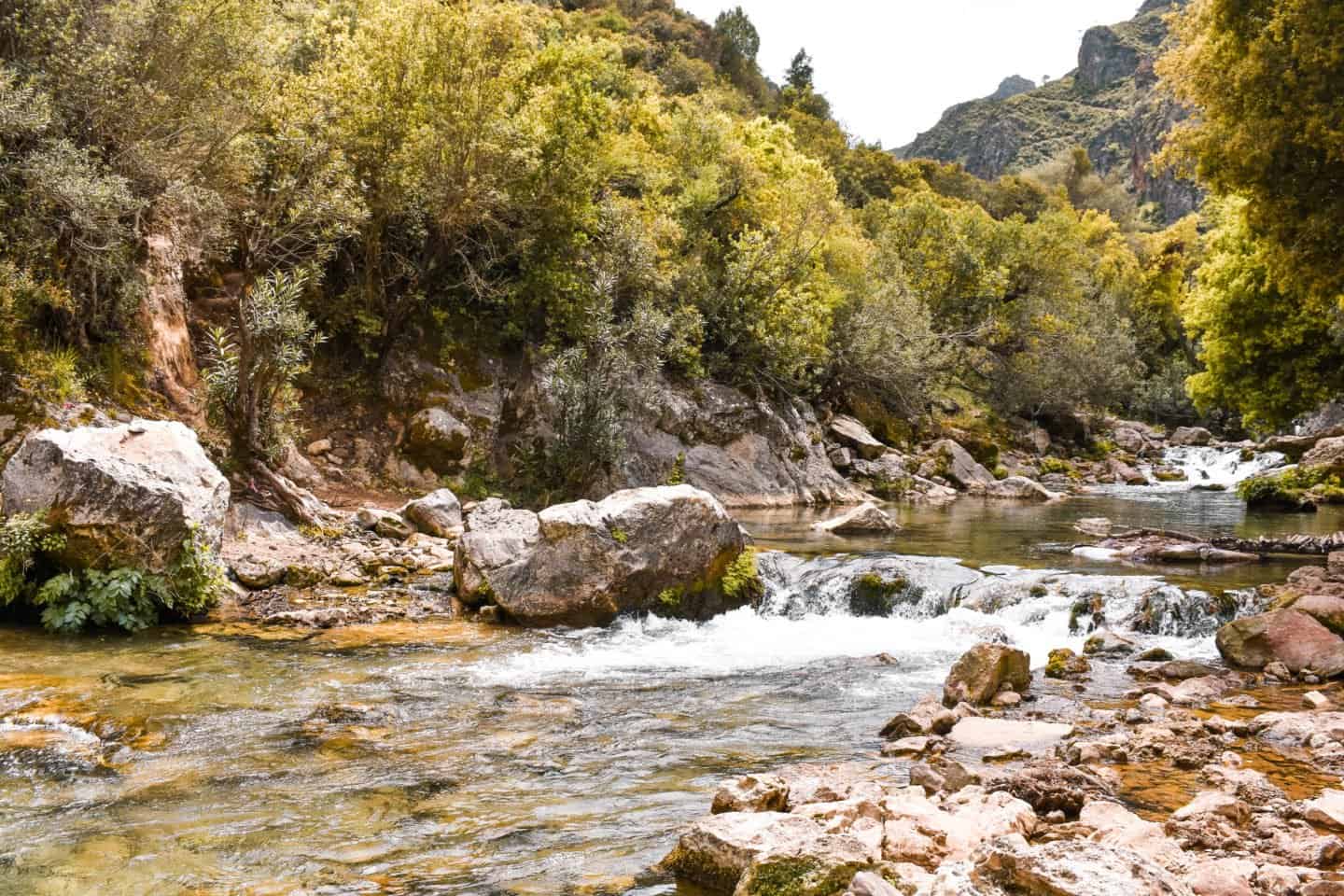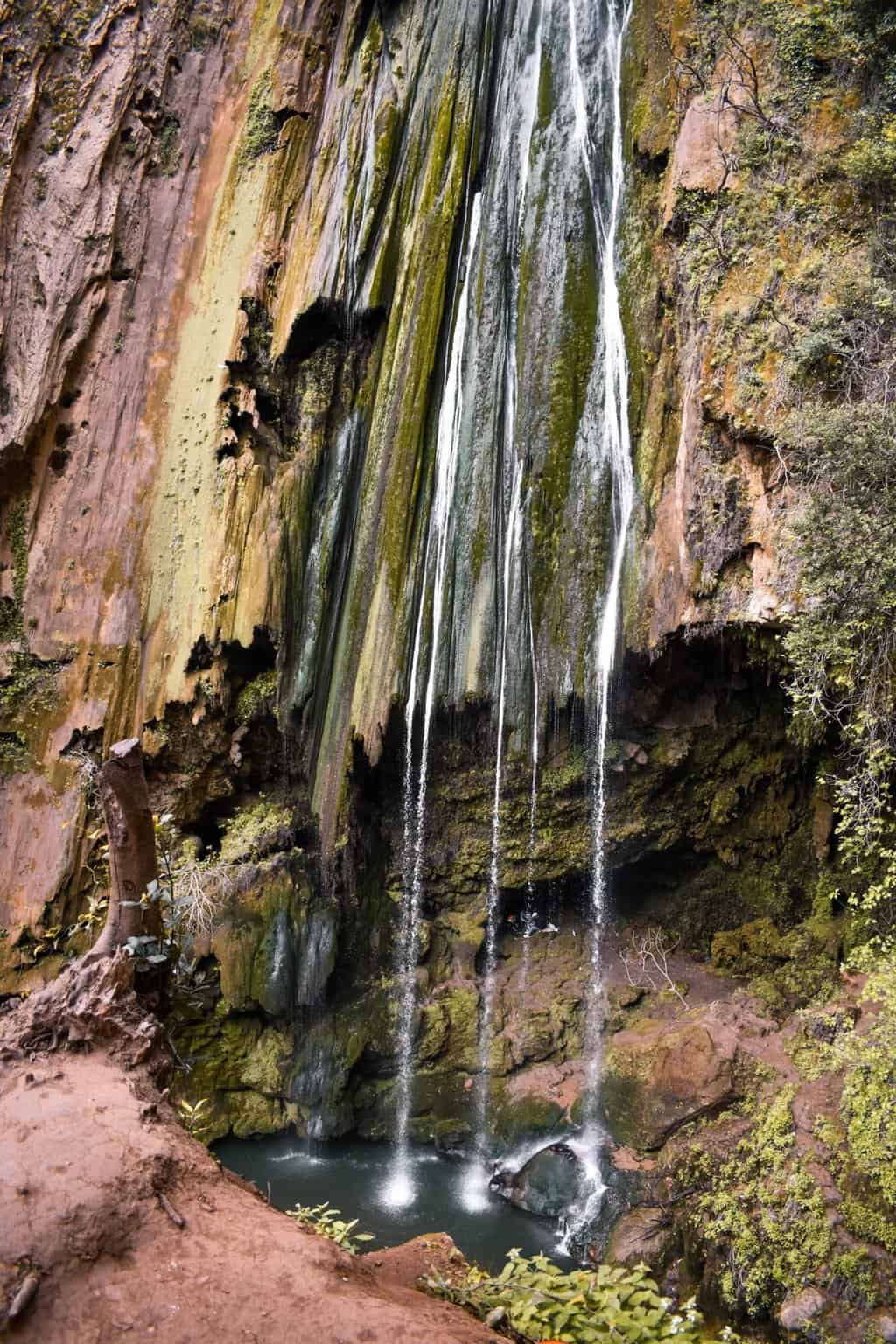 Is it safe to go hiking alone in the Rif Mountains
We were two 25 year old girls hiking alone in the Rif Mountains. For the most part, we did feel safe but as there were so few people around, we did wonder if anything were to happen, how long would it take to be found.
The route was pretty deserted with most cafes and food stops empty. We were there in mid-April, so we were very confused. If I were to go again, either alone or with another female, I'd prefer to go with a guide.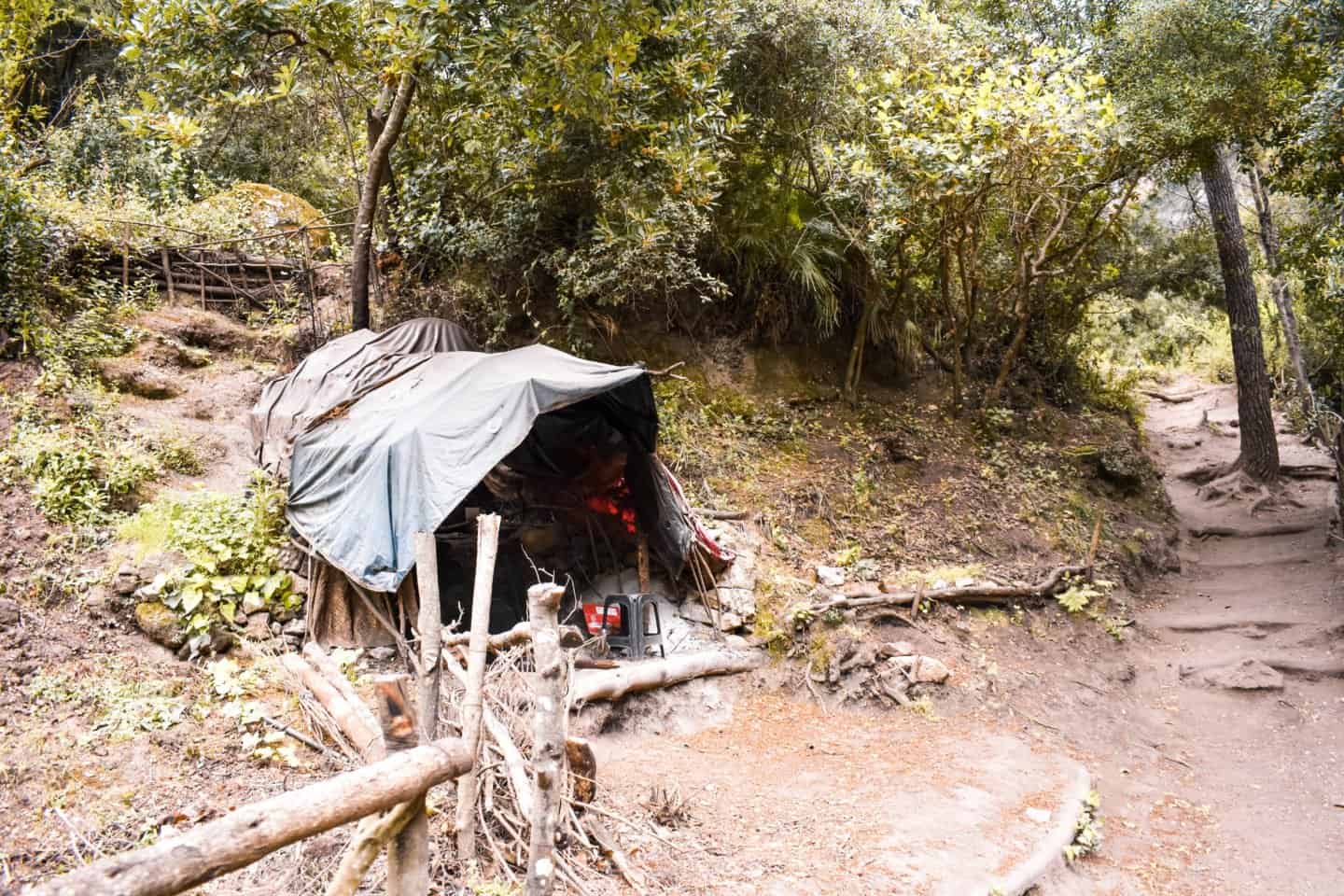 Going with a tour guide
If I were to go hiking in the Rif Mountains Morocco again as a day trip, I would consider a guide. Without any signage, phone signal, information or even anyone to ask, you really can get totally lost here.
Have you been hiking in the Rif Mountains before? How did you find it? Let me know in the comments below!
If you are planning a longer trip around Morocco of a week or two, you might find some of my other blog posts useful. I've written detailed guides to Rabat, Chefchaouen, Fes, spending 3 days in Marrakech, Essaouira, exploring the Sahara desert and enjoying a beach break in Taghazout and Paradise Valley. I've also written some more specific blog posts on visiting La Mamounia in Marrakech as a day visitor, visiting Le Jardin Majorelle and a guide to some of the best places to eat in Marrakech.

I do hope my post on hiking in the Rif Mountains in Morocco has been useful. Feel free to ask any further questions and I'd love if you shared on any of the below links!
Wanna see more? Check my Instagram here, my Facebook here or my Twitter here!

Disclaimer: This visit to the Rif Mountains in Morocco was entirely paid for by myself and there was no involvement from the tourism board or a hotel. This is an independent guide
Enjoyed my guide to hiking the Rif Mountains in Morocco? Pin it!