Visiting the Sahara Desert was top of the list for our 3 week Morocco trip.
We knew we wanted to go, but we didn't really know how to get to the Sahara Desert or how best to plan our time there. It took quite a bit of research and planning to work it out, but in the end, we decided to visit the Sahara Desert on a 3 day organised tour. We chose a local company Sahara Desert Trips and decided to go in a jeep with a private driver. We wanted to depart from Fes to drive down to the Sahara Desert before finishing the tour in Marrakech. This meant the 3 day Sahara Desert trip would also serve as a means of transports between the two cities within our Morocco itinerary.
We loved our 3 days in the Sahara Desert and would highly recommend paying for the convenience, ease and knowledge of a multi-day tour. In this blog post, I cover everything from choosing a company for a Sahara Desert tour, as well as a guide to each of the places to visit. Read on and get planning your own adventure to the Sahara Desert in Morocco!
Visiting the Sahara Desert in Morocco – Essential Things to Know
When is the best time to go to the Sahara Desert?
This might seem obvious, but it wouldn't be a great idea to go in the summer months of June, July and August. Temperatures can exceed 50 Celsius and it would make the trip a lot harder than necessary.
Additionally, it would be too cold to go in the winter months so I would recommend going March-April, or October-November when the day temperatures are lovely and hot, and the night time temperatures are not too cold.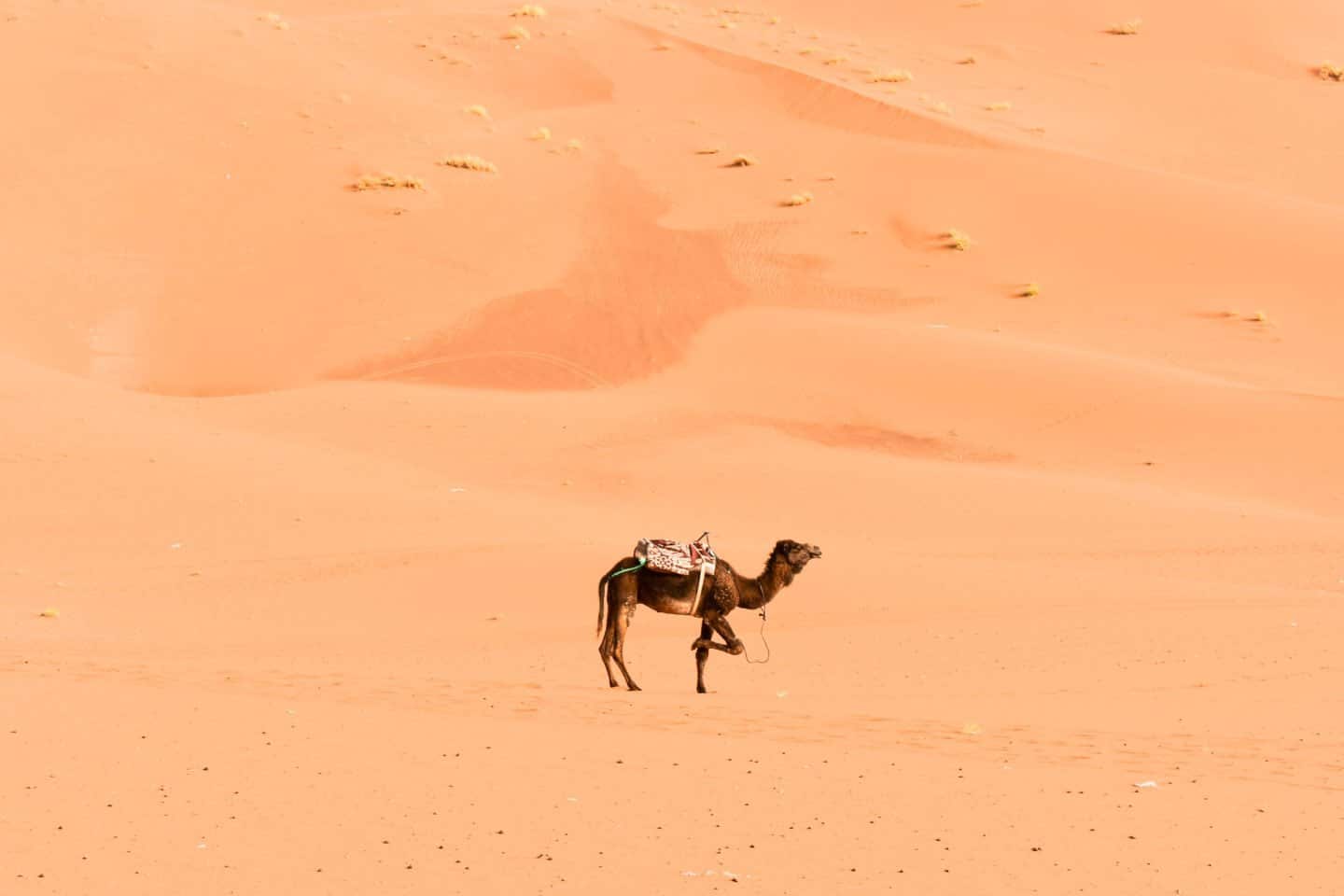 How to choose a tour company to go to the Sahara Desert
There are hundreds of local tour companies, as well as larger companies such as GetYourGuide offering tours. Deciding who to go with will come down to a number of factors. Price will be one, as well as departure/finish points and of course, whether you would like to visit the Sahara Desert on a private tour or with several other guests.
Our 3 day, 2 night tour with Sahara Desert Trips was very well organised and was tailored to our itinerary. We paid EUR250 which included almost everything, except gratuity and lunches. The jeep was very comfortable, with charging points, great air con and ample room to stretch out.
Our guide was friendly although he liked being on his phone a lot(!) His driving was safe though and he didn't take us to too many local trade stores, which is an added benefit of being on a private tour.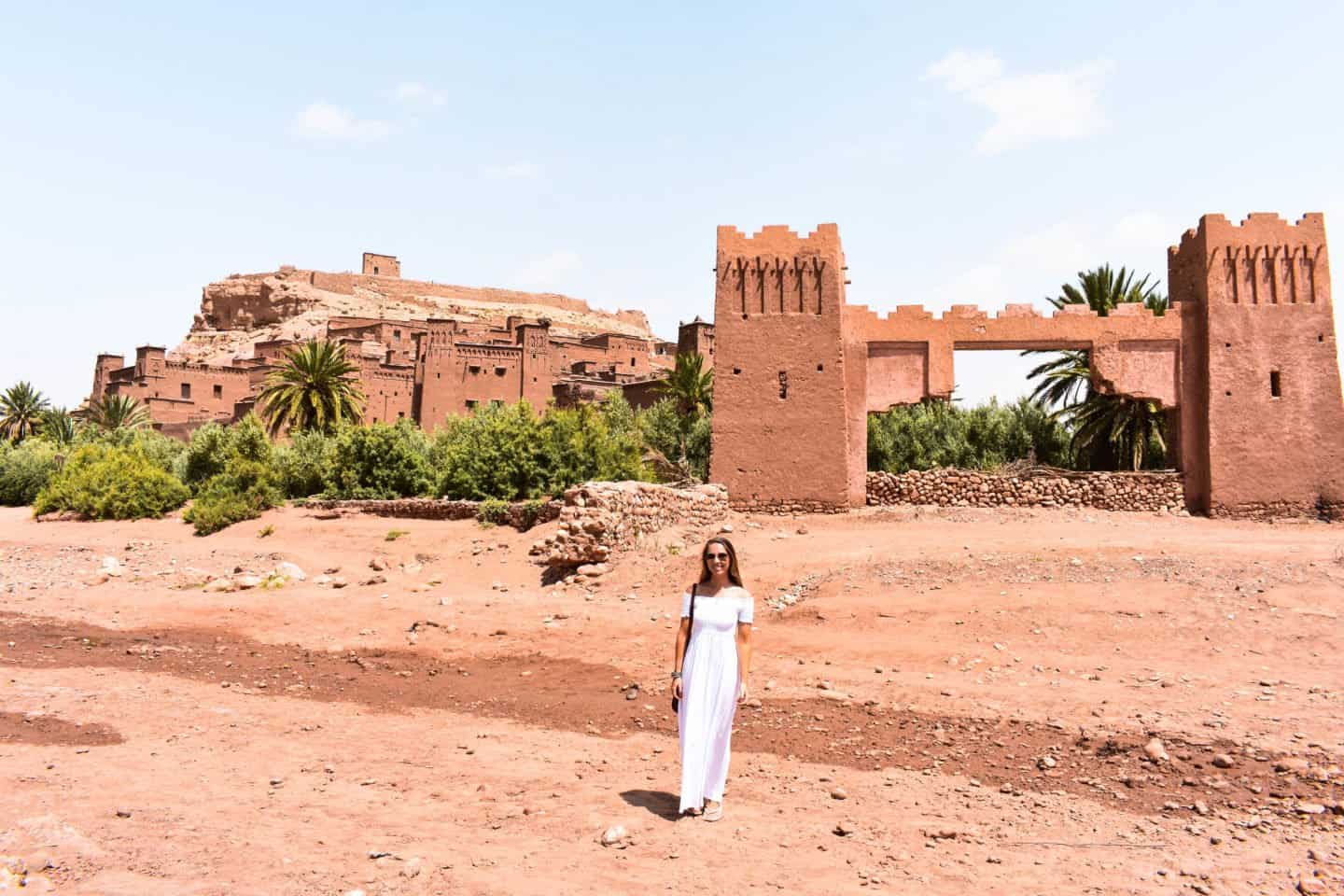 What to take on a tour
Things like bedding and towels are likely to be included in the accommodation (but definitely check beforehand).
I found that, despite being in a air conditioned jeep, I felt perpetually filthy from every time we stepped out of the car. The air is extremely dusty and hot, and I felt in great need of a shower. Bringing face wipes is a must!
For the camel rides in the Sahara Desert, I recommend bringing some loose clothing and cover-ups, as it can get a bit cold. Also, sunglasses and a scarf to protect against the sand is essential too.
A 3 Day Tour Itinerary – Fes to Marrakech
This is the three day itinerary we opted for, which departed Fes and headed south to the Sahara Desert before heading north again and finishing in Marrakech. This is just one such itinerary, but the sights included are considered the must see attractions in the Sahara Desert and therefore, are likely to be included in most itinerary versions.
Day 1
Ifrane
We were picked up from Fes at 8am and drove for around 1.5 hours to Ifrane, located in the Middle-Atlas mountains. Having heard it was like a Swiss ski resort, I was super excited and couldn't really wait to see the town with my own eyes.
Ifrane is a beautiful ski resort during the winter months, so visiting in April meant there wasn't any snow. It is very popular resort town for Moroccans and I really couldn't believe how European the architectural style was. Ifrane town centre was very clean, organised and well-maintained.
Azrou
Next stop was the famed cedar forest in Azrou to meet the very friendly population of Barbary macaques monkeys. We bought some nuts to feed them and were relieved to find they were quite polite, as monkeys go. None of the monkeys were grabbing or biting like in places such as Gibraltar or Bali!
Tizi N'Talghamt
After Azrou, we continued on to Midelt. Here, the landscape really started to change and become far more arid. It also started to feel really remote.
Here, we stopped for a light lunch before crossing the pass of Tizi N'Talghamt.
Ziz Valley
As we drove further south, the landscape really changed. We stopped at the viewpoint of Ziz Valley and its beauty blew me away.
In the fertile riverbed where water once flowed, are now thousands of date and palm trees creating a very cool visual effect. Old ksour (ancient villages) are dotted along the way. I found this challenged my pre-conceptions of the Sahara Desert – it is so much more than just sand dunes!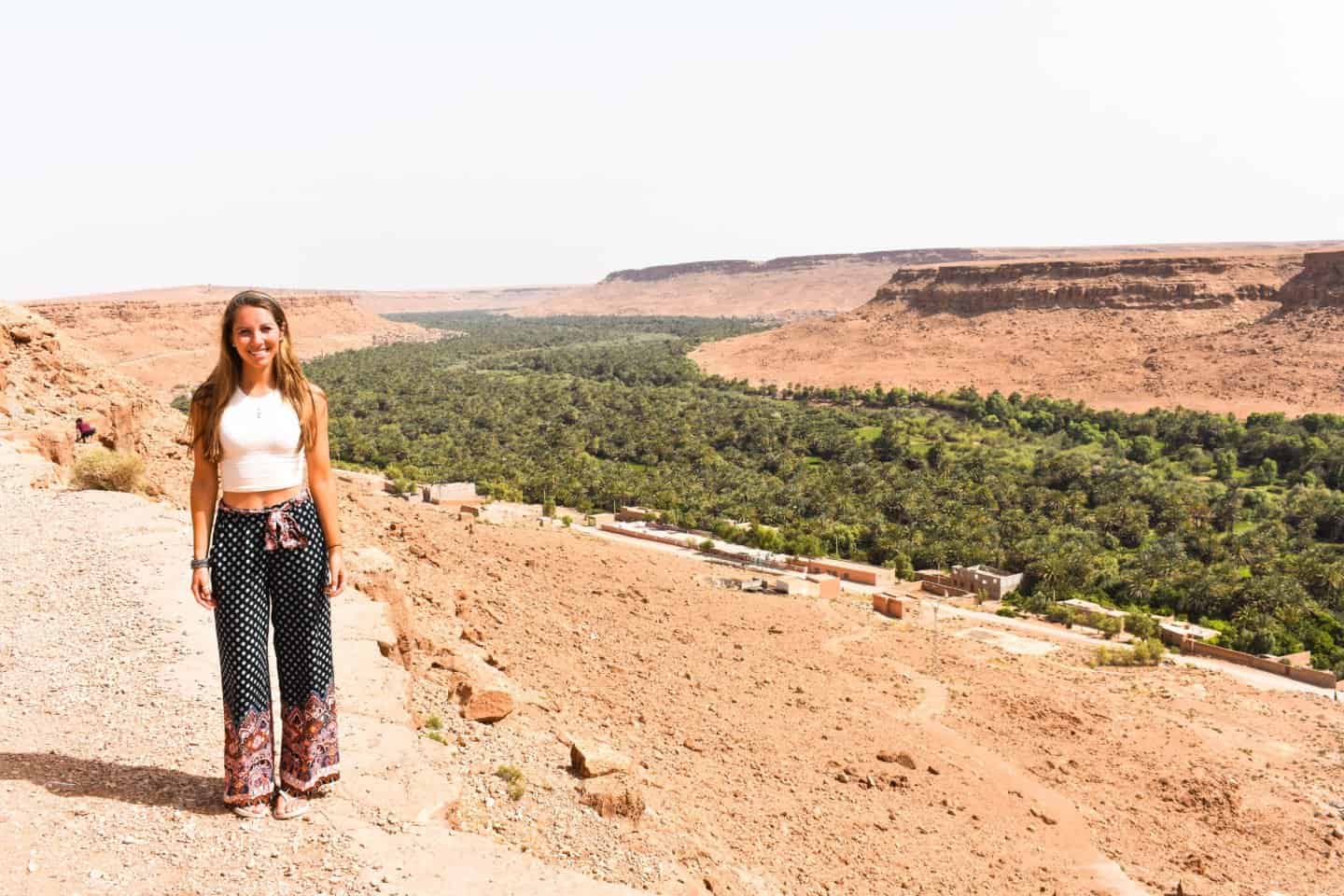 Errachidia
We stopped briefly in the busy desert town of Errachidia. I really couldn't believed firstly how clean and organised it was, and secondly, how busy it was!
We then drove onwards and started to approach the famed dunes at Erg Chebbi with growing excitement and anticipation.
The sand dunes did not disappoint. It was almost all of a sudden that the landscape outside of the car window changed. Rocks and mountain faces were swiftly replaced by golden sand as far as the eye could see.
Merzouga
Soon, we were driving through the heart of the Sahara Desert towards the largest town around of Merzouga and also the tourist centre of the Sahara Desert (if there is one).
We arrived at the beautiful Auberge du Sud. I wasn't sure what to expect with a hotel in the Sahara, but it was not this. This huge property with luxurious, with gorgeous gardens and a big pool (although, it was unfortunately full of sand, as there had recently been very strong winds).
Our Desert Camp in the Sahara
Interestingly, most of the camps in the Sahara Desert are owned by hotels. This means you have the luxury of a safe place to leave your bags overnight as well as the use of showers in the morning, whilst having a near-authentic experience in the desert camps.
I would say our camp that belonged to the Auberge du Sud was mid-range. It was pretty basic but very comfortable. I had no complaints at all, as after all, we were only there for one night.
The journey into the heart of the desert from the hotel to the camp was done on camels. We met our Berber guide who prepared us for the ride. It's important to know you leave your large suitcases at the hotel, and take a smaller overnight bag with you on the camel.
We rode for around 1.5 hours. The camel rider started off with a lot of excitement, but towards the final third of the journey, my hips and back were hurting and the novelty had worn off. As we peaked on every new dune, I started to hope the camp would emerge.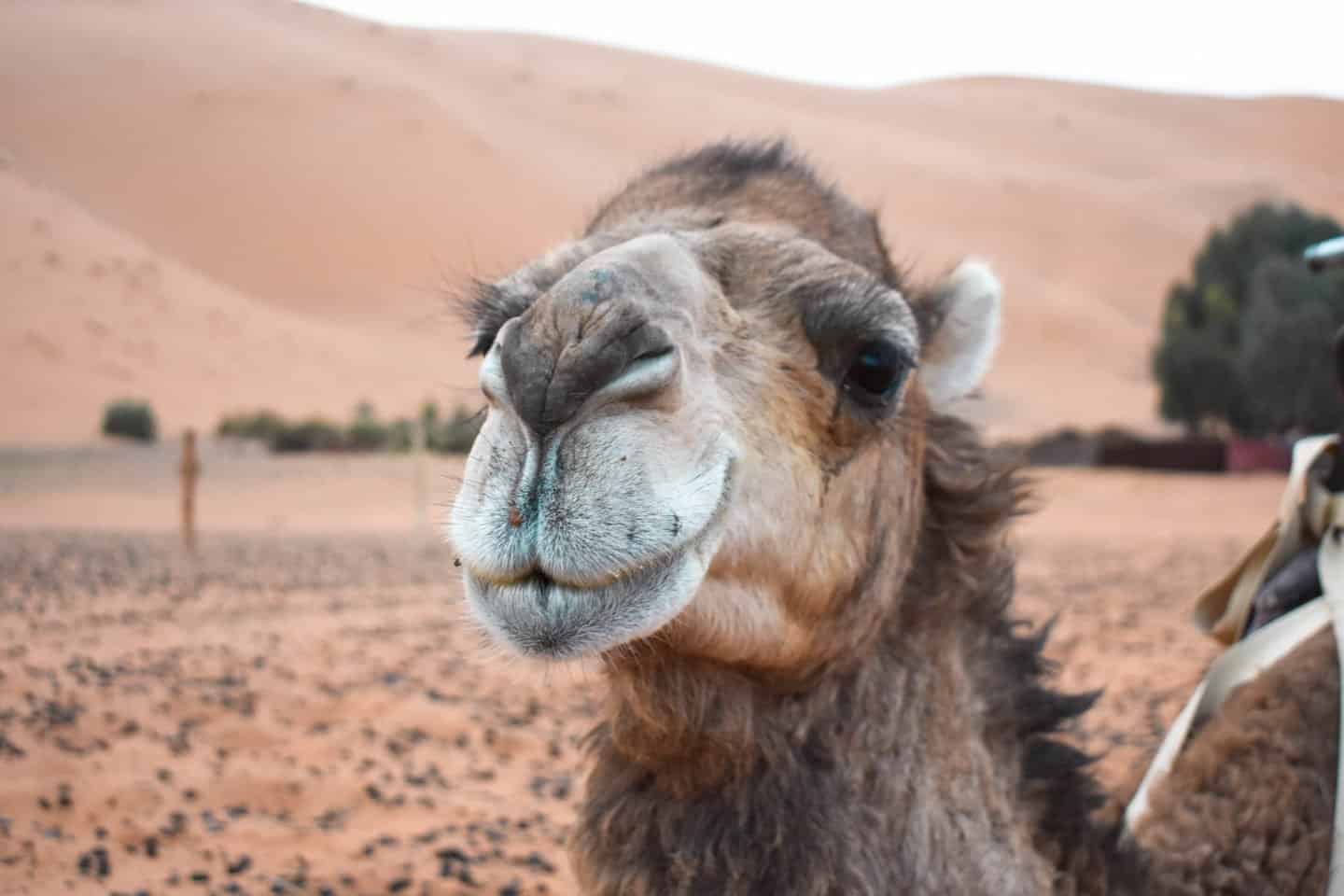 It did finally, where we were greeted with Moroccan mint tea and some very welcoming soft giant cushions.
Our wonderful Berber guide, Hamed, cooked us up a huge Moroccan feast. A warming tagine (the temperature really does plummet in the desert at night), together with cous cous and salad. For desert, we enjoyed lots of freshly cut fruit.
We joined up with another couple of this journey, who happened to be a Singaporean couple on their honeymoon. We were lucky and the four of us got on so well, we had a fantastic evening. Hamed and his friends sung and played the drums with us, it was a special time.
Sleeping under the stars in the Sahara Desert
The Berber guides decided we should go and see the stars. So we followed them over the dunes for some minutes, into the deep dark black hole that is the desert.
There really is no light pollution and my eyes struggled to adjust, it must be the darkest place I have ever been. They laid out some giant blankets and sort of tucked us up!
We lay there for what must have been 45 minutes – just enjoying the moment. It really felt quite special, lying on a blanket deep in the Sahara Fesert with new friends.
Day 2
Sunrise in the Sahara Desert
After a few hours sleep, we were woken at 6am to see the sunrise. Whilst Hamed prepared breakfast, we went off to explore the dunes and capture some shots.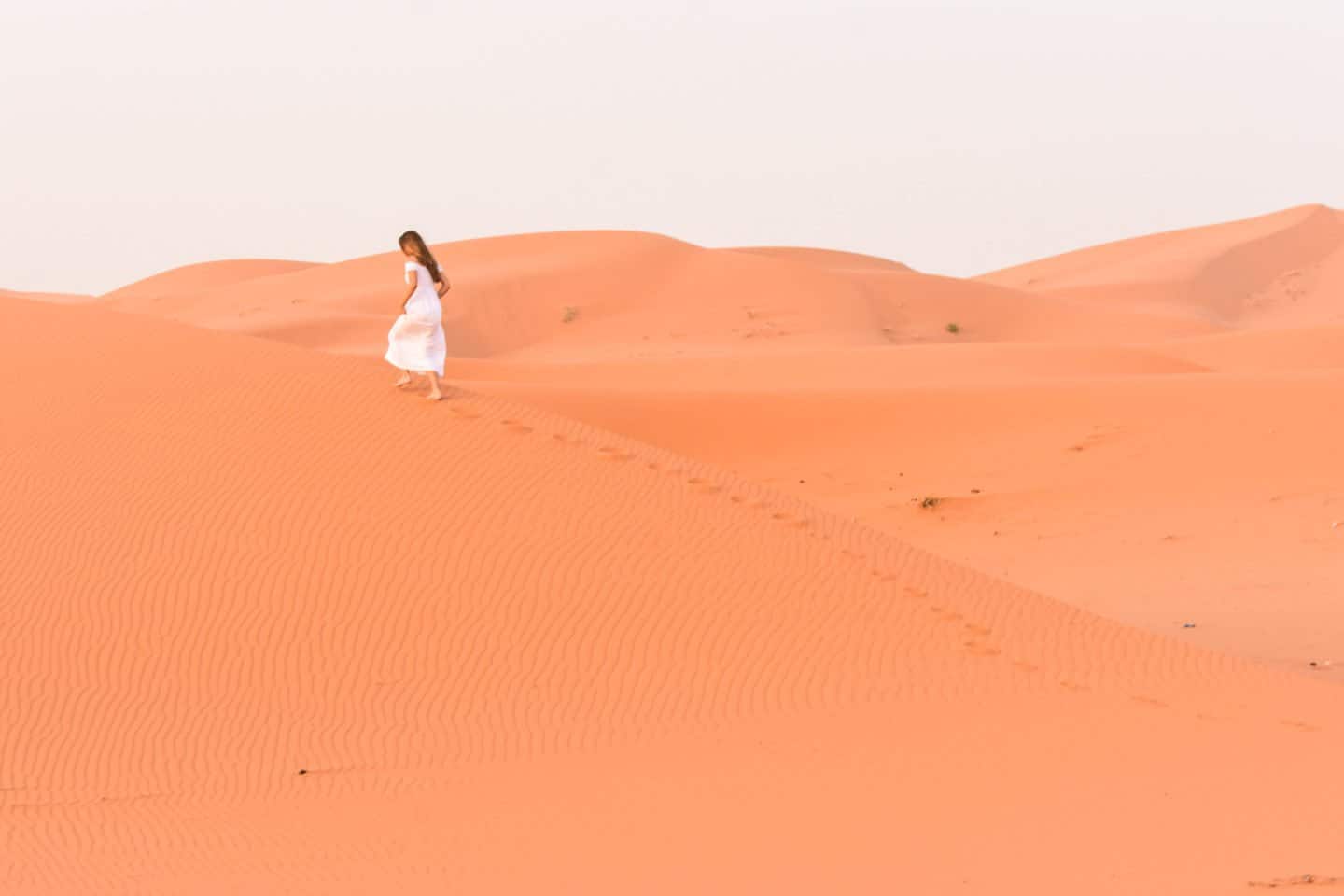 After breakfast, we got prepared for our camel trek back to the hotel. Hamed decided to model my sunglasses – it was a good look I think!
I really loved the camels. I really felt two of the camels, Steve and Bob, really had an ability to understand emotions and displayed some quite strong and funny personalities. I don't think I could liken them to dogs, but camels are definitely not dopey.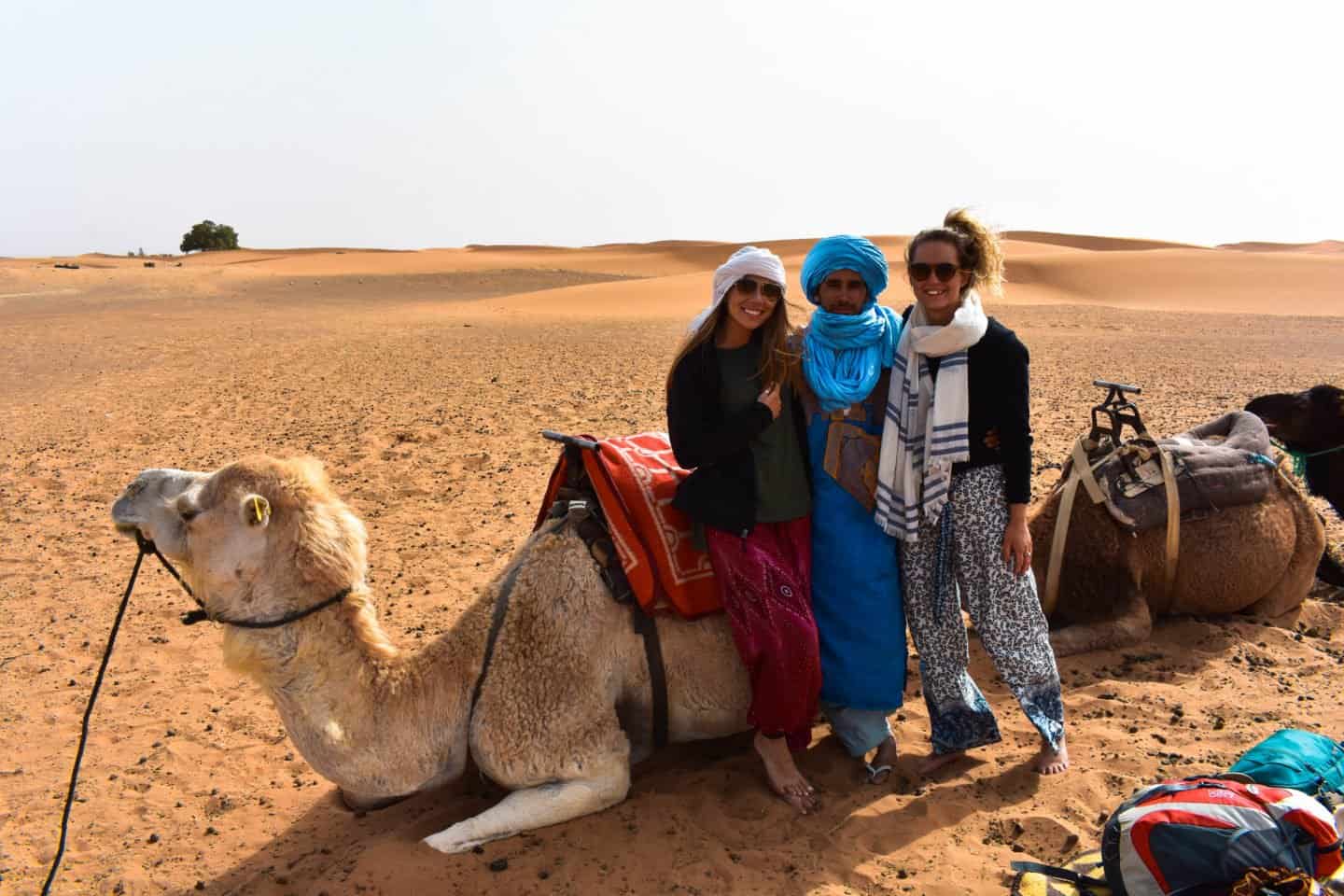 Rissani
After a freshen up and a change of clothes back at the hotel, we journeyed into a nearby town called Rissani. This wasn't officially part of our itinerary, but our guide informed us that they have really good Sunday markets and it was a Sunday after all.
Rissani was fascinating and a great insight into rural desert Morocco life. Locals were eager to show us their products and we even visited the animal market where locals come afar to haggle for a new camel or a new donkey, for example.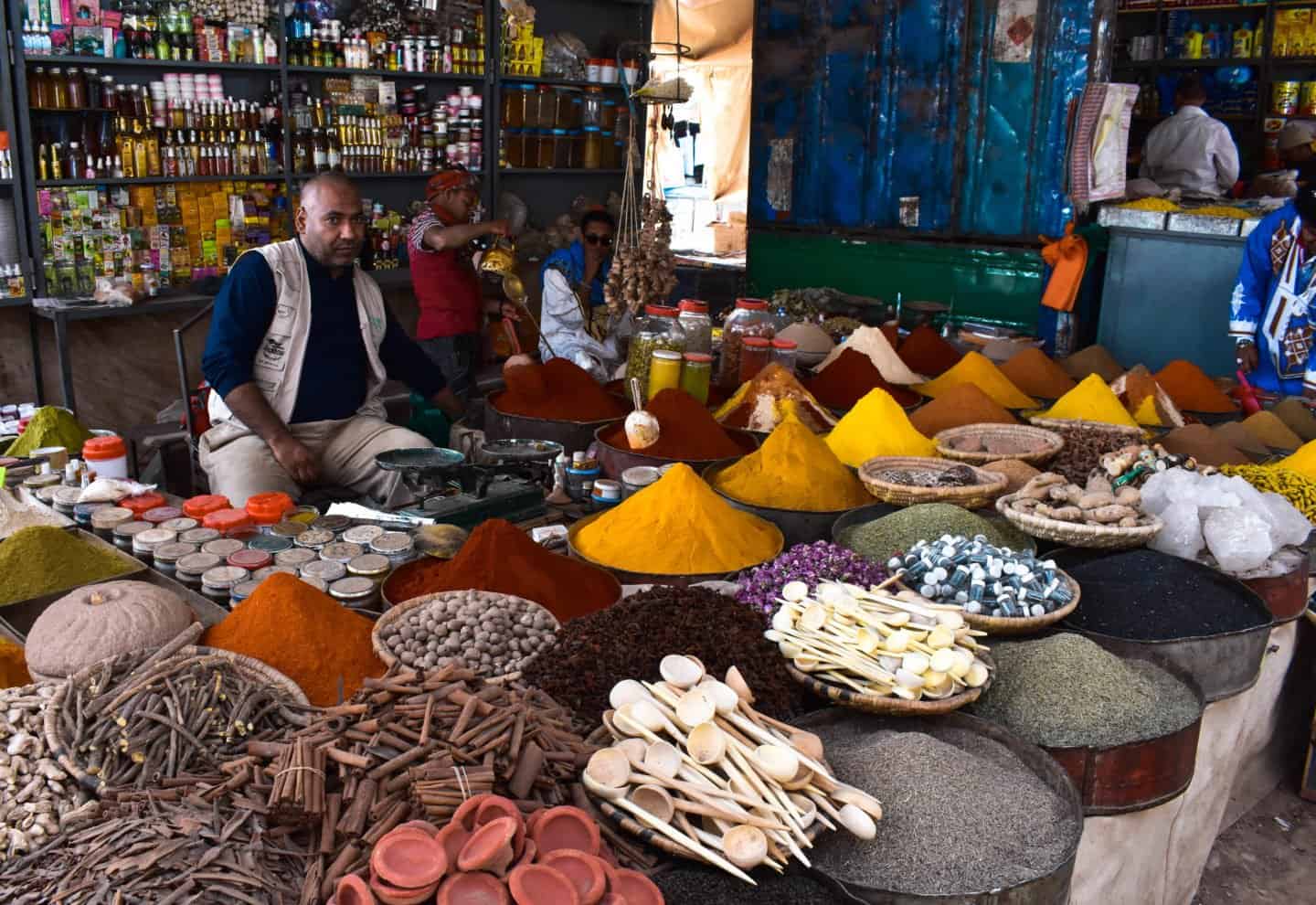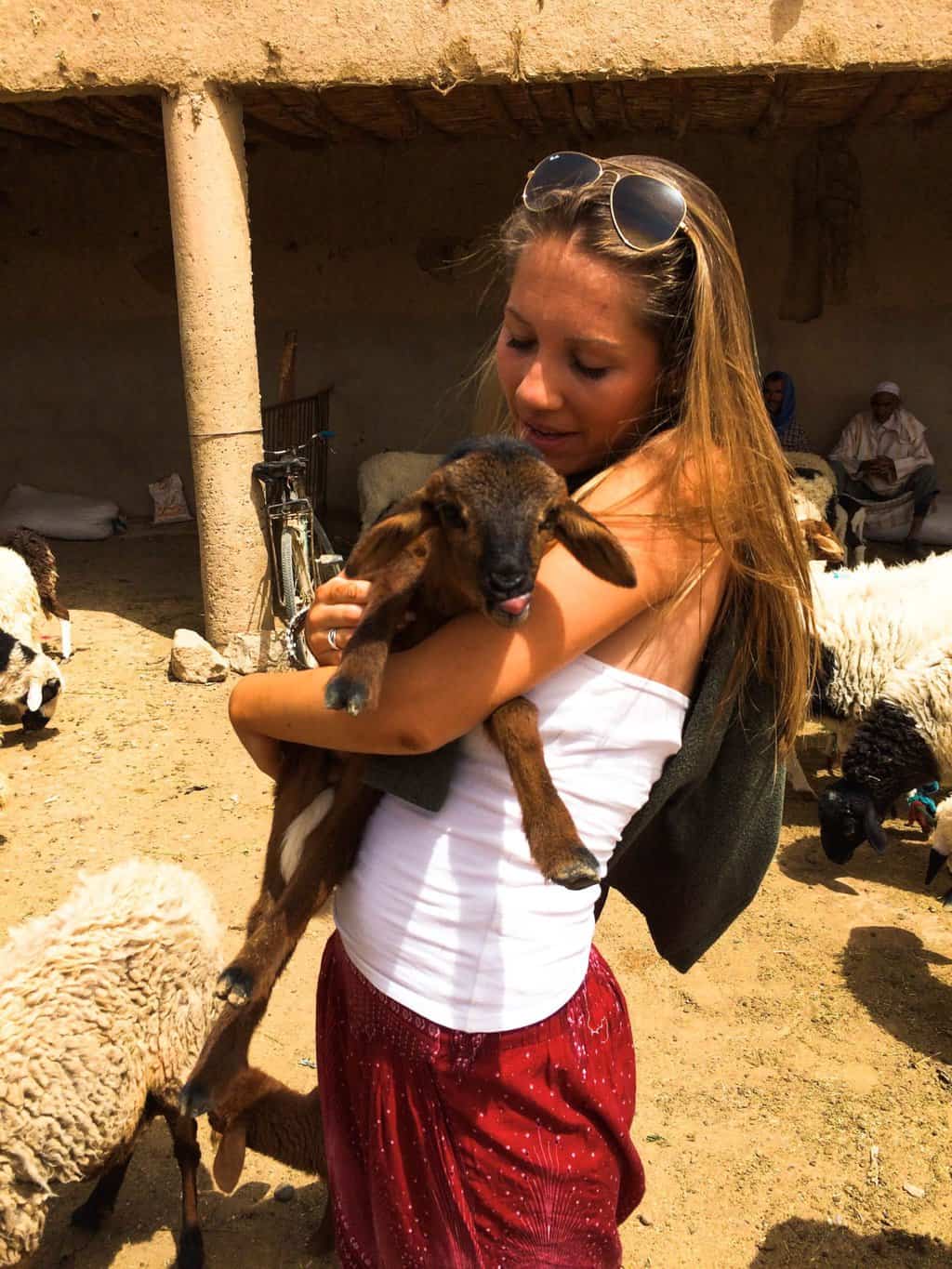 Kalaat M'Gouna
From Rissani, we headed further north again to the Todra gorge. Here, we stopped at a small-scale rose water production store. The town Kalaat M'Gouna, known as the Rose Valley, is famous for producing rose water. It happened to be full bloom time in April when we were there and the gorgeous pink flowers everywhere were a great contrast to the sandy desert colours.
Our guide also stopped briefly at the side of the road, where I got to unexpectedly hold baby desert fox!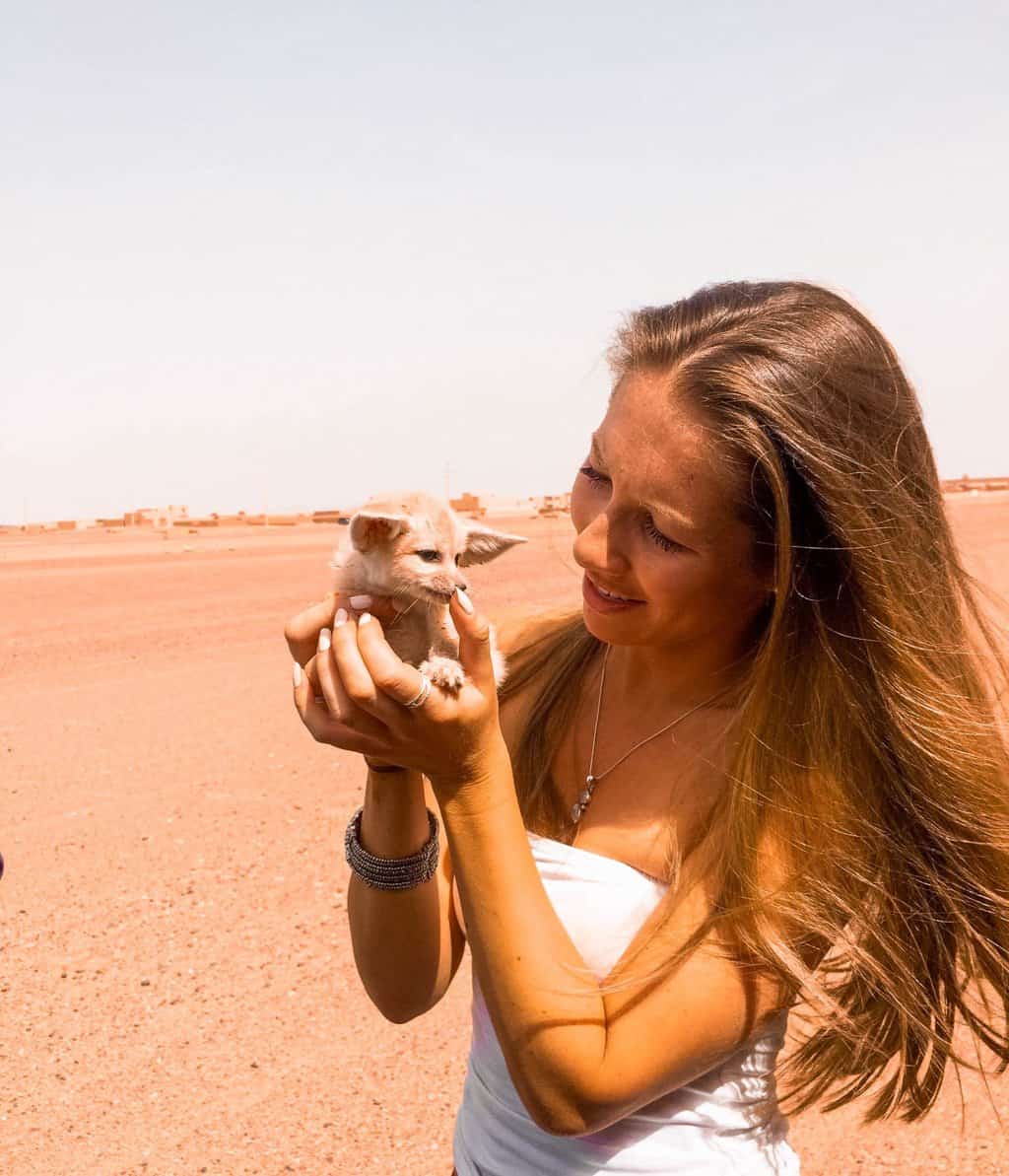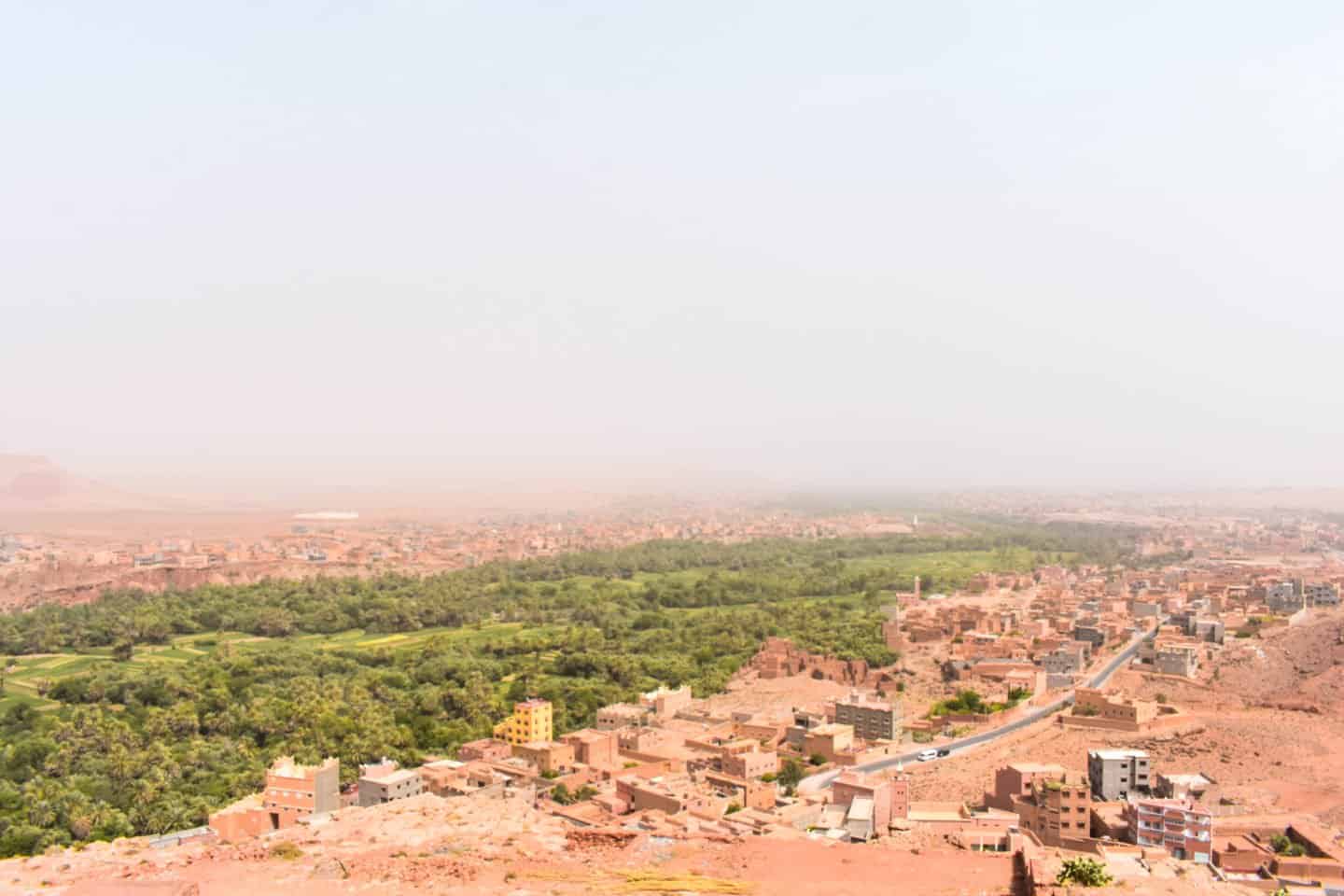 That evening, we stayed at Riad Tawaza. This was a gorgeous locally-run boutique riad perched atop the banks of the Todra gorge. Our room, decorated with rose petals, was perfect after a long day of driving in the heat.
We were also treated to a delicious four course meal before absolutely crashing that evening.
Day 3
After a breakfast on the roof overlooking the gorge in the warm sun, we continued on with a journey north towards Marrakech.
Ouarzazate and Ait Ben Haddou
The town of Ouarzazate could be considered the Hollywood of Africa. Many films have been created here, including Lawrence of Arabia and The Mummy, leading to the introduction of a number of film studios in the area.
However, we didn't linger for long here as we're not movie buffs.
The real excitement just lay further up the road at Ait Ben Haddou. This settlement is centuries old, once occupied but now empty. This is the most famous ksar in Morocco and easily the best preserved. We enjoyed a tour with a local guide who explain its history, as well as its role in films, including Gladiator.
Atlas Mountains
The last leg of the adventure was a long winding drive in the High Atlas Mountains towards Marrakech. We passed through the Tizi N'tichka pass at 2260m and unsurprisingly, the temperature was significantly cooler and quite rainy.
I don't know if a holiday dedicated to exploring the Atlas Mountains would be my thing unless the forecast was better.
And that was it. We crawled into Marrakech in the early evening, after a brilliant few days exploring the Sahara Desert.
Have you visited the Sahara Desert in Morocco before? What did you think? Let me know in the comments below.
I would highly recommend this tour company for a trip to the Sahara Desert. Although you could do this kind of adventure with local buses and shared taxis, or even your own hire car, we actually enjoyed the jeep. We didn't feel restricted at all and it was useful to have a local guide with us the whole way through.
If you wanted to go with a company and book in advance straight through a tour operator, I would highly recommend using a GetYourGuide tour as an alternative.
If you are planning a longer trip around Morocco of a week or two, you might find some of my other blog posts useful. I've written detail guides to Rabat, Chefchaouen, Fes, spending 3 days in Marrakech, Essaouiraand enjoying a beach break in Taghazout and Paradise Valley. I've also written some more specific blog posts on visiting La Mamounia in Marrakech as a day visitor, visiting Le Jardin Majorelle and a guide to some of the best places to eat in Marrakech.

I do hope my guide to visiting the Sahara Desert in Morocco has been useful. Feel free to ask any further questions and I'd love if you shared on any of the below links!
Wanna see more? Check my Instagram here, my Facebook here or my Twitter here!
Disclaimer: This visit to the Sahara Desert in Morocco was entirely paid for by myself and there was no involvement from the tourism board or any local companies. This is an independent guide
Enjoyed my guide to exploring the Sahara Desert in Morocco? Pin it!