Fes is a beautiful city in the north of the country that gives a real insight into daily life in Morocco. There are far fewer tourist traps and less crowds than Marrakech. The huge medina in the centre of the old town is one of the main sites to see in Fes, and most visitors need a full day or more to explore just this. I loved our three days in this charming city, so in this Fes Travel Guide I cover all of the essential things to know before visiting. I'll cover how to get to Fes, where to stay and of course, what to do and see. So read on and get planning your own trip to Fes, Morocco!
Fes Travel Guide: Practical Information
When is the best time to go to Fes
The best time to visit Fes is the Spring and Autumn months. Fes gets very hot, even in April where the temperature can reach as high as 37 Celsius. It would not be highly recommend to go to Fes from June to August. Although there is some shade in the medina, it's likely to be too hot to do much sightseeing.
How to get to Fes
Plenty of airlines fly into Fes from across Europe. It's increasingly common to go to Fes, without even going to Marrakech. If you're thinking of including Fes in a longer Morocco itinerary, you're likely to arrive by bus or train as there are few fewer domestic flights around Morocco.
We arrived by train into the Ville Nouvelle (new town) from Rabat.
From the train station, you can take a taxi to the old town or walk, which takes approximately 40 minutes.
Many buses arrive and go to other destinations from the CTM bus station, which is located 5 minutes walk from the old medina. The bus station is a fairly hectic and disorganised place. It is essential to come here in advance of the day you want to travel to buy your onwards bus ticket as they often sell out their seats, especially onwards to Chefchaouen.
Getting around Fes
Fes is a lot larger than Rabat or Essaouira. Its old town and medina is entirely pedestrianised. Taxis can only drop off and pick up at the gates at the edge, so for the most part, Fes can be explored on foot.
You can walk from the old town to the new town of Fes, and head back in a taxi if you're tired. You're unlikely to need to use the buses in the city unless you have plans to explore the new town of Fes.
Where to stay in Fes
I would highly recommend staying in the old medina part of Fes as a way to enhance your Moroccan experience and enjoy true local hospitality. Not only are the riads here generally really affordable, but staying here gives you the chance to immerse yourself in the daily life of Moroccans in Fes. Whilst your riad might be tucked behind a small gate in the wall, inside you have a peaceful retreat, and as soon as you step out, you're straight in the hustle and bustle of day-to-day life in Fes. It's awesome!
We stayed for three nights in Dar Warda, a small-family run riad tucked away about 5 minutes from Bab Boujeloud (one of the main gates to the medina). Our room was lovely, with some amazing tiling and a pretty roof terrace with panoramic views. A brilliant breakfast was included, which really set us up for the day.
Some other great places to stay in Fes include: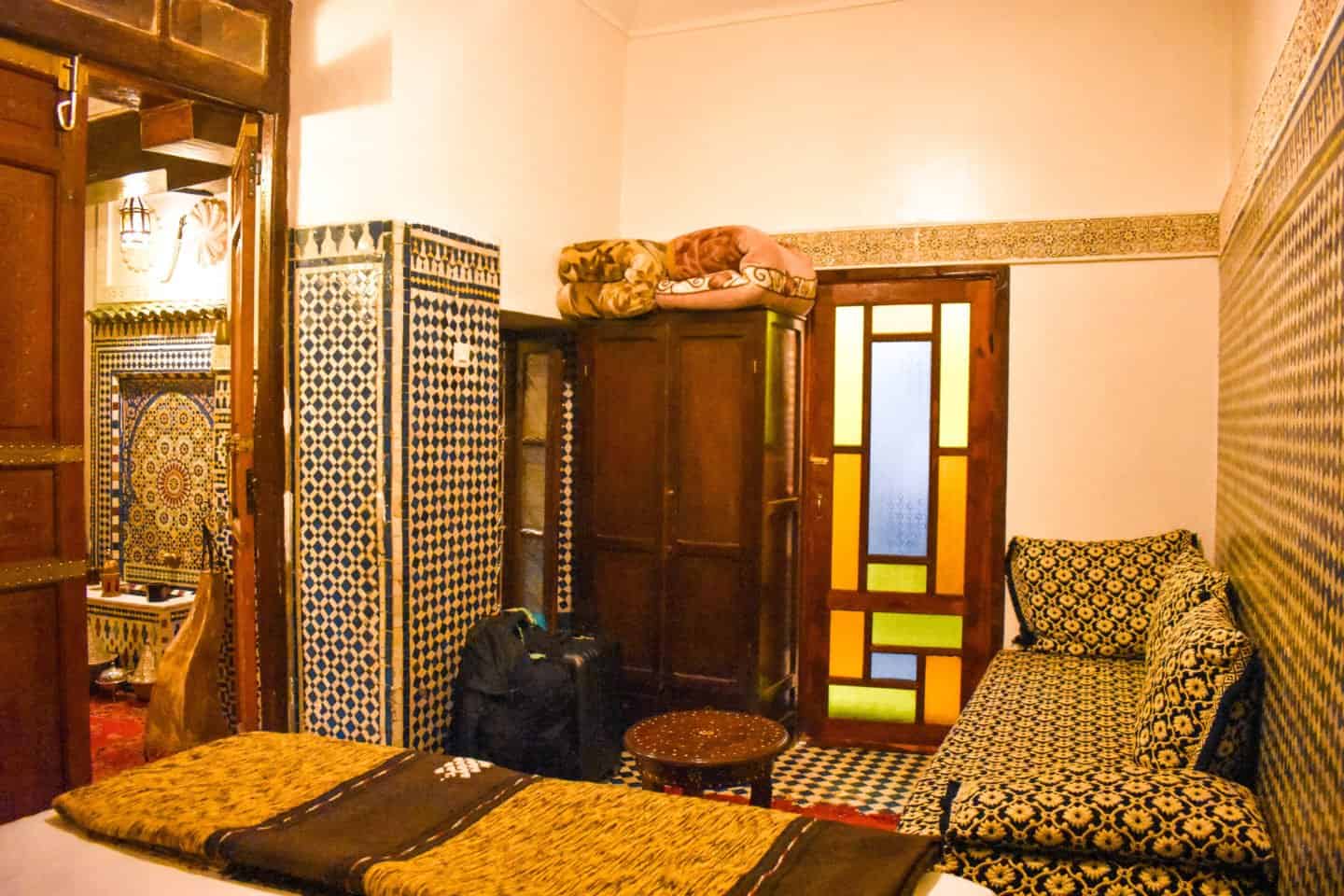 First Impressions of Fes
I wasn't too sure what to expect with Fes, but the city was cleaner and calmer than I expected. There was a lot less hassling from the locals too, which was something I had read about being quite noticeable in Fes. Having come from Rabat though, it felt completely different and offered an authentic insight into Moroccan life.
As well as day-to-day Moroccan life, Fes offers fascinating culture and history. Fes is the oldest of Morocco's four imperial capitals, and one of the most complete cities in the ancient Arab world. Fes certainly makes for a compelling destination to visit on any trip to Morocco.
Similar to other Moroccan cities, it has a modern new town – the Ville Nouvelle and an old Medina. Most of the must-see attractions in Fes are in the incredible Fes el Bali (the old medina). The layout of the Fes medina is incredibly confusing and best explored on foot. Just be prepared to be patient wandering in the medina, it is an intricate web of alleys and laneways, which all start to look the same. The locals certainly find it amusing watching you go by hundreds of times.
Best Things to See and Do in Fes
The Tanneries
Fes has a great number of interesting things to do and see, but one of the most popular attractions to visit in Fes are the tanneries, for which the city is famous. The process, through which the animal skin is treated and processed into leather goods has barely changed since the sixteenth century, so it definitely a worthwhile visit. Also, the tanneries in Fes definitely do not smell as bad as people suggest they do.
There are a number of tanneries dotted around the old town of Fes, but the most well-known is at Chouwara.
To find this tannery, look for the signs on the walls which are there to guide tourists. However, to access – and there are numerous vantage points, you need to go into a leather shop and upstairs. Just ask a local, and someone will be happy to guide you. Staff are more than happy to share how the leathers are treated and dyed, and are surprisingly not too pushy about buying products. However, prices are definitely higher here than in other stores in town but we did choose to tip our guide 20 dirham for his tour and explanation.
The Royal Palace
Fes' Palais Royale is a beautifully restored building, located between old and new Fes. Unfortunately, visitors are not permitted to enter its grounds, but the palace is definitely worth a quick peek from the outside, if only to appreciate the intricate tiling.
Explore the Medina and Bab Boujeloud
The medina is the oldest part of Fes and also a UNESCO World Heritage site.
No visit to Fes is complete without spending hours wandering in the medina and it is undoubtedly one of the top things to do in Fes, and in Morocco.
The local shopping is excellent and it is easy to lose yourself for hours in all of the small shops. You can really pick up some lovely goods in the medina, from spices, typical Moroccan hammam gloves and salt scrubs to quality leather items, silver tableware, lamps and gorgeous clothes.
As I mentioned, it is a real maze and almost impossible to find your way without Google Maps, or a very good paper map. Bab Boujeloud is the gate at the heart of the medina and a great spot for a bite to eat at one of the cafes here. Beware though, many food market stands have animal body parts hanging up, including severed heads! It can be quite the surprise as you're walking by…
Medersa Bou Inania
Another of the best things to visit in Fes is this Medersa. This is a place where young Muslims would have come to study religion in past centuries. Many students lived in small residential rooms here too, which you can see above the central courtyard.
Medersa Bou Inania is, without a doubt, one of the most alluring buildings in the whole of Morocco. The structure has been amazingly well maintained, and if you visit early or late in the day, you will have this beautiful building to yourself. It is a wonder to explore and without the crowds, it makes for some great photo opportunities!
Explore the old Jewish quarter
Once known as a Mellah, in centuries gone by, this was the old Jewish quarter. This interesting area of Fes is another must visit area. It feels significantly more spacious and more open than the rest of the medina, with several different architectural styles on display. It gives another wonderful insight into daily life in Fes.
The Bou Jeloud Gardens, also known as Jardin J'nane S'bile
These gardens are beautiful and are like an oasis in the big city. The Bou Jeloud Gardens are tucked away and remain perfectly peaceful. Hours can be spent by the lake and the gardens are a delightful spot for people watching.
Climb to the top of Mount Zalagh
Looming over Fes is Mount Zalagh and doing the quick climb to its summit is definitely one of the best things to do in Fes.
At first we thought it looked a little ominous and potentially a prime spot to have something go wrong, like getting robbed.
We still went ahead and climbed to the top at sunset. Luckily, it was fine and we didn't feel unsafe at all, I wouldn't recommend visiting after dark. The views across Fes are amazing and really give you perspective on the sheer size of this city!
Visit a henna souk
To add to our authentic experience in Morocco, we really enjoyed getting henna from a local.
Although she spoke little English, we managed to haggle a price and got to pick a design from hundreds of ideas in a photo booklet. She delicately and softly applied the henna to our skin. Getting a henna tattoo in Morocco is like experiencing a real art form again, as opposed to the two minute henna art places in Dubai, for example.
Experience a real Moroccan hammam
One of the top things any visitor can do in Morocco is experience a traditional hammam. We chose to go to a hammam in Fes, instead of Marrakech as you can still visit a traditional hammam alongside the locals here. There are plenty of private hammams in Fes for a more luxurious and pampering experience, but we were too curious to experience a real authentic hammer.
It really was quite the experience, and not necessarily one I want to repeat, but I'm glad I gave it a go. Taking the advice from the owner of our riad, we went to the medina stalls and bought all the local mud and clay products to take with us.
Sample local Moroccan cuisine
Fes is an excellent place to try Moroccan cuisine. There are several brilliant cafes in Fes, but my absolute favourite was the very popular Cafe Clock. I definitely think it is the best place to eat in Fes. The food is unbeatable and there can sometimes be a long wait for a table.
I nagged my friend to eat there for nearly every meal as I couldn't get enough. I thought the camel burger was delicious and I would highly recommend the date cheesecake too.
Cafe Clock is fairly tucked away within the medina. You may have to ask for some directions from local guides too.
Once inside, there are four storeys of cosy seating. The staff at Cafe Clock were always so friendly and the cafe often puts on events in the evenings such as live music or quiz nights.
Enjoy a local tour
A great way to see Fes is with a local guide! As part of my Fes Travel Guide, I thought I'd put a few suggestions here:
Fes Travel Guide
Have you been to Fes before? How did you find it? Let me know in the comments below!
Fes is the perfect Moroccan city to spend a weekend or a few days, either as a cultural break or as part of a longer Moroccan itinerary. It's a little chaotic in the medina, but Fes is the perfect insight into authentic Moroccan life.
If you are planning a longer trip around Morocco of a week or two, you might find some of my other blog posts useful. I've written detailed guides to Rabat, Chefchaouen, spending 3 days in Marrakech, Essaouira, exploring the Sahara desert and enjoying a beach break in Taghazout and Paradise Valley. I've also written some more specific blog posts on hiking the Rif Mountains in Morocco, visiting La Mamounia in Marrakech as a day visitor, visiting Le Jardin Majorelle and a guide to some of the best places to eat in Marrakech.

I do hope my Fes Travel Guide has been useful. Feel free to ask any further questions and I'd love if you shared on any of the below links!
Wanna see more? Check my Instagram here, my Facebook here or my Twitter here!
Disclaimer: This visit to Fes in Morocco was entirely paid for by myself and there was no involvement from the tourism board or a hotel. This is an independent guide.
Enjoyed my Fes Travel Guide? Pin it!