Visiting Chobe National Park is a must for any traveller to Southern Africa. Chobe offers some of the best game viewing in Africa, with regular daily sightings of the Big Five, as well as other animals such as wild dogs, wildebeest, zebra, giraffe, crocodiles, hippos and the rare puku antelope. Chobe National Park is also known for being home to the biggest elephant population in the world. It is suggested that there are as many as 120,000 beautiful African elephants roaming this land.
In an ideal world, you'd have a couple of spare weeks to spend in Botswana. After all, the country is also home to the Okavango Delta and a large swathe of the Kalahari Desert, which both make for a fantastic adventure.
But fortunately, visiting Chobe National Park in Botswana is a very easy day trip from Victoria Falls, with straddles both Zambia and Zimbabwe. In fact, the drive is only around 100km (62 miles) taking just over an hour. Many tourists end up visiting Victoria Falls, as it is such a bucket list destination. But visitor don't often realise how easy it is to get to Chobe National Park from here too. It has to be one of the best day trips in Africa!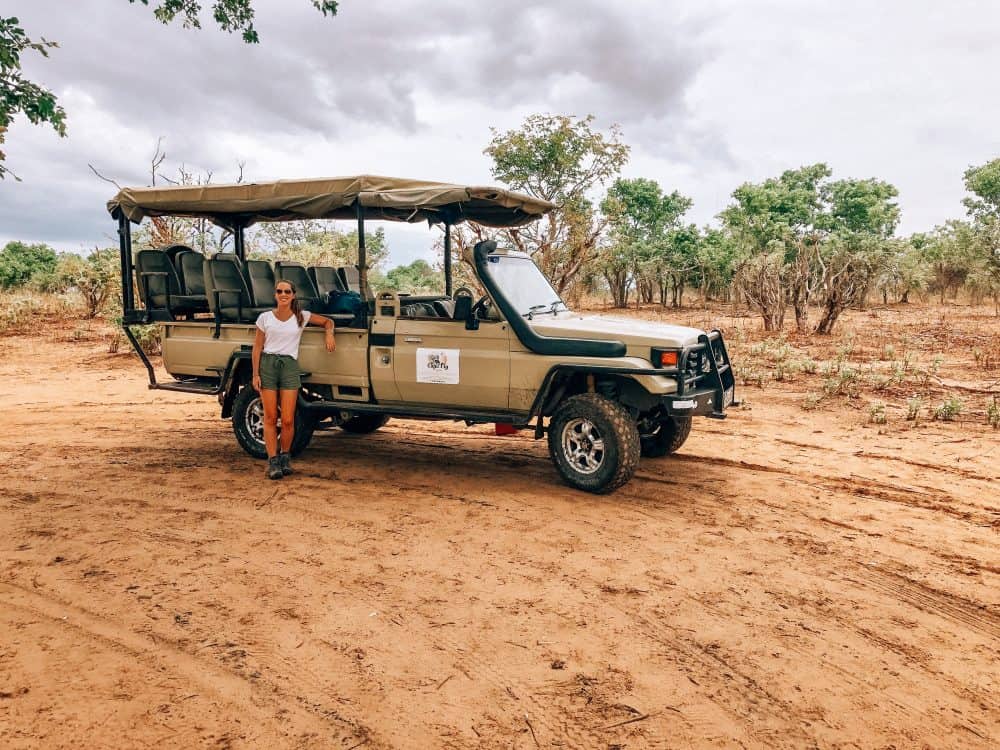 So this guide details exactly how to arrange a day trip to Chobe National Park in Botswana from Victoria Falls, and what a day trip will include.
Day trip to Chobe National Park: Essential information
Did you know Chobe National Park is the size of Northern Ireland? It's a huge vast stretch of land, entirely dedicated to the wild animals that roam there. Chobe is located in the north of the country, and is conveniently close to the borders of Namibia, Zimbabwe and Zambia. The four countries meet at the border town of Kazungula, where the Chobe River meets the Zambezi River.
Visa and entry information to Botswana
Botswana gives most Commonwealth countries, EU countries, the UK, and the US a visa on arrival, which is normally for 90 days. You can check if your passport is eligible for this here. This normally costs around USD $30, and you can pay in GBP, Euro or South African rand.
However, if you're coming from Victoria Falls, and as detailed in my guide, a KAZA visa is the best option, if you're eligible.
As the Victoria Falls are on both sides of the Zambian and Zimbabwean border, the KAZA visa permits unlimited entry for 30 days into both countries, as well as one day trip to Botswana. Therefore, this definitely provides better value and is also quicker in passport control, as you just need a stamp, rather than getting a visa.
When is the best time to go to Chobe NP?
The dry season runs from around May to September/October time. This is the very best time to go to Chobe National Park. Towards the end of the season is especially good, as the ground is completely parched. This drives huge numbers of animals towards the Chobe River, especially African elephants which emerge in their hundreds.
And with the huge herds of elephants comes their predators – lions.
Therefore, visiting in these months provides the very best opportunity to see a wide variety of animals. It can also offer some unique up-close experiences by boat on the Chobe River.
However, the daytime temperatures can be extremely hot (sometimes well over 35c). It's also worth noting that as the peak safari season, rates at lodges and hotel can get pretty steep. It doesn't affect the cost of the Chobe day trip from Victoria Falls though.
We visited in November, where rains had only just started to fall in this part of Botswana. The game viewing was excellent, with plenty of wildlife by the river and watering holes.
If you visit from December to around April time, there can be heavy daily rains and thunderstorms. Although, this can be an unbelievable time for birdwatching. There are around 450 different bird species at Chobe National Park!
Health and Safety in Botswana
Botswana, as well as Zambia, Zimbabwe and even Kruger National Park in South Africa are all malaria risk areas. Therefore, you are advised to take anti-malaria tablets for travelling in these countries. As with Victoria Falls, the tsetse fly is also common in the Chobe National Park area. So it is highly advisable to not wear dark colours as the flies are attracted to blacks and blues.
Safety isn't too much of a concern in Botswana. The peaceful nation is widely considered one of the most stable and equal countries in Africa. Crime against tourists is rare.
On game drives or river cruises in Chobe National Park, it is essential to follow the advice of your guide to avoid coming into harm with the wild animals. Obviously, don't put your hands in the river to feel the water, and don't stand up in the safari jeep.
Money and tipping
The currency used in Botswana is the pula. If you're visiting Chobe as a day trip, it's quite unlikely you'll need much cash for extras, except giving a tip. A guideline would be to give the equivalent of around USD $10 for your guide for the day.
Tips are not customary, but very welcome. Our guide was fantastic so we gave him a generous tip. However, we didn't go prepared with Botswana pula and didn't have the chance to go to any ATMs. We ended up giving him South African rand, which we assume he was able to change up. So if you can go armed with pula, that would definitely be better!
Arranging your day trip to Chobe
As we were working around a fairly tight schedule, we knew the exact day we wanted to do our day trip to Chobe. Therefore, we wanted to arrange this in advance of our Africa trip, so we'd know that all was confirmed.
We spoke to the reservations teams at both of the hotels we stayed at Livingstone (the Zambian side of Victoria Falls). Both the Avani Victoria Falls resort and Maramba Lodge were charging around USD $150 per person for the day trip. This is about £120. However, they couldn't tell us who the local company would be or any further information.
This led to me researching various companies online. In the end, I decided to book with Get Your Guide, a global tour operator that works with local companies. I've booked other trips, taxis and tours through Get your guide before.
Anyway, there were several different tours on offer for the day trip to Chobe. Each lists the local company they work with lower down in the page, and so I researched each one before deciding. In the end, I chose the tour run by Maano Adventures, who co-ordinated the Zambia side of the trip and Cape Fig Safaris, who hosted us on the Botswana side. I couldn't recommend this local company more – our guide was fantastic and gave us a day to remember.
You can book directly on their sites above, or on Get Your Guide.
Book the exact same tour we did here!
Chobe National Park: The Day Trip Adventure
The below details a typical day trip to Chobe from Victoria Falls. It is based on the experience we had with Cape Fig Tours, which most other companies will also follow. There may be some variation to its order, for example doing the river cruise first.
Book your Chobe day trip online here!
Departure from Livingstone (Zambia) or Victoria Falls town (Zimbabwe)
As we were staying in Livingstone, we were picked up at our lodge at around 7am. We were driven in a car with a local guide from the Maano Adventures team to the border at Kazungula. It was quite hectic here, with hundreds of cargo lorries and foot passengers milling around.
Border Crossing at Kazungula
Fortunately, our driver walked us through passport control, which was a breeze as we already had the KAZA visa in our passports. A flurry of new passport stamps later and we were waiting at the water's edge for a quick crossing to the other side of the river by boat.
What happened next definitely does not normally tend to happen on the Chobe day trip. But a local presenter approached me and asked if I'd be happy for a quick TV interview! The topic was my thoughts on the KAZA visa and tourism in Zambia. Well, they asked just the right person as I found I had a lot of (all positive) things to say. Very cool and unexpected experience.
Anyway, we waved goodbye to our driver who confirmed he would be there to pick us up on a our return, and we were whisked to the other side of the river.
And just like that, we were in Botswana! This section of the river is so cool, as mentioned above, it connects Zimbabwe, Zambia, Namibia and Botswana. You can see all four countries from the one point. Although the main route people seemed to be taking was Zambia to Botswana, and vice versa.
Morning Game Drive
After we hopped out of the boat, we were met by our guide from Cape Fig Safaris for the day. We jumped in our safari jeep, but he mentioned he was expecting another group to join us. After waiting nearly 20 minutes, our guide exchanged a couple of phone calls before confirming they weren't coming! So by some fantastic luck, we were to have a full day private tour in Chobe!
Chobe is known of having some of the highest concentration of game in the world. Within minutes of heading through the entrance gates, we were in the dusty hot open plains scouting for game. The entrance fee to Chobe was included in our day trip price, so we didn't have to pay extra here.
The drive in total was about 3 hours (9am to noon), and during this time, we spotted a wonderful array of animals. Our guide was really committed to delivering an excellent safari experience. He had an eye like no other for spotting game, even lions in the far distance sheltering from the sun under a bush.
We were never surrounded by too many other jeeps, except near to the Chobe river. All the jeeps would turn their engines off and sit silently, as a herd of elephants paraded right through us. Amazing!
After our morning game drive, we were dropped off at the Chobe Safari Lodge for lunch. There were lots of other groups stopping here for lunch too. The food was really excellent with a huge variety on offer, and lots of delicious desserts!
There was also a swimming pool and huge sun deck to relax on.
Afternoon River Cruise
After our hour long lunch break, we were met by our guide again. He drove us to the nearby dock to board our boat for a Chobe River cruise. Again, we had the boat to ourselves which was a good thing, as it turns out we had a thousand and one questions to ask about all the wildlife!
The Chobe River is widely considered one of the best water-based animal spotting destinations in the world. The body of water creates a natural barrier between Namibia and Botswana, and boats are only meant to cruise on the side of the river they started in. So we could see Namibia the whole time, but stayed in the Botswana side only.
Some visitors actually stay on luxury houseboats moored on the Chobe River for a week at a time. I'd never heard of this before. It certainly looked like an awesome way to stay so close to nature, and one I would love to return to do this sometime!
As a vital watering area for wildlife, you're highly likely to see vast numbers of elephants descend on this area. We saw so many elephants, as well as lots of hippos. Considered one of the most aggressive animals on the planet, I found them fascinating. In fact, I could have watched them all day. They almost look cuddly, so I had to google photos of hippos fighting to remind myself that they are in fact, very dangerous.
Aside from game viewing, cruising along the Chobe river was a lovely experience and gave some real perspective to the sheer size of the area.
After the two hour boat ride, we were taken back to our guide who began the drive back to the Kazungula border. As with the morning, it was an efficient immigration process, and we were on the border crossing boat in no time. As promised our driver met us back in Zambia and walked us through immigration there too.
After a long, hot day in the sun, I did struggle to stay awake on the drive back to Livingstone. But when I did, I noticed bustling road side villages and lots of children returning home from school. We were back at our hotel by around 6pm.
Chobe Day trip from Victoria Falls
So there's my guide to visiting Chobe National Park in Botswana as a day trip from Victoria Falls in Zambia or Zimbabwe. As you can see, it's a really straight forward day trip that offers one of the best safari experiences in Africa, and the world.
I would most definitely love to go to Botswana for longer, but on this trip, adding a day trip to Chobe was the perfect excursion whilst in Zambia. I couldn't recommend more. If you're looking to book a similar trip, this is the very trip I arranged.
If you're keen to find out a bit more on Victoria Falls, make sure to check out my guide to visiting here on both the Zambia and Zimbabwe sides. Also, if you have plans to visit South Africa too, then definitely read my detailed guide to planning a safari in Kruger National Park in the northwest of the country. Kruger is another exceptional game viewing experience, but you definitely have to go for a couple o days!
Feel free to drop me a line if you would like any advice on visiting Chobe National Park as a day trip. If you've enjoyed this guide to Chobe, then please do share using the below links!
Wanna see more? Check my Instagram here, my Facebook here or my Twitter here!
Disclaimer: This visit to Chobe National Park was discounted by Get Your Guide. Otherwise, there was no other involvement from the tourism boards or a hotel.
Enjoyed my guide to visiting Chobe National Park as a day trip? Pin it!