A safari in Kruger National Park, South Africa is one of those once-in-lifetime experiences for most people. Renowned the world over for its jaw dropping landscapes, true African experience, and of course, the animals – a safari in Kruger National Park is a must visit for any traveller so South Africa.
I have just returned from the most incredible few days in Kruger National Park. It lived up and exceeded every expectation I had. The animals, the lodge, the game drives, the weather, the true sense of wilderness. It was truly incredible. But I must say, I found it hard to plan.
In the months prior to my Southern Africa adventure, I really struggled with planning a trip to Kruger National Park. Keeping in mind the whole park is the size of some European countries, it's pretty difficult to know where to start.
It's a funny thing, because many South Africans living in Johannesburg or Durban will head to Kruger multiple times a year, in the same way a Brit might plan a weekend break to the Cotswolds or the New Forest. They have their favourite lodges or camps, they tend to self-drive and they are fairly self-sufficient. But for Europeans or visitors from the US and the rest of the world, it definitely doesn't seem that straight forward. Not least because there are some of the world's most dangerous predators just freely roaming around!
So that's why I'm writing this guide, in the hope that this will help guide you in your planning process and shape up an epic trip to Kruger National Park. It is aimed at those planning their first safari adventure to Kruger. Feel free to skip ahead to certain sections in the contents box below too, if easier!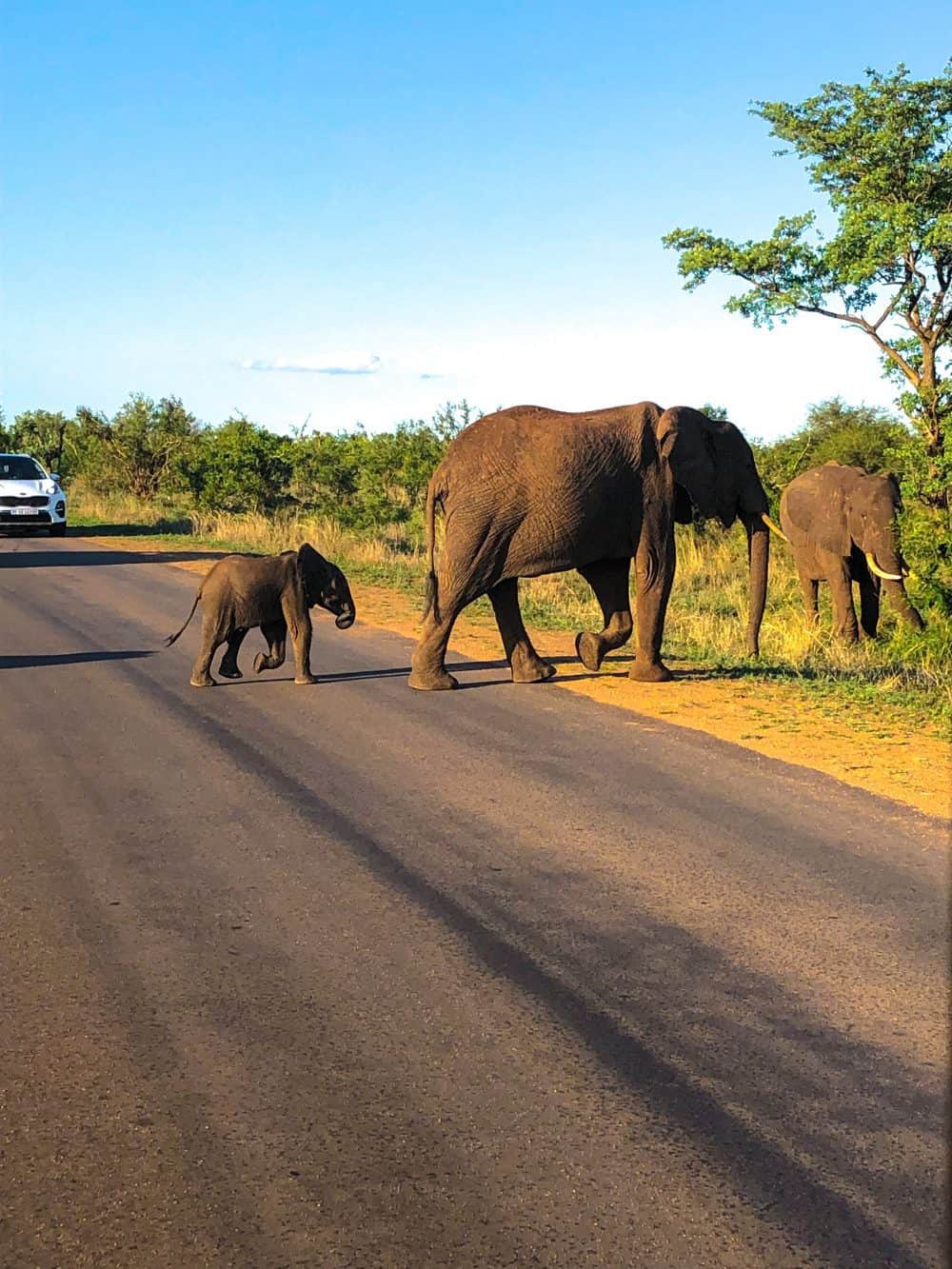 Safari in Kruger National Park – Everything you need for planning a trip
Where is Kruger National Park?
Kruger National Park is located in the north-east of South Africa. Kruger extends nearly 220 miles from north to south, and is about 40 miles wide – a large portion of Kruger actually borders with Mozambique too. It's around 20,000 sq km in size, and home to more than 200,000 mammals, together with hundreds of variety of birds, reptiles and interesting insects.
When is the time to visit Kruger National Park?
Kruger is an interesting place, as there isn't really a bad time to go. Each season offers a unique experience, and different pros and cons.
May – September
The South Africa winter months are considered a great time to visit Kruger. This is by far the driest time of the year, which means the vegetation and the bush is less dense, and therefore it's easier to spot animals. The low rainfall at this time of year means many rivers and waterholes are low or even dry, meaning the few that do have water are likely to have more animals at them. The temperature in the winter is warm during the day, but can be very chilly though the night. This may mean your sunrise or sunset game drives will be freezing!
This is the 'high season' and prices at hotels and lodges will be increased.
October – December
This is the South African spring and early summer months, which marks the start of the rainy season. The rivers may still be quite low, but flash rainfall is likely to mean the bush will be very green and quite thick. This makes it harder to spot animals. Daytime temperatures can push up to 40c and nighttime is cooler, but definitely not cold. Spring time is also a great time to see baby animals and newborns.
We went in November and experienced gloriously hot and sunny days, with cool and pleasant evenings. We also experienced an extreme tropical storm one evening that lasted about two hours and was easily some of the heaviest rain I've seen in my life.
January – April
Whilst the rest of South Africa is warming up and experiencing long and sunny days, Kruger is experiencing heavy rains. However, the landscape comes alive with stunning colours, from the vivid green of the bush to the deep blue of the rivers and lakes. Prices are lowest for lodges and camps at this time.
How many days to spend at Kruger?
Well, of course this comes down to what you're looking for and the time you have. Some South Africans actually visit Kruger for two or three weeks at a time with their campervans and enjoy long slow days of animal spotting and braais (aka BBQs).
For most travellers from Europe or the US for example, it's unlikely you'll have this long to spare. Nor do you necessarily want to spend this long in a national park – there is such a thing as too much of a good time!
We spent three days in Kruger, which was great but I would have liked one extra day.
The animals are most active early morning and late in the evening, so sunrise and sunset drives are popular. However, this means early rises (in the summer months, this can be as early as 2.45am!) and late returns. As you can imagine, this can become quite exhausting.
Having three or four days for safari in Kruger National Park (or longer), really means you can make the most of the drives but also enjoy some much needed downtime. You'll be surprised how much wildlife you see just from your poolside or your lodge/tent too!
How to get to Kruger National Park
Choosing the best option for getting to Kruger depends on where you're coming from, how long you're spending in Kruger and of course, your budget.
The most expensive and most convenient way is to fly into Kruger. Depending on where your lodge is within the park, it's likely that one of the three main airports will work for you. These are: Nelspruit (the biggest airport by far), Hoedspruit and the tiny airstrip at Skukuza (my favourite airport ever). The main air route between these is from Johannesburg, however, if you happen to go to Livingstone in Zambia (for Victoria Falls), then you might find the route from here to Nelspruit very convenient!
SAA Airlink (part of South African Airlines) is the main operator.
The least expensive (and slowest way) is to drive from Johannesburg. Google Maps says the drive is around 5-6 hours to Kruger, but some people do find it takes longer. The road conditions aren't excellent and there are often a lot of dangerous crashes or incidents. However, it does of course afford you a lot of flexibility if you drive yourself. You can also arrange a transfer with a local company,.
Which area in Kruger to visit?
For me, the was one of the hardest things to work out. My dreams of staying in a luxury lodge with a private pool were quickly dashed when I saw the prices. Many of these are located near Skukuza in the southern-central part of Kruger. When I realised there was a very convenient direct flight from Livingstone to Nelspruit, it made most sense to find a location to go in the southern part of Kruger. I spent hours trawling websites to work out where had the best sightings of animals and most reliable weather.
It wasn't an easy task and I ended up picking an area called Marloth Park, near to the Crocodile Bridge gate entrance. We ended up loving this location and exploring the southern part of Kruger.
The southern region of Kruger is as mentioned, home to Skukuza airport and the Skukuza rest camp. This is the biggest camp in Kruger with a great number of activities and facilities, therefore making it a great base. Game viewing is also considered to be really good in the southern region.
The central region of Kruger is also known for excellent viewing and having several good camps, such as Satara and the beautiful Olifants camp, with its impressive clifftop location.
Up in the northern part of Kruger, game viewing is considered slightly less, but it's quieter in general and makes for a very relaxing stay.
The other thing to factor is whether to stay in Kruger, or just outside of it. Where possible, I would recommend staying in Kruger or as close as possible to the gates.
For example, if you fly into Nelspruit and opt to stay in one of the towns near here like Hazyview or White River, not only are they a bit industrial and bland, but you're not really sleeping amongst the wildlife. Instead, an area like Marloth Park is a little further to drive initially from the airport (1 hour), but so much closer to the gate to start your game drives and also, right in the heart of the wildlife.
Kruger National Park really varies from north to south, from weather and wildlife, to flora and fauna.
Whilst it is often acknowledged that the southern portion of Kruger has the best chance of seeing the Big 5, if you visit the northern portion, you can also do the epic Blyde River Canyon drive.
Book a Blyde River Canyon panoramic drive and Kruger visit here
Entrance/exit times for Kruger National Park
Assuming you're doing your drives with a ranger, you're unlikely to have to be too concerned about gate entrance opening and closing times. But it's worth noting that each gate opens just before sunrise and closes around sunset. Whilst they don't physically lock you inside the park if you're late to go back to the gate, you can be given a hefty fine.
Night drives cannot be done independently and you have to go in with an official SANpark game ranger.
Entry fees for Kruger
Again, if you do drives in the park with official SANpark game rangers, the entry fees will be included in the cost of your drive.
If you join an independent guide for a drive, or self-drive, you'll have to pay the Kruger Park entrance fees.
As of January 2020, these are:
International visitors: R400 per adult per day, and R200 per child per day. This is about £20/USD27 per day, or £10/USD14 per day.
South African Citizens and Residents (must take ID): R100 per adult, per day and R50 per child per day.
You can buy these at the gate by visiting the small adjacent hut and filling in some forms. The SANParks site here has further information on entry fees and other formalities.
As you can see, a safari in Kruger National Park can add up over several days – but it is so worth it!
Public Game Reserves vs Public Game Reserves
Kruger is a national park, run by government organisation SANparks. Animals are completely wild and run freely in Kruger.
A private game reserve is located on land owned privately, and often have fenced boundaries. The private reserves have all the same animals, but they've been brought into the area. The numbers of animals in a private reserve are typically far less, but as the ground surface area is less, you can actually have a higher chance of seeing animals. For example, at Sabi Sands, famous for its close-up leopard sightings, you may actually see less packs or herds of animals moving around. So this definitely comes to personal preference and what you're looking for. In a private game reserves, all drives are guided, but in Kruger NP it's both self-driving and guided drives.
When you go to a private game reserve, you're not technically in Kruger. You're in the area considered as Greater Kruger National Park, which is the title given to all the reserves adjacent to the national park, as well as the ones within.
Private game reserves often only have high end accommodation lodges, but public game reserves will have a variety to cater to a wider range of visitors.
Deciding Where to Stay in Kruger National Park
Generally, there are main accommodation types to choose from:
SANpark owned and run 'rest camps' within the park
High-end private lodges within the park
Hotels located near to the entry gates (or further afield)
Rest Camps
These are the government run camping grounds located with fenced off areas within Kruger Park. These are popular with South African families, groups or couples looking for a budget-friendly accommodation option in the heart of the action.
I would say less foreign tourists stay in these, partly due to the fact that you'd mostly need your own car to get to them or to arrange a transfer.
One such camp is Lower Sabie Rest Camp, for example. This is one of the bigger rest camps with Kruger, offering camping spots, spaces for caravans and motorhomes, safari tents, and small rondavels (a type of hut), with varying amenities. These range from around £15/$20 from a camping spot, to ensuite cottages/huts for around £120/$160 a night.
There are around 10 or so of these camps throughout Kruger. They all have electricity, a first-aid centre, a supplies shop, braai-ing areas (BBQs) and communal kitchen facilities. There is often a laundromat/laundry and a restaurant and a cafeteria. You might also find a petrol station.
It's good to know also that many of these cater to disabled tourists too.
You can book stays at official rest camps through the SANparks website here. In the high season, you might want to book your stay well in advance to guarantee it.
High end private lodges
By far the most expensive option, staying in a private lodge is the most luxurious way to stay in Kruger. It is definitely the bucket list-worthy option, for sure!
These lodges give you the full and complete safari experience. Not only are the lodges themselves beautiful, often with thatched roofs and private pools, but you're also likely to stay on a full board basis. This means three fine meals a day, and your game drives included. You can expect fancy linen and toiletries, air conditioning, butlers, luxury open air showers and even gyms. Some even have beautiful spas too. And with this, you can often expect to pay in excess of £1,000 per night.
I've listed some of the best private lodges in Kruger below, all of which are stunning luxury places to stay:
Lodges and hotels outside of Kruger
So the final option is to stay in a far more affordable lodge or hotel outside of Kruger. These are often located near the gates or within a 20-30 minute drive. Then to be on a B&B basis, with lunch, dinner and other activities all arranged as add-ons. These kinds of hotels and lodges generally offer the best value for money, and still a wonderful authentic safari experience.
Here's a few suggestions:
Needles Lodge, Marloth Park – Our Experience
After much research and deliberation, we decided upon Needles Lodge located by the southernmost gate of Kruger. This area was called Marloth Park.
Location wise, the lodge was just 1 hour from Nelspruit airport, and around 3 hours from Skukuza airport. From the lodge to the nearest gate (Crocodile Bridge), it was around a 25 minute drive.
Our lodge was absolutely beautiful, like staying at a large family home. Animals such as zebra, ostrich and mongoose just wondered freely through the property, even right on up to edge of the raised dining area.
There was a delightful pool, sunloungers, a telescope, a huge lounge area with a TV, books and boardgames and lots of spaces to relax in. We also loved our room, which was huge with beautiful art and wooden furniture. I couldn't recommend staying here more, especially for a more affordable stay.
We also found the food to be excellent, and included lunch and dinner in our stay. The team cooked us up some wonderful dishes which we ate alongside our fellow lodgers. Just fantastic!
Check rates for Needles Lodge here
Other facilities in Kruger
Inside the park, there are many services and facilities to help tourists. After all, some people come here for weeks at a time!
Petrol stations: Inside the park, you'll find several petrol/gas stations. There are also some at the entry gates.
ATM/Banks: There are only a couple of ATMs inside, and mostly at the larger rest camps like Skukuza or Letaba.
Shops: There are many shops throughout the park selling Kruger themed gifts and things like carved animals etc. You can also find braai–ing equipment, food, drinks and essentials like suntan lotion or toiletries inside.
What to wear and what to take to Kruger
Dressing for safari is definitely a thing. If you do any kind of walking safari, you absolutely must dress in sand/khaki colours and your guides probably won't let you go in any kind of bright colours at all.
If you're doing guided drives, it matters less what colour you wear as you're strictly not allowed to get out the jeep. However, I definitely felt more the part wearing my cream, khaki and sand coloured clothes!
For a safari in Kruger National Park, you may need several layers if you're starting your game drive early in the morning, especially in the winter months (May-September). A large jacket and long trousers, and lighter clothes to peel off to as the temperature rises. For evening game drives (or night drives), you'll definitely need long sleeves to protect yourself against bugs. The jeeps are opened sided so you are exposed to the elements, and the insects!
Most jeeps or lodges will have warm ponchos or blankets to wrap around yourself too. When the jeep gets going, the wind can really whip up and surprise you with how chilly it can feel!
In terms of other things to take on safari, I'd definitely recommend a good camera with a good zoom if you want to capture good animal shots. iPhones are unlikely to always cut it, especially if the animal is quite far away.
You could bring your own binoculars but your lodge or driver may have these, as well as high beam torches.
Otherwise, you actually don't need to take too much else!
Malaria and other health risks in Kruger
There is a risk of malaria whilst on safari in Kruger National Park, and it is advisable to take malaria tablets for any length trip. Bite prevention is highly recommend, and most lodges have mosquito nets too. Bring lots of bug spray!
Self-drive or guided game drives?
For most overseas travellers to Kruger, it is most likely you'll want a guided game drive. This means not only do you not have to worry about the driving part, and can fully focus your energy on spotting wildlife, but you'll also enjoy the benefit of an experienced and highly knowledgeable guide.
Of course, some people will still prefer to pick up their own hire car and self drive Kruger National Park. If you do this, my top tips for self-driving in Kruger are:
Arrive to the gate really early, especially on weekends or public holidays as the queues grow quickly
There are also only so many vehicles permitted per day
Bring thermos and snacks in the car
Note on the map your nearest petrol stations, and if you pass one, always fill up, just to be on the safe side
Ask passing cars about sightings – 99% of people will be keen to help
Remember to not get out your vehicle unless in designated parking areas
Stay on the marked roads and don't exceed 50kmh
Do not litter – this should be obvious! Bring a litter bag
Booking a safari or game drives in Kruger National Park
As I've mentioned above, your lodge will be able to arrange game drives for you. These might be included in your 'full board' stay, or you may have an activities booklet to choose these from.
If you're after something a little more bespoke for your safari in Kruger National Park, then another idea is to contact a local company. There are hundreds to pick from, which again can seem a little daunting. I came across Chasin' Africa through TripAdvisor and couldn't recommend the company more.
Not only did the team at Chasin' Africa completely understand my request (a 7 hour game drive finishing at Skukuza airport and therefore taking our luggage), but it was arranged with such ease. I paid in advance through their payment portal and it was all very straightforward. I spoke to Leanne at Chasin' Africa and she was happy to answer all of my hundreds of questions too!
We had already decided upon accommodation, but Chasin' can also help you with this too. You can also check their amazing TripAdvisor reviews here too.
One thing I'd keep in mind when arranging your game drives is that it is definitely better having less people in the jeep. More so than you could expect.
So there you have guide to a safari in Kruger National Park, South Africa.
I think a safari experience at Kruger is truly one of the best experiences to be had. South Africa too is one of the best countries I have ever been to, and if you're doing a longer trip around the country do check out my other posts. I've got a comprehensive guide to the Garden Route and an article detailing the best beaches in SA.
I've written Cape Town itineraries, as well as a guide to the best places to eat in Cape Town, day trips from Cape Town and a complete guide to day trips from Cape Town.
Feel free to drop me a line if you would like any advice or further recommendations for planning your safari in Kruger National Park. If you've enjoyed this guide to Kruger, then please do share using the below links!
Wanna see more? Check my Instagram here, my Facebook here or my Twitter here!
Disclaimer: This visit to Kruger National Park was entirely paid for by myself, and there was no involvement from the tourism board or a hotel. This is an independent guide.
Enjoyed my guide to a Kruger National Park safari? Pin it!