Visiting Robben Island is definitely one of the top things to do in Cape Town and should be on any visitors' itinerary for the city.
The Robben Island experience was firmly at the top of my list too during my recent visit to beautiful South Africa. It was a seriously insightful and interesting day, and so I thought I'd put this detailed guide on how to visit Robben Island on a tour from Cape Town.
Visiting Robben Island on a tour from Cape Town
Why I wanted to visit Robben Island
Whilst my knowledge of apartheid is reasonable thanks to my university degree (in International Politics), nothing can compare to learning and experiencing history first-hand in South Africa.
Fortunately, visiting Robben Island is a straight-forward experience.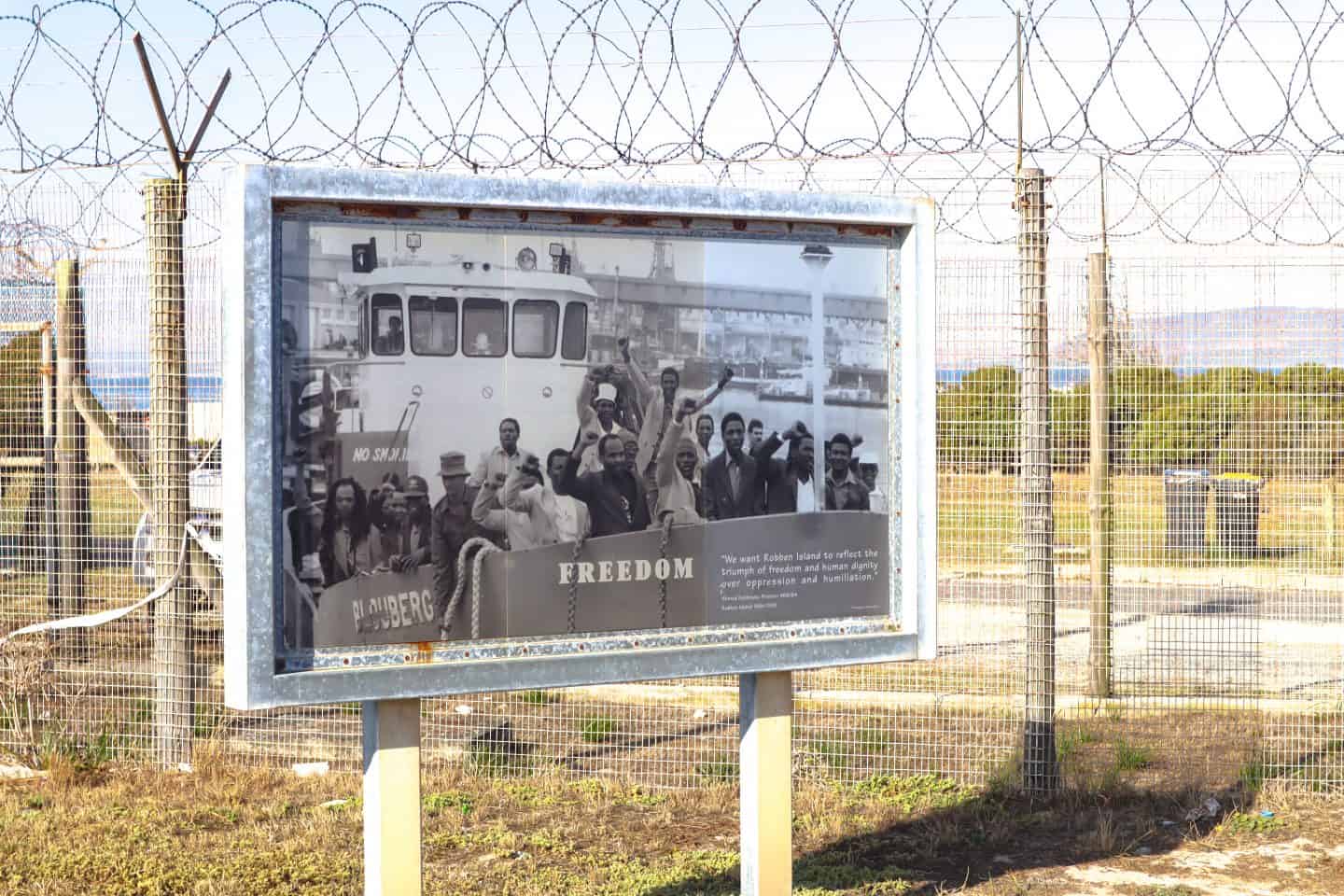 Robben Island has had various purposes through its history, which I will more on below. However, more recently, it was made into a museum in 1997 and recognised as a UNESCO World Heritage site in 1999.
Robben Island has become a beacon for hope within South Africa, as it is where so many of its most influential political leaders were imprisoned at some point. Robben Island plays a very important role in South Africa's journey for racial equality and tolerance.
Speaking to South African friends, it is shocking how few have ever been. But most recognised the need to go and to further understand their own country's history and story. Some of my friends admitted they were due a return trip as they hadn't visited since school.
We planned our time in Cape Town so that we incorporated visiting Robben Island during a day spent in the city. Visiting Robben Island on a tour from Cape Town was a highlight of our time in South Africa for many reasons.
I've written a full guide to visiting Robben Island, so do take a look below and feel free to get in touch with any questions
Robben Island: Essential information
Can I visit Robben Island independently?
The first thing to know about visiting Robben Island is that the only way to visit is via an official tour, booked directly on their website, or through providers such as GetYourGuide. See below for bookable tours on their website:
Where is Robben Island located?
It is located 11.6km, or 7.2 miles from the mainland. The only way to get to Robben Island is by ferry, and this departs from the V & A Waterfront in Cape Town CBD. The ferry is included in the price of the ticket.
How long does the ferry take from the Waterfront to Robben Island?
For us, in fairly choppy sea conditions on a sunny day in December, it took around 30-40 minutes in each direction.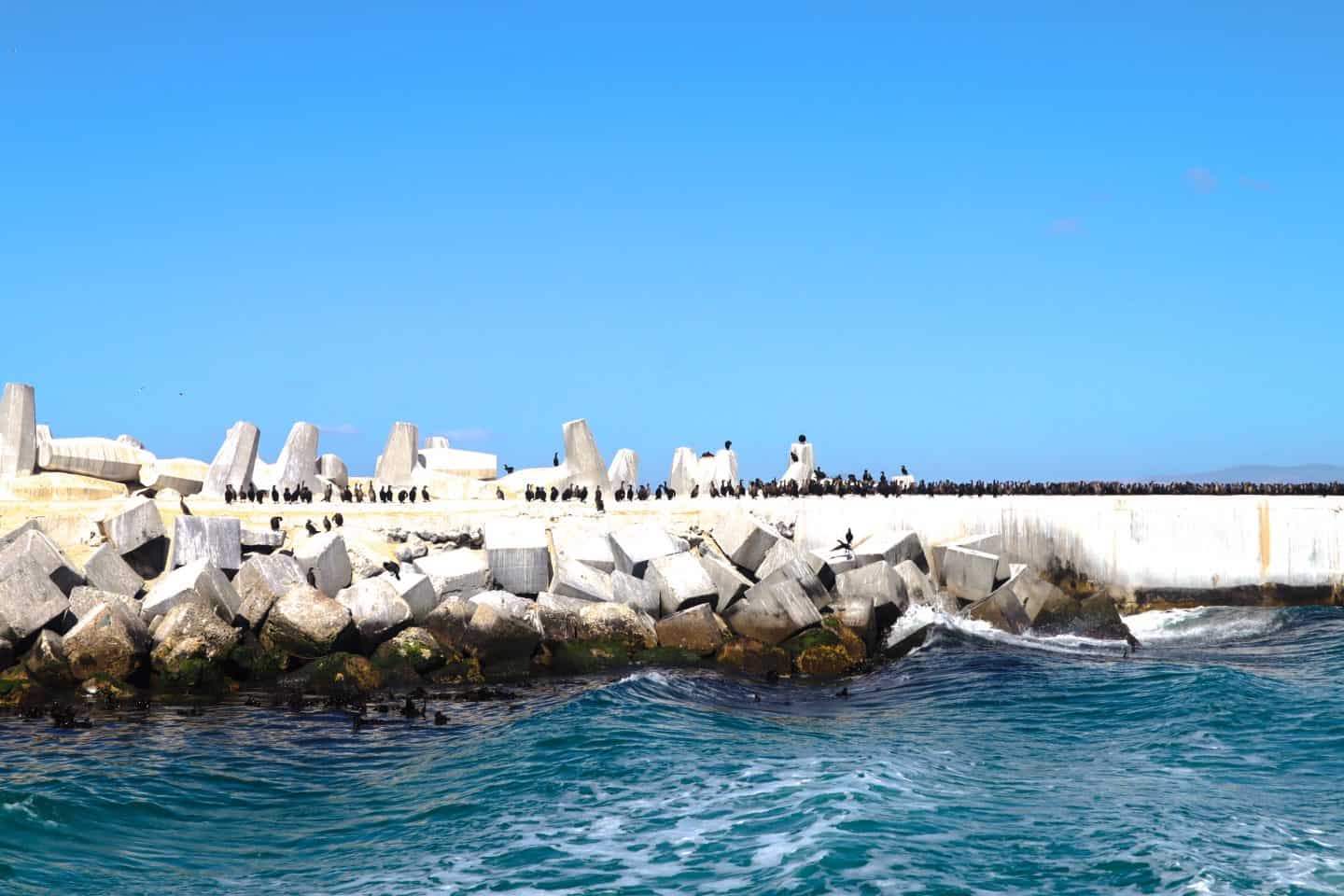 What time does the tour depart? And how often?
Tours leave every single day, at 9am 11am and 3pm.
How long does the overall visit to Robben Island take?
Allow for around 3.5-4 hours for the entire duration of your visit.
How far in advance do I need to book ahead?
During peak season (November – March), it would be advisable to book two or so days ahead. We couldn't get our preferred time for two days ahead and instead went for the 3pm departure. This ended up being amazing as we sailed back to Cape Town for sunset. As mentioned above, you can also book with GetYourGuide which makes arranging your visit to Robben Island very straight forward.
How much does the tour cost?
The tour to Robben Island costs R360 for adults, or R200 for U18s. At the time of writing, this is about £20.50 or £11.40.
Where does the ferry for Robben Island depart from?
The ferry depart from the Nelson Mandela Gateway at the V & A Waterfront. Arrive at least 10-15 minutes before departure as the queues are normally quite long and there's a security checkpoint too.
The Experience on Robben Island
What is the tour itinerary on Robben Island?
Once the ferry has arrived on Robben Island, visitors are directed to waiting buses. Once these are full, these depart one by one. On board is a local guide who will talk you through each of the various heritage sites as you drive by them. Although Robben Island is quite small, it is pleasant to visit the sites by bus as it provides shade from the heat and allows all mobility levels to experience it in the same way.
The first site was a graveyard for those who had died from leprosy. During the mid to late 1800s, lepers were sent here and Robben Island was a leper colony. Only once most the lepers had died was a cure found, where it had previously been thought of as incurable.
The next site is the Lime Quarry, the site where prisoners included Mandela spent most of their days. Our guide told us that forcing the prisoners to spend their days under the baking sun breaking down the rocks was not for any real constructive purpose, but instead to break down their minds and resolve. There were 3,000 or so prisoners on Robben Island during from 1960 to 1991, most of whom were political prisoners, known as South Africa's freedom fighters. The baddies wanted the prisoners to sit in silence through most of their days so that they couldn't share the ideas or thoughts.
Since the end of apartheid and Robben Island being used as a prison, Mandela and other prisoners have come back to each lay a rock and you can see this mound at the opening to the quarry.
We also saw the church, where the prisoners visited every Sunday, as well as other buildings and spaces used for various purposes.
Robert Sobukwe's House
Robert Sobukwe's house was another place we stopped at. Sobukwe was another of the most well-known political prisoners on Robben Island. He strongly opposed apartheid and founded the Pan Africanist Congress, he was widely feared by the government who sent him to be imprisoned on Robben Island. He led several nationwide protests, however, unfortunately at one of the protests near Johannesburg, police opened fire on the crowd and almost 70 people were killed. Following this he was arrested and blamed for this massacre. Our guide told us that the guards were so worried Sobukwe and his ability to influence and impact the other prisoners with his ideology, they built him a separate guarded house to keep him in solitary confinement. This was located more than one hundred meters away from the Maximum Security Prison cells. His story is a sad one, as the guide told us that when he was finally released, his lived with his family but under house arrest. He finally died of lung cancer, long before it became apparent his positive impact on the end of apartheid and South Africa's future.
Following this, our tour proceeded to visit the prison where we saw the living quarters, dorm rooms and cells, including Nelson Mandela's cell. This section of the tour was given by an ex-prisoner and it was incredible to hear their story and experience first-hand.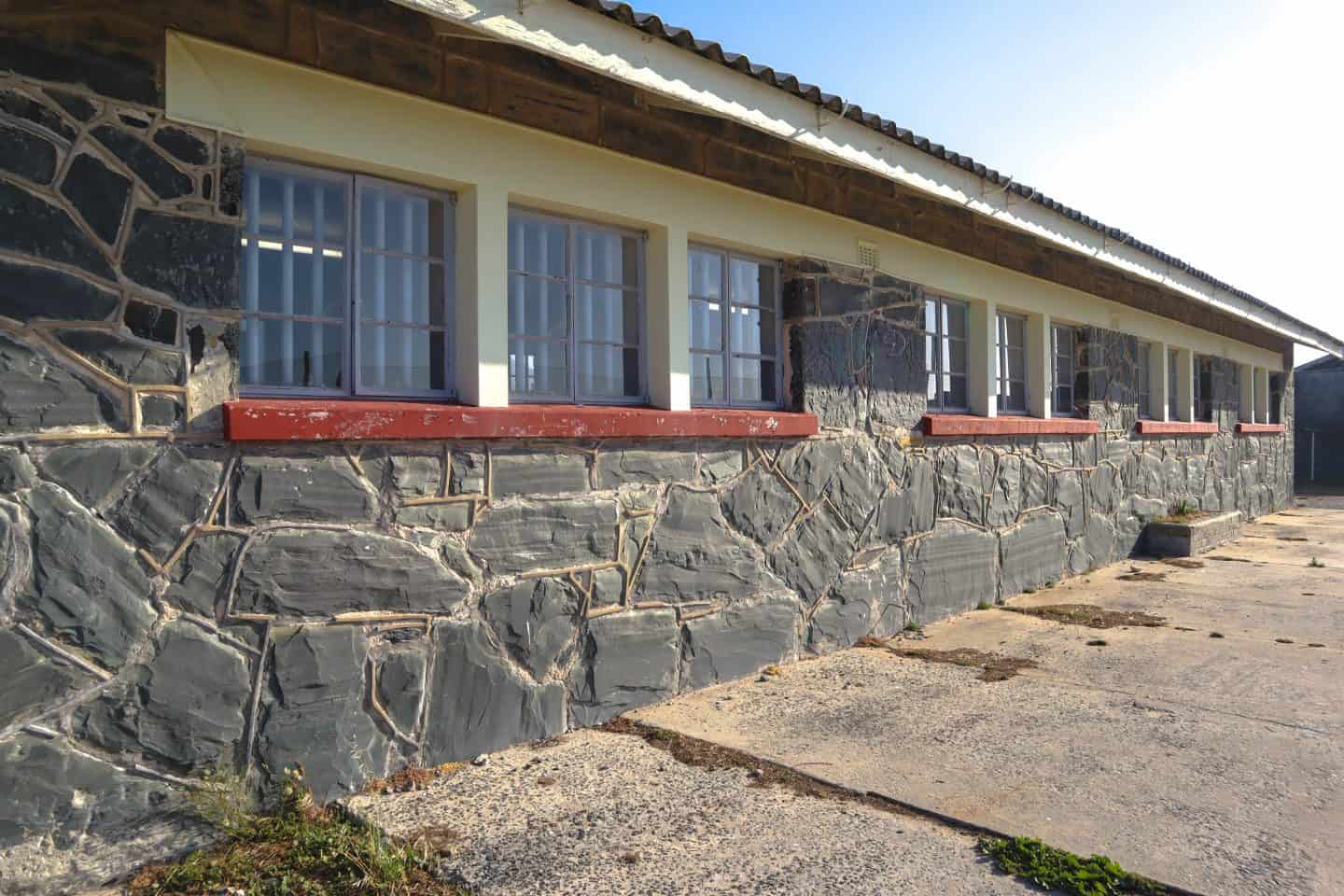 There was also a brief toilet stop. The toilets are unexpectedly near a small penguin colony, and a famous Cape Town photo frame, with Table Mountain behind.
Do people live on Robben Island today?
Around 100 or so people live here today.
Has Robben Island had any other purposes?
Indeed. During World War 2, Robben Island was chosen as a strategic site to protect the city of Cape Town. This means there was significant construction of artillery batteries, various fortifications and an airstrip. You can see a full timeline of Robben Island's on their website here: http://www.robben-island.org.za/timeline
The primary use for Robben Island throughout time has been as place for banishment and imprisonment of criminal and political prisoners throughout South Africa's colonial and apartheid eras. For example, from 1400-1823, the island was home to the indigenous Khoi-Khoi people, who were the first South Africans recorded to be on the island. Robben Island is a vital part of their heritage, as the Khoi-Khoi people were banished and imprisoned here for resisting European colonisation.
In fact, during the 500 year history of Robben Island, the only time it was not used a prison was when it was used for military purposes and as a base, between 1931 and 1960.
What was the tour guide like?
Our guide was around 30 years old, mixed race and a Capetonian. Most crucially, he was completely knowledgeable about every aspect about Robben Island's 500 year history, as well as balanced in his commentary. He had his audience completely captivated throughout the tour and made the heavy history interesting and relevant for everyone. you meet any ex-prisoners?
Would I meet any ex-prisoners?
Yes, as mentioned – the final segment of the trip is led by an ex-prisoner. We walked around the cells with an ex-political prisoner called Jama Mbatyoti. He had been incarcerated from 1977-1981. As we moved from room to room, he shared his memories and experiences. He brought the whole experience to life for us and it was a very moving experience.
We were able to walk around the prison quite freely, including the bathrooms. Finally, we were led to a corridor where he pointed out Nelson Mandela's cell. One by one, each guest on the tour had the moment to stop and take in where he spent 18 of his 27 years in prison. It was a humbling experience and one I felt we had enough time to slowly take in. It didn't feel like a rushed experience at all.
We also saw the courtyard and the small garden that Nelson Mandela tended to, and it was here where he secretly started to draft his autobiography.
Sadly, the number of ex-prisoners is declining as of course, they are growing old and sadly passing away. One day, there will be no ex-prisoners to hear first-hand stories and experiences from, so visit as soon as you can to learn about some of the most important lessons in South African, and global history.
Visiting Robben Island
As you can see, visiting Robben Island on a tour from Cape Town city centre is pretty straight-forward. Spending time wandering through the prison buildings and hearing first-hand from an ex-prisoner gives an authentic understand and experience like no other of apartheid in South Africa.
I hope you've found my guide to visiting Robben Island on a tour from Cape Town useful and interesting, and that maybe I've inspired you to add this to your list of must see places in Cape Town. If you're looking for another meaningful and insight experience, you should consider visiting a township in Cape Town too.
I've also written several other guides to Cape Town, including the best places to eat, must-see attractions, day trips from Cape Town and how to visit the penguin beach near the city. If you're thinking of going on safari on your South Africa trip too, then don't forget to check my guide on visiting Kruger National Park!
Wanna see more? Check my Instagram here, my Facebook here or my Twitter here!
Disclaimer: My visit to Robben Island was entirely paid for by myself and there was no involvement from the local tourism board. This is an independent guide.
Enjoyed this feature? Feel to share on Pinterest!