Are you wondering where to find those adorable penguins in South Africa that you see in pictures online? You've come to the right place! I've got all the information you need to visit the penguin beach in Cape Town here.
Meeting the penguins is one of the coolest experiences you can have in South Africa and definitely something to include during your time in South Africa. The penguin beach in Cape Town is actually called Boulders Beach. We visited the penguin beach during an awesome road trip around the Cape Peninsula. However, many people head straight to this beach to see the penguins and return to Cape Town afterwards.
Whichever way you do it, you're guaranteed to have an awesome experience.
So here's my guide to visiting the penguins at Boulders Beach in Cape Town, South Africa:
Where is Boulders Beach?
Located just by the historic town of Simon's Town, it is around a 40 minute drive from Cape Town's CBD. You can park easily if you drive in your own car, or head over in an Uber if not.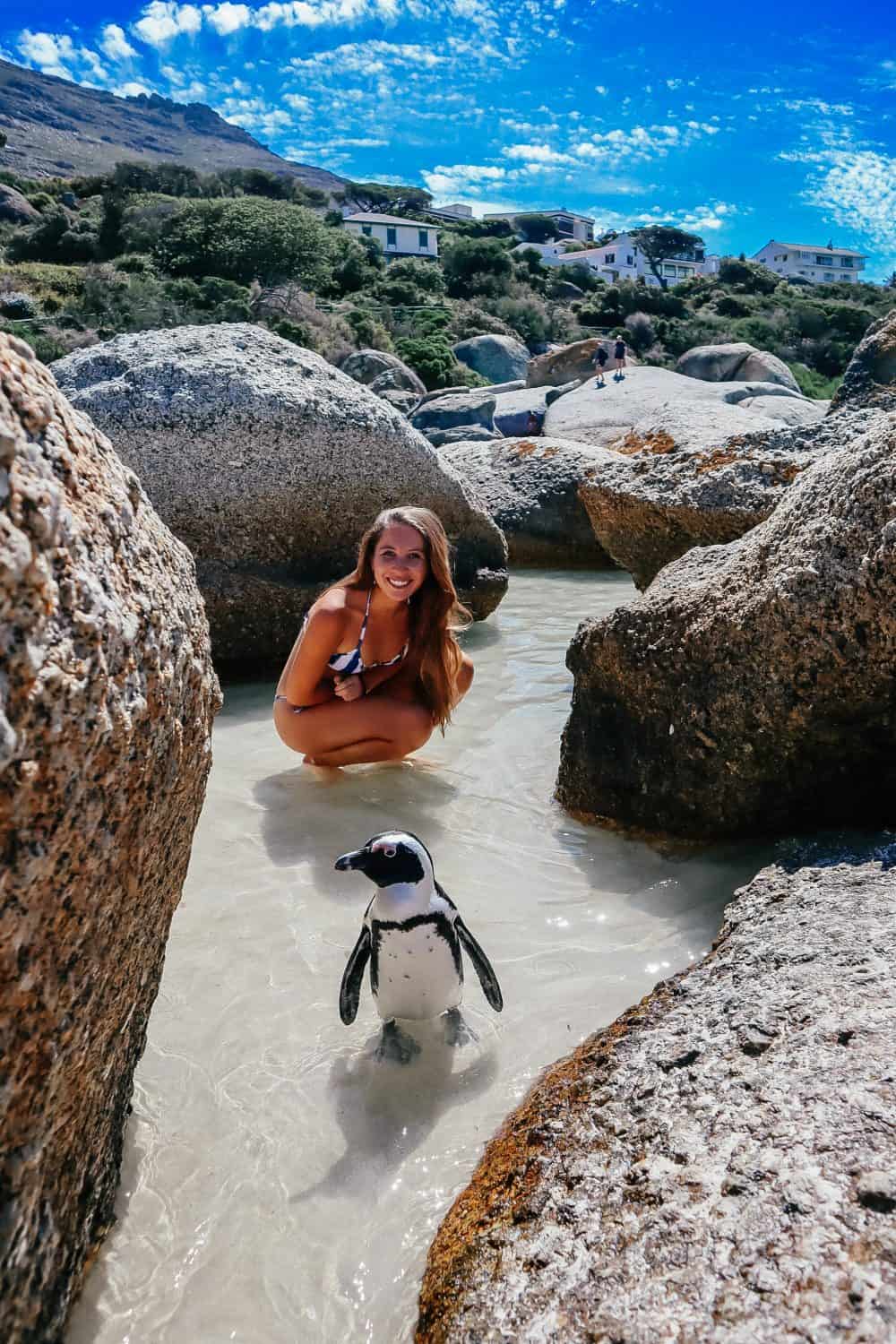 What time is best to visit Boulders Beach?
We were told by the guides that there's no time particularly better than another time in the day to see them, but the earlier you go, the fewer the crowds will be. And therefore, more penguins might be hanging about.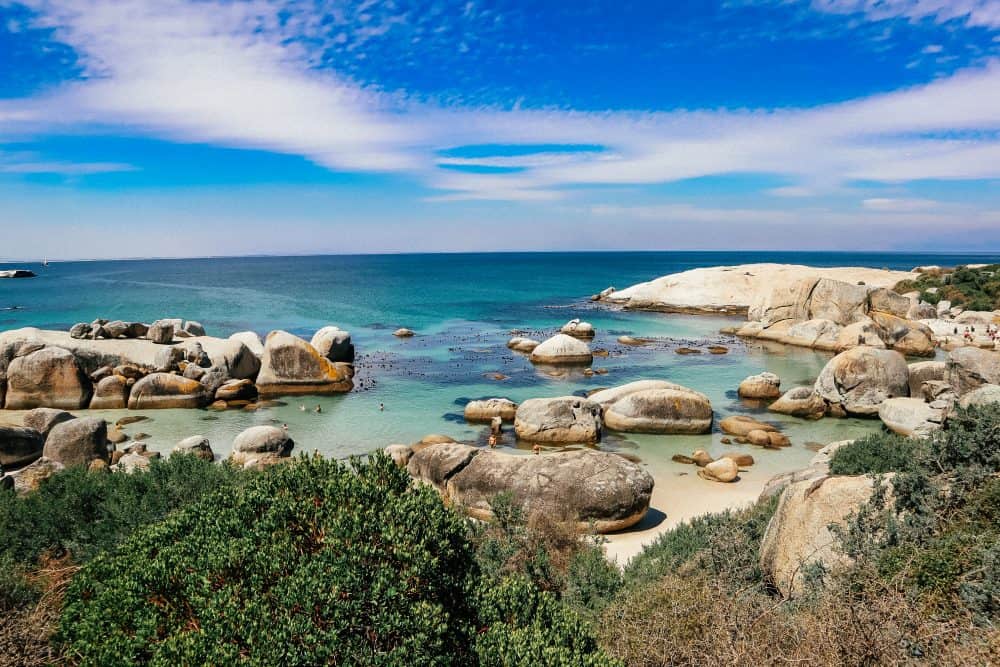 How much does it cost to visit the Penguins?
As with all SANParks, the price for locals is always far less than for tourists. For South Africans, take along your SA ID and the entry fee is RA39 per adult or R20 per child.
For foreign visitors, the entry fee is R152 per adult or R76 per child.
You can be rest assured that all of the South African National Parks are really well maintained and a good portion of the entrance fee goes to conservation projects.
How close can I get to the penguins?
Well, it turns out – you can get very close to the penguins at Boulders Beach.
There are two main areas to find the penguins, both with parking areas and both included within the same entrance fee. There's simply a long wooden boardwalk between the two beaches.
Boulders Beach has the larger number of penguins and is the main location of the colony. You see them from the viewing deck above and the penguins stretch out along the beach. There's a lot of signage around here with lots of information, and I'd definitely recommend stopping here.
Then just along the way is Foxy Beach (you can't get lost). This is where you can really get up close and personal with the penguins.
Well, not too close because they do bite or snap at humans. And there were a lot of humans trying to get too close on the day we were there…
The penguins actually retreat behind a makeshift fenced off area if too many tourists try to approach them, so do be mindful of this and give them their space.
We found them basking in the sun and waddling around the beach, but we also found several penguins swam with us amongst the giants boulders. No other tourists swum in this area and it was quite magical to have these adorable little penguins swimming around us!
How long can I spend at the beach with the penguins?
You can actually spend all day here if you wanted. Although the Foxy Beach isn't huge, it's actually really beautiful and worth spending longer here, if you can.
There were quite a few sunbathers dotted around on the day we went, and I wasn't surprised.
The sand is silky soft and the water is very gentle in the sheltered bay, and significantly warmer than other Cape Town beaches.
Whilst laying out in the sun, all of a sudden I heard the pitter patter of an adorable little penguin coming straight for my boyfriend's head.
He waddled straight beside us, brushing sand onto our towel as he headed for a dip in the sea.
The park wardens have no issue with people coming down to spend the day there at all.
You might even see other wildlife there too. We saw a dussie (like a small fox creature) exploring around the back of the beach and it was the closest I got to one all trip.
What else can I do nearby to Boulders Beach?
The penguins and the national park are the only things to do in this area of Boulders Beach, however, as mentioned above, it makes a wonderful stop on a road trip around the Cape Peninsula. Therefore, some of the wonderful quirky towns nearby, such as Simon's Town and Kalk Bay are well worth stopping to spend time in.
Can I visit as part of an organised tour?
Of course! GetYourGuide offer several, which you can view here:
Visiting the penguins at Boulders Beach
So there's my guide to visiting the penguin beach in Cape Town, South Africa.
Feel free to drop me a line if you would like any advice or further recommendations! You can find several other of my Cape Town blog posts here, such as visiting Robben Island and all of the best things to do in Cape Town too.
If you've enjoyed this post, feel free to share using the below links!
Wanna see more? Check my Instagram here, my Facebook here or my Twitter here!
Disclaimer: This visit to the Boulders Beach and Cape Town was entirely paid for by myself and there was no involvement from the tourism board or a hotel. This is an independent guide.