Cape Town, located at the tip of South Africa is easily one of the most beautiful and interesting cities in the world. Known the world over for its warm climate, incredible landscape and vibrant city centre, it's a destination with a bit of everything. From stunning beaches, cute fishing towns, alluring wine farms, excellent restaurants, a cosmopolitan CBD and a jaw-droppingly beautiful mountain range, there's no shortage of things to do in Cape Town. Yet even the surrounding areas around the city are stunning and so distinctly different, offering an even greater variety of things to do and see on day trips from Cape Town. You could spend one day on safari, the next day whale watching and the following day sampling the best wines in the world in the Cape Winelands.
Therefore, I thought it made sense to write a guide to day trips from Cape Town. I've broadly categorised the day trip ideas into three main types: Road Trips, Wine Farms & Wildlife. All of the below ideas are a 2 hour or less drive from Cape Town, and can be done with your own hire car. However, after each tour, I have also listed a couple of suggested organised day tours from Cape Town, for ease.
So here's my list of the best day trips from Cape Town:
Day Trip Ideas: Road Trips
The region surrounding Cape Town just seems made for road trips. Scenic routes stretch in every direction out of the Cape Town city centre. There are several one day road trips starting in Cape Town, so here's a couple to consider:
Cape Peninsula
This iconic coast road trip takes in some of South Africa's most famous sites and locations, including the Cape of Good Hope. Once considered the southernmost point in Africa (which is actually located at), the Cape of Good Hope is located in the Cape Point Nature Reserve.
If you do one full day trip from Cape Town, make it this one. Not only can you stop in charming towns and fishing villages such as Simon's Town and Kalk Bay, spot penguins on the beach and baboons in the and the Cape Point Nature Reserve.
Here's a complete list of the best things to do and see on the Cape Peninsula:
See the penguins at Boulder's Beach
Check out the view of False Bay from Cape Point
Visit the Cape of Good Hope
Enjoy a hike along one of the six different routes, each within the Cape Point Reserve
Take the funicular to the New Cape Point Lighthouse
Stop by the charming fishing villages of Kalk Bay and Simon's Town
Drive the scenic Chapman's Peak Drive
A couple of suggested tours:
West Coast (Paternoster and Die Strandloper)
The beautiful West Coast is less visited than the coast stretching East of Cape Town leading towards the Garden Route. The West Coast road trip takes drivers on an incredible route past wild beaches, through quaint fishing villages and towards the Karoo.
The main towns on this route is Paternoster and Langebaan.
Considered one of the oldest fishing villages in South Africa, Paternoster is now home to some of Africa's best seafood restaurants. There are also some wonderful things to do in Paternoster including visiting the beautiful Cape Columbine Nature Reserve. And Langebaan is home to the iconic Die Strandloper, another foodie spot that is definitely worth visiting.
Die Strandloper is a beach braai with a difference. Make sure to make your reservation in advance, as it's a one time thing a day. Grab a beer, a plate and settle down under some shade for an South African foodie experience like no other.
The drive from Cape Town CBD to Paternoster/Die Strandloper is around 90 minutes each way. En route, you pass the Aquila Game Reserve which you could stop at (see more on this below) but you're also likely to see giraffe, ostrich and zebra from the road!
A couple of suggested tours:
Chapman's Peak
This beautiful scenic highway is technically en route to the Cape Peninsula, so can be done together in one drive.
However, if you fancy a shorter drive, you can do this world class route stretching from the beaches at Hout Bay to Noordhoek. It's a 9km route but it twists and turns around the coastline, with some sections almost tunnel-like. Please note, it is a toll road and you do have to pay.
A couple of suggested tours:
Table Mountain & Chapman's Peak Drive Guided Tour
Day Trip Ideas: Wine Farms
South Africa is known the world over for its incredible wines, all of which hold an impressive global reputation. Much of the country's very best wine is produced in Cape Town, at one of the three main Cape Winelands: Franschhoek, Stellenbosch and Constantia.
Constantia is the closest winelands area to Cape Town city centre, but Franschhoek and Stellenbosch are gorgeous towns themselves and definitely worth the slightly longer drive.
The three Cape Winelands each offer exceptional panoramic views and are easily accessed wine tasting opportunities. Visiting the wine estates near to Cape Town offers a food and drink experience like nowhere else. Here's my guide to the best wine farms near to Cape Town:
Franschhoek
You could probably guess by the name, but Franschhoek was founded by the French in the 17th century. Today, the town is home to esteemed art galleries, artisan stores, fine dining and exquisite spa hotels. Whilst Franschhoek makes for a wonderful day trip from Cape Town, you could easily spend a few nights here too.
One of the most fun things to do in Cape Town is actually in Franschhoek on the famous wine tram. Starting in the town centre of Franschhoek, the wine tram offers five routes around the wine farms in the valley. This is a really fun and entertaining way to spend the day, and a great day trip from Cape Town. My favourite wineries were Rickety Bridge and Grand Provence. Tickets cost R220 (£12.50) per person and departs several times per day.
Stellenbosch
Stellenbosch was founded by the Dutch in the 17th century, and the Dutch colonial buildings still line the streets of this picturesque town. One street to visit is definitely Dorp Street, home to some quirky shops and stalls.
Today, Stellenbosch is also a university town, so depending on the time of year you go, the town may be full of students. I was fortunate enough to visit Stellenbosch in late December when all students were back home, so I had a peaceful few days to explore. Stellenbosch is home to some of the most famous wine farms, including Spier Wine Farm and Waterford Wine Estate.
However, my favourite was Babylonstoren, which also happens to be one of the most beautiful places I have ever been to. Babylonstoren is home to expansive gardens that are free to wander, as well as excellent restaurants and farm shops. I loved the prickly pear maze and all the unusual hideaways!
Constantia
Constantia is the wine farm closest to Cape Town.
Not only does it offer similar stunning mountain vistas, panoramic views and iconic wine estates but it is a very easy half day or full day from Cape Town. It is easily accessed by public transport or Uber, and is even a stop on the iconic Red Bus Sightseeing Tours
Groot Constantia is the oldest wine farm in South Africa and has a famed reputation.
Organised tours to wine farms from Cape Town
It's really important to remember that it is illegal to drink and drive in South Africa. So unless you have a designated driver for your trip to the Cape Winelands, it's actually best to take an organised our. Not only does this take care of the driving to and from Cape Town, but it'll also take you to several wineries and include all your wine tasting and lunch.
A couple of suggested tours:
Day Trip Ideas: Wildlife
Boulder's Beach
You may have seen iconic photos of penguins on the beach somewhere in South Africa and wondered where this was! Well, the answer is at the ridiculously picturesque Boulders's Beach located near to quirky Simon's Town on the Cape Peninsula. I've written a complete guide to visiting Boulder's Beach here, which you should definitely read.
This is one of my absolute favourite things to do in Cape Town and totally unmissable on any trip to the city.
A couple of suggested tours:
As mentioned, visiting the penguin colony at Boulder's Beach ties in really nicely with a longer trip around the Cape Peninsula, so this tour here would be perfect to include the two.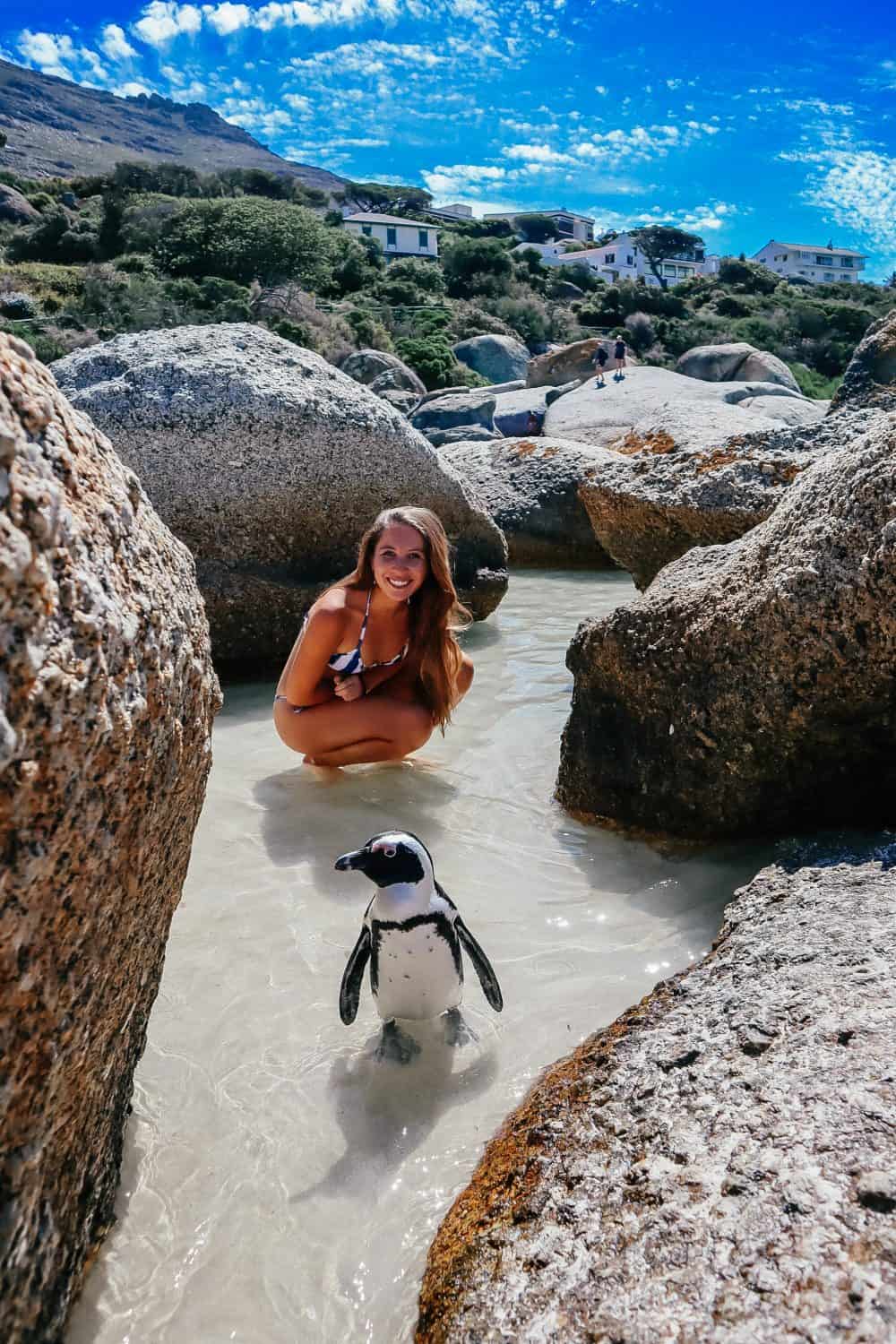 Hermanus
Home to the beautiful Humpback Whales and the Southern Right Whales, Hermanus is the best place in the world to see whales in their natural habitat from land. The best time to see the whales in Hermanus near to Cape Town is between June and October. Hundreds of whales arrive in Hermanus during this time to mate and give birth.
Other activities in Hermanus include excellent hiking along the clifftops and top notch seafood restaurants.
The drive from Cape Town CBD to Hermanus is around 2 hours.
A couple of suggested tours:
Aquila Private Game Reserve
This is the closest game reserve to Cape Town, and an excellent place to combine a safari trip with a Cape Town city break.
The reserve offers 10,000 hectares of land, offering a prime opportunity to see the "big five" – lion, rhino, elephant, leopard and buffalo.
There's also an animal rescue and conservation centre.
A couple of suggested tours:
Hout Bay
Have you ever thought about snorkelling with seals? Well, this is yet another amazing activity you can do near to Cape Town, and an amazing day trip. This beautiful beach is actually located close to the start of the Chapman's Peak Drive, and for this reason, people tend to not stop here. Yet, there are some really cool activities on offer here at Hout Bay. One of which is snorkelling with the Cape Fur seals, enjoying a scenic boat cruise or kayaking adventure to see the seals or visiting the largest bird sanctuary in Africa at the World of Birds Wildlife Sanctuary.
A couple of suggested tours:
Organised tours for day trips or self-drive?
In terms of planning, an organised tour does take care of all elements and often, the guide is hugely informative and insightful.
Of course with an organised a tour, freedom to stop or detour as you wish is the main compromise.
Either way, you're guaranteed to have an amazing time exploring the Western Cape through day trips from Cape Town.
Safety tips for day trips from Cape Town by car
If you do choose to drive out of Cape Town for any of the above day trips then there are a few precautions to consider. Some of which you may not be used to:
Leave early and try to return before it's dark. Generally in South Africa, it is best to not drive too much after dark. Ubers are great for getting around for dinner etc, but don't drive around looking lost or stopping regularly
Watch out for wildlife. A real hazard across the whole country is roaming wildlife, such as baboons, ostriches, tortoises and hares. Even antelope may suddenly come bounding from the side of the road. Drive carefully and slow down when you see the signs showing animals.
Keep spare change at hand for toll roads. Many of these don't accept foreign credit cards so keep some South African rand for this.
Keep 5 Rand coins spare for parking guards. At all sites where there is a car park, you'll see someone attending the car park as a guard in a high vis jacket. They'll likely help direct you into a space and mind your car whilst you go off sightseeing. When you return, they will approach you expecting 5 Rands as a tip.
Day trips from Cape Town
So there you have my guide to the best day trips from Cape Town, covering everything from epic road trips, to exploring the Cape Winelands and exciting animal encounters.
Cape Town really is a city for everyone, with simply so much on offer and a wonderful year-round mild climate. If you're planning a visit, you might also find my Cape Town itineraries useful, as well as my guide to the best places to eat in Cape Town and all of the best activities to do in Cape Town city centre.
If you're travelling around South Africa, make sure to check out my guide to the Garden Route, the best beaches in SA and my guide to going on safari at Kruger National Park.
Feel free to drop me a line if you would like any advice or further recommendations for planning your trip to Cape Town. If you've enjoyed this guide to the best day trips and tours from Cape Town, then please do share using the below links!
Wanna see more? Check my Instagram here, my Facebook here or my Twitter here!
Disclaimer: This visit to Cape Town was entirely paid for by myself, and there was no involvement from the tourism board or a hotel. This is an independent guide.
Enjoyed my guide to day trips from Cape Town? Pin it!