Cape Town, South Africa's glorious 'Mother City' has been a destination I have wanted to visit for a long time now. Before I went last month, I had dreamed of gorgeous beaches and a lively and cosmopolitan city. Cape Town was exactly that, and so, so much more.
It's funny to be told hundreds of times before arriving somewhere that you're "just going to love it", and for the expectations to be so high. It's even where my boyfriend went to university for five years – he loved his time in Cape Town and that's what I expected too.
But fortunately, my high expectations were met and exceeded. Cape Town has simply so much to offer. It's definitely one of those cities that's amazing to visit, and amazing to live in. And I could live in Cape Town without a doubt. The Capetonian lifestyle is so healthy and outdoorsy, but with all the cafes, bars and galleries that us Europeans tend to love so much.
My boyfriend finished his studies in Cape Town 10 years ago, and during our recent visit, he couldn't believe how many areas had changed around the city, and how many new places had opened in this time. I really can't wait to return in the future and see what's new in Cape Town.
Cape Town has everything in one destination, that I think few other places in the world can offer. I would recommend a week, or longer, to really get to know Cape Town. Whether it's romantic things to do, or family friendly activities, Cape Town has the lot! From vineyards, nature, wildlife, cafes, bars, hiking, history, culture and beaches – are you ready for my ultimate list of the best things to do in Cape Town?
Catch the sunset at Signal Hill
It's not a groundbreaking decision to drop by this viewpoint for sunset – and the number of cars parked will testify. But it really is worth it. Tourists and locals alike gather on the paragliding take-off area with picnics and blankets to watch the sun set over beautiful Cape Town.
It's also one of the most romantic things to do in Cape Town!
Blend in with the locals at Seapoint
This seafront promenade is packed in the early evening with locals exercising, walking their dogs and getting some fresh air after a day at work. You'll feel like a real Capetonian if you take a walk along here, and actually there'll be far few tourists.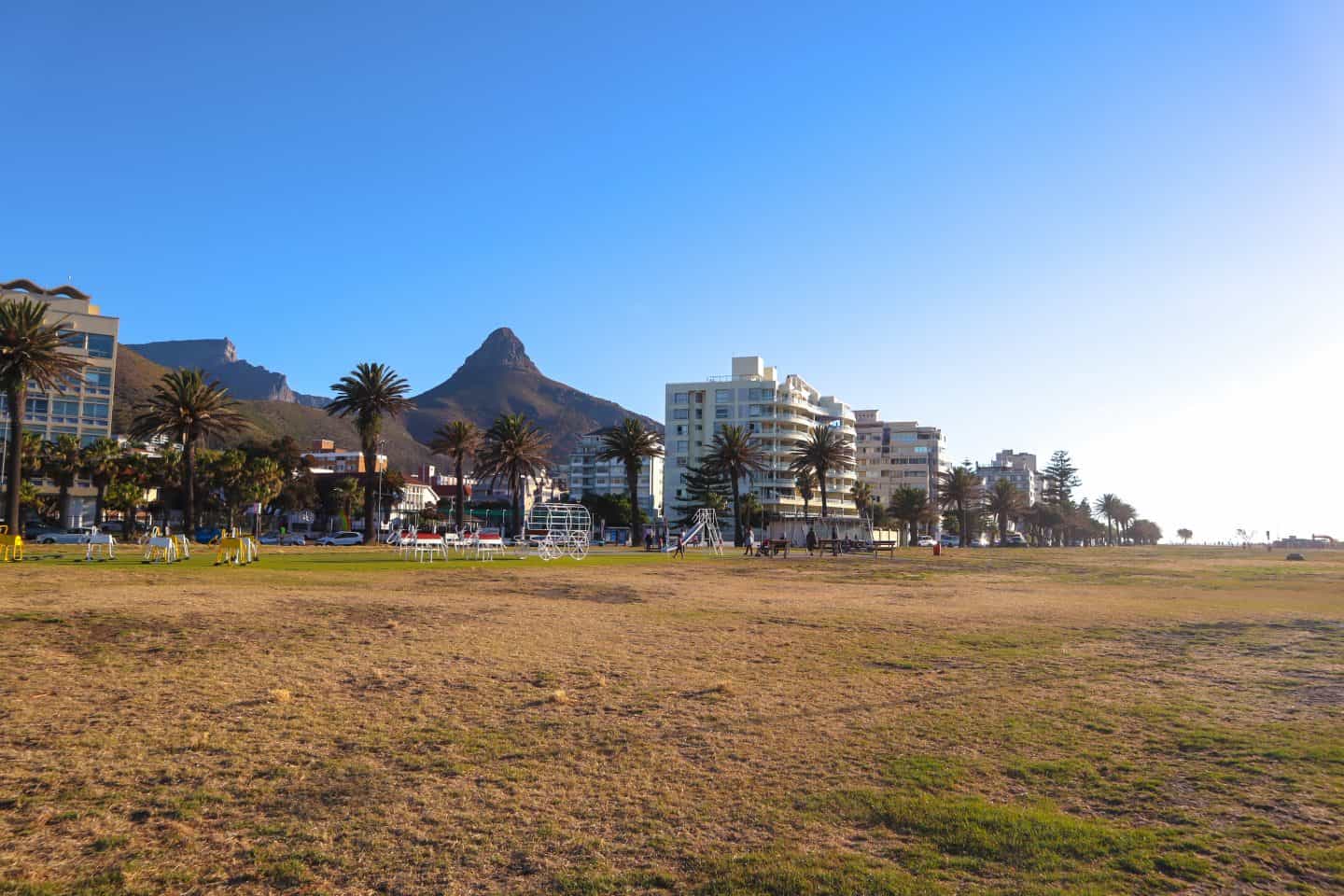 Robben Island
An absolute must see for any tourist visiting Cape Town. It would be an injustice to your South African experience to visit the country and not do the trip to Robben Island. Most interestingly, our guide noted that their are so few ex-prisoners still alive, that if you'd like an experience hearing their tales first-hand, you'd need to visit in the next couple of years. This post details in-depth my experience of Robben Island. It absolutely has to go on the list of the top things to do in Cape Town.
Wander the V&A Waterfront
This vast waterfront development feels a bit like the beating heart of Cape Town. It's a car-free, completely pedestrianised area of shops, restaurants, cafes, bars and even a couple of beach clubs. A lot of the Cape Town's city hotels are located near here so it's likely most tourists would find themselves at the V&A Waterfront anyway. It's vibrant, with lively local South African musicians playing every day and quite quaint with a drawbridge and old style buildings. A lot of chartered boat trips depart from here, including the ferry to Robben Island and you're likely to see seals everywhere! An afternoon spent here is definitely one of the most fun activities to do in Cape Town.
Silo Hotel
This new and ultra luxurious hotel is located in the Silo District, part of the Waterfront area. The Silo Hotel in Cape Town is topping every list around the world of 'Best Luxury Hotels' or similar, and I'd agree it's worth visiting on a trip to South Africa. Whilst an overnight stay might be out of your budget (a starting rate of £900 a night, no less..), it's worth making an advance reservation to have a drink or bite to eat in the Silo Rooftop. The 360 view is spectacular!
Table Mountain
Looming over the city is the iconic Table Mountain, another must see attraction in Cape Town. There's the option to hike to its summit on various different routes, or to take the cable car up and/or down. There's several viewing points and a small shop at the top. Table Mountain is one of the most iconic hikes in the world to do, and best of all, it's right by the city centre! It is easily one of the best adventure activities to do in Cape Town.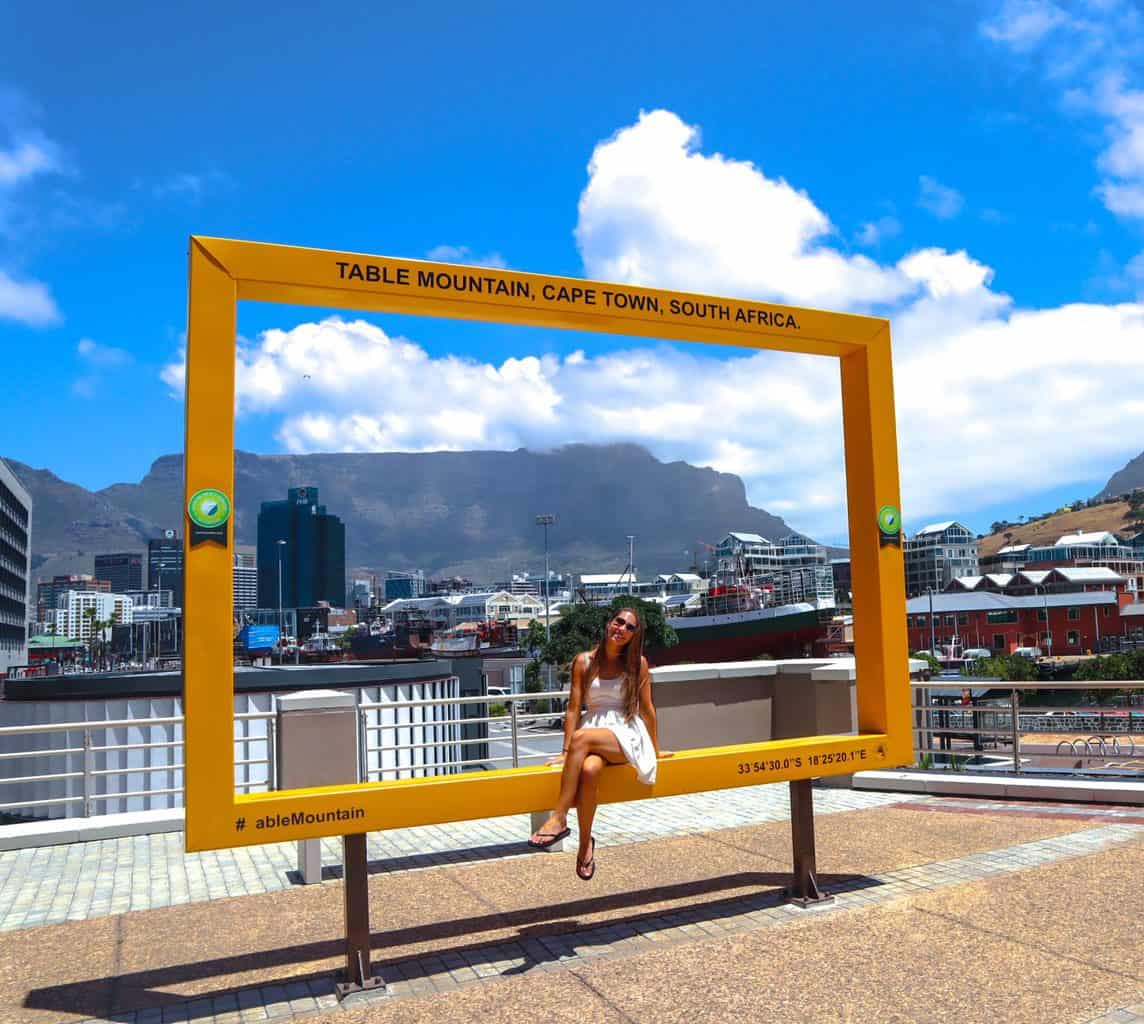 Chapman's Peak Drive
This beautiful scenic drive winds along the Atlantic coastline from the picturesque fishing Hout Bay to Noordhoek in the Cape Peninsula. Considered one of the most beautiful drives in the world, this 19km route twists and turns and offers some spectacular views. Factor this into a Cape Peninsula day out and drive this stunning route at sunset back towards Cape Town. You will not be disappointed!
Go beach hopping
Cape Town is known for its fantastic beaches, and for good reason. There's dozens to pick from, from gorgeous sandy alcoves to vast bays with gorgeous views. I'll be writing a beach guide to Cape Town in due course, but days spent lapping up in the sun on a Western Cape beach is a day well spent and definitely one of the best things to do in Cape Town for kids too.
Enjoy sundowners at Camps Bay
Camps Bay is definitely one of the stunning beaches in Cape Town. It is a gorgeous affluent neighbourhood, with a lively and cosmopolitan bar and cafe scene along its beachside road. The vibe in Camps Bay is similar to places such as St Kilda in Melbourne, so turn up early, grab a seat at one of the cool cafes and watch the sky turn red and purple in front of your eyes! The party scene in Camps Bay would easily be one of the best things to do at night in Cape Town too!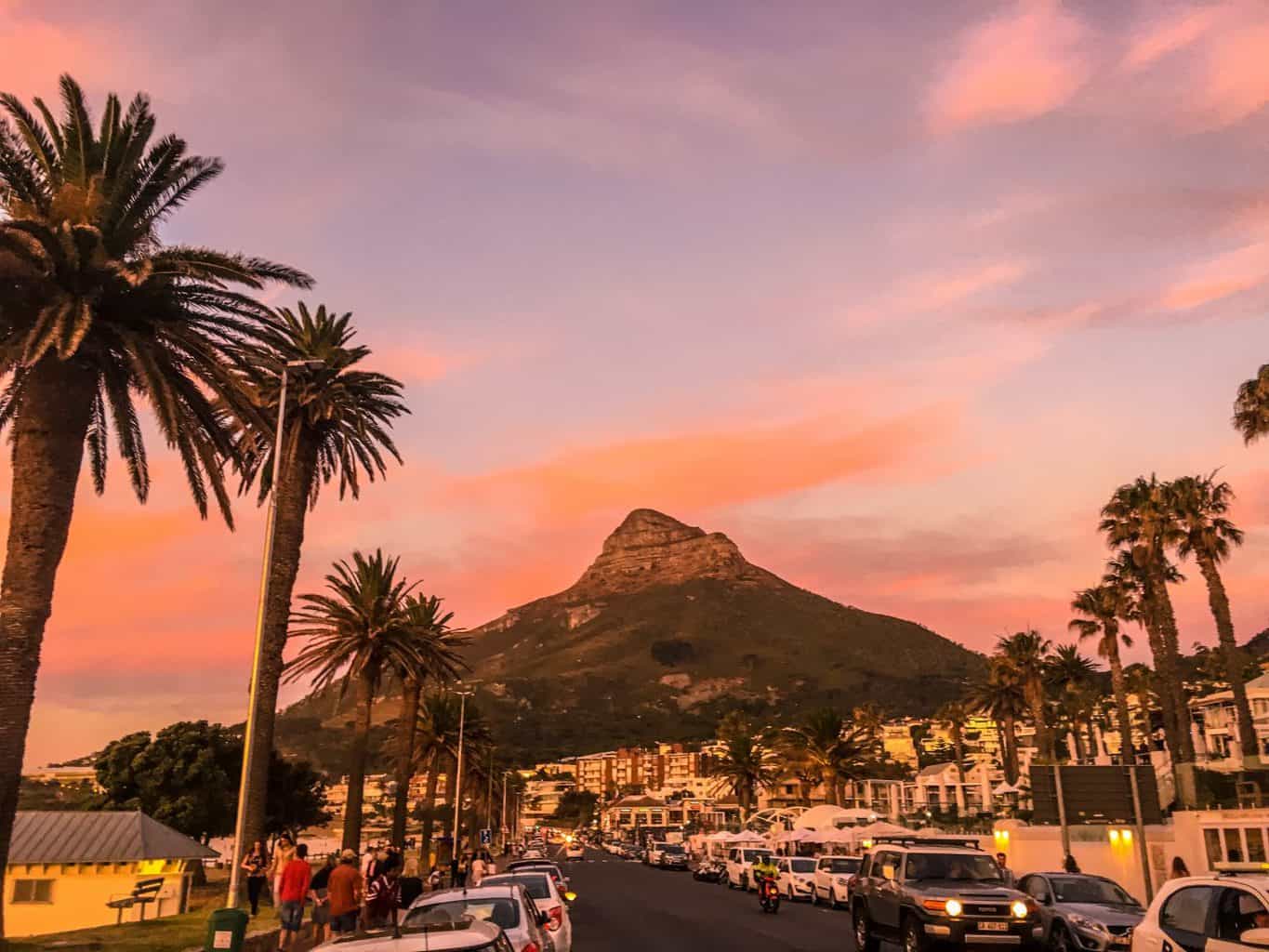 Visit the local vineyards at Constantia, Stellenbosch and Franschhoek
South Africa is globally renowned for its excellent wines, and fortunately, some of the best wine growing regions are found right next to Cape Town. A day trip to a wine farm near Cape Town is the perfect day time activity for couples or for groups of friends.
For Constantia, it is about a 15 or 20 minute drive from the CBD. There are also plenty of tourist transport options to get from Cape Town CBD to Constantia Wine Valley such as the famous red bus company, City Sightseeing. The beautiful towns of Stellenbosch and Franschhoek are both less than an hour driving from the CBD. There are so many wine farms to visit, and you can even do these via hop-on hop-off tours, for example in a tuk tuk or on the popular Franschhoek wine tram.
Explore the City Bowl area
The heart of Cape Town is known as the City Bowl, because of its amphitheatre shape nestled in the shadow of Table Mountain. It encompasses a number of different neighbourhood and districts within the city, and is where most tourists base themselves for a stay in Cape Town. It's so worth getting to know all the different little areas with the City Bowl – it's a complete melting pot of different cultures and background, and is home to so many of the Cape Town sights. Exploring here really gives some insight into how diverse Cape Town really is, as well as the historical influences which have shaped the city we see today.
Wander the hipster neighbourhood of Woodstock
Get to know the hipster hangout of Woodstock, which is also one of the oldest suburbs in Cape Town. Once an industrial and manufacturing zone, today it is lined with exciting street art, eclectic stalls and boutiques, cutting-edge restaurants and hip cafes and a lively social scene. An afternoon can easily be lost wandering its narrow streets and The Old Biscuit Mill, a converted warehouse full of workshops, shops, coffee shops and yoga spaces. A must see area in Cape Town!
Find the local penguin colonies
One of the most popular tourist attractions in Cape Town, you can find penguins in several locations including Robben Island and the popular Boulder's Beach. At the latter, you pay a small entrance fee of R152 (£8.50) for tourists, or R39 (£2.20) for locals, but can visit the penguins at two sites within the National Park. You can even swim right up close with the penguins, a magical experience! Absolutely amazing and one of the best activities for kids, families and couples alike. Here's my guide to visiting the penguins in Cape Town.
Explore Bo Kaap
This enclave within the CBD is home to the city's muslim population, and was once known as the Malay Quarter. This distinctive neighbourhood's street are lined with colourful, old-style homes where you can wander. Many of the families living here have been here for generations and this area is important to Cape Town's cultural heritage.
Tuck into Cape Town's local food
Cape Town is one of the best foodie destinations I have ever been to. I could have spent all day every day, cafe and bar hopping here and still not have made it to every spot. I've pulled this foodie guide to all of the best cafes and restaurants you must visit in Cape Town.
Visit a township
Whilst poverty tourism is something I'd never really encourage, visiting a township with a small walking tour in one of the South African cities was something at the top of my list. It is one of the more unusual activities to do in Cape Town, but essential to do to really understand the country.
South Africa is a nation of vast disparity, and I really noticed this in Cape Town. Whilst all of the must see attractions and activities on this list are fantastic, nothing can really give you insight and a feel for Cape Town and for South Africa than by visiting a township. Something you can't really avoid noticing is the level of security in the city, particularly in residential areas and it was something that made me feel a bit uncomfortable. We visited Langa township with Siviwe Tours. We found it to be both surprising, interesting and hugely insightful. It gave us strong hope that the disparity within South Africa can slowly be diminished and things can become more balanced.
This is my detailed guide to visiting a township in Cape Town.
Catch the sunrise at Lions Head
Lions Head, directly in front of Table Mountain, is another must-do hike and easily one of the best activities to do in Cape Town. The view from the summit is stunning and you can easily go up and down before 9am, if you start at sunrise. Whilst the very final stage of Lions Head is more challenging, you can enjoy the incredible 360 views the whole way up so no worries if you do not make it to the top. It offers, without a doubt, some of the best views in Cape Town, and maybe even the world.
Walk through the gardens of Kirstenbosch
Nestled at the foot of Table Mountain is the stunning Kirstenbosch Botanical Gardens. Worth an afternoon exploring, there a canopied walkways to view the diverse flora and fauna, as well as wildlife indigenous to the area. A wonderfully romantic activity to do in Cape Town too.
Explore the Cape Peninsula, including the cool Kalk Bay and historic Simon's Town
This beautiful road trip is so worth including in your time in Cape Town and is one of the best road trips to do in South Africa.
Kalk Bay is cool and quirky, and Simon's Town is historical and ever so quaint. The two towns are also next to Boulders Beach, home to Cape Town's largest penguin colony. The Cape Peninsula also has the Cape Point Nature Reserve, located within the vast Table Mountain National Park. Africa's most southernly point is often mistaken for being in here in this nature reserve – it isn't, but the promontory here is still incredible beautiful and scenic.
This unbelievable city has just so much to offer and so much within reasonable distance of Cape Town's CBD. In one day, you can visit the wine farms in Stellenbosch, hike Lions Head, hit up a gorgeous South African beach, and eat world-class food! I honestly don't think there's a city this good anywhere else in the world. Cape Town has so many romantic things to do, as well as activities for families and for those on a backpacker budget.
I really hope you found this useful! Let me know in the comment section below if you have any questions on things to do in Cape Town.
Do also feel free to share using the below links ?
Wanna see more? Check my Instagram here, my Facebook here or my Twitter here!