Cape Town, South Africa's glorious 'Mother City' was a destination I had wanted to visit for a long time now. Before my first visit, I had dreamed of gorgeous beaches and a lively and cosmopolitan city. The city was exactly that, and so, so much more.
I was told hundreds of times before arriving that I was just "just going to love it". So my expectations for Cape Town were pretty high.
But fortunately, my high expectations were met and exceeded. Cape Town has simply so much to offer. It's definitely one of those cities that's amazing to visit, and amazing to live in. And I could live in this beautiful city without a doubt. The Capetonian lifestyle is so healthy and outdoorsy. Yet it has all the cafes, bars and galleries that Europeans and Americans tend to look for in a destination.
I've written a much more detailed guide here on Cape Town, covering how to plan your time in the city. I've split this guide into various length itineraries, from three day visits to 10 day visits.
If possible, I would suggest one week in Cape Town. This would be ample time to see the main attractions in Cape Town, but several excellent day trips too. But no matter how long you spend in the city, you'll be able to squeeze in a surprising number of activities and sites. So here's my guide to all of the best things to do in Cape Town!
Top things to do in Cape Town
Catch the sunset at Signal Hill
Signal Hill is one of the most popular places in Cape Town to watch a sunset. The number of cars in the car park and the approach road certainly indicates this. But the potential trouble in parking is well worth the reward.
Visitors gather on the hill with picnics and blankets to watch the sun set over the sea in the distance. It's spectacular and if you're looking for romantic activities in Cape Town, this is definitely one of them!
Blend in with the locals at Seapoint
Seapoint is the seafront promenade stretching from near the V&A Waterfront all the way towards Clifton. In the early evening, it is packed with locals and their dogs getting some fresh air after a day at work. You'll feel like a real Capetonian if you take a walk along here. Especially as there tends to be far fewer tourists here than in the Waterfront, for example.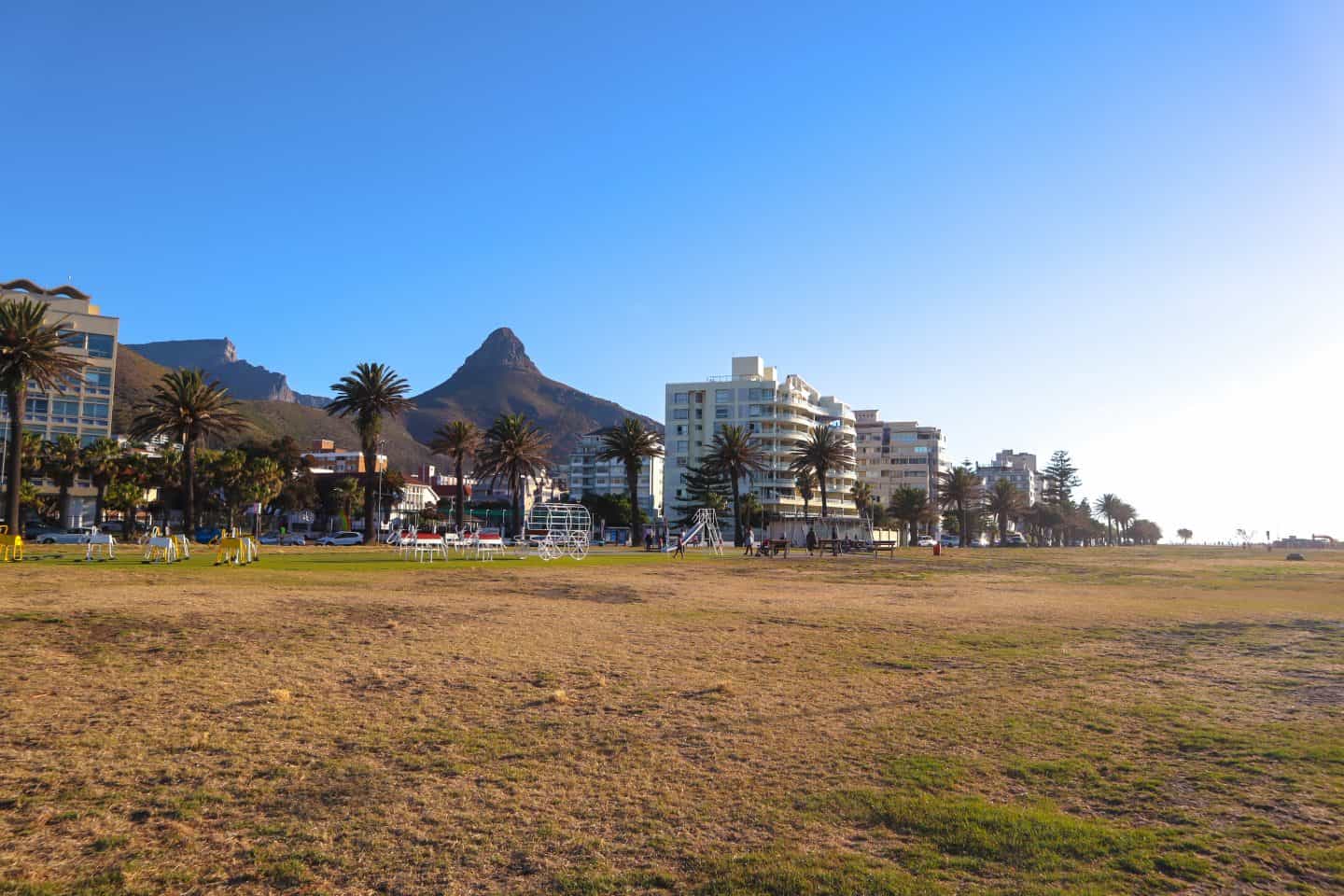 Robben Island
Robben Island is an absolute must see attraction for any tourist visiting Cape Town. It would be an injustice to your South African experience to visit the country and to not visit Robben Island.
Our guide pointed out that each year, there are fewer and fewer ex-prisoners still alive. So if you'd like to experience hearing their tales first-hand, you'd need to visit in the next couple of years. This post details in-depth my experience of Robben Island, including everything you need to know to visit yourself.
Book your tickets to Robben Island here.
Wander the V&A Waterfront
This vast waterfront development feels a bit like the beating heart of Cape Town. It's also car-free and completely pedestrianised making it a lovely area to explore. There are plenty of shops, restaurants, cafes, bars and even a couple of beach clubs at the V&A Waterfront.
Many of the best hotels in Cape Town are located near here so you're likely to be staying nearby.
The waterfront is also where many sailing day trips depart, incuding the ferry to Robben Island. Make sure to watch out for the exciting marine life if you head out on to the water. You could see seals, dolphins or even whales!
Silo Hotel
This ultra luxurious (and very expensive hotel) is in the Silo District, part of the Waterfront area. The Silo Hotel in Cape Town tops many 'Best Luxury Hotels' lists around the world and I'd definitely recommend visiting whilst in South Africa. You don't actually have to stay overnight to enjoy it's restaurants and bars. So whilst an overnight stay might be out of your budget (rates start at £900 a night), it's worth making an advance reservation to have a drink or bite to eat in the Silo Rooftop. The 360 view is spectacular!
Table Mountain
Looming over the city is the iconic Table Mountain, another must see attraction in Cape Town. There are several different hiking routes of varying difficulty, or you can take the cable car up and/or down. There's several viewing points at the top. Table Mountain is one of the most iconic hikes in the world, and it's very easily accessed from the city centre! It is easily one of the best adventure activities to do in Cape Town.
Book your tickets for the Table Mountain cable car here.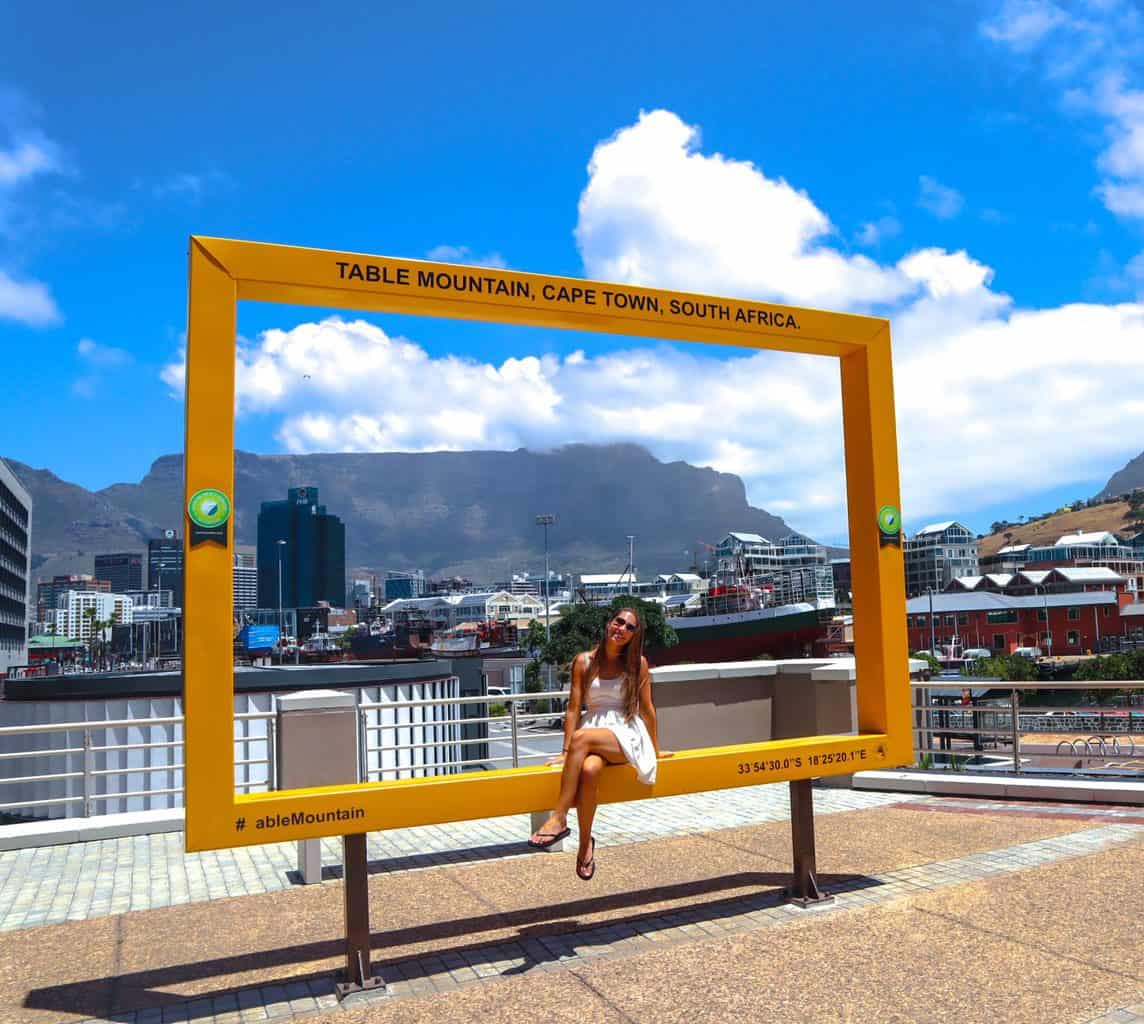 Chapman's Peak Drive
This beautiful scenic drive winds along the coastline, and is considered one of the most beautiful routes in the world. Starting in the picturesque fishing village of Hout Bay and finishing in Noordhoek in the Cape Peninsula. Factor this drive into a Cape Peninsula day out and drive this stunning route at sunset back towards Cape Town. You will not be disappointed! Read more about this drive in my guide to the best day trips from Cape Town here.
Book an organised tour to Chapman's Peak and the Cape Peninsula here.
Go beach hopping
Cape Town is known for its fantastic beaches. There are dozens to pick from, from gorgeous sandy alcoves to vast bays with gorgeous views. Check out my guide to all of the best beaches in Cape Town here.
Enjoy sundowners at Camps Bay
Camps Bay is definitely one of the most stunning beaches in Cape Town. Camps Bay is one of the most affluent neighbourhoods in Cape Town. It has a really lively and cosmopolitan bar and cafe scene along its beachside road.
I found the vibe in Camps Bay similar to St Kilda in Melbourne. I'd recommend turning up early for sunset. Grab a seat at one of the cool cafes on the beachfront and watch the sky turn red and purple in front of your eyes!
Camps Bay is also known for its nightlife at places such as Cafe Caprice.
Visit the local vineyards at Constantia, Stellenbosch and Franschhoek
South Africa is globally renowned for its excellent wines. And fortunately, some of the best wine growing regions are found right next to Cape Town. A day trip to a wine farm near Cape Town is the perfect activity for couples or larger groups.
Constantia is the closest winelands area to Cape Town, located less than a 20 minute drive from the city centre. There are plenty of transport options to get from Cape Town city centre to Constantia if you don't have your own car. Even the famous red bus company, City Sightseeing includes Constantia on one if its routes. Book your tickets here.
The beautiful towns of Stellenbosch and Franschhoek are both less than an hour driving from the centre of Cape Town. There are many wine farms to visit, and you can even do these via hop-on hop-off tours. For example in a tuk tuk or on the popular Franschhoek wine tram. Book the wine tram here.
Explore the City Bowl area
The centre of Cape Town is known as the City Bowl, because of its amphitheatre shape. Nestled in the shadow of Table Mountain, City Bowl encompasses a number of different neighbourhood and districts within the city. It's a complete melting pot of different cultures and background, and is home to many of the key attractions in the city
Exploring Cape Town's city centre really gives some insight into how diverse the city really is.
Wander the hipster neighbourhood of Woodstock
The hipster hangout of Woodstock is also one of the oldest suburbs in Cape Town. Once an industrial and manufacturing zone, today Woodstock is lined with exciting street art. There are plenty of eclectic stalls and boutiques to wander around, as well as cutting-edge restaurants, and hip cafes and a lively social scene.
An afternoon can easily be lost wandering its narrow streets and The Old Biscuit Mill. This is a converted warehouse full of workshops, shops, coffee shops and yoga spaces. Woodstock is a must-see area, for sure.
Meet the local penguins
One of the most popular tourist attractions in Cape Town is Boulder's Beach.
For a small entrance fee of R152 (£8.50) for tourists, or R39 (£2.20) for locals, visitors can visit the penguins at two sites within the National Park.
You can even swim right up close with the penguins, a magical experience! Make sure to check out my detailed guide to visiting the penguins in Cape Town.
You can also kayak to see the penguins too, book your tickets here.
Explore Bo Kaap
This colourful neighbourhood in the city centre is home to the city's muslim population, and was once known as the Malay Quarter. This distinctive neighbourhood's street are lined with ultra-colourful, old-style homes which visitors are free to wander. Many of the families living here have been here for generations and this area is important to the city's cultural heritage. Book a tour and cooking class in Bo Kaap here.
Tuck into Cape Town's local food
Cape Town is one of the best foodie destinations I have ever been to. I could have spent all day every day, cafe and bar hopping here and still not have made it to every spot. I've pulled this foodie guide to all of the best cafes and restaurants you must visit in Cape Town. Make sure to sample as many local places as you can!
Book a tour covering Cape Town's best gin, craft beer and coffee here!
Visit a township in Cape Town
Visiting a township is definitely one of the more unusual things to do in Cape Town, but one that can give a real insight into life in South Africa. You can read more about my experience at Langa Township here.
South Africa is a nation of vast disparity, and I really noticed this in Cape Town. Nowhere can really give you an understanding and a feel for Cape Town and for South Africa than by visiting a township.
Something you can't really avoid noticing is the level of security in the city, particularly in residential areas. It was something that made me feel a bit uncomfortable. We visited Langa township with Siviwe Tours. I found it to be both surprising, interesting and hugely insightful. It gave us strong hope that the disparity within South Africa can slowly be diminished and things can become more balanced. You can also book tours through this link here.
This is my detailed guide to visiting a township in Cape Town.
Catch the sunrise at Lions Head
Lions Head, directly in front of Table Mountain, is another must-do hike. It is easily one of the best activities to do in Cape Town. The view from the summit is stunning and if you start at sunrise, you can be down by 9am. Whilst the very final stage of Lions Head is challenging, you can enjoy the incredible 360 views the whole way up. So no worries if you do not make it to the top. It offers some of the best views in Cape Town, and maybe even the world.
Walk through the gardens of Kirstenbosch
Nestled at the foot of Table Mountain is the stunning Kirstenbosch Botanical Gardens. Worth an afternoon exploring, there are canopied walkways to view the diverse flora and fauna, as well as wildlife indigenous to the area. If you visit in the summer months, you can also enjoy Sundays at Kirstenbosch. A wonderful way to spend the day where you take your own picnic along and listen to live music.
Explore the Cape Peninsula, including the cool Kalk Bay and historic Simon's Town
This beautiful route is so worth including in your itinerary and is one of the best road trips to do in South Africa.
Kalk Bay is cool and quirky, and Simon's Town is historical and ever so quaint. The two towns are also next to Boulders Beach, home to Cape Town's largest penguin colony. The Cape Peninsula also has the Cape Point Nature Reserve, located within the vast Table Mountain National Park. Africa's most southernly point is often mistaken for being in here in this nature reserve. It actually isn't, but the promontory here is still incredible beautiful and scenic.
Book a guided tour to visit the best of the Cape Peninsula route here.
So that's my guide to the best things to do and see in Cape Town. In just one day in Cape Town, you can visit the wine farms in Stellenbosch, hike Lions Head and go to one of the gorgeous beaches. I honestly don't think there's a city this great anywhere else in the world.
I really hope you found this useful! Let me know in the comment section below if you have any questions on things to do in Cape Town.
Disclaimer: This visit to Cape Town, South Africa was entirely paid for by myself. There was no involvement from the tourism board or any hotels. This is an independent guide.
Enjoyed my guide to the best things to do in Cape Town, South Africa? Pin it!