Townships in South Africa have always been a point of curiosity for me. Not only have I wanted to visit South Africa for more than a decade, but since studying a degree in International Development, I have developed an interest in understanding how and why such disparity exists around the world. This, coupled with a lifelong fascination of people, heritage and traditions from different cultures – and particularly African nations – meant that visiting a township was something I really wanted to do during my time in South Africa. Cape Town is beautiful, but if you stick to the affluent city centre, you'll never know the real South Africa.
But, this being said – visiting a township in South Africa is still a somewhat unusual activity to do on holiday in Cape Town.
Visiting a township in Cape Town
Is it poverty tourism?
To a degree it is, I think it is. I even rung my mum the evening before to tell her about my first week in Cape Town, and when I mentioned visiting a township, she was a little horrified and asked why I'd want to walk around and gawp at people. She thought it was a little voyeuristic and somewhat insensitive.
It stung a little but I quickly pointed out that that wasn't my personal aim in visiting a township in Cape Town. My interest lay in understanding and opening my eyes to a bit of the real South Africa. Cape Town is incredible, but don't get me wrong, it's very European – I wanted to experience the 'beating heart' of a South African township. Something felt wrong if I just stayed in the wealthy enclaves and tourist areas of Cape Town, without taking the time to get to know local people and seeing daily life for a majority of South Africans.
I didn't plan on 'gawping' at people in the township, but simply making myself more aware of the situation in Cape Town and South Africa.
Not only was our visit to Langa township eye-opening, and for the most part, actually really inspiring. All of our preconceived ideas replaced with a feeling of hope and positivity.
Who took us around the township?
Our guide, a local girl called Zuzeka showed us that there are several socioeconomic classes even within a township – not everyone lives in a shack. In fact, there was a middle class, and an upper class – an area she joked was the Beverly Hills. But she wasn't far wrong, the houses in the township here were far larger and people drove cars.
She said that even as residents in the Langa township do acquire more wealth over time, they choose to stay in the township rather than move out. This is the reason as to why there are classes and many different housing types.
Overall, visiting a township in Cape Town was something really worth doing, and we are both really pleased we did. It don't feel it was a bad kind of poverty tourism. It has since enabled me to share what I learned, both through this blog post and by word-of-mouth, and that there is a lot hope and optimism in lessening the crazy disparity of wealth in South Africa.
If you are keen to visit a township whilst in South Africa, I highly recommend the locally run company we went with, called Siviwe Tours. I thought I'd also put a detailed guide to our visit below. You can also book a township and Robben Island Combination tour ticket here too, which is a great way to see both key sites in Cape Town.
Townships: Background information
What exactly is a township?
A township is an informal settlement and a type of racially divided suburb within South Africa's big cities, such as Cape Town, Johannesburg, Durban, Port Elizabeth and Pretoria.
How did townships in South Africa come about?
During apartheid and following the signing of the Group Areas Act of 1950, non-whites were forcibly removed from the centre of Cape Town. They were moved to specific residential areas which had each been assigned to different ethnic groups.
However, Pass Laws forced men to leave their families at home and to go back to the cities to work. This led to men living in hostels in townships on the outskirts, and working in places such as factories, mines and other similar manual industries. They were homed in large dormitories with shared living facilities. But when the Pass Laws were repealed, the wives and children were permitted to join the men, creating very cramped living conditions. This led to shacks popping up where suddenly the dormitories could no longer house the sheer number of people. As more and more people arrived, it quickly evolved into a township.
Where is Langa township?
Langa township is just a 15 minute drive from the CBD, located on the N2 heading out of Cape Town. Take exit 12 and you arrive right in Langa.
Why visit Langa township over the others?
Langa is considered one of safest of the Cape Town townships. It is also one of the most manageable to visit in terms of size (just 1.5km square) whereas two of the other main townships, Gugulethu and Khayelitsha, are huge and take a lot longer to explore. The name 'Langa' derives from the name Langalibalele, a famous chief who was kept in prison on Robben Island for protesting against the government. There's a street named after him within the township.
How many people live in Langa township, and where do they come from?
Around 70,000 people live peacefully in the township, most of whom belong to the Xhosa tribe. Yet our guide said that currently there are other African nationalities living there too, such as Somalians, Zimbabweans, Nigerians and Congolese.
When was Langa township established?
Langa township was established in 1923, making it the oldest in Cape Town. As mentioned, originally it was just men living here in dormitory style hostels and with black policeman patrolling. The men came from all over the country, but would tend to go home during Christmas and Easter for several weeks at a time. This led to many babies being born in September (!)
From Langa, the men travelled into Cape Town by train for their manual labour jobs in the city. When the women and children arrived to Langa in the late 1950s, whilst it led to cramped conditions and poorer sanitation, it did lead to health clinics and schools being built, which also led to more jobs within the township.
Langa Township today
What about the different classes of housing in Langa?
As mentioned, Langa is home to several different socio-economic classes. The lower classes still live in shacks and shared spaces. The rent for these is free, as well as water. The only thing they have to pay for is electricity.
The lower middle class live in small brick and mortar homes, but due to overpopulation in the township, many share the space with other families. Many of this class live in government-built homes, most of which were constructed en mass in 1994 following the end of apartheid. People queued up for these homes, and the wait was (and still can be) as long as 10 years for one of these houses. Those who live in these do pay the government some rent.
The middle class live in small homes, with fewer families sharing the spaces. Again, the residents of these types of hoard pay rent to the government.
The upper class live in bigger houses and are employed in professional roles such as accounting or in medical jobs, but choose to stay in Langa to give back and support the community which supported them.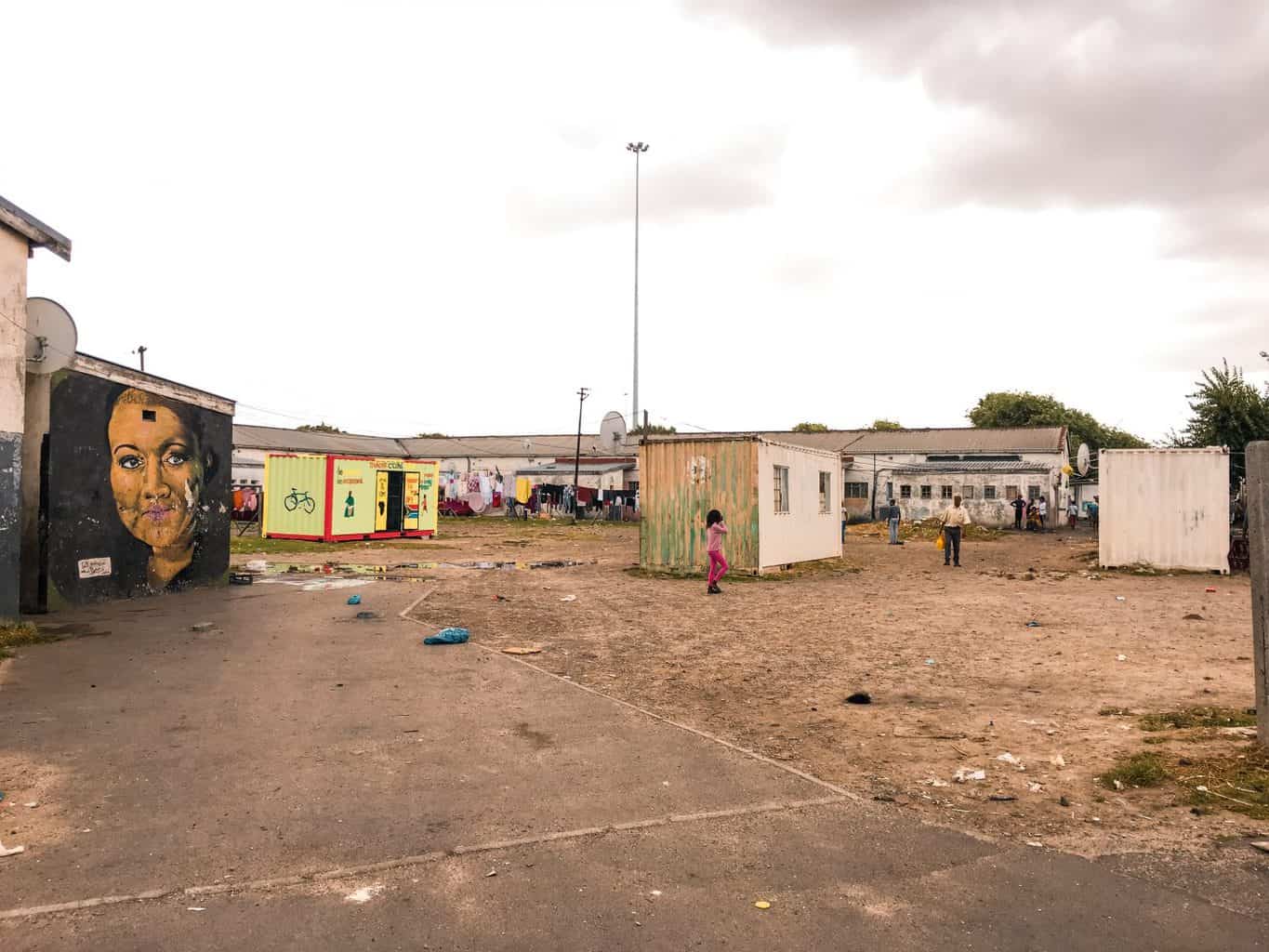 What about education and healthcare in Langa township?
At the time of visiting, there were 5 primary schools and 5 high schools, all of which are government schools and therefore no fees are paid.
The local clinic in Langa township provided several services including family planning and for those with TB and HIV. Some reisdents in the township had access to private healthcare through medical insurance.
What do people do for work in Langa township?
Unfortunately, the unemployment rate is quite high at 30%. Many residents have set up their own businesses but many rely on the government for jobs. These are 6 month contracts and people switch over, so whilst it doesn't positively change the employment rate, it does give an income to more people throughout a year. Other jobs include call centre work, working as a domestic (like a maid) or in retail or restaurants. All these roles require travelling outside the township and into the suburbs or the city.
Does the government support the people living in Langa township?
We learnt that there is some degree of state support in the form of handsouts. The over 60s and disabled receive 1600 Rand a year, and each child under 18 receives 380 Rand a year.
Our Experience at Langa
What did we do during our Langa township tour?
Our guide showed us all the various types of housing, as well as local businesses. Inside food produce stores, she took the time to point out different food stuffs and the prices, and also how they would be prepared into various typical dishes.

We also sat down in a small shabeen (like a little pub). It was 10am, but pitch black inside. The locals gave us a taste of the locally brewed beer – known as 'umqombothi' in isiXhosa, which is served in a giant bucket and passed around the room, one-by-one!
Unfortunately, as there is not a huge amount of things to do in the township, drinking cheap homemade beer is a favourite social activity. The community is a tight one however, and drugs and violence is reasonably uncommon, as social peer pressure stops this from occurring.
We also stopped at a local woman's home who had started her own business up – cooking and preparing Roosterkoeks. These are small bread rolls filled with cheese or eggs and a complete South African staple. Whilst we were trying them, some policeman turned up at her window to buy their lunch, so they're definitely popular in Langa township!
What else did we learn?
We also learnt a few words in the local language, isiXhosa – mostly greeting terms so we could interact with the locals we went by. Our guide grew up in Langa – and if you're interested to know, her English was perfect and she is off to teacher college soon.
We also spent a good amount of time in one shack in particular – that of a local legend called Shooter. His real name is Shadrack and the walls of his shack are covered floor to ceiling in photos of tourists who've dropped in and had the pleasure of meeting him. Unfortunately, on the day we visited, we were informed he was resting at a family member's place outside of the township as had sadly been diagnosed with lung cancer. We do hope he gets better soon.
Shooter's shack was really cool and very homey. He was clearly a genius with hands, and in true inventor style, had built lamps out of smoothie makers and skylights with kitchen trays. It was completely clean and immaculate, and had two bedrooms, a living area and a terrace-style area for people-watching. His shack didn't have running water and he shares his neighbour's electricity.
How long was the tour and how much did it cost?
So there we have it. My insightful and valuable morning visiting Langa township in cape Town. As I said, we visited with Siviwe Tours which is a locally-owned business, providing valuable opportunities and employment to locals in the township.
The whole tour took approximately two hours. It was easy to locate Langa from the directions given, and we parked our car up safely on the main street. No issues at all. The cost of the township tour was R350 per person if you do not require a pick-up, and R550 if you do.
Did we feel safe in the township?
We found the local people in Langa township to be very welcoming and receptive to our presence. We didn't bring our cameras, but we felt completely safe.
Regarding the idea of poverty tourism, whilst it's insightful and interesting for tourists to understand the real South Africa – it's also helpful for the local residents. They've typically associated white people with police and forms of oppression, but white people visiting a township out of their own choice shows that they're keen to engage with them peacefully, as well as learn about and respect their lives.
I really hope you found this useful! Let me know in the comment section below if you have any questions on visiting a township in South Africa, or specifically Langa in Cape Town.
I've written several other guides to Cape Town, including visiting Robben Island which you may find interesting, as well as a guide to planning a Cape Town itinerary.
If you've enjoyed this guide to visiting a township in South Africa, then please do share using the below links!
Wanna see more? Check my Instagram here, my Facebook here or my Twitter here!
Disclaimer: This visit to Langa Township in Cape Town was entirely paid for by myself, and there was no involvement from the tourism board. This is an independent guide.
Enjoyed my guide to visiting a township in Cape Town? Pin it!