Cape Town is a foodie heaven. Whether it's healthy food you're after or typical local Cape Malay or Southern African dishes, Cape Town has it. As someone who loves to eat, we made a lot of time for restaurant and cafes whilst in Cape Town but could have visited so many more if we had more time.
There is an abundance of brilliant cafes and restaurants to suit every taste and budget. Here are my favourites:
Mama Africa
This eclectic restaurant, located in the heart of Cape Town CBD on Long Street is a must-visit on any trip to Cape Town. Established just after the end of apartheid in 1995, this restaurant delivers the best Southern African food to be found. Try the Zimbabwean Dovi, a chicken dish in a mild peanut sauce or Mama's bobotie. The atmosphere is fun and vibey, with live music most evenings. There is also a curio shop where we bought some lovely art!
Website: https://www.mamaafricarestaurant.co.za/
Address: 178 Long Street, Cape Town City Centre, Cape Town, 8001, South Africa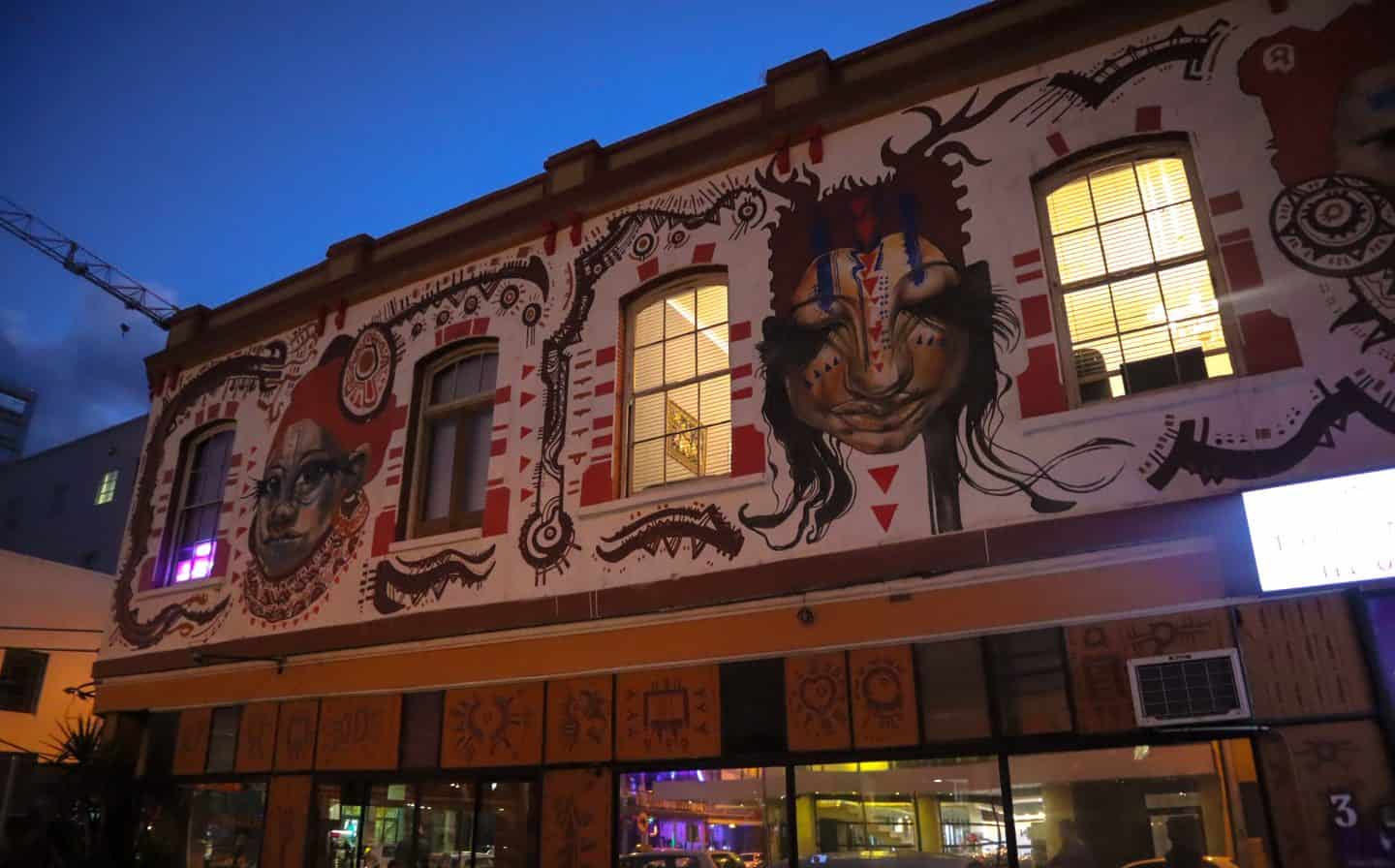 Beluga
Before I went to Cape Town, I couldn't even count how many people told me I had to go to Beluga for sushi. And they were right! Wow, the platters here were incredible. I could have eaten here every night! The restaurant is actually Euro-Asian fusion and the menu was extensive. It's located quite close to the Waterfront area and has a huge outdoor seating area in a very pretty square.
Website: https://beluga.co.za
Address: 70 Prestwich St, De Waterkant, Cape Town, 8005, South Africa

Kauai
OK, so this is a chain. And it's located all over South Africa. It's certainly not unique to Cape Town, but if you're looking for a dependable spot for great smoothies, coffees, wraps and healthy bites – hit up Kauai. My favourite one was in the V&A Waterfront area, right under the big wheel.
Website: https://www.kauai.co.za
Address: 1, Union Castle, Victoria and Alfred Waterfront, V & A Waterfront, Cape Town, 8002, South Africa
Die Strandloper
So the Strandloper is one of the most famous restaurants in South Africa for its unusual eating experience. Yet, its location – over one hour's drive out of Cape Town up the West Coast means it requires a bit of effort to get there and most definitely your own hire car. I'll be writing a full blog post on Die Strandloper in due course, but if you want an authentic Afrikaans eating experience in an amazing setting, this is a must-do. Oh, and book in advance!
Website: www.strandloper.com
Address: Jan Olfsen Street, Leentjiesklip, Langebaan, 7357, South Africa
Harvest
Located in the cool area of Bo Kaap in the heart of Cape Town, this cafe and deli offers up the most delicious health dishes for breakfast and lunch. Harvest's beautiful location overlooks the colourful streets of Bo Kaap and is a serene slice of food magic. I highly recommend its eggs benedict, which are served up on zucchini fritters with spinach, toasted almonds, sautéed mushrooms & cranberries. We had an amazing breakfast, all for about £13/$16 (two drinks, two mains) and I'd go back there tomorrow if I could!
Website: https://harvest-capetown.business.site
Address: 102 Wale Street, Schotsche Kloof, Cape Town, 8001, South Africa
Tiger's Milk
This popular day and night spot has several outposts across South Africa. We particularly loved the Tiger's Milk in Camps Bay overlooking the ocean, it was vibey and the perfect place for some sundowners and some yummy chow.
Website: http://tigersmilk.co.za
Address: 35 Victoria Road, Camps Bay, Cape Town, Western Cape
Silo Hotel
As one of the most luxurious and exclusive hotels in Cape Town, its rooftop is a must-visit as well as its dining spots within the hotel, such as The Granary. The Silo Rooftop is reservation only, so it's worth booking ahead to guarantee a lovely spot. I'd highly recommend picking up a couple of cocktails either mid-afternoon or at sunset and watching Cape Town from above. It's worth noting that you do have to be a hotel guest to use The Silo's (amazing) rooftop pool!
Website: https://www.theroyalportfolio.com/the-silo/overview/
Address: The Silo Hotel, Silo Square, V&A Waterfront, 8001, Cape Town
The Lawns at The Roundhouse
Tucked away on the steep hilly road that leads into Camps Bay from the foot of Table Mountain sits The Lawns at The Roundhouse. With an incredible view of mountains and the South Atlantic Ocean, this chilled-out stylish spot is a great place for family lunches or sundowners with friends.
Website: https://thelawnsct.com
Address: Round House Rd, Camps Bay, Cape Town, 8005, South Africa
The Brass Bell
This mammoth waterside restaurant/pub/bar/cafe is one of the best spots in Kalk Bay and was recommend to us by almost everyone. It's a bit of a hodge podge structure, with all kind of extra rooms and terraces having been added on over time. We went early for breakfast (definitely try the Incinci Intsimbi) but it's later in the day when The Brass Bell really comes alive!
Website: http://www.brassbell.co.za
Address: Main Road, Kalk Bay, Cape Town, 7990, South Africa
Maria's Greek Cafe
Hidden away in a gorgeous little square and under a sky of tiny fairy lights is the atmospheric and charming Maria's. To my surprise, I was served by a Brit, who like the rest of the staff was very friendly. Similar to a typical Greek taverna, it serves up all the best Greek cuisine.
Website: https://www.facebook.com/MariasGreekCafe/
Address: 31 Barnett Street, Dunkley Square, Gardens, 8001, Cape Town, South Africa
Bertha's Seafood Restaurant
By the waterfront in pretty Simon's Town is the excellent Bertha's. We stopped here before going to Boulder's Beach to see the penguins, and enjoyed a filling lunch and excellent cocktails. The staff were some of my favourite during my time in South Africa, just so friendly to us and to the local street performers outside on the terrace.
Website: http://berthas.co.za
Address: 1 Wharf Road, Simon's Town, 7975, Cape Town
Espresso Lab Microroasters
Situated on the ground floor of The Old Biscuit Mill in the hip district of Woodstock is this excellent roastery and coffee shop. We sampled some of the best coffee of our time in South Africa here as well as their tasty protein snack balls. They source their coffee beans from fully traceable farms, estates and cooperatives, so you can feel happy knowing its chain is sustainable!
Website: https://espressolabmicroroasters.com
Address: 375 Albert Road, Woodstock, Cape Town, South Africa
Kapstadt Brauhaus
Looking for cocktails served in steins? Yep, the Kapstadt Brauhaus is your place. I had a stein of pina colada – it was amazing, but I got a lot of brain freeze! Located in the V&A Waterfront, this is a great place for a drink following a day of sightseeing or for meeting friends with its beautiful vantage point. Also, the staff were so friendly and fun!
Website: SHOP G13, Clock Tower, V&A Waterfront, Cape Town, 8002
Address: https://www.kapstadtbrauhaus.co.za
Other places to try
I gave eating around Cape Town my best shot, but I didn't manage to make it to everywhere. Here's a handful of other places that came highly recommend, so be sure to add them to your list of cafes and restaurants to visit in Cape Town.
Harbour House in Kalk Bay – http://www.harbourhouse.co.za
Cafe Caprice in Camps Bay – http://cafecaprice.co.za
The Test Kitchen in Woodstock – https://www.thetestkitchen.co.za
Grand Africa, V&A Waterfront – http://www.grandafrica.com
Afternoon Tea at Belmont Mount Nelson – https://www.belmond.com/hotels/africa/south-africa/cape-town/belmond-mount-nelson-hotel/afternoon-tea
If you're heading to Cape Town in South Africa soon, I do hope this post on the best cafes and restaurants you need to visit whilst in the city is helpful. Cape Town is one of the best foodie destinations I've been to, so get stuck in!
Do also feel free to share using the below links ?
Wanna see more? Check my Instagram here, my Facebook here or my Twitter here!