Cape Town is a foodie heaven. It's widely considered one of the best places in the world to eat..
The food in South Africa, and Cape Town especially, is strongly influenced from the many cultures and nationalities that call the city home. From restaurants serving up Malay dishes to vegan brunch spots and Michelin-starred fine dining, Cape Town has it all.
On each visit to Cape Town, I go armed with a list of places I want to try so I can now say I've been to quite a few. So here's where to find the best food, coffee and drinks in Cape Town:
Best Places to Eat in Cape Town
Best Restaurants for Dinner in Cape Town
Mama Africa
This eclectic restaurant, located on Long Street in the heart of Cape Town city centre is a must-visit. Established just after the end of apartheid in 1995, this restaurant delivers the best Southern African food in Cape Town. Try the Zimbabwean Dovi, a chicken dish in a mild peanut sauce or Mama's bobotie. The atmosphere is fun and vibey, with live music most evenings. There is also a curio shop where we bought some lovely art. Reservations are recommended.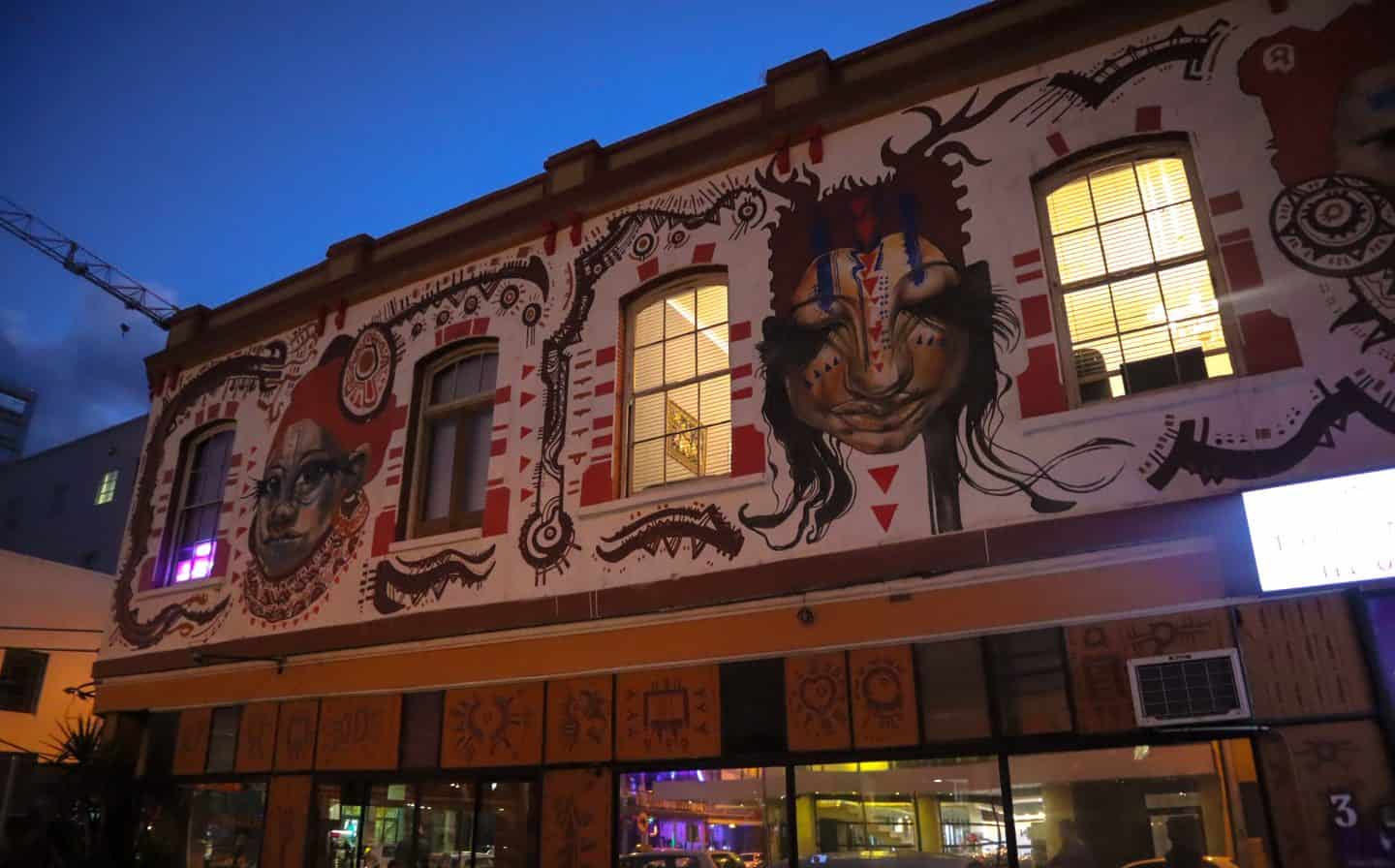 Beluga
So many people told me I had to go to Beluga for sushi before I first went to South Africa. And wow they were right, the sushi platters here were incredible. I could have eaten here every night!
The restaurant is actually Euro-Asian fusion and the menu is really extensive. It's located quite close to the Waterfront area and has a huge outdoor seating area in a very pretty square. Reservations aren't essential.
Bombay Bicycle Club
This funky restaurant is one of the most unusual places to eat in Cape Town, especially on a Friday evening when the dining experience is themed. It's fun, wacky and memorable! Definitely make a reservation ahead of time.
Kloof Street House
Located along Kloof Street is this wonderful resturant, unmissable for its numerous fairy lights. Where you want to enjoy a Sunday Roast, drinks with friends or a romanic dinner, Kloof Street delivers.
Best Brunch and Breakfast Spots in Cape Town
Kauai
Kauai is a health cafe chain located all over South Africa. It's certainly not unique to Cape Town, but if you're looking for a dependable spot for great smoothies, coffees, wraps and healthy bites – hit up Kauai. My favourite one was in the V&A Waterfront area, right under the big wheel.
Harvest
Located in the cool area of Bo Kaap in the heart of Cape Town, this cafe and deli offers up the most delicious health dishes for breakfast and lunch. Harvest's beautiful location overlooks the colourful streets of Bo Kaap and is a serene slice of food magic. I highly recommend the eggs benedict. These are served up on zucchini fritters with spinach, toasted almonds, sautéed mushrooms & cranberries. Breakfast comes out about £13/$16 (two drinks, two mains) and I'd go back there tomorrow if I could!
The Potluck Club
Considered one of the coolest spots in the City, the Potluck Club features on most lists of the best places to eat in Cape Town. Located in hipster Woodstock, it's worth visiting to sample its eclectic menu from around the world.
Best Coffee Shops in Cape Town
Espresso Lab Microroasters
Situated on the ground floor of The Old Biscuit Mill in the hip district of Woodstock is this excellent roastery and coffee shop. I think Espresso Lab has some of the best coffee in South Africa. They source their coffee beans from fully traceable farms, estates and cooperatives, so you can feel happy knowing it is sustainable.
Bootleggers
One of the most well known coffee shop chains in the city, it was originally founded by three friends about six years ago. They serve up some of the best coffee in Cape Town and are well worth visiting, especially if you're a coffee snob seeking excellent coffee.
Daytime drinking in Cape Town
Tiger's Milk
This popular day and night spot has several outposts across South Africa. I particularly love the Tiger's Milk in Camps Bay overlooking the ocean. The atmosphere is vibey and it's the perfect place for some sundowners.
Silo Hotel
As one of the most luxurious and exclusive hotels in Cape Town, you might be surprised I've added this to the list. However, its rooftop is a must-visit.
The Silo Rooftop is reservation only, so it's worth booking ahead to guarantee a lovely spot and you don't need to be a hotel guest. I'd highly recommend picking up a couple of cocktails either mid-afternoon or at sunset and watching Cape Town from above. However, it is worth noting that you do have to be a hotel guest to use The Silo's (amazing) rooftop pool!
The Lawns at The Roundhouse
Tucked away above Camps Bay is The Lawns at The Roundhouse. With an incredible view of mountains and the South Atlantic Ocean, this chilled-out stylish spot is a great place for family lunches or sundowners with friends.
Kapstadt Brauhaus
Looking for cocktails served in steins? Yep, the Kapstadt Brauhaus is your place. I'm had a few stein-sized pina coladas in here. Located in the V&A Waterfront, this is a great place for a drink following a day of sightseeing. It's also the perfect place to meet friends with its beautiful vantage point and super friendly and fun staff.
The Brass Bell
This huge waterside restaurant/pub/bar/cafe is one of the best spots in Kalk Bay and was recommend to us by almost everyone. It's a bit of a hodge podge structure, with all kind of extra rooms and terraces having been added on over time. I recommend trying the Incinci Intsimbi if you go at breakfast time, but it's later in the day when The Brass Bell really comes alive!
The Bungalow at Clifton
Offering by far the most stunning views in Clifton, The Bungalow is the perfect place to enjoy day time food and drinks. Stay for sunset and even stay for dinner. It will not disappoint!
Best Mediterranean Food in Cape Town
Maria's Greek Cafe
Hidden away in a gorgeous little square and under a sky of tiny fairy lights is the atmospheric and charming Maria's. To my surprise, I was served by a Brit, who like the rest of the staff was very friendly. Similar to a typical Greek taverna, it serves up all the best Greek cuisine.
Col'chacio
Serving up some of the best pizza in Cape Town, this is an Italian chain for your pizza and pasta fix! There are several across the city and all are really relaxed and casual.
Best Seafood Restaurants in Cape Town
Bertha's Seafood Restaurant
By the waterfront in pretty Simon's Town is the excellent Bertha's. This is a great place to eat if you're heading to Boulder's Beach to see the penguins. The staff are super friendly and there's always excellent local street performers outside on the terrace.
Harbour House
Another excellent restaurant, also located in Kalk Bay on the Cape Peninsula. Serving up delicious seafood on its large desk overlooking the bay, with mountains in the distance.
Hokey Pokey
A great spot for a Hawaiian bowl of poke, and has plenty of light and refreshing options from which to pick.
Cod Father
Cod Father is known for having the best seafood in Cape Town, hands down. In the absence of a menu, their staff talk you through the catch of the day and how to have it served. An awesome experience.
Best Fine Dining Restaurants in Cape Town
The Test Kitchen
Routinely featuring on lists of the best restaurants in the world, The Test Kitchen is one of the finest dining experiences to be had in Africa. Located in the Old Biscuit Mill in Woodstock, diners are treated to world class food and this is undoubtedly one of the best places to eat in Cape Town. Bookings are required months in advance.
Chef's Warehouse
Located in the stunning winelands area of Beau Constantia, just outside of the city, Chef's Warehouse is a true meal with a view. Their menu is ever-changing, but the views do not – you'll be surrounded by beautiful vineyards and Table Mountain in the distance. Book ahead.
For something a bit different..
Die Strandloper
Strandloper is one of the most famous restaurants in South Africa for its unusual foodie experience. Its location is just over one hour's drive out of Cape Town up the West Coast. This means it requires a bit of effort to get there and I would recommend to hire your own car. If you want an authentic Afrikaans eating experience in an amazing setting, this is a must-do. Definitely book in advance!
Afternoon Tea at Belmont Mount Nelson
If a decadent afternoon tea takes your fancy, then this is definitely the place. The pastel-pink luxury hotel is one of the most beautiful places in Cape Town, and one of their exquisite afternoon teas makes for a rather special occasion. Definitely book in advance|!
So there's my guide to some of the best places to eat in Cape Town! The city is one of the best destinations I have ever been to – and it has food to match. If you're planning on visiting soon, you might find some of my other guides useful such as my Cape Town itinerary planning guide and post on all of the best things to do in Cape Town.
If you're spending a bit longer in Cape Town or South Africa, you might find my day trips from Cape Town guide helpful, as well as my guide to safari in Kruger National Park too.
Feel free to drop me a line if you would like any advice or further recommendations for planning your trip to Cape Town. If you've enjoyed this guide to the best places to eat and drink in Cape Town, then please do share using the below links!
Wanna see more? Check my Instagram here, my Facebook here or my Twitter here!
Disclaimer: This visit to Cape Town was entirely paid for by myself, and there was no involvement from the tourism board or a hotel. This is an independent guide.