Beautiful Ghana, located in the heart of West Africa is one of the safest, most accessible and most vibrant countries on the continent. Although Ghana is less visited than other countries in Africa, such as Morocco, South Africa and Kenya, those that do go to Ghana are greeted by the warmest smiles, open arms and a buzzy, colourful energy. And best of all, travelling around Ghana is reasonably straightforward, meaning visitors can explore many of the country's highlights with ease.
This Ghana travel guide aims to cover all of the best things to do in Ghana, many of which are located near Accra, the capital city. But some are further afield in one of the sixteen administrative regions. Whether you're looking for day trips or weekends trips from Accra, longer adventures to the north, or simply, exciting things to do in the city, this Ghana travel guide has you covered.
Accra
The beating heart of Ghana is Accra, the capital city. This is where all international trips to Ghana start and finish, as Accra is the only international airport in the country. Accra is a whirlwind of colour, culture, music, dance, and is also one of the burgeoning hubs for entrepreneurship and technology in Africa.
In fact, Accra is considered one of the most politically and economically stable cities in Africa. And interestingly, dozens of emigrants are returning to Ghana, with 2019 marking the 'Year of the Return'. Many Ghanaians are realising the potential for prosperity, commerce and tech in Accra, making it a fast-paced city that is changing rapidly every year.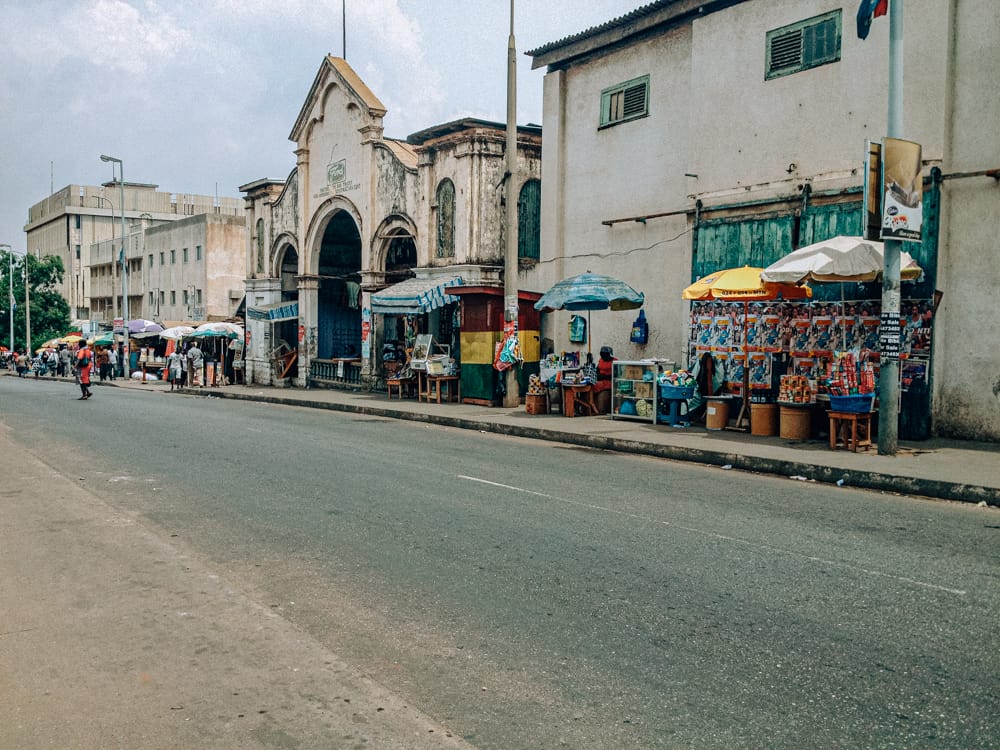 Accra is packed with things to do, and you could easily spend your entire Ghana trip here. From bustling markets, exciting nightlife, beautiful beaches, excellent cafe culture and colourful, historical corners, there's plenty of things to see in Accra. So here's my pick of the best:
Experience Ghana's history
Ghana achieved independence in 1957, when Kwame Nkrumah led the country to its first democratic government under his leadership and away from British rule. As such, there are number of tribes and monuments dedicated to his memory in the city.
Independence Square, also known as Black Star Square is a huge open area in Accra dominated by the Independence Arch. It's home to the annual Independence Day celebrations which take place on March 6th. At the northern end of the area is the Memorial of the Unknown Solider which honours all of those who've died fighting for Ghana's independence.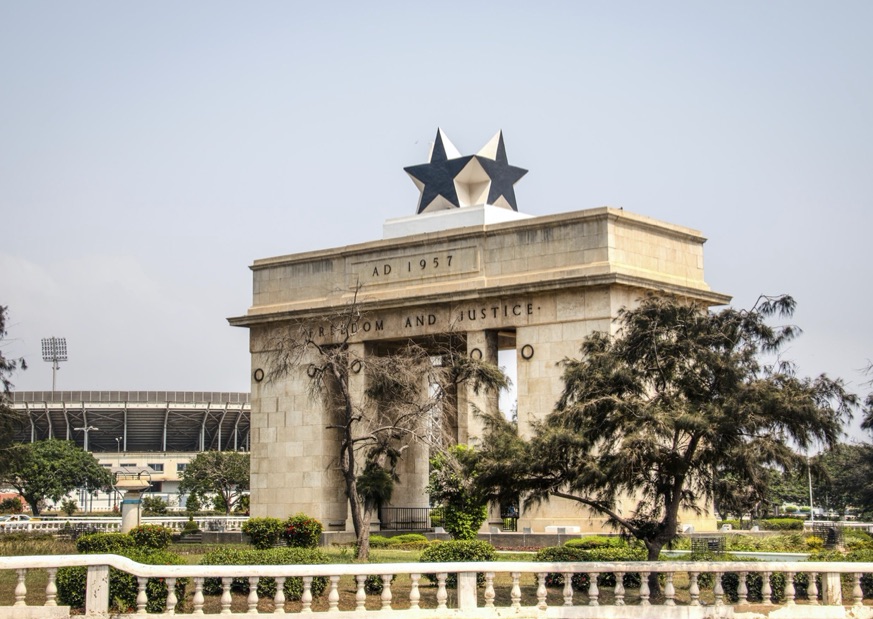 Nearby is the Accra Sports Stadium which sits 40,000 spectators. You might be lucky to see a passionate football game as this is the home of two local teams in Ghana's Premier League.
You can also visit the Kwame Nkrumah Memorial Park where he is buried. It's a beautifully landscaped park with an iconic memorial at its heart. This is the very spot where he stood to declare independence from British rule. The attraction was installed in his memory, thanks to his hard work which brought education and infrastructure to Ghana.
But make sure to also visit the National Museum to learn more about Ghana's interesting history. The sections inside include archaeology, ethnography, music, art, jewellery and the famous Kente clothing.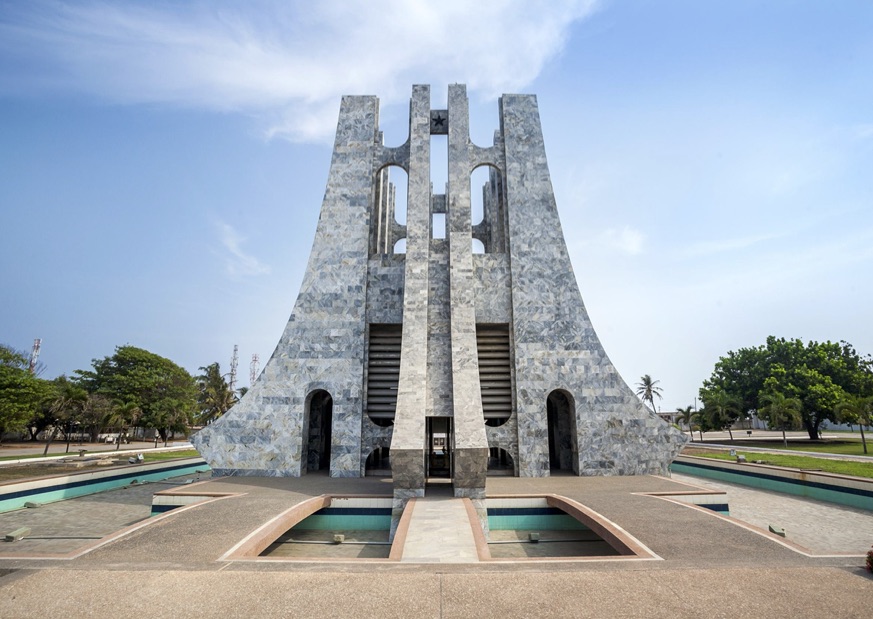 Jamestown
This colourful corner of Accra is a bustling fishing port, where colonial architecture meets the bustling street-market atmosphere. This area was once a key settlement of Europeans during the slave trade. The Jamestown lighthouse, which is 92ft tall and built in the 1930s is the most iconic site in the area, and it's well worth climbing to the top for its beautiful views across the Gulf of Guinea.
For a bite to eat, make sure to stop at the JamesTown Cafe, which is a stylish caee and bar located within a beautifully restored building in the heart of the district.
If you happen to visit Ghana in August, then make sure to check out the Chale Wote Street Art Festival taking place in James Town. The streets come alive with people, music and the delicious smells from the street food, making it a wonderful opportunity to get fully immersed in Ghanaian life.
Explore Osu
Osu is the shopping and entertainment heart of Ghana, with its central street often called Oxford Street, like the one in London.
Hours and hours can be spent in Osu, whether it's sampling delicious food, browsing the shops or visiting some of the key attractions. The main site to see is the Osu Castle, sometimes referred to as Christiansborg as it was built by the Danes. Today it is a UNESCO World Heritage site and provides an important reminder of Ghana's slave history. The castle was even once occupied by the Ghanaian government in the post-slavery period, until they moved to a new location.
The castle provides visitors the opportunity to learn about European colonial rule in Ghana as it was used by the Danes, Norwegians, Portuguese and British throughout the slavery era. Underground are the slave dungeons, similar to the more well-known Cape Coast castle (more not his below). Security is tight at Osu Castle and visits are only permitted on Fridays between 9am and 4pm.
Enjoy Accra nightlife
Accra is a city that seems to pulsate with beats. Music is everywhere and there is certainly no shortage of great bars, live music spots and buzzing nightclubs.
My pick of the bars is definitely Republic, in the heart of Osu. Its locally brewed cocktails are amazing and the live music is always great. I've had amazing nights at Republic and highly recommend the Frozen Harmattan or the Kokroko cocktails. They make their own liquor from a Cane Spirit called 'Akpeteshie'. You've got to try their cocktails!
Another great nightlife spot is +233 (Ghana's dialing code), which is an excellent live music venue, as well as Firefly cocktail bar for Friday and Saturday nights. Purple Pub is also a great low-key roadside pub for drinks.
Another must-do for nightlife is the weekly reggae beach party on the soft sands of Labadi Beach.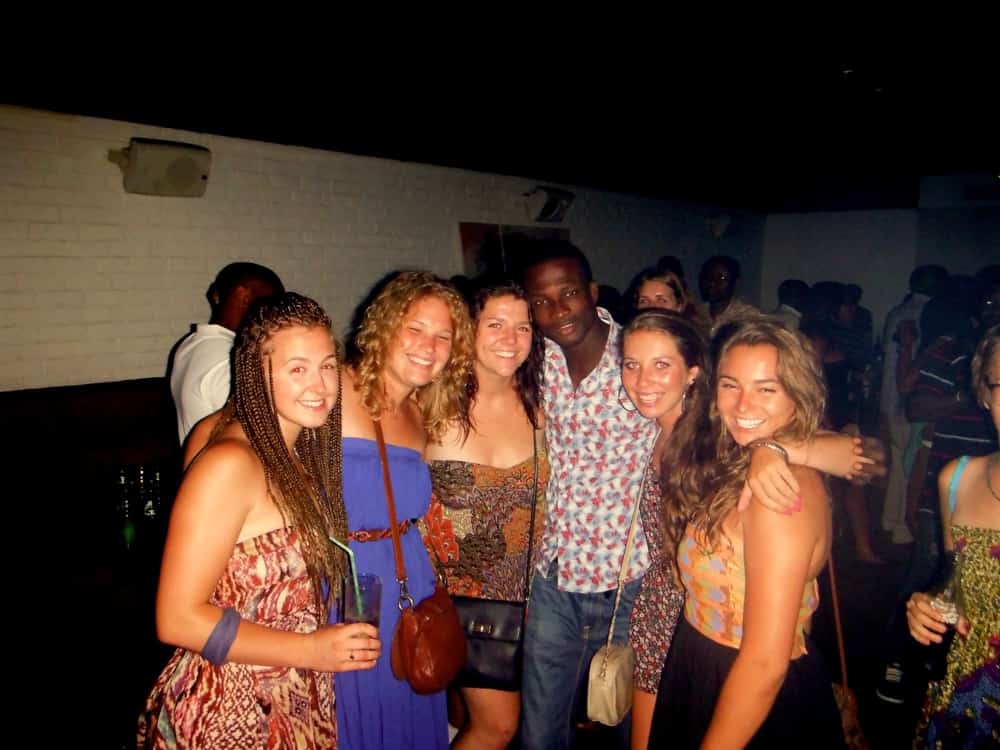 Makola Market
This vast market is a must-do experience in Accra. Prepare for a sweaty, noisy, bustling market adventure. Enjoy getting lost and meeting the local Ghanaians out shopping for their wares – although, beware there is a little signage. Sample local street food and perhaps visit some of the local seamstresses who'll be happy to create you a tailored outfit in Kente cloth.
Haggle until your heart's content! Make sure to also visit the nearby Kantamanto market which is great for clothes too.
Hit the beach
The nearest beach to Accra is Labadi Beach. On weekdays the beach is quieter and more relaxed, but at weekends, locals flock to this super popular beach. You'll find families, couples, expats, travellers, volunteers and business travellers packing out the sun loungers. Here you can play football, enjoy the surf, go horse riding along the sand or spend the days at the various beach bars.
An alternative beach to go to is Bojo Beach, which is slightly further away but very relaxing.
Slightly further along the coast, but still considered near to Accra is the brilliant Kokrobite Beach. This is the best surf spot near the city, as well as home to some great nightlife. The best place to stay is Big Millie's which is well known amongst expats, volunteers and students in Accra. We spent many weekends there and absolutely loved our stays.
Visit the Legon Botanical Gardens
This beautiful park sits behind the University of Ghana campus in East Legon. It's a huge, leafy spot with well-manicured grounds. In the last few years, the park has been boosted by the installment of zip wires and a elevated rope course.
Alternatively, why not visit the Aburi Botanical Gardens which although are a little further out, offer a peaceful and romantic escape from the city madness.
Hotel Pool Days
So it's pretty hot in Ghana and sometimes you just want a pool. And if your hotel doesn't have one – no fear. Plenty of high end hotels in Accra offer day entry to external guests to use their pool and facilities. In fact, this is a popular activity with International students and expats living in Accra.
The most affordable hotel pool to visit is at the Golden Tulip hotel. Although a tad dated, the pool is excellent and it's the perfect place to spend a relaxing day.
Another option is the Kempinski, or the Mövenpick which is famous for its pool staff on rollerblades!
Cafe culture in Accra
Like other global cities, Accra has a burgeoning population of freelancers, digital nomads and young entrepreneurs, some running start-ups from their laptop. As a result, cafes with fast WiFi have been springing up across the city. Some of the best cafes include:
Venus Lounge: for good wifi and excellent Lebanese dishes
Josie's Cuppa Cappuccino: delicious iced coffees and scrumptious sandwiches with indoor and outdoor seating
Cafe Kwae: in the airport area, is a modern, stylish coffee shop
Cafe Mondo: for your fix of French croissant and hot coffee
Other places to eat in Accra
There's no end of excellent places to eat in Accra.
Monsoon, which serves up some of the best meat from South Africa alongside fresh sushi and sashimi.
Or why not visit Labone Green Market which is popular with health-conscious Ghanaians and expats.
Where to stay in Accra
There are hundreds of hotels in Accra, some of which can be surprisingly expensive. In fact, a lot of the chain hotels in the city, such as the Mövenpick Ambassador, the Marriott and Kempinski will set you back at between £120 to £220 a night, with dining options also pretty expensive.
The Golden Tulip is a great option for around £65 a night or the Labadi Beach Hotel for a stay right by the ocean (£146 a night). There are so many places to stay in Accra, why not browse yourself to find a hotel that suits.
Eastern Ghana: Volta Region
The Volta Region is the easternmost region in Ghana and borders the neighbouring country of Togo. The region is famous for the huge Lake Volta, which is the world's largest manmade lake, covering a vast 8,502 km².
The Volta Region is an excellent place for outdoor adventures. There are lagoons, waterfalls, mountain trails and lush rainforest. Fortunately, there are some great (although quite basic) places to stay in the Volta region, including the Wli Waterfall Inn, the Big Foot Safari Lodge & Muntala's Guest House.
Climb Mt. Afadjato
At 885m (or 2,905 feet), this mountain is the highest point in Ghana and is an excellent hike to do for witnessing the beautiful views across the landscape. There is an entry fee of 8GH¢ which also pays for a guided to show you the way. The hike is around 1 hour, but it is pretty steep.
Waterfall Hopping
The Volta region has dozens of waterfalls, some easier to get to than others. The Wli Falls is my favourite, as well as the Tsatsadu Falls and the Tagbo Falls.
Wli Waterfalls are one of the major attractions in the region, as they're so tall – nearly 1,600 feet tall! It's a beautiful 40 minute hike to the lower falls, or 2-3 hours to the upper falls, although this route is very steep.
Fishing and enjoying the beach
Fishing is one of the main forms of income in this eastern part of Ghana, but it also makes a great leisure activity. Arrange through your accommodation to head out with locals on the water to search for barracuda and tuna. The Lake Volta estuary is a beautiful corner of Ghana, with soft sandy beaches and picnic spots sheltered by shady palm trees.
Visit the Tafi Atome Monkey Sanctuary
There are plenty of monkeys to be spotted in the Volta region. I personally loved our visit to the Tafi Atome Monkey village which is set within tropical rainforest, with lots of indigenous flora and fauna. The Mona monkeys here are cheeky and certainly very friendly.
Local tribes hold traditional significance with these monkeys, believing them to be messengers from above. Therefore local tribesmen keep them protected and hold funeral rituals for these monkeys when they pass.
Western Ghana: Cape Coast & Takoradi
If you had to decide upon one other area in Ghana to twin with Accra, then I would recommend Cape Coast.
Located a 3-4 hour drive from Accra, Cape Coast is the important place to visit in Ghana to understand its slave trade history.
It was the Portuguese who were the first settlers along the 'Gold Coast' in the late 1400s. They built more than 30 of these coastal forts. Initially, they were established to strategically support the trade routes with gold being the primary good sold. Later, as other European powers, including the British arrived, there were frequent struggles for dominance along this coastline.
However, as the demand for human labour in the New World (the Americas) increased, the European settlers turned their focus to establishing a transatlantic slave trade.
The dungeons that once held gold and other traded goods, became prisons for Africans. More than six million African slaves were sent over on boats as a commodity. These castles were home to the largest forced migration in history. This continued for centuries, until the 1800s when the slave trade was eventually abolished.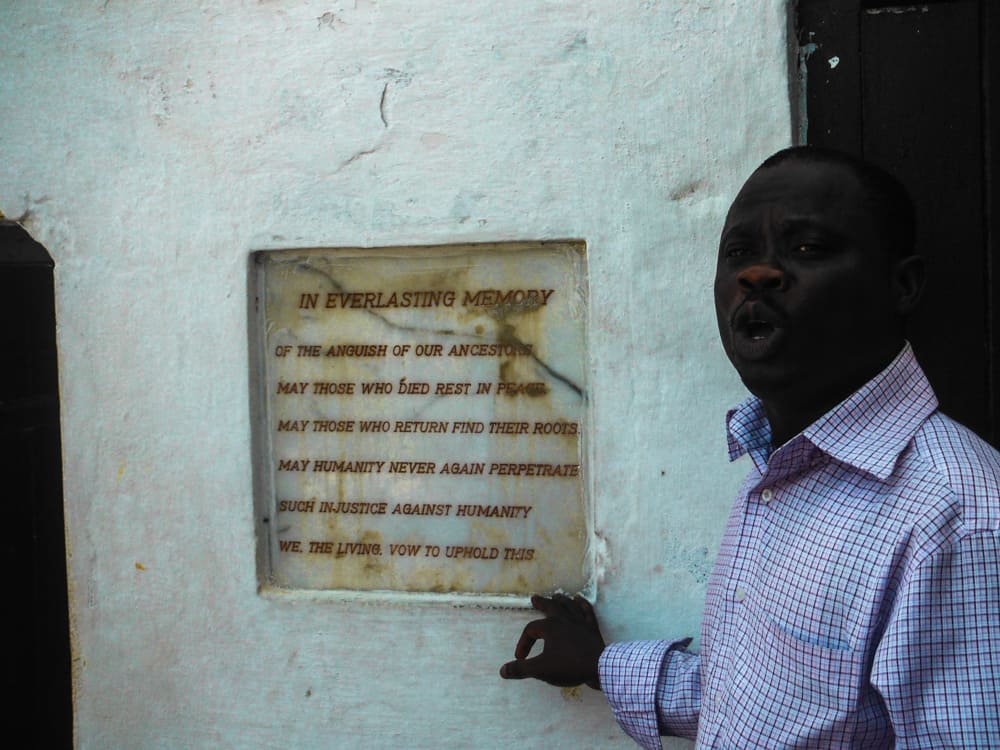 Today, Cape Coast is a charming, bustling town set alongside a beautiful beach. The streets and stalls are well worth exploring, and you can find some brilliant places to eat in Cape Coast too.
In terms of places to stay, the Baobab House, which is part guesthouse, part social enterprise is my favourite place to stay. Plus, their vegetarian cafe downstairs serves up the most amazing healthy food, using plenty of home grown and locally sourced ingredients.
Ridge Royal Cape Coast is the main luxury hotel to stay in, or there's a few other beach resorts to opt from, such as Oasis or Orange Beach Resorts.
Cape Coast Castle
This is the most well-known of the castles and one that is absolutely essential to visit. It was built by the Portuguese in 1555, but over the following centuries, it passed hands between the Swedes, the Danes, the Dutch and the British. In the 1700s, the castle served as the headquarters of the British colonial government.
Cape Coast castle marked the end of the perilous journey taken by millions of Africans coming from across West Africa. They were held captive in dire conditions in the castles' dungeons, before being shipped off across the Atlantic Ocean to the Americas. Many never survived the journey, with as many as 15% perishing at sea. For those that did make it across, none ever came home. For many, Cape Coast Castle was the last place they would have ever seen.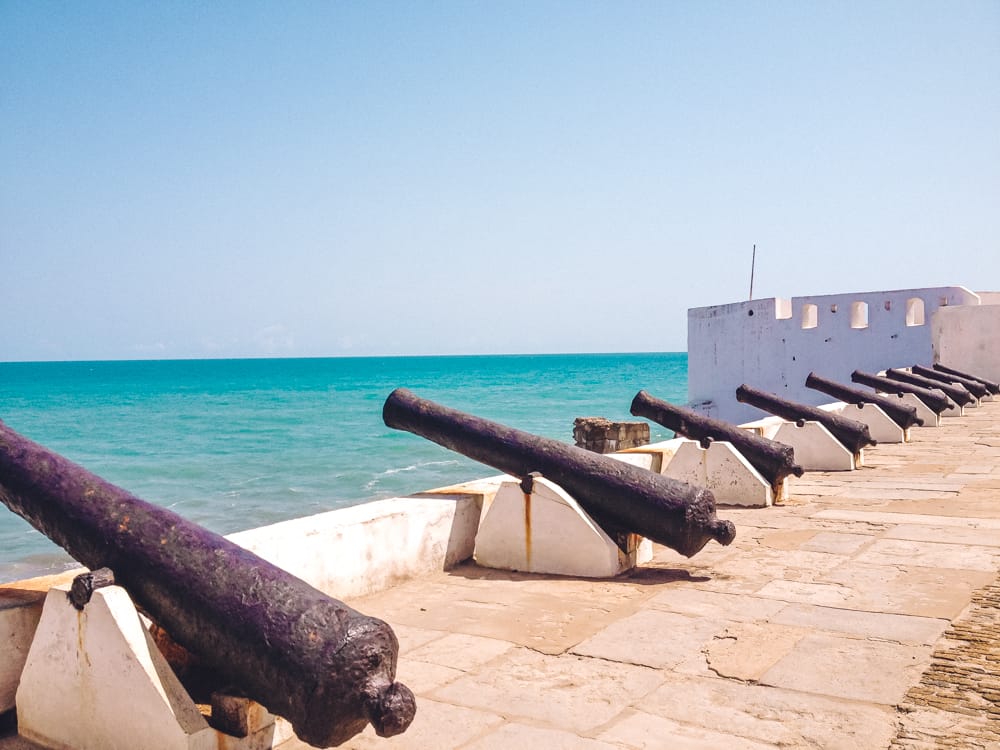 In fact, there's a sign above one of the paths to the boat loading area, saying 'the door of no return'. The slaves were simply loaded like cargo onto huge slaving ships.
Both men and women were held in separate dungeons below the castle, in terrible conditions and each shackled to the next person. There was little light and nowhere to toilet, meaning many of the slaves became seriously ill. The women were frequently subjected to violent rapes by the guards. The slaves could spend up to three months in captivity here before being shipped off.
When visiting Cape Coast Castle, you can join a guided tour. The guide will take you through the dungeons, describing and explaining the horrific conditions the prisoners experienced. Visitors also have the opportunity to explore the above-ground sections of the castle where the governor and officers lived. Their living quarters were elegant. It's hard to imagine how they went about their normal daily life, completely unaffected by the horrendous suffering happening below them.
Britain abolished the slave trade in the 1800s, and the castles went back to being a trading port before becoming a military training facility.
Entry to Cape Coast is GH¢40.00 for a non-Ghanaian adult and GH¢5.00 for a non-Ghanaian child.
Elmina Castle
Nearby, you can also visit Elmina Castle which is just 13km from Cape Coast and today is a bustling fishing town. This is the oldest European structure in Ghana and is sometimes referred to as St George's Castle. Its history is similar, with slaves stored underground before being shipping to the New world.
Although it is deteriorating, it's well worth visiting to understand more about Ghana's dark slave trade history.
The entry and guided tour ticket price for non-Ghanaian adults is GH¢ 40.00.
There is also a bustling daily market outside the castle, and I highly recommend spending some time here too. In fact, there are some great beach resorts near Elmina, such as Lemon Beach Hotel.
Kakum National Park
Nearby to Cape Coast and Elmina is the beautiful Kakum National Park. This excellent excursion is in fact the most popular attraction in Ghana.
The primary feature is the canopy walkway, offering visitors an elevated experience amongst the rainforest. The walkway is 333m long, and nearly 30m above the forest floor. You can take in the magic of the rainforest by wandering across the 7 suspension bridges which give an unparalleled perspective across the tropical, lush trees.
Back at ground level, there are also dozens of trails to explore amongst the rainforest. Here you might be able to see over 300 species of bird, 600 species of butterfly and dozens of primates. If you're extremely lucky, you might see forest elephant and leopards, but these are best seen on a guided night tour.
Kids love Kakum, and more recently, the park added a children's section with an excellent play area and swings.
There are also two cafes at the visitor centre, with one offering light snacks and the other serving local meals such as fufu and goat soup.
The entry to Kakum National Park GH¢2.00, but there are different ticket costs for the various activities. For example, the canopy walkway is GH¢60.00 for a non-Ghanaian adult and GH¢ for a non-Ghanaian child. Guided hikes are GH¢50.00 or a non-Ghanaian child and GH¢15.00 for a non-Ghanaian child.
Busua
Beautiful Busua, and the surrounding beaches, is one of my favourite parts of Ghana. I've spent many beautiful lazy weekends exploring this gorgeous corner of the world.
Although harder to get to from Accra than Kokrobite, those that make the journey here are rewarded with a gorgeous, soft sandy beaches, a lively surf culture and the friendliest locals.
The journey involves a fairly long bus ride from Accra to Takoradi, where from here you can jump in a taxi to Busua.
Some of the best places to stay in Busua include Busua Beach Resort, Ahanta Eco Lodge, Kangaroo Pouch Beach Resort & the awesome African Rainbow Resort. All of these are right on the beach and are small, local hotels.
Make sure to also find a local who's happy to show you the way to neighbouring Dixcove. This beautiful village and paradise beach is, in my opinion, one of the most beautiful places in the whole of Africa. It's so far from the beaten track and they don't see many tourists – it's really magical.
Central Ghana: Kumasi
Five hours drive north of Accra lies the second city of Ghana, Kumasi. Somehow, this city is even more hectic and bustling than Accra – especially in its vast Kejetia Market. Occuping a huge section of the city centre, its widely considered to be the biggest market in West Africa with more than 11,000 stalls.
As detailed in my Ghana Travel Guide, Kumasi is the heartland of the Ashanti people, of which there are around seven million in the whole of Ghana.
Although there are fewer obvious sites and attractions in Kumasi, as opposed to the other regions in this guide, it is an energetic city with a proud Ashanti heritage. Kumasi is a great place to spend a couple of days to break up the journey to the north of Ghana. If you spend a couple of nights in Kumasi, I highly recommend the Golden Bean hotel, or the Sweet Garden hotel.
I've spent less time in Kumasi than other areas in Ghana, but I did go to a World Cup Qualifying football game in the city which is was incredible.
Visit the Manhyia Palace Museum and the National Culture Centre
These are the best places to learn all about the history of the Ashanti Kingdom. At the Culture Centre, these is also the excellent Kentish kitchen, serving up delicious local dishes.
You can also buy local handicrafts and watch locals do brasswork, pottery, kente cloth weaving and wood carving.
Visit Lake Bosomtwe
Interestingly, this is the only natural lake in Ghana. It resulted from the impact of a meteorite over a million years ago! Here, visitors can go fishing, swimming and canoeing in the calm waters.
Northern Ghana: Tamale
Tamale is the capital of northern Ghana and is the country's third city. It's noticeably more arid and desert like up here, with daytime temperatures often exceeding 40c.
Whilst Christianity is the main religion in Accra, up north in Tamale, there are more Muslims, and as such, there are dozens of mosques in Tamale.
Interestingly, Tamale has been voted the 'cleanest city in Ghana' for several years in a row – making it a great city to explore and spend time in. As with Kumasi, Tamale isn't packed with obvious attractions but it makes a great starting point for adventures in this northern region.
For those who do choose to spend a few days in Tamale, there are great cafes, bars and restaurants to enjoy. My favourite is the Wooden Bakery & Coffee Shop! The best place to stay in Tamale is Jeyads Lodge, a comfortable and well-located hotel with, most crucially, decent air- conditioning!
Visit the Larabanga Mosque
Nearby to Tamale is the small town of Larabanga which is home to the oldest mosque in Ghana, dating back to the 13th century. The mosque is built in typical Sudanic-Sahelian architectural style, using mud and timber, and the mosque is one of Ghana's most important religious sites today.
A visit involves admiring the mosque as well as meeting the locals in the adjacent village. Well worth visiting – it's so different to other attractions in Ghana.
Mole National Park
Offering the only real safari experience in Ghana, Mole is an amazing wildlife adventure for those who make the journey. This protected park is mostly savannah and forest, and is home to the widest range of wildlife in Ghana, including elephants, leopards, antelope, warthogs and buffalo. In fact, there's more than 94 mammals, 300 bird species and dozens of amphibians and reptile species too.
Mole National Park is the largest of its kind in Ghana and although it's not as well established or organised as parks in Kenya or South Africa, it still offers an awesome safari experience.
As there are less predators than other safari destinations, you can actually do some of the safaris on foot, which makes for a particularly amazing experience! You can get incredibly close to the elephants – something you can't do so often in other places. Don't worry though – these are always with an armed ranger.
The best value place to stay is Mole Motel which offers basic but adequate accommodation. The swimming pool is great and there are even wildlife spotting opportunities to be had from the pool!
For a more luxurious stay, then definitely consider Zaina Lodge – the first upscale safari hotel in Mole National Park and even West Africa!
Best Things to Do in Ghana
So there's my guide to all of the best things to do in Ghana, from the capital city, to the northernmost corner. Ghana is a beautiful, safe, stable and exciting destination to visit with an energy like no other. Whether you spend your time in Ghana between the city and the beaches, or travel further afield, you're sure to have a magical experience.
If you are visiting Ghana for a holiday, a volunteer trip, to visit family or to study abroad, I really hope you found this guide is useful. I'm more than happy to answer any questions you might have on Ghana and put you in touch with locals I know, such as local tour guides.
Please make sure to also check out my detailed Ghana travel guide here, covering everything you need to know about the country before visiting.
If you're planning to visit any other African countries, then make sure to check out my other guides, covering Zambia and Zimbabwe, Botswana, South Africa and Morocco.
If you've enjoyed this guide to all of the best things to do in Ghana, then please do share using the below links!
Wanna see more? Check my Instagram here, my Facebook here or my Twitter here!
Disclaimer: My time in Ghana was entirely paid for by myself. There was no involvement from the tourism board or any local companies. This is an independent guide.
Enjoyed my guide to Ghana? Pin it!