It's no secret that Cornwall has the very best beaches in the UK. There is more than 300 miles of coastline in Cornwall, with the beaches varying from open stretches of soft sand to hidden coves and rock pools. And although it's a long drive for most people to get to, as it's England's southernmost county, it's a hugely rewarding visit for those who make the journey.
Cornwall's beaches are famous for their quality and variety, with some incredibly similar to renowned beaches in other countries – just without having to fly. And whilst Cornwall doesn't have the guaranteed heat and daily sunshine of other destinations, the beaches are a joy to visit regardless. This guide here covers the best time to go visit Cornwall – but if you do manage to find yourself in Cornwall during a hot, sunny week, you'll wonder why you ever head abroad!
Some of the beaches in Cornwall are famous for world class surfing, others are tucked away coves or previously only known to locals. Some have gorgeous beach towns behind the bay, and others are remote, harder-to-access slices of paradise. The northern coast of Cornwall is home to the long stretches of sand that offer excellent surfing and space for beach sports, and the southern coast has dozens of sheltered, hidden coves. Often these are excellent for swimming and bathing in the twinkling waters. If you're wondering where to start with planning, then why not check out this brilliant itinerary for a 3 day road trip in Cornwall.
There's a beach for everyone in Cornwall, so read on for this guide covering all of the best beaches in Cornwall. I've enlisted the help of some fellow travel bloggers to help me compile this guide, so you can be assured that every beach suggestion is a personal recommendation!
Best Beaches and Beach Towns in Cornwall
Newquay
Submitted by myself – Claire
Newquay is definitely one of the most famous beaches in Cornwall and the whole of the UK. Renowned for its excellent surf, chilled out surf lifestyle and thriving party scene, Newquay is very popular.
I've been to Newquay dozens of times, mostly on university surf trips but also on holiday. Every time I go, I find another excellent new cafe has opened or cool new hotel.
Fistral Beach is at the heart of the action and this huge open bay sees dozen of daily surf lessons take place, as well as epic surf competitions particularly in the cooler months when the swell is bigger.
If you're not into surfing, then that's fine too. There's plenty of room on this wide sandy beach for sunbathing and beach sports, or why not enjoy long hikes around the bay taking in the beautiful views. There are several other quieter beaches too in Newquay, including Crantock Beach which is popular for snorkelling. You can even see dolphins!
Perranporth Beach
Submitted by myself – Claire
This is the perfect family beach, located just 20 minutes from Newquay by car. It has miles of soft, golden sand which is met by shallow, warm ocean. The waves here are perfect for body-boarding and the shallow waters make it great for families. You can take also long walks across the sand dunes backing the beach.
Perranporth is also only around 8 miles from Newquay, making it the perfect day trip from Newquay or twin-centre trip. You can even walk between the two along the stunning South West Coast Path.
Away from the beach, Perranporth is bustling seaside holiday town with friendly cafes, pubs and shops. One of the best places to stay is the Perran Sands holiday park, which backs the stretch of beach.
Porth Joke
Submitted by Kat from wandering-bird.com
One of the best beaches in Cornwall is Porth Joke Cove, near Perranporth.
This beach is tiny, has no facilities and is not easy to get to, Therefore, it is relatively quiet throughout the year- even in August- despite the popularity of Newquay only a short distance away.
This entire coastline has fantastic beaches, full of soft sand and great surfing waves, but that, of course, draws the crowds to match! We were recommended to add Porth Joke to our Cornwall itinerary as somewhere to get away from the large crowds of people- even in the height of summer.
The beach is a short walk from the car park- about 5-10 minutes. This does mean you need to carry all your gear with you – but that's the price of fewer crowds!
The bay has cliffs on 3 sides, so you're fairly well sheltered from the wind, but you can still enjoy some of the famous waves. It's semi-safe for swimming or snorkelling, but please be aware of rip tides which are common all along this coastline – don't let children swim too far offshore.
Having said that, there are no toilets or cafe so most families choose to go elsewhere with more facilities. This makes it a perfect retreat for couples or those with older kids.
There is also no shade, so I highly recommend taking a parasol if you're going to spend the day (and you are definitely going to want to spend the day!)
Watergate Bay
Submitted by Victoria from bridgesandballoons.com
Watergate Bay is a stunning two-mile surf beach on the North Cornwall Coast, home to the famous Watergate Bay Hotel, one of Cornwall's best family hotels.
The beach is about three miles north of Newquay and offers some quiet respite from the popular beach town. You can walk there in 45 mins or drive in 15. The hilltop walk is stunning but strenuous.
There's two miles of golden sand and the Atlantic Ocean rolls in to create some amazing Cornwall surf. It's a popular spot for both surfing and kitesurfing. The beach's well renowned Extreme Academy offers all sorts of lessons and equipment hire for all ages and abilities, including paddle boarding, wave skiing, surfing and kitesurfing.
For something a little tamer, kids will enjoy the rock pools, And it's also a good swimming spot. It has the highest UK standard for bathing water and RNLI lifeguards are on duty from May to September.
The Watergate Bay Hotel is the best place to stay and also has facilities and restaurants that visitors can use, including two beachside restaurants/bars. Sunset with a cocktail from Watchful Mary is a highlight. The hotel is unusual in that it offers a stylish option for families while also being well suited to couples as well. Highlights for families include: a kids club; a baby listening service so you can eat in the restaurant while the baby sleeps in your room; kids menus; a pool; kids play areas; and family rooms.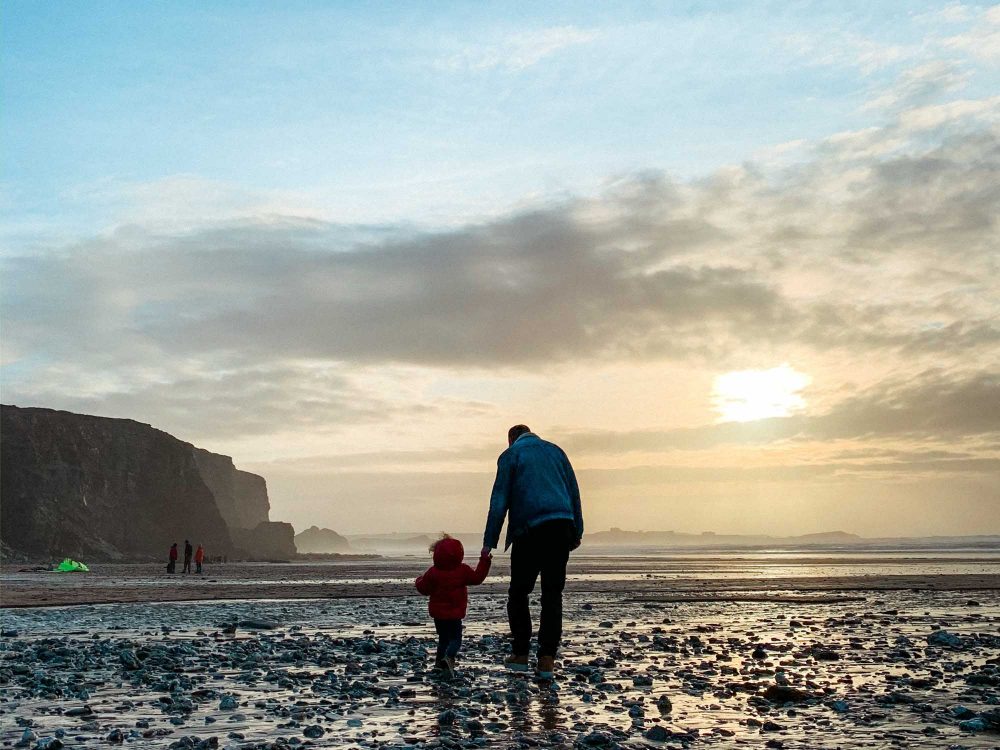 Padstow
Submitted by myself – Claire
Beautiful Padstow is a charming Cornish town, packed with quaint old homes, unusual shops and excellent food. In fact, Padstow is renowned for its gastronomy since the famous Rick Stein opened several cafes and restaurants. There's also an excellent cookery school in Padstow too.
There are several excellent beaches near Padstow, including Constantine Bay, a long stretch of glorious sand, and Treyarnon Bay. Another excellent thing to do is the Camel Trail, a 17 mile mostly-flat route beginning in Padstow and winding its way along the River Camel. You can walk or cycle it, whilst taking in stunning views across Bodmin Moor.
Treyarnon Bay
Submitted by Emily from londoncitycalling.com
Treyarnon is one of the seven bays of Cornwall's northern coast close to the town of Padstow, and whilst not one of the major tourist beaches in the region, the sandy beach is very popular with locals and families on a sunny day. When the tide is out there are also a series of rock pools on the edge of the bay, some of which are even big enough to swim in.
The large sandy bay is dog-friendly all year round and during the summer months lifeguards are on duty to patrol the waters. In the close by car park there's a food truck serving hot food, a small shop selling drinks and snacks, an ice cream van and free toilets. There is also a YHA hostel a short walk from the beach where anyone can book watersports packages, including surf lessons, coasteering, paddleboarding and bodyboarding.
After a few hours relaxing on Treyarnon you can also take the short scenic coastal path to neighbouring Constantine Bay which is larger than Treyarnon and more popular with surfers from mid to high tide. Or for a slightly longer walk you can take the cliff path past a series of coves to Porthcothan to the west.
St Ives
Submitted by Jasmin from thelifeofasocialbutterfly.co.uk
St Ives is one of the most popular Cornish seaside towns and rightly so, with a thriving art scene and a plethora of beaches; it's a tourist hotspot you certainly won't want to miss!

The best and most scenic ways to visit St Ives are walking the coastal paths from places such as Carbis Bay or by taking the scenic train route from St Erth to St Ives. If you are planning a road trip around Cornwall, driving to St Ives is not recommended as parking is limited. Plus, the streets are narrow and one-way routes with pedestrians as a priority. Although, this makes visiting all the more beautiful when you do visit!
Start your day at St Ives Bakery to enjoy some freshly baked goods – don't forget to pick up some scones and rock cakes for later! Cornish Cream (located on the same street) sells a handy travel pack with cream and jam for under £5. Be sure to try the variety of Cornish Cream too! St Ives is filled with boutique shops and independent eateries, away from the big chains you may be used to seeing in other popular towns in the UK, which gives visitors to St Ives a unique experience.
One of the real highlights of visiting St Ives is that it has four beaches! Porthminster Beach is the largest, Porthmeor Beach runs alongside the South West Coastal Path, St Ives Harbour Beach is a seal-spotting hotspot and Porthgwidden Beach is a hidden gem. St Ives is a picture perfect town with a maze of quaint cobbled streets and pretty fisherman's cottages lined with flowers and is a must-see when visiting Cornwall.
Marazion Beach and St Michael's Mount
Submitted by Suzanne from meanderingwild.com
Marazion is located just a short distance from Penzance, at the far tip Cornwall. The beautiful beach here is often overshadowed by St Michael's Mount.
The village and beach can be reached easily from the A30 just a few miles outside of Penzance and there is plenty of parking.
The end of the beach nearest to Penzance is wild with large sand dunes and can be quite windy. The winds here are harnessed by the small windsurfing and kiting centre which is located at the furthest end of the beach. Nearer to the town the beach is backed by a pathway and car parks, making access really easy. The beach is sandy, ideal for sandcastle building and the water is shallow so it is great for swimming.
All around the slipways there are rock pools and sea pools which are great for exploring at low tide. Marazion village itself is small, with dozens of independent shops, pubs and restaurants, many of which have beautiful views to the sea.
Overlooking the village is St Michael's Mount which is reached across a small tidal causeway. At low tide the beach nearly reaches the island and it is possible to walk across to the castle and village to explore. If you want to explore at high tide then there is a small boat to take you across the sound between the village and the island.
Readymoney Cove, Fowey
Submitted by Heather from conversanttraveller.com
If you're looking for a quiet beach that's easily accessible and picture postcard perfect, then consider visiting Readymoney Cove, one of the more unusual places to visit in Cornwall.
Hidden away from the tourist crowds on the outskirts of Fowey in South Cornwall, this tiny cove makes for a great afternoon jaunt with family or friends. The golden sand is ideal for sunbathing, picnics and building sandcastles, while out in the sheltered bay there's a wooden platform anchored beneath the cliffs for swimmers. There's also a small shop at the head of the beach, with free rental of beach games which is a lovely touch.
To reach the cove you need to park the car up in Fowey and walk down to the shore, but there is roadside parking nearby along the Esplanade if you get there early enough in the day. It's only a 5-minute stroll from the beach and well placed to visit the rest of this picturesque seaside town too.
There's a coastal walking trail around the headland from the cove, which takes you up through a pretty wood to St Catherine's Castle, a romantic ruin with fabulous views out over the estuary. If you are planning to visit the cove, just check the tide times before you set out because the sand does get covered at high tide.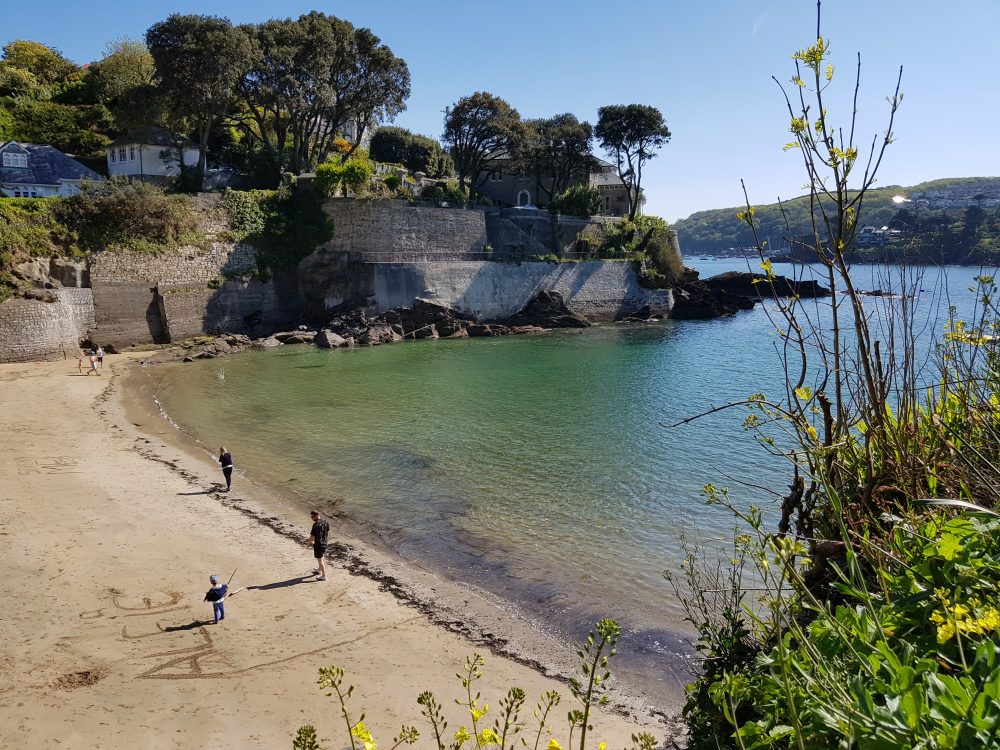 Poldhu Cove
Submitted by Rachel from homeinthepastures.com
Poldhu Cove is a stunning beach, tucked away on the west coast from The Lizard. It's a sheltered cove with a gorgeous turquoise sea and sandy beach, which makes it a firm favourite with locals and visitors. There is a carpark opposite the beach which is also served by a bus stop with buses to Helston and Mullion. It fills up quick so it's best to go early. It's easy level access to the beach from the carpark so is suitable for prams and disabled.
Poldhu Cove is known for its surf with the locals, due to being west facing, there is even a small surf school that operates at the beach. If you are hungry and looking for food, a family-run cafe operates from the beach. The full English breakfasts are amazing! You can even get it to take away in a box for eating on the beach. During the Summer evenings, there are live music events alongside pizza nights. Booking is required for this. In the Winter, the Poldhu Beach Cafe serves the best hot chocolates to accompany a winter walk on the beach while watching the waves crash in.
Porthcurno Beach
Submitted by Deeptha from theglobetrotter.co.uk
Very popular with families, the Porthcurno Beach in Cornwall is one the finest white sand beaches in the UK. It is a part of the Cornwall Area of Outstanding Natural Beauty (AONB) and the coastline and the cliffs are simply stunning. The rugged high, granite cliffs shelter the beach with beautiful turquoise waters. It is, not surprisingly, one of the top places to visit in Cornwall.
At low tide, you can walk from one end of the bay to the other and there are areas of shallow water that are perfect for paddling. You can also enjoy beach volleyball, sunbathe, spot marine life, swim or go for long strolls. The beach is also a great spot for picnics.
Up on the cliffs nearby is the popular Minack Theatre, a unique open air theatre that offers stunning views of the coastline and the beach.
While the beach is open all year round, the best time to visit would be the summer months when you can get into the water.
Porthcurno Beach is located about three miles east of Land's End on the South West Coast Path and can be easily accessed from both directions from the path. The beach is also easily reached by car. There is a council carpark around 200 meters away from the beach and you can access the beach either by steps (steep in some sections) or a sandy slope.
Harlyn Beach
Submitted by Chris from global-shenanigans.com
Harlyn is one of my favourite beaches in Cornwall for multiple reasons. Firstly, I like that the view from the water back to land is almost entirely free of houses. This can be a hard thing to find in Cornish beaches, as they are mostly accompanied by busy little towns. The lack of buildings makes it feel more wild, especially in the winter months when it's almost completely empty most of the time.
Harlyn is also a dog-friendly beach all year round! I am a dog lover, so even if I leave mine at home and go for a surf, I still enjoy dog watching other peoples' pups while I take a rest on the sand. This makes it an ideal place for a sunset stroll with the doggos.
Lastly, as I already suggested, it's a really great surf spot. The wide open bay allows for a super long break. This spreads out the surfers leaving much more space, even in the peak season. The difficulty level is fairly moderate in comparison to some other beaches, so it can be a great hang out for new surfers and experienced rippers alike.
Harlyn is also the start / end of the Seven Bays of Padstow hike, which will take you around some of the most stunning beaches that north Cornwall has to offer. It's easy to get to with beach parking or a bus service running from Padstow.
Lizard Point
Submitted by Susan from thriftyafter50.com
Lizard Point is the southerly most tip of Great Britain and part of over 2000 hectares that makes up the Lizard Point National Nature Reserves. The Point offers stunning cliff top views of the iconic National Trust coastline which over the years has been the cause of many a shipwreck.
There is a tiny beach at Lizard Point, called Polpeor Cove, which can be reached via a steep ramp that leads down to the Old Lizard Lifeboat Station. If your ambition is to swim at the most southerly point of Great Britain then you are in for a disappointment. Polpeor Cove is unsuitable for swimming due to the extremely dangerous waters off Lizard Point.
However, there are several beaches close by on the Lizard Peninsular that are worth a visit.
If you head in a northerly direction you will find Housel Bay, a well protected sandy cove, and in a southerly direction you will find Pentreath Beach, Caerthillian Cove and Kynance Cove.
Pentreath is a pebble beach located at the base of the cliff and Caerthillian Cove which is popular with bird watchers has a small sandy area at low tide.
The most popular beach in the area with swimmers is Kynance Cove. The turquoise water, white sandy beach and dark red and green serpentine rock has made Kynance Cove the most photographed location in Cornwall.
All of these beaches, including Lizard Point are part of the 7 mile Lizard coastal walk.
Bedruthan Steps
Submitted by Claire from Go South West
If you are travelling along the North Cornish coast, you can't miss Bedruthan Steps. From the clifftop you'll be able to see the spectacular rock formations that jut out to sea as well as the beautiful blue water; you'd be forgiven for mistaking that you're in the Mediterranean rather than in the UK!
The wild seas have a lot of smuggling history, and while you can normally access the beach, it is unsafe to bathe. There is a small beach and a cave to explore at the bottom, although it is not always accessible.
But you can see the best of Bedruthan Steps from the top; the panoramic vista of the natural phenomenon is one of the best stops along that stretch of coastline. Take a picnic and enjoy the view, or visit during dawn and dusk for some incredible photos.
Bedruthan Steps is located about a 20 minute drive from Newquay, which is the closest station, and half an hour from Wadebridge. There are a few restaurants and hotels nearby, including the Bedruthan Hotel and Spa which is walking distance. However, the only way to get there is by car or taxi.
If you're visiting and planning to travel down the steps (if they're open), remember to take sturdy shoes; the steps are very uneven!
Best Beaches in Cornwall
So there you have my guide to the greatest beach towns and the best beaches in Cornwall. This beautiful, peaceful corner of the UK is unmatched for its beauty and charm, and visiting with good weather almost beats going abroad!
I do hope this guide has been helpful and inspires you to explore the beautiful Cornwall coastline! Please, as always, do let me know if you have any questions!
Disclaimer: This guide has no involvement from the local tourism board or a hotel.
Enjoyed my guide to the best beaches in Cornwall? Pin it!