Covering most of southern Spain, Andalusia stretches from the Portuguese border to the Balearic Sea. And this beautiful region is home to some of the most iconic highlights in Spain, including the world-famous Alhambra Palace and the epic Caminito del Rey. It is, without doubt, one of the best places to travel to in Spain. Although hundreds of thousands of people flock to its beach resorts each year, there are plenty more places to see and things to do in Andalusia. From weekend breaks in the region's spectacular cities, such as Seville or Granada, to wildlife spotting or ambling around the traditional pueblos blancos dotted throughout, it's a region packed with highlights.
Although this was once the poorest region in Spain, it is now one of the major tourist destinations in the country, and in fact in Europe. The Andalusian lifestyle is highly sought after. From its world-class local cuisine, lively locals, to vibrant cultural traditions and festivals, as well as of course being the home of flamenco and bullfighting. These are just some of the reasons to visit Andalusia. Southern Spain is also blessed with an excellent year-round climate, diverse landscapes, fascinating history and gorgeous stretches of coastline.
So this blog post covers all of the best places to visit in Andalusia. To help me compile this list, I reached out to some well known travel bloggers. Each submitted their favourite place in Andalusia, so read on to find out more and get planning a trip to gorgeous southern Spain!
Andalusia, Southern Spain: Essential things to know
The history of the region
The region of Andalusia was under Moorish rule from the 8th to 15th century, which has had a lasting legacy on the architecture in the region. The Moors, consisting of the Berbers and the Arabs, crossed into Spain from the northern part of Africa. They went onto occupy this southern region, with Córdoba, Seville and Granada at the heart of their civilisation. Today, the remnants of its past are easily discovered across the region, with the spectacular highlight being the magnificent Alhambra Palace in Granada.
Andalusia today
This beautiful region receives around 30 million tourists a year, and as mentioned, is one of the most popular destinations in the whole of Europe. Andalusia is particularly loved by tourists from the UK, Germany, the US, and is popular with Spaniards too.
However, with more than 500 miles of coastline and countless whitewashed villages in the mountains, it's still possible to find your own serene corner.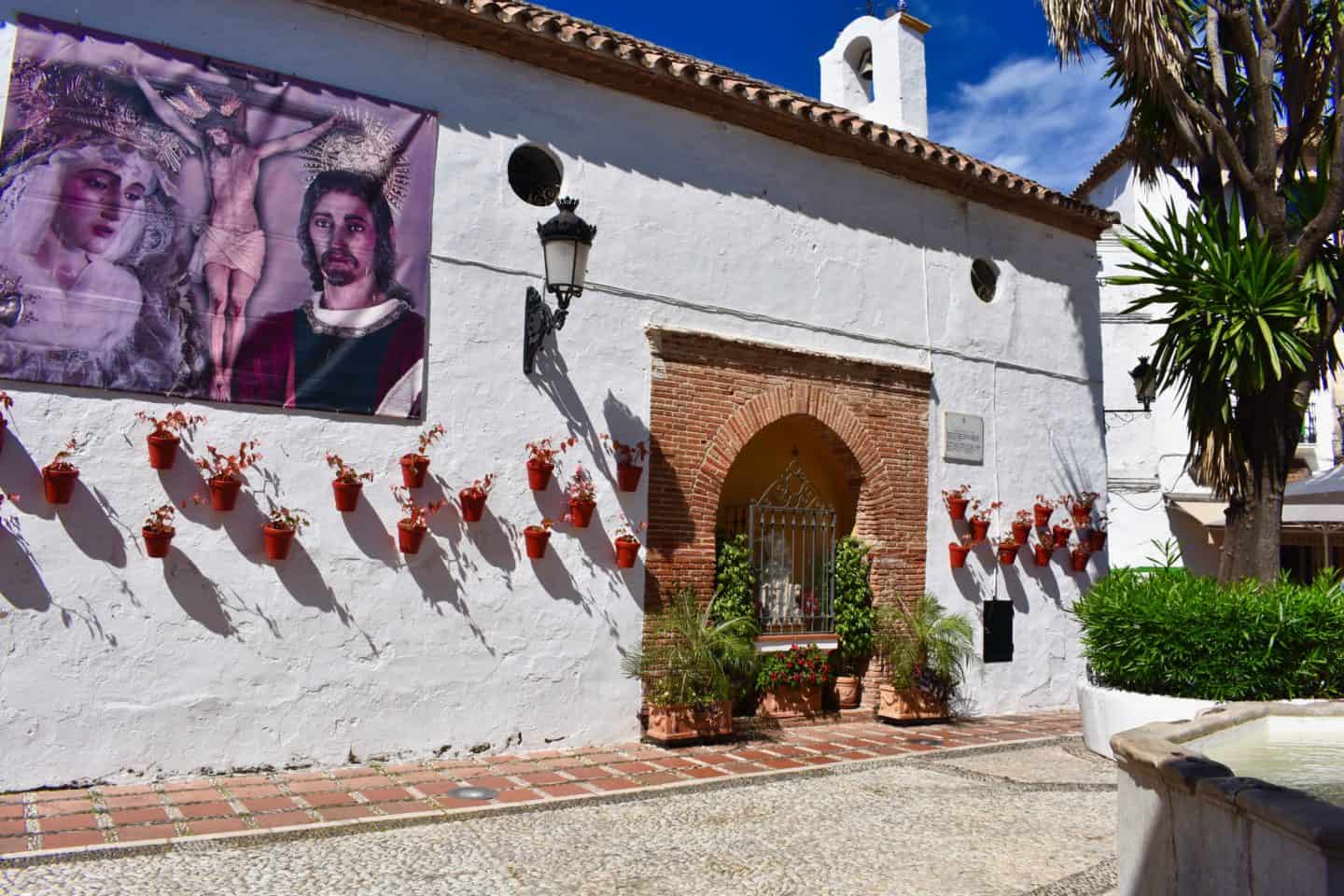 Getting to and around Andalusia
The main way to get to the region of Andalusia in Spain is to fly. Whether on a domestic route from Madrid or Barcelona, for example, or from overseas. There are dozens of airports in Andalusia, with Seville and Málaga being the two largest airports. However, visitors can fly directly into several other airports which may be convenient for certain areas. For example, Granada for visiting the Alhambra.. You can even fly directly into Marbella for a beach break.
Andalusia is composed of eight provinces: Cádiz, Córdoba, Jaen, Huelva, Almería, Málaga, Granada and Seville.
If you're travelling to the region from another part of Spain, you can easily arrive by train or bus. The best-connected train stations are Seville and Málaga, where you can travel onwards by bus or train to the smaller towns and cities in the region.
Buses also connect all the Pueblos Blancos with the larger towns, making it the most efficient and reliable form of transport.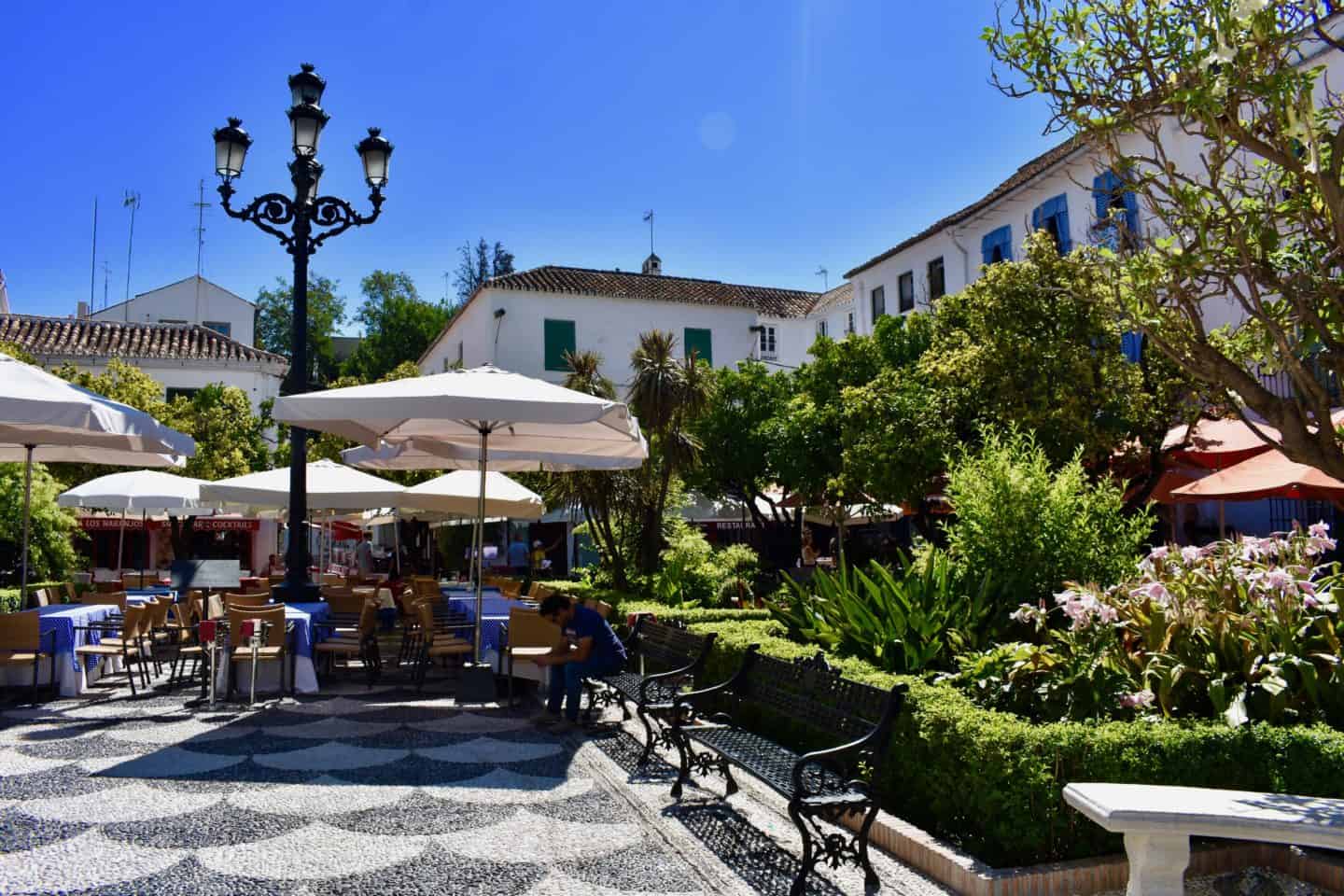 Cities in Andalusia
Seville
Submitted by Helen from helenonherholidays.com
Seville is the capital of Andalusia, and no visitor to this part of Spain should miss out on seeing this gorgeous city.
Seville is packed with amazing sights, both ancient and very modern. The most famous attractions in Seville are its beautiful cathedral and the fascinating and exceptionally romantic Real Alcázar de Seville.
Seville Cathedral is the largest Gothic cathedral in the world, and the world's third largest church, but it started out in the 12th century as a mosque. Taking a rooftop tour of the cathedral is a wonderful way to see the architecture up-close, as well as getting a wonderful view over the historic centre of Seville. Book your tour around the Alcázar & the cathedral here!
Next door to the Cathedral is the Real Alcázar de Seville, a complex of palaces and beautiful gardens. Wandering the pathways, getting lost in the maze and relaxing with a cool drink surrounded by the resident peacocks are all great ways to spend an afternoon in the gardens.
Since so much of Seville is so historic, its newest attraction is quite a surprise. The Metropol Parasol, known locally as "las setas" (the mushrooms), it's an enormous viewing platform and sculpture, that claims to be the largest wooden structure in the world. The elegant, meandering walkways are a wonderful way to see Seville's beautiful skyline.
Recommended places to stay:
Málaga
Submitted by Marco from travel-boo.com
Sunny Málaga, the capital of the Province of Málaga and the second-largest city in Andalusia has long since been a firm favourite amongst travellers flocking to the Costa del Sol in search of some sun, sea and sangria of course! But, whilst Málaga is known for its resorts and endless beaches, it's certainly not the only reason to visit this Spanish gem.
Thankfully, getting to Málaga should be a breeze since the city is serviced by the Málaga-Costa del Sol Airport, providing easy access by air. Once there, getting around is fairly simple and depends where you are located. You can make use of the city's metro or bus system, or hire a bicycle for a fun alternative.
A few of Málaga's most significant historical sites include the Alcazaba Moorish palace, the gorgeous Catedral de la Encarnación de Málaga as well as the Roman Theatre. For art lovers, Málaga's Picasso Museum is also a must-visit, whilst for food lovers, a stop by the Atarazanas market is essential too. Book your tour covering the best attractions in Málaga here!
Have a couple of days to spare? Then why not plan a day trip and escape the hustle and bustle of the city. With so many great options in close proximity, you may want to plan a visit to Marbella from Málaga, or explore other gems along the coast including Torremolinos or Nerja to name a few.
Either way, there is so much to see, explore and do whilst visiting this Spanish seaside escape that you will no doubt be kept busy throughout your stay!
Recommended places to stay:
Granada
Submitted by Maggie from theworldwasherefirst.com
If you're looking for the perfect place to visit in Andalusia, you really would be missing out if you didn't include Granada on your itinerary through Southern Spain. Known for the iconic Alhambra, historic neighbourhoods and incredible tapas culture, Granada is one of the best places to visit in the entirety of Spain, not just Andalusia.
Of course, no visit to Granada would be complete without taking the time to visit the incredible Alhambra complex, however, the city has so much more to offer than just that. Make sure to take the time to explore the UNESCO-listed Albaicín neighbourhood, the traditional Arab quarter with a fascinating history. If you're interested in learning more about Granada's famed alternative culture, don't miss the fascinating cave-dwellings of Sacremonte, home traditionally to the Roma inhabitants of Granada but now also a haven for those looking for an alternative lifestyle.
And, of course, you cannot visit Granada without taking advantage of its renowned tapas culture. Granada is one of the few places in Spain where you get a free tapa with the order of any drink, and not just a dish of olives! One of the best ways to experience the true culture of Granada is by spending an evening hopping from tapas bar to tapas bar and enjoying all of the delicious delights that get served to you.
So if you're looking for the best places to visit in Andalusia, you absolutely cannot go wrong with Granada!
Recommended places to stay:
Cádiz
Submitted by Fran at lavidanomade.com
Cádiz is easily one of the most beautiful cities in Spain. It is famed for its white houses surrounded by the sea, as well as great beaches, delicious cuisine, and a wide array of things to do and see. And as a compact city, plenty of these can be visited on foot – make sure to check out Fran's excellent free walking tour of Cádiz here.
One of the best things to do in Cádiz is to climb the 173 steps to the Tavira Tower. From above, you can contemplate the entire city and get a good idea of its size. The 360-degree views are impressive. You will be able to see the white houses, the churches, and the sea.
La Caleta beach is located in the historic centre of Cádiz and is the perfect place to sunbathe and enjoy life alongside the locals. It is the smallest beach around, but countless songs and poems have been written here, and many films have been shot in this beautiful location.
It is also surrounded by the two castles of Cádiz: the castle of San Sebastián on the left and the castle of Santa Catalina on the right, both of which are worth visiting too.
Make sure you watch the sunset at La Caleta, as the sun sets over the horizon, colouring the entire sky with orange and pink hues.
Recommended places to stay:
Córdoba
Submitted by Nisha from nerdyfootsteps.com
Córdoba is my favorite city in Andalusia. It is petite but still offers a glimpse of what Andalusia is best known for: an amalgamation of cultures and history.
The highlight of the Córdoba trip is the Mezquita-Cathedral of Córdoba. Once a roman heritage site, the Mezquita-Cathedral was an elaborate mosque during the Moorish rule. The mosque was further expanded and the designs are spectacular. After the Reconquista, the mosque was transformed back into Cathedral and the mosque pillars were used as the bell tower. Even today this Mezquita-Cathedral presents a beautiful combination of the two very different designs and cultures. Book your trip to the Mezquita-Cathedral here!
The ticket costs about €11 but there are discounts for kids, students and the elderly. Guides are also available for hire. Also, the entry is free from Monday to Saturday from 8:30 to 9:30, except for special celebrations.
Córdoba is also an Insta-perfect city due to its beautiful streets lined up with colorful flowers and pots.
To reach Córdoba, it takes about 1 hour and 30 minutes by bus or car and about 45 minutes fast train from Seville. From Malaga, it takes about 1 hour and 40 minutes by car and about an hour by train to reach Córdoba.
Recommended places to stay:
Huelva
Submitted by Paulina from paulinaontheroad.com
One of my favorite cities to visit in Andalusia is Huelva. You may wonder why or you may even never have heard of the city. But Huelva is famous for having the best ham and the best gambas (prawns) in the whole of Spain!
But Huelva is also a heaven for those who are interested in the history of the Discovery of the Americas. Indeed, it's here where Christopher Columbus started his epic sailing trip. And still today you can visit the three replicas of the ships that took him across the Atlantic, as well as the Monasterio de la Rabida where he spent his last nights before sailing out.
However, there are plenty of other things to do in Huelva. The city is the gateway to some of the best beaches in Southern Spain. For example, Punta Umbria and Isla Cristina, which are still pristine and visited only by a few local tourists. If you are looking to escape the crowds, the beaches near Huelva are the best options.
Other things to do in Huelva city, include exploring the Barrio Reina Victoria, climbing the Castillo de la Niebla and taking a picture at Gran Teatro.
Recommended places to stay:
Towns in Andalusia
Carmona
Submitted by Justine from latitudefortyone.com
Just 30 kilometres away from Seville, Carmona is a small hilltop town layered with rich culture and history, but minus the hordes of tourists.
Carmona's past has traces found in archaeological sites from the Neolithic period (New Stone Age) from over 12,000 years ago. Check out the ancient Puerta de Sevilla, a double gate first built by the Carthaginians (around 230 B.C.). Next to it is the Alcázar de la Puerta de Sevilla, an elaborate fortress with Moorish and Roman influences, which you can visit for just €2.
Among the whitewashed buildings of Carmona is the neoclassic Plaza de Abastos, which was built on the former convent of Santa Catalina. It's a white town square with local markets, restaurants, and outdoor cafes, perfect for soaking in the sun. Nearby is the 15th-century Baroque church, the Iglesia de San Pedro. Take a quick walk outside the town to see an impressive archaeological site, the Roman necropolis (which means a cemetery of an ancient city). It dates back to 1 AD and has over 300 crematory ovens, mausoleums, and tombs excavated from the rock. Carmona is walkable and can be visited in just a few hours.
For breathtaking views, head to the Parador of Carmona, which was a 14th-century Moorish fortress, or even sleep here for a majestic stay. To get to Carmona, take the bus from the Plaza de Armas in Sevilla to the Parada de Autobuses in Carmona, which takes about 20 minutes. Or book your tour to Carmona from Sevilla here!
Almería
Submitted by Sonja from migratingmiss.com
Almería is a hidden gem in Andalusia. It's located in the southeast corner of the region just a couple of hours from both Malaga and Granada, but it is much less frequently visited. However, anyone who does venture there will be left wondering why! There are so many amazing things to do in Almería.
You can visit the ancient Alcazaba, a fortress that's perched on the hills above the city. Make sure to take in the panoramic views across the city out to sea and of the surrounding countryside. You can also see the historic gardens, and the remains of the baths and living quarters built centuries ago. After, wander back through the colourful streets of the old town and stop at one of the many restaurants with outdoor seating to enjoy some drinks and tapas in the sun. Tapas in Almería are some of (if not THE) best, and with every drink you can choose what you want from a menu. The food is of a high quality and there's lots of interesting traditional dishes and fusion options too.
Almería has long been a popular filming location, with many films set here and in the nearby national park, Cabo de Gata, and the desert at Tabernas. Films like Indiana Jones and TV shows like Dr Who and Game of Thrones have all been shot here. It was also where John Lennon wrote Strawberry Fields while he was in Almería filming How I Won the War.
This is just the tip of the iceberg of things to do in this underrated Andalusian city!
Marbella
Submitted by myself – Claire
Marbella is a vibrant coastal town with the most charming Old Town, beautiful beaches and a huge array of activities. From golfing, watersports and sailing, there really is something for everyone in Marbella. Even the Sierra Blanca mountains are close, providing the most stunning backdrop for the town.
Marbella is of course, one of the most well known beach resorts in Spain, and particularly popular with British tourists. And although Marbella has been long associated with glitzy all day beach parties and glamorous jet setters, there's so much more to do in Marbella than just drink and party!
The Old Town, known as Casco Antiguo, is charming. It's a maze of tiny laneways and tumbling bougainvillea. As with must of Andalusia, most of the buildings are excellent examples of Moorish architecture. At the heart of the Old Town is the Plaza de los Naranjos, a beautiful fifteenth century Castilian square. It's the perfect place for churros and coffee in the morning, enjoying the shade of the fragrant orange trees. In the evening, the square provides one of the most romantic settings in Marbella, where you can enjoy dinner enjoyed by the delightful sounds of local musicians.
One of the other best things to do in Marbella is to take the ferry to Puerto Banús, its glitzy neighbour. This is truly a playground of the rich and famous, but is a great place to spend an afternoon. Walking around the marina gives you glimpses of some of the world's fanciest yachts and supercars, but you can also stop by the restaurants and cafes which are generally affordable and offer great views across the bay. The ferry is only €15 per person and departs several times per day.
This tour here offers a tour around the Old Town, as well as a return boat trip to Puerto Banús.
Estepona
Submitted by Alexander from gourmandtrotter.com
Estepona is one of the most charming towns in southern Spain, nicknamed the Garden of Costa del Sol. The town has become famous in recent years for its quaint vibes and picturesque streets and alleys, that are lined up with colorful puts on the walls.
Each street in the old town of Estepona has its own color or pattern on the pots. Some streets have yellow pots, blue pots, purple pots, and some have patterns such as dots or flowers. It's a bliss for photographers to stroll through the old town of Estepona.
In addition to colourful pots and charming streets, the old town is also full of cozy cafes and squares where you can sit down and people-watch as you enjoy a cup of coffee. Moreover, there are several churches and old houses that one can admire as well.
If you're visiting during the summer months, you can enjoy a long sandy beach that stretches for several kilometers. And in the marina, one can find a wide range of excellent restaurants serving fresh fish & seafood.
Along the promenade that goes between the old town and the marina, one will also find several cafes and restaurants with ocean-view.
Nerja
Submitted by Juliet from liveyourdream.today
Being a small charming town on the eastern edge of Costa del Sol, Nerja makes a perfect one-day trip destination when you run out of ideas of things to do in Málaga. You can easily get there by bus from Malaga central station which takes approximately one hour.
For such a tiny town, Nerja has a lot to offer from both a cultural and recreational perspective. You'll be amazed by the views of the iconic landmark Acueducto del Águila, also known as Eagle Bridge. Balcon de Europa is another must-see place in the heart of the town. This was historically an observation post, and today is a spot for multiple local musicians and artists to show off their skills.
Nerja is also a great place that can be covered on foot in one day – or two at a more relaxed pace. The lovely narrow streets are lined with rows of white houses and the balconies are decorated with various colourful plants, which alone are a good reason to visit this town. Even just walking around with another gelato in your hand will make a memorable day!
There are more than ten incredible beaches to unwind on, and plenty of chiringuitos offering sea views and delicious paella. Whenever you visit Andalusia, make sure not to miss this gorgeous town.
Jerez de la Frontera
Submitted by Linn from brainybackpackers.com
The town of Jerez de la Frontera is underestimated among foreign travellers. It tends to only be considered by those who spend enough time in Cádiz or Seville to explore the surroundings. Jerez is Andalusia's sherry capital and produces some of the world's best sherry! But there are plenty of things to do in Jerez de la Frontera beyond sherry tasting (which you absolutely should try!) Book your sherry tasting tour here!
The cathedral is stunning and well worth the €5 entry fee (although this is free on Sundays). Another must see attraction is the Alcazar, which also costs €5 to enter. Otherwise, you can get lost in the streets of Jerez for days. You can spend your time admiring the old structures, visiting the breathtaking churches, and having tapas and drinks with the locals.
There are also great options for guided tours around the city but also around the sherry "Bodegas". This is the best way to get a real taste of the best sherry and learn about the long tradition this delicious drink has in Jerez de la Frontera.
The town actually has its own international airport but is also easily connected with bigger cities like Seville and Cádiz by train and bus. If you are on a road trip it's straightforward to get to Jerez from pretty much anywhere in Andalusia.
Charming Villages
Andalusia is known for its white-washed pueblos blancos, but how to choose which one to visit? There are dozens of gorgeous, traditional villages across the whole region – but these are some of the best:
Ronda
Submitted by Melissa from parenthoodandpassports.com
Ronda is one of the most beautiful villages in all of Andalusia. Accessible by train from Córdoba or by bus or car from Seville, it is a popular day trip in the Spanish region. You can book an excellent day trip from Seville to Ronda here.
There are countless things to do in Ronda in one day. Perhaps best known for the iconic Puente Nuevo, or New Bridge in English, which spans the Tajo Gorge. The New Bridge, which was constructed in the 1700s, connects the two sides of the white-washed village. While most visitors make the journey to Ronda just to see this beautiful bridge, there are several other notable things you should do while you're there.
The village is also known as the birthplace of bullfighting. You can tour the bullfighting arena and museum, or simply visit the plaza outside the arena if you choose not to support this controversial "sport". The plaza has a vibrant atmosphere and is typically filled with street performers and vendors selling handmade crafts. There is also an outlook point near the plaza called Mirador de Ronda. The outlook offers a stunning perspective of the cliff-side village and the gorge below.
While in Ronda, make sure you visit Casa del Rey Moro and take the 231 steps down the water mine to the bottom of the gorge. The spiralling staircase was once used by servants and locals to access the water in the river. The trek will give you an appreciation for the efforts people in the village once had to make just to have water.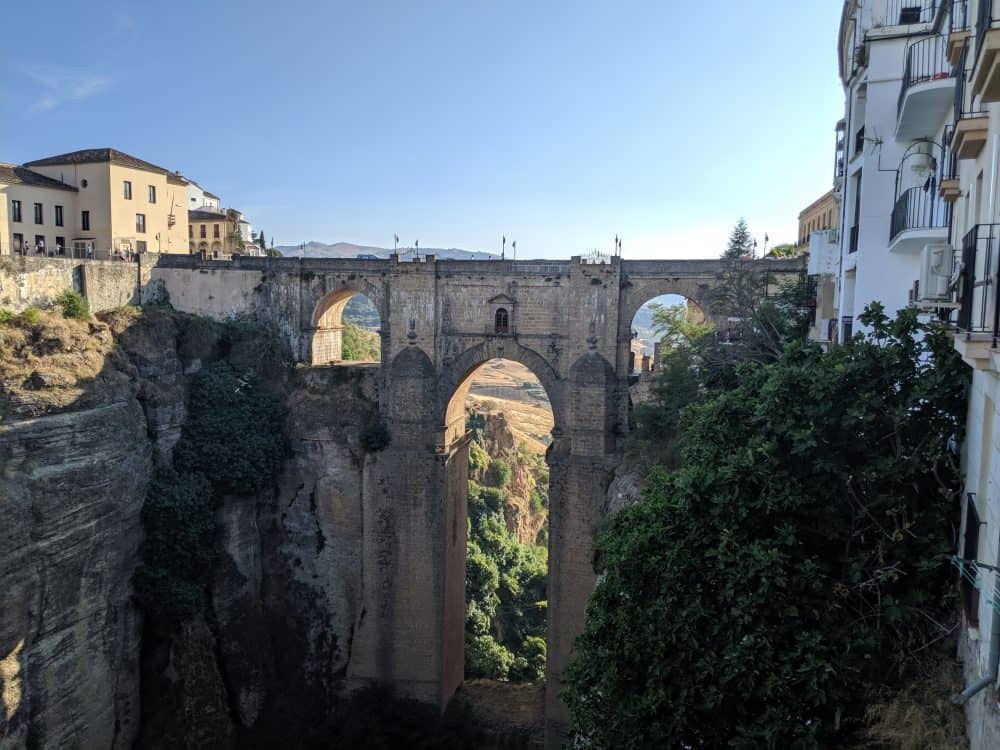 Arcos de la Frontera
Submitted by Chrysoula from travelpassionate.com
The Spanish village of Arcos de la Frontera is the gateway to the Pueblos Blancos of Andalusia. It is often regarded as one of the most beautiful destinations in Spain. With ancient archways, grand stone castle walls and a collection of white-washed houses perched on the hillside, Arcos de la Frontera is an alluring and photogenic town that is well worth a visit.
Arcos de la Frontera has a long and storied history with some settlements dating back as far as prehistory and other archaeological features having been brought to the region by the Romans and the Moors. This means that the village is a mélange of interesting influences.
While Arcos de la Frontera can be visited as a day trip, you may want to stay overnight in Arcos to begin your journey exploring the Pueblos Blancos. This gives you the chance to take in the sights such as the Plaza del Cabildo, the Church of Santa María de la Asunción, the Iglesia de San Pedro, the Arcos Castle, and the Convent de la Caridad.
Having a hire car gives you full freedom to explore Arcos de la Frontera. You can explore the other Pueblos Blancos at your own pace, and also allows you the opportunity to visit Ronda and Córdoba too which are excellent destinations for an Andalusian road trip!
Mojácar
Submitted by Faith from xyuandbeyond.com
Mojácar is a small gem of an Andalusian white village tucked away in Southern Spain in Almería. With 17 kms of white sand beaches, perfect weather and plenty to do, Mojácar is picture perfect.
Most visitors to Mojácar fly into Almería airport and take a short trip by bus or shuttle to the town. You have two options in Mojácar. You can stay on the playa where all the beachy action takes place, or head up to the beautiful pueblo which is a short bus ride from the playa.
Mojácar is a popular place with Spanish holidaymakers but it has also been discovered by English visitors. There are so many choices for dining and celebrating that one minute you could be in an Irish pub, the next minute enjoying flamenco and tapas with incredible Mediterranean views.
From Mojácar you can take day trips to Europe's only inland desert, Tabernas where Spaghetti Westerns were filmed. Make sure to also head to the Olive Oil Mill in the Almanzora Valley. If you are into naturism, there are nude beaches down near Vera Playa. Alternatively, head over in the summer months when one of Europe's largest festivals, Dream Beach, brings in tens of thousands of folks.
Setenil de las Bodegas
Submitted by Claire from zigzagonearth.com
Setenil de las Bodegas is one of the most unique of the Andalusian Pueblos Blancos.
Although several of the villages have troglodyte houses, this one tops them all. Because in several streets, the houses are built under a rock overhang! Not only did this simplify the construction, but it also provided protection from the summer heat and the winter cold.
Within a couple of hours of exploring the village, you can discover some of the most intriguing streets. These include Calle Cuevas de la Sombra where the pathway is covered by rock, and Calle Herreria where houses have been built both under the rock cliff and on a slope.
Plus, don't forget to climb to one of the miradors (viewpoints) for exceptional views of the village, protected by the ruins of a Moorish castle. Although this castle is now in ruins, one of the towers is open for visits.
Located only a 30min drive from the famous town of Ronda, Setenil is easily accessed by car. But if you are holidaying in Malaga or the Costa del Sol, you will also find day trips that include a stop at the village. It is free to explore the village on foot. Don't even try entering the narrow streets of the old town with a car! And do try their chorizo sausage. The village is famous for it!
Júzcar
Submitted by Paul from anywhereweroam.com
Before 2011 Júzcar was just another one of the many white villages perched over the Rio Genal in Andalusia. Life was slow and the odd visitor came to hike the local trails. But in spring of that year, the entire town was painted blue to celebrate the worldwide premiere of the Smurf movie, held in little old Júzcar.
The plan was to paint it white again after the premiere ended. But the blue village had created a mini-sensation and it is estimated 95,000 people visited over the course of 6 months. The locals smurfed out an opportunity and decided to leave the town blue.
The joy of Júzcar is that it's a fun place to explore, set in a beautiful location, making it one of the best places to visit in Andalusia. Large statues of Smurfs and colourful red mushrooms dot the town. And murals and cartoons cover the walls, and cute road signs show you the way. Within an hour you will have explored every nook and cranny but what a fun hour it is.
With limited public transport in this part of Andalusia, the easiest way to get to Júzcar is via car. The closest main centre is Ronda which is about a 30 minute drive away.
Grazelema
Submitted by Priya from outsidesuburbia.com
If you are visiting Andalusia, you can't miss a trip to visit some of the white villages. There are some hidden gems of Spain that you can discover if you go on a road trip from Seville to Granada. We drove from Seville and stopped at a couple of villages on the way. Some of the white villages date back to the time of the Romans and Moors. The villages have houses with whitewashed walls, red-tiled roofs and cobblestone streets connecting them.
Grazalema Natural Park has a trail of these white villages, many of which belong to the park, including Grazalema itself. The park is also home to a variety of flora and fauna. Including Spanish fir and maple woods to deer and Iberian wild goats. The area is known for its great hiking routes and outdoor activity options, making it popular with climbers and hikers. While tourism is slowly picking up in the area, it still remains off the beaten path. The economy of the villages depends on small-scale agriculture, cork harvesting and products made of cork, furniture making, sheep herding, and handicrafts.
We stopped at Grazalema after lunch, and we spent the afternoon wandering through the whitewashed streets and alleyways that seem to lead up to the mountains nearby.
Mijas
Submitted by Dan from urbanabroad.com
Another of the best places to visit in Andalusia is Mijas; a small whitewashed village with heaps of character that sits within the mountains.
If you have already spent time in nearby Fuengirola, Benalmadena, or even Marbella, this small village offers a great day or evening trip for couples and families to enjoy. I recommend that you rent a car and drive here as it makes the adventure more enjoyable, otherwise you could get a taxi from nearby Benalmadena.
Once in Mijas, the first thing you'll notice is the panoramic views of the ocean especially if you can position yourself in one of the many vantage points. This quaint village is lined with cobblestone streets and has a local atmosphere that welcomes new visitors with open arms. One thing I recommend to do is to just sit back as you sip on a cafe con leche and feel the vibe as you wait for your Tapas order during the early evening. If you're looking for a more extensive menu check yourself in to The Snug Restaurant, for some attentive service with a very Spanish-style setting.
Also, Mijas is also one of the best places to pick up some unique gifts for those thinking of doing a spot of souvenir shopping. A trip here is definitely worth your precious time when looking for the best places to visit in Andalusia. Book your Mijas small-group walking tour here!
Frigilana
Submitted by Jeanine from lewildexplorer.com
Frigiliana is another charming "Pueblo Blanco" in Spain situated on a hill. The town is known for its white painted house and colourful doors. It's a fairly quiet town but very picturesque. It has a bit of a Santorini vibe without the crowds. If you're looking for a relaxed escape with breathtaking views then Frigiliana is a must. Make sure to stay for the sunset and watch the colours change.
There are a few different festivals that take place in Frigiliana throughout the year. So if you're thinking Frigiliana might be too low-key for you, then definitely plan a visit during one of the festivals. The Tres Culturas festival in particular is a lot of fun. The town turns into a giant 'tapa crawl', and there are lots of food and drinks, and performances.
The nearest airports to Frigiliana are Granada (GRX) and Málaga (AGP). Granada is closer in distance, however, Málaga is easier and faster as the buses run more frequently. If you're visiting from Málaga you can catch a direct bus via the central station to Nerja which takes about an hour, then take a quick taxi ride or bus to Frigiliana. And if you're coming from Granada you can catch a bus to Nerja from the central station.
Historical Sites
Alhambra
Submitted by Abi from insidethetravellab.com
The delicate yet imposing structure of the Alhambra in Granada puts other European castle-complexes to shame. Positioned amid the snowy peaks of the Sierra Nevada, the UNESCO World Heritage Site combines military might with impeccable design.
What began with Roman fortifications moved on to become a small fortress in AD 889. After that came ruins and then reincarnation in the mid 12th century as the chief palace of the Emirate of Granada.
And what a place it is. Moorish poets referred to the Alhambra as "a pearl set among emeralds" on account of its beauty and lush green surroundings.
With open courtyards, chattering fountains and intricate wall carvings, it's a palace that brings shade on hot days and beauty throughout.
Unsurprisingly, it's a popular place for visitors. So popular, in fact, that timed entry systems have been introduced. Not only should you buy a ticket in advance but you will also need to obey the prescribed time for visiting.
It's easy enough to drive or to connect from the main train station in Granada. Tour guides can be useful but so can self-exploration; it's an easy place to navigate.
Take plenty of water, sunscreen and sun hats in the summer. The heat in Andalusia is fierce and there's a lot of ground to cover.
The word Alhambra comes from the Arabic for "the red one." Let that refer to the stone walls as the sun sets, not your face as you overheat. Bon voyage!
Book your skip-the-line Alhambra ticket here!
Itálica
Submitted by Hillary from hillarynewmanphoto.com
For a completely unique experience in Andalusia, make sure to visit Itálica, an ancient Roman town just outside of Seville.
Roman architecture is not easy to come by in Spain, making Itálica a true gem of a discovery. The ruins of Itálica are still being excavated to this day. What has been fully uncovered so far includes a central amphitheatre at the core of the town. You can wander the halls of the amphitheatre and look down into its central pit from above, a site for gladiator fights of the past.
When you finish viewing the amphitheatre, you can continue your self-guided tour while watching as scientists carefully uncover the village just outside.
Getting to Itálica is simple from Seville. The easiest way is using the local bus service that will take you direct from Plaza de Armes in around 30 minutes. There is a small fee for entry to Italica (€1.50) for non-EU citizens.
If you are interested in spending longer in the Seville area, check out Hillary's post on things to do with three days in Seville.
Book your half-day tour from Seville to Italica here!
Natural Wonders
Caminito Del Rey
Submitted by Brianna from curioustravelbug.com
The Caminito del Rey is easily one best places to visit in Andalusia and is sure to be a highlight of your trip. While it used to be known as one of the most dangerous hikes in the world, hiking the Caminito del Rey takes you over new boardwalks high above the bottom of the gorge. The entire hike is full of beautiful scenery of canyons and gorges.
The original boardwalks at the Caminito del Rey were developed to access the river and build a hydroelectric dam. It was visited by the King of Spain in 1921, hence its name that means The King's Little Path.
A visit to this site includes a short hike to the start of the boardwalks and then entering the first of three gorges. The first two gorges offer stunning scenery and a chance to get used to being up so high on the walkways. Caminito del Rey is best known for the third gorge where you are up to 100m high and the boardwalk hangs from the side of the cliff. The final section also has an aqueduct bridge and fossils that you can see in the rock face. The rocks here have beautiful vertical strata that you can see while hiking.
Caminito del Rey can be visited as a day trip from most major cities in Andalusia including Málaga, Seville, or Granada. Timed-entry tickets are required so you should book in advance.
Book your Caminito del Rey tour from Málaga here!
Fuente de Piedra
Submitted by Joanna from andaluciainmypocket.co.uk
Fuente de Piedra is one of Andalusia's hidden gems and a paradise for bird lovers. The lagoon from Fuente de Piedra has been declared a protected natural area because of the high number of bird species that come to breed here. Among them, the most famous one is the pink flamingo. Tens of thousands of pink flamingos come to Fuente de Piedra each end of February to breed. Each year, around 15,000 chicks are born here. Fuente de Piedra is the best place to visit if you want to see pink flamingos in Spain.
The best time to visit Fuente de Piedra is around May. This is ideal as it is after the chicks have hatched from the eggs and are learning how to fly. As the lagoon is protected, visitors can't get very close to the shore. However, the visitor centre organises daily guided tours. They offer free binoculars and telescopes, alongside a knowledgeable guide who can point out the different types of birds out there. Fuente de Piedra is a perfect birding destination to be visited in every season because of the migratory birds that come and go at different times in the year.
Getting to Fuente de Piedra is very easy, either by driving or by public transport, from Malaga. There is a direct bus that connects the main bus station in Malaga with Fuente de Piedra. The distance between the two places is only 75 kilometres, which can be driven in less than one hour.
El Torcal de Antequera
Submitted by Darek from darekandgosia.com
A visit to Andalusia not only means having the opportunity to visit famous cities, but also to admire the beautiful natural landscapes in southern Spain. One of the most stunning places is the El Torcal de Antequera nature park.
El Torcal de Antequera is located about 50 km from Málaga and just a stone's throw away from a small town of Antequera in the central part of Andalusia.
The only way to get there is by car through a winding, asphalt road with a view of the beautiful mountainous areas. There is a free car park, a small restaurant and a tourist information office. The admission to the reserve is also free, which makes it one of the cheapest day trips in Andalusia.
Its biggest attraction is the large limestone rocks and beautiful karst landscape, which is one of the most interesting places of this type in the whole of Europe. The creation of the reserve began over 150 million years ago, in the Jurassic period, when the whole area was underwater, and the limestone on the bottom was influenced by tectonic movements.
The El Torcal de Antequera nature reserve was inscribed on the UNESCO World Heritage List so it has to be added to any list of the best places to visit in Andalusia!
Book your trip to El Torcal de Antequera here!
Best Places to Visit in Andalusia
So there you have my guide to the very best places to visit in Andalusia. This guide covered the best cities, towns and Pueblos Blancos, as well as the most interesting historical sites and natural wonders.
From the reliably good weather, to the excellent food, fascinating history and beautiful beaches, there's something for everyone in Andalusia. The real struggle is deciding where to go!
So I do hope this guide is useful and helps you work out where to visit. If you have any other questions, please do feel free to drop me a line and I will get back to you.
Wanna see more? Check my Instagram here, my Facebook here or my Twitter here!
Disclaimer: This guide has no involvement from the local tourism board or a hotel.
Enjoyed my guide to the best places to visit in Andalusia? Pin it!