Nuremberg and Bamberg make for a wonderful twin-centre Germany weekend break, especially if timed with the Christmas markets in December. Located in Bavaria, in the south of the country, the two cities are definitely still worth a visit any time of year. They are home to fascinating history, beautiful architecture and great food.
In December, tourists flock from across Europe and the world to experience the festivities in Nuremberg. The city is home to one of Europe's most spectacular Christmas Markets and despite the frigid temperatures during the festive period, the market is a magical experience! However, nearby Bamburg is an even quieter authentic Christmas Market experience.
So read on for my guide to Nuremberg and Bamberg. I've detailed where to stay, where to visit, what to eat and how to get around, as well as of course all you need to know about visiting the Christmas markets in Nuremberg and Bamberg. Get ready to start planning a wonderful weekend in Germany!
Nuremberg
A bit of background: Nuremberg's History
Before sharing my suggested itinerary for the ideal weekend in Nuremberg and Bamberg, it's important to consider the history and background of the city.
Whilst Nuremberg is home to its world-famous Christkindlesmarket, the city has a dark past. Did you know it was Adolf Hitler's favourite city?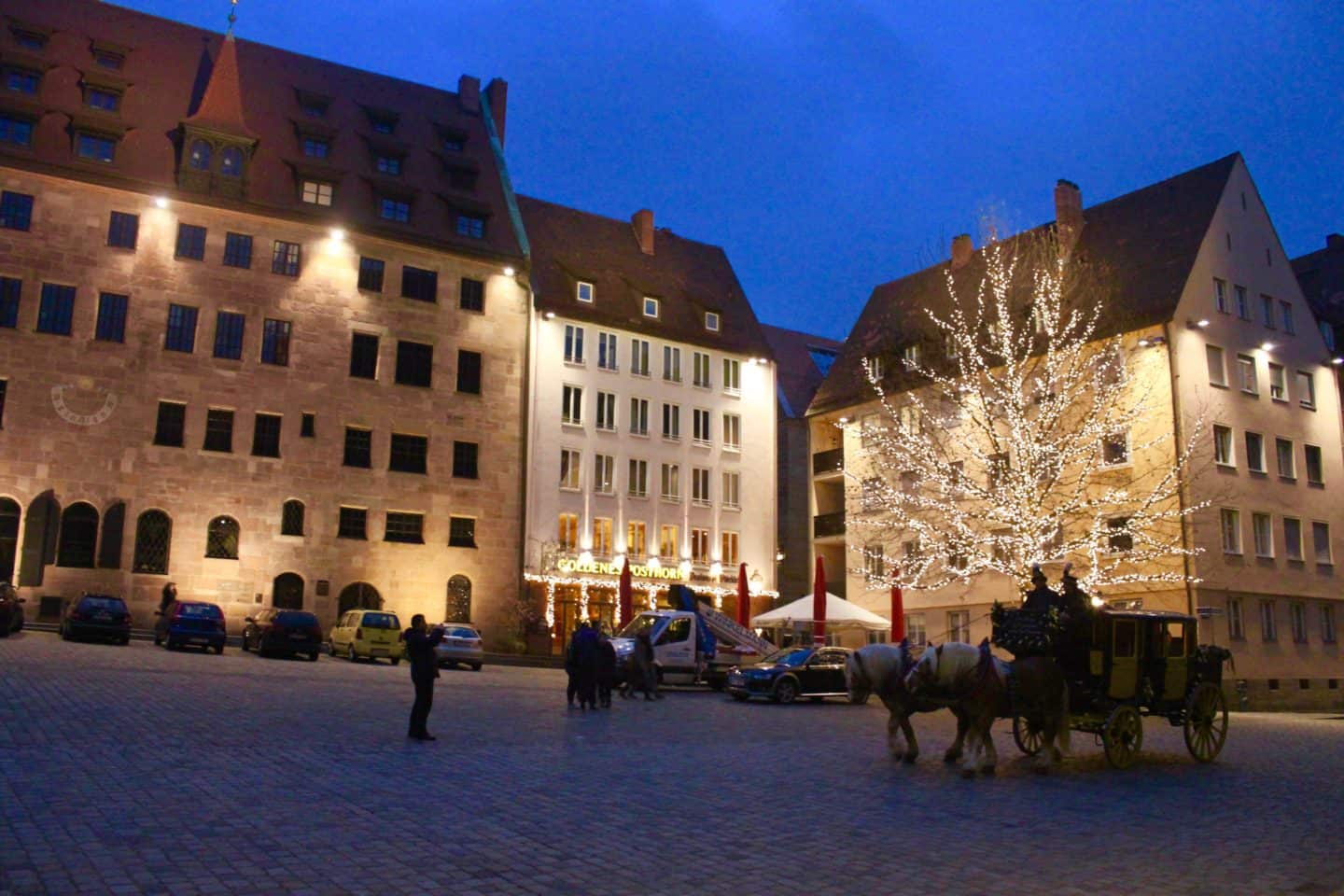 Adolf Hitler viewed Nuremberg as the 'most German of German cities' and viewed Nuremberg as the ideal representation of a true Germanic city, steeped in imperial history. Because of this, Nuremberg hosted many Nazi Party Rallies and following this, the Nuremberg trials.
The entire city also experienced heavy bombing during World War 2 because of this. Unfortunately, much of its stunning medieval city has had to be re-built and restored. Walking around Nuremberg today is a symbolic reminder of human strength and resilience. That places can be torn down, but will stand up strong and shake the remnants of their Nazi past.
Interestingly, Nuremberg has never received the number of tourists that other cities in Germany receive. This makes it a bit of a hidden gem. Between the stunning architecture, the lively bars and great restaurants, and its incredible medieval city – Nuremberg is certainly worth a visit.
Here's my guide on visiting Nuremberg and as well as all the must see attractions to visit in a weekend.
How to get to Nuremberg
Located in Bavaria in Southern Germany, Nuremberg is fairly easy to get to with international flights arriving from across Europe. If you're coming from the US or further afield, it's likely you'd connect in a larger city such as Munich or Frankfurt. You can fly daily to Nuremberg from London Stansted on Ryanair.
Landing at Nuremberg's airport, it couldn't be more simple to arrive in the city centre. Head towards the U-Bahn commuter train and board the U-Bahn line U2. This line connects the Nürnberg Flughafen (Nurembeg Airport) with the Nürnberg Hauptbahnhof (Nuremberg's Main Station). The journey takes 12 minutes, no less and the train runs regularly several times an hour. It runs up until midnight and starts again at about 4am! The cost a one-way ticket is a mere €2.50!
For onwards travel from the Nürnberg Hauptbahnhof, chances are you'll be able to walk to your accommodation as the city is so compact. If not, the bus station is conveniently located outside.
Where to stay in Nuremberg
Fortunately, Nuremberg is a very affordable city to visit in Germany. There are plenty of well-priced hotels located centrally in Nuremberg. Several places to stay, such as Hotel Victoria and Hotel Elch are located in the heart of the medieval town centre. Therefore, they offer a wonderful experience to live in the midst of Nuremberg's history.
Here are my pick of some of the best luxury hotels in Nuremberg:
These are some of the value for money budget hotels in Nuremberg:
Where to eat in Nuremberg
There are a surprising number of lovely cafes dotted around Nuremberg. The wonderful Cafe Meinheim is one of the best places in Nuremberg for breakfast, Their platters were incredible and a great first taste of German food for myself. There are several platters to pick from and each comes out so fantastically presented. I loved the variety in each one. I opted for the 'Schwedisches Frühstück, which actually means Swedish Breakfast.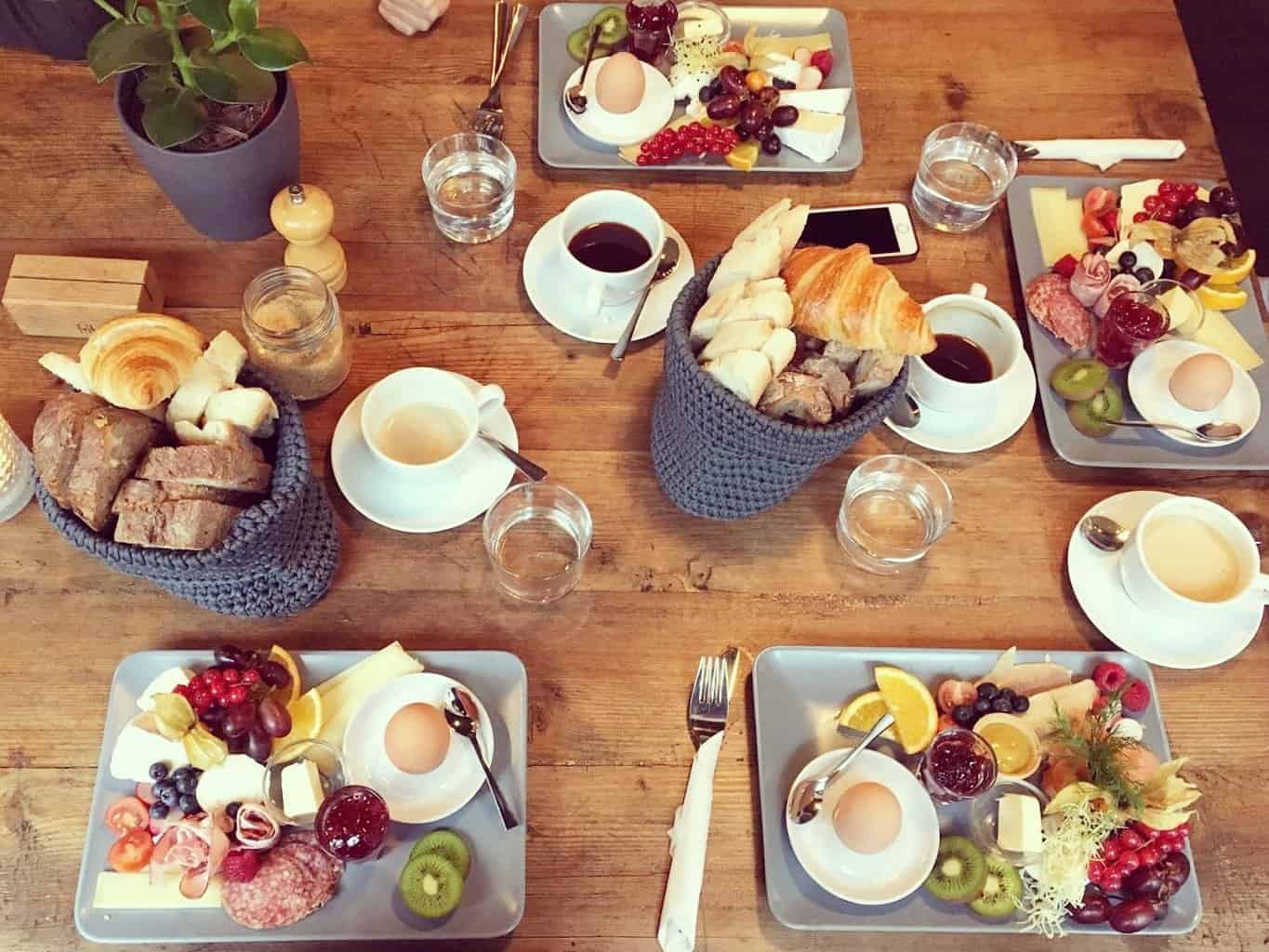 Another brilliant cafe in Nuremberg is the fun Brezen Kolb. Home to the city's best pretzels, this place is great for a quicker breakfast or a delicious snack on the go.
What to see and do in Nuremberg
The beautiful medieval city of Nuremberg has plenty to offer and 48 hours is the perfect length of time to get to know the city.
Nuremberg is best explored on foot. In fact, public transport doesn't even run through the medieval town centre. Nuremberg is very easy destination to walk around on foot and all the sites and attractions are located in a fairly compact area.
If you stay within the town's castle walls and you can't really get lost. Wander slowly and explore every little alleyway and shop.
If you climb up into the castle to higher ground, you can see the four medieval towers marking each corner of the square. This vantage point is a wonderful place to gaze over Nuremberg and get a sense for its size and history.
Many of Nuremberg's streets are connected by pretty bridges which make for beautiful photo spots. We visited in late November – a beautiful time to see the trees decorated with beautiful Autumnal colours.
Top things to do in Nuremberg
Nuremberg's city stretches back more than 950 years. It's been tumultuous and fascinating, not least with Nazi Germany's obsession with the city.
Here are a couple of excellent walking tours in Nuremberg:
Nuremberg Old Town Walking Tour
Nuremberg Tour, plus the Nazi Rally Grounds
Christmas markets in Nuremberg
If you're visiting in late November or through December, you'll find the city awash with festive activity. Christmas is a brilliant time to visit Nuremberg and its Christkindlmarket is one of the best I have ever been to. An excellent activity for families, couples or groups of friends, the Christmas markets in Nuremberg hav plenty to offer everyone. A must-see attraction in Nuremberg if visiting at the right time!
We visited the famous the Christmas markets in Nuremberg in their first weekend, which was ideal – this is normally the last weekend in November.
The whole city comes to life with Christmas excitement. The Christmas markets in Nuremberg are actually spread across several central locations. There are hundreds of stalls selling traditional toys and gifts, and you may struggle to not take home hundreds of souvenirs.
Glühwein, the traditional warming alcoholic drink is served up out of huge cauldrons. As the night draws on, the market gets more and more lively. It is very festive indeed!
Dinner in Nuremberg
At dusk, the beautiful medieval town city of Nuremberg becomes wonderfully twinkly and pretty!
There are a brilliant array of restaurants in Nuremberg to pick from for dinner. My top tip would be to ALWAYS make a reservation in advance. Unfortunately, we wandered round for almost an hour to find a space. Rather challenging in the cold!
Here are some of the best restaurants in Nuremberg:
What to do in the evening in Nuremberg
After dinner, there are plenty of bars in Nuremberg to pick from. One of the most fun bars in Nuremberg had an awesome hammer-themed game. The bar's real name is Bierwerk, and I'd highly recommend an evening here.
Known as 'Hammerschlagen', it is a very simple came but incredibly fun. It really draws an audience and lots of cheering. It needs to come to the UK as soon as possible!
Bamberg
Bamberg is a very easy day trip from Nuremberg and so worth the one hour journey. Even with just a weekend in Nuremberg, 48 hours is still enough time to take a trip to this beautiful UNESCO World Heritage Town.
Bamberg's history
Regarding its history, Bamberg was once the home of great prosperity, which can be seen in its exceptional architecture. Bamberg, in the late 18th century was the centre of Enlightenment, meaning some highly important and well-respected philosophers and writers came from Bamberg. Incredibly, a large part of the town centre of Bamberg was declared a UNESCO World Heritage Site in 1993. Unlike Nuremberg, somehow much of Bamberg escaped unscathed following World War 2, meaning far fewer of its beautiful buildings had to rebuilt. Looking further back, Bamberg was once the capital of the Holy Roman Empire.
Today, it's picture-perfect Old Town has one of the best-preserved collections of medieval half-timber structures in the whole of Europe which line its beautiful cobblestone streets.
To get to Bamberg, you need to take a train from Nuremberg's main train station. The journey to Bamberg is only about one hour and the cost is around 9 euros return for an adult ticket.
What to do in Bamberg
As with Nuremberg, the town centre is very walkable and compact.
The historic town centre of Bamberg is dominated by the Domplatz square and Bamberg Cathedral.
I've listed a couple of excellent walking tours here:
2 Day Itinerary for Nuremberg and Bamberg
So there's my guide to a weekend in Nuremberg and Bamberg. Not only is 2 days suitably long enough explore these two Bavarian towns, but you can find plenty to do and see in Nuremberg and Bamberg, and not even feel rushed exploring them.
Both towns have beautiful and authentic Christmas markets, so whilst Nuremberg and Bamberg are brilliant to visit year-round, the festive season is particularly special!
Are you planning to go to Nuremberg or Bamberg soon, or to the Christmas markets in Nuremberg? Let me know in the comments if you have any more top tips or any feedback! I'd love to hear from you!
If you're looking for guides to other European cities, have you considered Copenhagen or Budapest?
If you've enjoyed this post, feel free to share using the below links!
Wanna see more? Check my Instagram here, my Facebook here or my Twitter here!
Disclaimer: This visit to Nuremberg and Bamberg was entirely paid for by myself. There was no involvement from the local tourism board.
Enjoyed my weekend itinerary for Nuremberg and Bamberg? Pin it!