Cappadocia in Turkey is one of the most interesting and beautiful places I have ever been in the world. If you're looking for fascinating landscapes, unusual activities to do and interesting places to see, Cappadocia is must-visit. If you can include a stay in Cappadocia in your Turkey itinerary, you will not regret it. In this Cappadocia Travel Guide, I've listed the must see sites, as well as detailed information on everything you might need to know before visiting. Covering topics like where to stay, how to get around Cappadocia and how to plan your stay – this post should include everything you need to get planning your own visit to Cappadocia!
Cappadocia Travel Guide: Essential things to know
Location and Getting to Cappadocia
Cappadocia is located in the east of the country in a region called Anatolia, which is a few hundred kilometres from the border with Syria.
To get to Cappadocia from Istanbul, you need to fly into Kayseri airport. Many airlines fly this route, such as Turkish Airlines and Pegasus Airlines and flight prices can be as low as £40 one way.
When is the best time to go to Cappadocia?
Cappadocia is a unique year round destination, with each season offering really varied experiences. I went in the summer which was brilliant and I loved dipping into the pool to cool off. I've seen photos of Cappadocia as a winter wonderland too, which looks amazing!
The main advantage in going in the summer months is that the weather is more stable and therefore, it is easier to guarantee a hot air balloon flight. If the winds are too high, the balloons cannot fly.
Where to stay in Cappadocia?
Well, it is a missed opportunity to not stay in a cave hotel whilst in Cappadocia. I've written more on this further down and included suggestions of some of the best hotels to pick from. I stayed at the Sultan Cave Suites which I highly recommend as one of the best luxury cave hotels in Cappadocia.
Using local tour companies
There are a huge number of local tour companies in Cappadocia to choose to do a day tour with. We used a small company arranged through our hotel, the Sultan Cave Suites. Another idea is to use GetYourGuide and to arrange your tour in advance of arriving in Turkey. I've popped some great tours here below: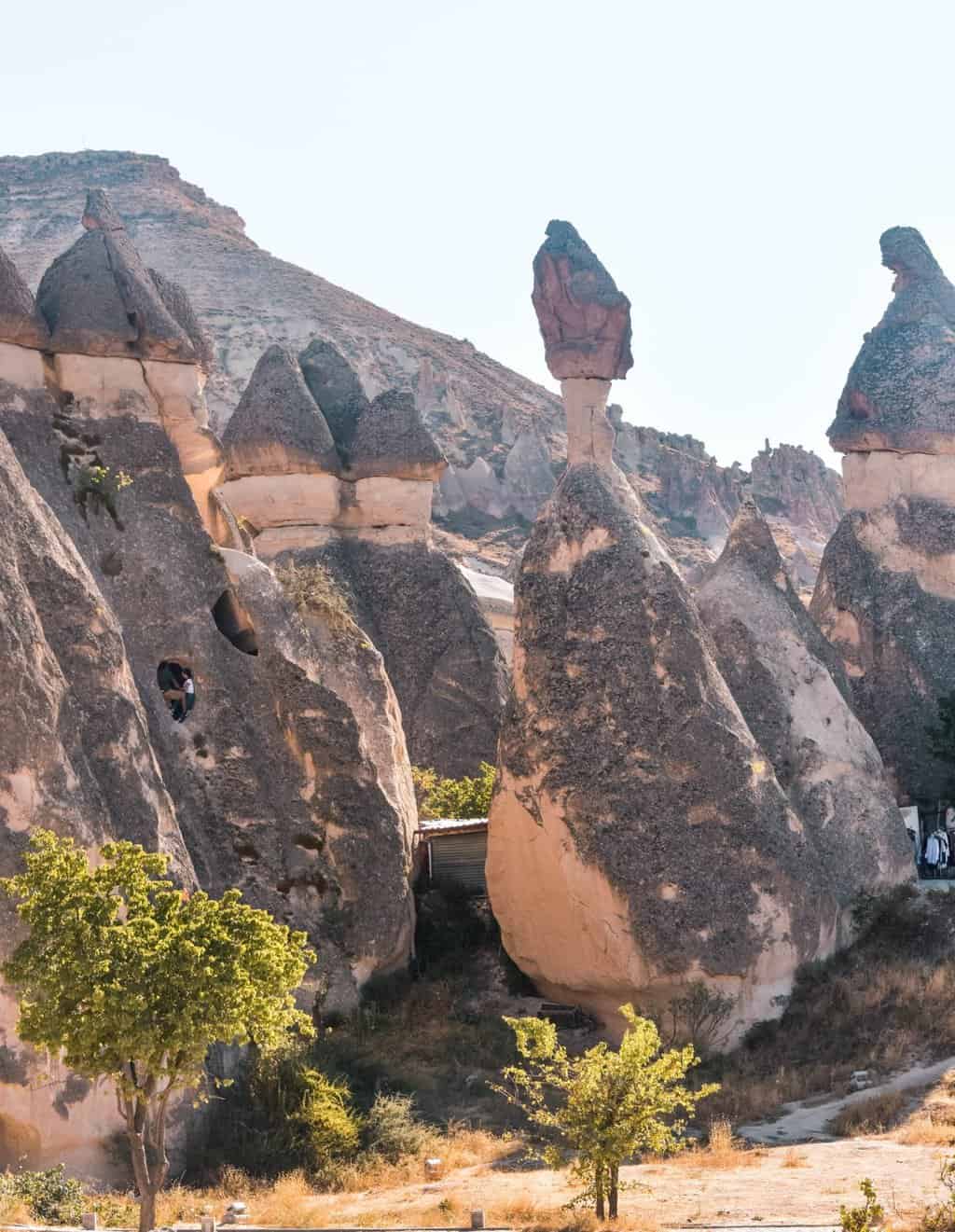 Things to do and see in Cappadocia
See Cappadocia from above in a hot air balloon
It goes without staying that this is an absolute bucket list experience in Cappadocia for any visitor. In fact, for many tourists, a hot air balloon ride is the sole reason travellers visit Cappadocia. I found it to be an pretty incredible experience. We found our pilot to be very adept in flying a hot air balloon – he took us so high above the whole region and then right down into the valleys, almost within touching distance of the fairy chimneys.
We enjoyed a hot air balloon ride above Cappadocia with a company called Kapadokya Balloons. Their service was faultless and experience was magical. We even enjoyed a champagne toast after the hot air balloon ride!
Visit the Göreme Open Air Museum
The Göreme Open Air Museum is a vast complex of monasteries and churches located just minutes from the centre of Cappadocia. The whole complex dates back to the 10th, 11th and 12th centuries and is a bit of an otherworldly destination. The rock faces have been carved out and adorned with some really interesting, beautiful and well-preserved frescoes, it is quite something.
Göreme Open Air Museum is included on the UNESCO World Heritage List, and for good reason. I highly recommend visiting here with a guide, so you can really understand this truly unique museum and learn the about the unusual history.
Visit Uçhisar
The small village of Uçhisar is essentially a giant rock and the tallest point in Cappaddocia. It has a spectacular panoramic viewpoint which draws travellers who want the next best view in Cappadocia, without going up in a balloon. Most of the cave homes here have long been deserted, which provides a unique opportunity to have a bit of an explore in the ancient dwellings.
Explore Pasabag (Monk's Valley)
Another must see attraction in Cappadocia is to visit the famous 'Fairy Chimneys' that dominate the landscape. The locals that used to live here carved into these fairy chimneys. So rather than living at ground level, they created rooms that were 10-15m above the valley floor.
Pasabag has some of the most striking fairy chimneys in Cappadocia, with some having twin and even triple rock caps. You can easily lose an hour or two wandering around this valley and climbing onto the rocks. It's one of the most popular sites to see in Cappadocia, so definitely visit earlier than than later. It gets very busy in the afternoon!
Stop by Devrent (Imagination Valley)
Devrent, also known as Imagination Valley, is fairly different to the rest of the area and a walk around here is one of the top things to do in Cappadocia.
Devrent doesn't have cave homes, churches, or fairy chimneys. But in fact, it is a unique lunar landscape which consists of many different rock formations, all of which happen to look like animals. Let your imagination run free, and you might see camels, snakes, seals, dolphins, a dragon. Some even say they can see Jesus in a rock formation too!
Explore the ancient village of Cavusin
This old Greek village is often overlooked by visitors to Cappadocia and is rarely included in travel guides to the area. I think this is a real shame, as it was uniquely different to the other top sites in Cappadocia.
Exploring Cavusin was fascinating and a actually a great opportunity to have a real poke around the homes. In fact, I was surprised to see several homes for sale! Cavusin is one of the oldest settlements in Cappadocia, but has long been abandoned following an earthquake.
Sample the local cuisine
As with anywhere, it's a always a great idea to explore local cuisine. Cappadocia is a great place to sample typical Turkish food, but I highly recommend a dining experience in the Avanos Valley. Arranged for us by Turkish Heritage Travel, we visited the owner's family home in the valley with our tour guide Barış Şahin. The food served was fantastic and all vegetarian. Plus, the location was out of this world!
Stay in a cave hotel
There aren't many places where you can stay in a real cave hotel that dates back centuries, but in Cappadocia you can. I highly recommend staying at the incredible Sultan Cave Suites. This hotel is also known to be home to one of the best photo spots in Cappadocia, with its phenomenal terrace.
If Sultan Cave Suites is full, here are some of the best hotels to stay in in Cappadocia: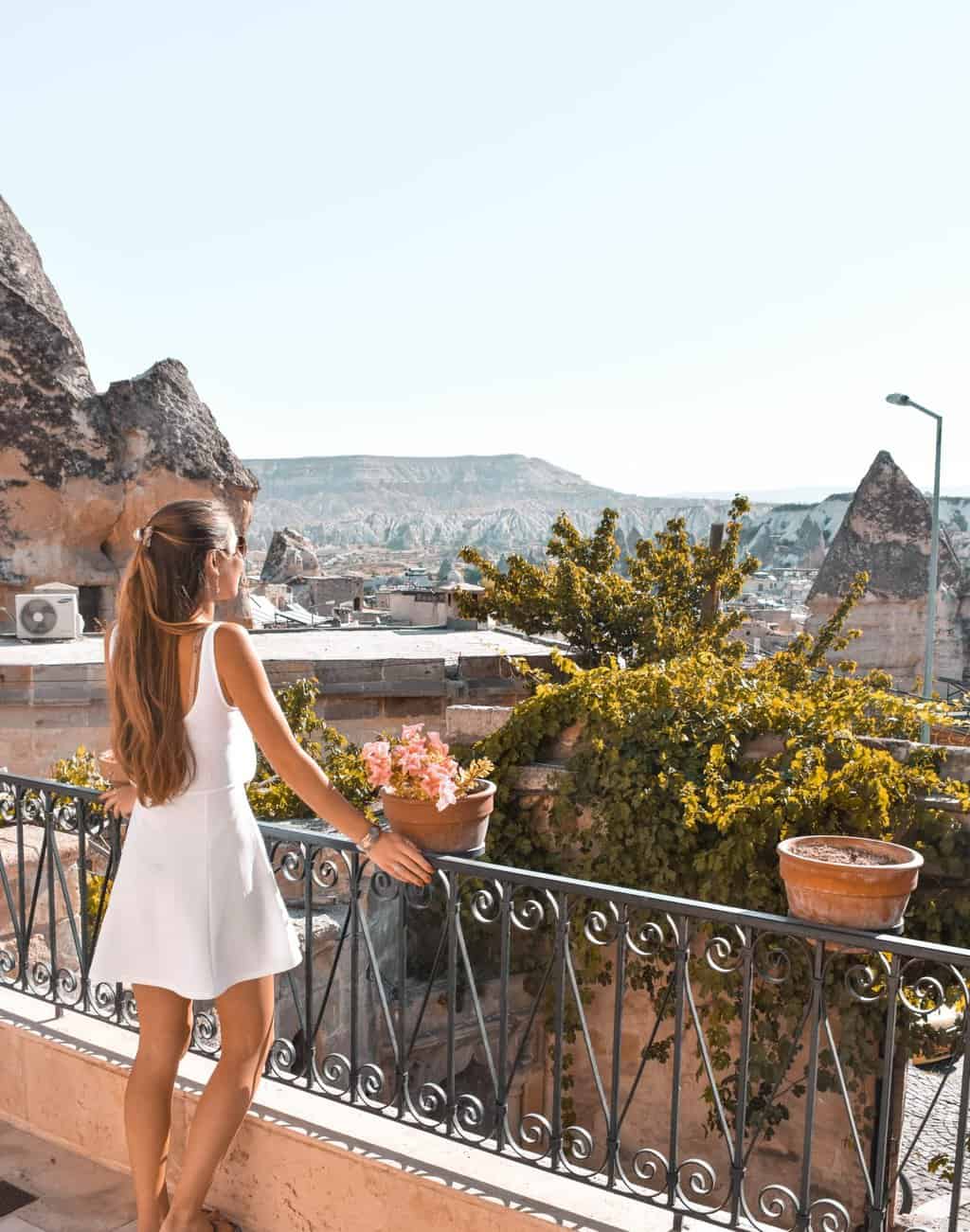 Experience a Cappadocia sunrise
A sunrise in Cappadocia is pretty special. I've never seen anything like it. The sky fills up silently with floating hot air balloons, offering a completely magical scene. One of the best places to witness this wizardry is from the Sultan Cave Suites with its Instagram-famous terrace. I've put this guide together here, detailing how to best capture the sunrise in Cappadocia and why the terrace at Sultan Cave Suites really is the best photo spot in Cappadocia.
Explore the town centre of Cappadocia
My Cappadocia travel guide would not be complete if I didn't encourage my readers to simply wander and explore its quaint town centre. Not only is it charming, it offers some of the best shopping I found in Turkey. I couldn't stop buying cute souvenirs and stopping by some of the lovely coffee shops.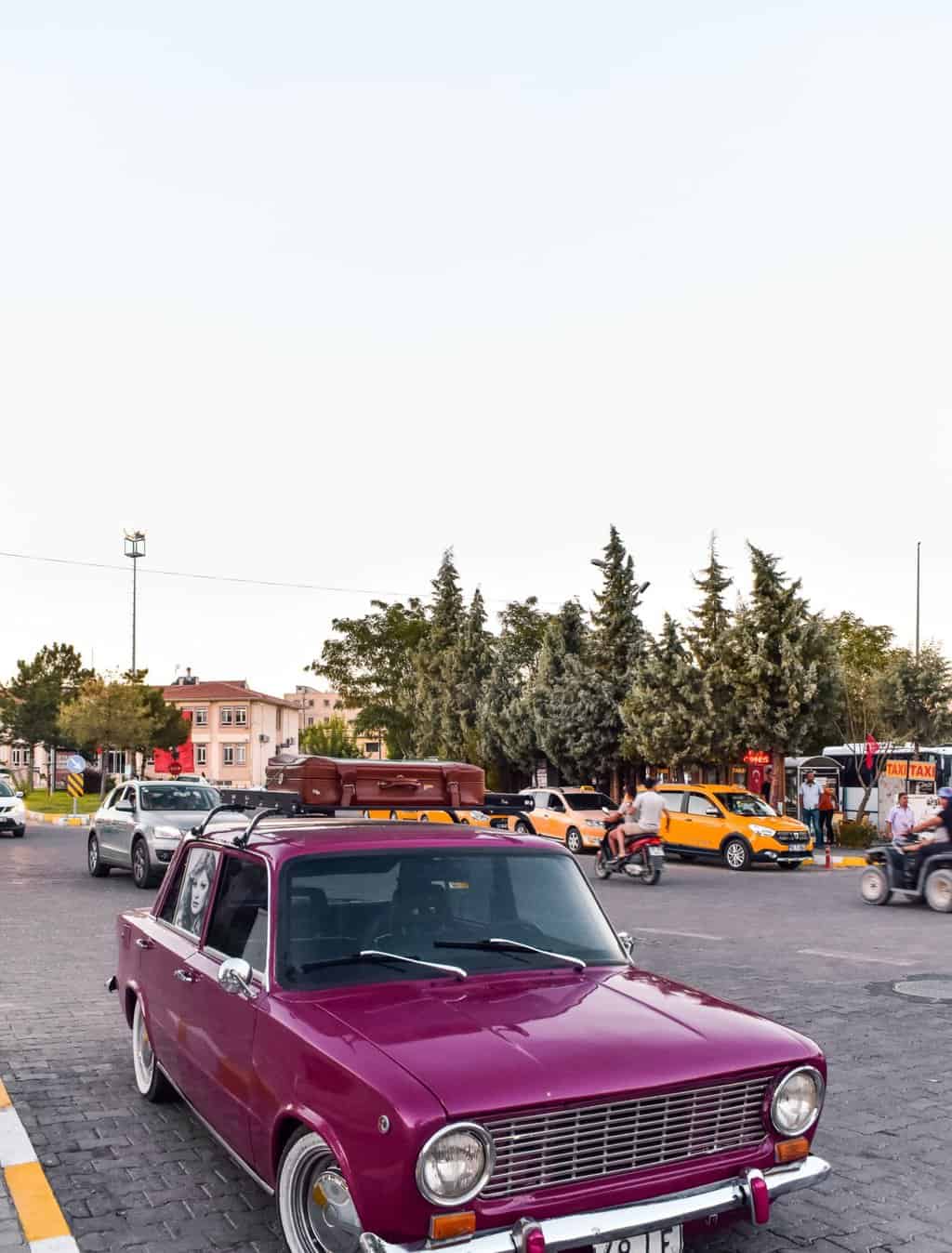 Cappadocia Travel Guide
Have you been to Cappadocia before? Let me know in the comments!
Cappadocia had been on my travel bucket list for so long and I'm so glad I finally went. It was just as magical as I had hoped!
I hope this has been Cappadocia Travel Guide helpful if you're planning on heading to the amazing towns of Göreme and Cappadocia. If you're considering a longer Turkey adventure, you might find my two-week Turkey itinerary useful. I've also written guides to Bodrum, Pamukkale, Ephesus, as well as sailing the famous Turquoise Coast and Istanbul.
If you've enjoyed this Cappadocia Travel Guide, feel free to share using the below links!
Wanna see more? Check my Instagram here, my Facebook here or my Twitter here!
Disclaimer: This visit to Cappadocia, Turkey was entirely paid for by myself and there was no involvement from the tourism board or the Sultan Cave Suites team. This is an independent guide.
Enjoyed my Cappadocia Travel Guide? Pin it!